This post may contain affiliate links. Read my disclosure policy.
A succulent Bottom Round Roast with simple homemade gravy is a delicious and easy dinner idea for cooler months. This juicy beef recipe is rubbed with a savory herb blend and then slow-roasted in the oven to lock in the flavor.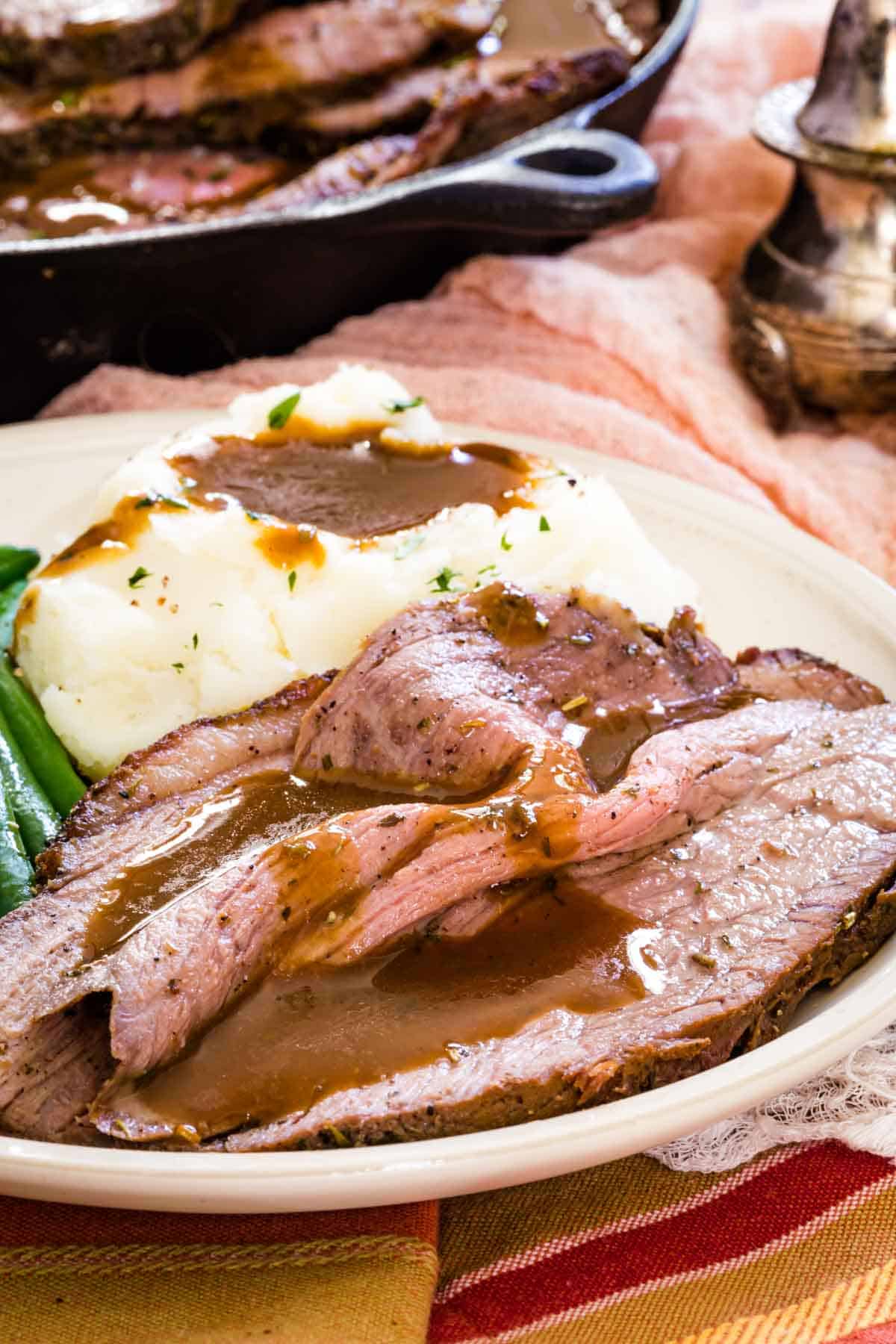 Tender Bottom Round Roast With Gravy
I've been on a mission to find the BEST oven-roasted beef recipe to carry us through another fall and winter. We're always looking to rival favorites like Corned Beef and my Slow Cooker Pot Roast. And even for another holiday option instead of a Prime Rib.
Now, I officially have another winner to add to the season's roster, with this easy bottom round roast. This succulent beef is smothered in a savory blend of garlicky herbs, then slowly roasted to the utmost tenderness. Serve it with a side of mashed potatoes and homemade beef gravy for the perfect cozy dinner.
It takes a bit of time, but trust me – this recipe is the proof in the pudding that you can't rush perfection. And the flavor payoff of this juicy beef is more than worth it!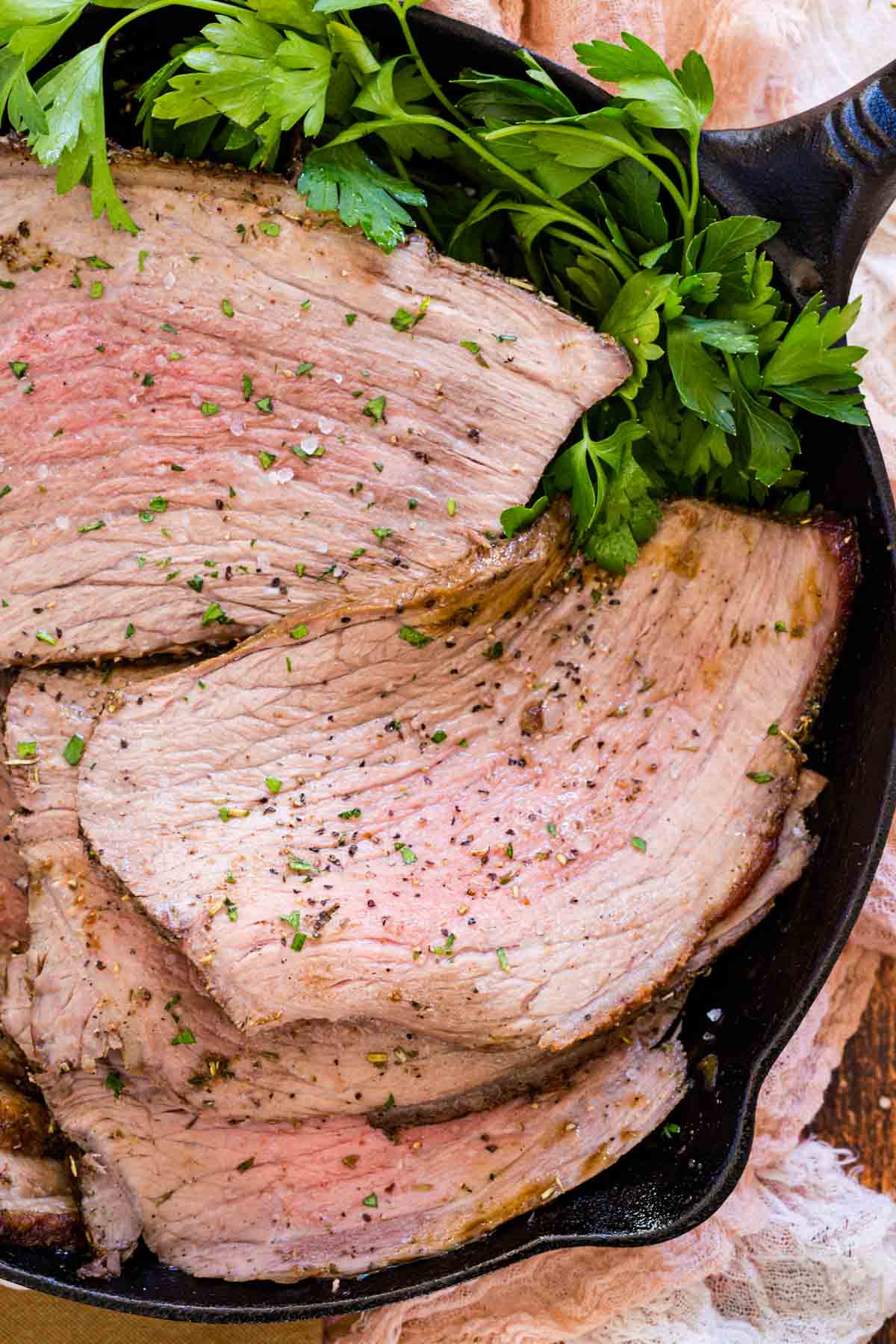 Why You'll Love This Recipe
What's not to love? Here's why you'll want to make this recipe tonight:
Easy. If you're a rookie roaster, this herbed bottom round roast is perfect! Your oven does most of the work, and you end up with an insanely juicy beef dinner. This makes this recipe great for entertaining!
Juicy. In case you haven't caught on, let me say it again: you won't believe how this beef roasts up so tender and flavorsome in the oven. It slices like butter!
Homemade gravy. Every last drop of those flavorful roast beef drippings gets whisked up into an absolute flavor bomb of easy, savory beef gravy.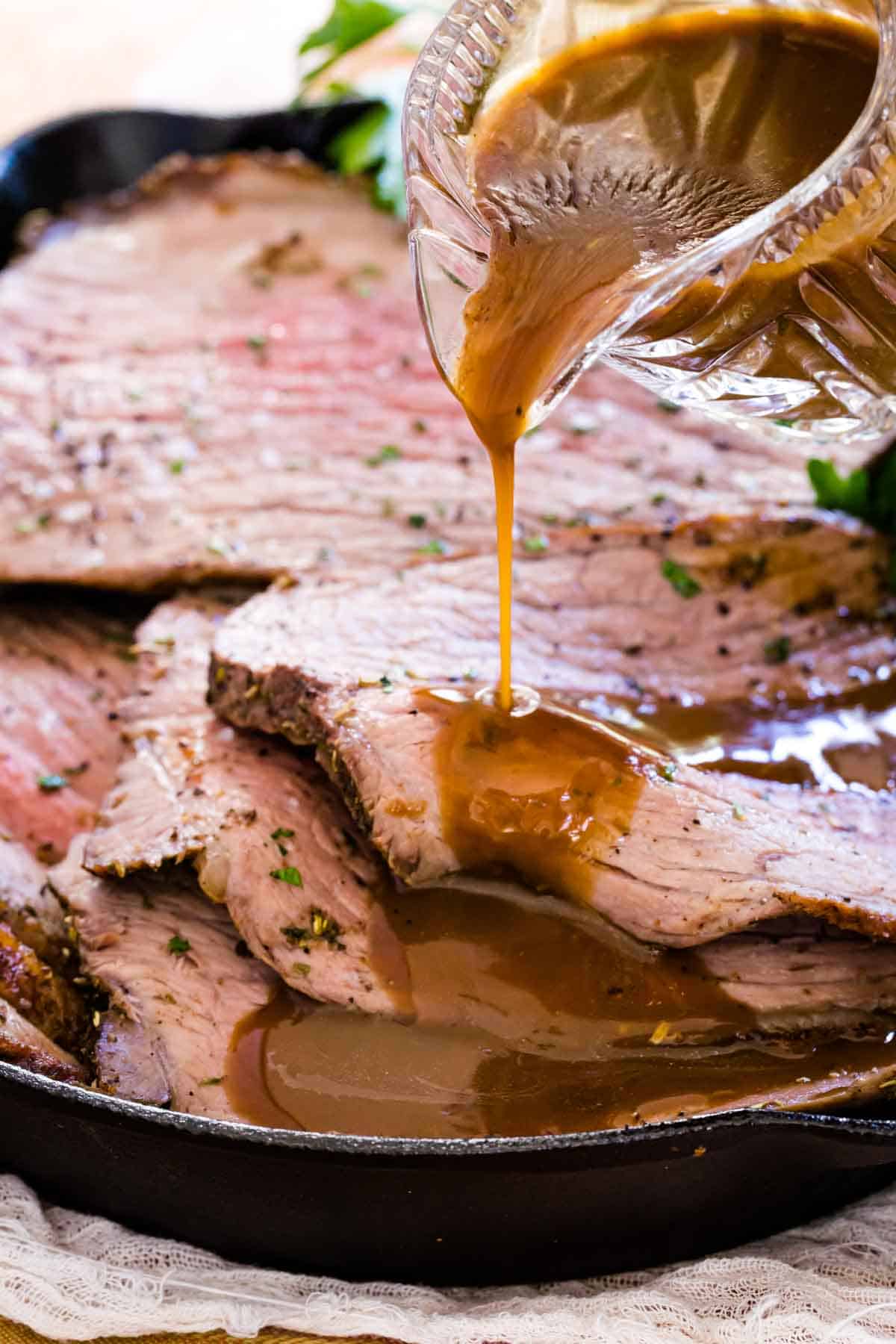 What You'll Need
You don't need much to make a perfect bottom round roast. Below are the ingredients for the roast itself, as well as the easy beef gravy recipe. Please refer to the recipe card later on for the full ingredient amounts!
Bottom Round Roast: A 3 to 4-pound bottom round roast will yield about 8 servings.
Olive Oil
Seasoning: I season this beef with a combination of onion powder as well as dried parsley, thyme, rosemary, and garlic powder, plus salt and pepper to taste. Fresh parsley also makes a nice garnish.
Sweet Rice Flour: Like my Thanksgiving Turkey Gravy recipe, I love the silky consistency that comes from using sweet rice flour to thicken the beef gravy for this roast. However, brown rice flour or all-purpose flour also works.
Beef Stock: Use a nice quality, low-sodium stock or broth. Bone broth is my first choice as it's full of flavor and nutrients.
Worcestershire Sauce: An umami bomb and my secret weapon for extra savory gravy.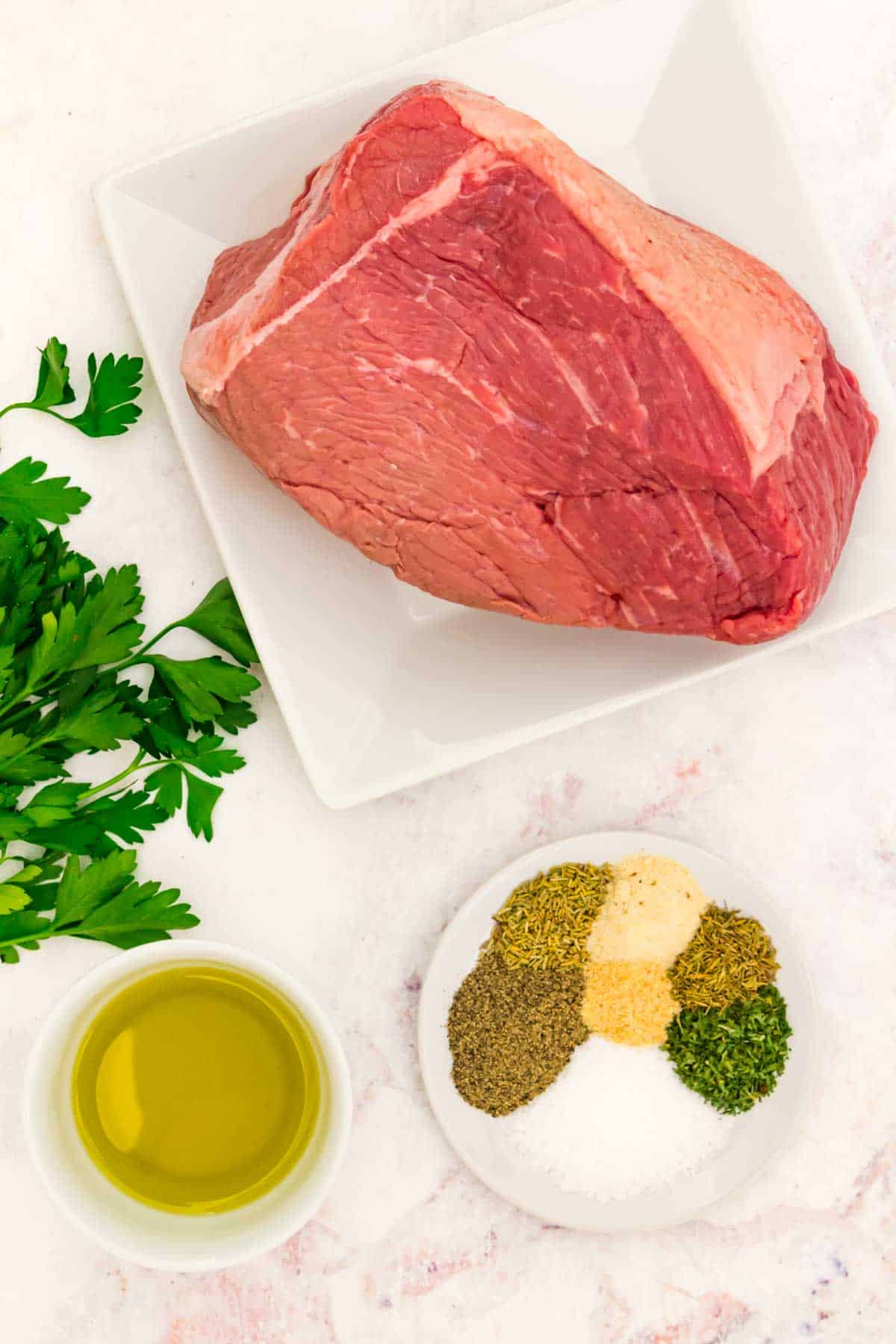 Is Bottom Round Roast a Tender Cut of Meat?
While it's less tender than cuts like Flank Steak, a round bottom roast comes from the rear of the cow and is perfect for cooking low and slow. This makes it a good value for money when it comes to roasting beef!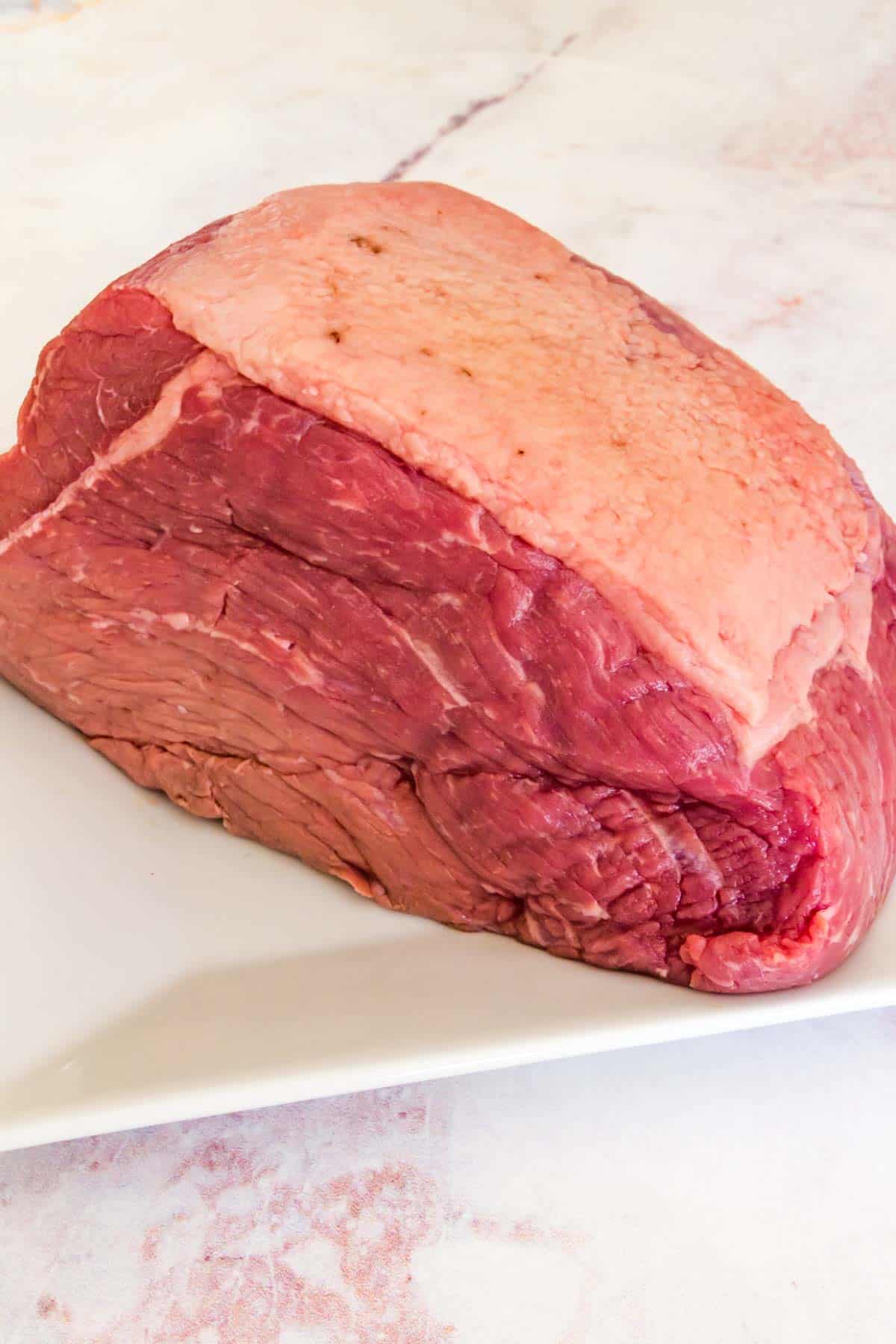 How to Cook a Bottom Round Roast
Slow roasting is the secret to an unbelievably tender and juicy bottom round roast. Here's how to do it:
Prep the Beef: Rub the cut of beef all over with olive oil mixed with the dry seasonings. Really get in there with your hands, making sure the paste covers the roast completely. Once coated, plop the beef into an oiled, oven-safe skillet.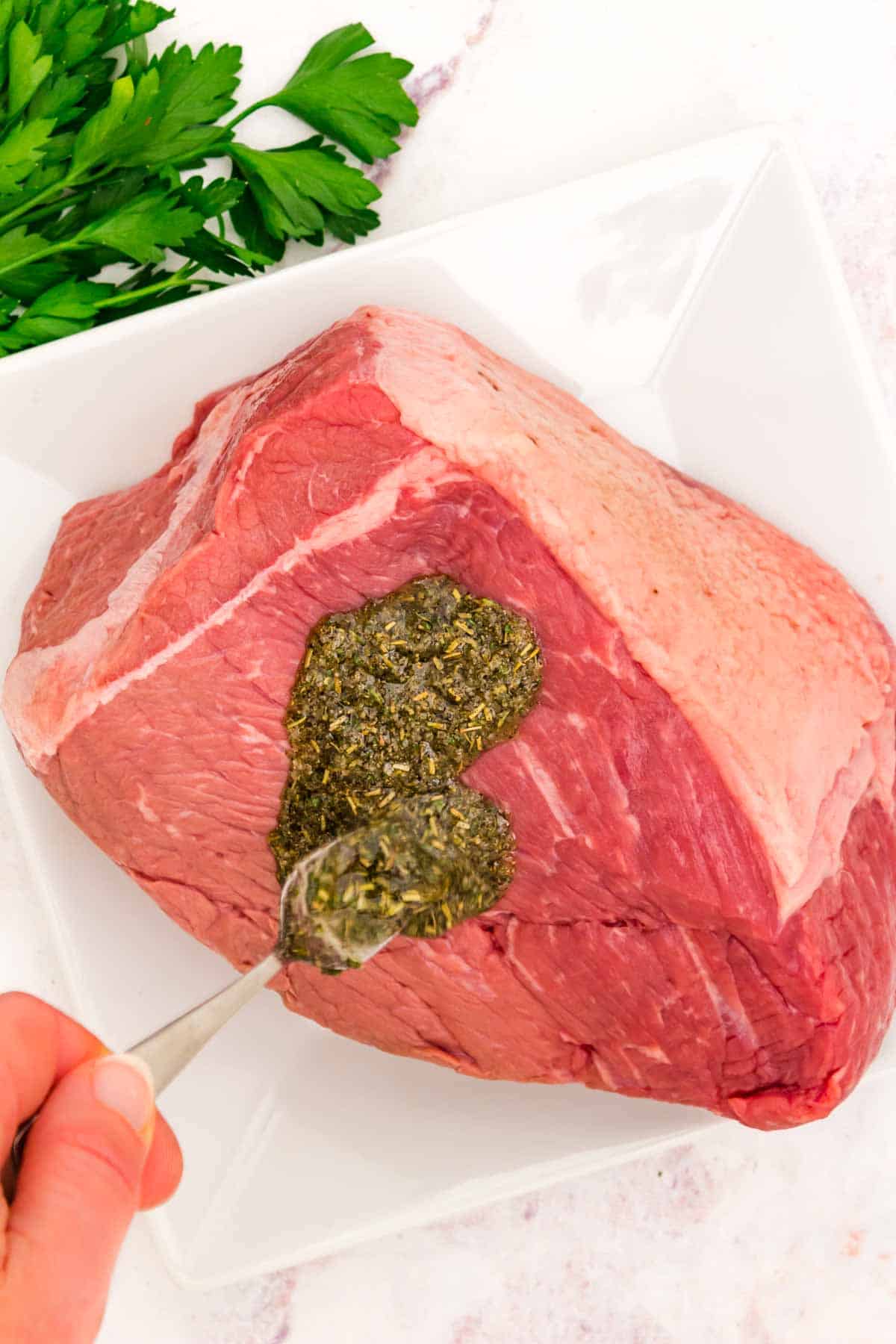 Roast: Roast the beef at 450ºF for the first 15 minutes, followed by a low, slow roast at 325ºF for another hour or so. I like to aim for a juicy medium rare. Once the beef is out of the oven, let it rest on a cutting board while you prepare a quick gravy.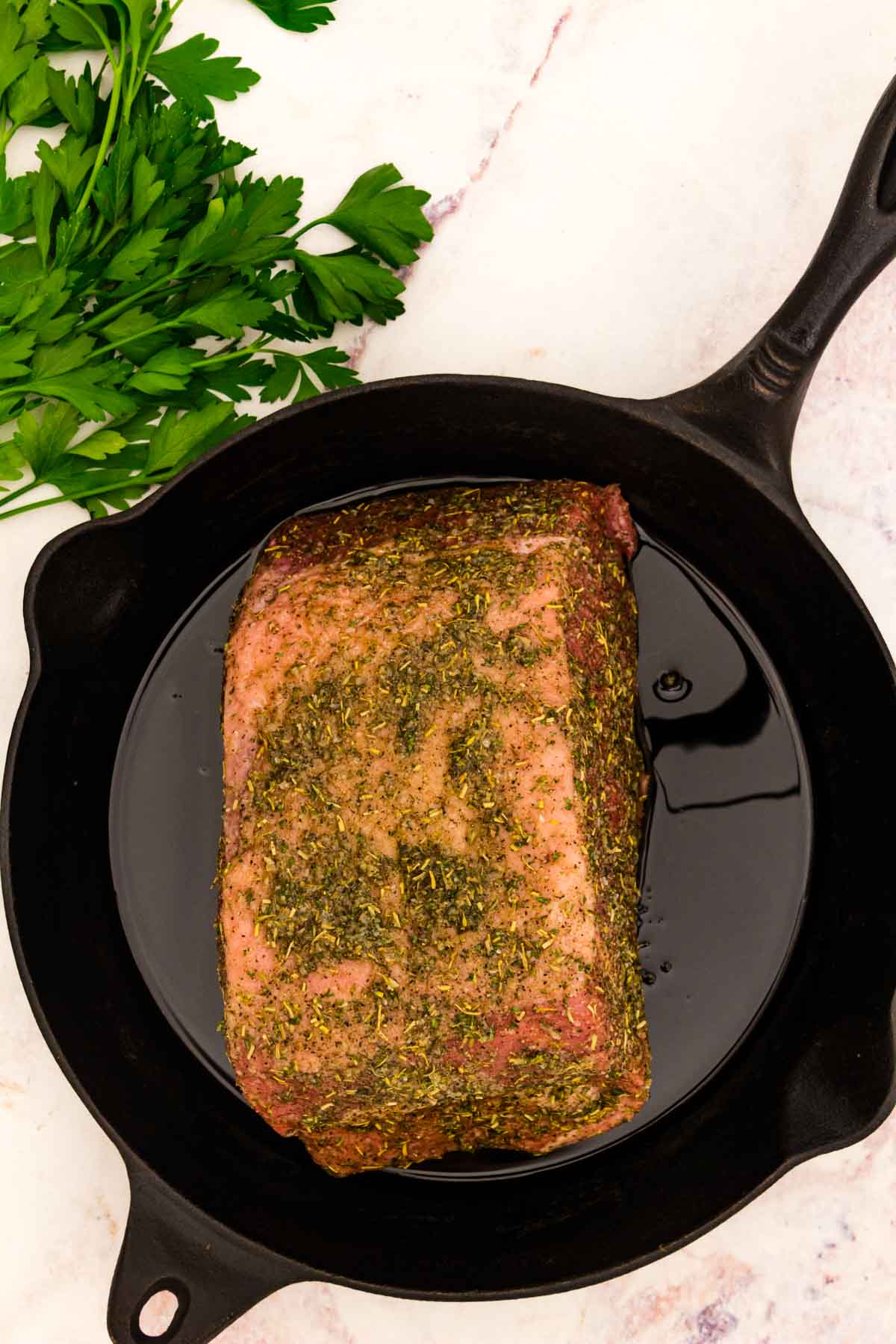 Making the Gravy
See all that beef fat leftover in the skillet? Like turkey drippings, that's where you'll find bucketloads of yummy flavor. This makes it the best base for a beautiful, savory beef gravy recipe:
Add Flour: Over medium heat, whisk rice flour into the fat that's left in the skillet.
Add Stock: Lower the heat and gradually whisk in the beef stock.
Simmer: Let the gravy simmer to thicken, about 5-10 minutes. Lastly, you'll stir in the Worcestershire sauce and season with salt and pepper to taste.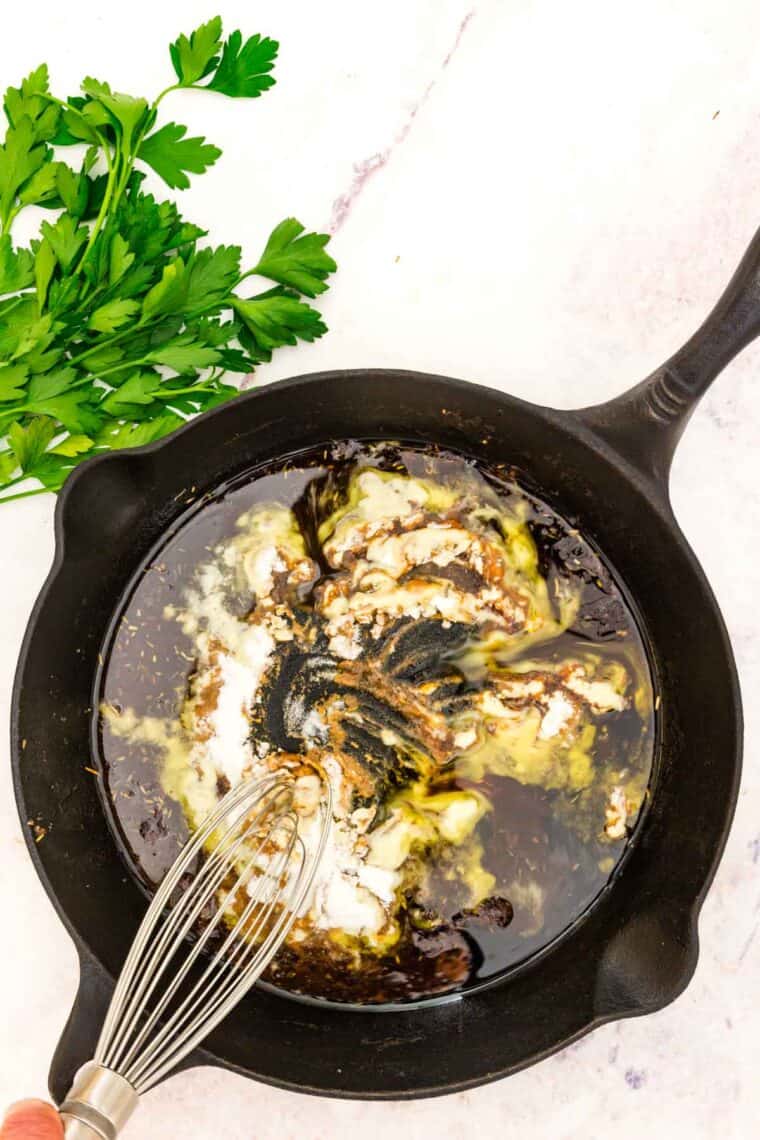 With your gravy warm and ready, use a sharp knife to thinly slice your bottom round roast for serving. I like to give mine a sprinkle with fresh parsley for a lovely pop of green. See further on for easy serving suggestions!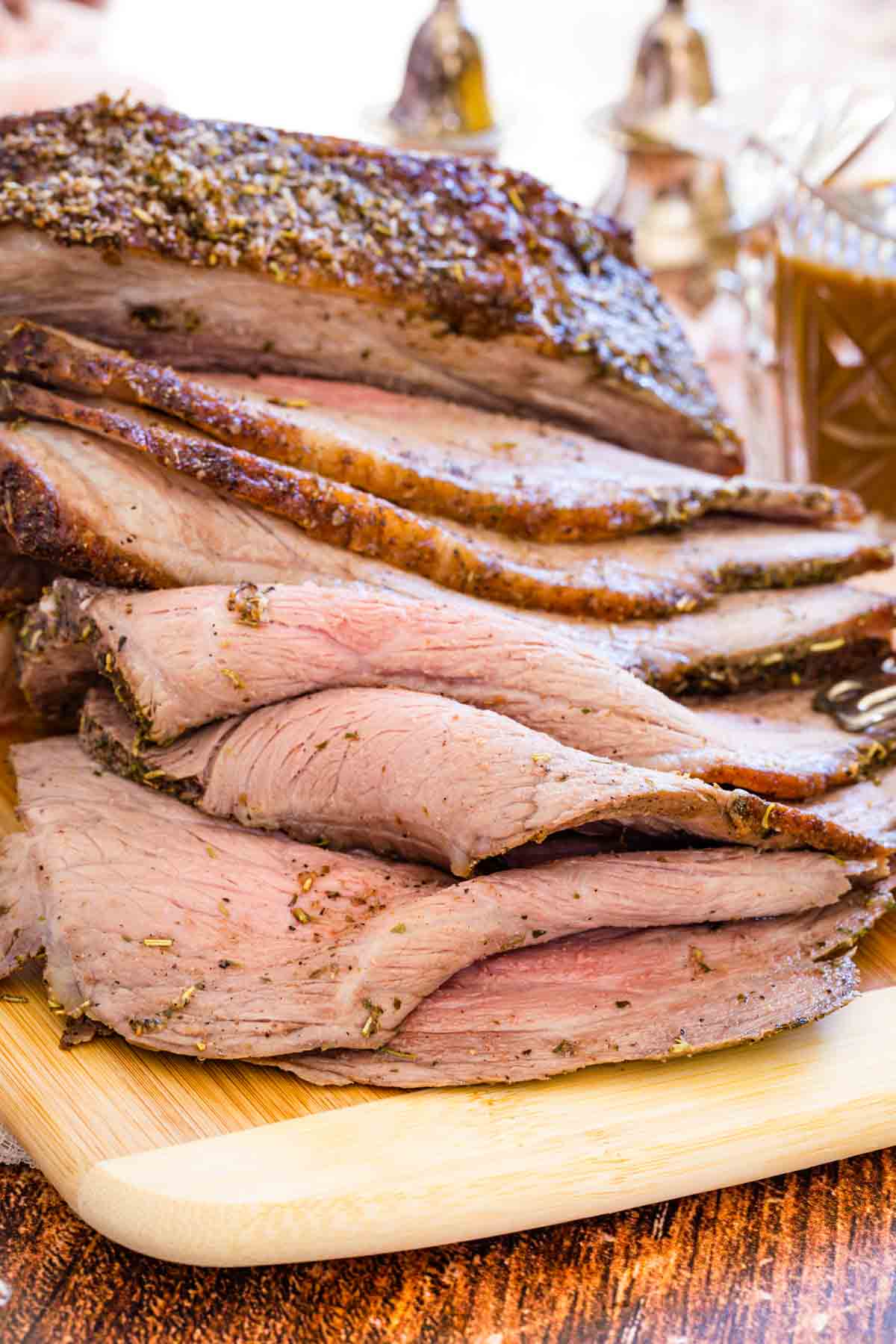 Tips for Success
Here are my tips to keep in mind when roasting tender, succulent beef in the oven:
Check for doneness. Your roast is medium rare when the internal temperature reads 125-130°F on a meat thermometer.
Let the roast beef rest. This is key to an ultra-tender roast. Resting meat after it's cooked allows all the juices to redistribute. Don't skip it!
Gravy is optional, but highly recommended!
Sweet rice flour offers the smoothest gravy. I use it in my turkey gravy recipe, too. While other flours will technically work for this beef gravy, the consistency with sweet rice flour just can't be matched. You can order it from Amazon, but it's even more affordable when you pick it up in the Asian section of the grocery store.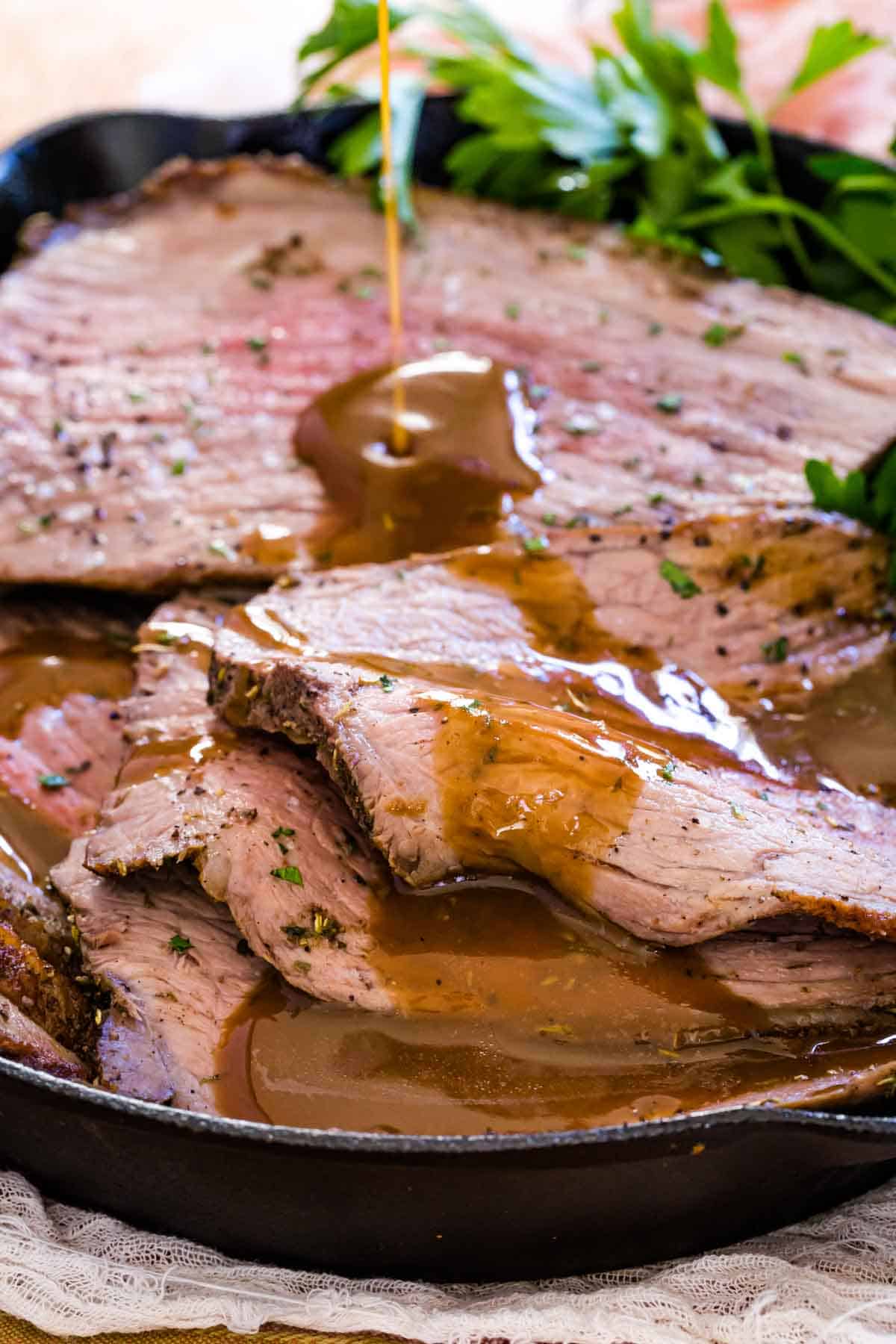 Make It a Meal
This succulent roast is simple enough to make on a weekend and special enough to serve as a Christmas roast. The juiciness and flavors are just that good!
Christmas Dinner
A round bottom roast makes a great addition to a holiday menu next to festive side dishes like Gluten-Free Dinner Rolls, Instant Pot Mashed Potatoes, and Skillet Bacon Green Beans.
Classic Sunday Roast
In a nod to those across the point, you can channel some British inspiration and sop up that gravy with Gluten Free Yorkshire Pudding and some Peas and Carrots.
Restaurant-Worthy Meal
You can go a little glam with upscale sides like Perfect Oven-Roasted Asparagus and Air Fryer Truffle Fries.
And if you want to create your own menu, here are more easy sides to serve with roast beef: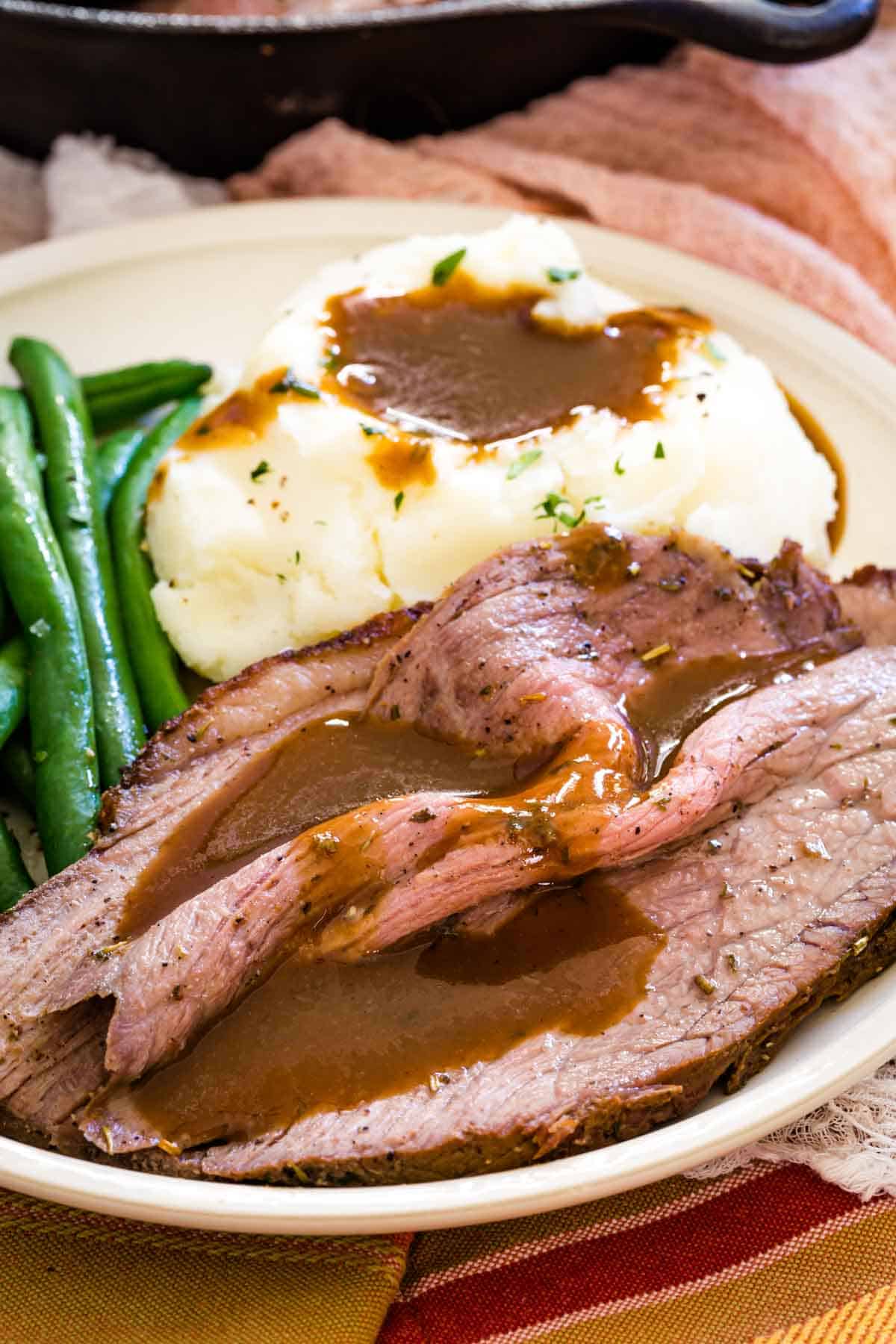 Storing and Reheating Leftover Roast Beef
This beef roast can be refrigerated either wrapped tightly in foil or plastic wrap, or in an airtight container. The leftover bottom round roast will keep in the fridge for up to 3-4 days. You can also keep any leftover gravy in an airtight container and refrigerate it, too.
Reheat the beef in the oven at 350ºF until warmed through, and covered with foil to seal in the moisture. The gravy can be reheated on the stovetop or in the microwave. Remember to stir it often.
We love slicing our leftovers up thin with Gluten-Free Bread or Gluten Free Hamburger Buns for roast beef sandwiches!
Can I Freeze It?
Absolutely. Cooked beef can be frozen airtight for up to 3-4 months. Be sure to wrap the beef tightly in plastic wrap, plus a layer of foil to protect against freezer burn. The gravy is also freezer-friendly.
Thaw the roast beef and the gravy in the fridge before reheating.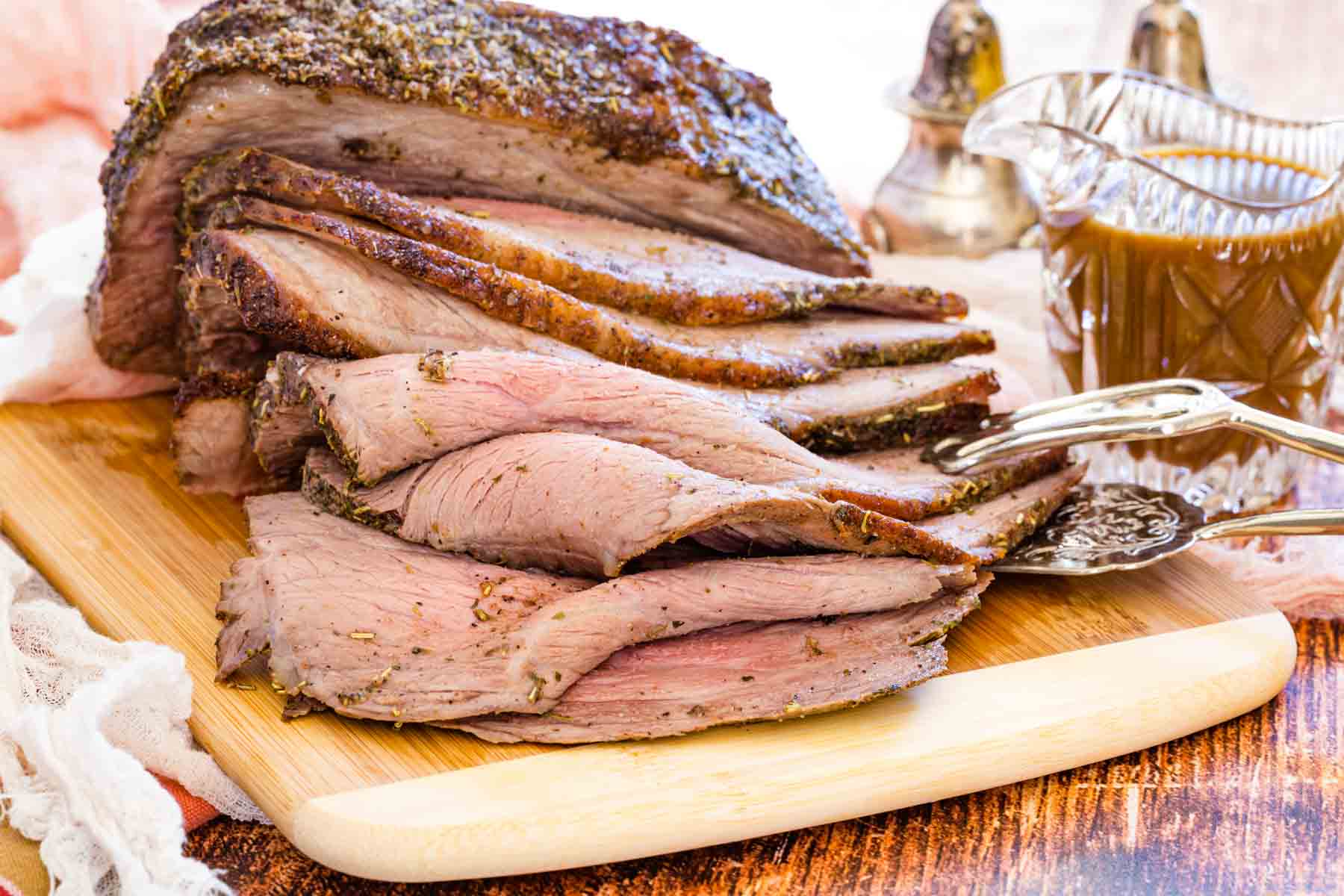 Shop the Recipe
I love making this bottom round roast in a cast iron skillet. You can roast the beef right in the pan in the oven. Then while it rests on the cutting board, make the gravy right in the skillet using the drippings for extra savory flavor.
$19.90
$34.25
in stock
45 new from $19.90
2 used from $24.00
as of September 29, 2023 4:10 am
Last updated on September 29, 2023 4:10 am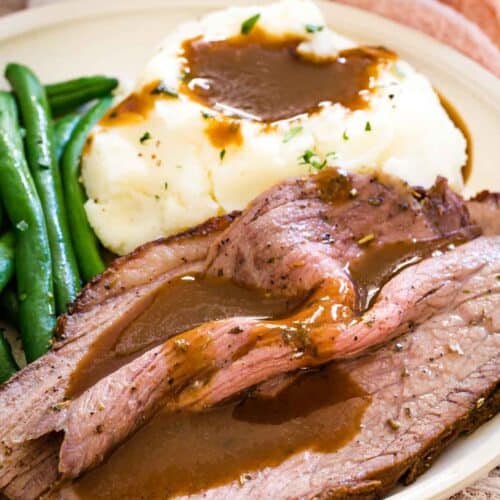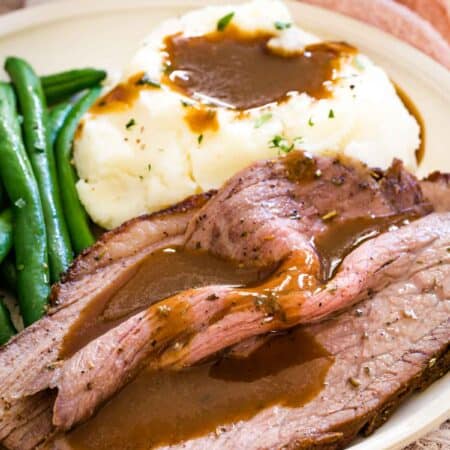 Bottom Round Roast
Succulent Bottom Round Roast is rubbed with a savory herb blend and then slow-roasted in the oven to lock in the flavor. Serve this easy beef recipe smothered with a simple and flavorful homemade gravy!
Ingredients
3-4

pound

bottom round roast

4

Tablespoons

olive oil

, divided

1

Tablespoon

kosher salt

2

teaspoons

black pepper

1

teaspoon

onion powder

1

teaspoon

dried parsley

1

teaspoon

dried thyme leaves

1

teaspoon

dried rosemary

½

teaspoon

garlic powder

Fresh parsley for garnish

, optional
For the Gravy:
2

Tablespoons

sweet rice flour

2

cups

low-sodium beef stock

or broth

1

Tablespoon

Worcestershire sauce

Salt and pepper

, to taste
Instructions
Preheat the oven to 450°F. Pour 1 Tablespoon olive oil the bottom of a cast iron skillet, or another oven-safe skillet and swirl it around to coat it evenly.

In a small bowl stir together the olive oil, salt, pepper, onion powder, parsley, thyme, rosemary, and garlic powder to form a paste. Use your hands to cover the roast completely with the seasoning mixture and place it in the prepared skillet.

Roast for 15 minutes at 450°F, then reduce the oven temperature to 325°F. Continue roasting for another 1 to 1 1/2 hours or until the internal temperature reaches 125-130°F for medium rare.

Remove the roast from the oven and transfer it to a cutting board to rest for 15 minutes. Place the skillet over medium heat to prepare the gravy.

Sprinkle the sweet rice flour over the beef fat in the bottom of the skillet. Whisk constantly until it forms a paste.

Reduce heat to low and, while whisking, pour in a splash of the stock and whisk until incorporated. Continue slowly adding the liquid while whisking until it is all incorporated.

Let simmer for 5-10 minutes, until thickened, then add the Worcestershire sauce. Season to taste with salt and pepper.

Thinly slice the roast and serve with gravy and a sprinkle of fresh parsley, if desired.
Notes
The gravy is optional.
Brown rice flour or gluten-free all-purpose flour can also be used for the gravy, but sweet rice flour provides the smoothest consistency. See my turkey gravy recipe.
Nutrition Facts
Bottom Round Roast
Amount Per Serving
Calories 319
Calories from Fat 144
% Daily Value*
Fat 16g25%
Cholesterol 105mg35%
Sodium 1114mg46%
Potassium 723mg21%
Carbohydrates 3g1%
Protein 39g78%
Vitamin A 10IU0%
Vitamin C 0.4mg0%
Calcium 46mg5%
Iron 4mg22%
* Percent Daily Values are based on a 2000 calorie diet.
Categories:
More Satisfying Beef Recipes