This post may contain affiliate links. Read my disclosure policy.
This homemade Gluten Free Yorkshire Pudding bakes up delightfully crispy and golden. It's the perfect side dish for roasts, holidays, and more!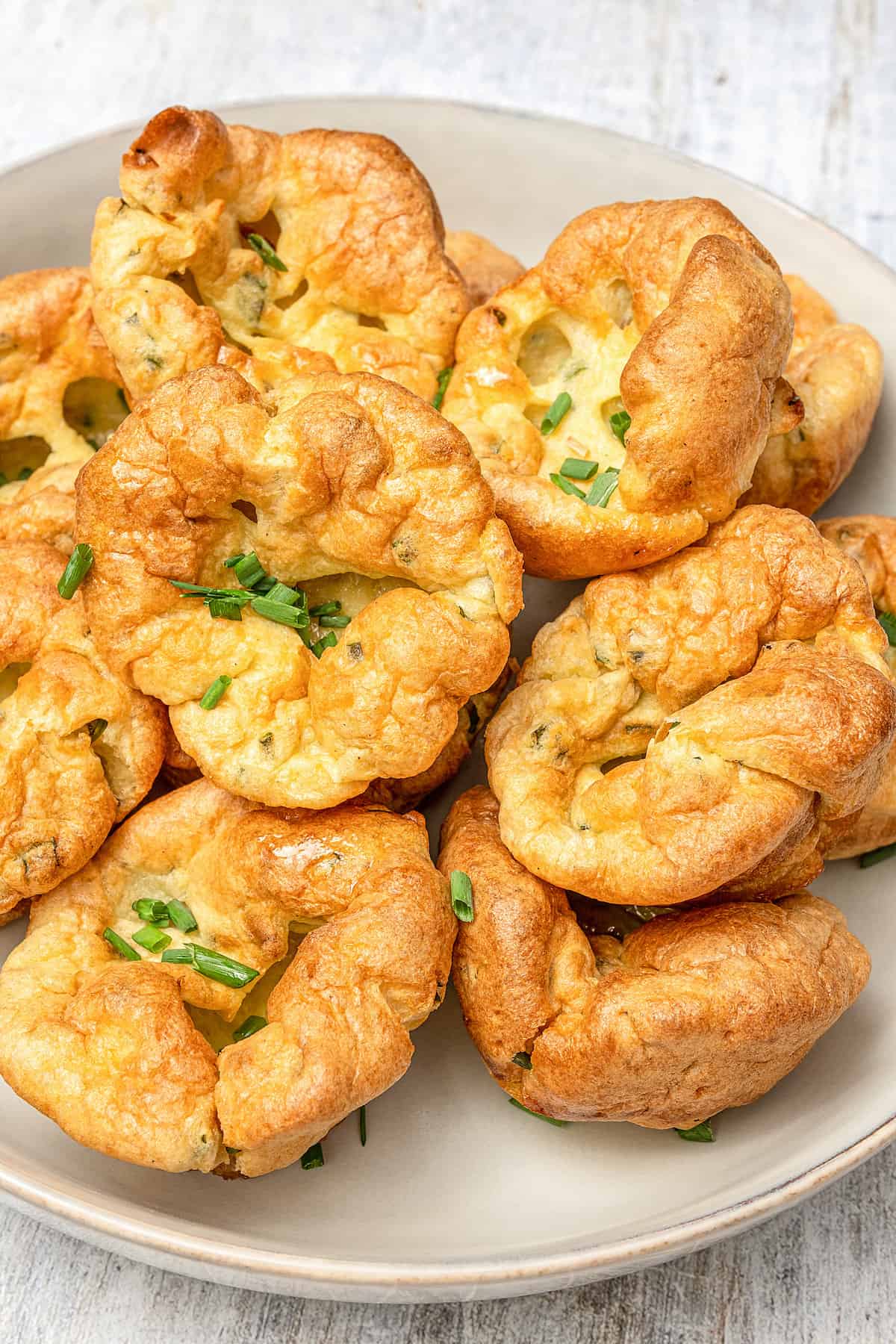 These Yorkshire Puddings Are Light, Golden-Brown, and Gluten-Free!
I've been feeling some serious Sunday Roast vibes lately. Maybe it's the changing of the seasons. Maybe I've been influenced by all the British accents while binging The Great British Baking Show. Who knows, but color me inspired.
I'm talking roast beef, gravy, the whole deal – and of course, no roast is complete without a classic and crispy Yorkshire pudding. In this house, that means gluten-free. So, I've gone ahead and created what I think are quite possibly the best gluten-free Yorkshire puddings!
These baked up perfectly light and golden, just like a Yorkshire pudding should be. Pudgy on the bottom, and airy up top. I threw in a sprinkling of fresh chives for good measure. Making these gluten-free was surprisingly easy, too, which is a major bonus.
If you have a roast on your horizon, you definitely want this savory side on the menu!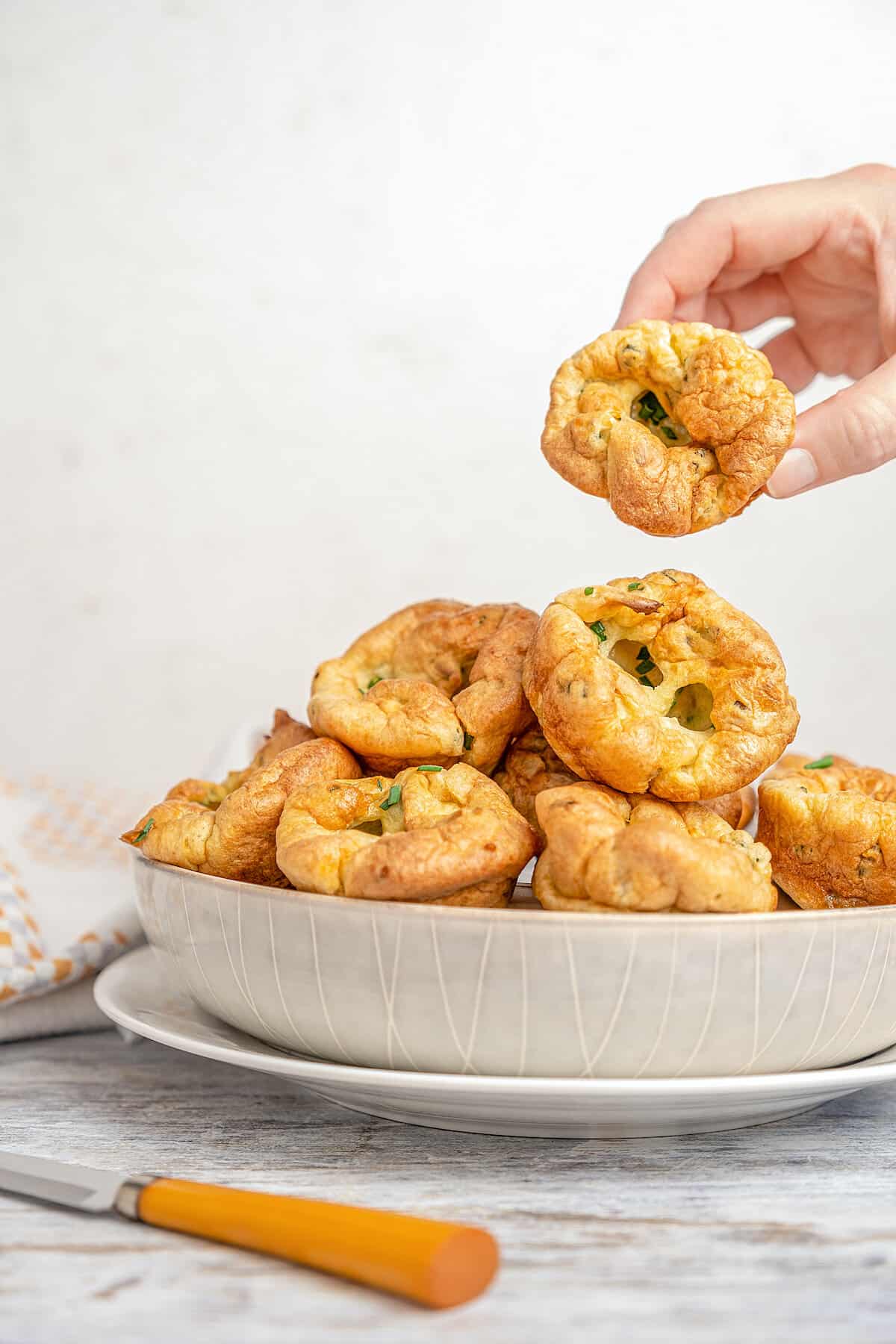 Why Do They Call It Yorkshire Pudding?
If your mind immediately goes to pudding as a sweet dessert, you might be thinking, "That doesn't look like pudding at all!" However, Yorkshire pudding is from England, where it isn't a dessert at all. It's a side dish. Time for a bit of English trivia!
All around England, batter puddings are savory dishes, similar to a popover, served with or before a meal. They tacked "Yorkshire" onto this version, as it was a type of pudding specific to the Yorkshire region. Yorkshire puddings are light, crispy, and airy, traditionally cooked in a shallow roasting tin.
Nowadays, if you walk into a pub in Britain on any given Sunday, you'll find crispy Yorkshires as a fixture of the British Sunday Roast. They're served with roast meat and potatoes, gravy, stuffing, and condiments. The full month!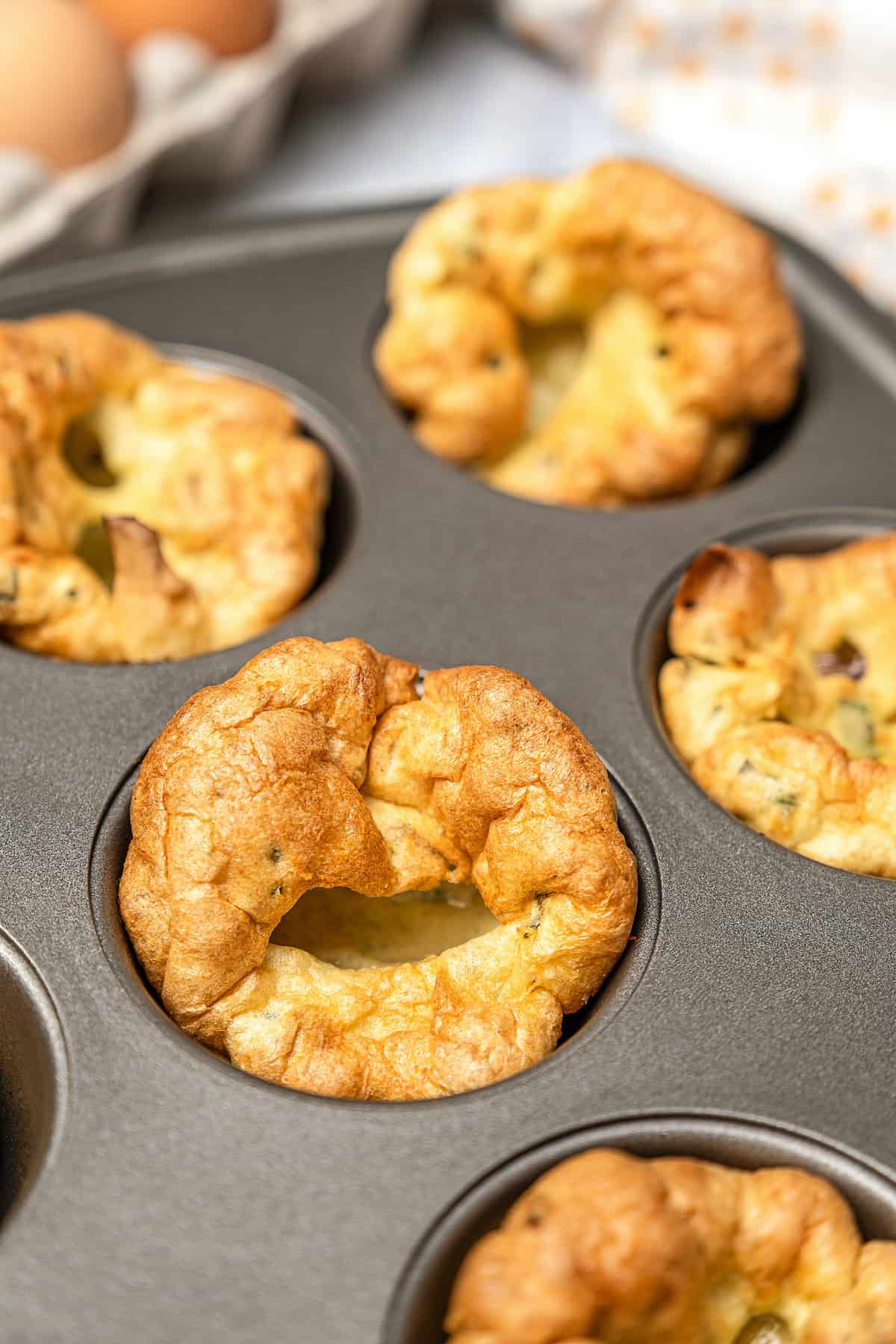 The Ingredients You'll Need
The ingredients list for a traditional Yorkshire pudding is as basic as it gets. With a few small tweaks to make the recipe gluten-free, below is everything you'll need to make this homemade pudding. Be sure to check out the recipe card further on for the full amounts.
Eggs: You'll need 4 large eggs to make this gluten-free Yorkshire pudding.
Gluten-Free Flour: I had the best results with King Arthur's Measure-for-Measure.
Xanthan Gum: Xanthan gum is an additive that takes the role of gluten in baking, acting as a thickener and binding agent for the other ingredients.
Milk: Whole milk is recommended for the higher fat content, but 2% milk will also work.
Salt
Chives: I toss a handful of chopped fresh chives into my pudding batter for added flavor. They also add a nice pop of green garnish after the Yorkshire puddings are baked!
Shortening: Traditionally, Yorkshire puddings were cooked underneath meat while it roasted over a fire. The batter would absorb the drippings from the roast as it cooked. Safe to say, my kitchen isn't so equipped. Instead, I add lard or shortening to the wells of a muffin tin to bring flavor and get those Yorkshires perfectly puffed up.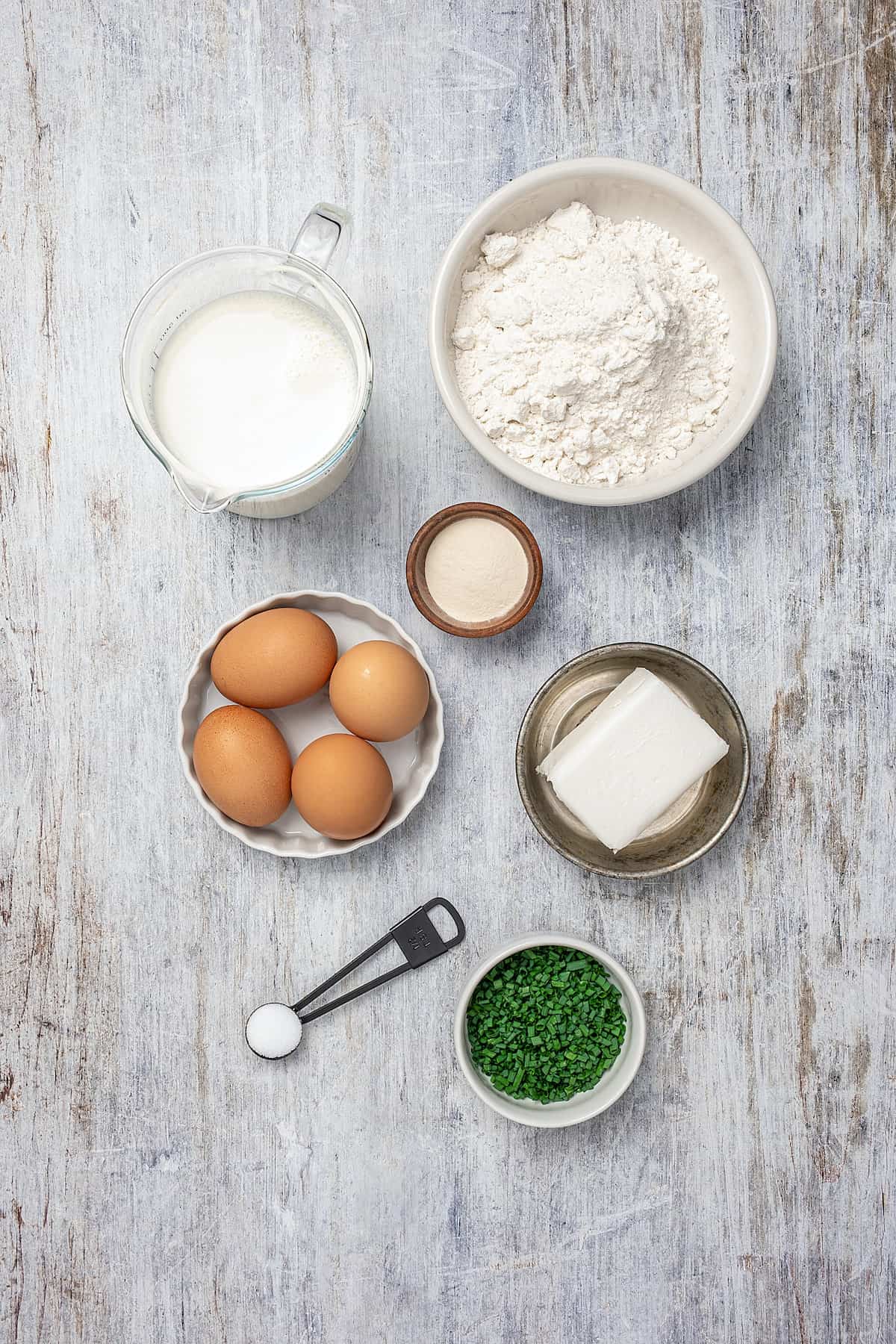 Instructions
These Yorkshire puddings are so easy to make! For the best results, try to make the batter a day ahead. It's not mandatory, but it does lead to even better flavor. Either way, this recipe comes together fairly quickly:
Make the Batter: Combine the batter ingredients in a bowl, and whisk until smooth. Then, let the batter rest. Resting enhances the texture and flavor, so if you can, I recommend leaving the batter in the fridge overnight. Otherwise, make sure it rests at room temperature for at least 30 minutes.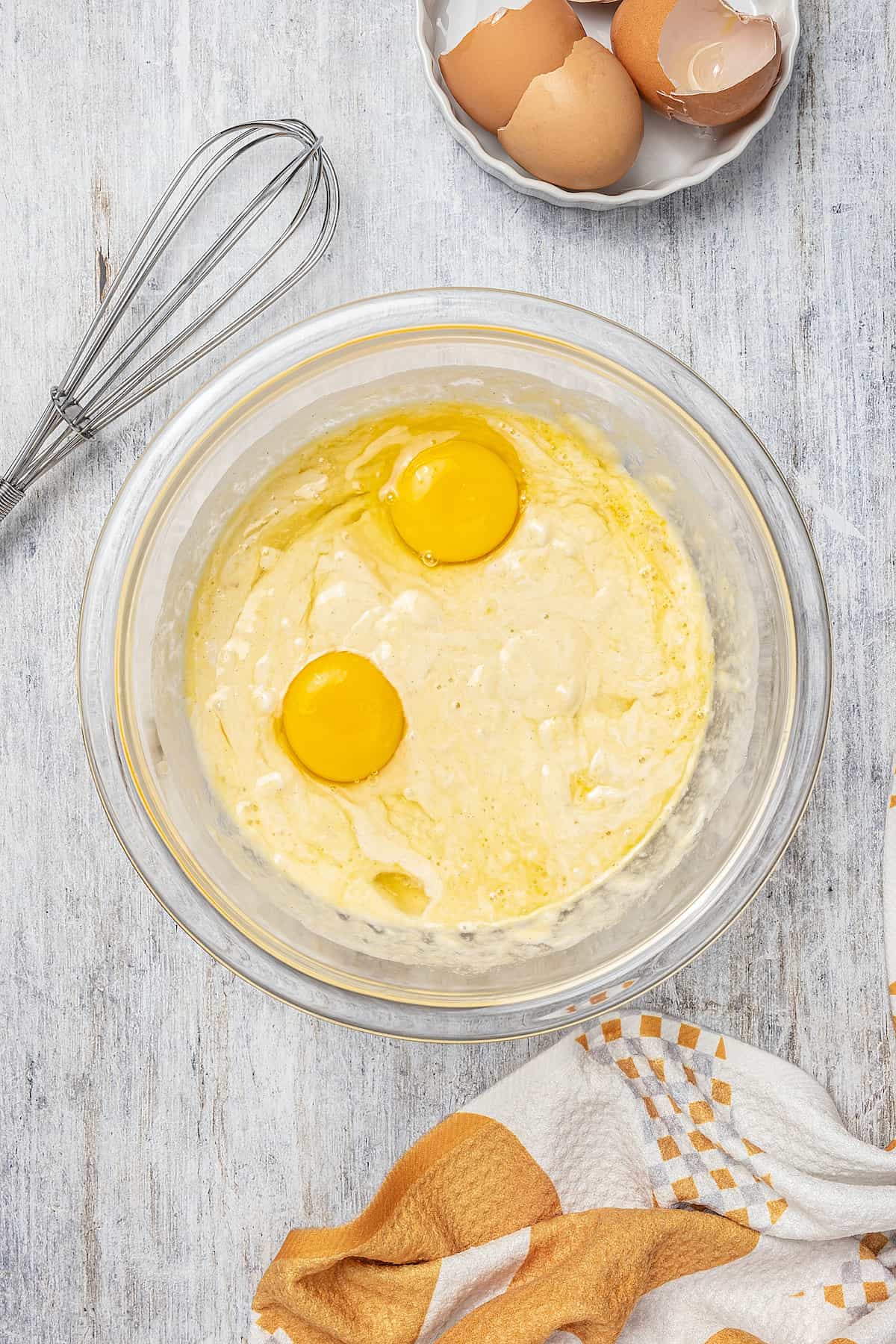 Prepare the Pan: If you refrigerated your batter overnight, take it out while you preheat the oven to 450ºF. Drop an equal amount of shortening into each well of a 12-well metal muffin tin. Place the muffin tin into the oven until the lard is smoking hot, about 10 minutes. When you take your tin out of the oven, make sure you place it on a heat-proof surface!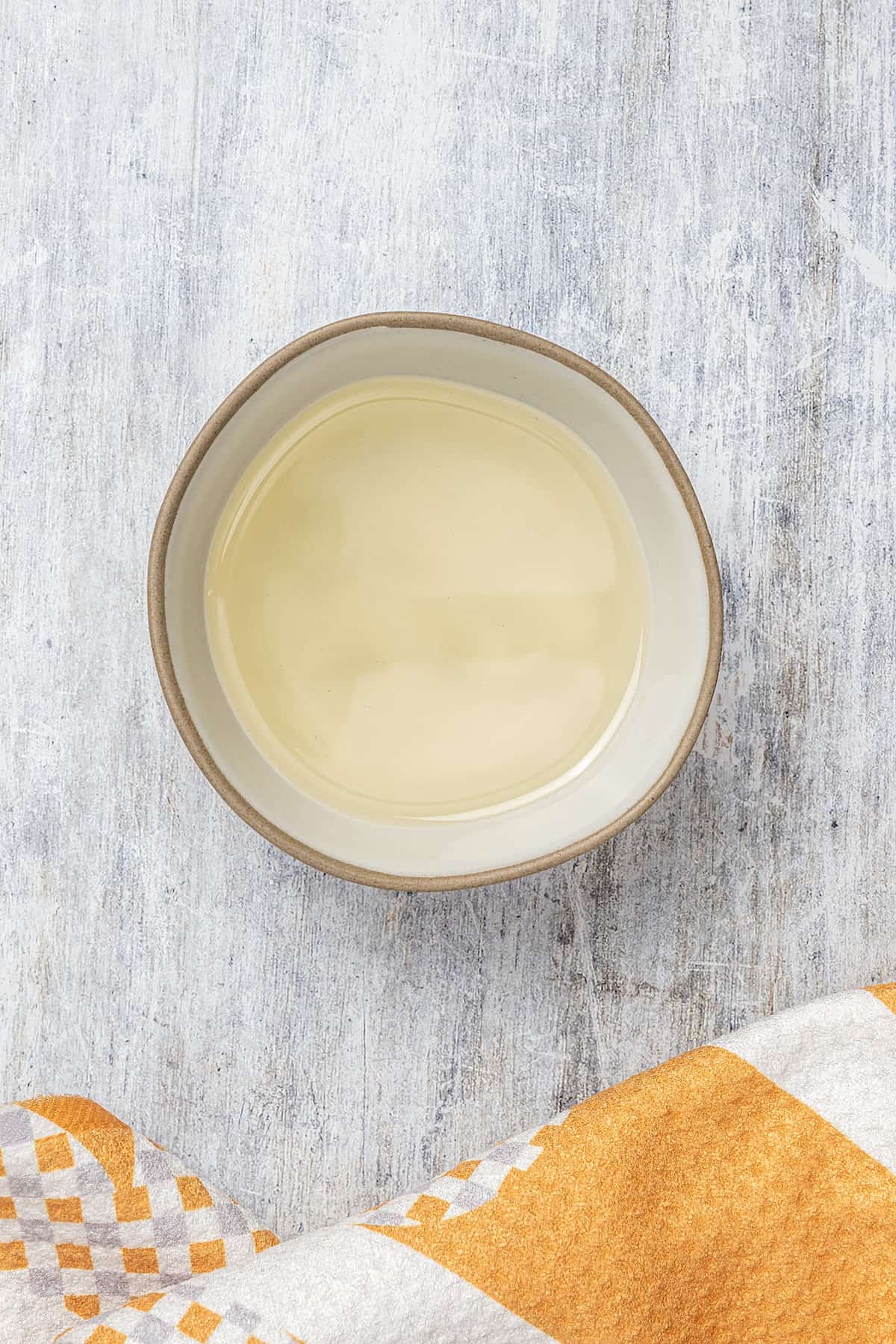 Divide the Batter: Once your pan with the shortening is ready, divide the gluten-free batter between the wells. You should have enough batter to fill each well about ½ to ¾ of the way full.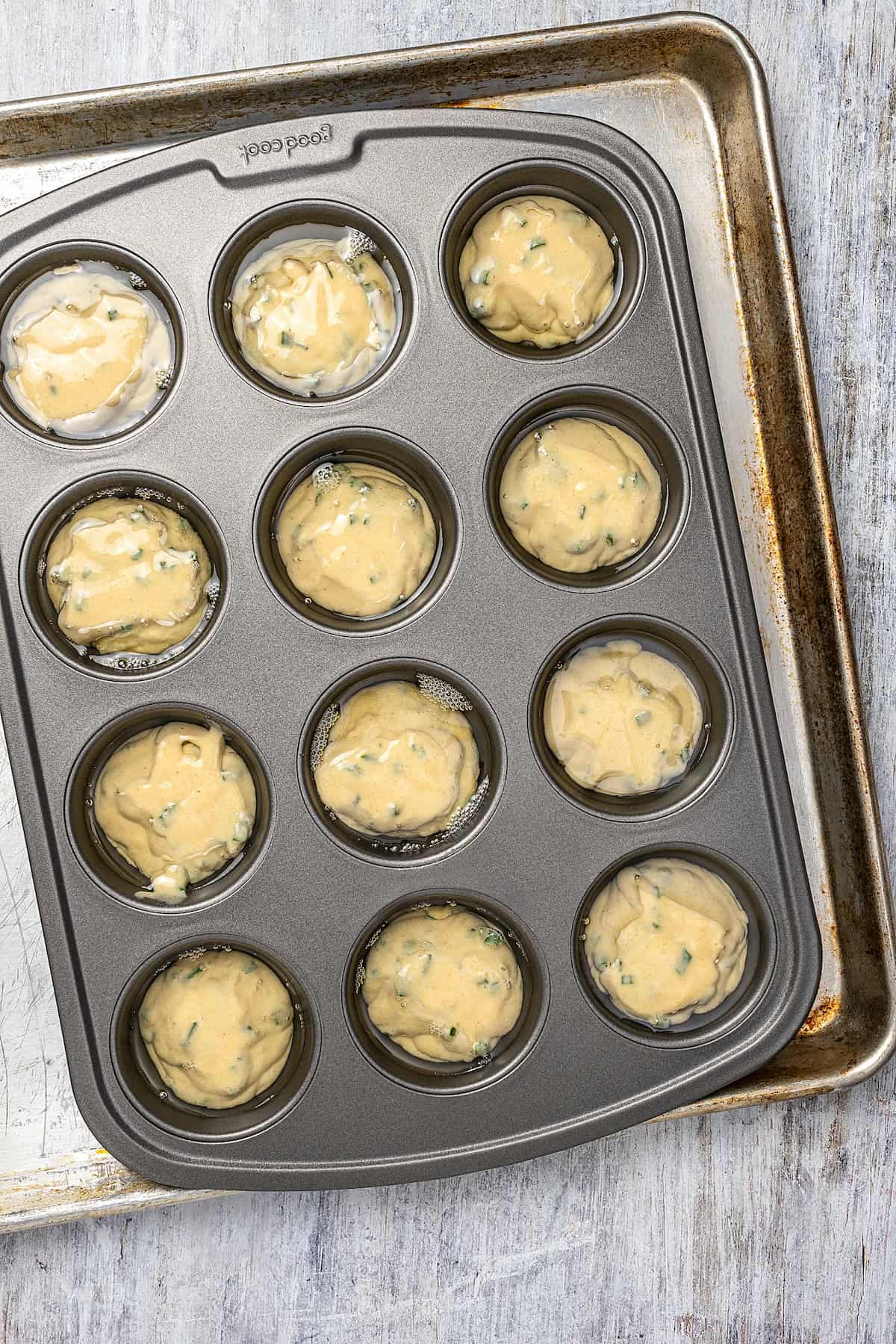 Bake: Place the muffin tin with the batter back in the oven right away. Bake for about 15 minutes or so. Take them out when the batter has quadrupled in size and you're left with gloriously puffed and golden-brown Yorkshire puddings. Give them a careful poke, and you should find them crisp to the touch.
Serve your Yorkshire pudding immediately, with an extra sprinkle of chives if you'd like.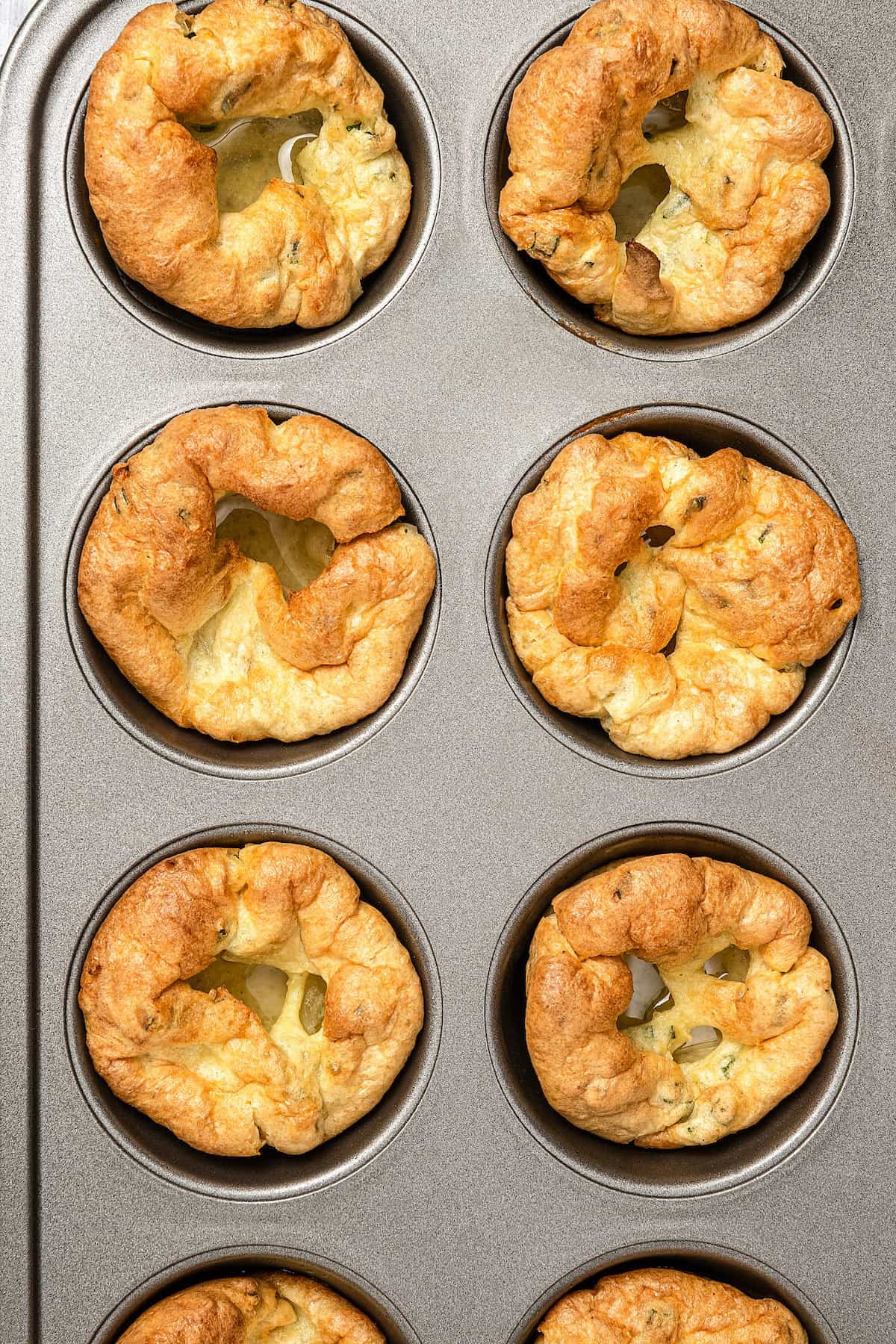 Helpful Hints
Like any baking, the perfectly risen Yorkshire pudding is a bit of an art. I've had great results with this recipe, and I just know you will too. And if you find that your Yorkshire puddings aren't rising for whatever reason, don't worry! It happens to the best of us. But here are some tips to avoid this:
Don't Open the Oven Door: Resist the temptation to open the door before the Yorkshire puddings are done baking. You don't want your Yorkies deflating. Set a timer and trust the process!
Get the Shortening Hot Enough: Sizzling hot shortening is the secret to fluffy, risen Yorkshire pudding. It should be bubbling when you add your batter to the tins. You can do a test drizzle, and if it's not sizzling, that's a sign you need to heat up the lard even more.
Don't Overfill the Wells: Too much batter will cause the puddings to collapse under the weight. Stick to ¾ of the way up, at most.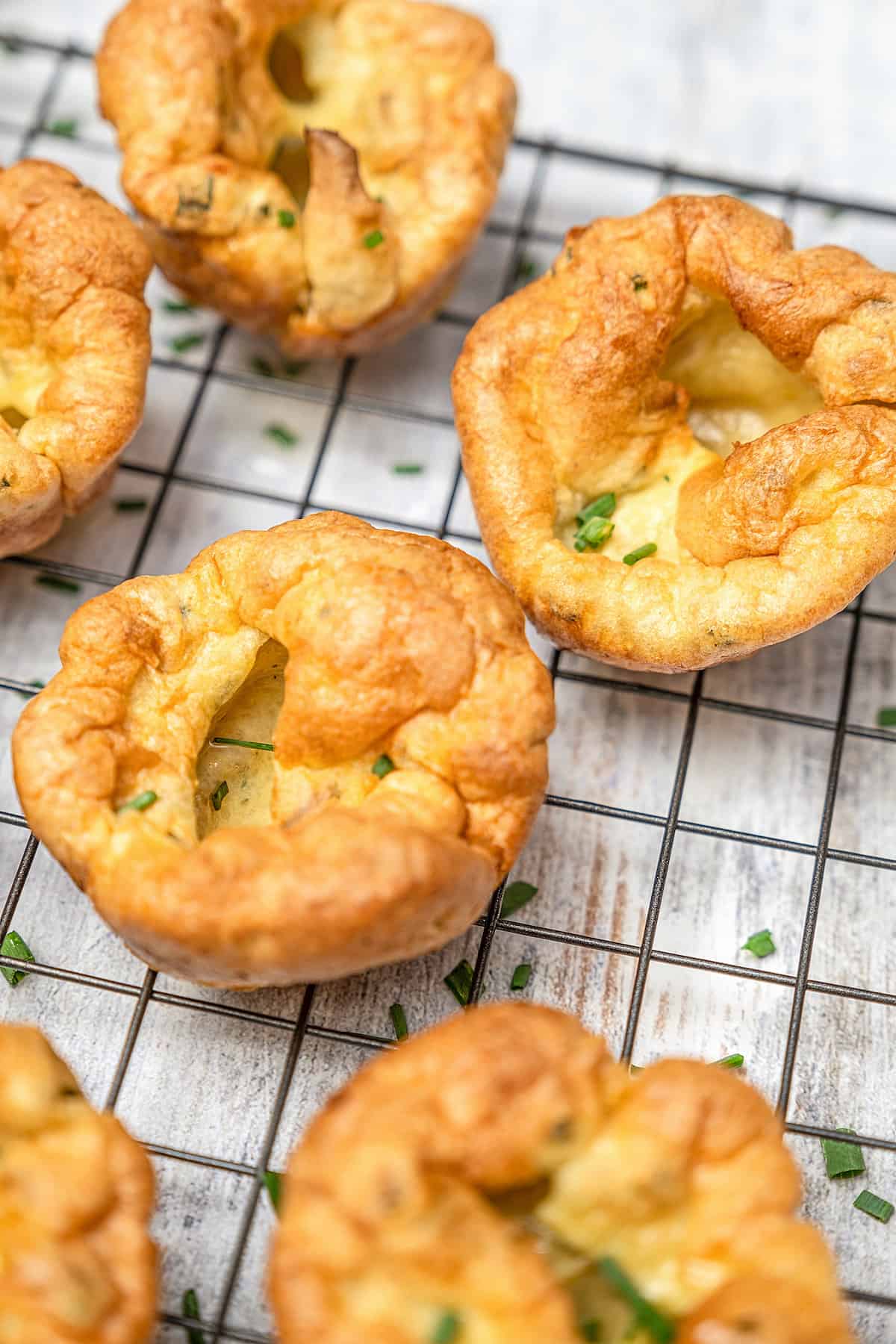 What Do You Eat Yorkshire Pudding With?
As a classic side dish, there are so many ways to serve this savory gluten-free Yorkshire pudding! Here are just a few easy meal ideas: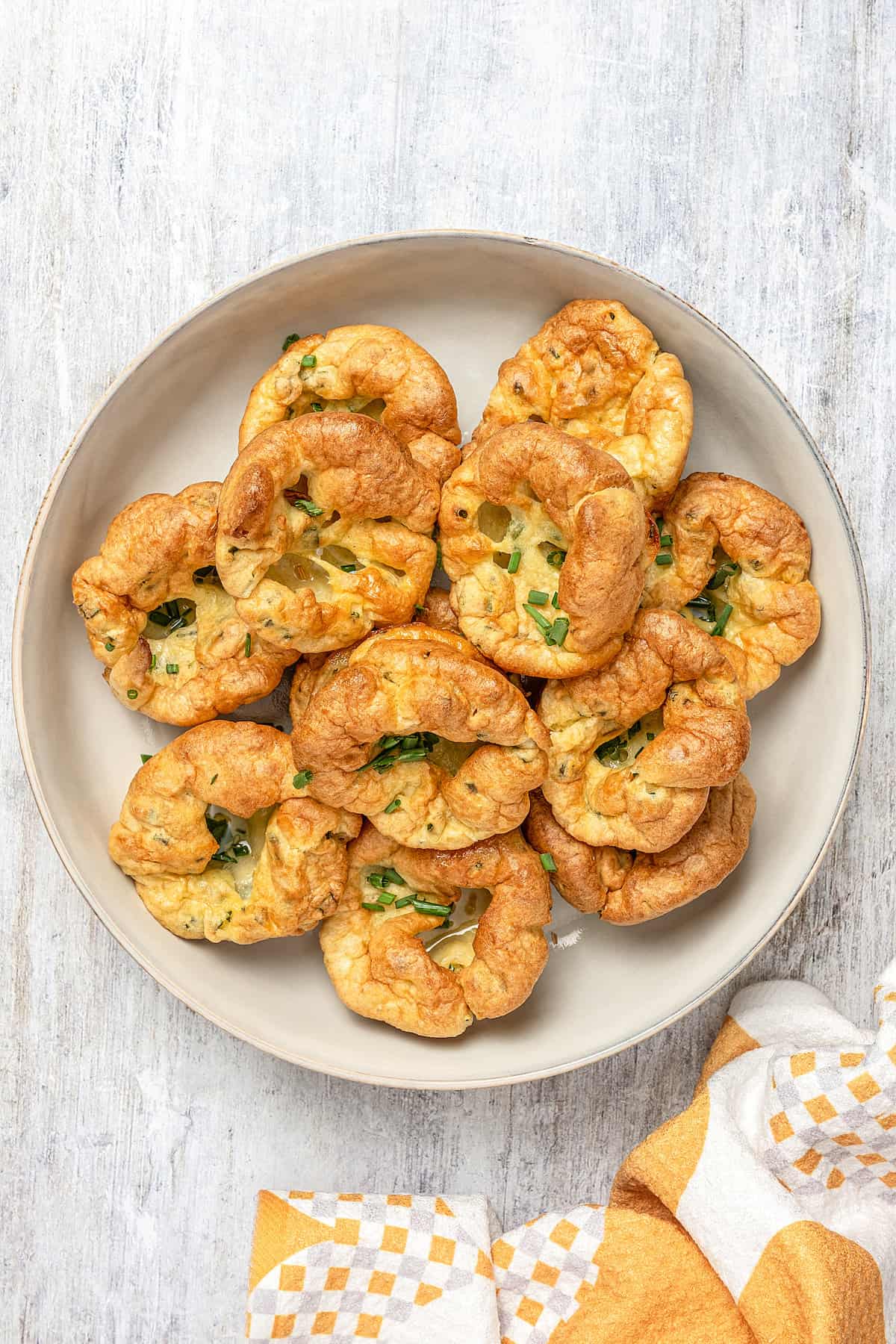 Storing and Reheating the Leftovers
I always enjoy my Yorkshire pudding the most on the day it's made. However, you can also store leftovers once they're cooled. Transfer the Yorkshires to an airtight container lined with a paper towel, and store them in the fridge for up to 3 days.
To reheat Yorkshire pudding, place them in a hot oven for a few minutes until the outsides are crisped and they're warmed through. I like to use a muffin tin for this, too!
Do Gluten-Free Yorkshire Puddings Freeze Well?
Yes, you can store Yorkshire pudding frozen for up to 1 month. Place the cooked and cooled Yorkies into an airtight container or freezer bag for storage. Reheat the frozen puddings straight from frozen, at 425ºF for about 6 minutes, or until baked through again.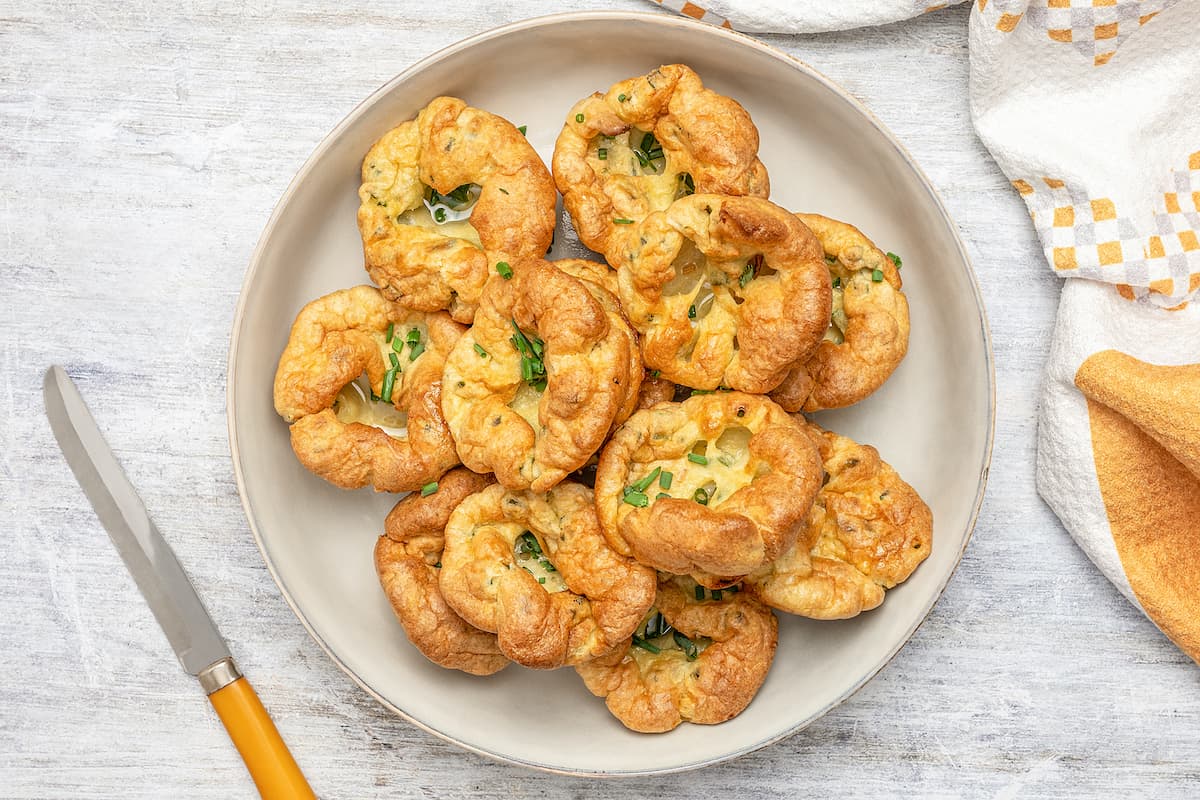 Things You'll Need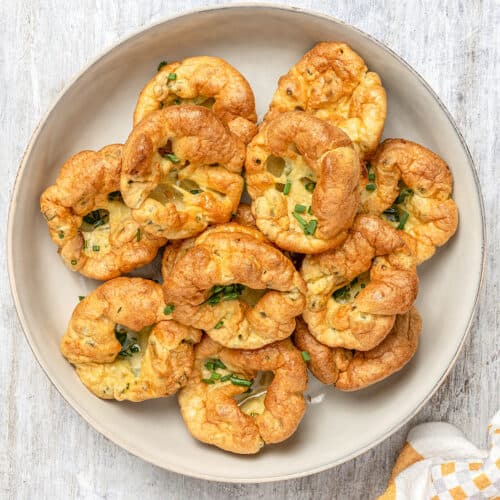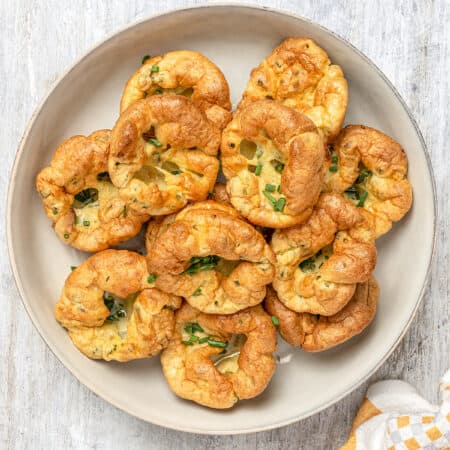 Gluten Free Yorkshire Pudding
This homemade Gluten Free Yorkshire Pudding bakes up delightfully crispy and golden. It's the perfect side dish for roasts, holidays, and more!
Ingredients
4

large

eggs

1

cup

gluten-free flour

+ 2 tsp (I use King Arthur Measure-for-Measure)

¼

tsp

xanthan gum

¾

cup

whole milk

½

tsp

salt

2

tbsp

water

¼

cup

chives

chopped

6

tbsp

shortening

melted
Instructions
Combine eggs, flour, xanthan gum, milk, water, salt and chives in a medium bowl and whisk until a smooth batter is formed. Let batter rest at room temperature for at least 30 minutes. For the best results, transfer the batter to an air tight container and store overnight in the refrigerator. Remove from the refrigerator while you preheat the oven.

Divide the shortening equally between the wells of your muffin tin. Place muffin tin with shortening in the oven for 10 minutes, until the fat is smoking hot.

Transfer the muffin tin to a heat-proof surface and divide the batter evenly between each well. The wells should be filled between 1/2 and 3/4 of the way up the sides. Immediately return to the oven. Bake until the puddings have just about quadrupled in size. The puddings should be brown all over and crisp to the touch, approximately 14-15 minutes.

Serve immediately and garnish with fresh chives.
Nutrition Facts
Gluten Free Yorkshire Pudding
Amount Per Serving
Calories 123
Calories from Fat 81
% Daily Value*
Fat 9g14%
Cholesterol 64mg21%
Sodium 129mg5%
Potassium 49mg1%
Carbohydrates 8g3%
Protein 4g8%
Vitamin A 151IU3%
Vitamin C 0.5mg1%
Calcium 36mg4%
Iron 1mg6%
* Percent Daily Values are based on a 2000 calorie diet.
More Simple Side Dishes