This post may contain affiliate links. Read my disclosure policy.
This is the best Gluten-Free Stuffing made with cubed sandwich bread. It has a soft texture from eggs and broth on the inside, plus perfectly crispy edges and plenty of fresh flavor from mixed herbs. It's the Thanksgiving side dish you need on your table alongside the turkey!
Classic Thanksgiving Stuffing Made Gluten Free!
No Thanksgiving table is complete without a generous baking dish of savory stuffing. And even if you're gluten-free, there's no need to skip everyone's favorite Thanksgiving meal. My version has rich, buttery flavor and is chock-full of fresh herbs for a comforting side dish everyone will love.
If you're planning your holiday menu, you don't want to leave this crowd-pleasing gluten-free stuffing off the list. It's especially delicious with a drizzle of my savory Gluten Free Gravy Made with Apple Cider!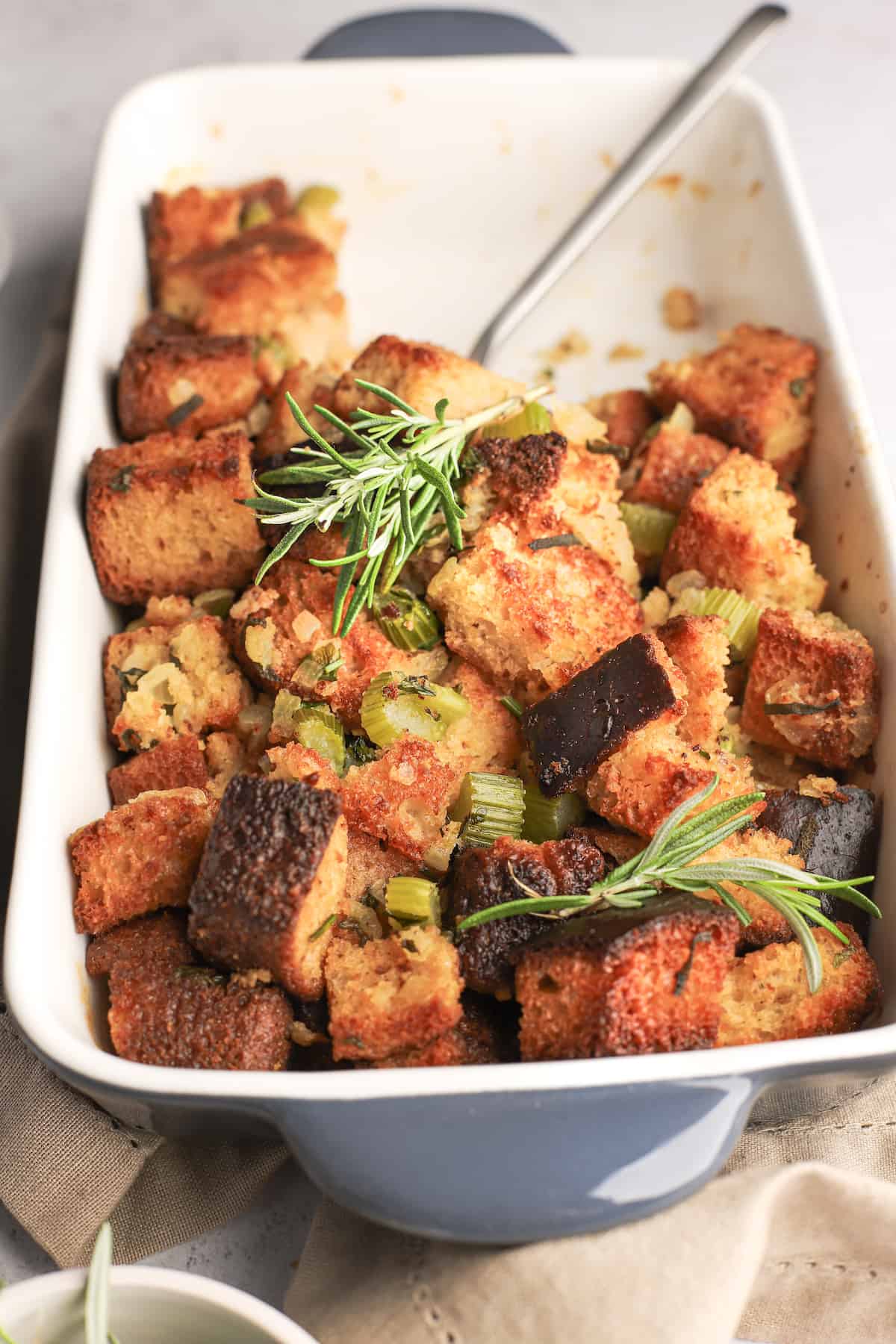 Stuffing vs. Dressing
Technically, the difference between stuffing and dressing comes down to how the dish is made. Traditionally, stuffing is stuffed into a bird and cooked. Dressing, on the other hand, is prepared in a baking dish and baked like a casserole.
So I suppose this is technically a gluten-free dressing recipe because you don't need a turkey to make it! These days, however, the words stuffing and dressing have become interchangeable. Most food safety experts don't recommend cooking stuffing inside a bird, so I like to bake my stuffing separately, but don't change the name.
Depending on where you live, you may call the same dish stuffing or dressing. In the South, you'll hear it called dressing, while New Englanders refer to it as stuffing. At the end of the day, it's delicious, and that's what matters most to me!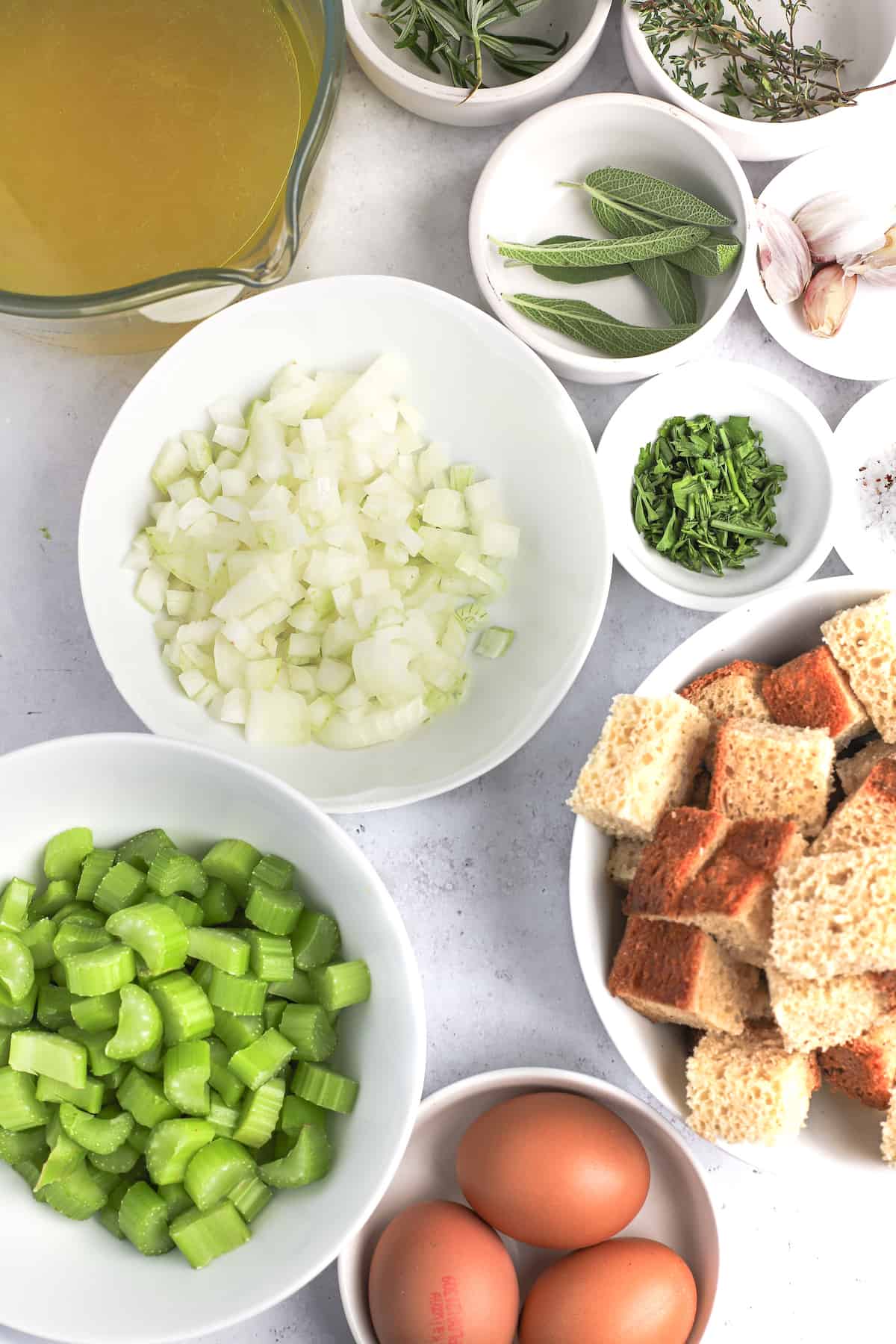 Ingredients
To make this rich and custardy stuffing, you'll need the following ingredients:
Broth. You can use chicken or vegetable broth for your stuffing. Make your own if you like or use low-sodium store-bought broth!
Eggs. These enrich the stuffing for a custardy flavor and texture.
Butter. Use unsalted so you have control over the salt in your dish.
Gluten-free sandwich bread. Cut the bread into large cubes to soak up the flavors. Any store-bought brand will work for this recipe, but I highly recommend using my Gluten-Free Sandwich Bread for a fully homemade dish!
Onion
Celery
Parsley
Sage
Rosemary
Thyme
Garlic. If you prefer, you can use 1 teaspoon garlic powder.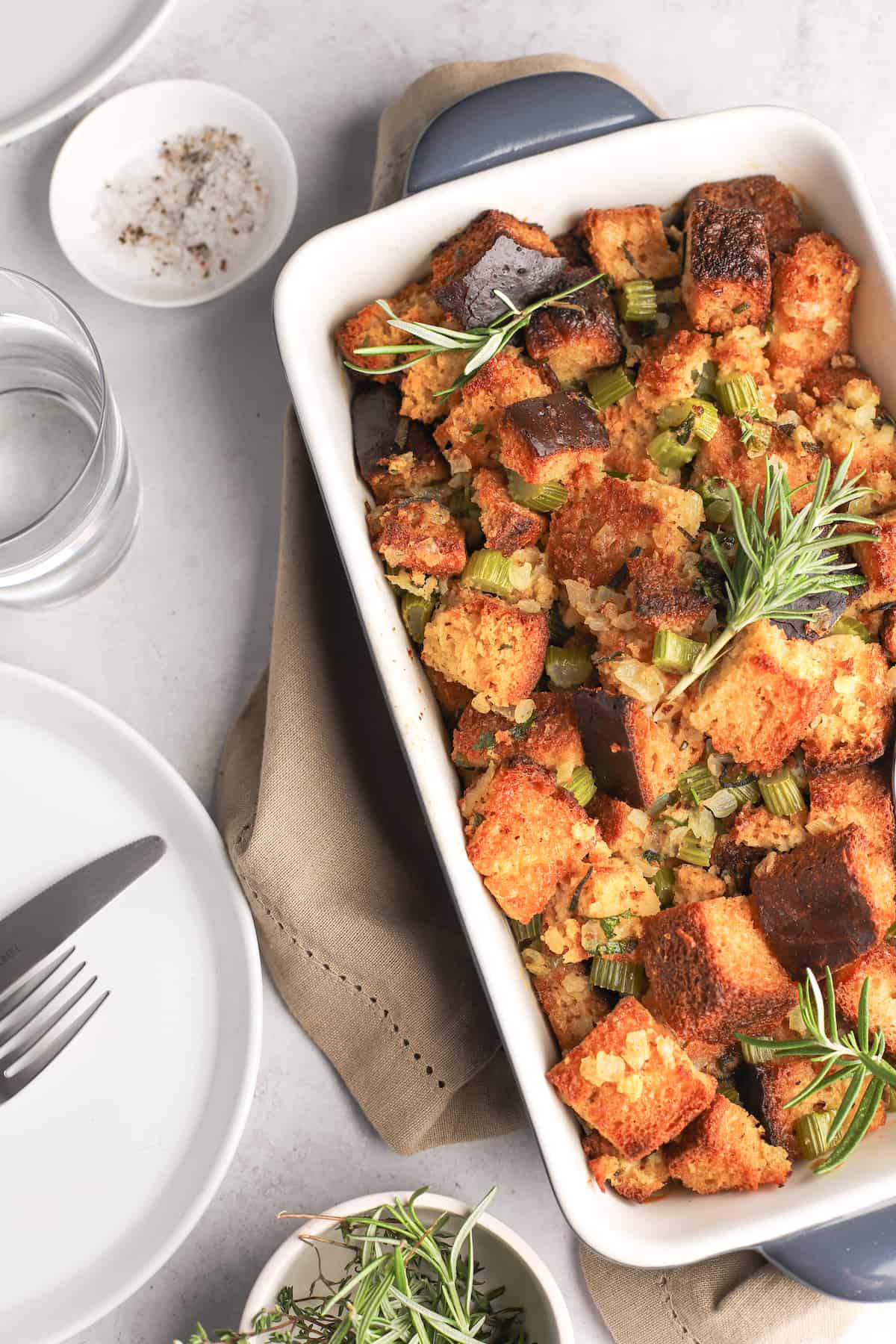 How to Make Gluten-Free Stuffing
Here are the steps to make this easy stuffing recipe:
Prepare the bread: Start by drying out the bread so it can absorb more liquid and flavor. Place the bread cubes on a baking sheet and bake at 375°F for 20 minutes, stirring occasionally. Then cool the bread at room temperature and place it in a mixing bowl. Increase the oven temperature to 400°F.
Cook the aromatics: Melt the butter in a large skillet. Add the diced onion and celery and cook until softened. Add all of the herbs and garlic and cook for another minute, then combine everything in the bowl with the bread cubes.
Mix the eggs: In a separate bowl, whisk together the broth and eggs.
Mix everything together: Pour the liquids over the bread mixture and stir until evenly combined. Transfer the mixture to an 8×12-inch baking dish.
Bake: Cover the dish with foil and bake for 30 minutes. Then remove the foil and bake for another 15 minutes, until the bread starts to crisp on the edges.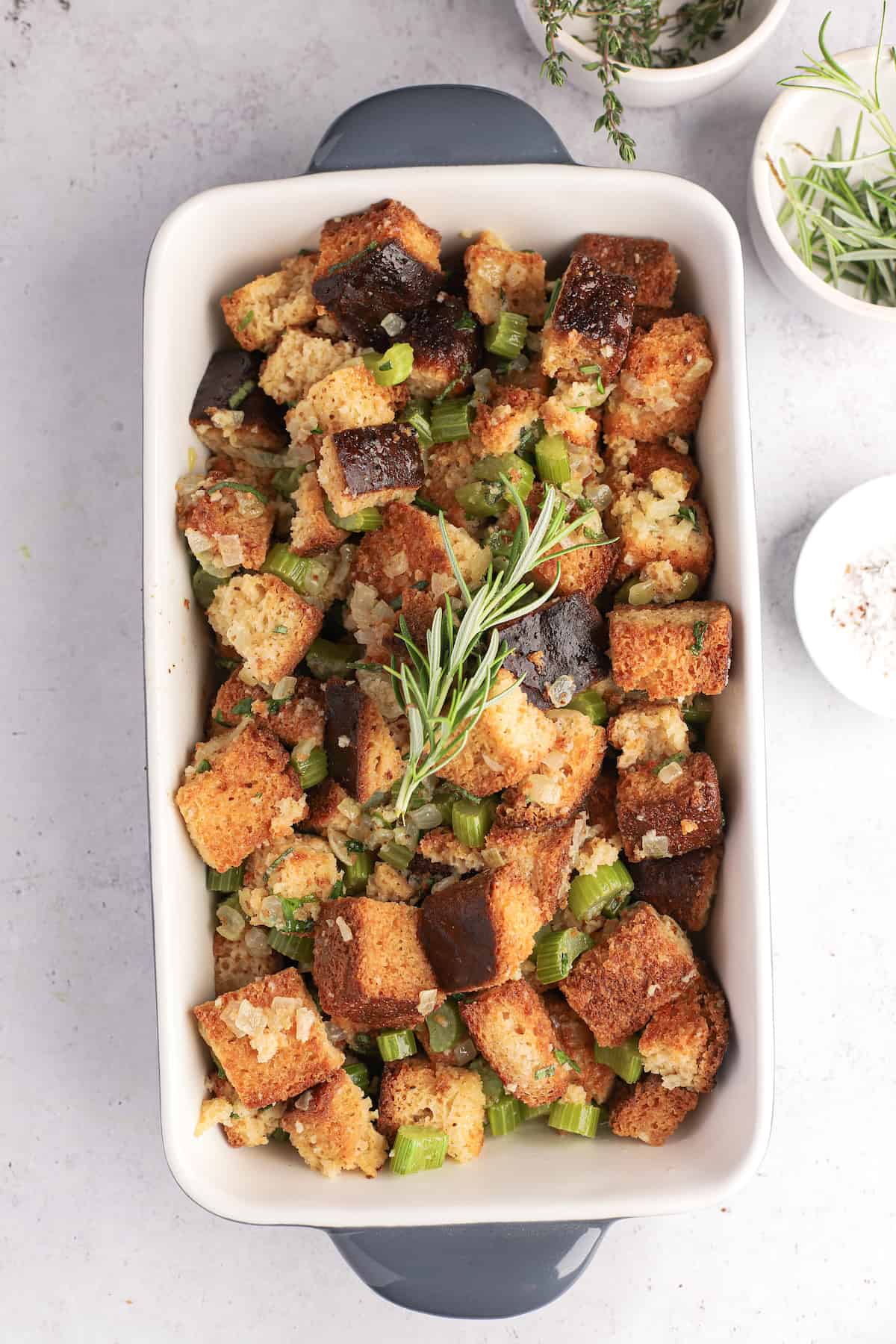 Tips for Success
Here are my quick tips for perfecting this dish:
To feed a bigger crowd, simply double the ingredients and use two pans.
You can use white or multigrain gluten free bread.
Feel free to mix up the herbs! You can also use basil, oregano, marjoram or any of your favorite fresh herbs.
If you don't have fresh herbs, you can use dried, but divide the amounts by 1/3.
Low-sodium broth is best if you're using store-bought.
If you only have salted butter, make sure to taste the dish before adding more salt.
To make vegetarian gluten-free Thanksgiving stuffing, use vegetable broth.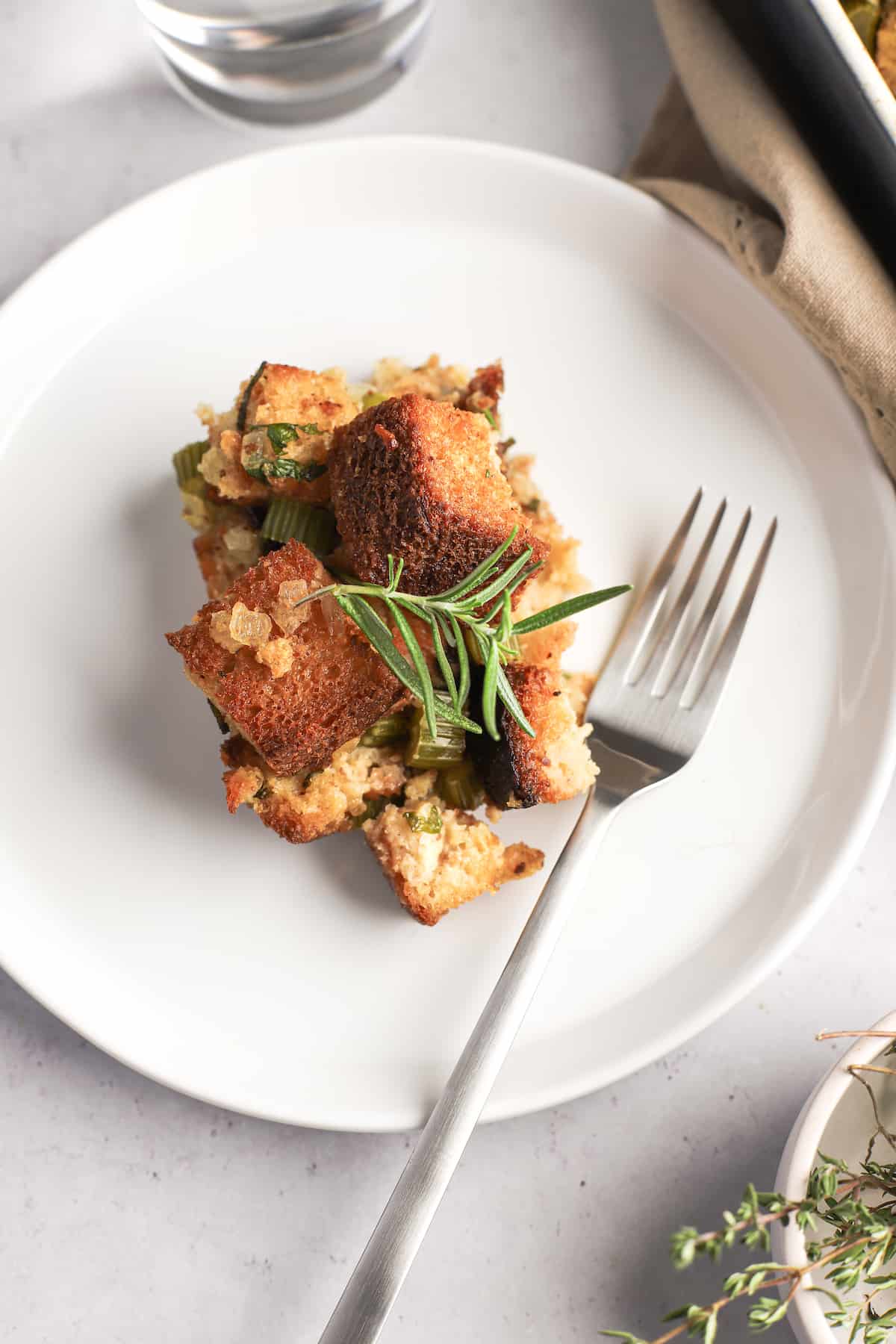 Should I Cover Stuffing with Tin Foil?
I bake my stuffing by covering it with foil for the first half of baking. This helps keep moisture inside the dish and cook things through. Then I remove the foil to get a nice golden and crisp crust on top. As a result, you have the perfect combination of soft and fluffy in the center with crunch on the edges.
Can I Double the Recipe?
Yes, if you'd like to serve a crowd, you can double this recipe and use a full loaf of gluten-free sandwich bread.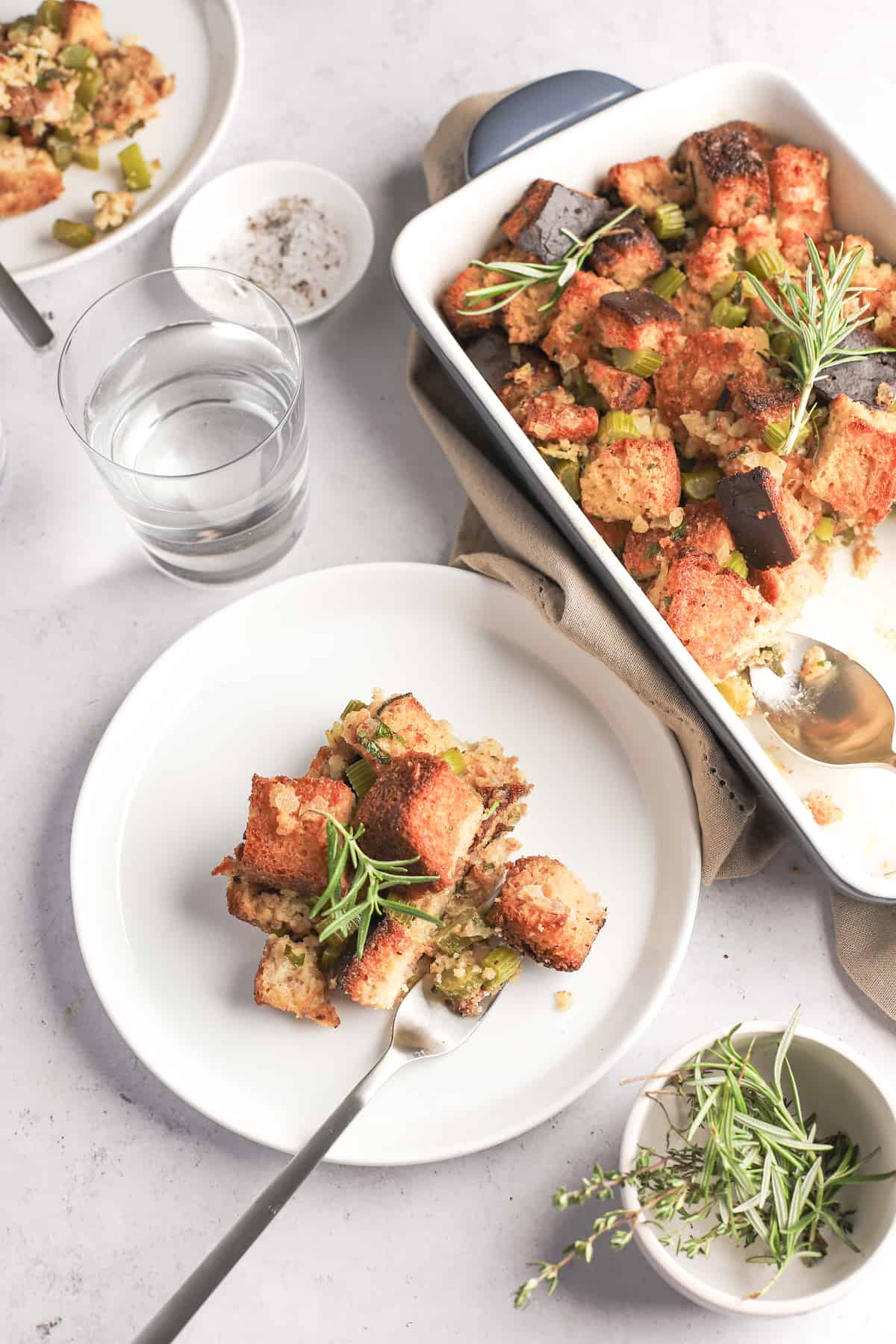 Recipe Variations
You can easily adapt this recipe to your family's favorite flavors. Try adding these tasty stuffing add-ins:
Crumbled, cooked sausage (try hot Italian sausage for added heat)
Chestnuts, walnuts or pecans
Dried cranberries, raisins or cherries
Use gluten-free cornbread or rye-style bread instead of sandwich bread
Chopped apples or pears
Pan-seared or roasted mushrooms
Serving Suggestions
Serve this hearty bread stuffing hot out of the oven. If you're serving it for Thanksgiving, you can build a wonderful family-friendly menu around this dish. Here are some of my must-have Thanksgiving dinner recipes:
Appetizers
Entrees and Sides
Drinks
Desserts
Storage
This stuffing is best enjoyed warm the day it's made. But you can certainly store cooled leftovers in an airtight container in the fridge for up to four days.
Use it to make Thanksgiving leftover sandwiches or add it to these Cranberry Barbecue Stuffed Sweet Potatoes with Leftover Turkey. You can even stir some bread stuffing into your Leftover Turkey Soup.
Can I Freeze Leftover Stuffing?
Yes, you can freeze Thanksgiving stuffing in an airtight container for up to three months. When you're ready to serve, simply put the frozen casserole directly into a 325°F oven for 15 to 20 minutes, until it's warmed through. If the stuffing dries out at all, you can add a splash more broth.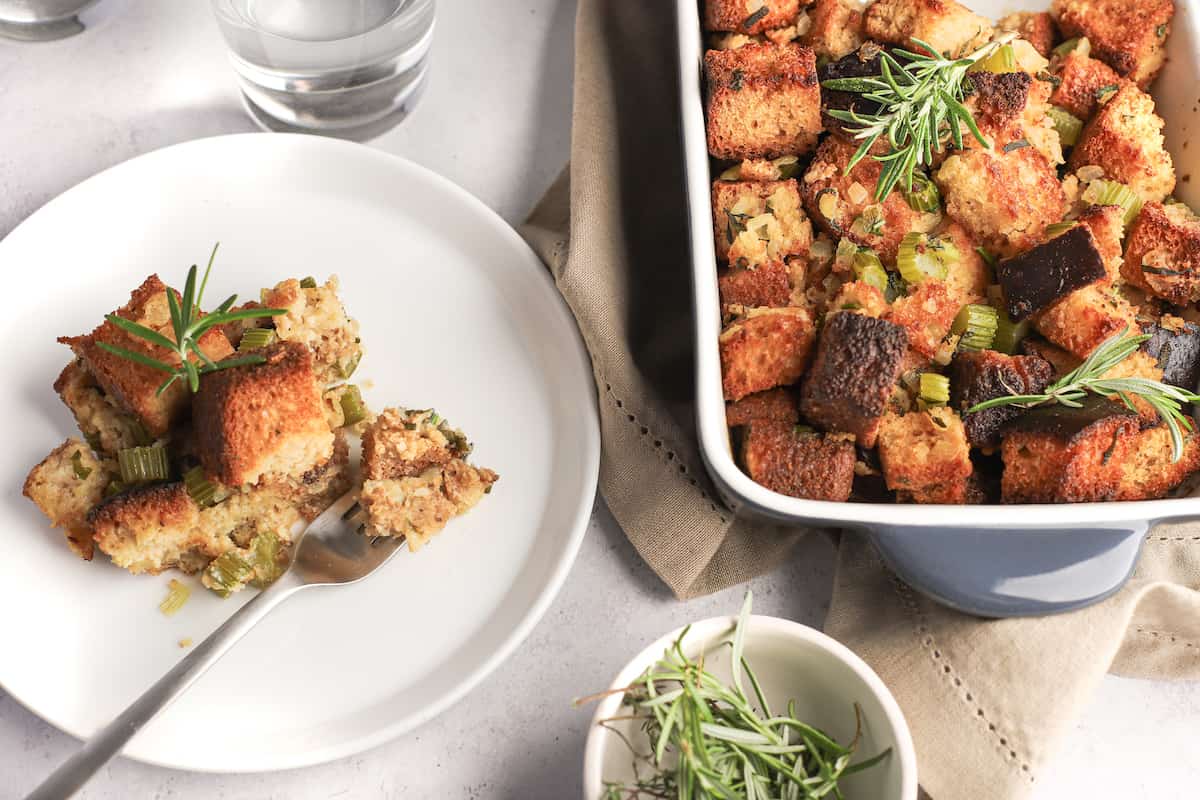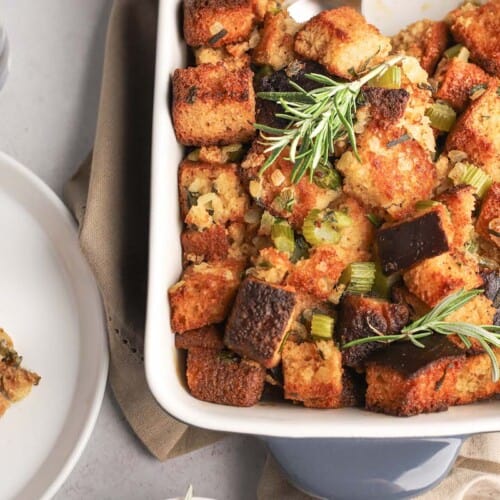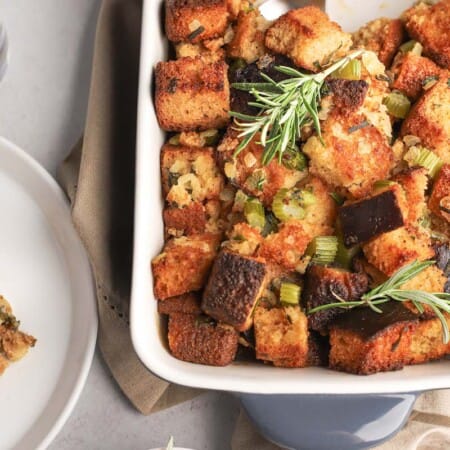 Gluten Free Thanksgiving Stuffing
This is the best Gluten Free Thanksgiving Stuffing made with sandwich bread, onion, celery, fresh herbs and plenty of garlic.
Ingredients
1/2

loaf

gluten-free sandwich bread,

cubed

1/2

cup

unsalted butter

(one stick)

1

large onion,

diced

4-5

celery stalks,

1/2

cup

parsley,

finely minced

1/3

cup

fresh sage,

finely minced

1/4

cup

fresh rosemary,

finely minced

2

Tablespoons

fresh thyme leaves

finely minced

2

cloves

minced garlic

Salt and pepper,

to taste

2 -2 1/2

cups

chicken or vegetable broth

2

large eggs
Instructions
Dry the bread: Place cubed bread on a baking sheet and bake for 20 minutes at 375°F. Remember to stir occasionally. Allow to cool, and transfer to a large mixing bowl.

Preheat the oven to 400°F. Coat a 8×12-inch baking pan with oil or cooking spray.

In a large frying pan, heat the butter over medium heat. Add the onion and celery and a pinch of salt and pepper, sauté until soft for 5-10 minutes.

Add sage, rosemary, thyme, and garlic and cook for an additional minute, until the garlic is fragrant. Add the mixure to the bowl with bread.

Add the 2 cups of the broth and eggs to a small bowl, and whisk to combine.

Pour mixture over the bread, mix well until the liquid gets absorbed. If it still looks too dry, add a little more broth.

Transfer the mixture into the prepared baking dish.

Cover with foil and bake for 30 minutes. Remove the foil and bake for another 10-15 minutes, or until the bread starts to get crispy.
Nutrition Facts
Gluten Free Thanksgiving Stuffing
Amount Per Serving
Calories 185
Calories from Fat 153
% Daily Value*
Fat 17g26%
Cholesterol 95mg32%
Sodium 40mg2%
Potassium 135mg4%
Carbohydrates 6g2%
Protein 3g6%
Vitamin A 1126IU23%
Vitamin C 14mg17%
Calcium 66mg7%
Iron 2mg11%
* Percent Daily Values are based on a 2000 calorie diet.
More Gluten-Free Thanksgiving Side Dishes