This post may contain affiliate links. Read my disclosure policy.
Apple Cider Moscow Mule is spiced up with Fireball whiskey and dark rum for the perfect fall cocktail recipe you are sure to love. Break out your copper mugs for the combination of the flavor of fresh apples and cinnamon with ginger beer in a refreshing drink that goes down smooth and easy on a crisp autumn evening.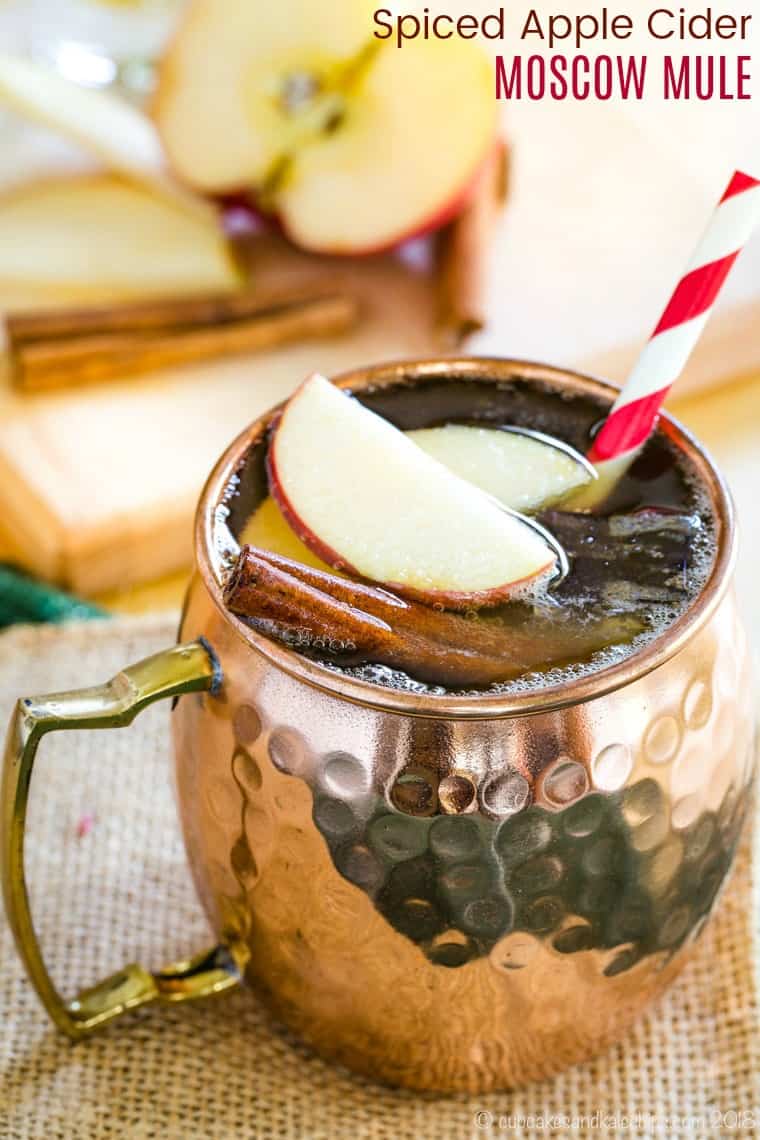 I love fall. It is seriously my favorite season and it always has been. And I don't know if it's living in Maryland versus living in New Jersey or if it's global warming or whatever, but I feel like fall perfection lasts about a minute. Into September we had day after day of temperatures in the upper 80s and 90s with enough humidity to make my hair puff out in all directions. My kids were sweating their butts off at soccer one week. Then they canceled soccer for rain the next. And the week after that we were bundled up in coats and gloves trying to hold onto our hats in 40 miles per hour wind gusts.
So I am going to soak up every bit of fall in those fleeting days of autumn perfection.
The crisp air, the leaves changing colors until they fall and crunch under your feet. All the aromas make me so happy, whether it's the smell of those fallen leaves, a roast chicken in the oven on a cool evening, or even that ubiquitous pumpkin spice.
I love relaxing on the couch on a Friday night or Saturday afternoon watching football with the Hubby. Once it's actually not ninety degrees I have to get myself to a pumpkin patch. And my house has the same old boring minimalist decor until October 1st. Then I break out the gilded pumpkins, the terra cotta pumpkins, the ceramic pumpkins, and of course some real pumpkins on the porch.
And don't get me started on the food. You can have all of your peppermint and eggnog for the holidays. I'll keep my butternut squash soup on a relaxing evening, Best chili ever while watching football, or a crustless pumpkin pie pretty much anytime.
And after a day of apple picking, I wouldn't mind sipping on one of these apple cider cocktails…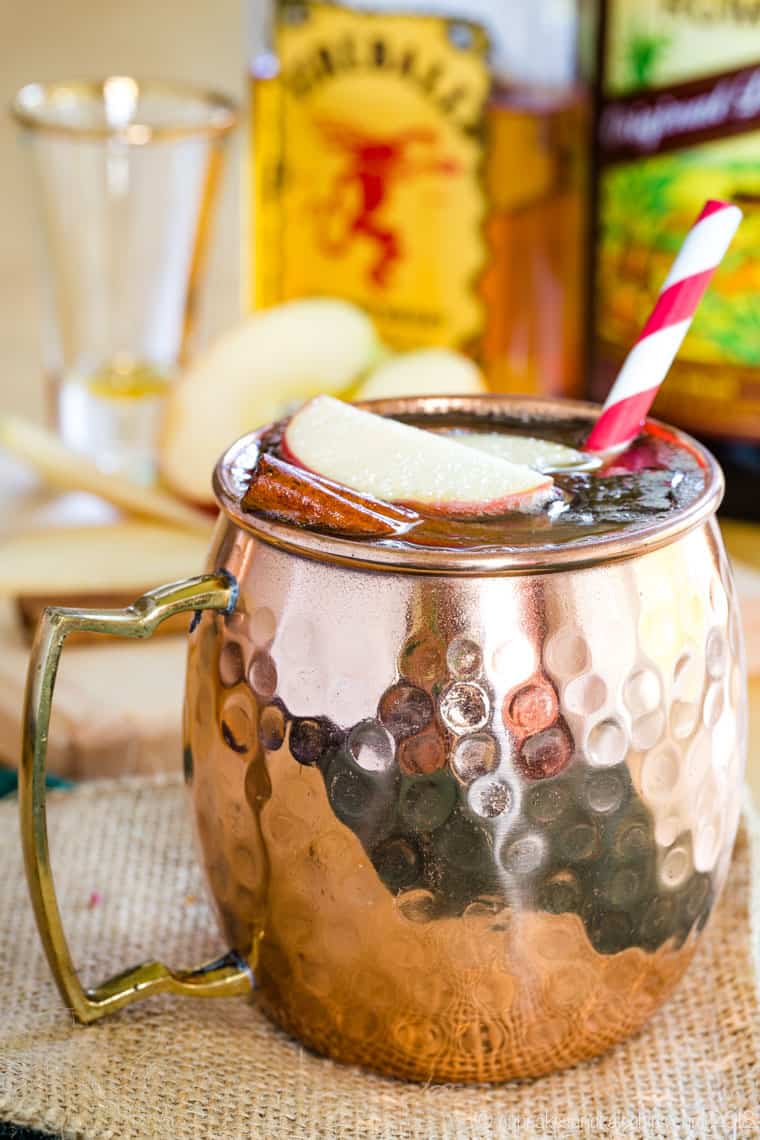 Fall Cocktail Recipe with Apple Cider
An autumn twist on the traditional Moscow Mule, this fall cocktail recipe adds apple flavor and cinnamon spice to the usual ginger beer for a spiced but smooth drink. You'll enjoy sipping on one out of a chilled copper mug while watching football, sitting around a fire, or even with your Thanksgiving dinner. Cinnamon and ginger will warm you from the inside, while the crisp apple flavor keeps it refreshing.
What is a Moscow Mule cocktail?
A Moscow Mule is traditionally the combination of ginger beer, vodka, and lime juice mixed together over ice cubes. Or swap out the vodka for Dark Rum to make a Dark and Stormy. The popularity of Moscow Mule cocktail in recent years have given rise to new variations on the classic, such as Jalapeno Moscow Mules or a Pina Colada Mule.
How do you make a Spiced Apple Cider Moscow Mule cocktail?
To turn the classic Moscow Mule into an apple cider cocktail, use apple cider instead of lime juice. You do use a larger amount to get that fresh apple flavor.
The vodka is swapped out for Fireball Whisky or another cinnamon-infused alcohol to add some additional spice to go along with the ginger. If you are worried about whether Fireball is gluten free, keep reading for suggestions.
Dark rum that adds a hint of caramelized flavor to complement the apple and warm spices.
Apple slices and a cinnamon stick are a festive garnish. Then you just sip and enjoy.
Is it even a Moscow Mule if you don't serve it in a copper mug? Of course, not! OK, fine, you can use any glass you have, but copper mugs have traditionally be used because they keep the drinks cool and make the carbonation even more fizzy and refreshing.
Plus they look gorgeous, so I definitely recommend picking up a set of copper mugs so you can make these or any of your favorite mule cocktails.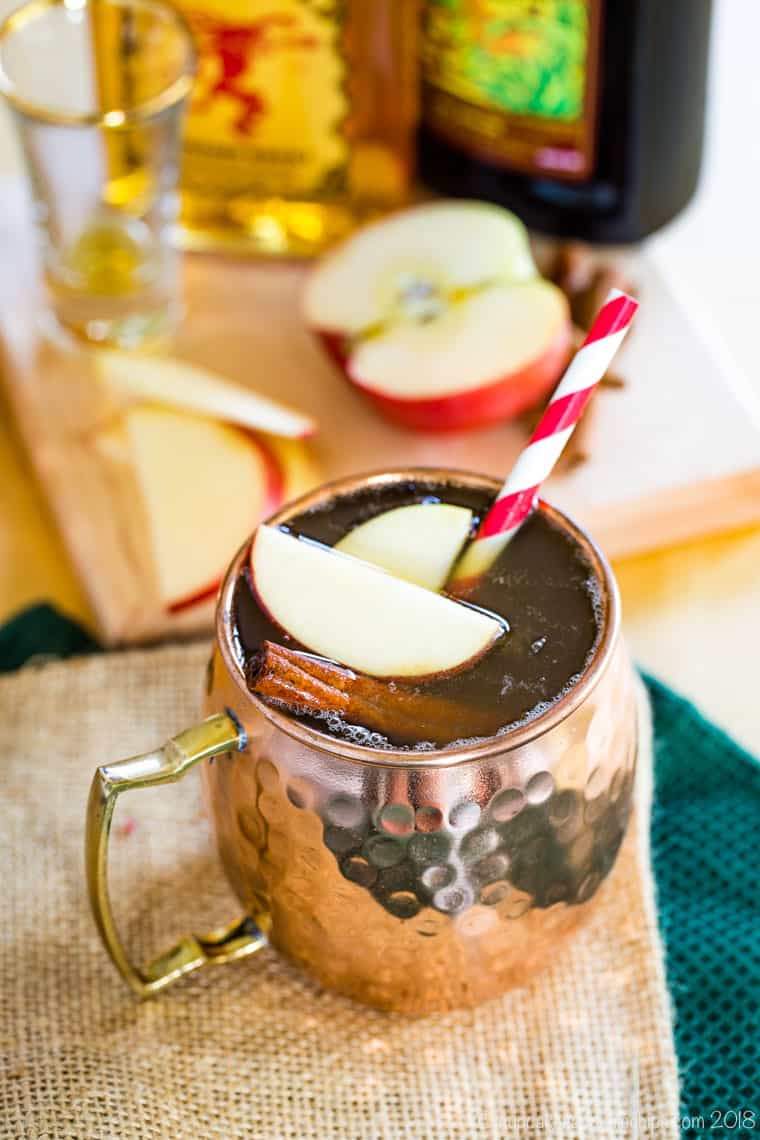 What You'll Need
Ginger beer – a spiced non-alcoholic soft drink. It is not to be mistaken for ginger ale which is less spicy and more sugary.
Apple cider – this is preferable to apple juice as it has a stronger and more fresh apple flavor. Apple juice is made from straining the pulp out of apple cider.
Cinnamon-infused alcohol – more commonly known as Fireball, but see below for alternatives.
Dark rum – a sugar cane alcohol that has been aged, unlike its lighter counterpart, giving it a darker color and more intense flavor, but still the same amount of alcohol.
Apple slices and/or cinnamon sticks – make an easy seasonal garnish.
Directions
Add ice to your copper mug or glass.
Pour in the ginger beer, apple cider, cinnamon whiskey, and dark rm.
Garnish and enjoy!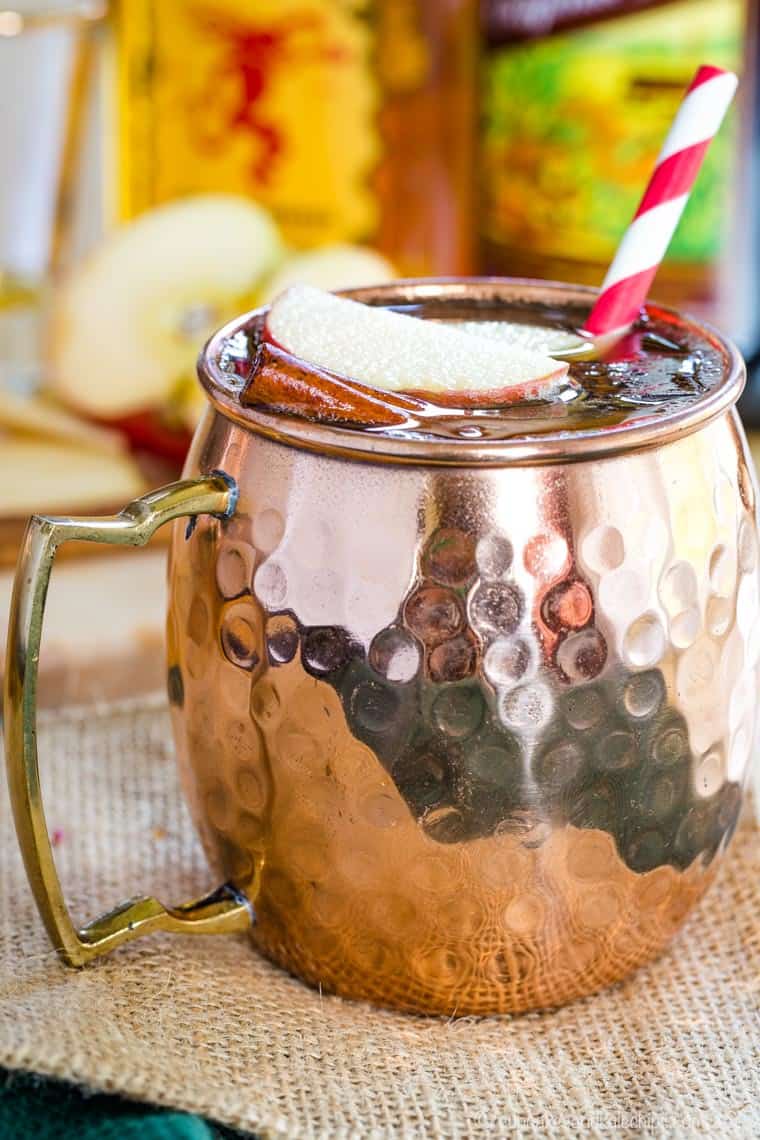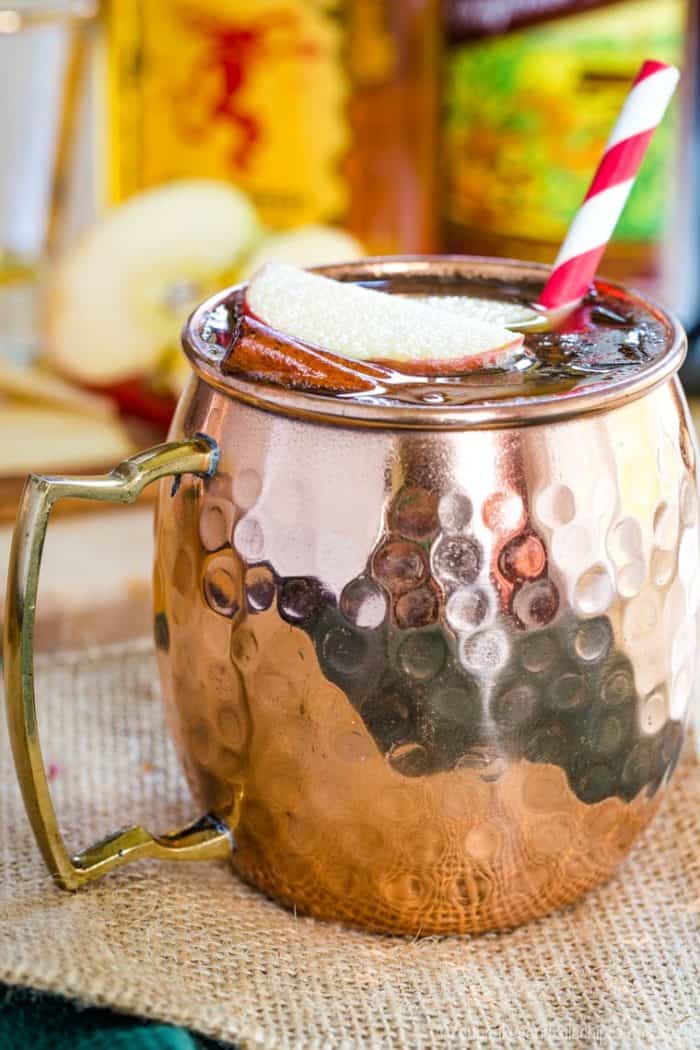 Is this fall cocktail recipe gluten free?
First, I will always recommend that you should read ingredient labels. Sometimes different brands will add a gluten-containing ingredient or produce it in an area where they may be cross-contamination. This can happen even for items that are typically gluten free.
Ginger beer is typically gluten free. Apple cider also does not contain gluten, nor does dark rum, as it is made from sugar cane.
Fireball Whisky, and whiskey or bourbon, in general, does lead to some confusion about whether it contains gluten.
Is Fireball gluten free?
While whiskey is made from fermenting gluten-containing grains, typically the distillation process leaves alcohol that has non-detectable levels of gluten. However, some people are sensitive enough that this can pose a problem. So you should consult a medical professional before drinking a whiskey cocktail if you have celiac disease or a severe allergy or intolerance.
Since Fireball is a cinnamon-infused whiskey, it would have the same concerns and regular whiskey. Therefore, if you need a gluten free cocktail, there are some alternatives when you make this Apple Cider Moscow Mule recipe.
What can I substitute for Fireball?
Rum is made from sugar cane, and therefore does not contain gluten. There are cinnamon-flavored rums available. The usual Spiced Rum has some additional spices as well. Or you can make your own Cinnamon Infused Rum.
Similarly, most vodkas are gluten free, and you can also find cinnamon vodka. Smirnoff has a cinnamon rum in its Gold Collection, as well as a Cinnamon Churros Rum. You can also make it yourself, or try these apple cider cocktails with Homemade Apple Spiced Vodka.
Finally, you could use all dark rum and add cinnamon extract or cinnamon simple syrup.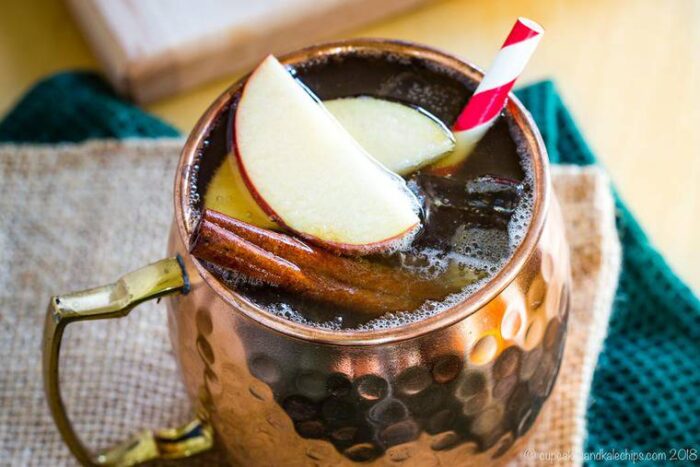 Here are more fall cocktails or mocktails:
More recipes to make with apple cider or apple juice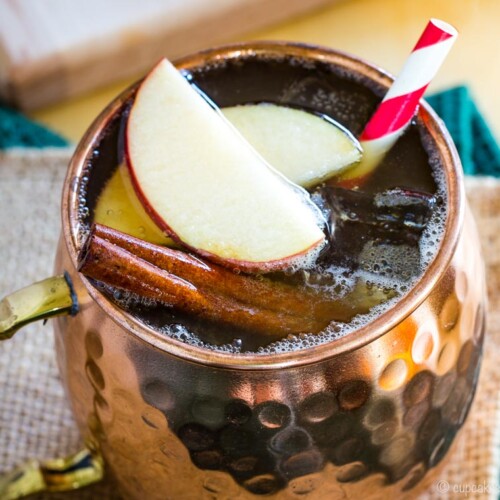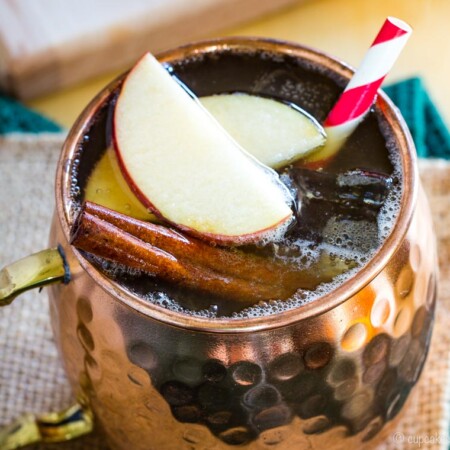 Spiced Apple Cider Moscow Mule
Take the classic ginger beer cocktail and add fall flavors for a refreshing autumn drink that goes down smooth and easy!
Ingredients
12

oz.

ginger beer

4

oz.

apple cider

2

oz.

Fireball whisky

or other cinnamon-infused alcohol

1

oz.

dark rum

apple slices and cinnamon sticks for garnish

(optional)
Instructions
Add ice to your copper mugs or glasses.

Pour about 6 oz. ginger beer in each mug and add about 2 oz. apple cider, 1 oz. Fireball whisky, and 1/2 oz. dark rum.

Garnish with apple slices and cinnamon sticks, if desired.
Nutrition Facts
Spiced Apple Cider Moscow Mule
Amount Per Serving (1 cocktail)
Calories 187
% Daily Value*
Sodium 14mg1%
Potassium 57mg2%
Carbohydrates 21g7%
Vitamin C 0.5mg1%
Calcium 5mg1%
Iron 0.3mg2%
* Percent Daily Values are based on a 2000 calorie diet.
Categories:
Enjoy