This post may contain affiliate links. Read my disclosure policy.
Creamy and perfectly spiced, this Mini Crustless Pumpkin Pie recipe is the easy way to enjoy the best part of the pie. A simple but delicious pumpkin pie filling is poured into ramekins without a crust and baked into individual custards. Whether you don't like to make or eat crust, or need an easy gluten free Thanksgiving dessert, these little pies are the perfect size.
These are definitely one of Fall's best gluten-free pumpkin recipes and the video will show you just how simple it is to make!
Originally published in November 2014. This post has been updated over the years to add newer photos including process shots, a video, and even more tips and information about the recipe.
Easy Mini Crustless Pumpkin Pie Recipe
Who needs crust when you can enjoy the best part of the pie in your own single-serving dessert? These mini pumpkin pies are perfect to serve any time you want to satisfy your pumpkin pie craving. But you don't want to deal with making a crust.
A sweet pumpkin pie filling with the warm spices of cinnamon and ginger is baked in ramekins for a creamy pumpkin custard. I guarantee these are going to be a hit with your friends and family.
I suppose you could just call them pumpkin custards, but Mini Crustless Pumpkin Pies sounds way more festive. And it's always more fun to eat your own single-serving dessert.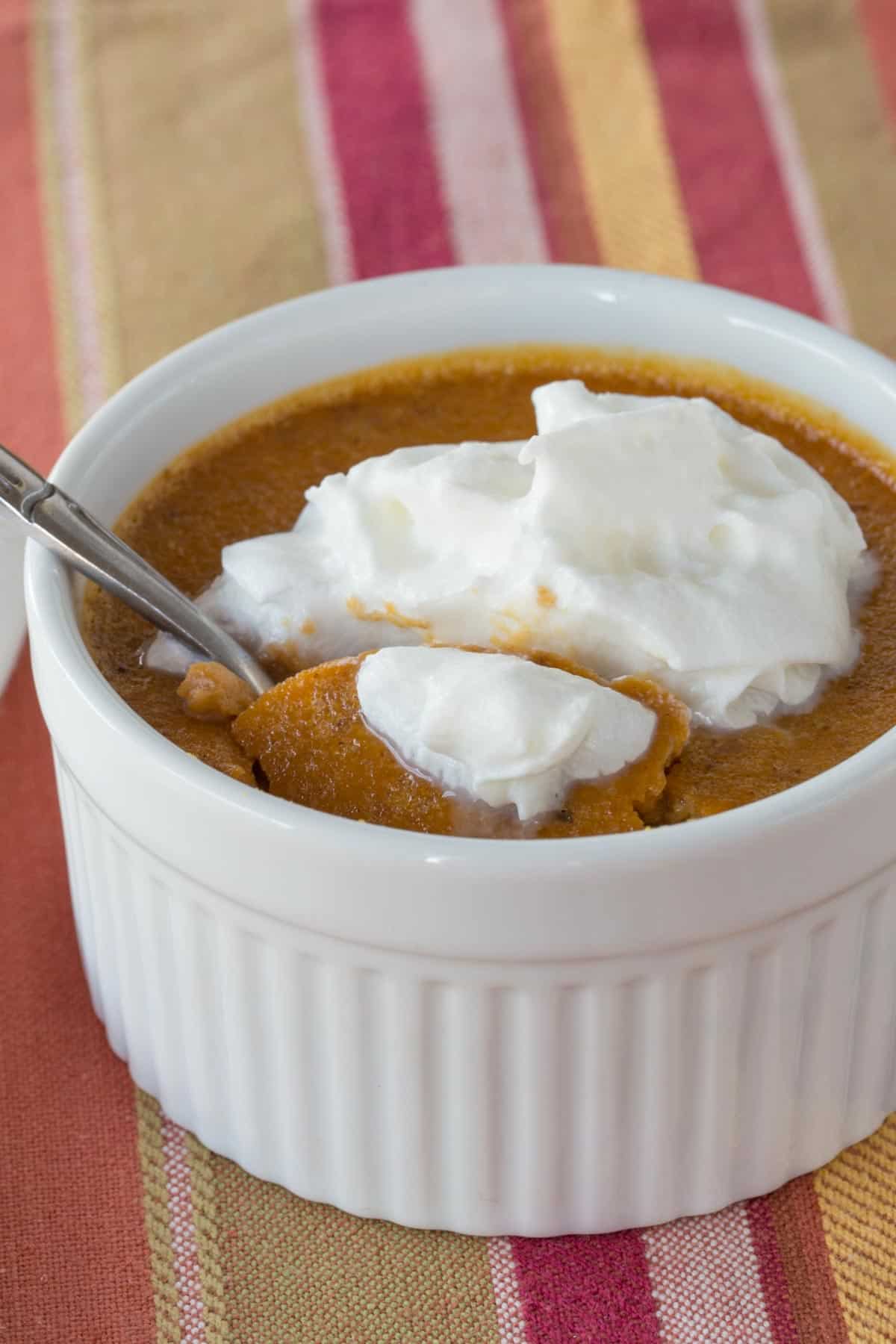 A Different Gluten Free Thanksgiving Dessert
Being born on November 27th, my birthday usually falls on or within a day or two of Thanksgiving. As a kid, my family birthday celebration was usually done on Thanksgiving. This meant my candles went in the pumpkin pie, since apple pie is not the best support system for birthday candles. One problem…
I didn't like pumpkin pie and really just wanted an ice cream cake. Heck, I might have preferred my candles to go in the Corn Pudding!
Sometime later in life, I actually started liking it. But when I went gluten free, I didn't know what to do. I hadn't quite mastered my Gluten Free Pie Crust, so I started pouring it in ramekins to bake – easy peasy!
Is Crustless Pumpkin Pie gluten free?
Yes, this is a perfect option if you don't want to make a traditional Gluten Free Pumpkin Pie recipe. Rather than trying to make a gluten free crust, there is no crust at all.
And the pumpkin custard is made with cornstarch as a thickener, which is gluten free along with all of the other ingredients.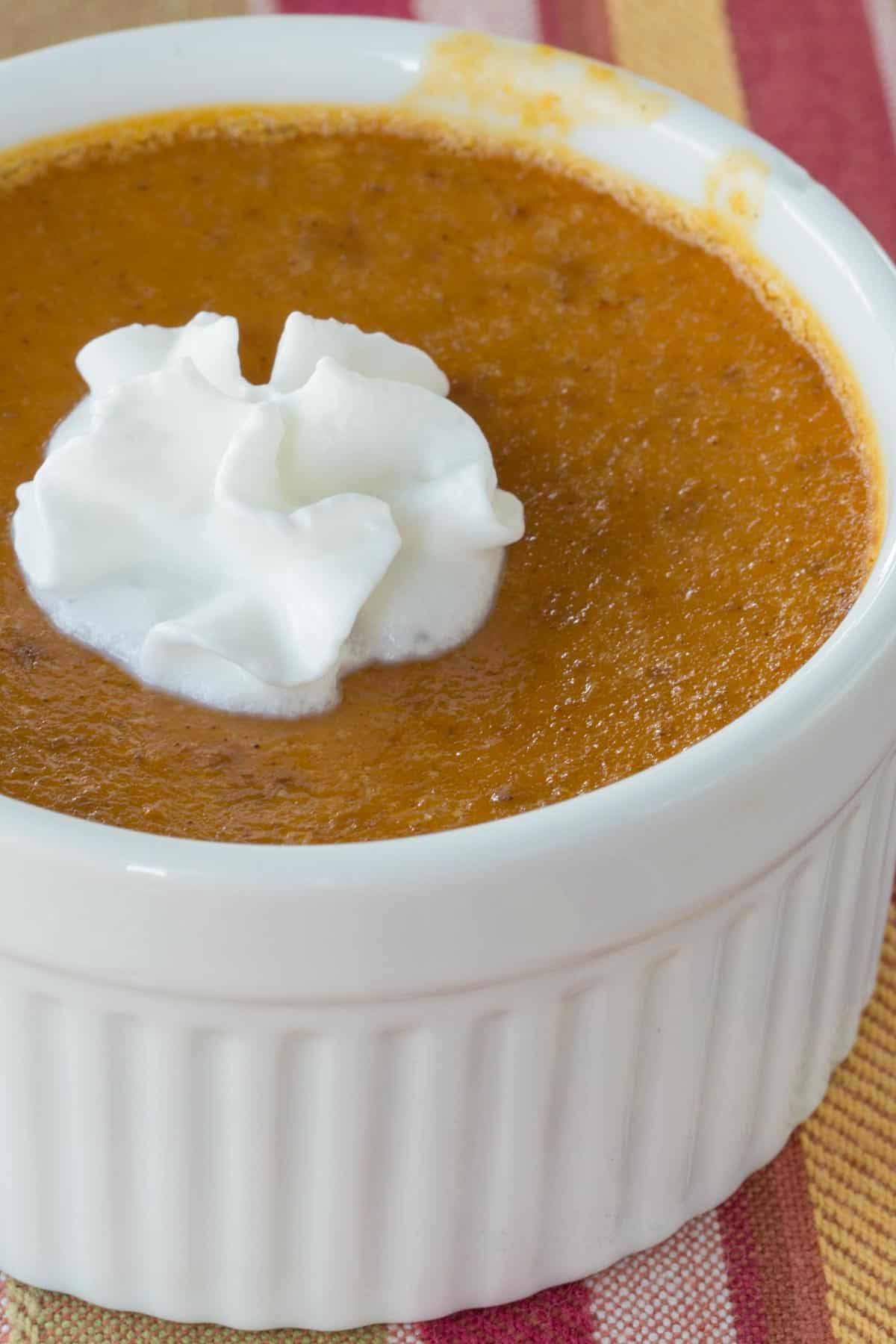 How does Martha Stewart make pumpkin pie?
When I first started making it, I always made the Martha Stewart pumpkin pie. Her filling is always perfect, and even my husband, who claims to have never liked pumpkin pie before, actually loves it.
I don't know if it is her use of brown sugar instead of white sugar to give it that hint of molasses flavor. It might be the perfect amount of spices. Or it is the evaporated milk and cornstarch that ensures it holds together while still staying creamy. Whatever the reason, it is the best.
And it does not involve anything more than whisking the ingredients together in a bowl.
The only thing I have done is use a full can of pumpkin and a full can of evaporated milk. Her recipe calls for exact measurements which are slightly less than a full can. But I have done it this way for years and never had a problem.
Back in the day, I followed Martha's crust recipe, as well. But now, since I don't really like crust, have a gluten allergy, and really don't want to fiddle with gluten free pie crust, I stick with no crust pumpkin pie. And I make individual ones because then you can eat an entire crustless pumpkin pie yourself!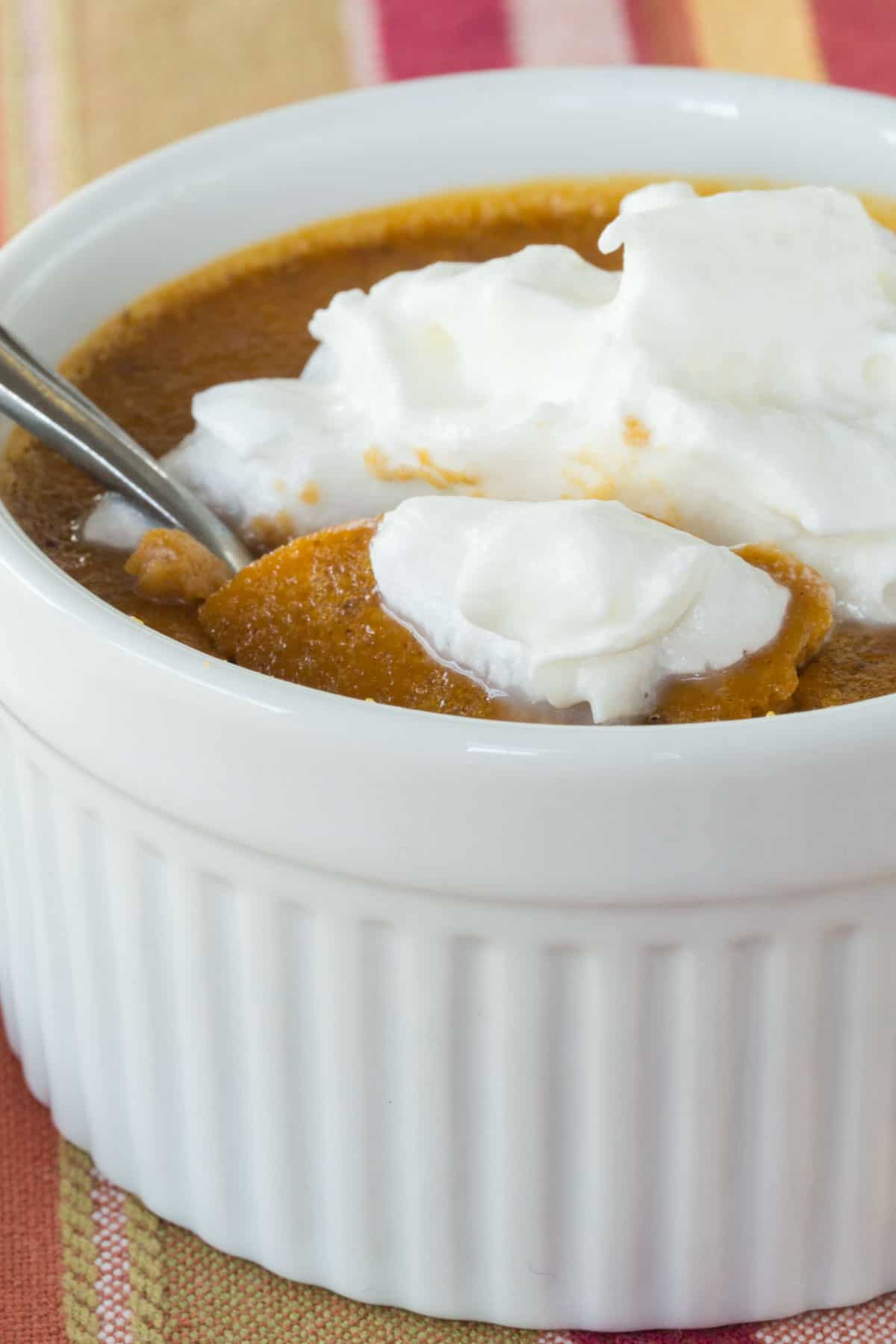 What You'll Need
Just 7 ingredients, a few kitchen basics, and some ramekins are all you need to get started on this pumpkin treat!
Ingredients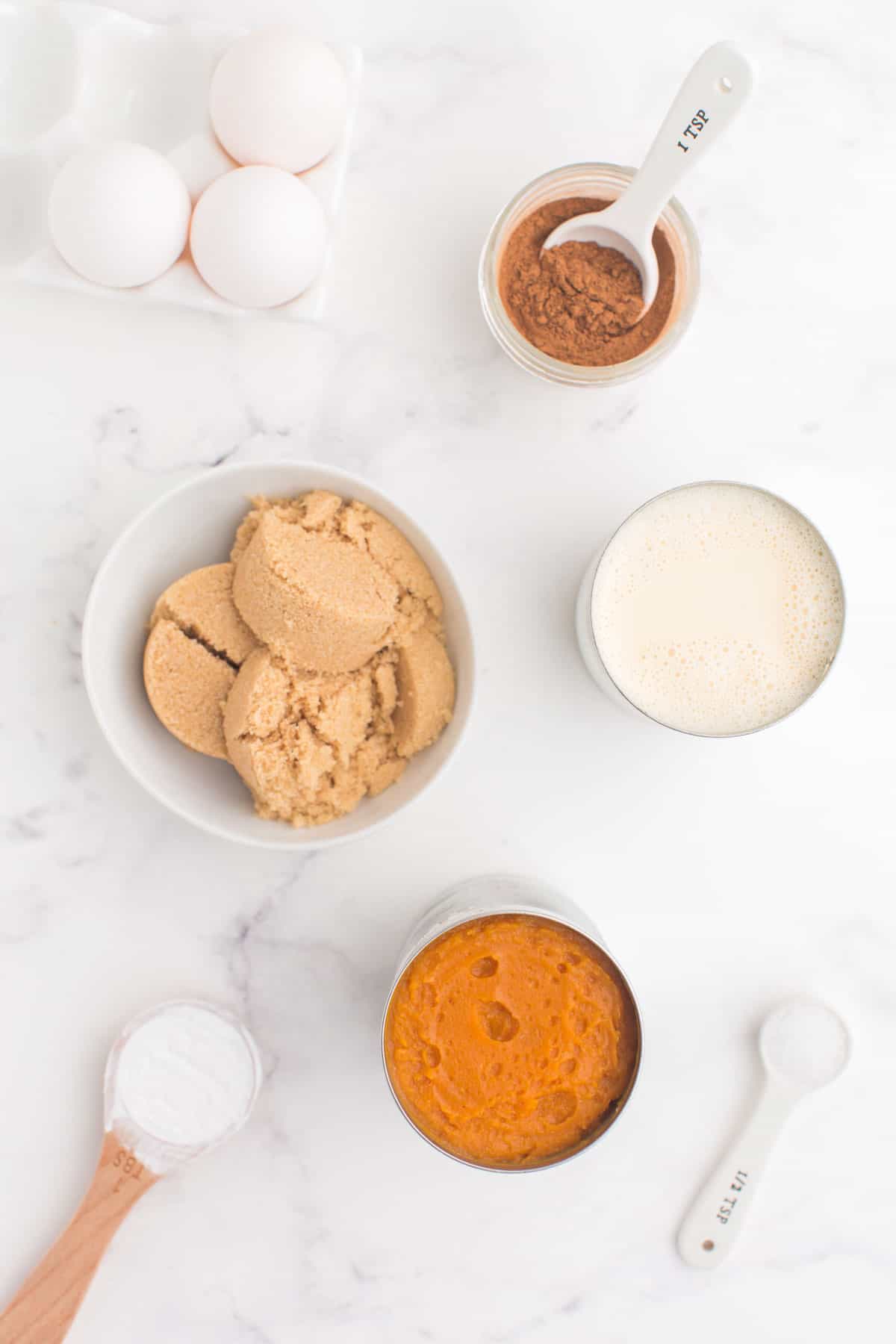 Equipment
Last updated on Dec 7, 2023 8:19 pm
How to Make Mini Pumpkin Pies
Preparations: You'll be baking these in a water bath, so before you get started, start heating a pot or teapot of water for the water bath. Place ramekins in a large glass baking dish. Preheat the oven to 350°F.
Make the pumpkin pie filling: Combine the pumpkin puree, light brown sugar, cornstarch, salt, pumpkin pie spice, and eggs together in a bowl. Then whisk make sure it is nice and smooth and there are no lumps of brown sugar. Slowly add the evaporated milk and fold it in gently to avoid making too many bubbles.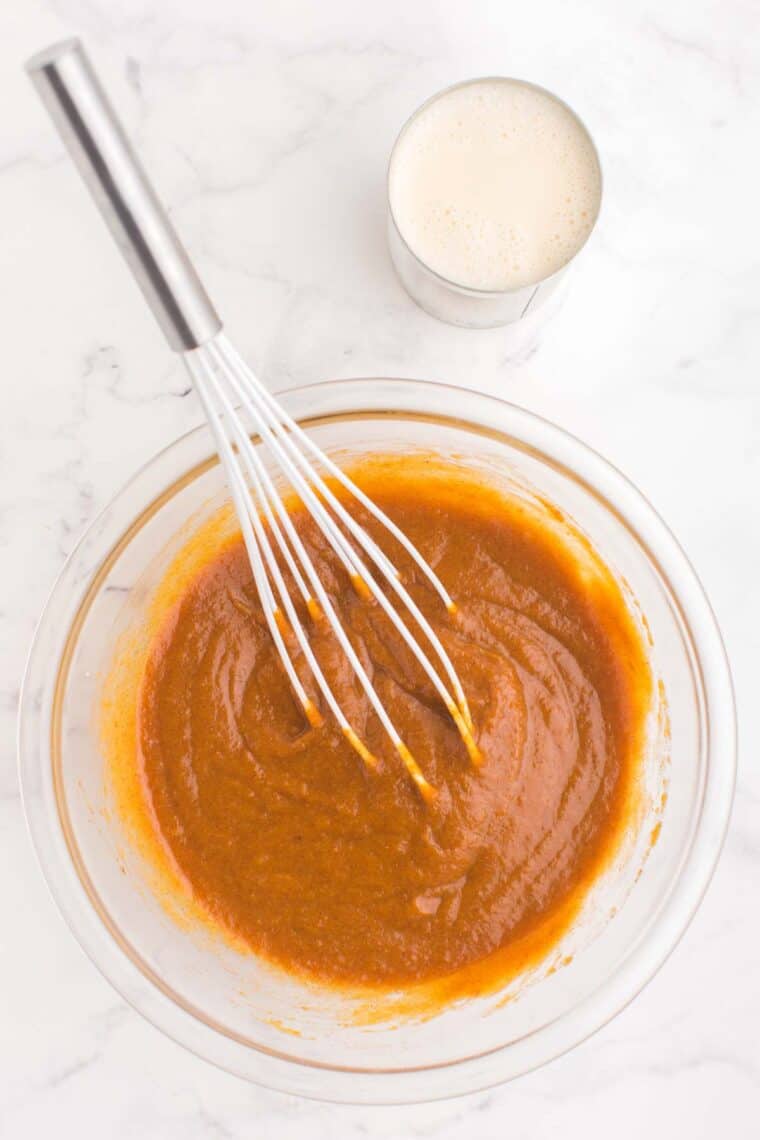 Fill and bake: Divide the mixture between the ramekins. Then pour the boiling water into the glass baking dish around them. Bake at 350°F for 30-35 minutes or until barely set and still slightly jiggly when in the middle. They will firm up as they cool. Once cooled to room temperature, refrigerate until ready to serve.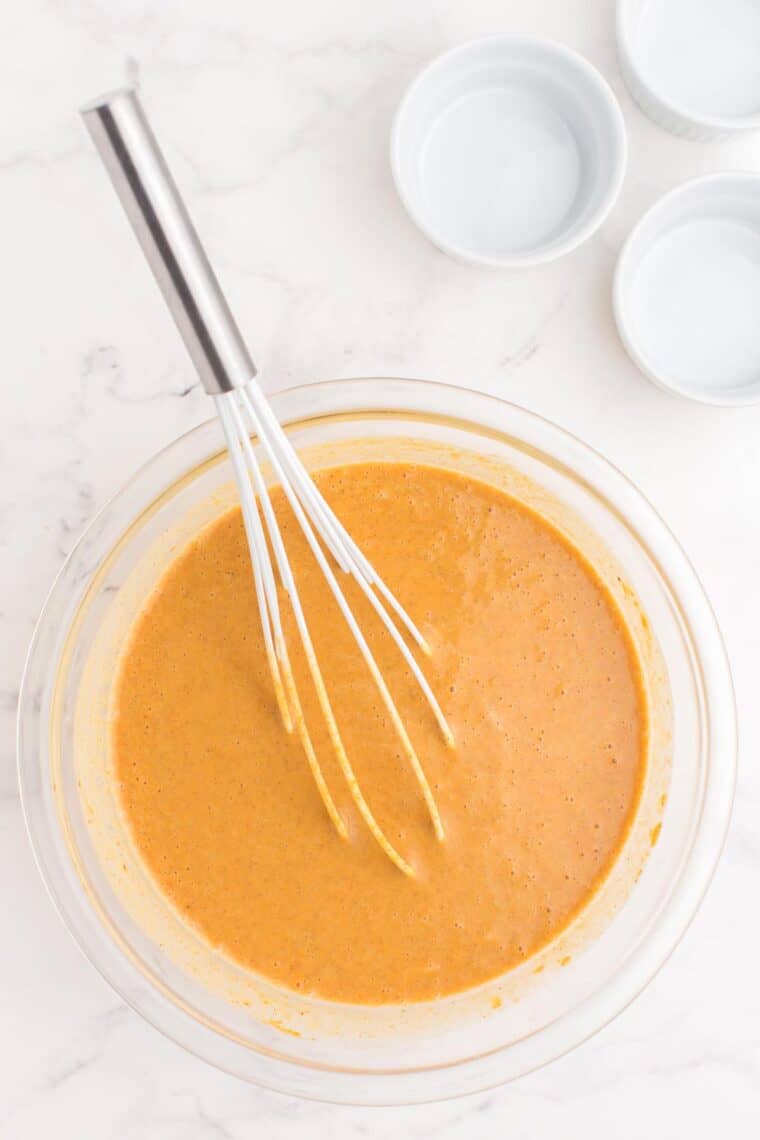 Storing Pumpkin Pie
Yes, since it is a custard with eggs and milk, you do have to store it in the refrigerator to avoid the growth of bacteria.
Can you freeze cooked pumpkin pie filling?
Yes, after baking, you can freeze these pumpkin custards. I would not recommend freezing it before baking. But after baking, they do freeze and thaw nicely if wrapped thoroughly in plastic wrap. Just remove them from the freezer and thaw them in the refrigerator.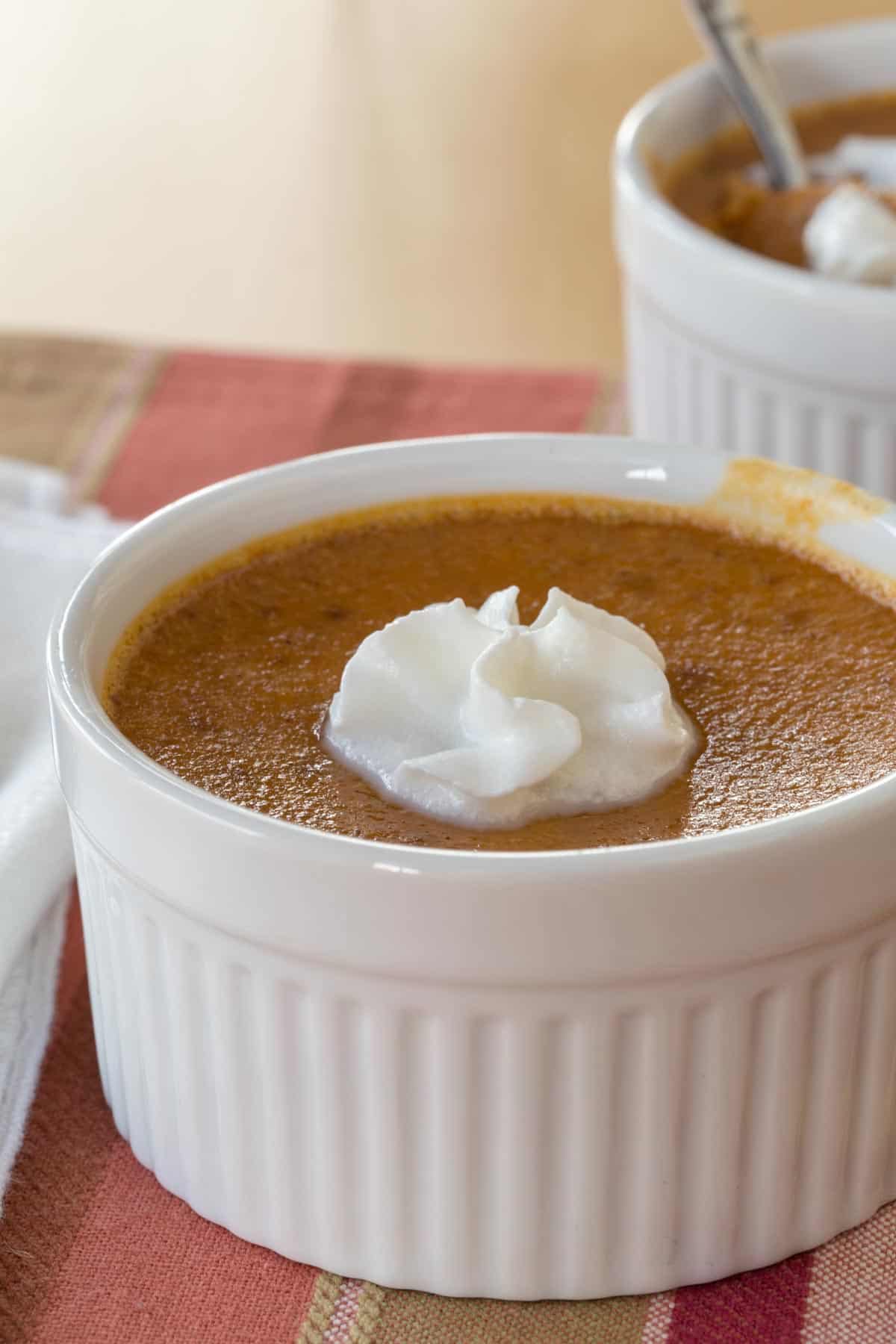 Tips for Success
A few simple suggestions will ensure mini pumpkin pie perfection.
Avoid Bubbles
The can of evaporated milk will say to shake it. But since you are using all of it, I recommend just swirl it a bit and pour it all in. Then fold in gently. These two tips will help keep a bunch of small bubbles from forming. These aren't really a problem and do not affect the taste or texture. But you could end up with a bubbly top to your pies instead of it being nice and smooth.
Use a Water Bath
Baking the pumpkin custard in a water bath will ensure it bakes evenly and thoroughly without curdling or overcooking on the outer edges. Set a pot of water on to boil while you make the filling. Then once you've filled the ramekins and placed them in a glass baking dish, pour the hot water into the baking dish around the ramekins. You can do this after you set it on the oven rack if you don't want to carry a heavy dish filled with boiling water.
Don't Overbake
The crustless pumpkin pies will still be slightly jiggly when done. They will firm up as they sit in the ramekins and cool. Overbaking is not the end of the world, but they might crack in the middle. Worst case – just fill that crack with whipped cream!
Variations
You can make the recipe as-is to share with the family or even use smaller ramekins for mini desserts (they won't need as long to bake, so check them earlier).
But if you are the only member of the family who needs a gluten free Thanksgiving dessert, you have the option of just filling one custard cup. Then pour the rest of the filling in a crust and baking like you would a regular pumpkin pie.
You can also pour the filling into a 9-inch pie plate to make a full-size crustless pumpkin pie.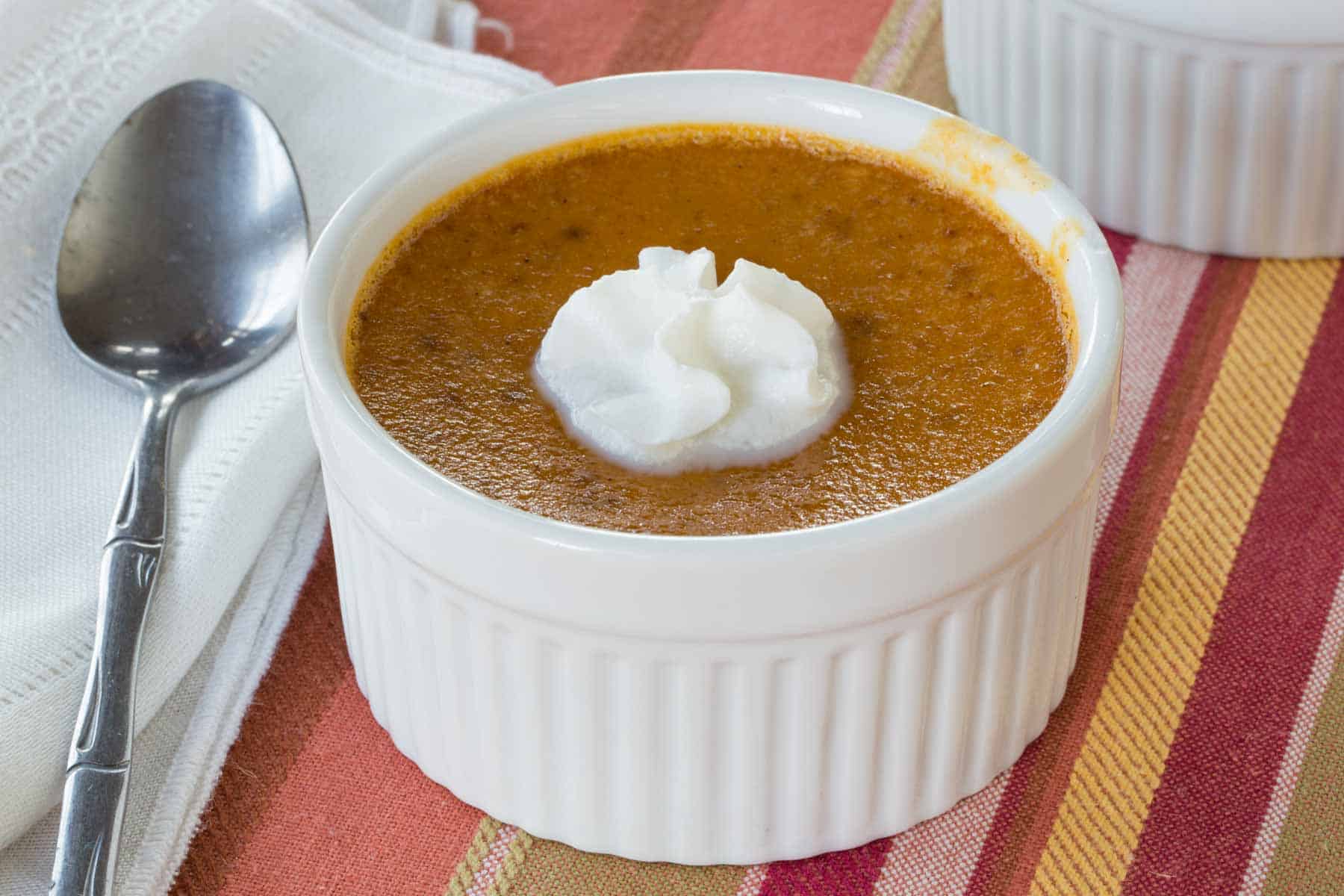 How to Serve Pumpkin Custards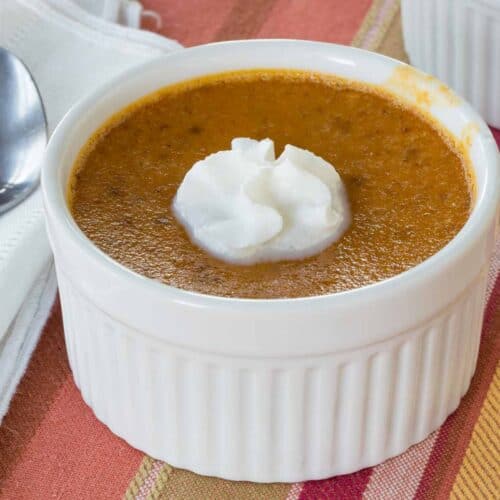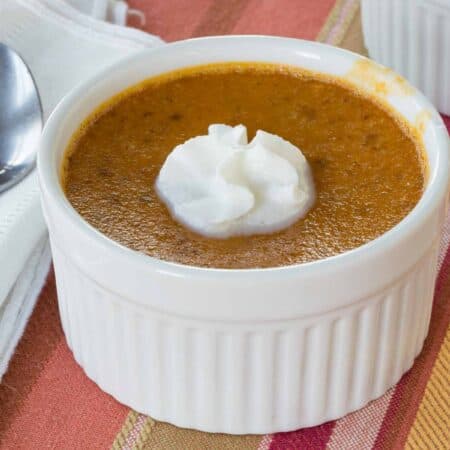 Individual Crustless Pumpkin Pies (aka Pumpkin Custards)
The best part of the pumpkin pie! Perfectly creamy and spiced pumpkin pie filling is baked in individual ramekins for mini custards. An easy gluten free dessert or for those who aren't crust lovers.
Ingredients
15

ounces

pumpkin puree

3/4

cup

packed light-brown sugar

1

Tablespoon

cornstarch

1/2

teaspoon

kosher salt

2

teaspoons

pumpkin pie spice

3

large

eggs

12

ounces

evaporated milk
Instructions
Preheat oven to 350°F. Place 6 ramekins or custard cups in a large baking dish. Heat a pot or teapot of water to boiling, and set aside.

In a large bowl, combine pumpkin, brown sugar, cornstarch, salt, pumpkin pie spice, and eggs.

Whisk to combine thoroughly.

Add evaporated milk, and stir to combine.

Fill the ramekins with the pumpkin mixture. Pour the hot water in the baking dish around the ramekins.

Bake for 35-45 minutes, or until set in the middle.

Remove from the oven, and let cool in the pan until cool enough to handle.

Remove the ramekins from the water bath. Serve warm, at room temperature, or chilled in the refrigerator.
Nutrition Facts
Individual Crustless Pumpkin Pies (aka Pumpkin Custards)
Amount Per Serving (1 pie)
Calories 248
Calories from Fat 63
% Daily Value*
Fat 7g11%
Cholesterol 109mg36%
Sodium 301mg13%
Potassium 393mg11%
Carbohydrates 40g13%
Protein 8g16%
Vitamin A 11302IU226%
Vitamin C 4mg5%
Calcium 208mg21%
Iron 2mg11%
* Percent Daily Values are based on a 2000 calorie diet.
Categories:
More gluten free pumpkin recipes