Individual Gluten Free Pumpkin Pies without Crust (aka Pumpkin Custards)
Disclosure: This post may contain affiliate links. Cupcakes & Kale Chips is a participant in the Amazon Services LLC Associates Program, an affiliate advertising program designed to provide a means for us to earn fees by linking to Amazon.com and affiliated sites.
Mini Pumpkin Pies without a crust are a creamy, perfectly spiced, and delicious way to enjoy the best part of the pie. Whether you don't like crust, aren't good at making the crust, or just want an easy way to make a gluten free pumpkin pie, this is the recipe you need. A simple but delicious pumpkin pie filling is poured into ramekins and baked into mini custards that are the perfect size to keep all to yourself. These are definitely one of Fall's best gluten-free pumpkin recipes and the video will show you just how simple it is to make!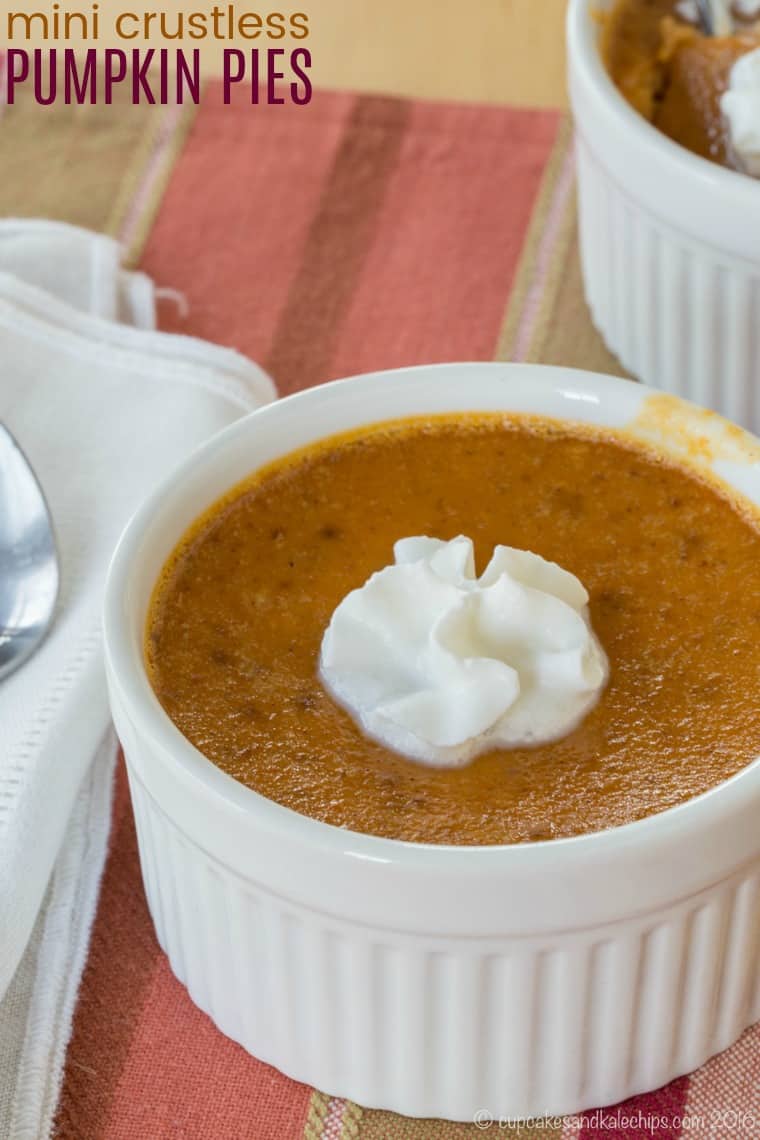 Originally published in November 2014. This post has been updated over the years to add newer photos including process shots, a video, and even more tips and information about the recipe.
Being born on November 27th, my birthday usually falls or within a day or two of Thanksgiving. As a kid, since we were already getting together as a family on Thanksgiving, and often on the next day for consumption of leftovers, my family birthday celebration was usually done on Thanksgiving. So this meant my candles went in the pumpkin pie, since apple pie is not the best support system for birthday candles. One problem…
I hated pumpkin pie. I really just wanted an ice cream cake. But I got pumpkin pie. Heck, I might have preferred my candles to go in the Corn Pudding!
Sometime later in life, I actually started liking pumpkin pie. So I began making it, and I always made the Martha Stewart pumpkin pie. Her filling is always perfect. In fact, the Hubby, who claimed to never really like pumpkin pie happily eats it every year. The first year he tried it, I'm sure he just said it since he was trying to impress me and my family. But even now he still eats it, so I'm going to keep convincing myself it is because I just make an exceptionally good pumpkin pie.
How does Martha Stewart make pumpkin pie?
I don't know if it is her use of brown sugar instead of white sugar to give it that hint of molasses flavor, the perfect amount of pumpkin spice, or the evaporated milk and cornstarch that ensure it holds together while still staying creamy. But it is the best. And it literally does not involve anything more than whisking together the pumpkin puree, brown sugar, cornstarch, salt, pumpkin pie spice, and eggs, then stirring in a can of evaporated milk.
The only thing I have done is use a full can of pumpkin and a full can of evaporated milk. Her recipe calls for exact measurements which are slightly less than a full can. But I have done it this way for years and never had a problem.
Back in the day, I followed Martha's crust recipe, as well. But now, since I don't really like crust, have a gluten allergy, and really don't want to fiddle with gluten free pie crust, I stick with no crust pumpkin pie.
And I make individual pumpkin pies. Because then you can eat an entire pie yourself!
Mini Pumpkin Pie without a Crust
These mini pumpkin pies are not much more than pumpkin pie filling baked in ramekins. By skipping the crust, I suppose you could just call them pumpkin custards, but Mini Crustless Pumpkin Pies sounds way more festive. And it's always more fun to eat your own single-serving dessert. Just mix up a perfectly sweet and spiced pumpkin pie filling, pour it into custard cups or ramekins, place them in a water bath, and pop them in the oven.
Is Crustless Pumpkin Pie gluten free?
Yes, this is a perfect option for a gluten free pumpkin pie recipe. Rather than trying to make a gluten free crust, there is no crust at all, which takes that out of the equation. And the pumpkin custard is made with cornstarch as a thickener, which is gluten free. All of the other ingredients are gluten free as well, making this a perfect gluten free Thanksgiving dessert.
You can either make a batch of these along with the classic pies so that those that are avoiding gluten can enjoy a dessert. And if you are the only gluten free member of the family, you have the option of just filling one custard cup and pouring the rest of the filling in a crust and baking like you would a regular pumpkin pie.
What is pumpkin pie filling made of?
To make this recipe, you will also need:
How do you make Mini Crustless Pumpkin Pies?
Before you get started, start heating a pot or teapot of water for the water bath. Place ramekins in a large glass baking dish.
Combine pumpkin puree, brown sugar, cornstarch, salt, pumpkin pie spice, and eggs in a bowl, and whisk until smooth.
Gently stir in evaporated milk. PRO TIP: Avoid bubbles on the top of your pie by not shaking the can vigorously and stirring in gently.
Pour mixture into ramekins.
Pour hot water in baking dish around ramekins. PRO TIP: Set the baking dish on the rack of the oven before pouring in the hot water so you don't have to carry the heavy pan with hot water to the oven.
Bake at 350°F for 30-35 minutes or until barely set but still jiggly.
Cool completely and store in the refrigerator.

Recipe pro tips…
Can you freeze cooked pumpkin pie filling?
Yes, after baking, you can freeze these pumpkin custards. I would not recommend freezing it before baking. But after baking, they to freeze and thaw nicely if wrapped thoroughly in plastic wrap. Just remove them from the freezer and thaw in the refrigerator.
How do you serve pumpkin custards?
For more yumminess from me and my foodie friends, keep up with me on…
Or sign up to have Cupcakes & Kale Chips delivered straight to your Inbox!
What are some other gluten free pumpkin recipes?
How about more gluten free pie recipes?
Mini Crustless Pumpkin Pies Recipe
Who needs crust when you can enjoy the best part of the pie in your own single-serving dessert? These mini pumpkin pies are perfect to serve any time you want to satisfy your pumpkin pie craving but don't want to deal with making a crust. And they are an easy gluten free option. A sweet pumpkin pie filling with the warm spices of cinnamon and ginger is baked in ramekins for a creamy pumpkin custard. I guarantee these are going to be a hit with your friends and family.
I hope you'll leave a comment and give it a FIVE STAR rating or share a photo on this pin on Pinterest!

Print Recipe
Individual Crustless Pumpkin Pies (aka Pumpkin Custards)
The best part of the pumpkin pie! Perfectly creamy and spice ppumpkin pie filling is baked in individual ramekins for mini custards. An easy gluten free dessert or for those who aren't crust lovers.
Ingredients
15

ounces

pumpkin puree

3/4

cup

packed light-brown sugar

1

Tablespoon

cornstarch

1/2

teaspoon

kosher salt

2

teaspoons

pumpkin pie spice

3

large

eggs

12

ounces

evaporated milk
Instructions
Preheat oven to 350°F. Place 6 ramekins or custard cups in a large baking dish. Heat a pot or teapot of water to boiling, and set aside.

In a large bowl, combine pumpkin, brown sugar, cornstarch, salt, pumpkin pie spice, and eggs.

Whisk to combine thoroughly.

Add evaporated milk, and stir to combine.

Fill the ramekins with the pumpkin mixture. Pour the hot water in the baking dish around the ramekins.

Bake for 35-45 minutes, or until set in the middle.

Remove from the oven, and let cool in the pan until cool enough to handle.

Remove the ramekins from the water bath. Serve warm, at room temperature, or chilled in the refrigerator.
Nutrition
Serving:
1
g
|
Calories:
248
kcal
|
Carbohydrates:
40
g
|
Protein:
7
g
|
Fat:
6
g
|
Saturated Fat:
3
g
|
Cholesterol:
109
mg
|
Sodium:
301
mg
|
Potassium:
388
mg
|
Fiber:
2
g
|
Sugar:
34
g
|
Vitamin A:
11300
IU
|
Vitamin C:
4.2
mg
|
Calcium:
208
mg
|
Iron:
1.9
mg
Enjoy!
This recipe was originally published on November 27, 2010, and was updated with new photos and a video on November 17, 2016.