This post may contain affiliate links. Read my disclosure policy.
The best gluten free pumpkin recipes might make you think of sweet desserts with warm spices like cinnamon, allspice, and clove. But you can also enjoy pumpkin for breakfast, healthy snacks, and yes, even in savory dinner recipes. That's why this collection will give you the most delicious gluten free pumpkin desserts like cakes, pies, and cookies, but also much more!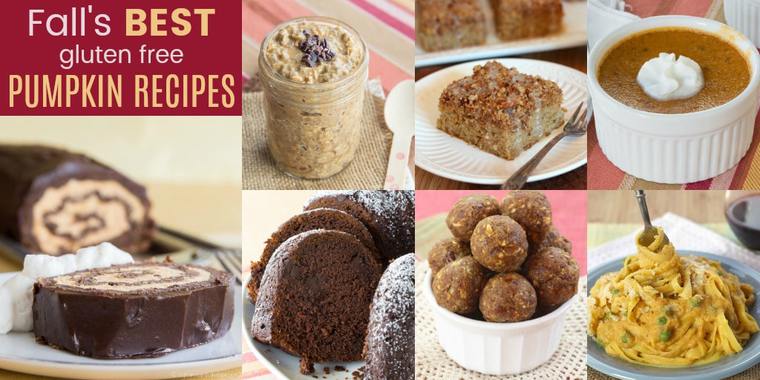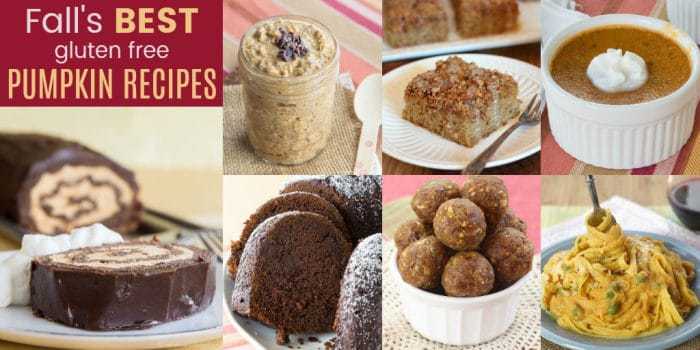 Originally published on Sep 14, 2017
The Best Gluten Free Pumpkin Desserts, Snacks, Breakfast, and Dinner Recipes
This may sound silly, but the truth is, there are pumpkin recipe imposters out there. Pumpkin imposter recipes pretend to have pumpkin in them, but in reality, there isn't any pumpkin in them at all!
You see, there are real pumpkin recipes and pumpkin spice recipes. You may be wondering…
What's the difference between gluten-free pumpkin recipes and gluten-free pumpkin spice recipes?
The answer is REAL PUMPKIN. As in, real pumpkin recipes use actual pumpkin puree. While some people like to make pumpkin puree on their own starting from pie pumpkins, in most recipes, using canned is just fine.
However, particularly in sweet recipes, the earthy flavors and natural sweetness of the pumpkin is enhanced by the addition of warm fall spices.
This blend of spices is called "pumpkin spice" or "pumpkin pie spice". Recipes that don't contain actual pumpkin, but instead utilize these spices for that characteristic flavor are pumpkin spice recipes, not pumpkin recipes. My gluten free pumpkin dishes all contain actual pumpkin, maybe with one tiny exception.
What is pumpkin spice made of?
Pumpkin spice typically consists of some combination of cinnamon, ginger, nutmeg, allspice, and clove. It may only contain three or four of these spices, or it can contain all five. You can make it yourself, or buy it at the store. There are many brands available.
Is pumpkin pie spice gluten free?
In most cases, individual spices are gluten free, as they usually do not have anything added to them. So making your own pumpkin spice blend will ensure it is gluten free.
In some cases, spice blends have additives to ensure even mixing and flowability, and occasionally these additives are not gluten free. Pumpkin pie spice is usually safe, but you should always check the brand you are looking to purchase. As of the time of this writing, McCormick Pumpkin Pie Spice and Simply Organic Pumpkin Spice are gluten free.
Is canned pumpkin gluten free?
Canned pumpkin typically contains 100% pumpkin or related squashes, and is, therefore, gluten free. Popular brands are Libbys 100% Pure Pumpkin and Farmers Market Organic Pumpkin.
Do be sure to watch out for canned pumpkin pie filling or mix. This may contain gluten, and it is also usually sweetened and seasoned, so not suitable for recipes that call for pure pumpkin, as it will affect the flavor and consistency.
So let's get on with the show…
40+ of the Best Gluten-Free Recipes Made with Pumpkin
You are going to love all of these incredible pumpkin recipes, and the best part is that they are all gluten free! Keep scrolling to see Desserts, Breakfast, Snacks, and yes, even dinner!
Hope you agree that these really are the BEST gluten-free pumpkin recipes ever!