Fall's best gluten-free pumpkin recipes use real pumpkin puree and warm spices like cinnamon, allspice, and clove. These are the best gluten-free pumpkin recipes that I've ever had!


The Best Gluten-Free Pumpkin Recipes for Fall
This may sound silly, but the truth is, there are pumpkin recipe imposters out there. Pumpkin imposter recipes pretend to have pumpkin in them, but in reality, there isn't any pumpkin in them at all!
You see, there are real pumpkin recipes and pumpkin spice recipes. You may be wondering, "what's the difference between gluten-free pumpkin recipes and gluten-free pumpkin spice recipes?"
The answer is REAL PUMPKIN. As in, real pumpkin recipes use actual pumpkin puree, usually along with  fall spices like cinnamon, ginger, allspice, and clove. Before you say anything, let me clear the air a bit. Pumpkin spice is a blend of spices that you can buy (or make yourself) that will add a pumpkin flavor to foods, but that does NOT mean that it's a pumpkin recipe!
For me to call something a pumpkin recipe means that it has to have REAL pumpkin in it. Not pumpkin pie filling or *gasp* just pumpkin spice. I also have a discriminating palate, so for me to label a recipe as "the best", it needs to be one that I wouldn't hesitate to recommend to friends, family, and YOU, my dear readers. I know that these are the best gluten-free pumpkin recipes because I've tested them, making them over and over again, until I'm sure that they are packed with lots of real pumpkin AND pumpkin flavor.
With that being said, here are what I consider to be the best gluten-free pumpkin recipes:
Best Gluten-Free Pumpkin Recipes for Breakfast
Pumpkin Spice Latte Overnight Oats
Don't let the name fool you, because this Fall oatmeal recipe is actually made with pumpkin puree and coffee. It will make you want to skip the Starbuck's PSL line and have breakfast at home!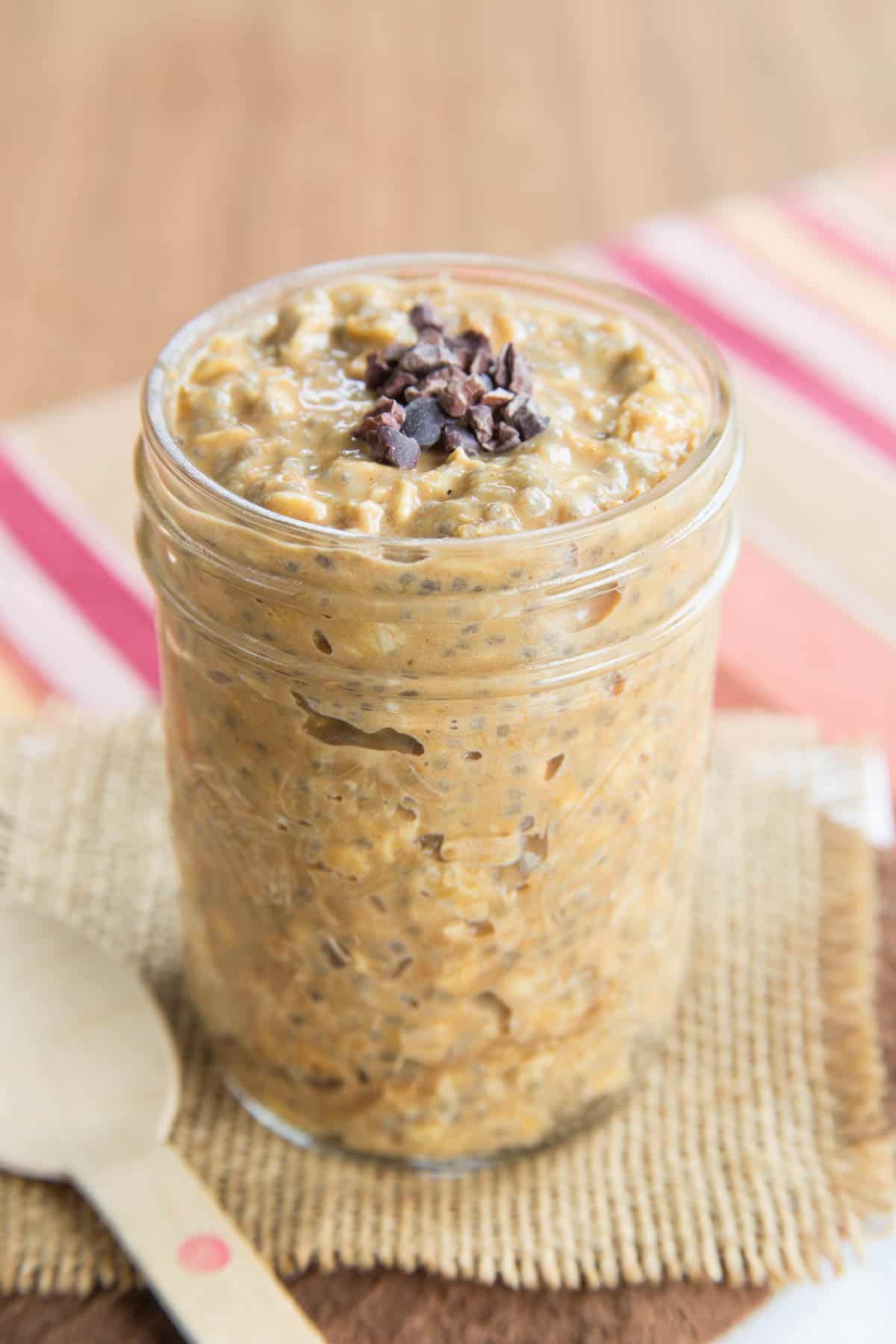 Pumpkin Pie Greek Yogurt Parfaits
I love this recipe for its versatility. It can be eaten for breakfast, lunch, an after school snack, or even dessert. It's the flavor of pumpkin pie in a healthy yogurt parfait recipe!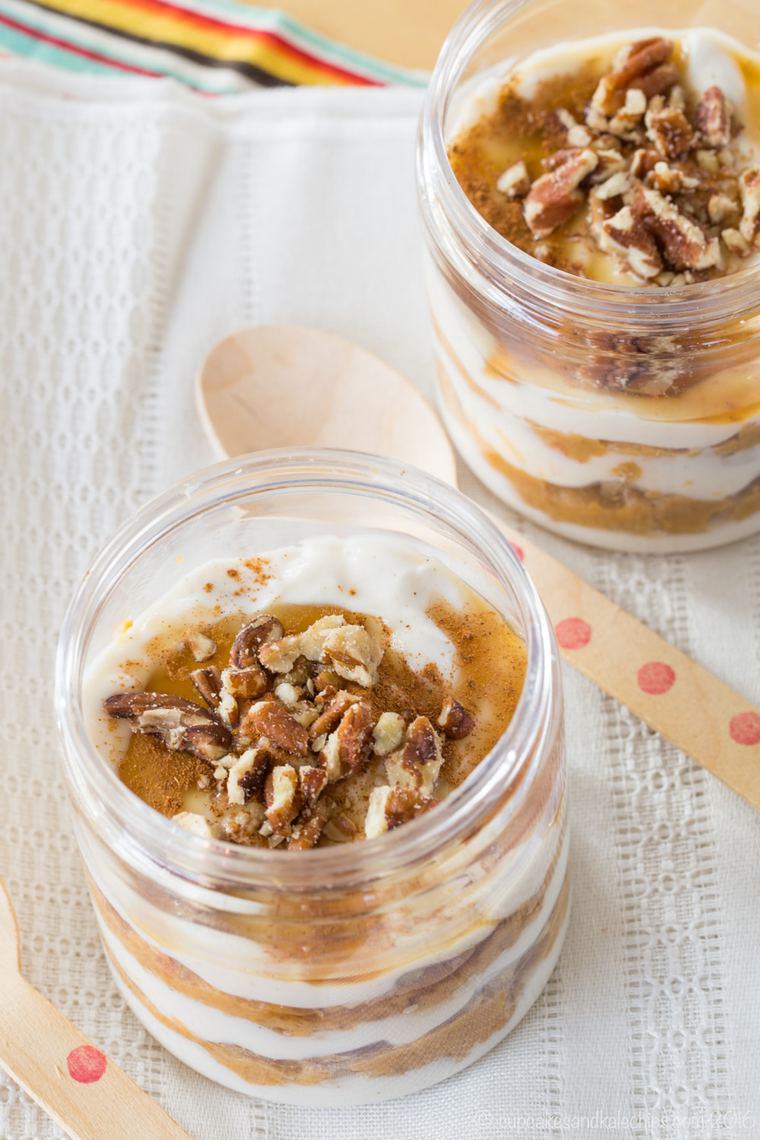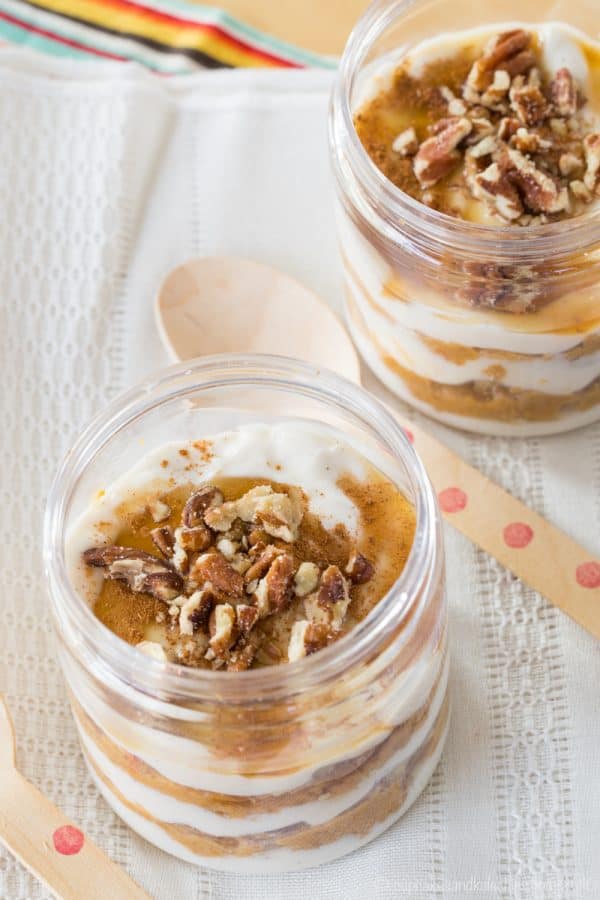 Pumpkin Spice Chocolate Pudding Oatmeal
I've never seen my kids so excited to eat breakfast in the morning as they are when I serve them this gluten-free oatmeal recipe. It's like having dessert for breakfast!
Chocolate Pumpkin Spice Smoothie
This smoothie recipe is an easy way to have breakfast on the go. Chocolate and pumpkin are the perfect combo in this delicious breakfast smoothie.
Chocolate Chip Pumpkin Cheesecake Pastries
These gluten-free pumpkin pastries are on the sweet side, but that makes them the perfect weekend brunch treat. They're great for holidays!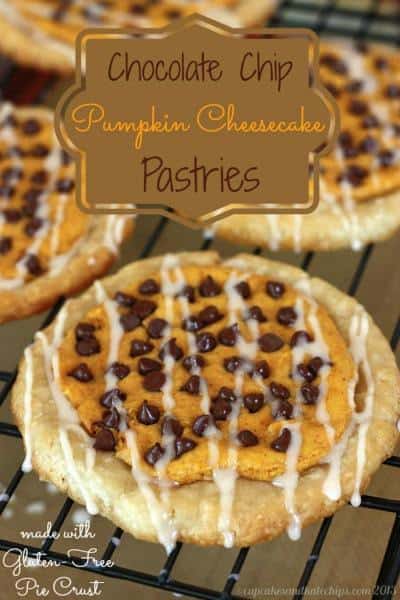 Gluten Free Pumpkin Coffee Cake with Pecan Streusel
Here's another gluten-free cake recipe that will be perfect for any Fall brunch. This crumb cake is packed with real pumpkin flavor and the crumb topping is addictive!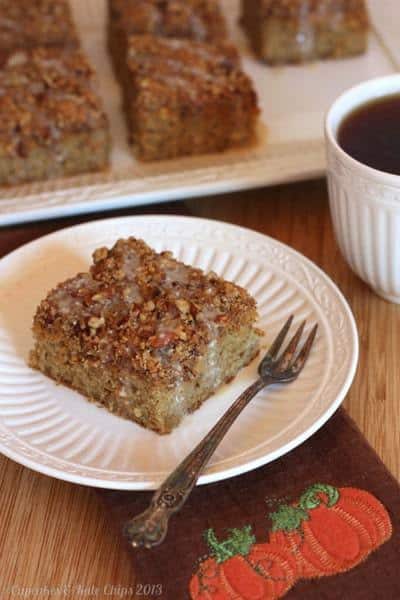 Pumpkin Maple Spice Granola Bars
Gluten-free and vegan, these baked granola bars are filled with the flavors of Fall! Real pumpkin, maple syrup, and warm spices. Great for snacking, too!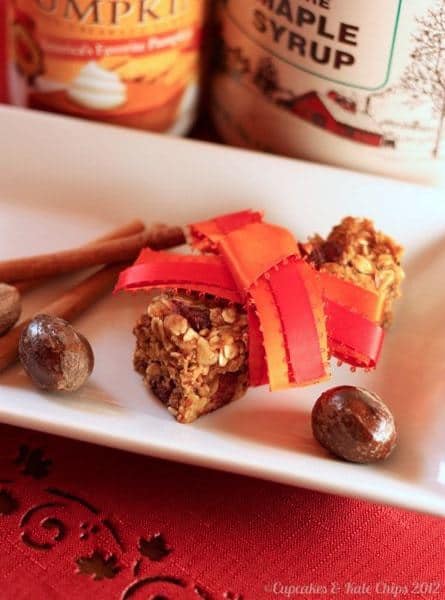 Flourless Oatmeal Nutella Pumpkin Muffins
When your day starts off with a gluten-free flourless muffin packed with sweet Nutella oatmeal and creamy pumpkin, how can it ever be a bad day?!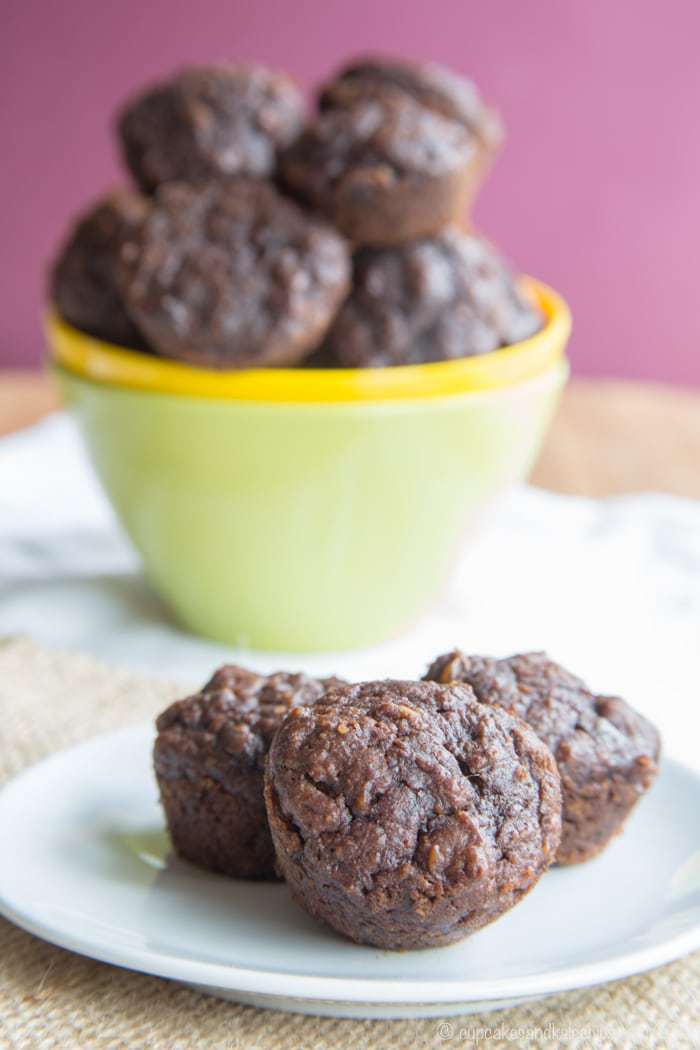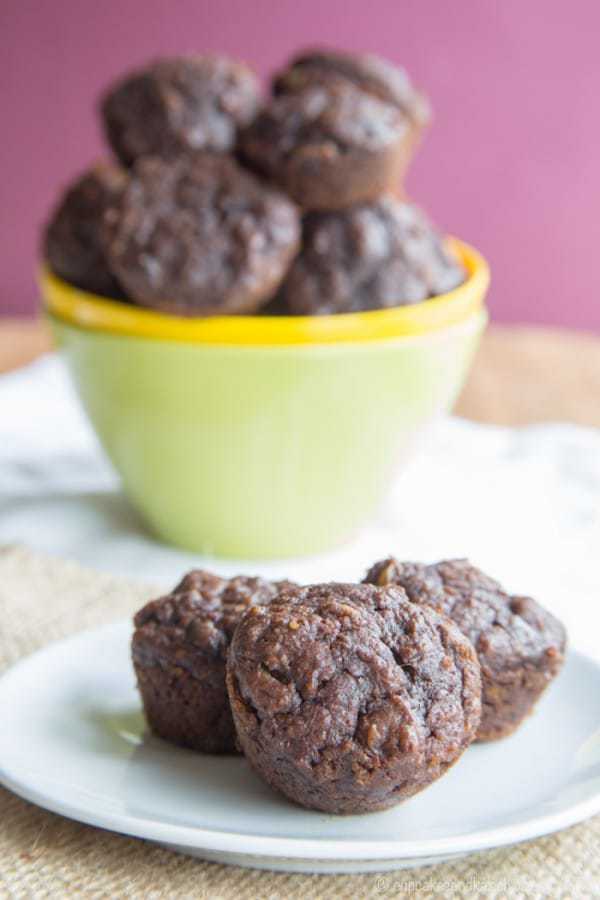 When it comes to gluten-free dinner recipes, we've got the pumpkin there, too!
Baked Penne with Pumpkin Cream Sauce and Chicken Sausage
This baked casserole is hearty and comforting, with all the best flavors of fall, from the hint of pumpkin in the sauce to the bits of apple in the sausage.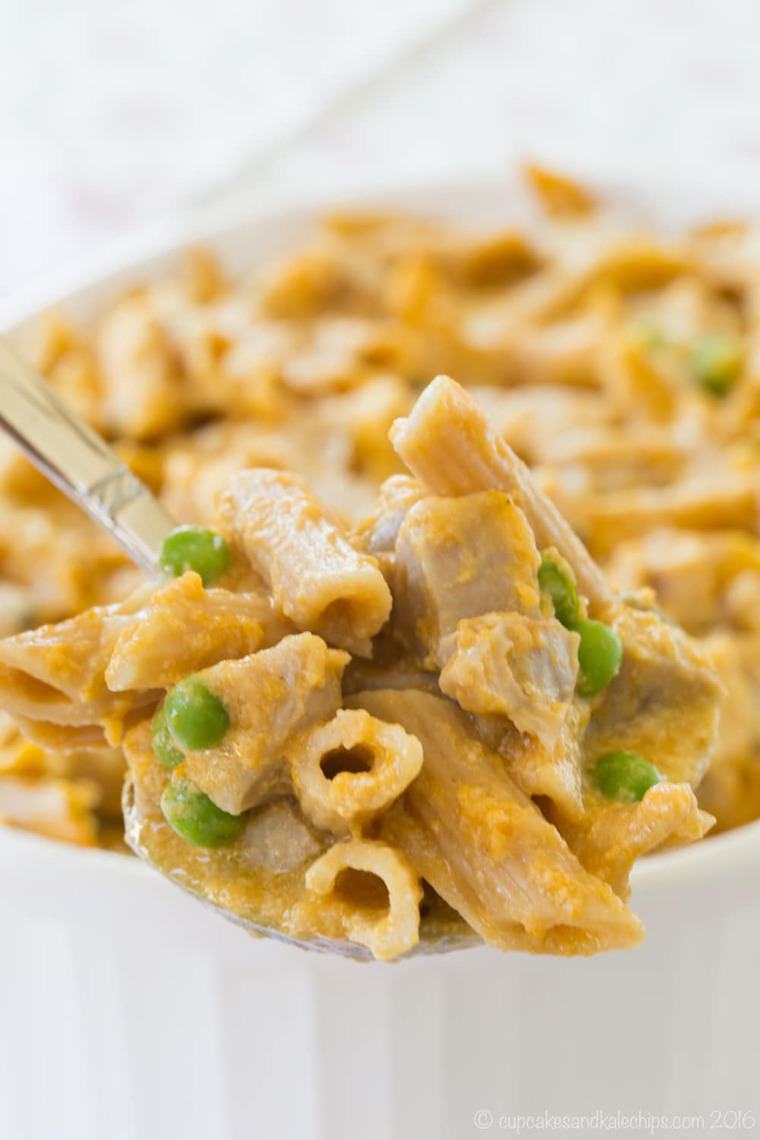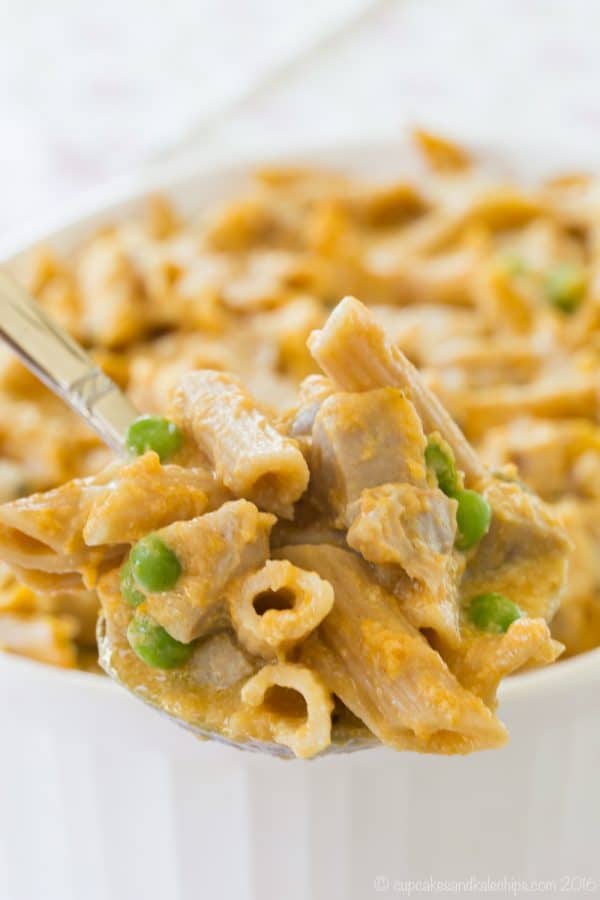 With the flavors of smoky cumin and the zing of lime, this is an easy and healthy black bean dip recipe that is a perfect appetizer or snack for fall.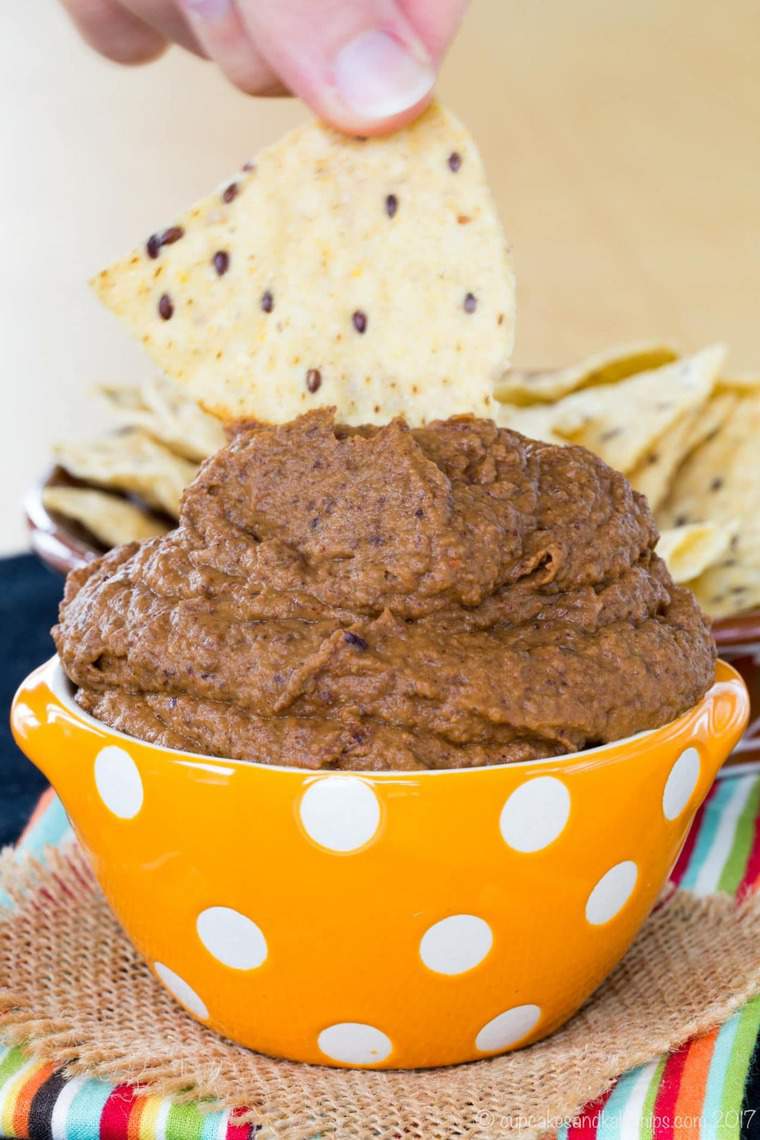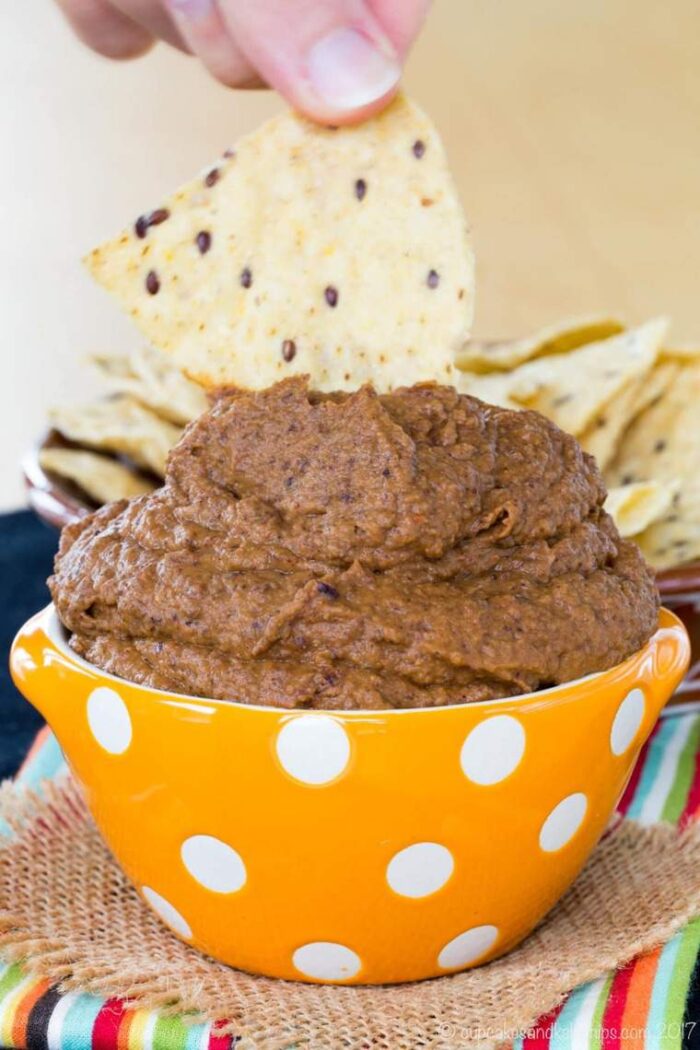 Fettucine Pumpkin Cauliflower Alfredo (Cauli-Fredo)
The cauliflower alfredo sauce in this pasta dish is laced with pure pumpkin. Creamy, dreamy Fall comfort food is the name of this game!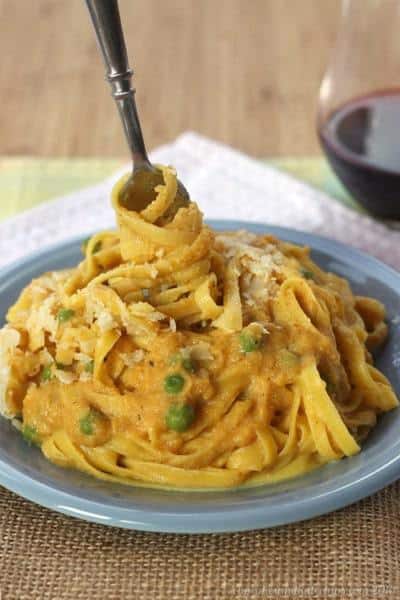 Here are a few of the best gluten-free pumpkin recipes for dessert, or any time you want a sweet gluten-free pumpkin treat:
Individual Crustless Pumpkin Pies (Pumpkin Custards)
Pumpkin pie filling, baked into individual ramekins, for those that aren't crust-lovers.
Toffee Pumpkin Spice White Chocolate Bark
I'm very sorry. I mentioned earlier that all of these gluten-free pumpkin recipes have real pumpkin in them. This chocolate bark does not…. but it's oh, SO good!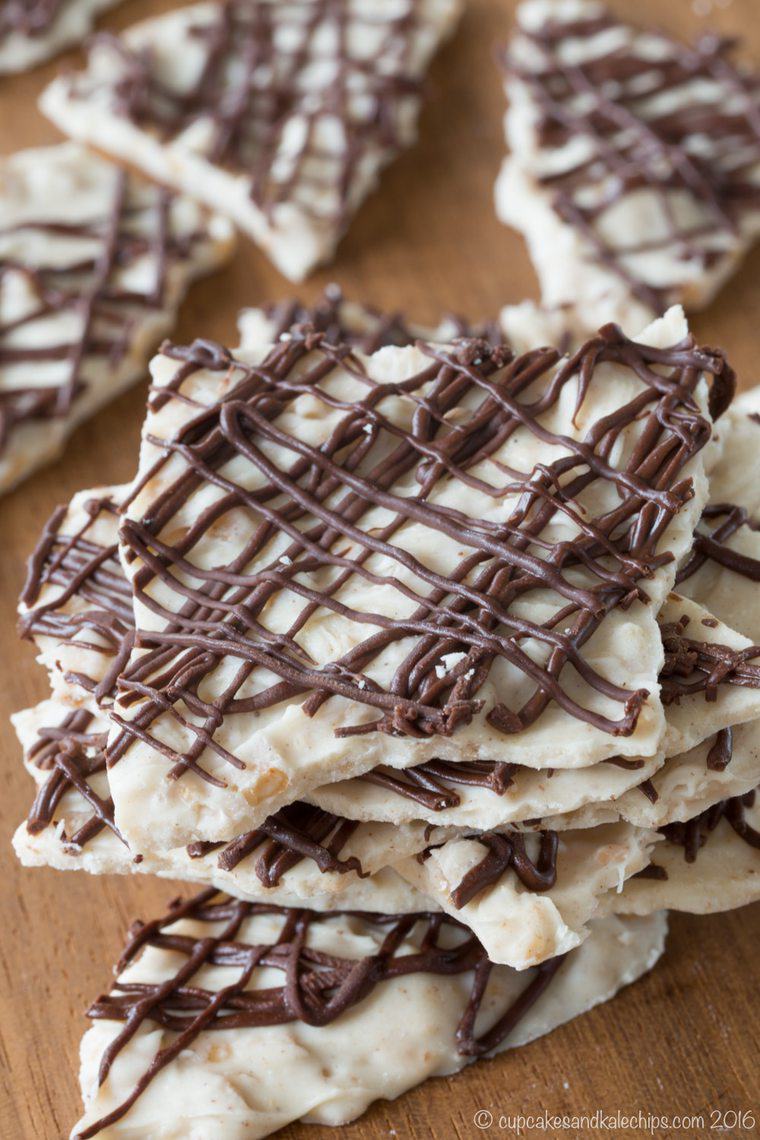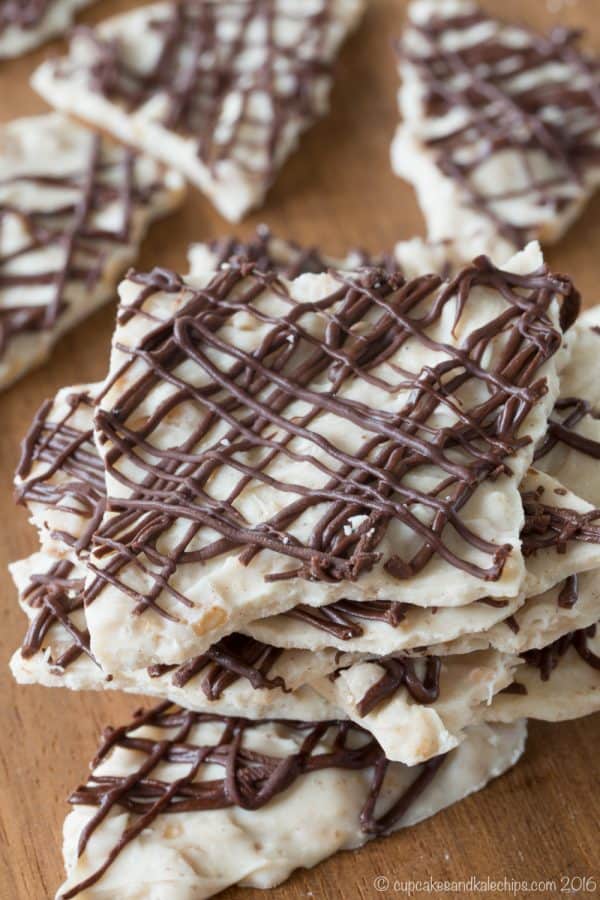 No Bake Brownie Pumpkin Cheesecake Mousse Parfaits
Miniature desserts make a big impression when you layer brownies with fluffy pumpkin cheesecake mousse and light whipped cream!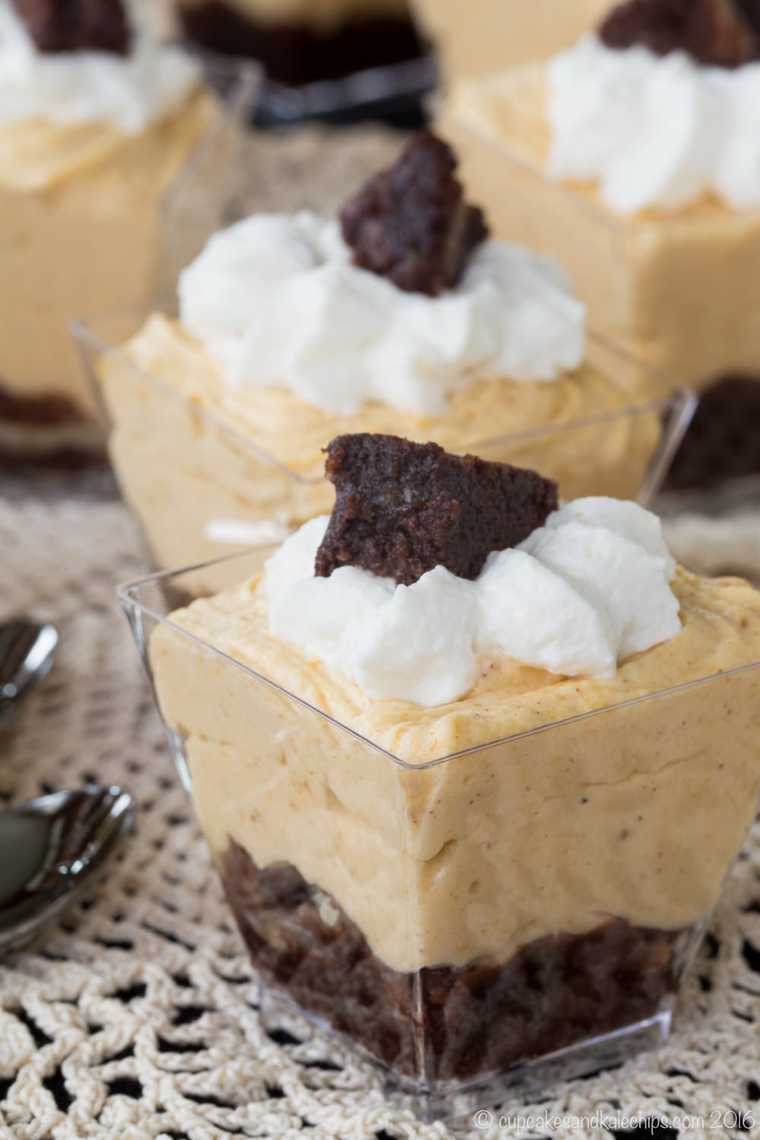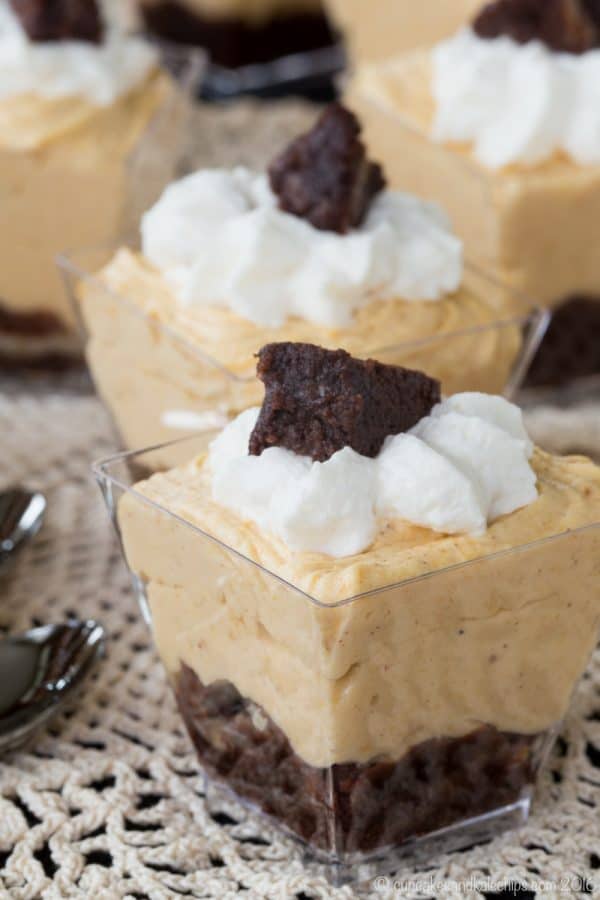 Gluten-Free Chocolate Pumpkin Spice Cake
A rich, chocolaty bundt cake that is the perfect fall dessert to share with a beloved friend. Pour a cup of coffee or tea and grab a slice!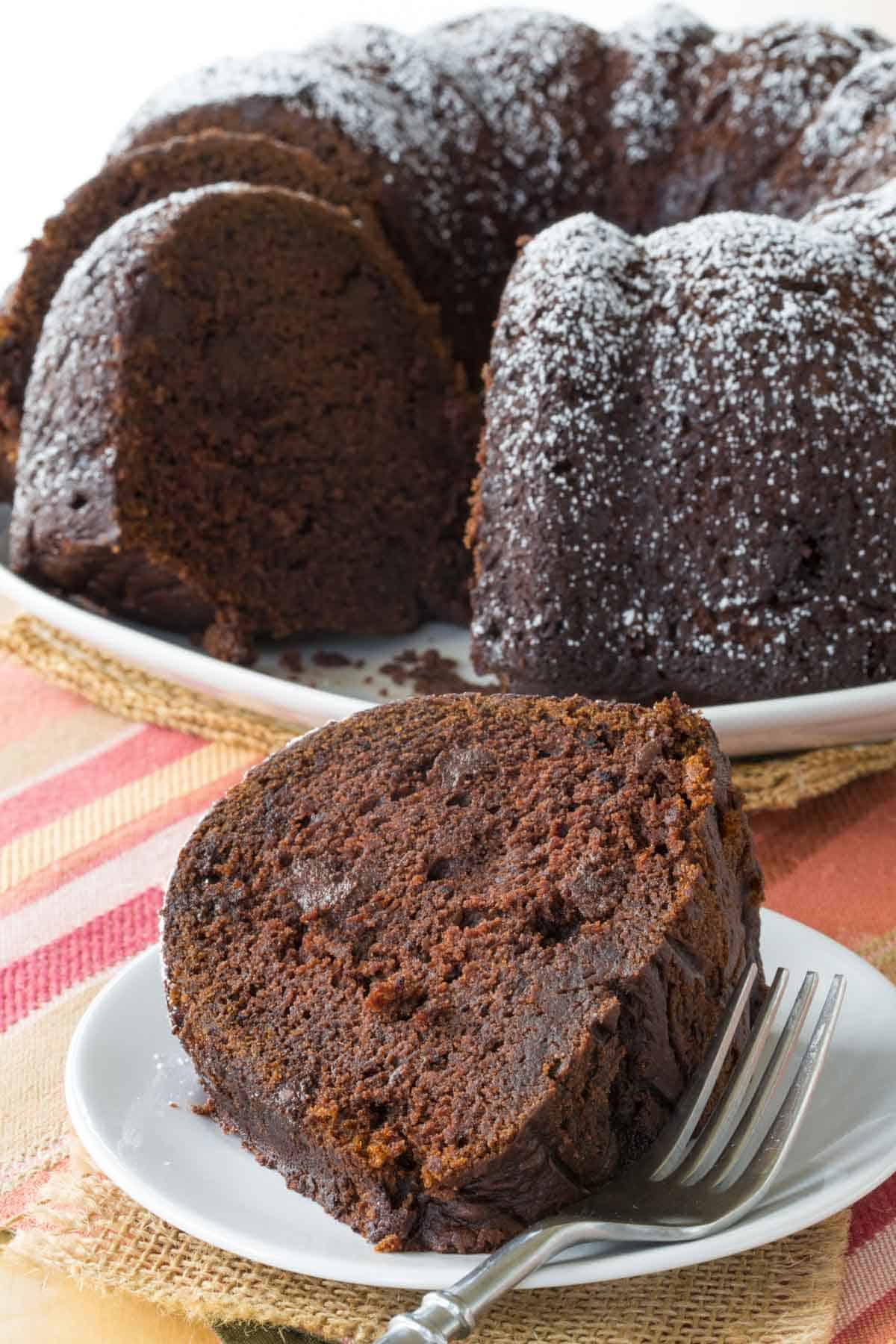 Nutella Swirl Pumpkin No Churn Ice Cream
This gluten-free pumpkin ice cream is proof that it doesn't need to be the middle of summer to enjoy a frozen dessert, and it's acceptable to have pumpkin in the heat of summer!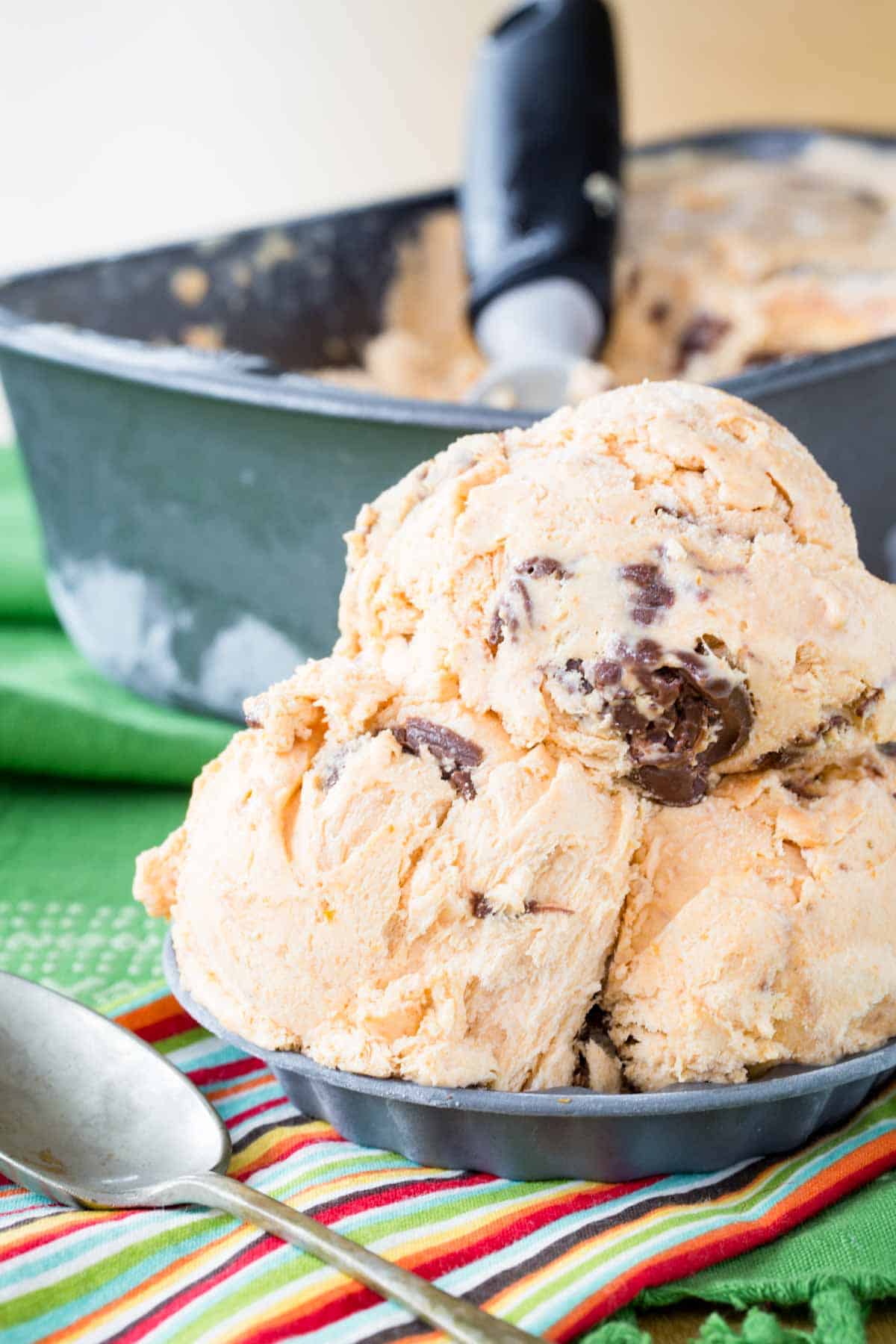 Creamy, cold, and smooth, this seasonal gluten free pumpkin dessert is extra special when topped with whipped cream and candied walnuts.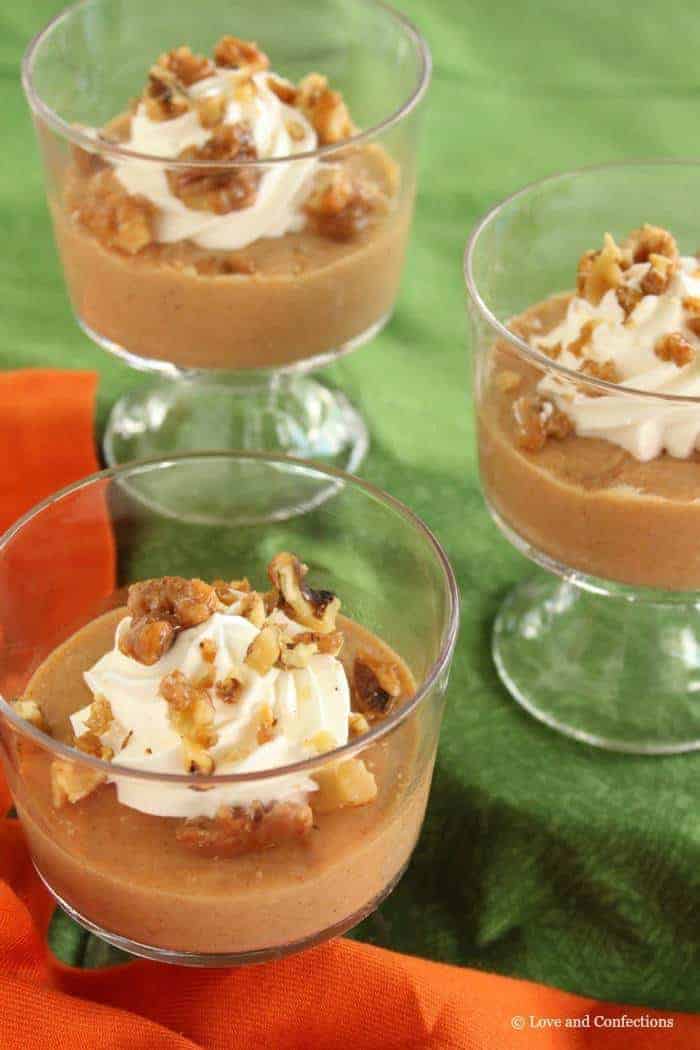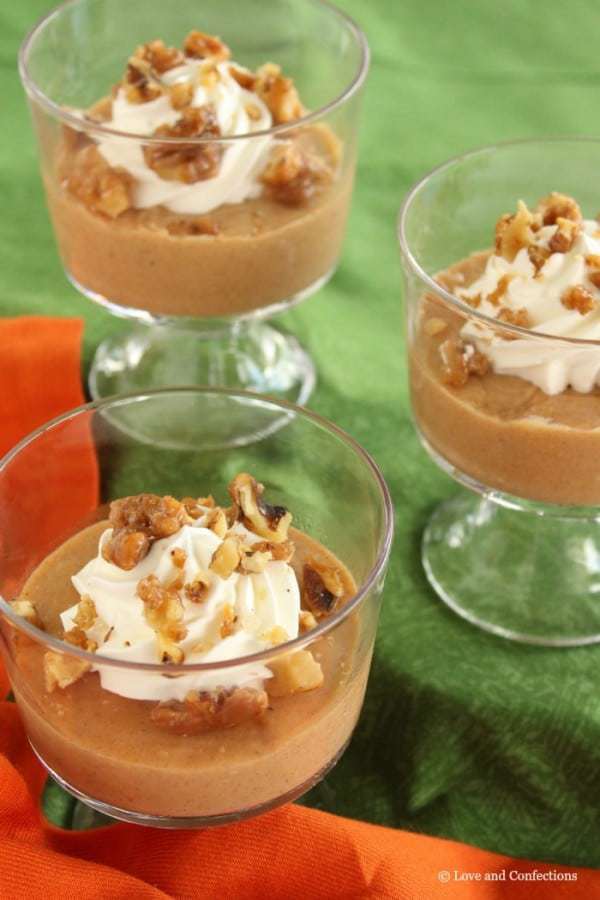 Gluten Free Pumpkin Snack Cake
This whole grain snack cake recipe uses oat flour and almond meal (and not a bunch of weird gluten free flours), and even has sugar free and no refined sugar options.
Pumpkin Cheesecake Flourless Chocolate Cake Roll
Tender sponge cake rolled up with a light, fluffy pumpkin cheesecake mousse filling and slathered with chocolate ganache. This indulgent fall dessert is sure to impress!
Chocolate Chip Cookie Cupcakes with Browned Butter Pumpkin Frosting
Chocolate chip cookies baked into mini cupcake bites, topped with a browned butter pumpkin frosting. Gluten-free pumpkin recipes don't get much better than this!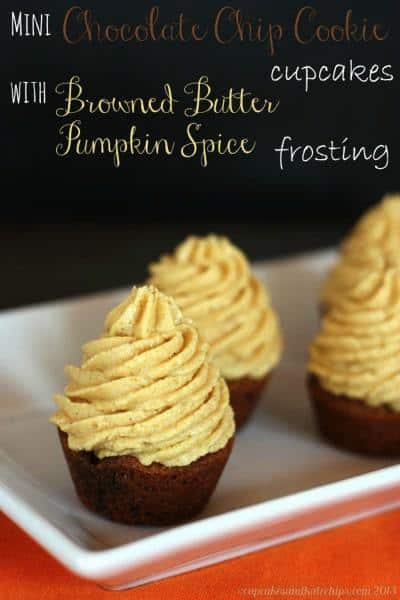 Greek Yogurt Pumpkin Cheesecake Tart w/ Gluten-Free Maple Pecan Crust
The title of the recipe might be a mouthful, but that's pretty appropriate, because you'll want more than one little bite of this delicious gluten-free pumpkin dessert!
And if all of those pumpkin packed recipes aren't enough for you, here are 24 gluten-free pumpkin recipes to take a peek at!
Hope you agree that these really are the BEST gluten-free pumpkin recipes around!!