This post may contain affiliate links. Read my disclosure policy.
There's no more satisfying fall tradition than whipping up a few sweet pumpkin treats full of warm autumn spices. Here are some mouthwatering Gluten Free Pumpkin Recipes to incorporate this classic favorite fall flavor into your breakfast, dinner, or dessert plans – and a few quick snacks to hold you over in between!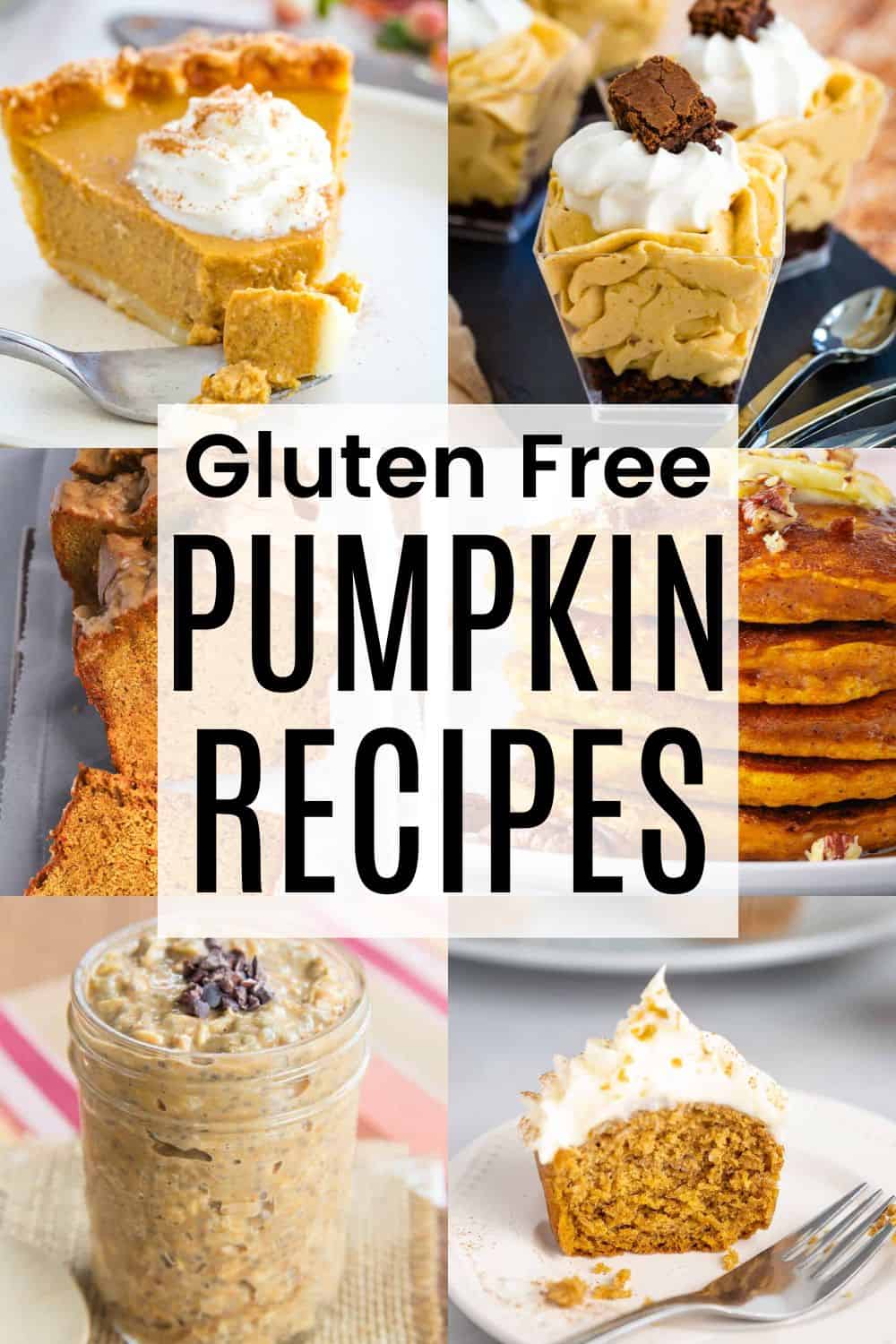 The Best Pumpkin Recipes: Breakfasts, Desserts and More!
I absolutely love using pumpkin in the kitchen. It sits right on the line between sweet and savory, which makes it so versatile! You can use it just as easily in both desserts and dinners. The key is knowing what spices and seasonings to add so that you can bring out one side or the other.
Using pumpkin is also a great way to get in some important vitamins and minerals. Recipes with fresh puree made from scratch are especially healthy, since you're getting all those good nutrients right from the source with no added preservatives. The great news is that every recipe on this list can be made with either canned or homemade puree.
Is All Canned Pumpkin Gluten-Free?
Canned puree typically contains 100% pumpkin or related squashes, which makes it completely gluten-free. Going with an organic brand is your best bet to avoid unwanted ingredients, but make sure you check the ingredients label either way. Once you find a brand you like, stick with it.
Make sure to watch out for canned pumpkin pie filling. These kinds of products might contain gluten, as well as sweeteners and other unwanted additions. Never substitute pie filling for pure pumpkin, which could mess with the flavor and consistency of whatever dish you're trying to make.
What About Pumpkin Spice?
Pumpkin spice normally uses some combination of cinnamon, ginger, nutmeg, allspice, and clove. All of these spices are naturally gluten-free, and most brands don't add anything to them. This makes blending your own spices the safest bet. Plus, mixing the spices yourself means you can control how much of each ingredient goes into your recipe. Try my homemade pumpkin pie spice recipe!
Some premade spice blends have additional ingredients to give them better flow and keep them mixed evenly, and sometimes these additives are not gluten-free. Pumpkin pie spice is usually safe, but you should always check the ingredients label before buying a container.
Is Pumpkin Pie Filling the Same as Pumpkin Puree?
Believe it or not, premade pumpkin pie filling is actually made with winter squash and not pie pumpkins. Crazy, I know! That's why I love whipping up meals, desserts and snacks with real pumpkin puree in them. While some people like to make their own puree, in most recipes, using canned is just fine.
How to Make Pumpkin Puree From Scratch
Making your own puree is cheaper and healthier than buying it in a can. The very first step is choosing your fruit. Luckily there are special pumpkins specifically used for baking! These are smaller and rounder than the kind you see carved on doorsteps around Halloween.
Once you have a good pumpkin selected, grab a large, sturdy knife and follow these simple steps.
Cut the Fruit: Use your knife to remove the stem from your pumpkin, then turn it upside down. Cut it in half, using a mallet to help you if the skin is particularly thick. Tap it gently on the knife to get the blade through the rind.
Take Out the Seeds: Next, you want to clear all the seeds and pulp from the inside of your pumpkin. Make sure to scrape out all the strands until only the firm meat remains. You can rinse, dry and set the seeds aside if you want to toast them later.
Roast the Pumpkin: Add some salt to the inside of both halves of the pumpkin. Lay them cut side down on a baking sheet lined with lightly greased foil. Put the tray in the oven at 400°F for around 30 minutes, or until the flesh becomes fork-tender and the skin peels easily away.
Remove the Skin: At this point, the skin of the pumpkin should be pretty easy to peel off. If it's not peeling cleanly away, scoop out the meat with a large metal spoon.
Puree: Dump the soft flesh of the pumpkin into your blender or food processor. Set your appliance to puree and turn it on at high speed for 3 to 4 minutes, or until the contents turn creamy and smooth.
Strain and Use: Fresh pumpkin puree has a lot more liquid than the canned kind, so make sure you strain it before using or storing it. Once that's done, you can use it right away, or wrap it tightly and pop it in the fridge for up to 1 week. You can also freeze it in a double-lock plastic bag for up to 3 months before defrosting it.
---
40 Fabulous Gluten-Free Pumpkin Recipes
Every one of these scrumptious pumpkin recipes is bursting with fresh fall flavor – and the best part? They're all gluten-free! Whether you're looking for a quick snack, an energizing breakfast, a decadent dessert or even a quick dinner, this list has got you covered.
Gluten-Free Pumpkin Dessert Recipes
Packed with warm autumn spices and real pumpkin flavor, these sweet treats are here to fill all your fall cravings.
Gluten-Free Pumpkin Breakfast Recipes
The rich pumpkin flavor and toasty autumn spices packed into these decadent breakfasts make them the perfect way to warm up on a crisp fall morning.
Gluten-Free Snacks Made with Real Pumpkin
Perfect for lunchboxes, road trips, or any time the hunger pangs strike.
Gluten-Free Pumpkin Dinner Recipes
The savory side of the pumpkin's flavor profile makes it a great way to add extra nutrients to your dinners.