This post may contain affiliate links. Read my disclosure policy.
Pumpkin Quinoa Breakfast Bars have all the autumn flavors you love, plus plenty of protein and whole grains. As it bakes, your house will be filled with the aroma of warm fall spices. Easy, sweet, satisfying, and perfect to make ahead and pack on the go or grab as a snack. They are definitely one of the best gluten free pumpkin recipes for fall.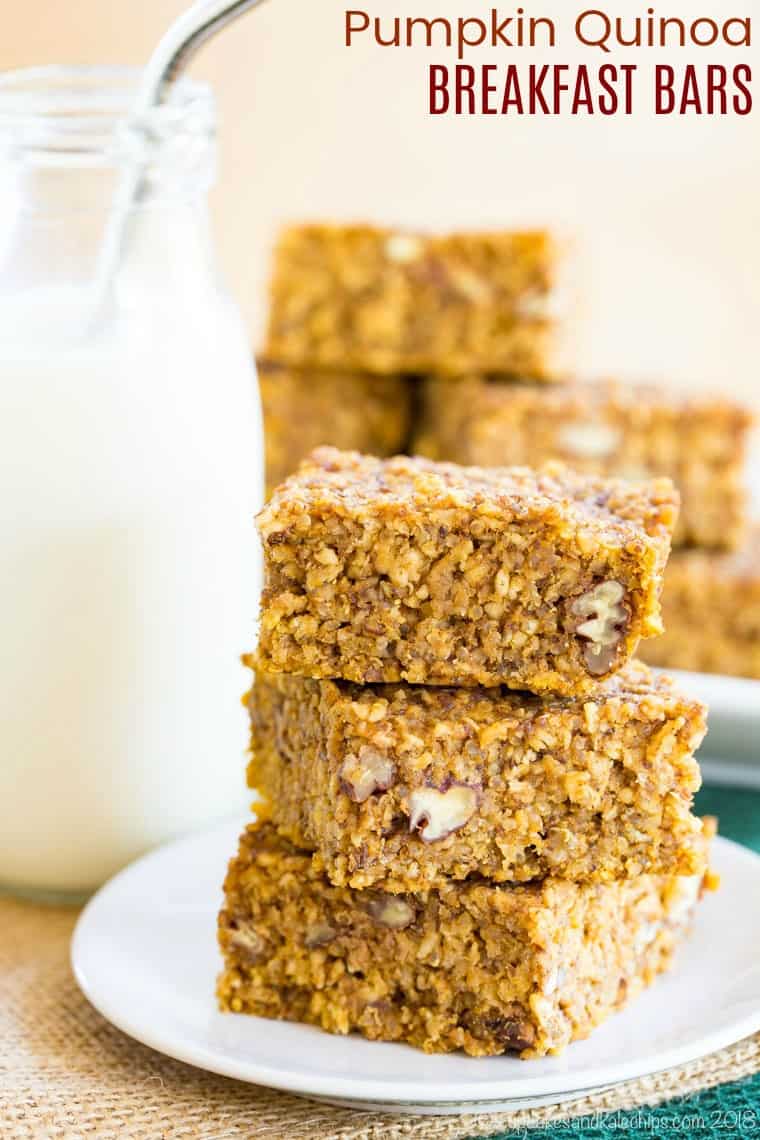 My kiddo, well, he's snarky. I don't know how else to describe him. He's got this sense of humor that is somehow simultaneously silly and deadpan. It's almost like the audible version of an eye roll.
You can be sure that I get that eye roll when I mention that we are going to be eating quinoa.
I love knowing that I am giving them a protein-packed whole grain that has plenty of fiber, as well as minerals like Iron, Magnesium, and Zinc. And I didn't even mention the antioxidants or the fact that it is gluten free.
Yep, it's totall a superfood!
Alas, I get the eye roll and a muttering of, "Well, I'm not going to eat it. Just sayin'."
But you know what I'm "just sayin'"? I'm just sayin' that I'm going to sneak the dreaded quinoa into his breakfast or after school snack…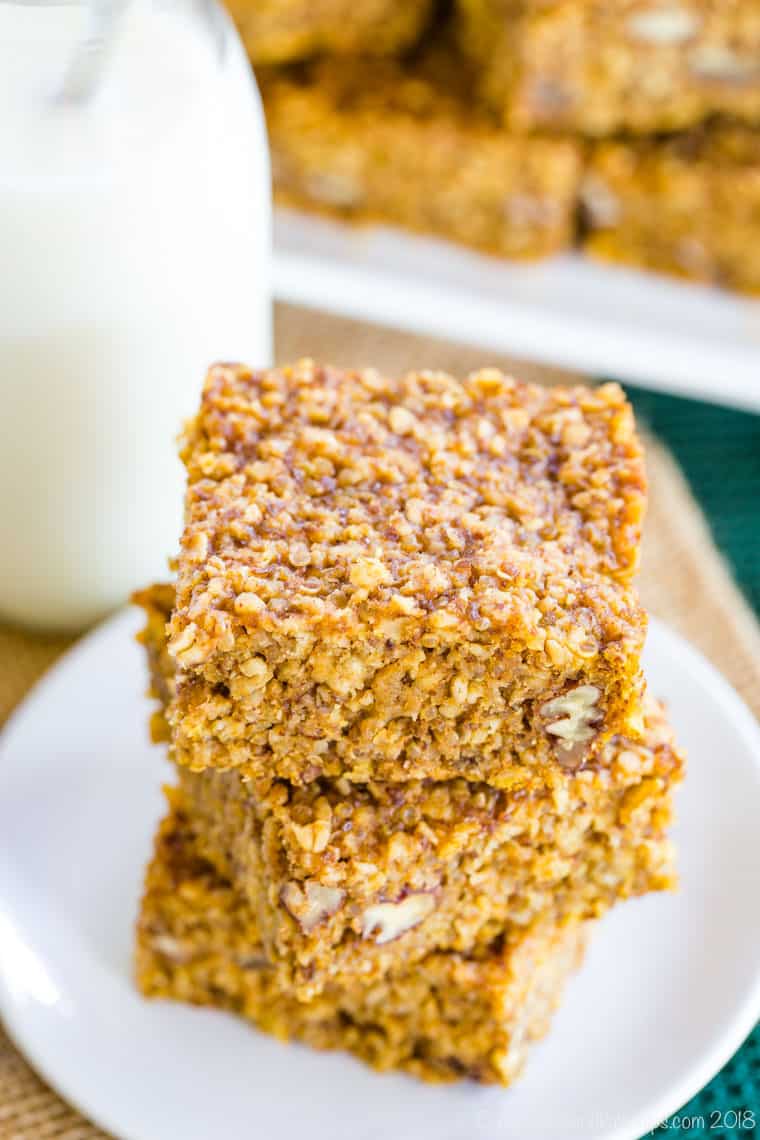 Pumpkin Breakfast Bars with Quinoa
After making and loving Cinnamon Apple Quinoa Breakfast Bars, infusing them with another favorite fall flavor seemed only natural. It was time to add pumpkin to this healthy make-ahead breakfast!
You're going to love this easy make-ahead breakfast filled with your favorite fall flavors. With plenty of protein and whole grains, this is a healthy way to fuel your day, especially since they are perfectly portable. They also make a great gluten free snack bar.
What do you need to make Pumpkin Breakfast Bars?
Dry ingredients
Quick-cooking oats – not old-fashioned or rolled oats
Quinoa – cooked according to package instructions and cooled
Baking powder
Grond flax seed – aka flax seed meal
Pumpkin pie spice
Wet ingredients
Maple syrup – this recipe is sweetened with maple syrup. It is my favorite sweetener and the flavor is always the perfect complement to autumn ingredients and spices, especially pumpkin. And I can't help it, after vacationing in Vermont a handful of times, I am just obsessed with Vermont maple syrup. It's truly the best, in my opinion. And many must agree because this maple syrup is the #1 seller on Amazon!
Pumpkin puree – NOT pumpkin pie filling
Egg
Almond butter – or another nut or seed butter
Vanilla extract
Add-ins
Chopped pecans – these can be omitted if you have a nut allergy or replace with pumpkin seeds. Even chocolate chips would be a tasty alternative.
How do you make Pumpkin Quinoa Breakfast Bars?
Here is a brief overview so you can see just how easy it is to make. Scroll down to the printable recipe card for the full quantities and details.
But don't skip my PRO TIPS below!
Preheat your oven to 350°F and line your baking pan with parchment paper.

Toss the dry ingredients together in a large bowl.

In another bowl, stir together the wet ingredients.
Pour the wet ingredients over the dry ingredients and mix, then fold in the pecans.

Pour the batter into the prepared pan and bake.

Slice into bars and store in the fridge for up to several days.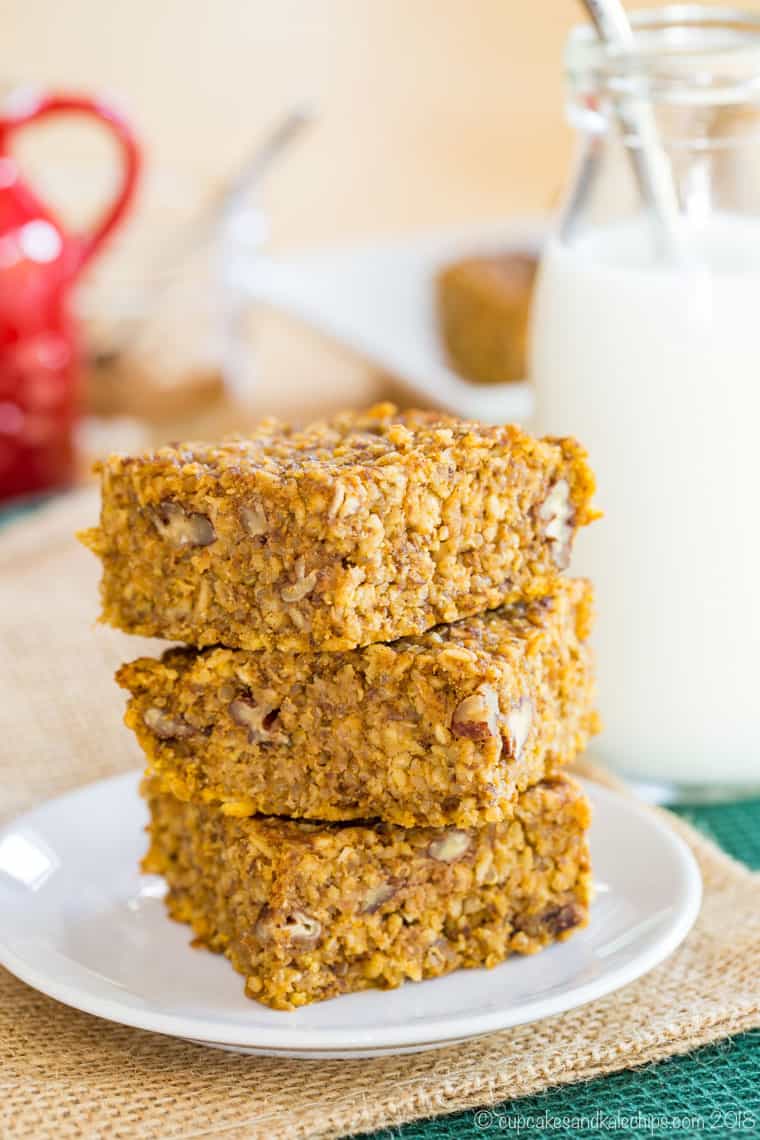 Can you freeze breakfast bars?
Yes, these bars freeze well in an airtight container. If you are going to take out one at a time, I'd recommend wrapping them individually in plastic wrap so that as you open the container to grab one you don't end up getting ice crystals or freezer burn on the other ones. But all you have to do is pull it out the night before to thaw or pop them in the microwave.
Are Pumpkin Quinoa Breakfast Bars gluten free?
Gluten Free Disclaimer: I am not a medical professional. This information is solely based on my research and personal experience, and I provide it as a courtesy to my readers. Please consult your doctor or medical professional for any questions as it relates to your needs, particularly if you have celiac disease or a severe gluten allergy or intolerance. Products, manufacturing facilities, and ingredients change frequently, so you should always contact the manufacturer for the latest information.
Yes, all of the ingredients are naturally gluten free. So you'll just need to confirm that they are not produced where there could be cross-contamination or have any hidden gluten-containing ingredients. Ingredient in this recipe that you might want to double-check are the baking powder, flax seed, and vanilla extract.
Also, you do want to verify that you have certified gluten free oats if you have celiac or a severe sensitivity.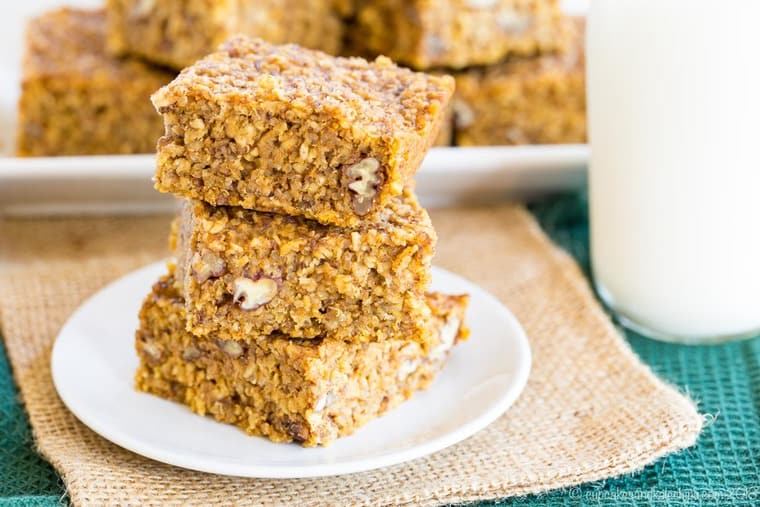 More healthy pumpkin breakfast recipes
And don't forget to try the Banana Quinoa Breakfast Bars!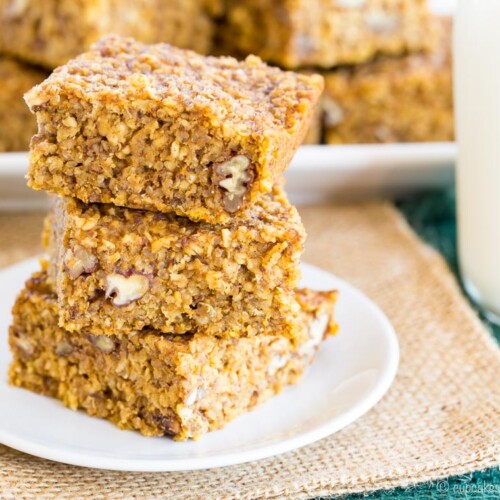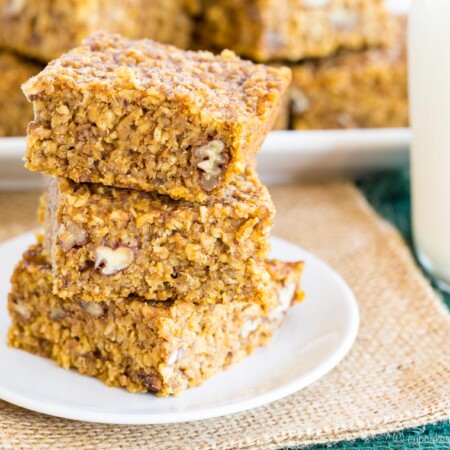 Pumpkin Quinoa Breakfast Bars
An easy and healthy make-ahead breakfast recipe packed with your favorite fall flavors, plus protein and whole grains. They also make a great gluten free snack.
Ingredients
1½

cups

quick cooking oats

1

cup

cooked quinoa

, cooled to room temperature

1

teaspoon

baking powder

1/4

cup

ground flax seed

2

teaspoons

pumpkin pie spice

1/2

cup

real maple syrup

1/2

cup

pumpkin puree

(not pumpkin pie filling)

1

egg

2

Tablespoons

almond butter or other nut butter or sunflower seed butter

1

teaspoon

vanilla

1/2

cup

chopped pecans
Instructions
Preheat your oven to 350°F. Line a 9×9 in. square baking pan with parchment paper and spray with nonstick cooking spray.

In a large bowl, combine the oats, quinoa, baking powder, flax seed, and pumpkin pie spice and stir until evenly distributed.

In another bowl, whisk together the maple syrup, pumpkin puree, egg, almond butter, and vanilla.

Pour the wet ingredients over the dry ingredients and stir until mixed thoroughly to form a thick batter.

Fold in the pecans.

Pour the batter into the prepared pan and smooth with a spatula.

Bake on the center rack of the oven for 25 – 35 minutes until the bars are golden brown and firm to the touch.

Remove and cool completely in the pan. Slice into bars and store in an airtight container in the refrigerator for several days, or freeze to keep longer.
Enjoy!