Whole Wheat Apple Pumpkin Muffins
Disclosure: This post may contain affiliate links. Cupcakes & Kale Chips is a participant in the Amazon Services LLC Associates Program, an affiliate advertising program designed to provide a means for us to earn fees by linking to Amazon.com and affiliated sites.
Filled with autumn flavors and wholesome goodness, plus natural sweetness, for a nutritious breakfast or healthy snack, you'll have a new family favorite with this recipe for Whole Wheat Apple Pumpkin Muffins.
Whole Wheat Apple Pumpkin Muffins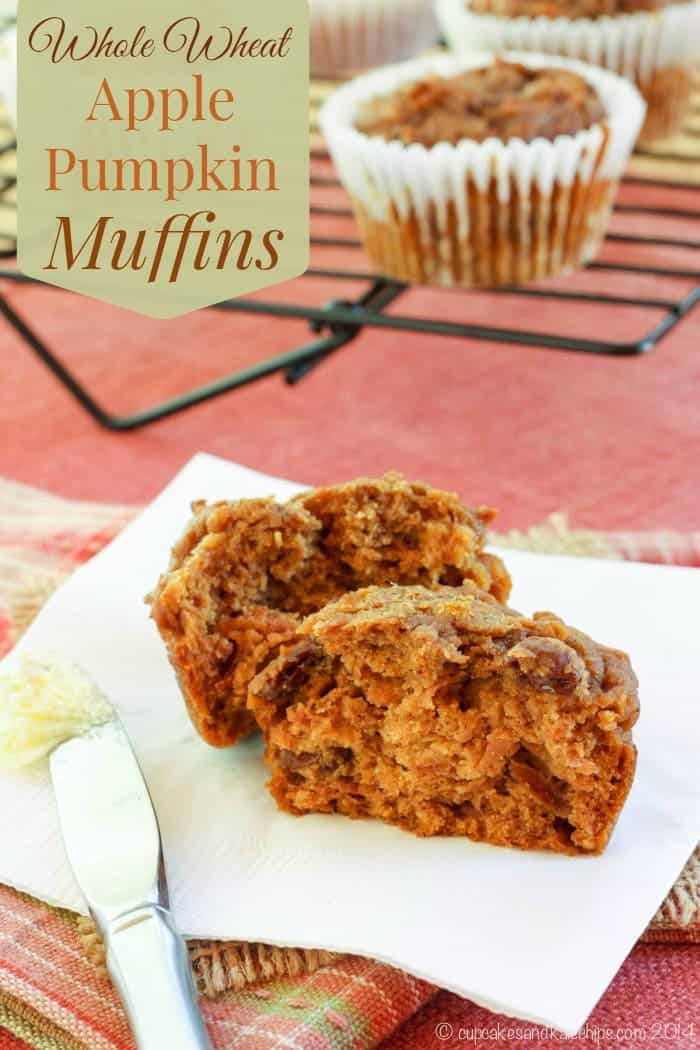 I am only allowed to buy milk, fruit, and veggies for the next two weeks.

MY LATEST VIDEOS
I am only allowed to buy milk, fruit, and veggies for the next two weeks.
I am only allowed to buy milk, fruit, and veggies for the next two weeks.
Sorry, just trying to ingrain this into my head. You see, I'm a food blogger, obvs. And also the mommy of two perpetually hungry boys. So I'm basically a food hoarder. I have stockpiles of chicken stock and quinoa and brown rice and frozen veggies and flours of all varieties and sugars of all types and a gallon bottle of maple syrup and varieties of nuts and a Costco-sized bag of chocolate chips. My spice cabinet pretty much explodes when you open it. The Hubby was also in "prepper" mode, especially after Hurricane Sandy a couple years ago, making sure we have cases of canned veggies, beans, and tomatoes. Plus, as a food blogger, sometimes things like boxes of Monster Cereals and CVS snacks and Gallo wine show up on my doorstep. I've also been cooking full size meals, but only feeding me and the aforementioned boys while the Hubby is working at the new job, living in a hotel Monday to Friday. So I have leftovers of roast turkey and breakfast casserole and corn chowder in my freezer.
Annnnnd, I have movers showing up in just over a week.
Yeah, we've got some eating to do. Never mind the fact that I still have a couple blog assignments brewing in the kitchen right now. I think I'm going to be inviting everyone I know over for an "Eat What's Left in Brianne's Freezer" party.
Good times, right? Come on, who doesn't want a meal of meatloaf, cookies, frozen berries, and, well, muffins…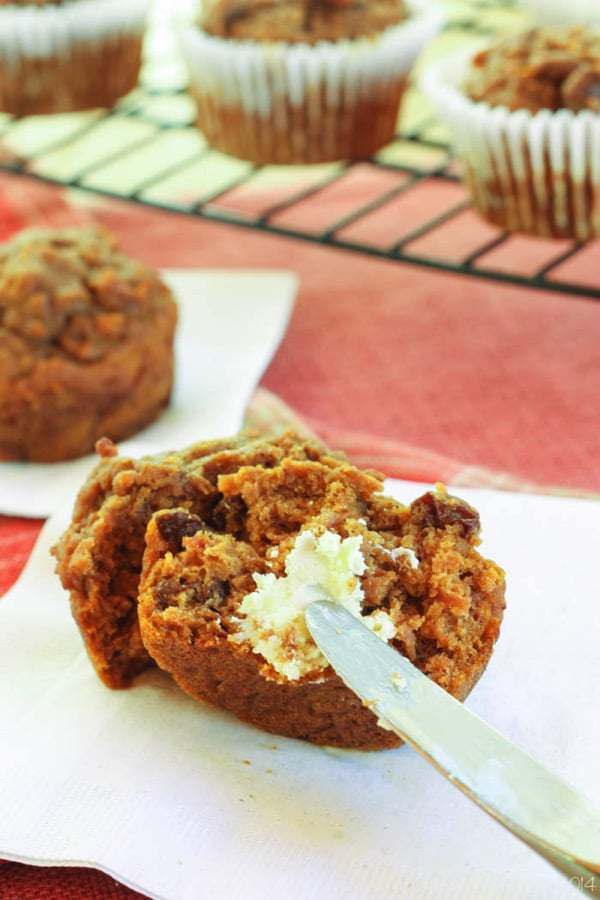 Somehow, despite the boys' need to constantly be shoving food into their faces, there are still some of these Whole Wheat Apple Pumpkin Muffins in the freezer. But really that's only because I've been making so many other things that they just haven't finished them yet. If I pulled them all out of the freezer and let them at it, they would polish them off in no time. I decided to make riff on the Carrot Zucchini Mini Muffins that I've been making for years, but bring in fall ingredients, and they were a total hit. King Stuff would be double fisting them, if given the opportunity. With the natural sweetness of the apple and raisins, they only need a little maple syrup to be super yummy, then the addition of pumpkin and warm spices were the perfect complement. Bursting with fall flavors, these muffins are a super yummy breakfast or snack, but would also be a unique dinner roll alternative for Thanksgiving.
OK, so maybe I could have filled the muffins cups a wee bit more to have bigger, taller muffins. Sorry, I get nervous about them spilling over. One thing I can't deal with now with the imminent move is deep cleaning my oven. Or, you know, setting the house on fire or something.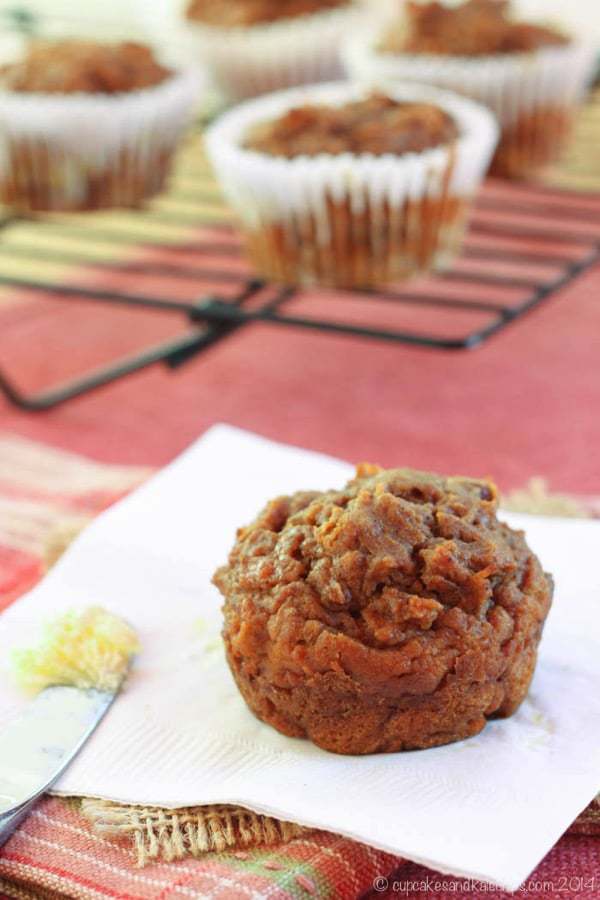 You could always just make mini muffins. You can do either. I actually did a little of both. I just liked the photos of the big ones better, but here's a picture of the little guys…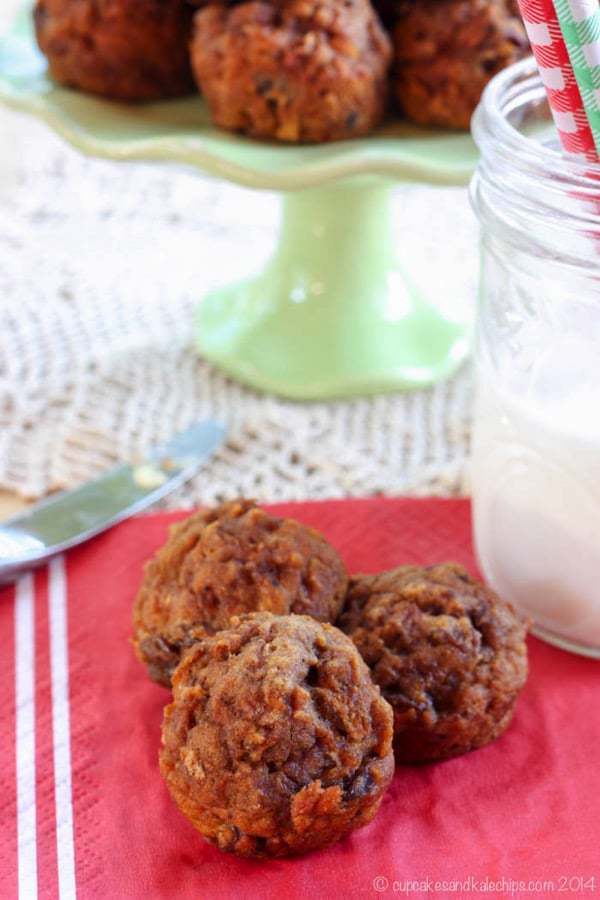 Cute, right?!
Are you a food hoarder?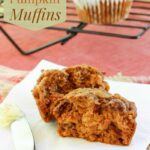 Print Recipe
Whole Wheat Apple Pumpkin Muffins
Filled with autumn flavors and wholesome goodness for a nutritious breakfast or healthy snack.
Servings:
12
regular size or 24 mini
Instructions
Preheat oven to 350°F and place rack in the center of the oven, and coat a regular or mini muffin pan with nonstick cooking spray, or line with paper cups.

Combine the flour, pumpkin pie spice, salt, and baking soda in a mixing bowl and whisk until thoroughly combined. Set aside.

In a large mixing bowl, stir together the butter, maple syrup (or honey), egg, pumpkin, and vanilla extract.

Add the flour mixture to the wet ingredients and stir together until just barely combined.

Add the apple and raisins and stir gently until just distributed.

Fill each cup in the muffin pan approximately ¾ full.

Bake regular size muffins for 18-20 minutes or mini muffins for 14-18 minutes or until a toothpick inserted in the center of a muffin comes out clean.
Enjoy these Whole Wheat Apple Pumpkin Muffins!
Want some more muffins?
Plus here are some from my friends…