This post may contain affiliate links. Read my disclosure policy.
Easy Gluten Free Pumpkin Cupcakes are fluffy and moist, topped with a rich and tangy homemade cream cheese frosting. You won't believe the amount of pumpkin spice flavor packed into these lovely fall cupcakes!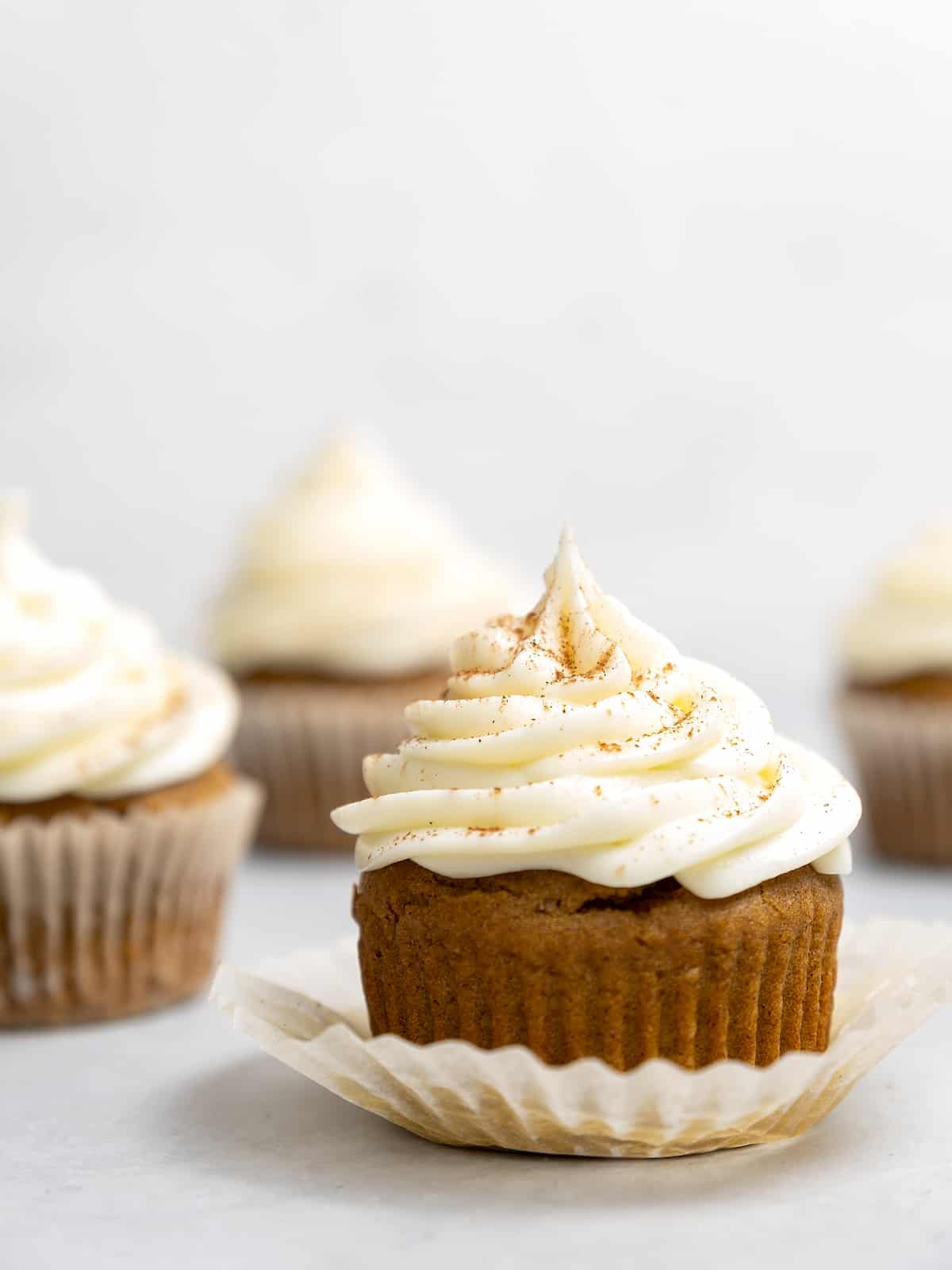 Fluffy Pumpkin Cupcakes With Cream Cheese Frosting
There are few things I love more than sinking my teeth into a freshly frosted, soft and tender cupcake. It's an instant mood lifter. Who can stay grumpy with a mouthful of cupcake? No one, that's who.
These fluffy and moist gluten free pumpkin cupcakes are the definition of comfort food. A deliciously baked dessert full of real pumpkin, warm spices and brown sugar, topped with buttery homemade vanilla cream cheese frosting. Made with gluten free flour, these cupcakes are the perfect allergy-friendly treat.
Trust me, if there's one sweet treat to carry you into the fall months, this is it!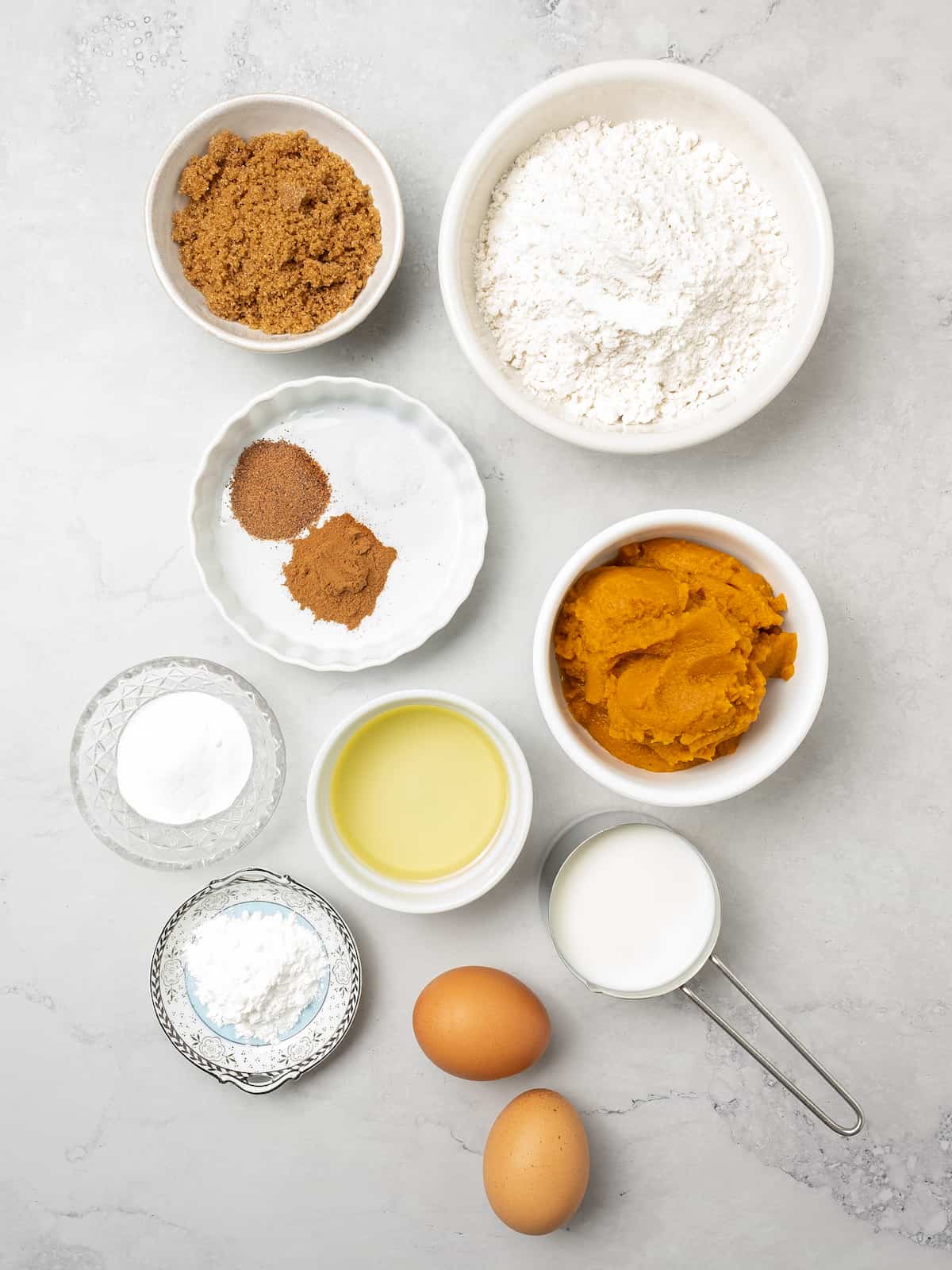 What You'll Need
You'll need a few basic ingredients for the cupcakes themselves, as well as the sweet cream cheese frosting. Below you'll find an overview, with the full ingredient amounts available in the recipe card:
For the Pumpkin Cupcakes
Gluten Free Flour: I used King Arthur Measure for Measure.
Baking Soda and Baking Powder: You'll need both types of leavening for light, fluffy cupcakes. Make sure they are gluten free and fresh!
Spices: I use a combination of cinnamon, pumpkin pie spice, and a pinch of salt to compliment the pumpkin.
Pumpkin Puree: Make sure you're using canned pumpkin purée, and not pumpkin pie filling.
Oil: Vegetable oil, or another neutral oil like canola or coconut oil will also work.
Light Brown Sugar: I like to use light brown sugar. It meets in the middle between white sugar and dark brown sugar, for the best flavor and moisture.
Eggs and Milk: Let your eggs and milk come to room temperature for best results.
For the Cream Cheese Frosting
Butter: Unsalted butter, at room temperature. You should be able to press your finger into the butter and leave a dent.
Cream Cheese: Also at room temperature, to avoid lumpy frosting. Cream cheese just compliments the flavors of the pumpkin cupcakes so perfectly! I highly recommend using full-fat blocks of cream cheese as opposed to the kind you buy in a tub.
Vanilla Extract: Using clear vanilla extract will keep the icing bright and white. Pure vanilla extract will provide a deeper flavor.
Powdered Sugar
Cinnamon: For sprinkling.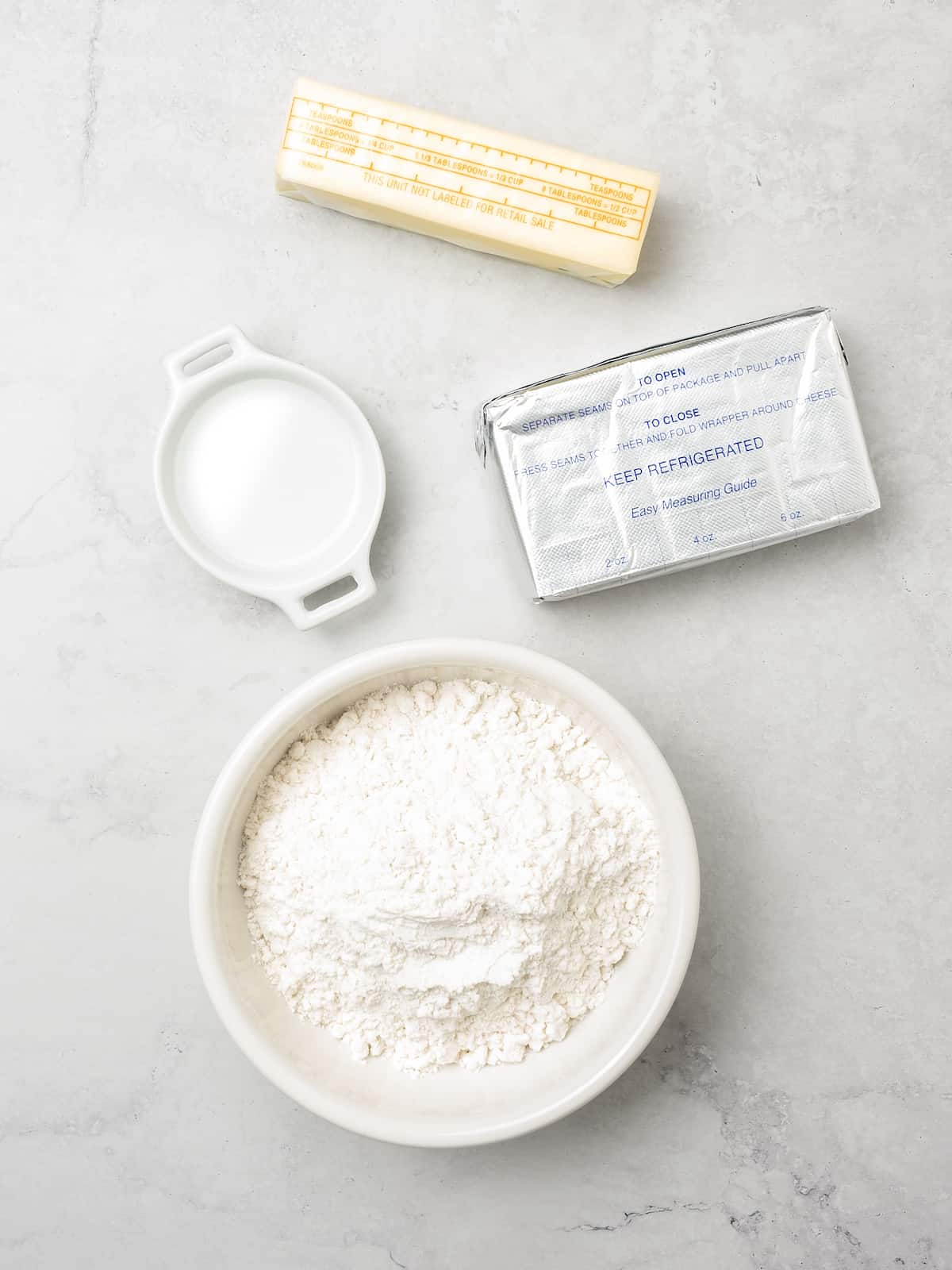 How to Make Gluten-Free Pumpkin Cupcakes
Before you begin, don't forget to take ingredients like eggs, milk, butter and cream cheese out of the fridge! Room temperature ingredients are easier to combine, for a better consistency in the cupcakes and the frosting. Next, line a muffin pan with cupcake liners, and get started on your cupcakes:
Make the Cupcake Batter: First, whisk together the dry ingredients. In a separate bowl, combine the pumpkin puree with the brown sugar and other wet ingredients. Gradually stir the dry ingredients into the wet ingredients, being careful to not over mix. You'll need to leave the batter to rest, covered, for about a half hour before baking to let the liquids absorb.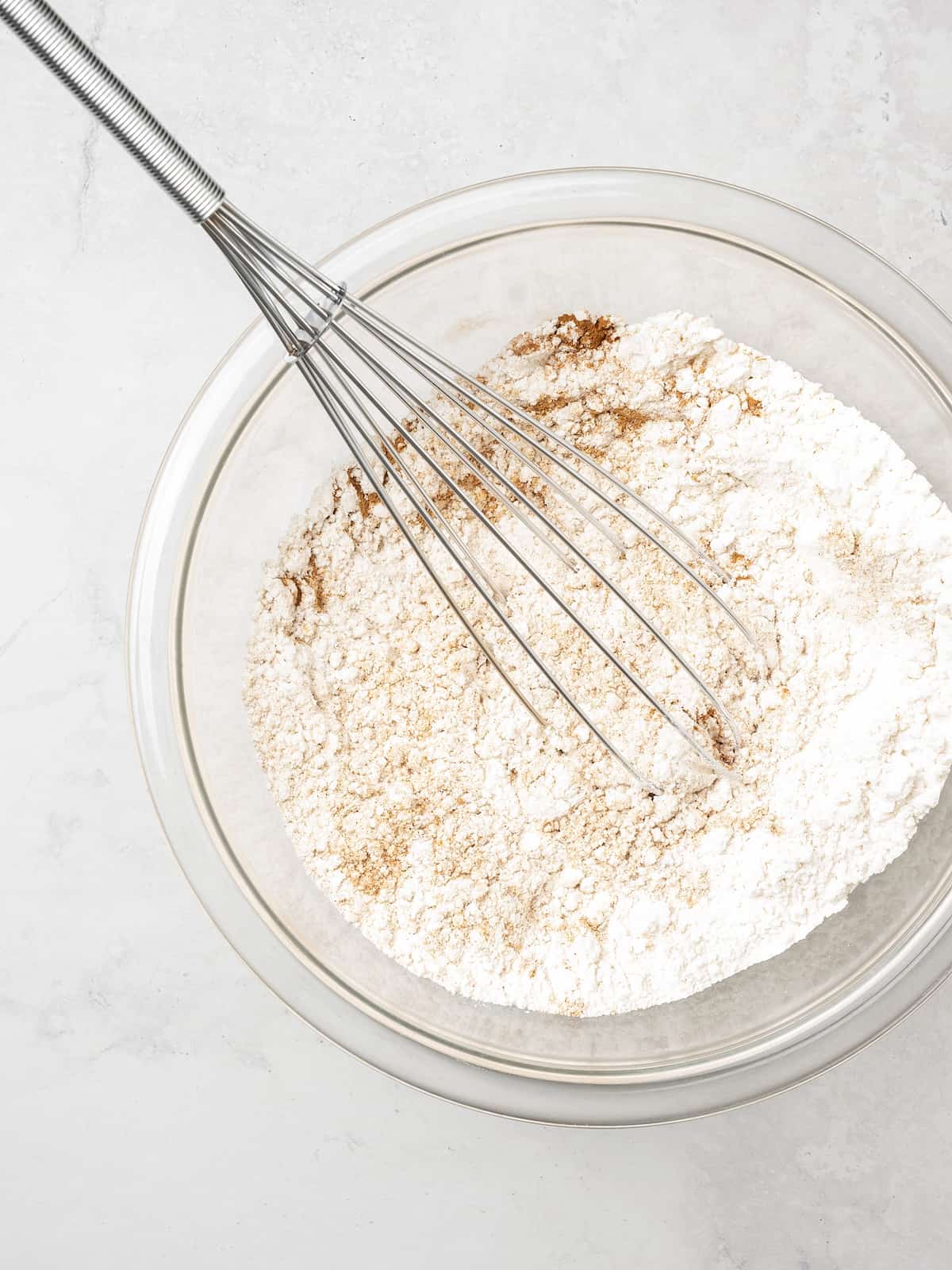 Bake: After it's rested, divide the batter evenly among the wells of your lined muffin pan. Pop the cupcakes into the oven at 350ºF for about 20 minutes, or until the cupcakes are cooked through. Let the cupcakes cool in the pan for a few minutes before transferring them to a wire rack.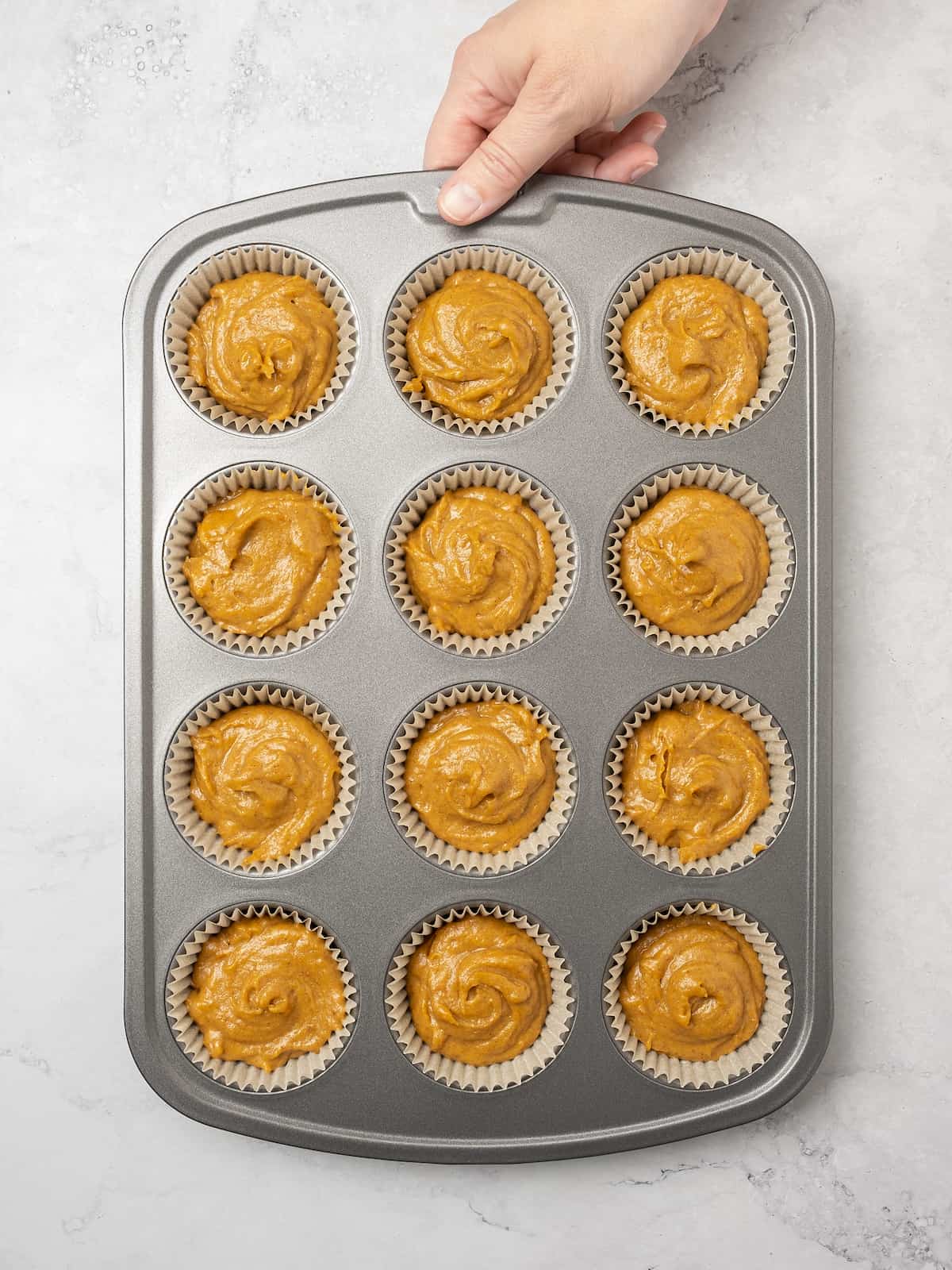 Make the Cream Cheese Frosting: Cream together the butter and cream cheese, then add in the vanilla. Slowly beat in the powdered sugar a little at a time, until you reach a smooth, fluffy consistency.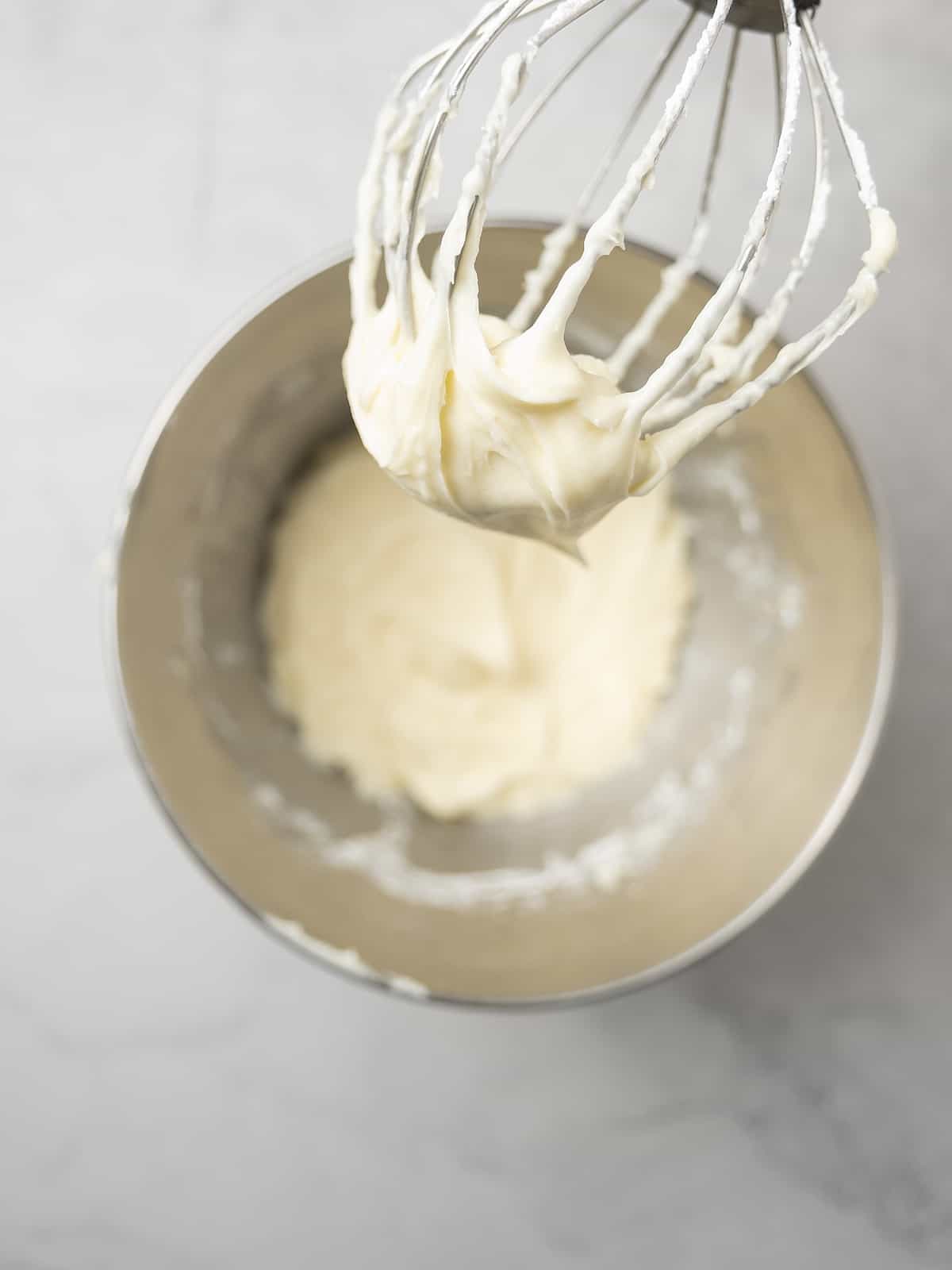 Frost the Cupcakes: Once your cupcakes are fully cool (emphasis on fully!), it's time to frost them! Use a piping bag to pie swirls of cream cheese frosting onto the tops of your cupcake. You can also use a ziplock bag with the corner snipped off in place of an actual piping bag. Finally, give your frosted cupcakes a sprinkle of cinnamon before serving.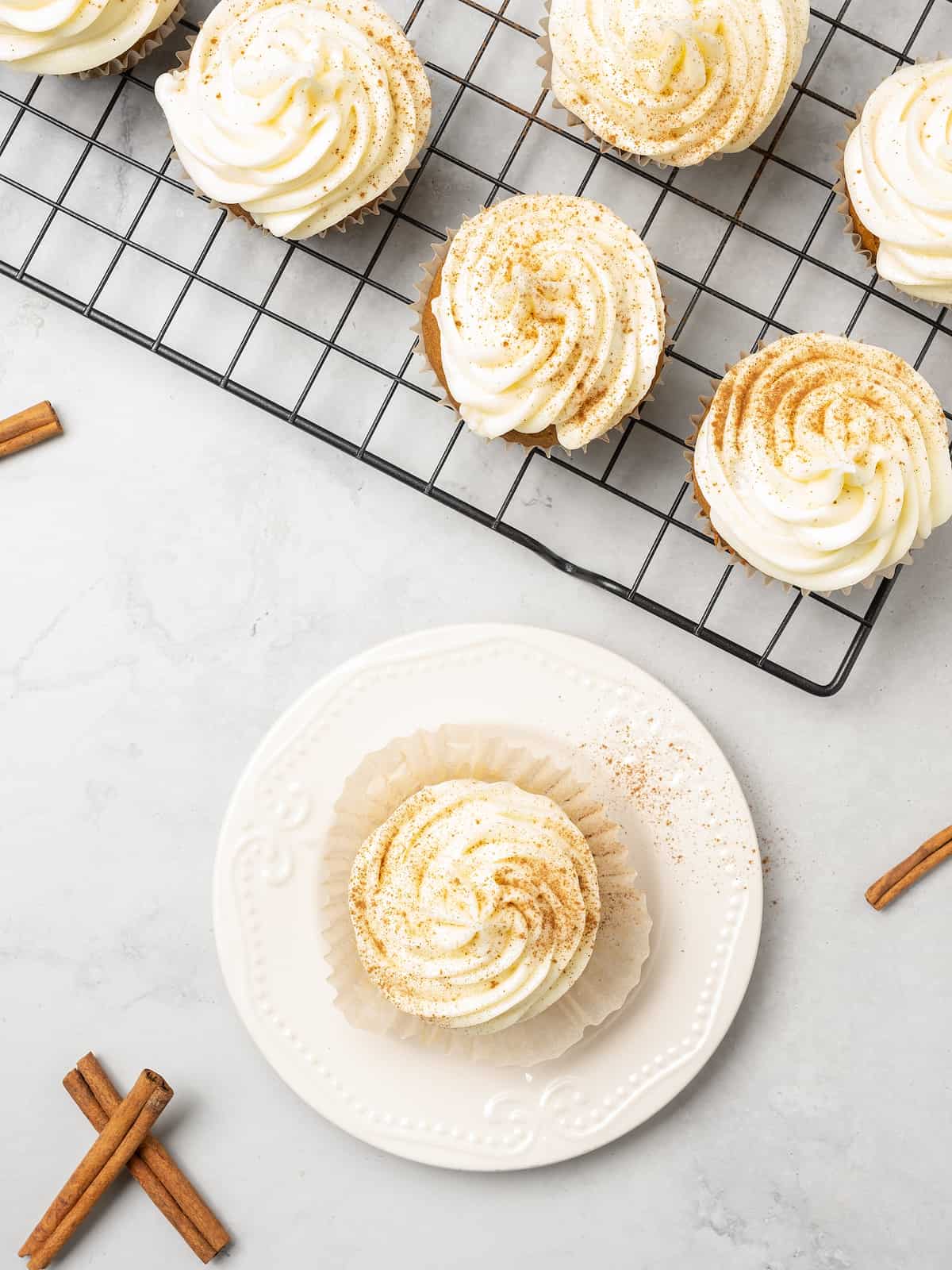 Can I Make Them Ahead of Time?
Yes! The baked, unfrosted cupcakes can be kept airtight in the fridge for up to 4 days. The frosting is also a breeze to make ahead and store separately, and it will keep for about 4 days in the fridge, too. I recommend taking the frosting out of the fridge to let it warm up for about an hour before you frost the cupcakes.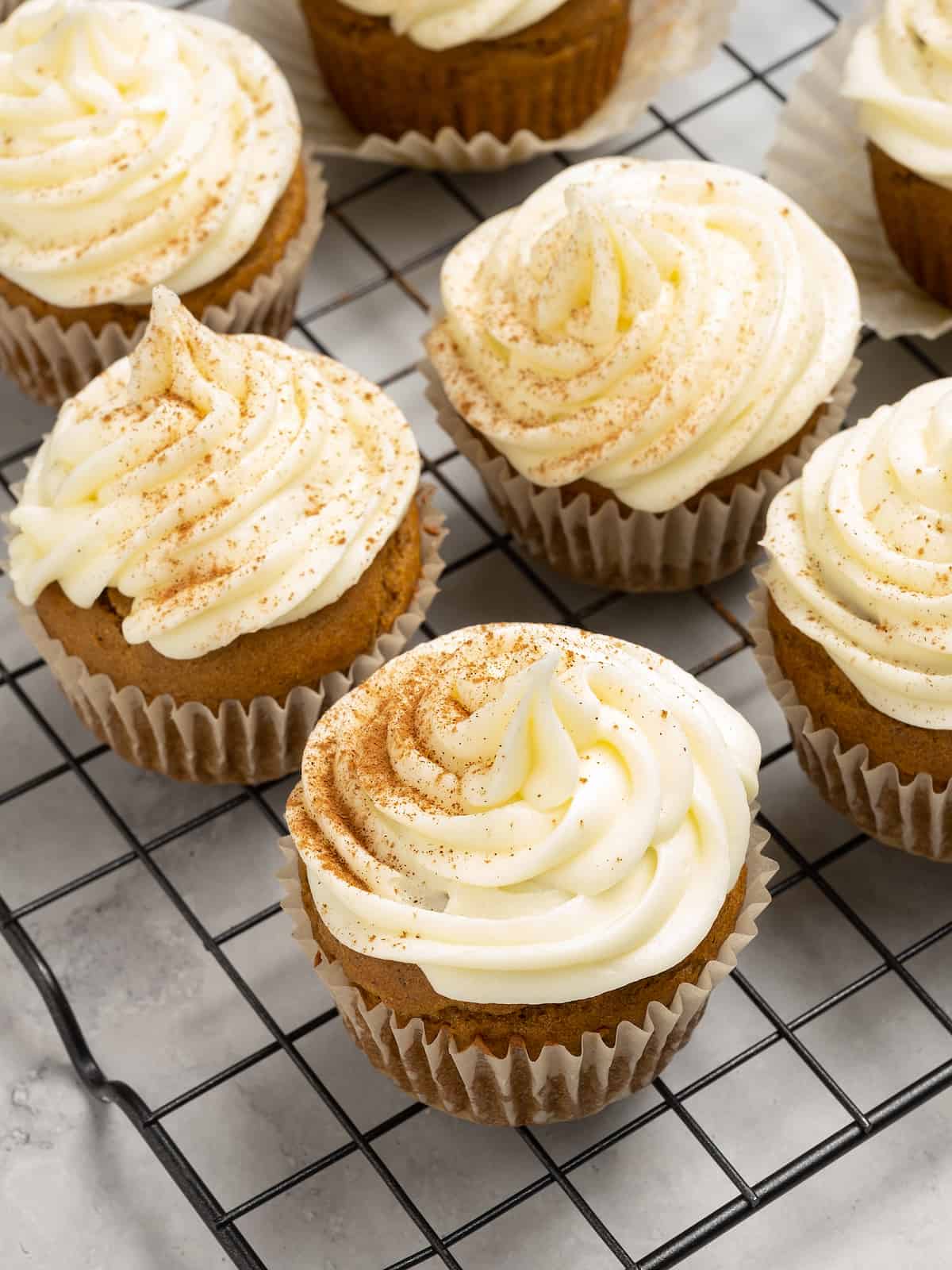 Tips for Success
These pumpkin cupcakes keep things uncomplicated and delicious, and here are a few tips to ensure beautifully textured cupcakes:
Don't Over Mix the Batter: Easy there, Sir Mix-a-Lot. Overmixing the batter will lead to a dense, tough cupcake. Be sure to mix the ingredients until they're only just combined.
Let the Batter Rest: Resting is what gives the gluten free flour time to absorb the liquids in the batter, for a perfectly textured cupcake.
How To Know When the Cupcakes Are Done: The easiest way to check for doneness is with the "toothpick test" – a toothpick inserted into the center of the cupcake should come out clean.
Let the Cupcakes Cool: Warm cupcakes will lead to a slippery situation when it comes time to frost them. Make sure they're 100% cool before you pipe on that frosting!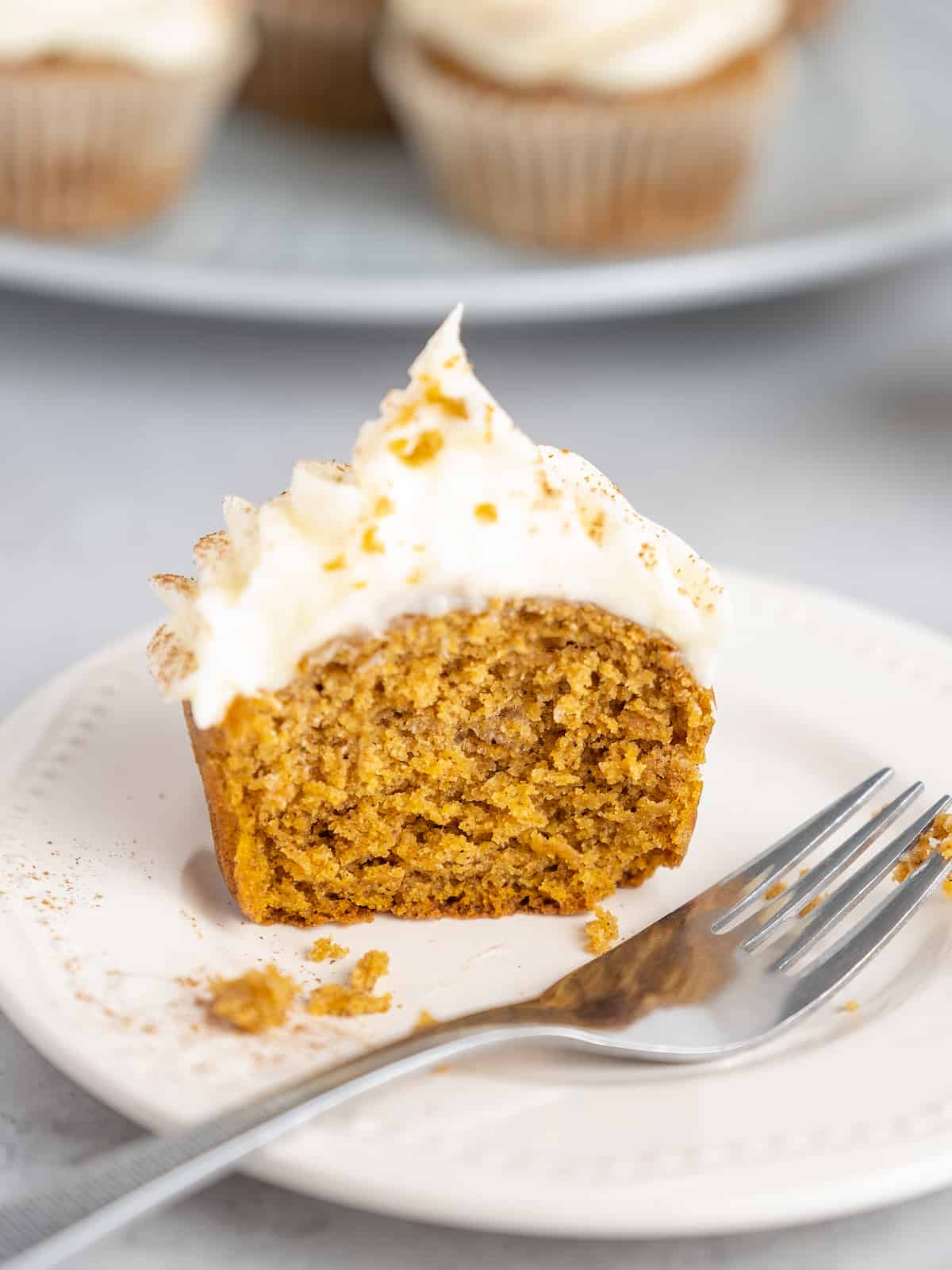 Add-Ins & Variations
A simple pumpkin cupcake is a beautiful thing. But that doesn't stop me from changing things up sometimes! Here are some easy variations to try out:
Different Frosting: If cream cheese icing isn't your thing, you can definitely frost your gluten-free cupcakes with other flavors! Try Chocolate Frosting, Homemade Vanilla Frosting, or amp up the spice with Pumpkin Spice Frosting.
Cream Cheese Filled Cupcakes: Hollow out the centers of your cupcakes and fill them with extra frosting!
Mini Chocolate Chips: Stir a handful of mini chocolate chips, butterscotch chips, or peanut butter chips into the batter for easy, chocolate filled cupcakes.
Coconut: Stir shredded coconut into the batter, and top your cupcakes with toasted coconut.
Crushed Nuts: Chopped pecans make a deliciously crunchy addition to the cupcake batter, or you can sprinkle crushed nuts over top of the frosting.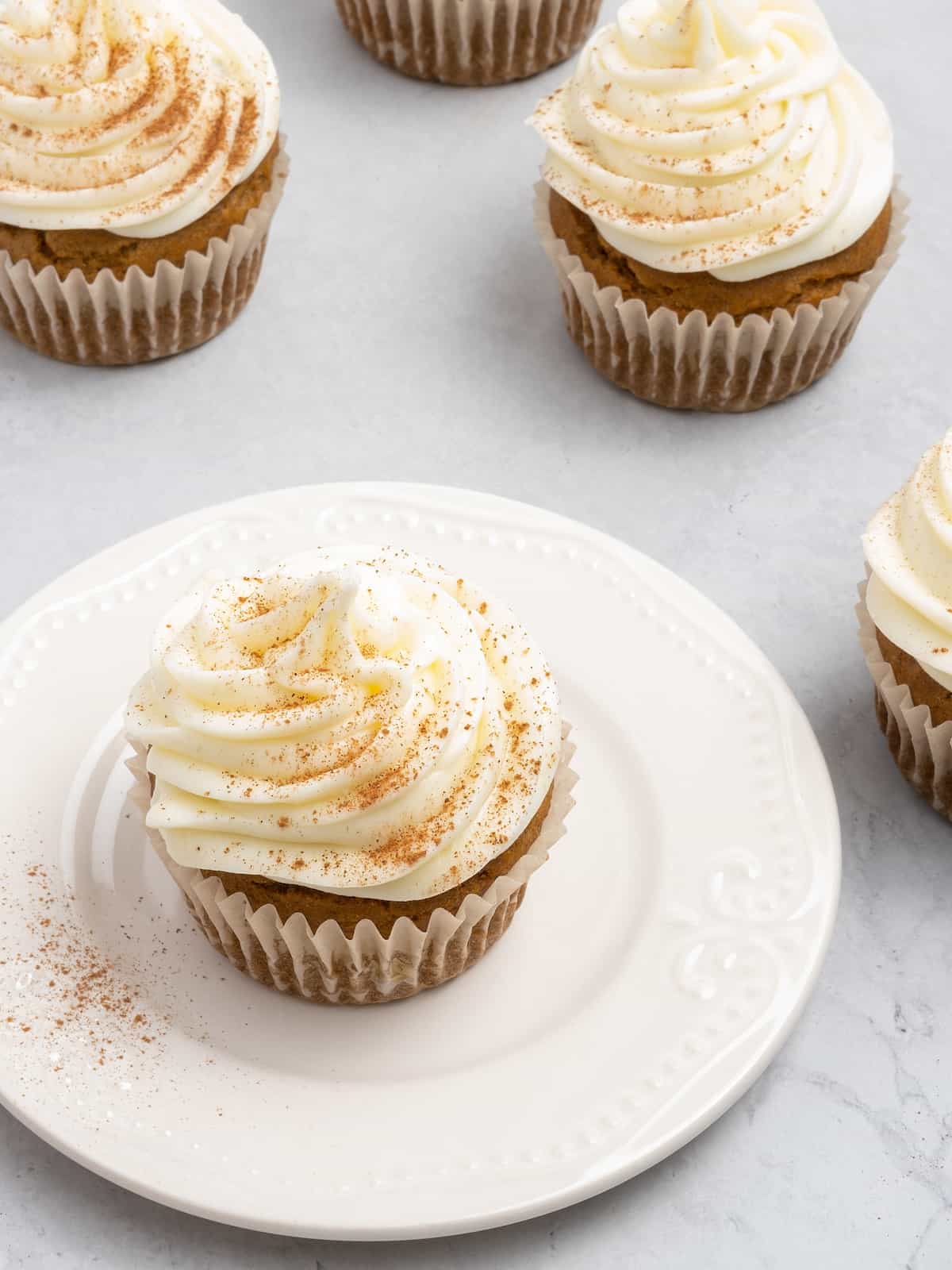 How to Store Extras
The unfrosted cupcakes can be stored airtight at room temperature for a day or two. Once frosted, it's best to keep these cupcakes in an airtight container in the fridge.
Can I Freeze These?
If you plan on freezing your cupcakes, I recommend leaving them unfrosted (frozen cream cheese has a tendency to split when it's thawed).
Store your unfrosted cupcakes airtight in a freezer-safe container for up to 2 months. Thaw them overnight in the fridge, and then whip up a batch of the cream cheese frosting before serving!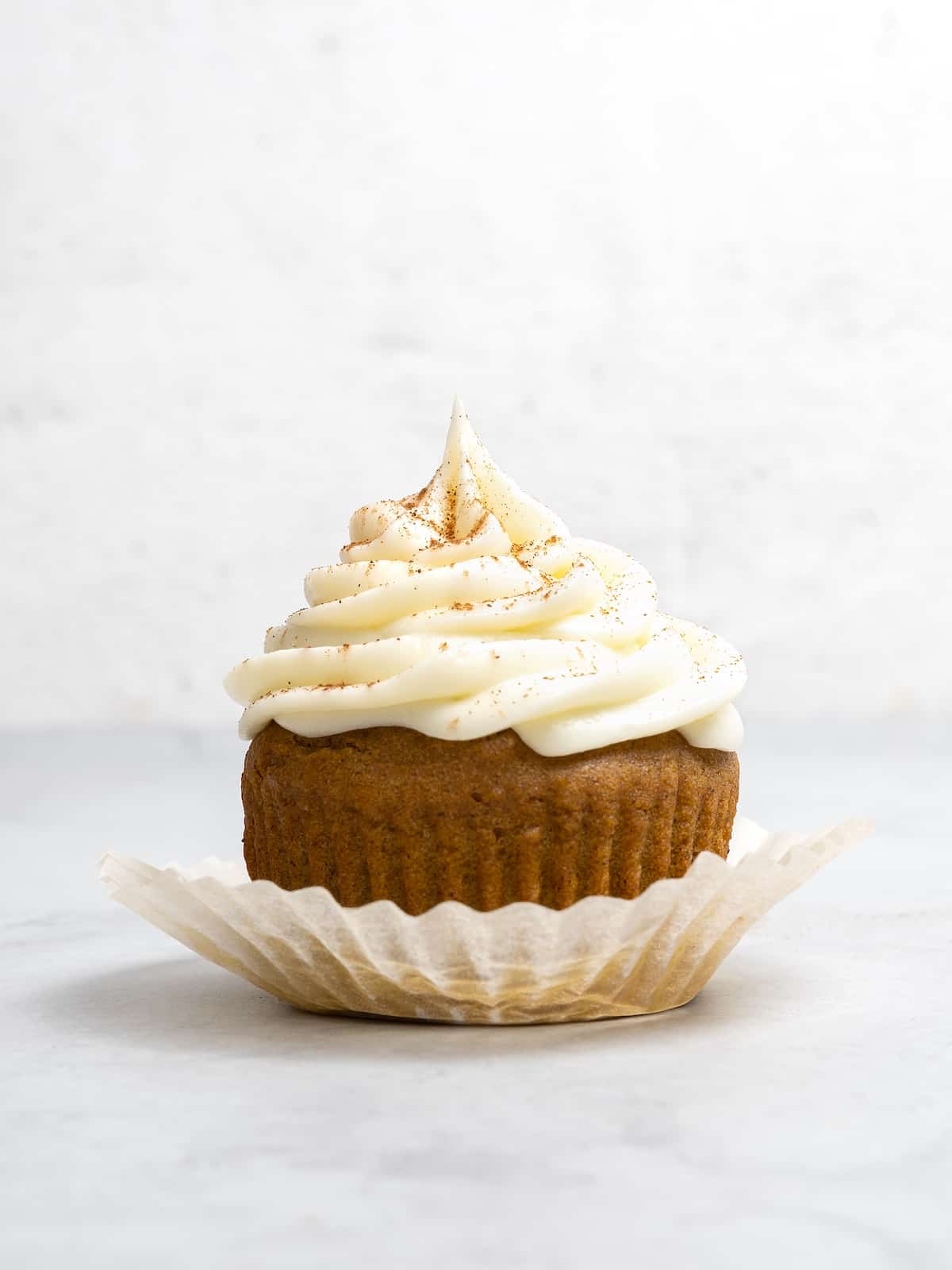 Shop the Recipe
I always say, have the right tool for the right job. It makes gluten free baking easier and more fun.
Brianne Recommends
WHISK: I absolutely love my KitchenAid Mixer for many things, and it'll definitely help make your frosting fluffy and smooth. But you the cupcake batter, a simple whisk will do.
SCOOP: The best way to ensure you make cupcakes the same size that will bake evenly.
PIPING BAGS AND TIPS: It really is simple (and faster!) to pipe frosting that makes your cupcakes look gorgeous and totally professional.
Last updated on September 20, 2023 4:10 pm
More Heavenly Homemade Cupcakes to Try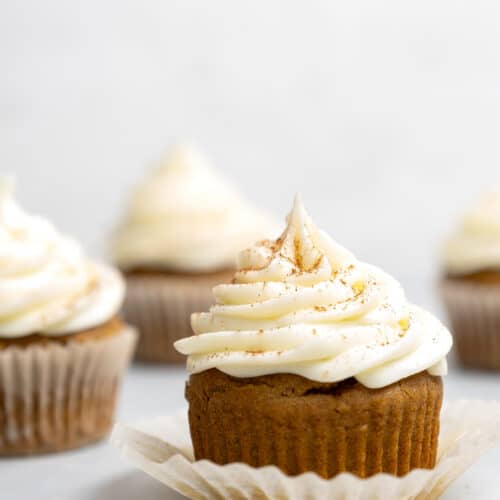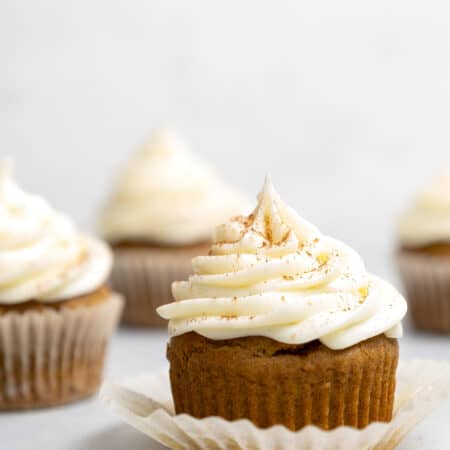 Gluten Free Pumpkin Cupcakes
Easy Gluten Free Pumpkin Cupcakes are fluffy and moist, topped with a rich and tangy homemade cream cheese frosting. You won't believe the amount of flavor packed into these spiced pumpkin cupcakes!
Ingredients
Pumpkin Cupcakes:
1 3/4

cups

gluten free flour

(I use King Arthur Measure for Measure)

1 1/2

tsp

baking powder

1

tsp

baking soda

1/4

tsp

salt

1

tsp

cinnamon

1 1/2

tsp

pumpkin pie spice

1

cup

canned pumpkin purée

1/3

cup

vegetable oil

1 1/4

cup

light brown sugar

2

large eggs

at room temperature

1/3

cup

milk

at room temperature
Cream Cheese Frosting:
1/2

cup

unsalted butter

at room temperature

8

oz

cream cheese

at room temperature

1

tbsp

clear vanilla extract

3

cups

powdered sugar

Sprinkle of cinnamon

for topping
Instructions
Make the Cupcakes:
Preheat the oven to 350ºF. Line muffin pan with 12 muffin liners.


In a medium bowl, whisk together flour, baking powder, baking soda, salt, cinnamon and pumpkin spice. Set aside.


In a large bowl, stir together pumpkin puree, oil, brown sugar, eggs and milk. Gradually add the dry mixture to the wet mixture. Do not over mix the batter. Cover the mixing bowl with plastic wrap and let it rest for 20-30 minutes.

Once the batter is ready, fill each cupcake liner 2/3 of the way full. Bake for 20 minutes, or until cooked through. Test to see if your cupcake is cooked through by inserting a toothpick into the center. If it comes out clean, your cupcakes are done.

Let cupcakes cool in the pan for about 5 minutes, then transfer to a wire rack to completely cool.
Make the Cream Cheese Frosting:
Using a standing mixer at medium speed, cream the room temperature butter and cream cheese until light and fluffy.


With the mixer at slow speed, start adding powdered sugar and beat until smooth and thick, one cup at a time. If the frosting is too runny, add in more powdered sugar.

Use on completely cooled cupcakes.

Top with a sprinkle of cinnamon.
Nutrition Facts
Gluten Free Pumpkin Cupcakes
Amount Per Serving
Calories 475
Calories from Fat 198
% Daily Value*
Fat 22g34%
Cholesterol 67mg22%
Sodium 222mg9%
Potassium 174mg5%
Carbohydrates 69g23%
Protein 4g8%
Vitamin A 3715IU74%
Vitamin C 1mg1%
Calcium 94mg9%
Iron 1mg6%
* Percent Daily Values are based on a 2000 calorie diet.
Categories: