Witches' Brew Halloween Cupcakes
Double, double toil and trouble, Halloween cupcakes with frosting and bubbles. Perfect for Halloween, Serene from House of Yumm made us these adorable Witches' Brew Halloween Cupcakes.
Witches' Brew Halloween Cupcakes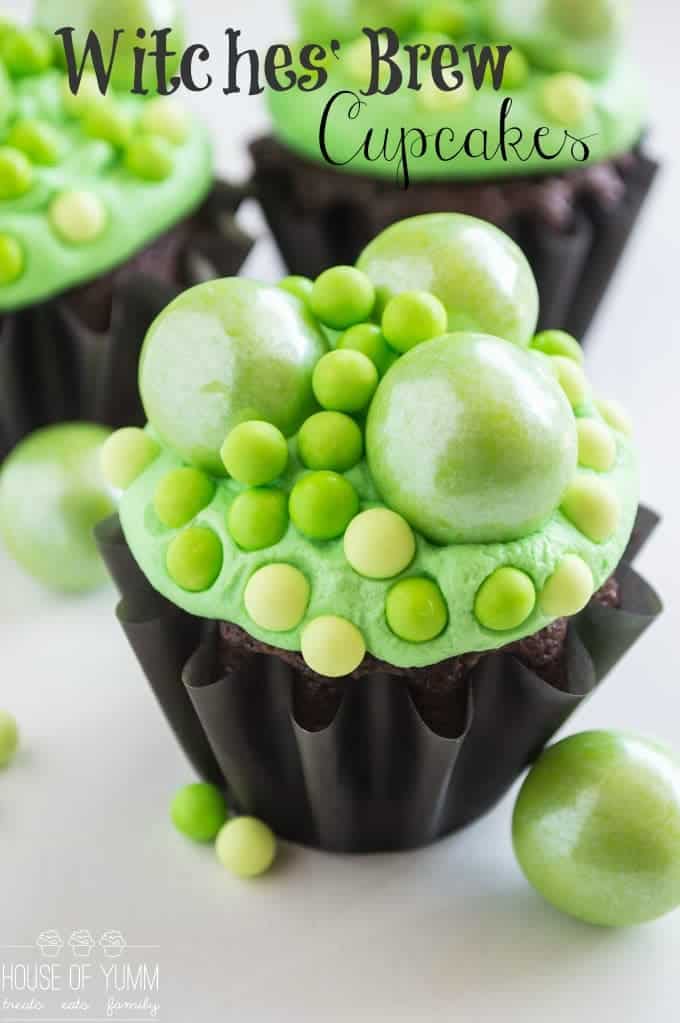 Hello Cupcakes & Kale Chips Readers! Serene from House of Yumm back with you for another cupcake! Since it's October already I figured a Halloween cupcake was definitely called for today. Which led to these Witches' Brew Cupcakes! Devil's Food Chocolate topped with fluffy green frosting and tons of sprinkle 'bubbles' to create a bubbly cauldron that any witch (or child, or adult!) would be happy to devour!
[Tweet "Double, double toil & trouble, Witches' Brew Cupcakes with frosting & bubbles. #Halloween"]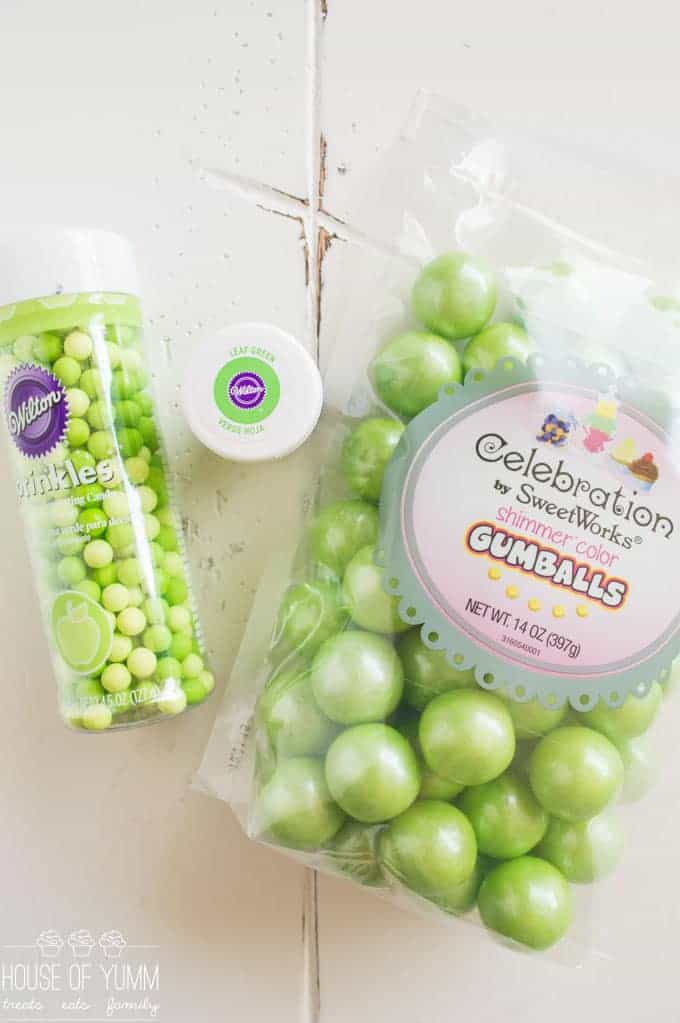 To create the bubbles, I used a variety of sizes for my sprinkles. I used gumballs and large candy sprinkles from Wilton. You could create the same effect with any of the round ball type sprinkles that are available in most markets though. The frosting is a super light and airy Cloud Frosting that was perfect for piling high on the cupcakes! I found the recipe for the frosting here. It's made with cold cream cheese and heavy whipping cream. The end result is so fluffy and soft it's slightly unbelievable.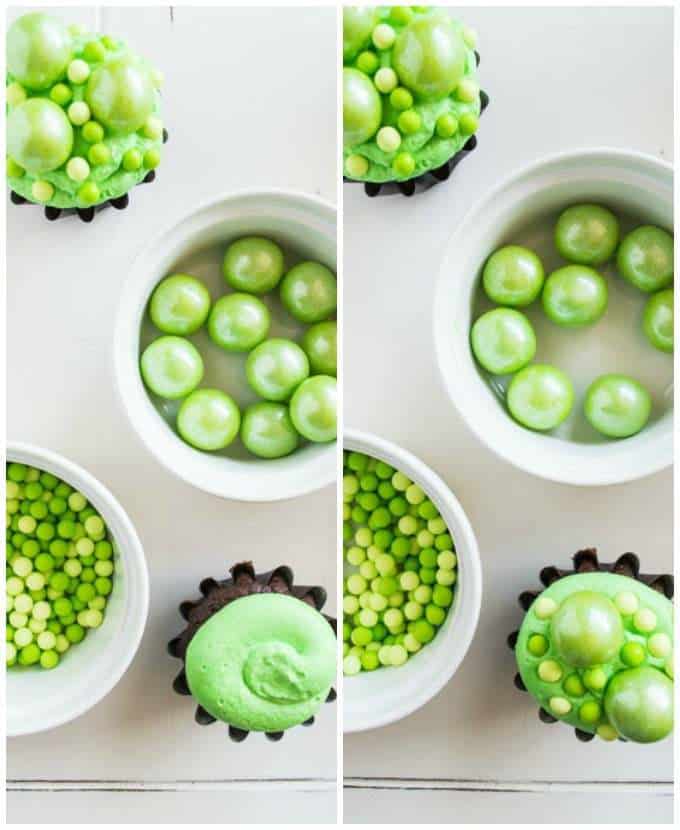 The fun of these is you can really add as much or as few 'bubbles' as you want!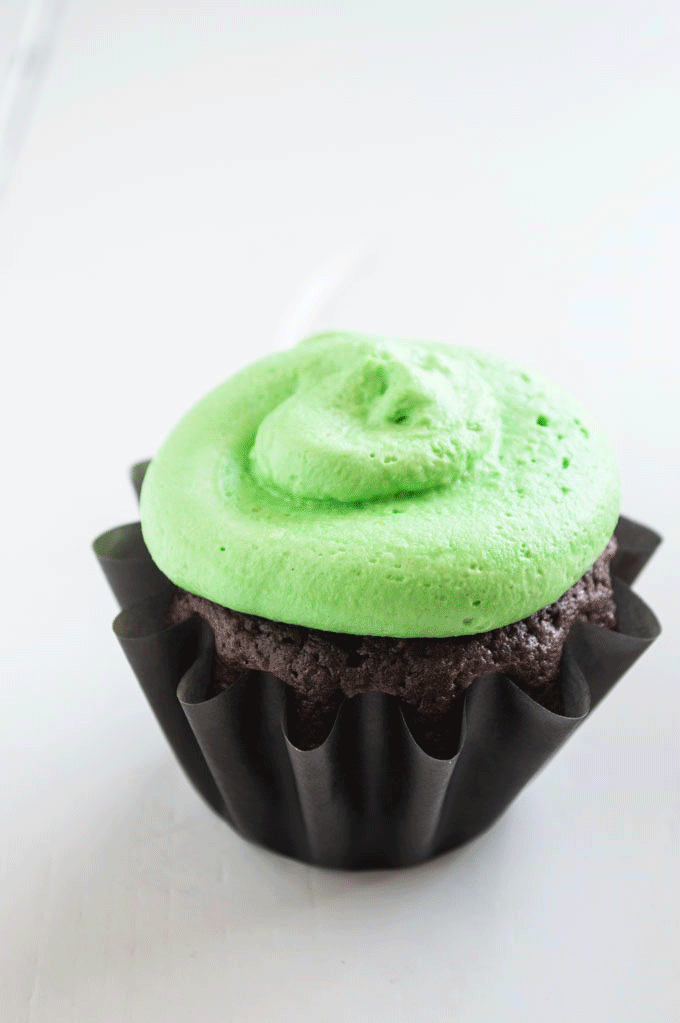 You can also pile on the frosting to make it even MORE bubbly! Hmm..more frosting?? Ok!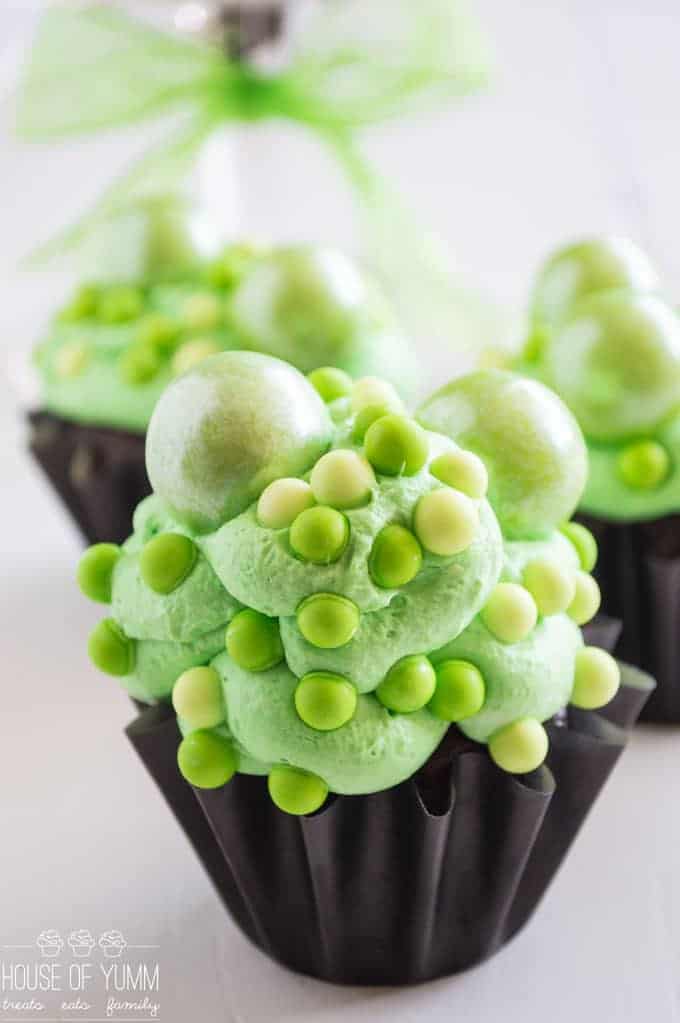 I hope you enjoy this Halloween style cupcake!
Follow me on Instagram @houseofyumm and tag me when you make this recipe! I love seeing your creations!
I hope you enjoy this fun recipe! Follow along!
FACEBOOK | PINTEREST | GOOGLE+ | TWITTER | INSTAGRAM | BLOGLOVIN
Ingredients
1 box Devil's Food Cake Mix + required ingredients
Frosting
8 ounces cream cheese (cold)
1 cup powdered sugar
1 and 1/2 teaspoons vanilla extract
1 pint heavy cream
1/4 teaspoon Leaf Green Food Coloring
Directions
Prepare the cupcakes as according to the cake mix directions.
Once the cupcakes are cooled, prepare the frosting:
In large mixing bowl cream together the cold cream cheese and powdered sugar. Add in the vanilla extract and heavy cream.
Beat until stiff peaks form.
Add to piping bag with Wilton 2A piping tip. Or use a large plastic bag with the tip cut off. Pipe frosting onto cupcakes into either a swirl or pile the frosting up to create more 'bubbles'.
Add the gumballs, or large sprinkles, then the smaller sprinkles to create a 'bubbly' appearance.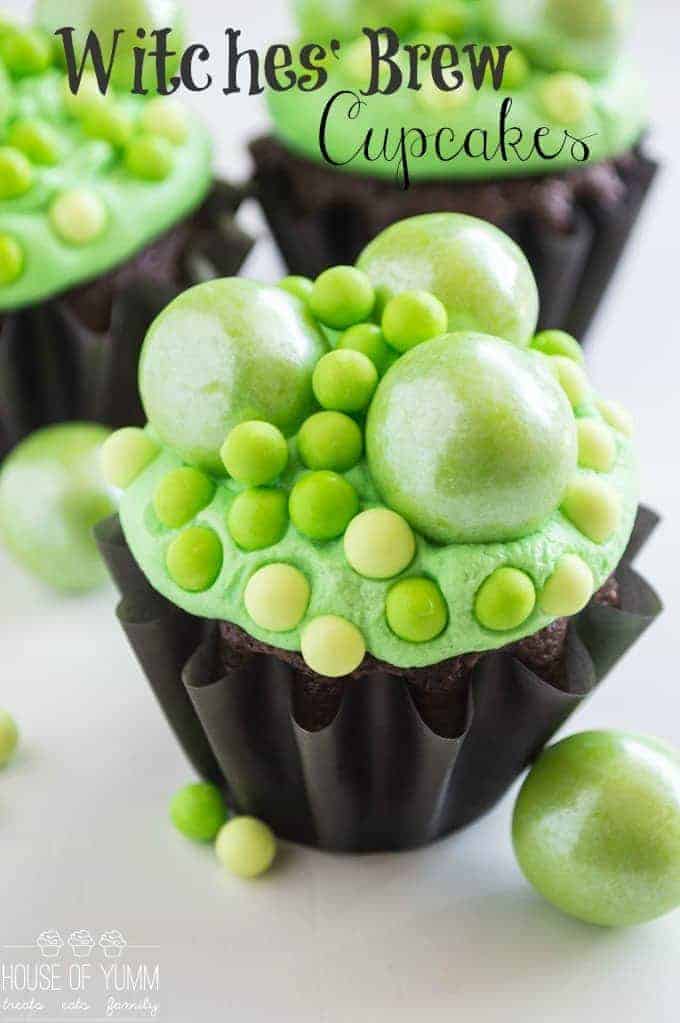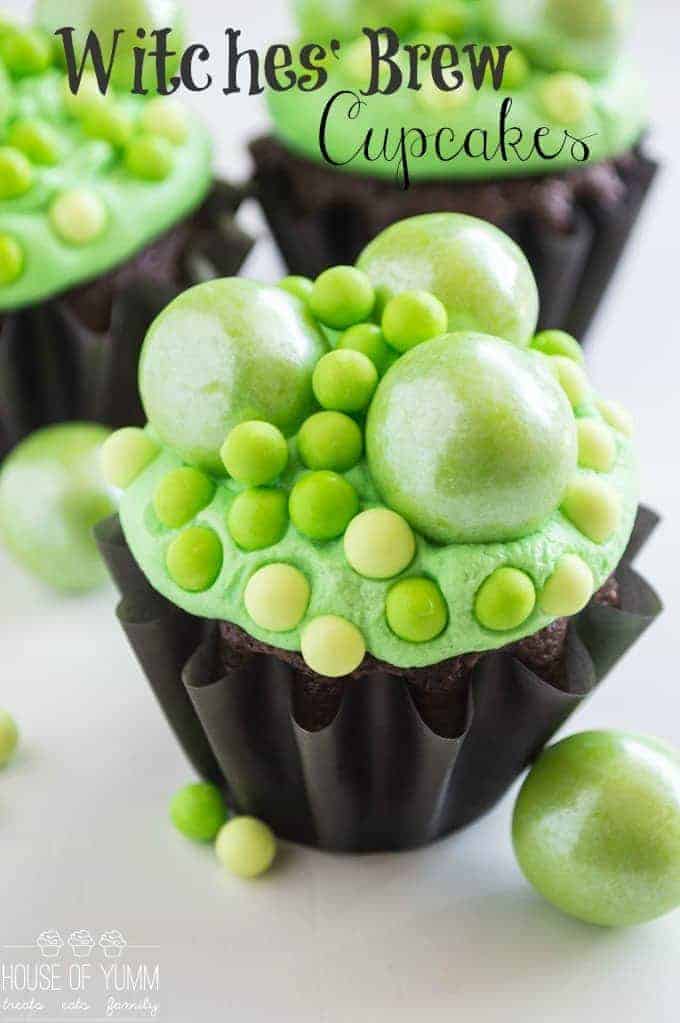 Loading nutrition data...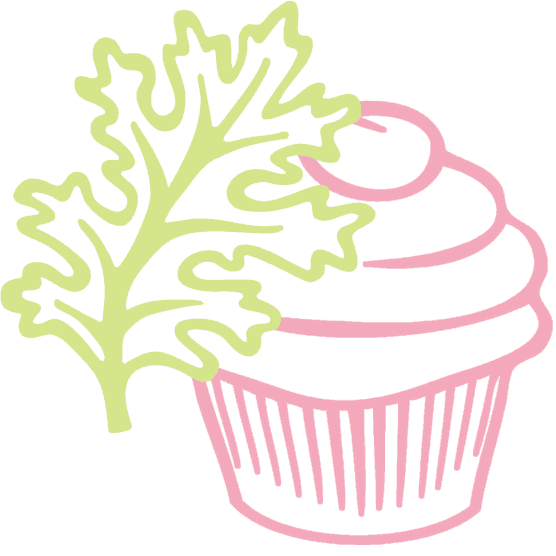 LOVE THIS RECIPE?
Give it a 5 STAR rating and share your photos on Instagram with the hashtag #CKCrecipes!
More Recipes from House of Yumm you may enjoy!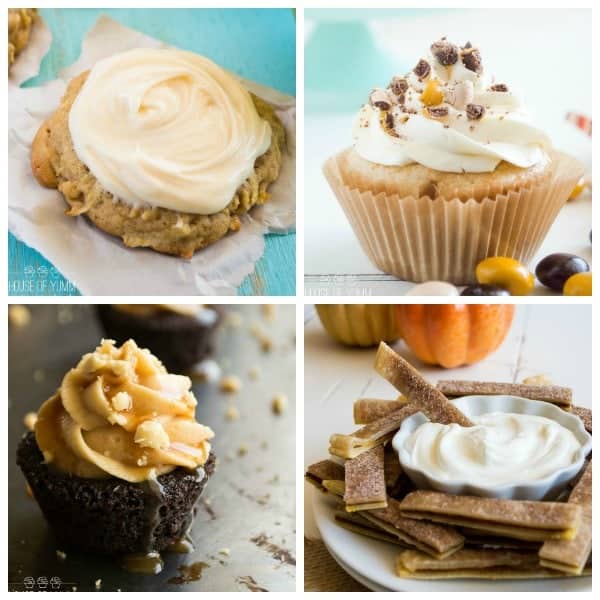 Apple Cookies with Butterscotch Frosting
I've got a few Halloween treats for you too…