This post may contain affiliate links. Read my disclosure policy.
Halloween recipes can be cute or creepy, but they are always fun and delicious. Whether you are hosting a party or just making something special for your little ghosts and goblins, be prepared for everything. There are appetizers and snacks to dinner and drinks, and of course, plenty of dessert with these 30+ easy Halloween food ideas to go along with the tricks and treats!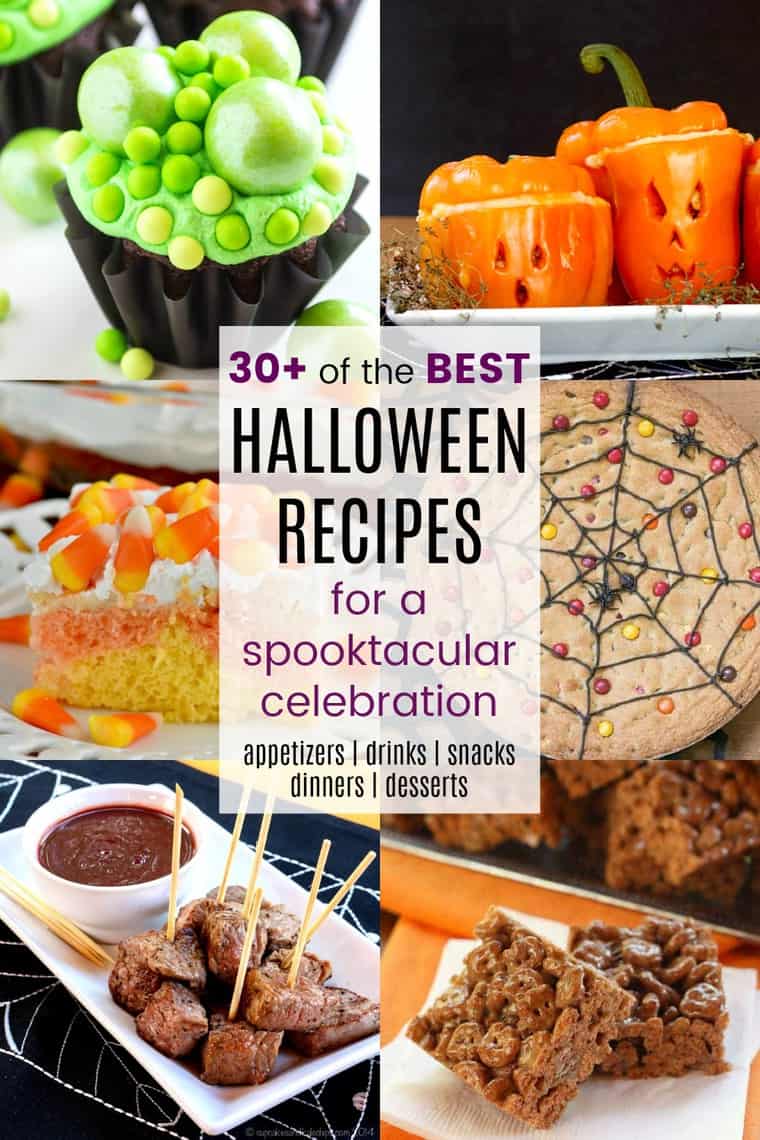 With Halloween fast approaching, how can you resist all of these fun and freakish recipes, from totally twisted to absolutely adorable? But when you get invited to a costume party, you know you can't go empty-handed. Sooo…
What should I bring to a Halloween party?
Dips get a ghoulish treatment, but you can also drive a stake through the heart of some steak bites.
Mocktails and cocktail can be made to look spooky, or just include the flavors of the season.
Snack mixes that incorporate festive colors, classic candy, and spooky mix-ins are always fun.
A little fun carving peppers like pumpkins or wrapping dought like a mummy makes dinner extra ghoulish.
And we can't forget dessert. Whether you decorate cakes, cookies, or brownies with Halloween colors or spooky designs, the possibilities are endless.
In this collection, you'll find plenty of sweet treats. But even snacks and meals should be fun on Halloween, so there's plenty of appetizer and dinner ideas too!
30+ Easy Halloween Recipes
Get ready for a spooktacular party, or just treat the kids so something fun and special with these:

-Halloween Appetizers

-Halloween Drinks

-Halloween Dinners

-Halloween Snacks

-Halloween Desserts

Then after the trick-or-treating is done, make sure you check out leftover candy recipes so you know exactly how to make those Reese's and Snickers and M&M's even more delicious!