This post may contain affiliate links. Read my disclosure policy.
Steak bites are simply seasoned, perfectly seared, and served with a simple Red Wine Bloody Mary Dipping Sauce. The dip has a flavor reminiscent of the classic cocktail but using wine instead of vodka for a rich and flavorful twist that perfectly complements the beef. Ready in less than fifteen minutes, you can enjoy these are a fast dinner or as one of your favorite gluten free appetizers,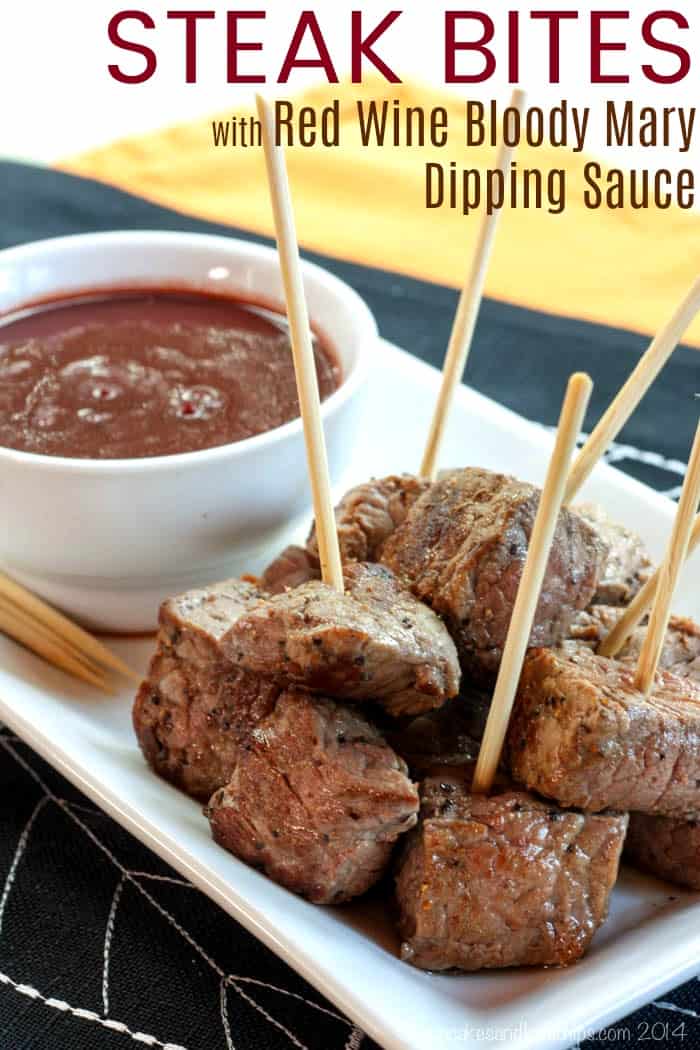 Originally published on Oct 26, 2014
The Hubby and I have been banned from having Halloween costume parties anymore. Not because we aren't good at throwing parties, but because the one time we did throw a Halloween costume party, it was so epic that we were told there is no way that we could ever possibly achieve the same level of fun and excitement again.
The challenge was laid for us to host a party for our friends, and we totally stepped up. People did not stop talking about this party for months, I tell you. Months! The dimmed lights and spooky music and creepy decorations. The snacks and treats and drinks galore. The costumes…
You guys, the costumes! All of our friends dressed up. It was basically mandatory for entry. And we aren't talking throw a sheet over your head or buy a black pointy hat from the store.
One woman pulled out a full-on ball gown to be the most gorgeous princess you can imagine. Others broke out the sewing machines and hot glue guns to transform themselves into bottles of their favorite adult beverages. One guy grew out his hair for a month so that he could shave a mohawk to be Mr. T. The resemblance was uncanny.
A MOHAWK, PEOPLE!
Fast forward over fifteen years later, and living in a new state means a whole new set of potential party attendees. I think it's time to pull the spiderwebs and spooky decorations out of the storage boxes to see if we can reclaim our prior level of Halloween awesomeness. I will most certainly be serving these…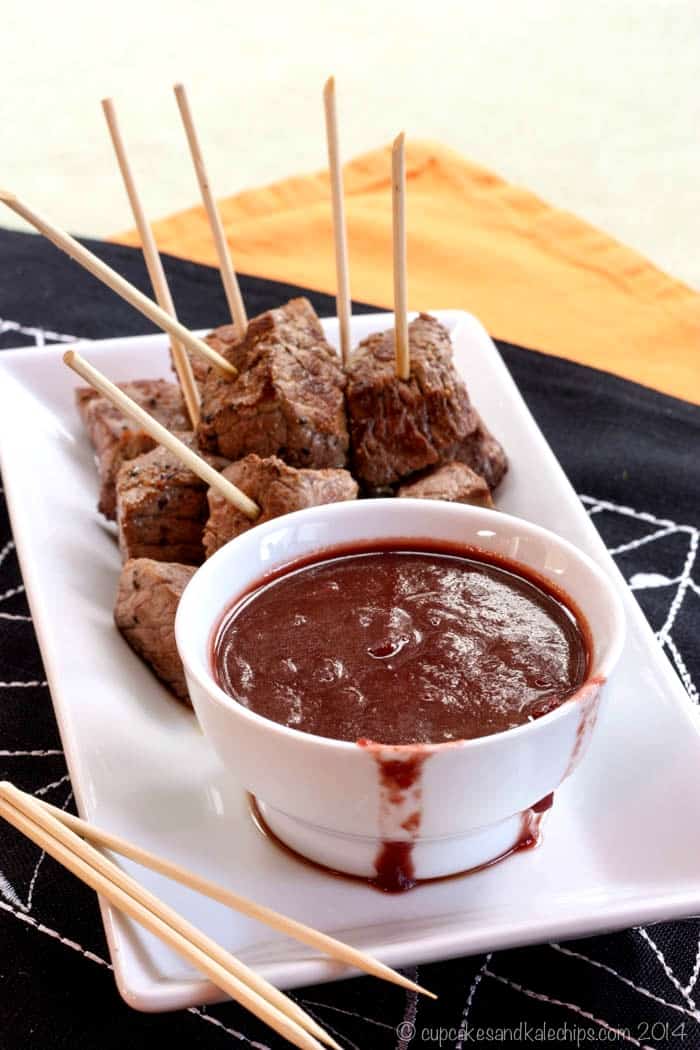 Steak Bites with Bloody Maria Dipping Sauce
Steak Bites with Bloody Maria Dipping Sauce will definitely be a hit with your friends. Maybe not as impressive as shaving your head all for the sake of a Halloween costume, but still darn good.
Chunks of beef are simply seasoned and seared, then served with a blood-red dipping sauce reminiscent of the classic Bloody Mary, but made with red wine instead of vodka. The tomato and red wine sauce are reduced to concentrate the rich flavors, then given a little bit of a kick of flavor and spice with Worcestershire sauce and hot sauce.
How do you make steak bites?
Start making the sauce by sauteeing onion in olive oil. Add red wine and reduce by half before stirring in tomato sauce, Worcestershire sauce, and hot sauce. Season to taste with salt and pepper, and keep warm until the steak bites are ready.
Cut a top round steak into one-inch cubes. Season with salt and pepper.
Get a pan screaming hot over high heat.


PRO TIP: A cast-iron skillet will give you a really nice sear on your beef to enhance the flavor of the simply seasoned meat.

Add olive oil to coat the pan and add beef cubes.


PRO TIP: Add one piece of meat first. You'll know it is hot enough when you hear it sizzle the second it hits the pan.

Cook the meat for two to three minutes per side until caramelized and brown, and cooked through.
Remove from the pan and serve with the sauce.


PRO TIP: If serving as an appetizer, use appetizer picks to skewer the steak bites for dipping.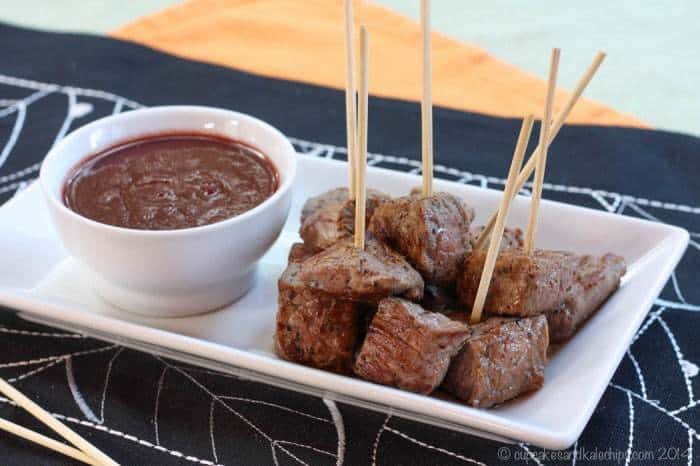 For more yumminess from me and my foodie friends, keep up with me on…
Or sign up to have Cupcakes & Kale Chips delivered straight to your Inbox!
What do you serve with Steak Bites?
Here are some more of our most popular beef recipes…
Easy Steak Bites with Red Wine Bloody Mary Dipping Sauce Recipe
Perfectly seared cubes of beef cook in just minutes. Serve them with an easy dipping sauce based on the classic Bloody Mary cocktail, but made with red wine, such as Merlot. Serve on skewers for a party appetizer, or enjoy as a quick and easy dinner recipe.
I hope you'll leave a comment and give it a FIVE STAR rating or share a photo on this pin on Pinterest!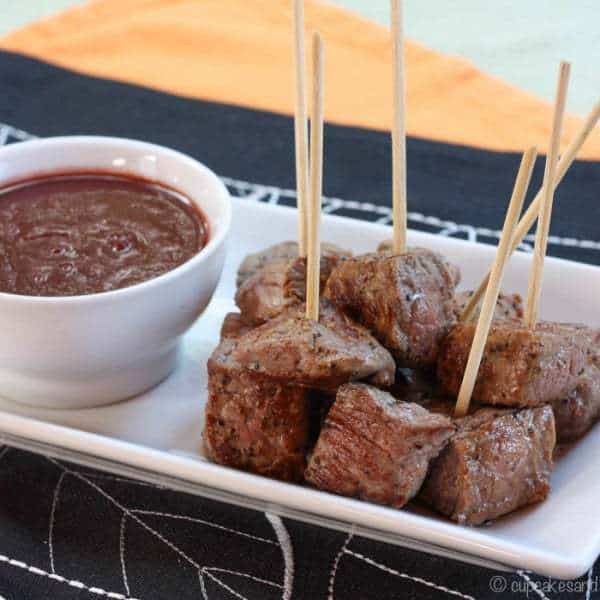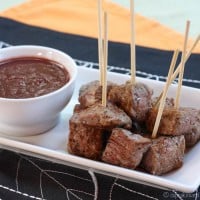 Steak Bites with Red Wine Bloody Mary Dipping Sauce
For a tasty appetizer, stab a skewer into some perfectly seasoned beef and drown it in a puddle of oozy red deliciousness.
Ingredients
For the sauce:
1

teaspoon

olive oil

half of a small onion,

finely minced

1

cup

red wine

(I used Merlot)

2

Tablespoons

Worcestershire sauce

1

teaspoon

hot sauce

1

cup

or one 8 oz can tomato sauce

kosher salt and pepper,

to taste
For the steak bites:
2

pounds

beef top round

cut into about 1 inch pieces

1

Tablespoon

olive oil

kosher salt and freshly ground black pepper
Instructions
For the Red Wine Bloody Mary Sauce:
Heat oil in a small saucepan over medium heat.

Add onion and season with salt and pepper, and sauté for about 5 minutes or until translucent and softened.

Add wine and reduce by about half.

Stir in Worcestershire sauce, hot sauce, and tomato sauce. Return to a simmer.

Season with salt and pepper to taste. Serve alongside steak bites for dipping
For the steak bites:
Heat a drizzle of oil in a cast iron or nonstick skillet over high heat.

Sprinkle the meat with salt and pepper and toss to coat evenly.

Cook the meat about two or three minutes on each side until caramelized and cooked through.

"Stab" the steak bites with small skewers or toothpicks.
Nutrition Facts
Steak Bites with Red Wine Bloody Mary Dipping Sauce
Amount Per Serving
Calories 205
Calories from Fat 54
% Daily Value*
Fat 6g9%
Cholesterol 69mg23%
Sodium 289mg12%
Potassium 606mg17%
Carbohydrates 4g1%
Protein 27g54%
Vitamin A 133IU3%
Vitamin C 4mg5%
Calcium 37mg4%
Iron 3mg17%
* Percent Daily Values are based on a 2000 calorie diet.
Categories:
Enjoy!