This post may contain affiliate links. Read my disclosure policy.
Lightened-Up Penne and Tomato Cream Sauce with Peas and Prosciutto takes a classic pasta recipe and makes it a little bit healthier. It is easy enough for a weeknight dinner, but elegant enough for a special meal, plus rich and creamy without being heavy.
Lightened-Up Penne and Tomato Cream Sauce with Peas & Prosciutto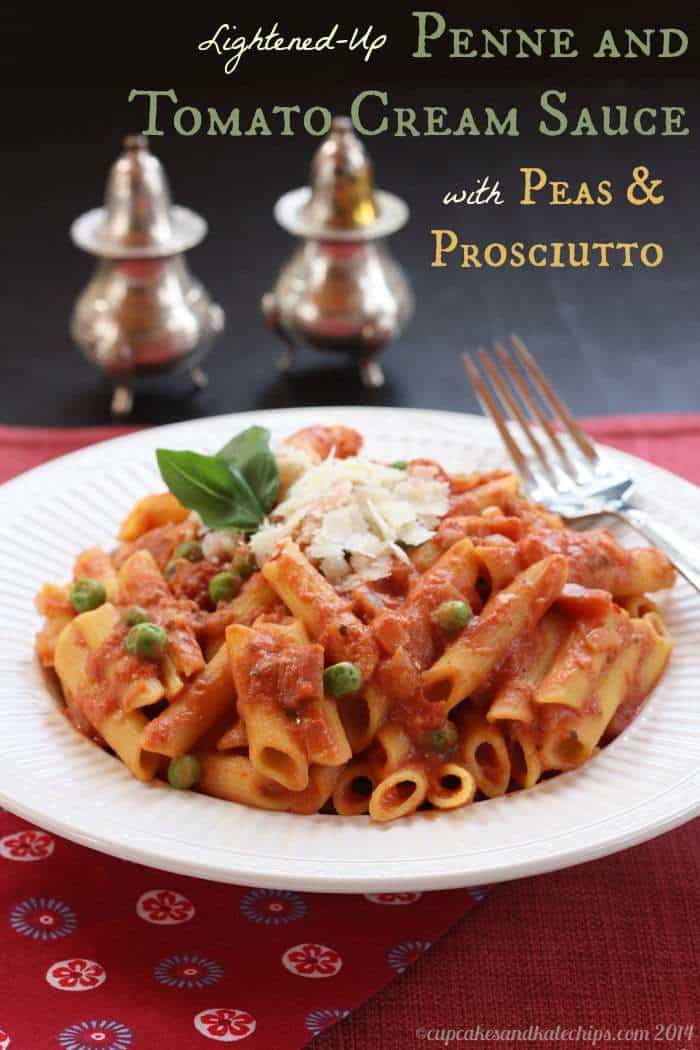 I mentioned recently, when I shared a Mother's Day dessert inspired by my mom, that there are some qualities of hers that I wish I had. One I didn't mention is that she always buy cards and sends them on time. I don't. Total slacker. So here is my Mother's Day card to my mom. (Disclaimer: I did send her a present. Thank you Amazon Prime and your awesome 2-Day Shipping!)
You let me lick the bowl
When we made cookies or cake.
It was from helping you
That I learned how to bake.
I may not have liked
When you got home late.
But now I can cook
For my kids and my mate.
I've come pretty far
from the Rice-a-Roni I'd make.
Now I cook Cauli-Tots,
French Toast Roll-Ups and Steak.
Now I'm in charge in the kitchen,
You know what I mean.
And we have a good plan –
I cook and you clean.
So thanks, Mom, for starting me
On my culinary path.
Even though in college
I studied science and math.
Wherever I've gone in life,
You've helped me find my way.
I love you so much!
Happy Mother's Day!
And look, I made you pasta. Only I didn't actually make it for you. My guys and I devoured it. Sorry. Next time.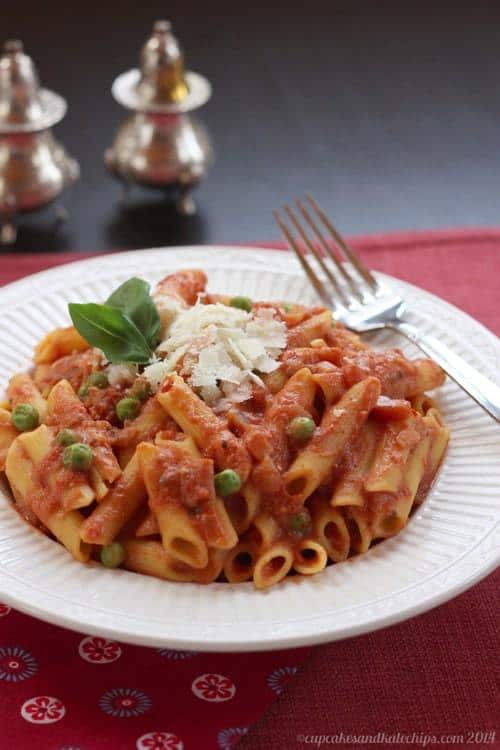 We used to love when my mom made pasta and vodka sauce. She kept hers simple – pasta and sauce – but, at least in New Jersey, Penne with Tomato Cream Sauce is kind of omnipresent at Italian restaurants and pizzerias, most often with the addition of peas and prosciutto. This is actually one of her favorite dishes to order when we go out to eat.
The recipe she made came from our neighbor's mom and it was loaded with butter and cheese and heavy cream. And you know how most restaurants are – they aren't going to skimp on those heavier ingredients. And while she still makes that original recipe sometimes, and it is still delicious, I had to try lightening it up. I cut down on the butter and cheese, but made sure to use good parmigiano reggiano (I swear she needed to ad more because she just used the stuff out of the green can). Then instead of vodka and heavy cream, I used my favorite substitute – plain Greek yogurt. It gave the richness from the cream and the tang from the vodka all in one! Ad, of course in my case I used gluten-free pasta, but that's your call.
This was a meal all four of us thoroughly enjoyed. Both the four year old with the tomato sauce aversion and the carnivore one year old each happily scarfed down a couple plates of it. So make it for your kids, your mom, or anyone who you think deserves something special.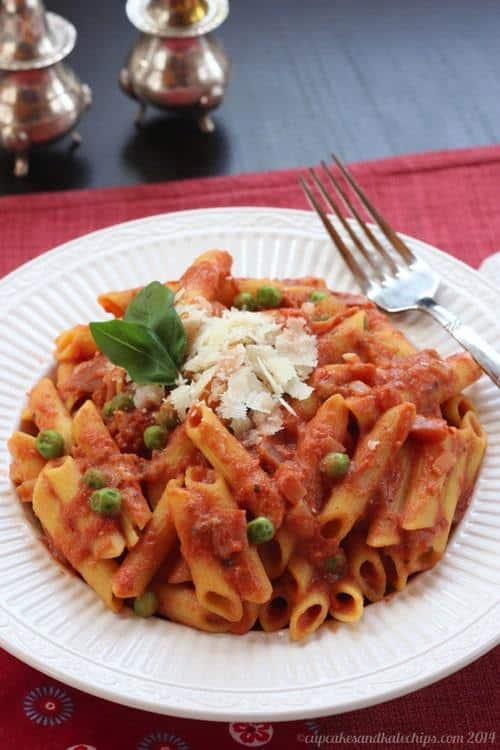 What is your mom's favorite meal?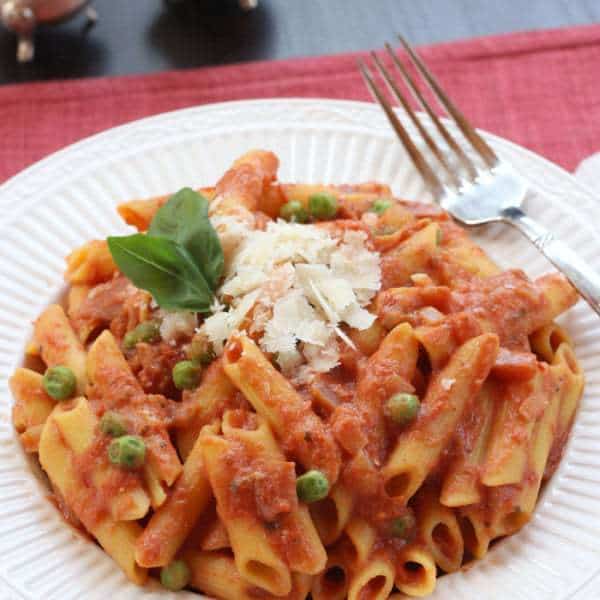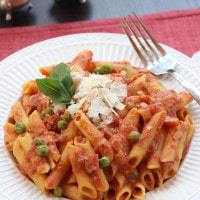 Penne and Tomato Cream Sauce with Peas and Prosciutto
Rich and creamy but not heavy, and perfect for a busy weeknight or a special meal.
Ingredients
16

oz.

box of penne pasta

regular, whole wheat, or gluten free

4

oz.

thinly sliced prosciutto,

cut into strips or small pieces

1

Tablespoon

unsalted butter

half of a medium onion,

diced

28

oz.

can of crushed tomatoes

1/4

cup

plain Greek yogurt

1/2

cup

grated parmesan cheese

1

cup

frozen peas

1/2

teaspoon

kosher salt

or to taste, and freshly ground black pepper

Additional grated or shaved parmesan cheese for serving,

if desired
Instructions
Cook the pasta accorgin to the package directions until slightly al dente. While the water is boiling and pasta cooking, prepare the sauce.

Prehat a large skillet over medium heat. Add the prosciutto and cook, tossing around occasionally, until crispy, about 10 minutes or so. Remove from the pan and set aside.

Add the butter to the pan, and, once melted, add the onion, sauteing 3-5 minutes, or until soft and translucent.

Add the crushed tomatoes and bring to a gentle simmer. Reduce heat to low, then stir in the Greek yogurt, parmesan cheese, peas, and salt and pepper.

Return to a gentle simmer, being careful not to boil so that you don't curdle the Greek yogurt.

Stir in the pasta and heat it through. Serve with additional parmesan cheese, if desired.
Enjoy!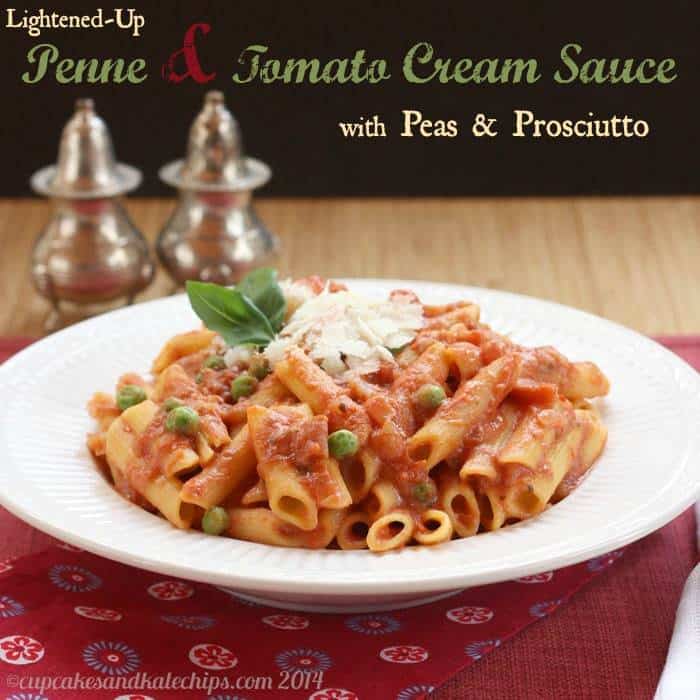 Here are some more remakes of my mom's recipes…