Italian Noodle Casserole
Italian noodle casserole is a healthier version of a classic comfort food recipe. It is one of the best gluten free casserole recipes that I have ever made!
#SundaySupper and Gallo Family Vineyards know that meals are about much more than food. Behind so many recipes there's a story, whether it's an old family tradition or an unexpected kitchen success. I think you're going to love this healthier update on an old school dish. Creamy noodles, meaty sauce and bubbly cheese is classic comfort food in this easy casserole recipe.
Italian Noodle Casserole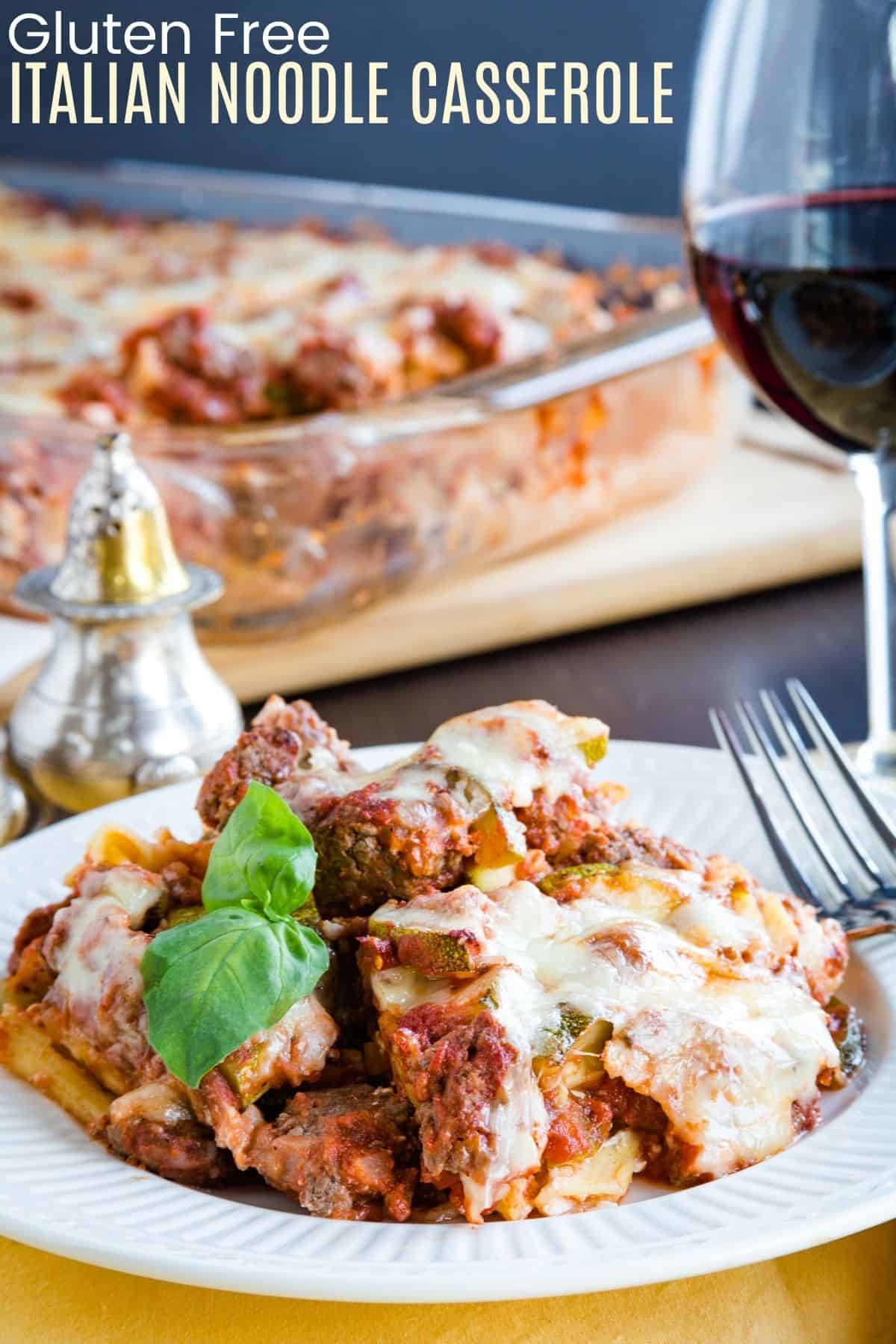 Disclosures: Compensation was provided by Gallo Family Vineyards via Sunday Supper, LLC. The opinions expressed herein are those of the author, and are not indicative of the opinions or positions of Gallo Family Vineyards. There are affiliate links in this post, meaning that if you click and make a purchase, the cost to you is the same, but I will receive a few pennies. I use the money to help maintain this website and to bring you new recipes!
My mother-in-law was a pretty busy woman when The Hubby was a kid. She had a husband in the Navy, so he was often away on a ship for six months at a time. The family usually lived wherever he was stationed, even when he was out at sea, so this often meant South Carolina or Florida, although sometimes she was back home in Pennsylvania. But this also meant a lot of moves. She had two sons that she was raising, and The Hubby and his brother are about the same number of years apart as my boys, so I know that in and of itself is enough to keep you busy pretty much all the time.
She had an older son who was with them at times, but when he wasn't, he was also back in Pennsylvania, along with her parents, sisters, and most of her family and friends. So several times a year the whole family had to pack into the car to make the trek north for a visit. She also was usually working, either as a cleaning lady, waitress, or whatever job she could find at the time.
But they also didn't have a lot of money, so she had a repertoire of fast and inexpensive meals to keep the family well fed. Back in the 70's, you know what that meant – casseroles. At the risk of offending, I'm going to be honest – not my favorite thing. Obviously, they still conjure up memories of childhood comfort food for The Hubby, and she would sometimes make her Chicken Casserole or something like that when he would come to visit. Except now that she knows my tastes, she really doesn't anymore. And I certainly haven't been making them, so my poor Hubby has been missing out on some of the favorite flavors of his childhood.
Well, until now… he deserves healthier comfort food like Italian Noodle Casserole!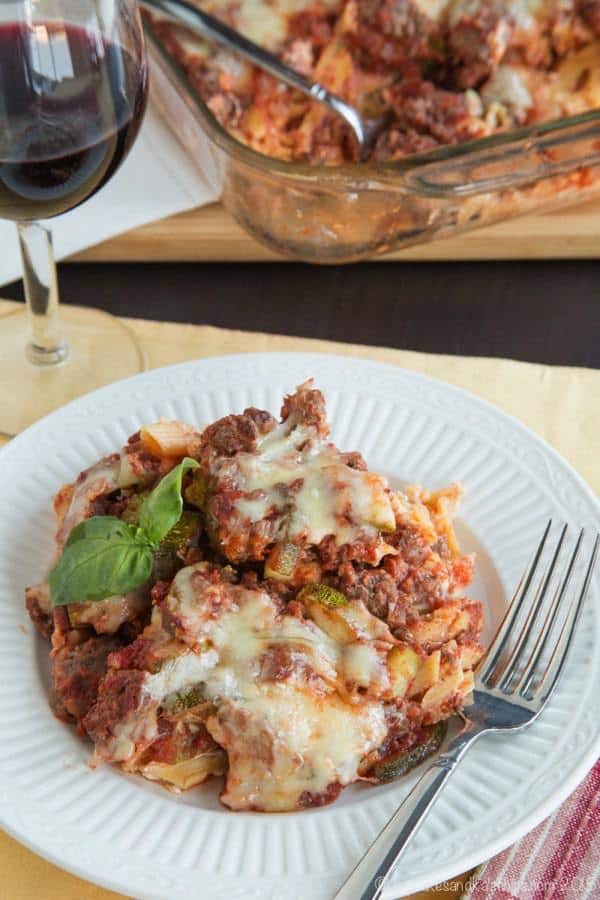 Several years ago she gave me a cookbook from her local VFW, and she had contributed her recipe for Italian Noodle Casserole. It's layers of creamy egg noodles and meaty sauce all topped with cheddar cheese. Truthfully, nothing Italian about it. Well, I've been staring at this cookbook for years, knowing that a good wife would make it for her husband, but I just didn't. Finally I decided it was time to put my own spin on it.
Naturally I added some veggies, sautéing some zucchini to add to the meat sauce. Sour cream was replaced with Greek yogurt, because that's just how I roll. I went with a light cream cheese, and, in my case, gluten free pasta (though you could use any pasta you choose). Despite the lack of Italian authenticity, I kept the cheddar cheese in a nod to the old school, but I did add a sprinkle of Parmesan just for a little Italian flavor.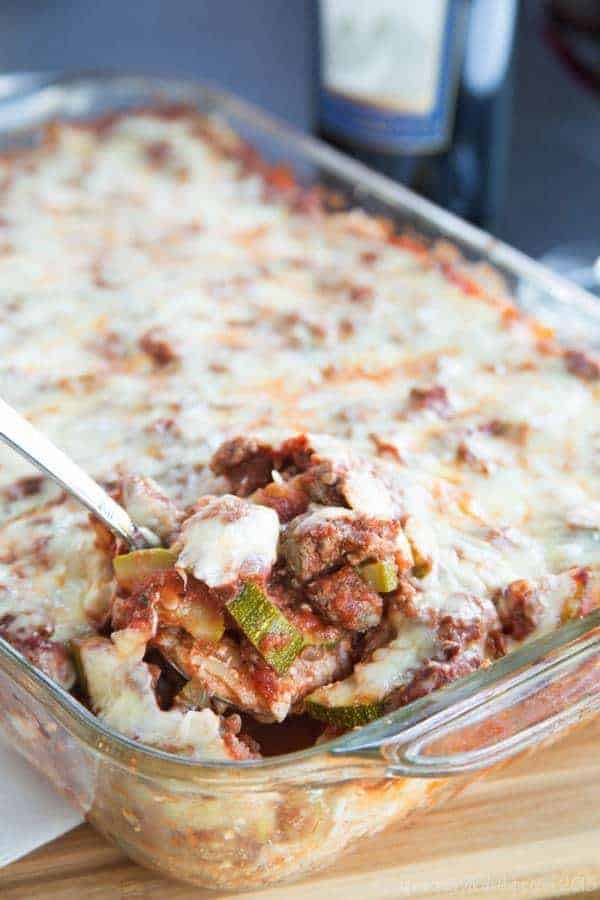 And you guys, I was seriously, pleasantly surprised. It's a casserole, and I really liked it! And I'm not even the biggest pasta gal in the world. But this has a lot of meat and veggies, so it isn't super carb heavy, and the creaminess of the pasta layer has a nice, smooth richness against the tomato sauce and beef. Add the sharpness of the cheeses on top, and you have a perfect combination of flavors and textures, and a totally satisfying meal the whole family will love.
Italian Noodle Casserole is almost like a lasagna, but instead of hours of prep, you can easily whip this up on a weeknight!
Or, make it ahead of time and pop it in the oven right before dinner. And even better, I had enough leftovers that my family could have another meal. If you have bigger kids than I do and really want to stretch it, serve it with a nice salad!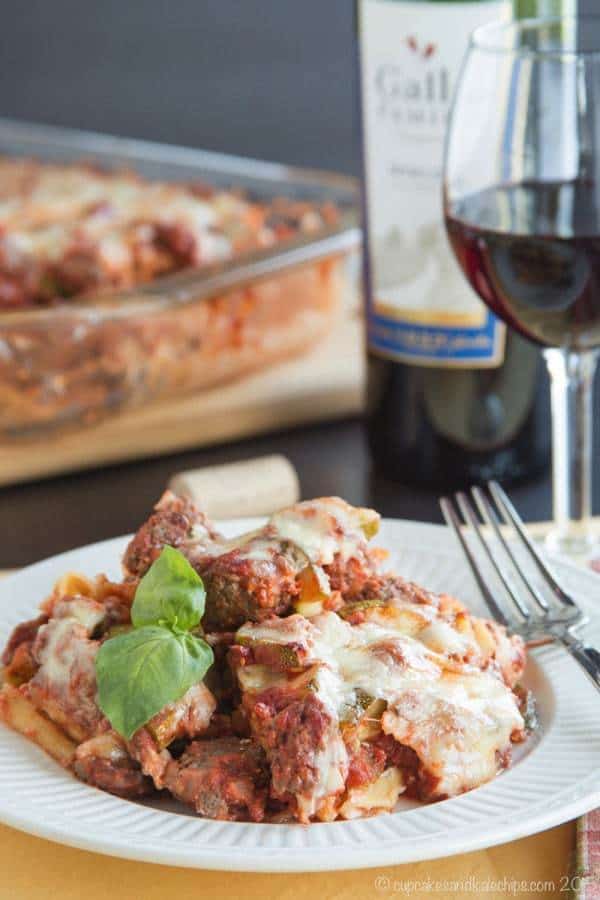 Classic meals call for classic wines, which is why we are paring this week's menu with Gallo Family Chardonnay and Merlot, which are always crowd-pleasers. You really can't go wrong pairing the full-bodied and versatile Merlot with a hearty pasta dish, which is what I chose to enjoy with this Italian Noodle Casserole. However, if you prefer a white wine, the creamy pasta does lend itself nicely to the citrus notes of their Chardonnay. And since this Italian noodle casserole can feed a crowd, why not open a bottle of each and let everyone choose which they would prefer?!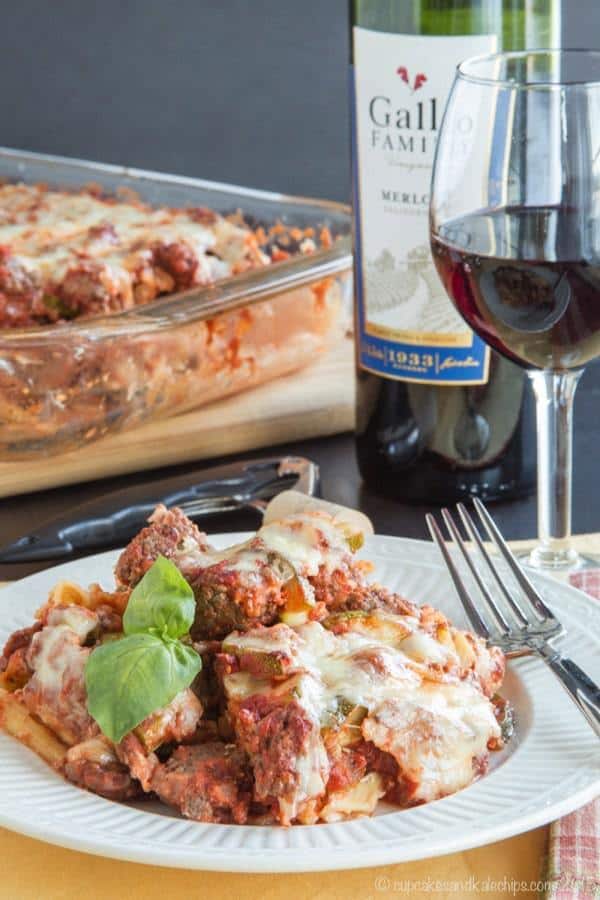 The Gallo Family loves to gather around the table together, and they have created many of their own memories, which is why we are inspired to share ours this week, and we encourage you to read more about the Gallo Family Vineyards Meals With a Meaning. I hope we inspire you to whip up some old family favorites or create new traditions. And once you've decided on a menu, make sure you pick up your favorite wines of Gallo Family Vineyards for your party. Be sure to connect with Gallo Family on Facebook, Twitter, Instagram, or YouTube, and check out the store locator to find their wines near you!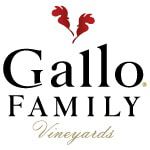 Join the #SundaySupper conversation on twitter on Sunday! We tweet throughout the day and share recipes from all over the world. Our weekly chat starts at 7:00 pm ET. Follow the #SundaySupper hashtag and remember to include it in your tweets to join in the chat. Check out our #SundaySupper Pinterest board for more fabulous recipes and food photos.
Would you like to join the Sunday Supper Movement? It's easy! You can sign up by clicking here: Sunday Supper Movement.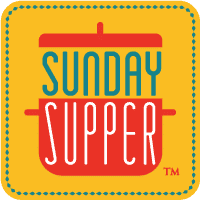 Do you love hearing the origin of a recipe and the stories that go along with it? Check out all of the tasty temptations and touching tales at the bottom of this post and on the Cooking With Wine Pinterest Board!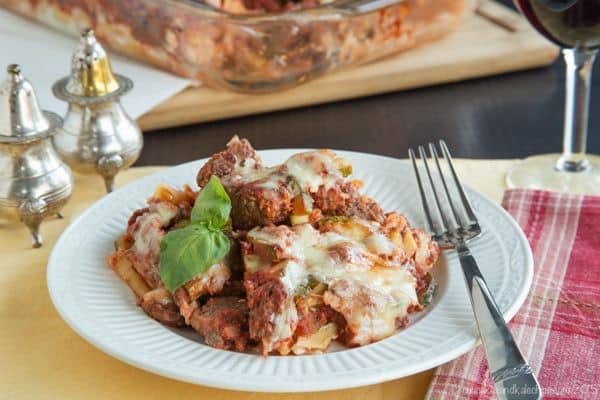 Grab a pretty casserole dish, and some regular or gluten free pasta, and cook up this Italian noodle casserole recipe!
Products from Amazon.com
‹
›
Ingredients
8 oz of penne, ziti, or a similar tube-shaped pasta (I used gluten free)
1 1/4 -1 1/3 lbs lean ground beef
half medium onion, chopped
kosher salt & freshly ground pepper
2 one large or two small zucchini, halved or quartered lengthwise and cut into 1/4 inch thick slices
1 clove garlic, minced or crushed
two 15 oz. cans low sodium/no salt added tomato sauce
1 teaspoon dried Italian seasoning
1 cup plain Greek yogurt
3 oz. cream cheese (I used light)
1 cup (4 oz) shredded sharp cheddar cheese
1/4 cup grated parmesan cheese
Directions
Preheat your oven to 450°F and coat a 9x13 inch casserole dish or glass baking dish with oil or cooking spray.
Prepare pasta according to package directions, cooking slightly al dente.
Place a large skillet over medium heat, and add the ground beef, onion, and a pinch of salt and pepper. Brown the ground beef, breaking up while cooking, until nearly cooked through. Drain any excess grease.
Add the zucchini and garlic to the beef and saute for about 5 minutes or until the zucchini is tender.
Stir in the tomato sauce and Italian seasoning, and bring to a simmer. Season to taste with salt and pepper.
After the pasta is cooked and drained, return the pasta to the pot or a bowl and stir in the Greek yogurt and cream cheese until smooth. Transfer the pasta mixture to the prepared casserole or baking dish.
Top pasta with an even layer of the meat sauce mixture, the sprinkle with cheddar and parmesan cheese.
Bake at 450°F for 15-20 minutes, or until heated through and cheese is melted and lightly browned.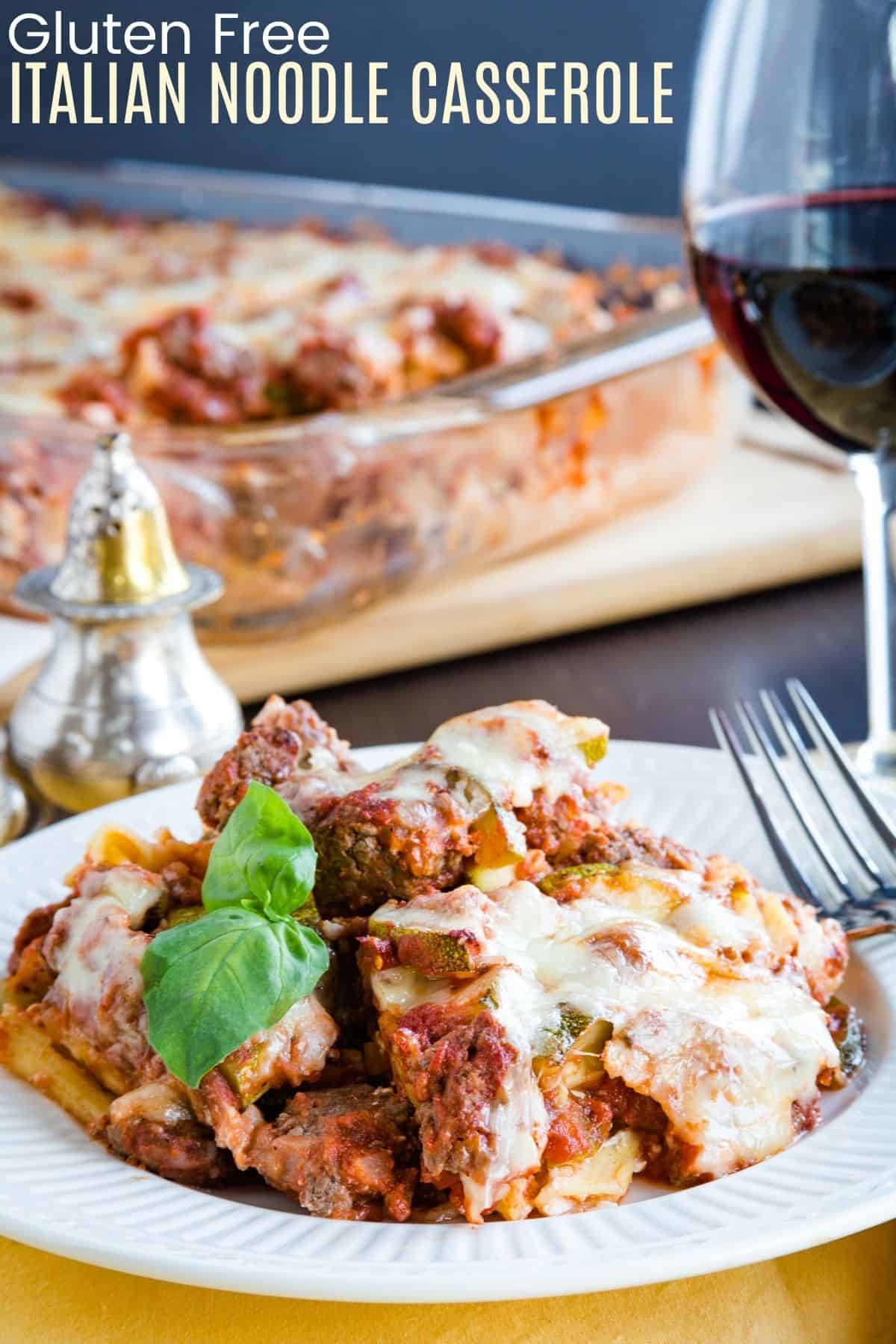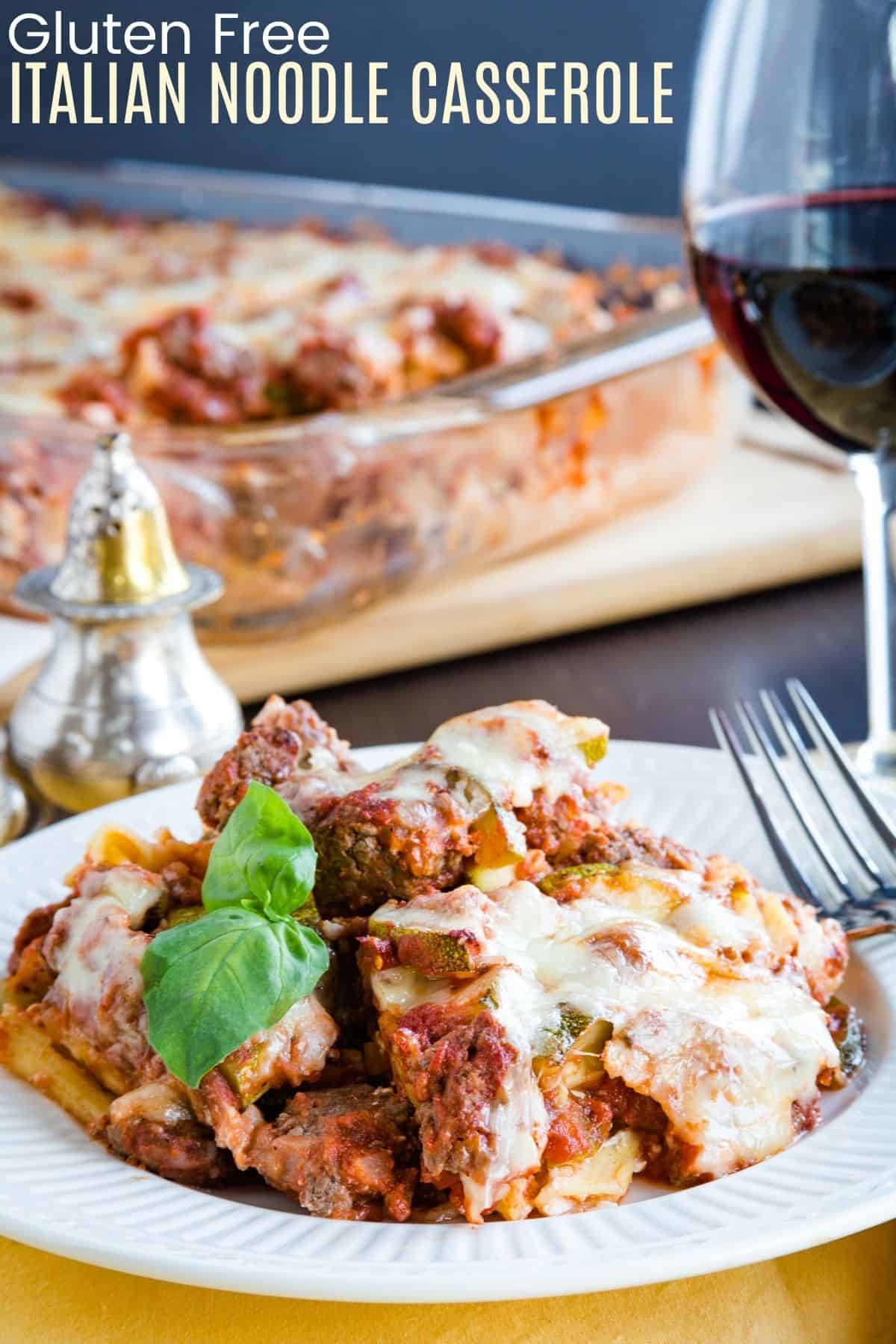 Loading nutrition data...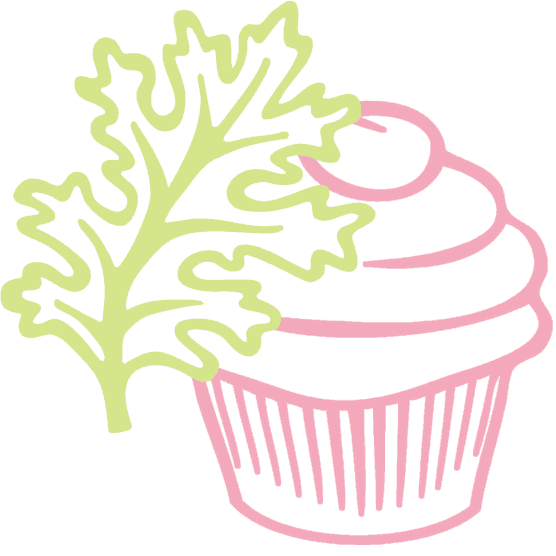 LOVE THIS RECIPE?
Give it a 5 STAR rating and share your photos on Instagram with the hashtag #CKCrecipes!
Here are a few more of my favorite Meals with a Meaning…
And here is the #SundaySupper menu to pair with Gallo Family wines. Make sure you check out all of these recipes and the stories that go along with them…
Savory Recipes:
Sweet Recipes: