This post may contain affiliate links. Read my disclosure policy.
Warm up with a healthy take on cozy homemade Cream of Mushroom Soup! Enjoy this classic and easy soup recipe all season long without the guilt. And this version is naturally gluten free!
The Best Gluten-Free Cream of Mushroom Soup
There's nothing more comforting than tucking into a warm bowl of cream of mushroom soup in the wintertime! This is a classic homestyle soup and one of my favorites from my childhood. I mean, who doesn't have at least one fond memory of Campbell's Cream of Mushroom?
Since then, and since going gluten-free, I've come to terms with the harsh (way harsh) reality that some of my favorite canned soups aren't so great in the gluten department.
That's why we're making an amazing, guilt-free, and gluten-free cream of mushroom soup! This homemade mushroom soup recipe is hearty and good for you, lightened up with Greek yogurt and filled with a whole lot of earthy, savory mushroom flavor. It's just as rich and creamy as any version that's made with heavy cream!
Is Cream of Mushroom Soup Healthy?
Traditional canned cream of mushroom soups and even homemade soups often rely on not-so-healthy ingredients like heavy cream, thickeners, and other additives to achieve a silky, smooth texture. That's why I love this recipe! It's way healthier, made with just the good stuff, and tastes just as delicious.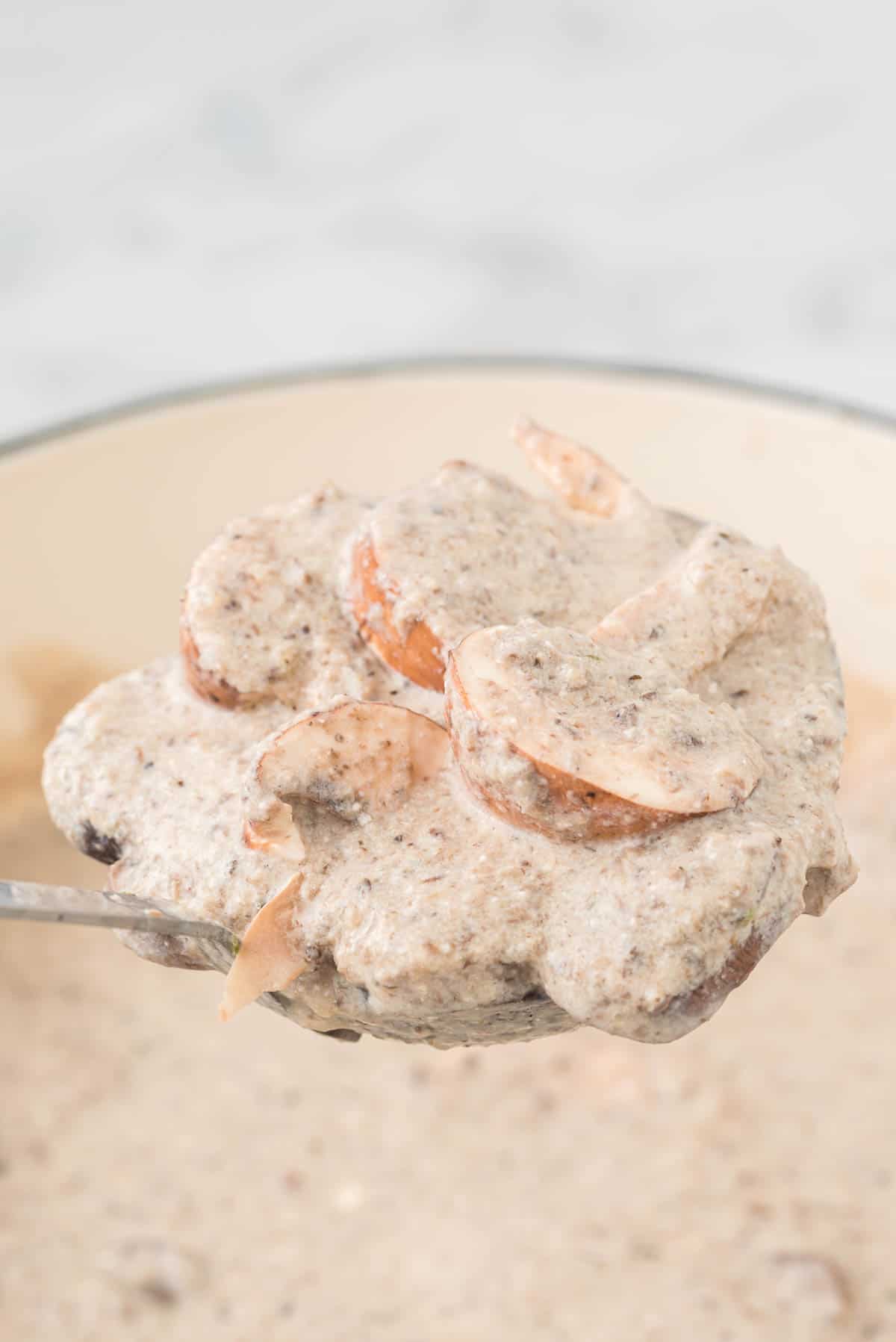 What You'll Need
Below I've rounded up the ingredients you'll need to make this perfect lightened-up cream of mushroom soup. Be sure to pay a visit to the recipe card at the end for the full recipe details!
Mushrooms: The base of this soup is sliced cremini mushrooms sautéed in butter. Cremini mushrooms fall between a white button mushroom and a portobello mushroom. They're actually all the same mushroom, just at different stages of their lifecycle!
Seasonings: A pinch of dried thyme compliments the mushrooms' flavor. You'll also need sea salt and fresh cracked pepper to taste.
Onions: I love the combination of finely chopped yellow onion and a couple of scallions as aromatics in this recipe.
Stock or Broth: I recommend using low-sodium chicken stock or broth, which gives more control over the saltiness of the soup. Use vegetable stock if making vegetarian cream of mushroom soup.
Greek Yogurt: I may call it my secret, but it's really no secret that Greek yogurt is one of my favorite healthy substitutes in recipes!
Garnish: This part is optional, but for a bit of color, sprinkle your finished mushroom soup with fresh parsley and chives when serving.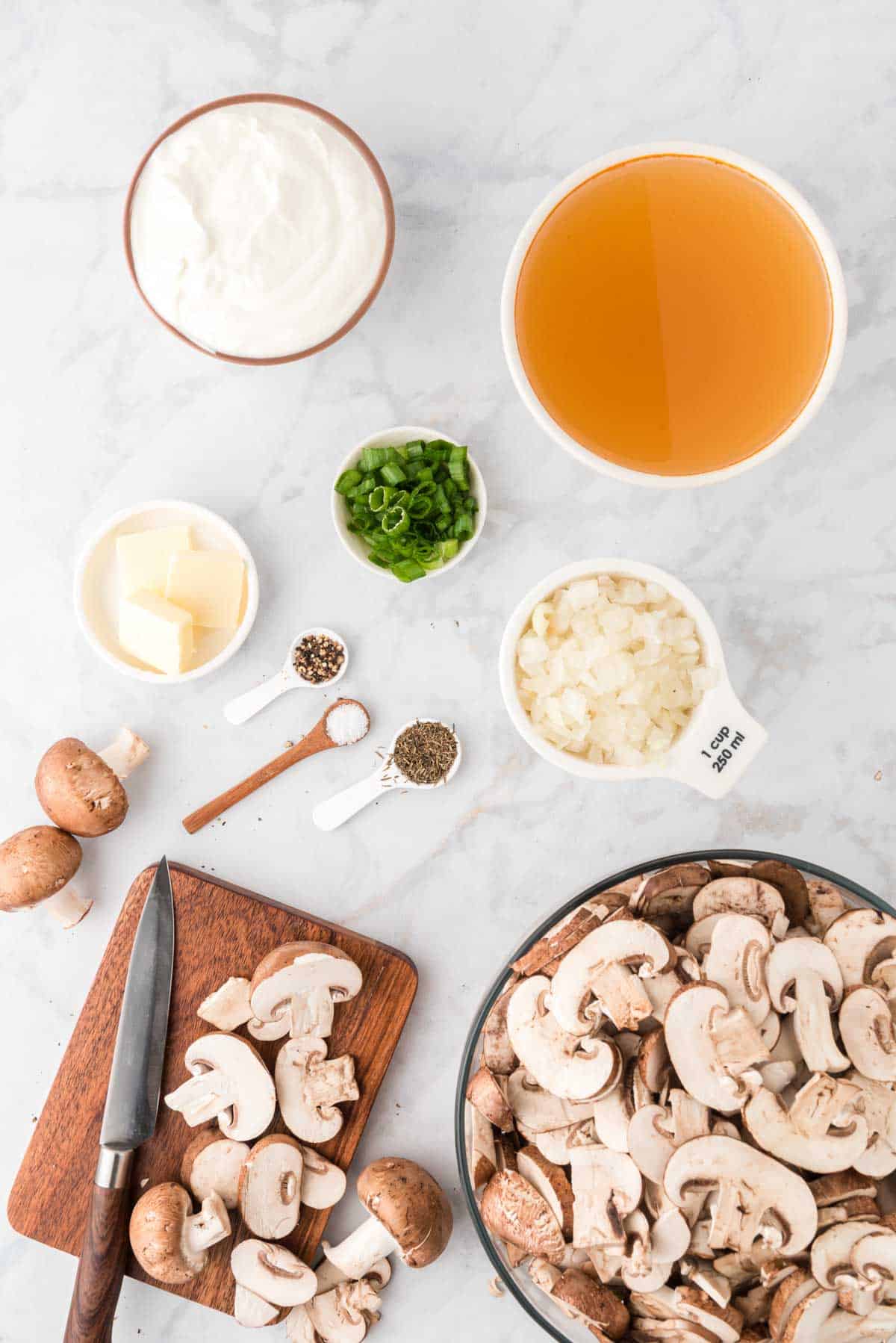 How to Make Cream of Mushroom Soup
You're about 20 minutes away from the coziest, creamiest bowl of homemade soup! Here's how easy it is to make a gloriously creamy mushroom soup that's health-conscious, too:
Sauté the Mushrooms: First, you'll sauté the mushrooms with melted butter, thyme, salt, and pepper in a large, greased Dutch oven on the stovetop. After about 10 minutes or so, the mushrooms should have softened and most of the liquid will have evaporated. Next, stir in the onions and scallions.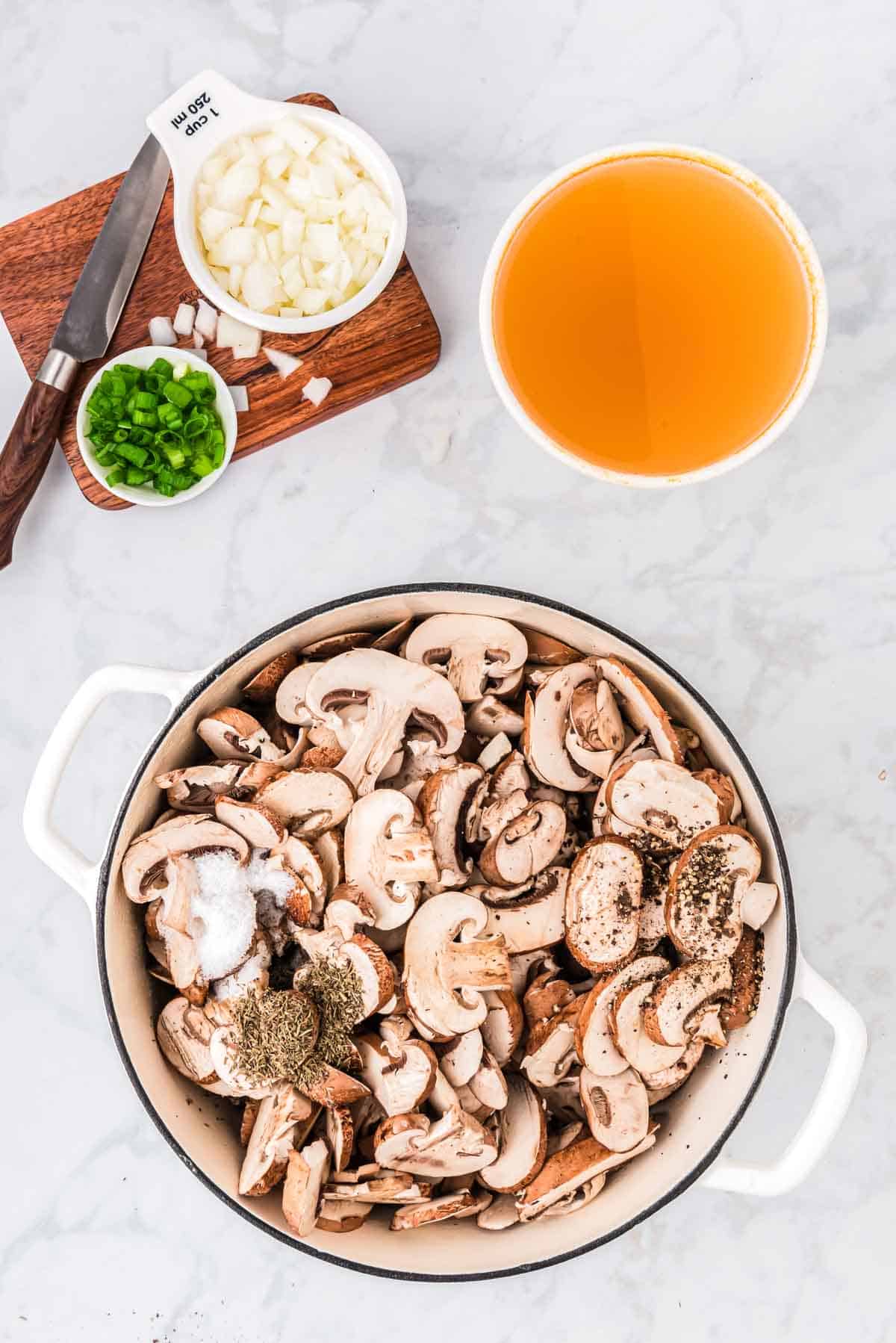 Add Stock and Yogurt: After another 5 minutes, pour in the stock. Once the pot comes to a boil, take it off the heat and stir in the Greek yogurt. It's important to remove the pot from the heat before you stir in the yogurt, otherwise, it risks curdling.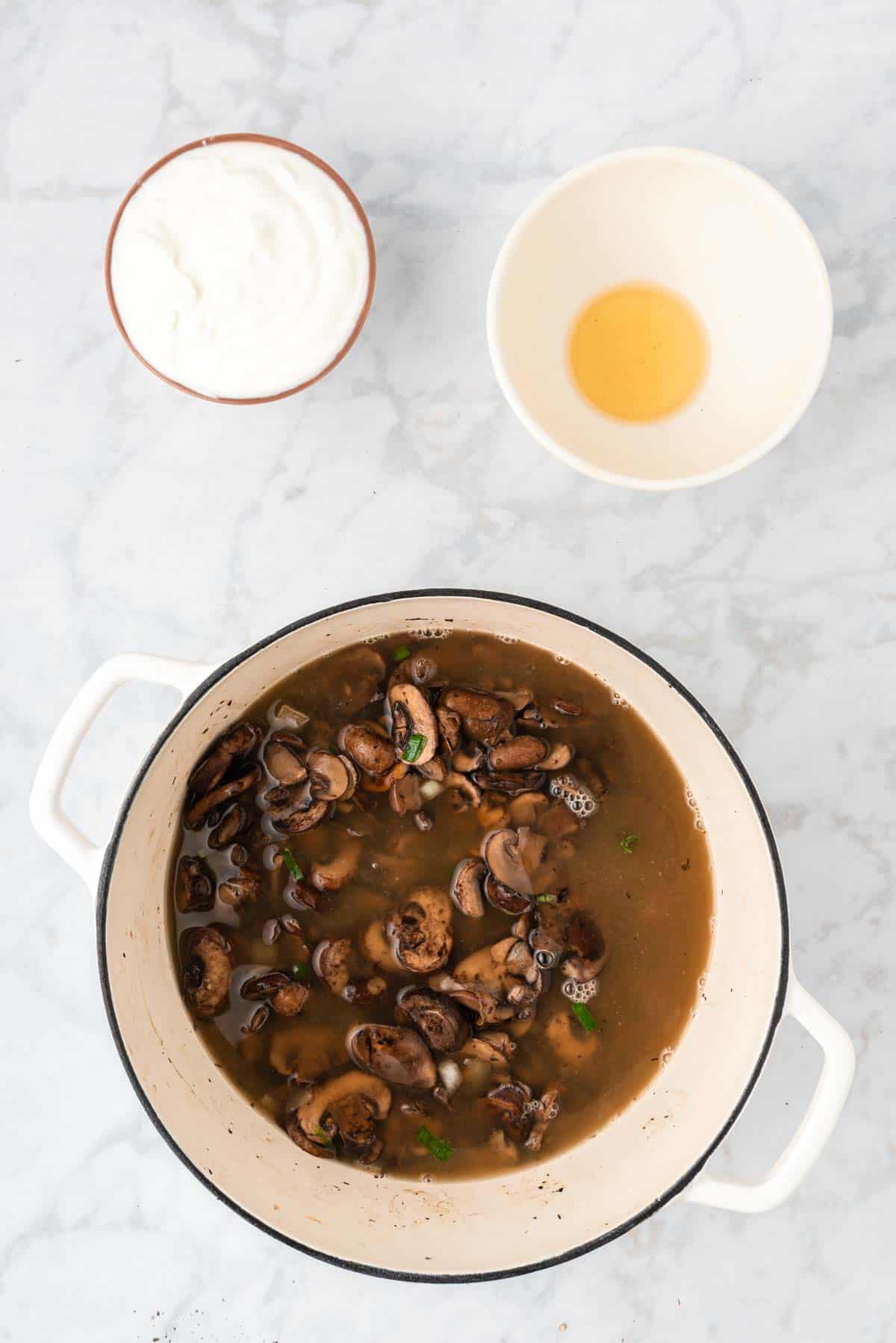 Blend: Now, we're going to thicken your cream of mushroom soup! Transfer about half of the soup from the pot to your blender. Make sure you're using an open-top food processor, or one with an open feeder hole in the lid, and purée half the soup until smooth. Return the blended soup to the pot and stir. Feel free to return the pot to the stove over low heat to warm the soup up again, as needed.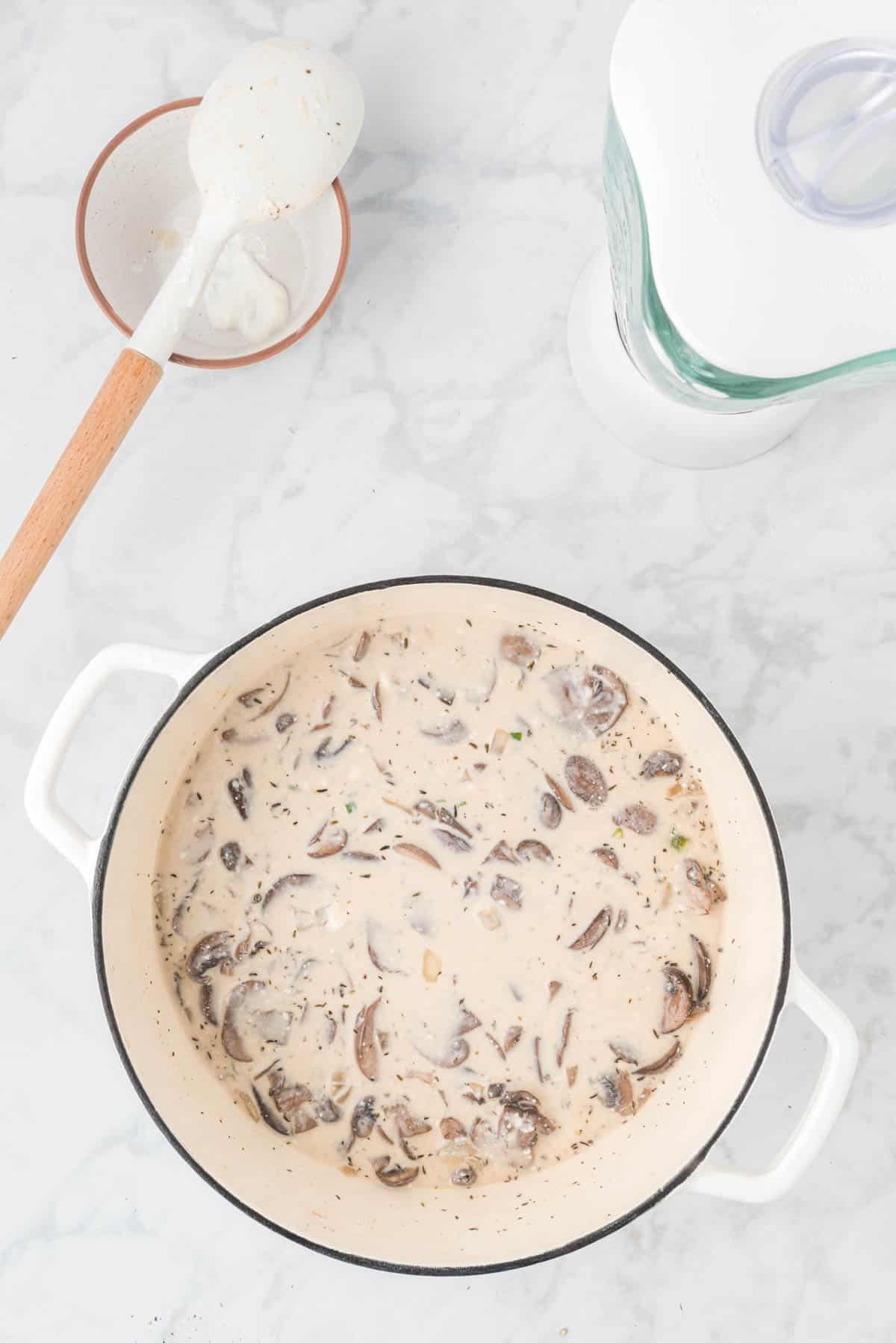 Serve: Dish up your homemade cream of mushroom soup with a sprinkle of fresh herbs or parmesan, and serve! See further down for more tasty ways to serve mushroom soup.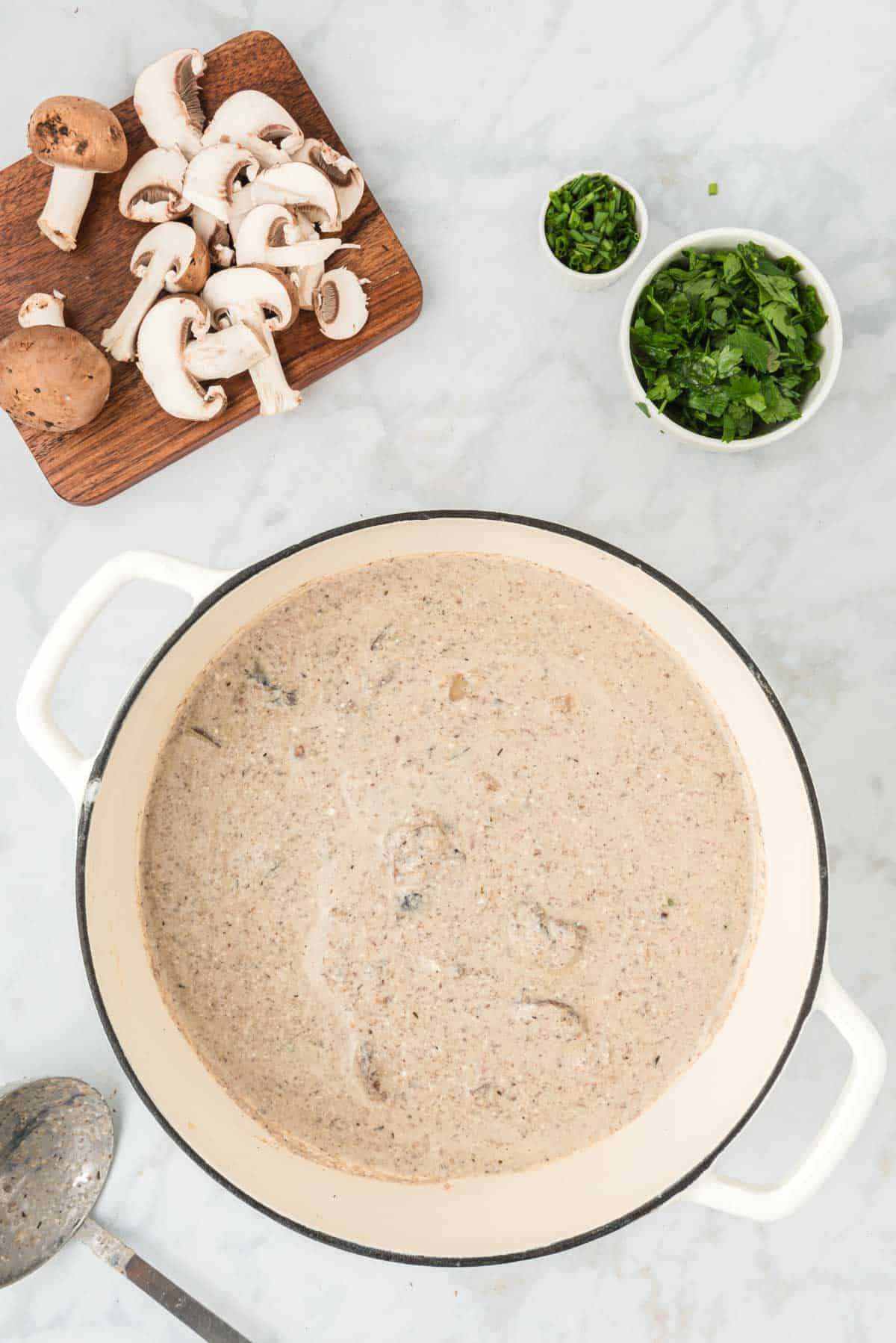 How Do You Thicken Mushroom Soup?
The secret to thickening this uber-creamy, extra-rich, and yet still healthy soup is two things: the Greek yogurt, and the blending! Greek yogurt fills the shoes of heavy cream in this soup recipe perfectly, meanwhile, puréeing a portion of the mushrooms with a blender makes the soup silky and thick.
You can blend more or less of the mushrooms depending on how thick you prefer your soup.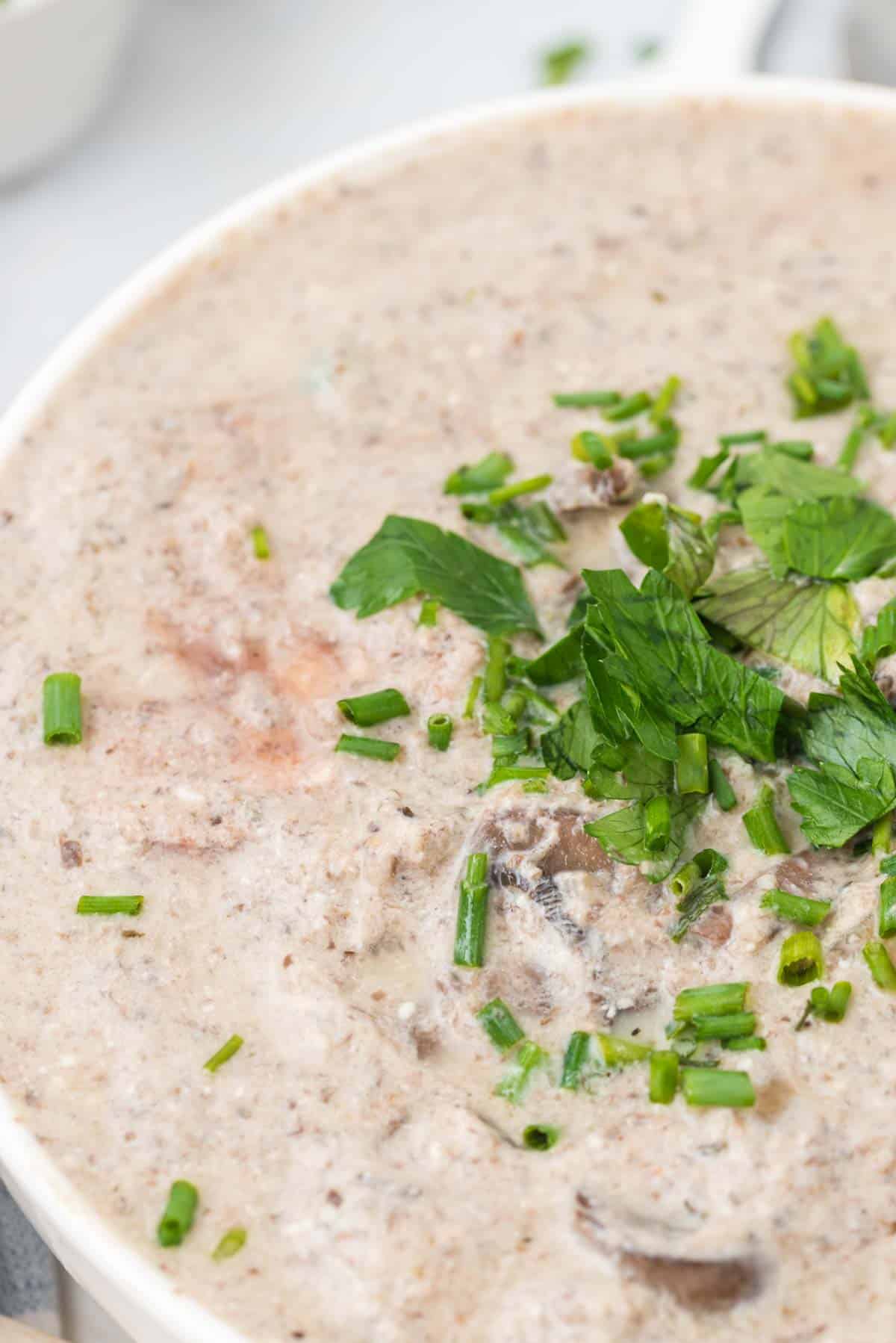 Tips for Success
Try these helpful tips and tricks when making a healthy cream of mushroom soup from scratch:
Use an open blender or a stick blender to puree the soup. Since we're blending the hot soup, it's very important that your blender has openings for the heat to escape – if not, you'll wind up with a soup explosion! Make sure that your blender is open at the top (you can cover the opening with a paper towel or dishcloth to prevent splatters). Alternatively, use a stick blender to puree the soup directly in the pot.
Don't let the soup boil after you've added the yogurt. Take the pot off the heat before you add your Greek yogurt, and be careful to not let the soup boil when you're reheating it afterward. Overheating the mushroom soup will cause the dairy to curdle.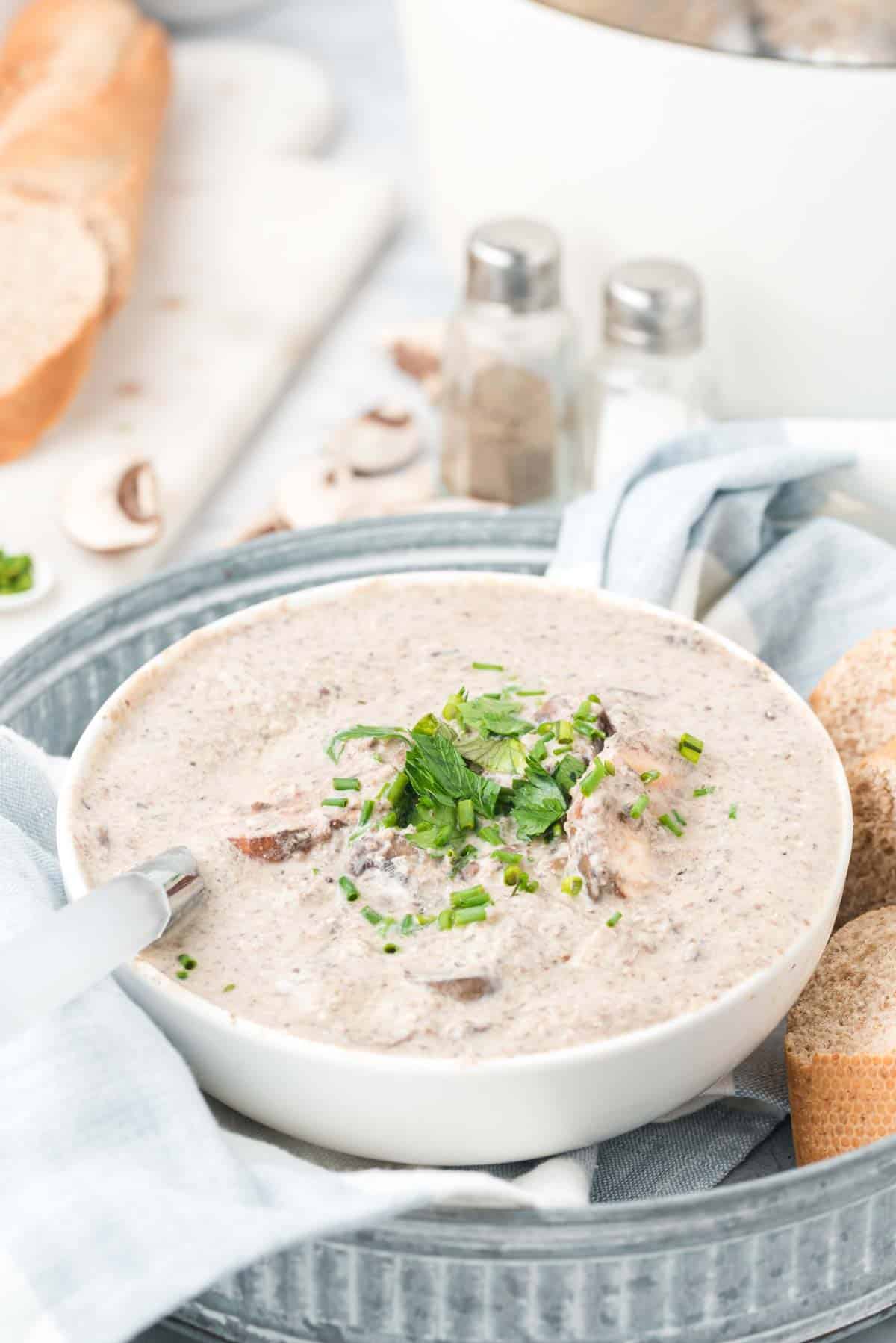 Storing and Reheating Leftover Mushroom Soup
Store your gluten-free cream of mushroom soup airtight in the fridge for up to 3-4 days. Reheat portions gently on the stovetop, or in the microwave in 30-second bursts, stirring in between, until the soup is warmed through.
Can I Freeze Cream of Mushroom Soup?
I don't recommend freezing this mushroom soup once the dairy has been added. If you're planning on freezing your soup, your best bet is to leave out the Greek yogurt and only stir it in once the soup has been thawed and reheated.
Basically, follow the recipe as directed, but leave out the yogurt. Once the soup has cooled completely, store it airtight in a freezer-safe container and freeze it for up to 2 months.
Whenever you're ready to eat it, defrost the soup in the fridge, reheat it as usual, and then stir in the Greek yogurt before serving.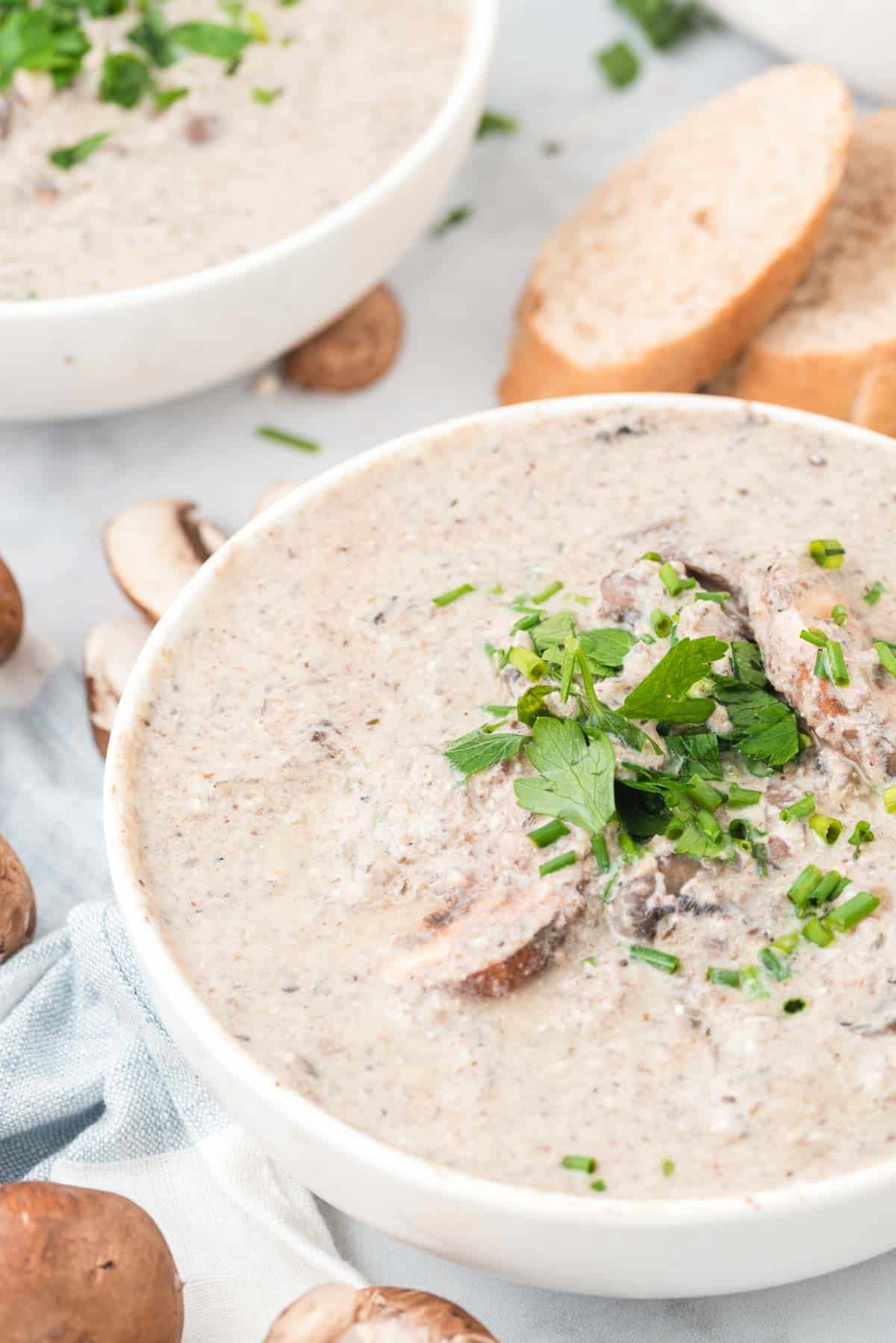 Make It a Meal
Cream of mushroom soup and crusty bread are a match made in comfort food heaven. Serve a bowl of mushroom soup as a hearty starter with slices of crusty homemade French Bread or garlicky Dinner Rolls. Fluffy gluten-free bread is perfect for dunking and mopping up every last bit of creamy soup! Or ladle it into some homemade Gluten Free Bread Bowls!
Do you know what's also the ultimate for dunking into creamy mushroom soup? Grilled cheese! Try my Buffalo Chicken Grilled Cheese for something with an extra kick.
Or go the soup and salad route with an Italian Wedge Salad or Caesar Salad.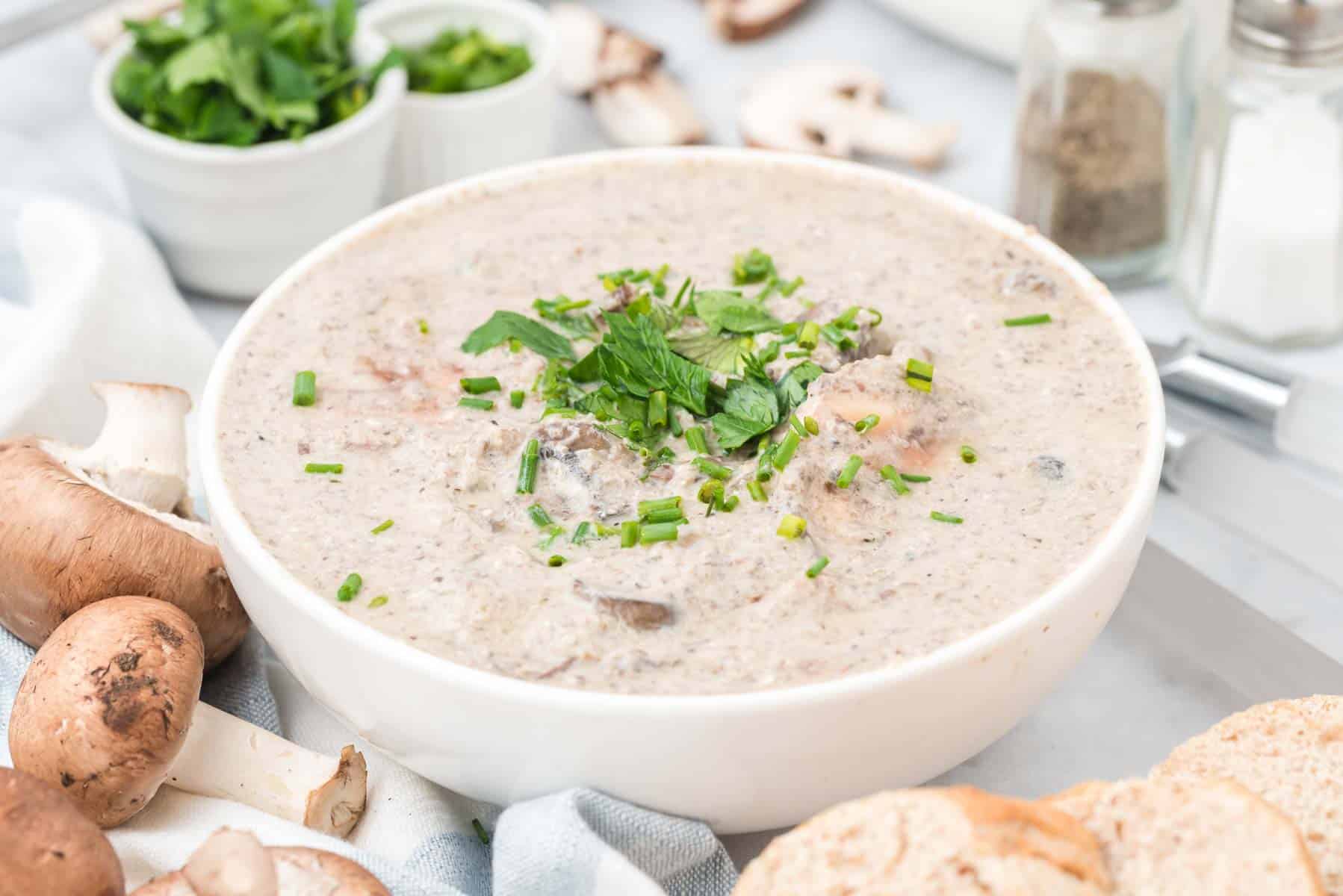 What Kind of Soup Pot to Use
Even though this cream of mushroom soup doesn't have to simmer for a long time, I still like to make it in a heavy-bottomed pot, like an enameled cast iron Dutch oven. The heat distributes evenly, which helps when sauteeing the mushrooms. And it's less likely to scorch or curdle when you add the yogurt. They are also very easy to clean.
$79.90
$133.00
in stock
34 new from $79.90
8 used from $47.93
as of Dec 1, 2023 5:44 pm
Last updated on Dec 1, 2023 5:44 pm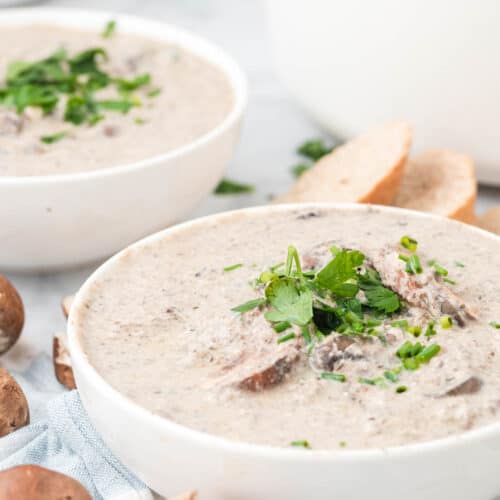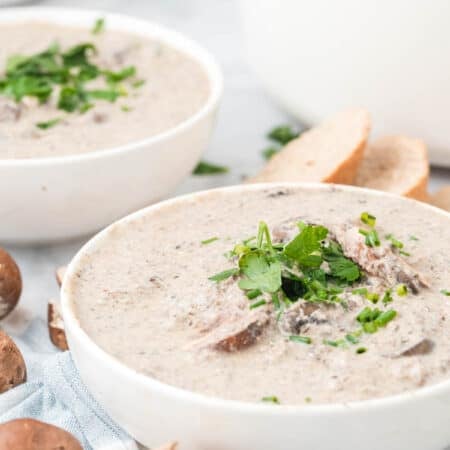 Cream of Mushroom Soup
This hearty, gluten-free Cream of Mushroom Soup is ready in 25 minutes or less! This easy mushroom soup recipe trades heavy cream for Greek yogurt in a healthier version that's just as rich and creamy.
Ingredients
2

Tablespoons

unsalted butter

2 ½

pounds

cremini mushrooms

1 ½

teaspoons

sea salt

1

teaspoon

dried thyme

½

teaspoon

ground pepper

1

large

yellow onion

, finely chopped (about 1 cup)

2

scallions

, sliced

3

cups

low sodium vegetable stock

or chicken stock

2

cups

non-fat plain Greek yogurt
Garnish (Optional):
2

Tablespoons

minced fresh parsley

2

tablespoons

minced fresh chives
Instructions
Coat a large pot or Dutch oven with non-stick spray. Place it over medium heat and melt the butter.

Increase the heat to medium-high, and add mushrooms, salt, dried thyme, ground pepper. Cook and stir frequently until the mushrooms soften and most of the water has evaporated, about 10 minutes.

Stir in onions and scallions. Cook for about 5 minutes.

Pour in the stock and allow it to come to a slow boil then remove from heat.

Stir in 2 cups of nonfat plain Greek yogurt and mix well until combined.

Transfer out half of the soup to a blender and puree until smooth. Then return it back to the pot with the remainder of the soup and mix well. If it has cooled down too much, you can place it over low heat until it is hot and you see a bit of steam coming off of it, but don't let it return to a boil or is will curdle.

Serve and garnish with parsley and/or chives.
Nutrition Facts
Cream of Mushroom Soup
Amount Per Serving
Calories 141
Calories from Fat 36
% Daily Value*
Fat 4g6%
Cholesterol 13mg4%
Sodium 1092mg46%
Potassium 1022mg29%
Carbohydrates 17g6%
Protein 12g24%
Vitamin A 417IU8%
Vitamin C 3mg4%
Calcium 127mg13%
Iron 1mg6%
* Percent Daily Values are based on a 2000 calorie diet.
Categories:
More Healthy Homemade Soups to Try