This post may contain affiliate links. Read my disclosure policy.
Chicken Caesar Salad can be even better than a restaurant when it is homemade and healthy. Toss romaine lettuce in a creamy light Caesar dressing made with Greek yogurt and add plenty of grilled chicken. So fresh and satisfying. And if you need a gluten free version, you'll love topping it with seasoned polenta croutons.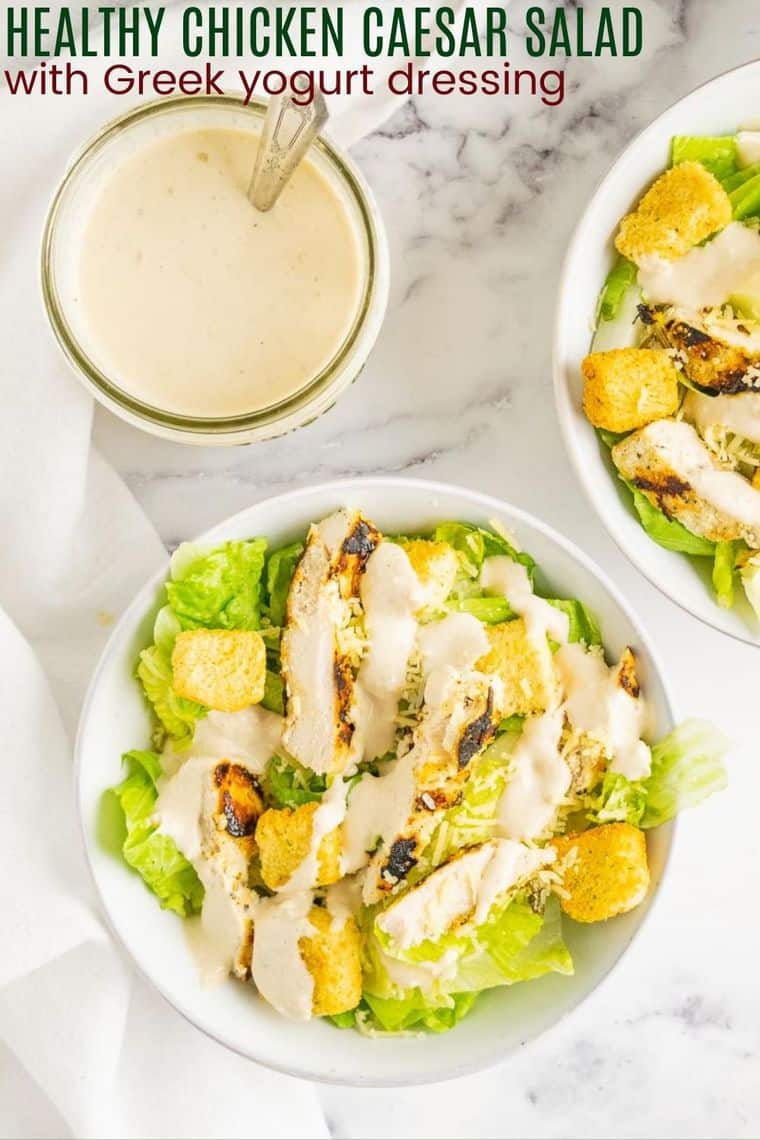 This may not be a novel recipe, but it is definitely a classic and worth being in anyone's kitchen arsenal. Especially when you can make it a little new and interesting.
And I always love it when "new and interesting" also means "lighter and healthier". Especially when it is still delicious.
I also love it when I can enjoy a gluten free salad as it is meant to be without having to say the three magic words, "Hold the croutons." You can use any croutons you like, but if you want that crunch without gluten (and yes, also probably a wee bit healthier), you are going to love polenta croutons.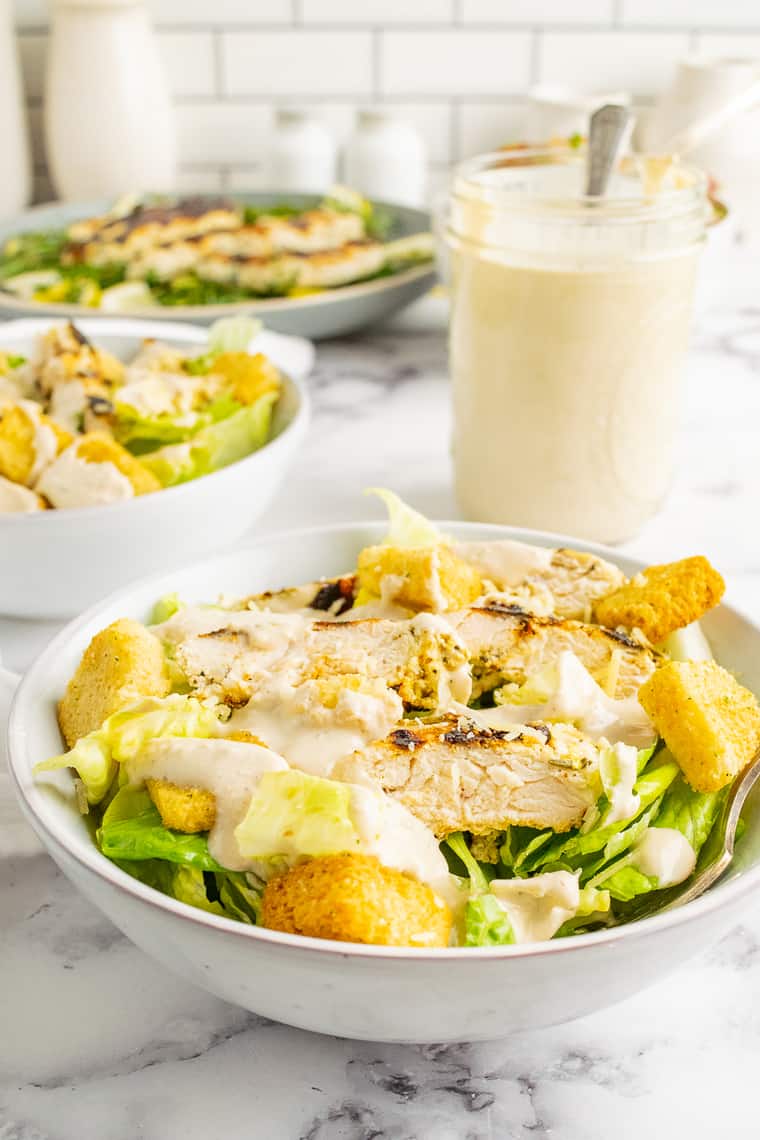 Grilled Chicken Caesar Salad
While some people like to add things like hard boiled eggs or olive or tomatoes or even avocado to their Caesar salad recipe, I kept this one basic and classic. It only has five main components, though they did get a little bit of a twist.
Lettuce
Romaine is the traditional lettuce for Caesar salad, and this is the one place where I didn't mess with tradition. It is hearty enough to stand up to the thick dressing and still stay crisp.
Caesar Dressing
The healthy Caesar salad dressing is lightened up by making it with Greek yogurt, and no eggs or mayo. I also skipped the anchovies. Some people say that adding anchovies or anchovy paste is essential. However, many are turned off by the little fish or don't want to open and waste an entire can when they only need a couple.
So this recipe uses Worcestershire sauce, which actually contains anchovies and is an easier way to add that umami flavor and a bit of saltiness. Gluten Free Tip: Lea & Perrins Worcestershire Sauce in the United States is gluten free, but may not be in other countries. So be sure to check the brands available where you live to be sure it doesn't have any gluten-containing ingredients.
Lemon juice, garlic, olive oil, and parmesan cheese are also part of the easy recipe to give it that familiar savory flavor you love.
Chicken
By making enough of the dressing, it can do double-duty as a chicken marinade. Greek yogurt is amazing for tenderizing chicken, keeping it moist, and helping to infuse the flavors that you add to the marinade into the chicken.
Let it marinate for at least a half-hour or up to overnight before cooking it on the grill or a grill pan.
You can also use any leftover chicken, such as:
Other proteins are also an option, like:
Croutons
You can use your favorite storebought or homemade croutons, and even use gluten free bread to make gluten free croutons.
However, just for fun, I made a batch of polenta, flavored it with parmesan cheese, garlic powder, and Italian seasoning. Let it cool in a thin layer, cut it into cubes, and toast in the oven. Yay for gluten free croutons!
For a keto-friendly Chicken Caesar Salad, you can skip the croutons altogether, make parmesan fricos, or sprinkle on some Whisps Parmesan Crisps.
Parmesan cheese
Whether you sprinkle or pile it on your salad, a little parmesan cheese is a perfect way to complete your salad. You can go as fancy as freshly-grated Parmigiano Reggiano, but any good quality parmesan will do. However, I don't recommend the stuff in the green can. With all the fillers, it doesn't have as strong and cheesy of a flavor.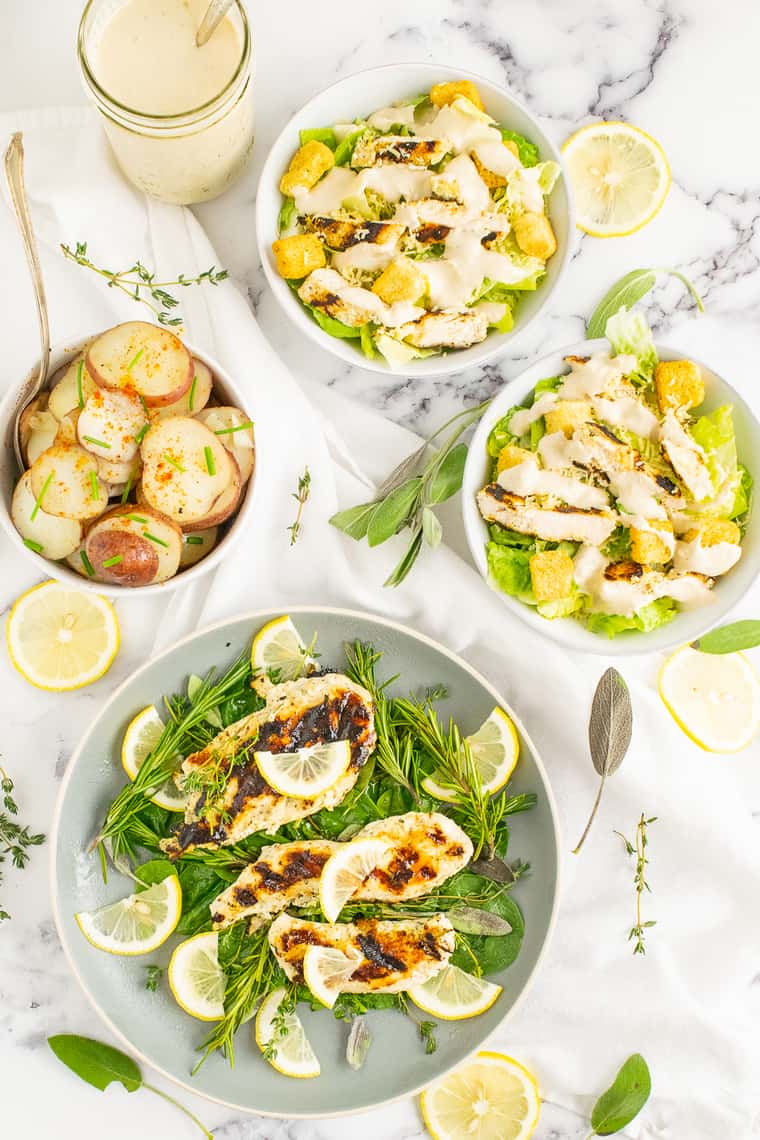 Make it a meal
Chicken Caesar Salad is already filling on its own. But if you make smaller salads or have some really hearty appetites, try one of these serving ideas.
Soup and salad
Salad and sandwich
Sides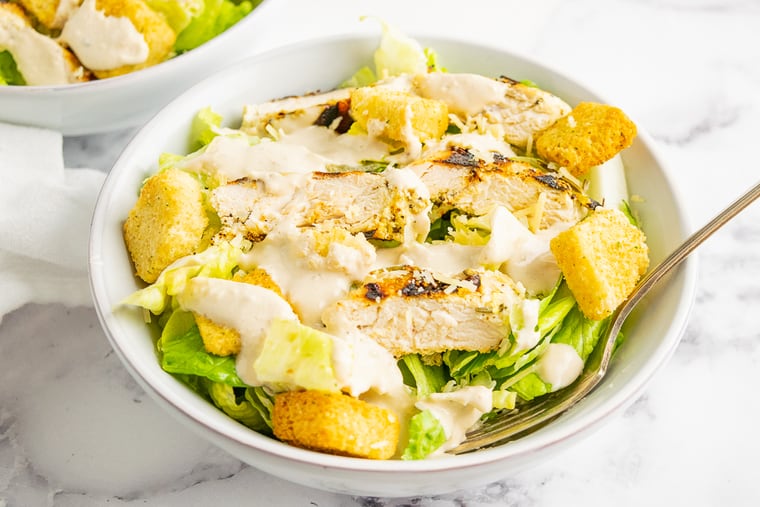 More salad recipes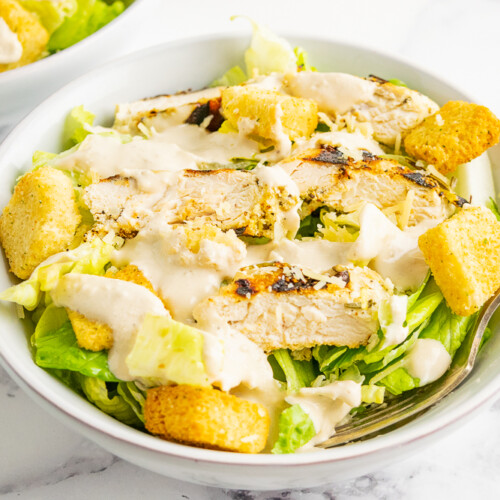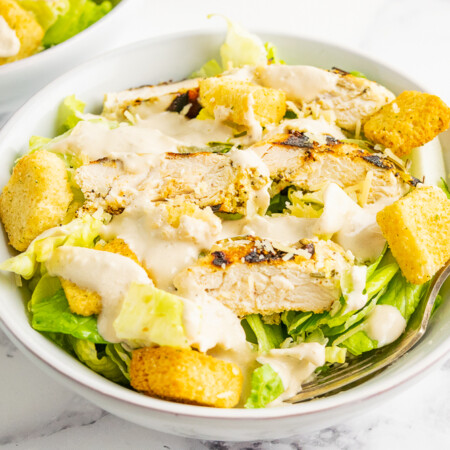 Healthy Chicken Caesar Salad
Ingredients
For the Greek Yogurt Caesar Dressing
1

cup

plain Greek yogurt

2

Tablespoons

fresh lemon juice

2

Tablespoons

olive oil

2

Tablespoons

Worcesteshire sauce

1/4

cup

grated parmesan cheese

2

garlic cloves,

minced or crushed

1/4

teaspoon

Kosher salt
For the Parmesan Polenta Croutons
For the Chicken Caesar Salad
1

lb

thinly sliced chicken breasts

about 8

cups

romaine lettuce,

chopped or torn

1

cup

packaged or homemade croutons or Italian Herb Parmesan Polenta Croutons

Additional parmesan cheese

for serving
Instructions
For the Greek Yogurt Caesar Dressing
Combine the Greek yogurt, lemon juice, olive oil, Worcestershire sauce, parmesan cheese, garlic, 1/4 teaspoon Kosher salt, and 1/8 teaspoon pepper in a bowl and whisk together. Store in the refrigerator.
For the Parmesan Polenta Croutons
Bring to a boil, then cook, stirring almost constantly, for 15-20 minutes, or until the polenta is thick and sticky.

Stir in the cheese, garlic powder, and Italian seasoning.

Remove the polenta from the pot and place onto plastic wrap or in a baking dish sprayed with olive oil or cooking spray.

Shape into a rectangle, about 1/2 in. thick, wrap in plastic wrap, and place in the refrigerator until cooled.Preheat your oven to 450°F.

Cut the polenta into 1/2 inch cubes and place in a single layer, not touching, on a baking sheet coated with olive oil or cooking spray. Spray some more olive oil or cooking spray over the cubes.

Bake for 25-30 minutes, turning every 8-10 minutes, until browned and crispy. Set aside to cool on the pan. Store at room temperature in an airtight container.
For the Chicken Caesar Salad
Pour about 1/2 cup of the dressing over the chicken and marinate in the refrigerator for at least 30 minutes (or up to several hours, if you have time).

Preheat your grill to high heat.

Place the chicken on the grill, reduce heat to medium, and grill for about 2-4 minutes per side, or until cooked through, depending on how thick your chicken is.

Remove from the grill, and set aside.

Toss the romaine lettuce with a few tablespoons of the dressing, divide between plates.

Slice the chicken breasts into strips.

Top lettuce with chicken, croutons, parmesan cheese, and additional dressing, if desired.
Nutrition Facts
Healthy Chicken Caesar Salad
Amount Per Serving (1 salad)
Calories 302
Calories from Fat 90
% Daily Value*
Fat 10g15%
Cholesterol 79mg26%
Sodium 710mg30%
Potassium 750mg21%
Carbohydrates 20g7%
Protein 32g64%
Vitamin A 8281IU166%
Vitamin C 7mg8%
Calcium 132mg13%
Iron 2mg11%
* Percent Daily Values are based on a 2000 calorie diet.
Categories:
This recipe was adapted from Jamie Oliver.
Enjoy!