This post may contain affiliate links. Read my disclosure policy.
Lemon Herb Grilled Chicken Breasts are juicy and flavorful from a simple and versatile Greek yogurt marinade with only a handful of basic ingredients. Just toss the yogurt marinated chicken on the grill and you can use it for so many easy meal ideas, from salads to wraps to rice bowls and more!
While visiting my mom for a long weekend, we were out for dinner one night, sitting on the outside deck overlooking the bay. Mom and I were leisurely enjoying our dinners while the boys were digging into their Shepherd's Pie. The big guy is always the fastest eater, so he was getting restless and wanted to roam around on the deck. Luckily it wasn't too busy in the restaurant, and the waitresses were super sweet. When they saw that he had some extra energy, the promptly put him to work watering the flowers in the flower boxes on the deck.
For all his hard work, he earned a little blue plastic flower that I am assuming they put in their tropical drinks. We put it through a buttonhole on his shirt, and he proudly strutted around the restaurant displaying his badge of honor. What else did he earn?
A new job when we got home. Watering the little container garden that Daddy planted while we were away.
He was actually excited about taking care of them since the garden was his idea. I am hoping that as our plants grow, we are growing in him an awareness and appreciation of where food comes from and a sense of responsibility for helping to take care of them so that we have yummy things to eat.
Yummy things like these Lemon Herb Grilled Chicken Breasts.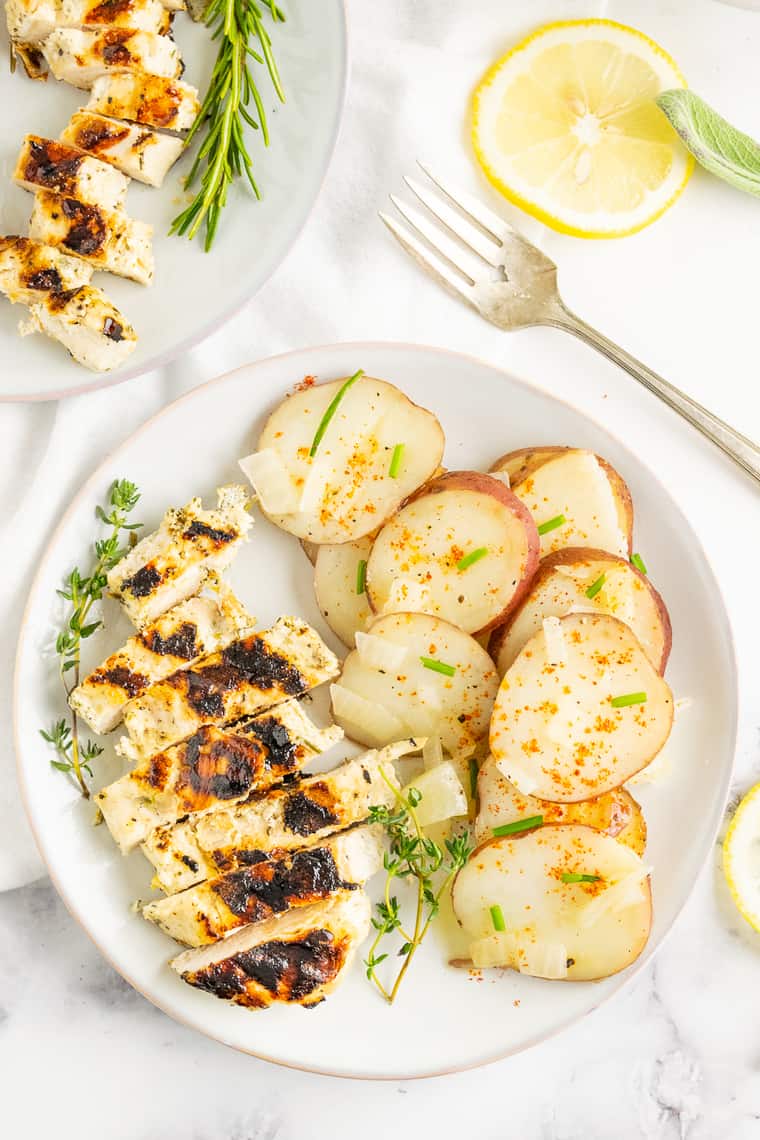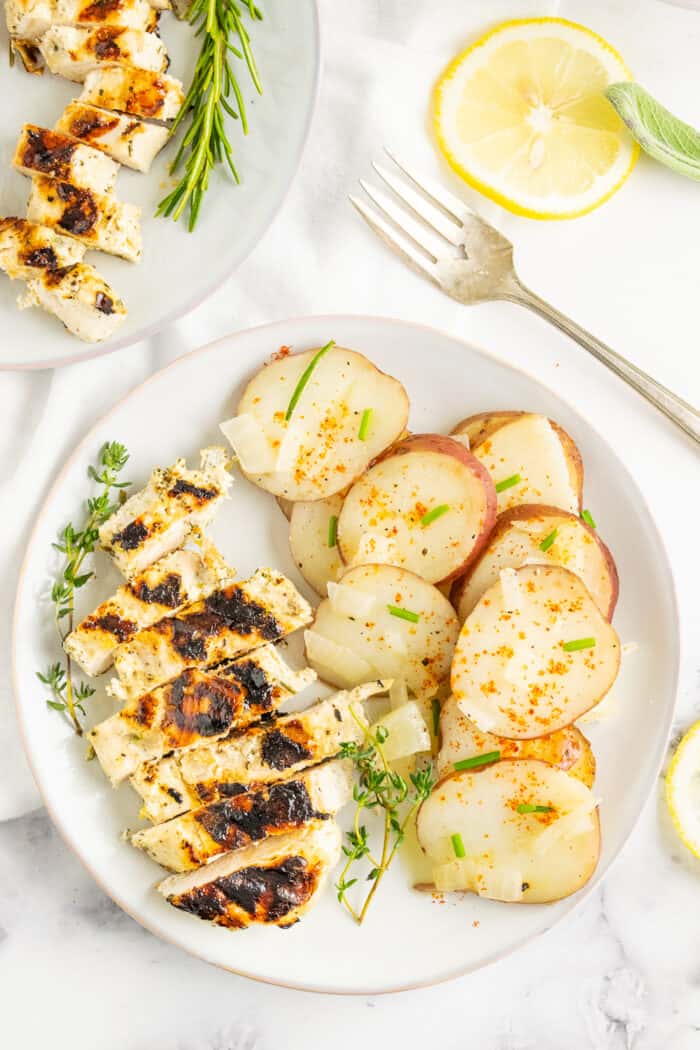 Lemon Yogurt Marinated Chicken
Easy enough for a weeknight meal with lots of fresh flavors, this simple grilled chicken recipe has one of my "back pocket meals" for many years.
Marinating the chicken in Greek yogurt with a bit of live oil helps to keep it moist and juicy, and helps infuse the flavor of whatever you add to the marinade. I love to use lemon, garlic, and a handful of whatever herbs I have on hand, whether it's odds and ends from fresh herbs you picked up at the grocery store for another recipe, whatever you have growing in your garden, or even dried herbs in a pinch.
The beauty of this recipe is that you can throw it in the marinade when you get home from work, and by the time you've changed and gotten your side dishes prepped, it's ready to toss on the grill. Or you can put your thawed OR even still frozen chicken breasts into a plastic bag with the Greek yogurt mixture in the morning, and pull them out to grill right when it's time to cook dinner.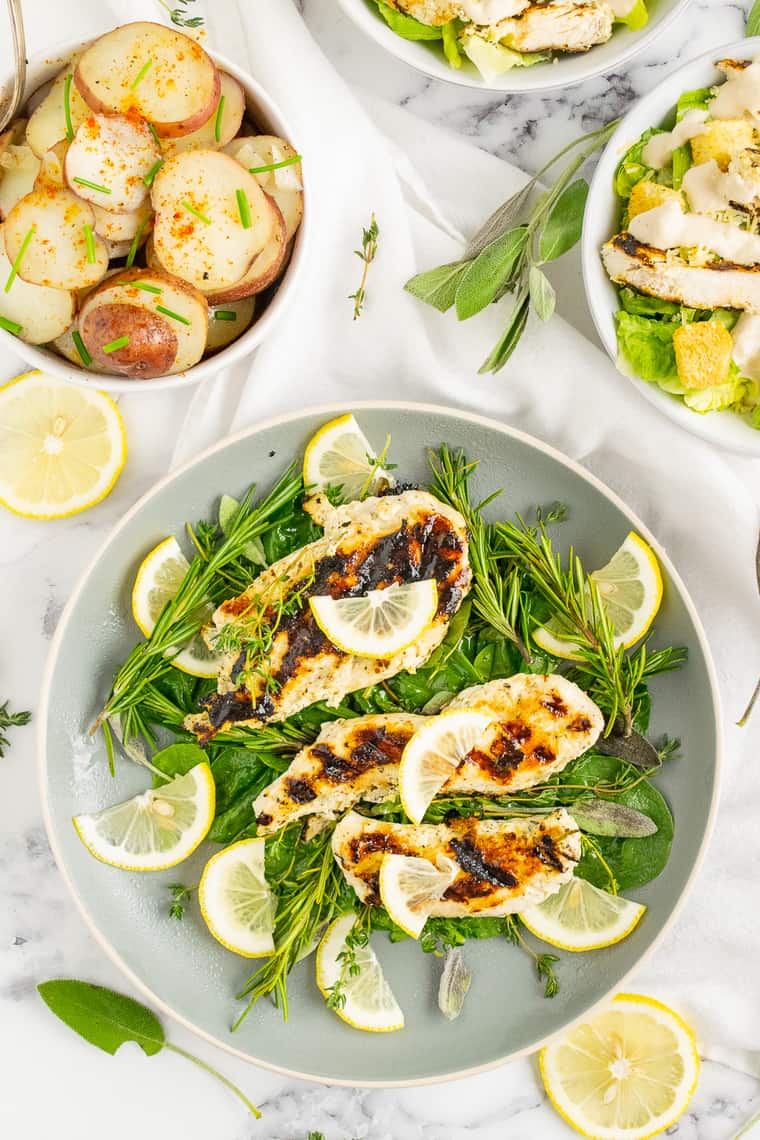 Here is a brief overview so you can see just how easy it is to make. Scroll down to the printable recipe card for the full quantities and details.
But don't skip my PRO TIPS below!
What You'll Need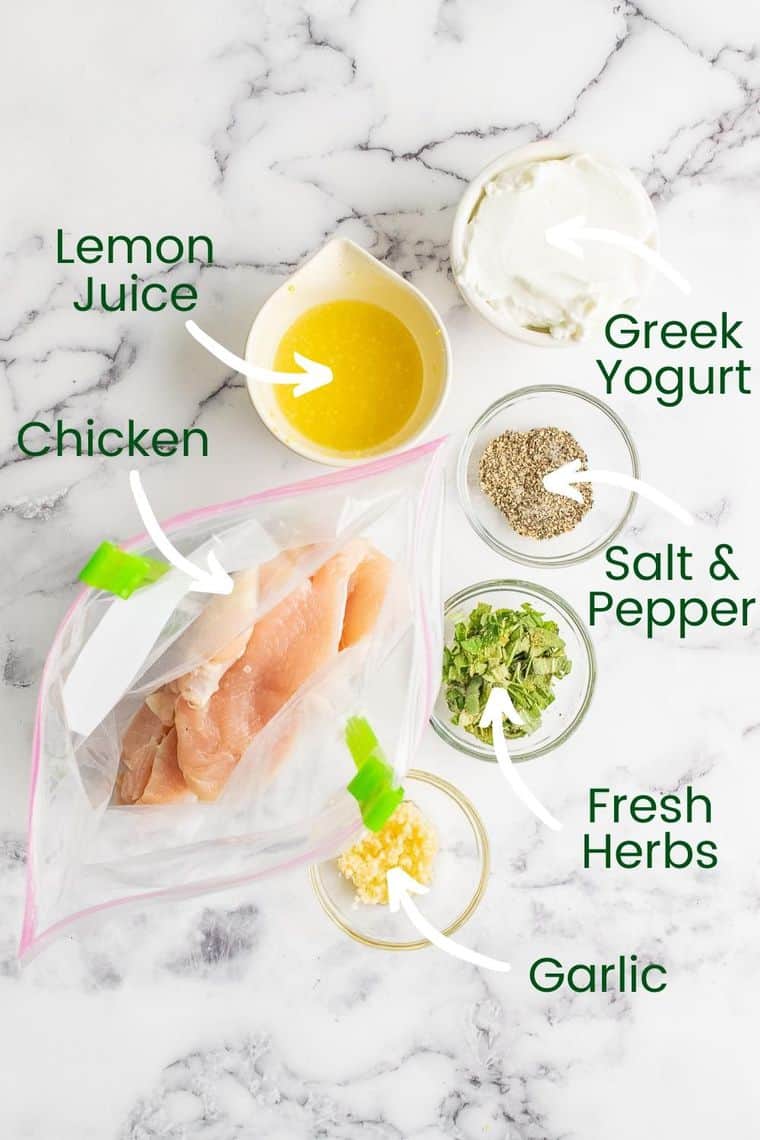 Directions
Add the chicken and the marinade ingredients to a plastic zip top bag.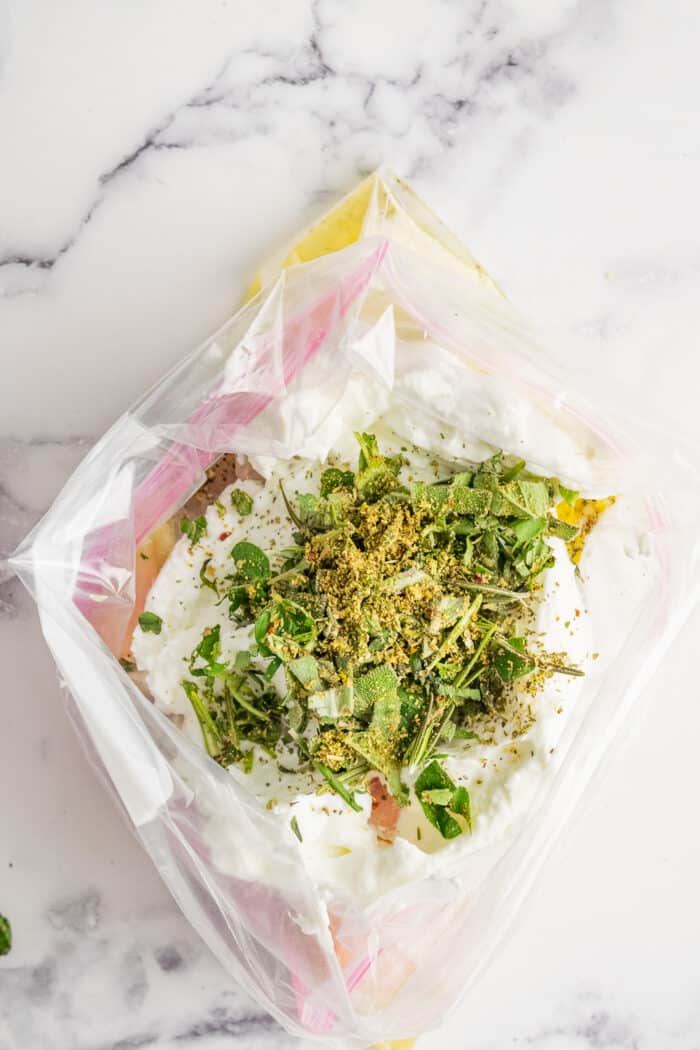 Add the chicken and squeeze everything around to make sure it is coated completely. Refrigerate for at least 30 minutes or up to 8-10 hours.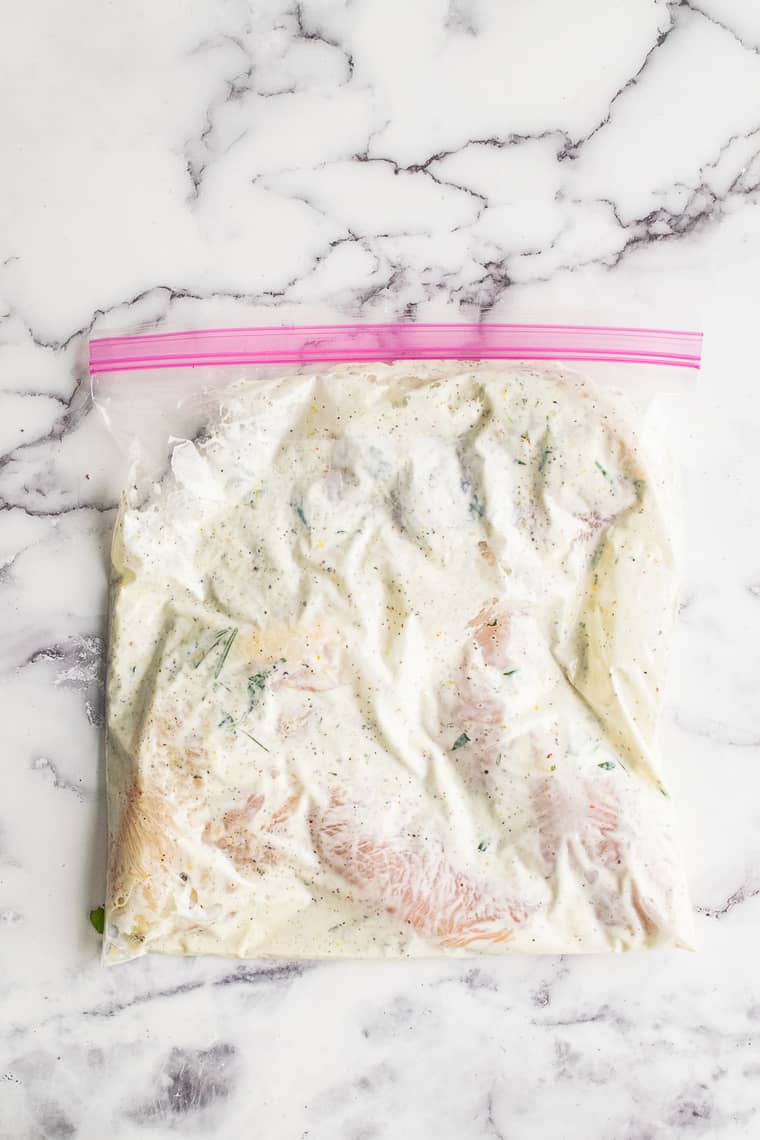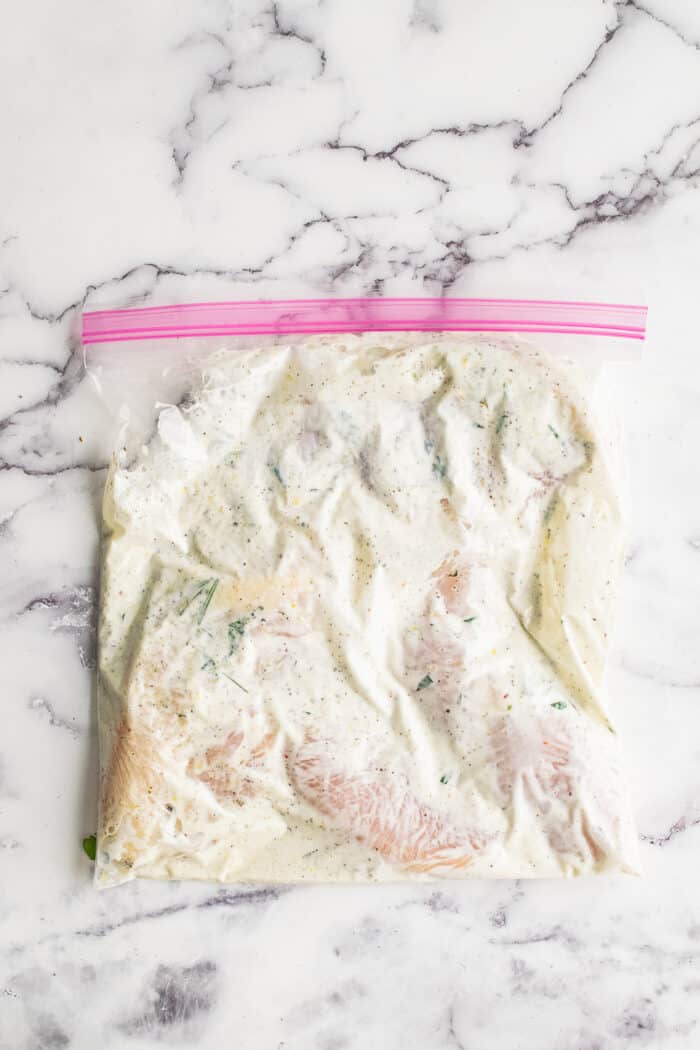 Remove from the marinade and discard the ziploc bag. Wipe off the excess marinade. Grill over medium heat for 3-4 minutes per side, or until the internal temperature is 165°F and the juices run clear.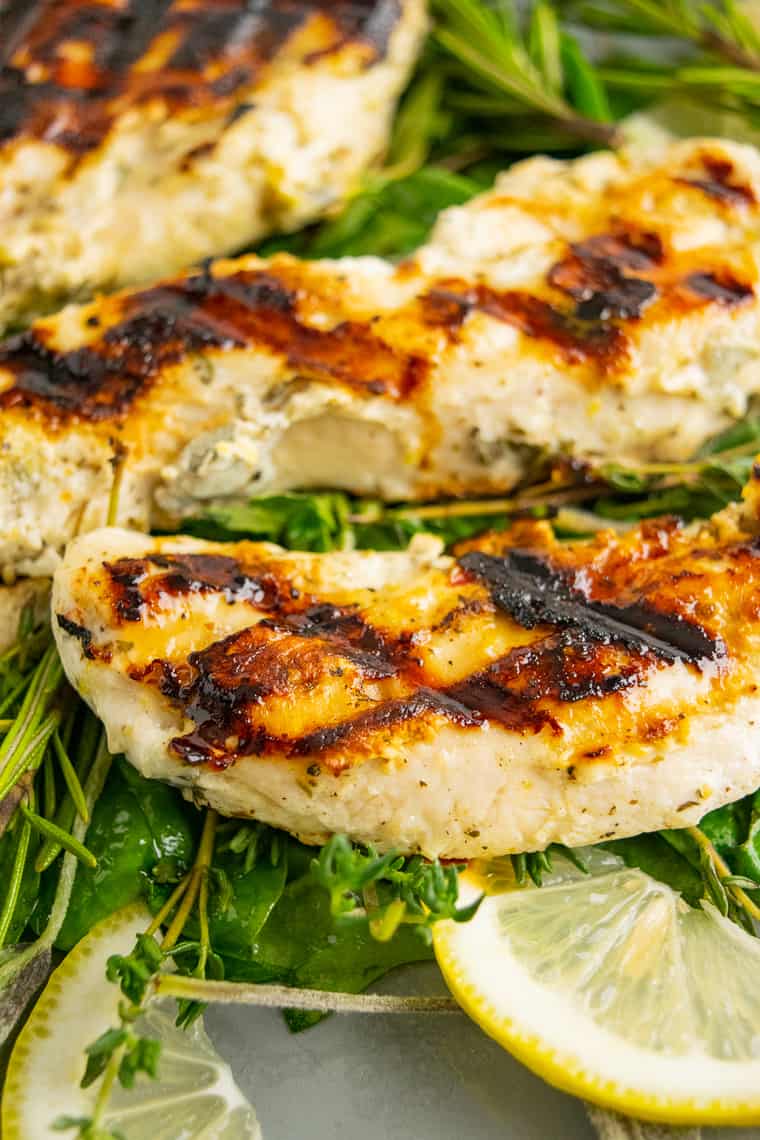 Pro tips and FAQs
What kind of chicken do you use?
I like to use thnkly sliced chicken breasts so the flavor infuses completely and they cook quikcly and stay juicy. You can pound larger chicken breasts with a meat mallet or slice in half lengthwise to creat two thin breast pieces.
You could also use this marinade for thighs or even drumsticks and bake or grill like these Tandoori Chicken Drumsticks.
How long do you marinate chicken?
The minimum time is to marinate the chicken for 30 minutes to impart some of the flavor. But optimally you would marinate for at least several hours.
You can even put the chicken in the marinade the night before or first thing in the morning.
How do you know when grilled chicken is done?
White meat should be cooked to an internal temperature of 165°F and the juices should run clear.
For thin pieces, this will take 3-4 minutes per side. The chicken is ready to flip when it releases easily from the grill grates. Larger or thicker breasts will take longer, which is why I recommend an instant read thermometer to avoid undercooking or overcooking the chicken.
Can I reuse the marinade?
No, for food safety reasons do not reuse yogurt marinade.
After the chicken is marinated, the leftover marinade can harbor bacteria. Once you cook the chicken thoroughly it is fine to eat. But trying to reuse any leftover marinade is not safe.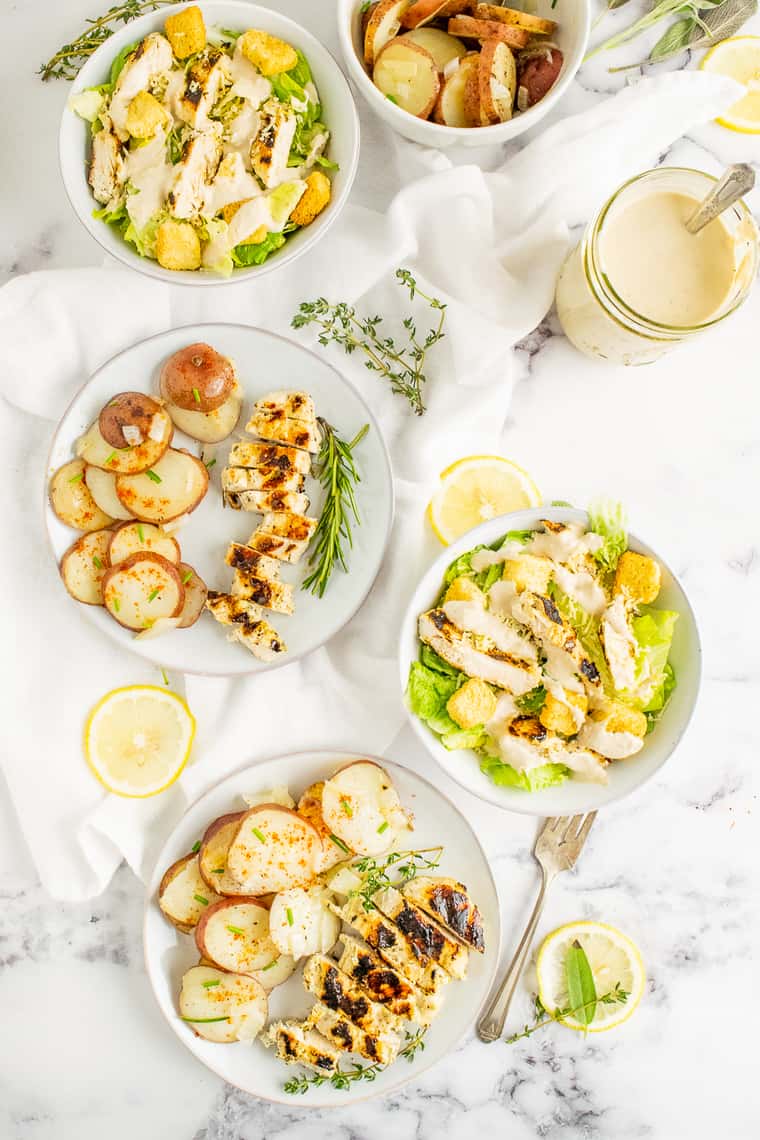 Make it a meal
Summertime grilled dinner
Mediterranean-style meal
Salad night
or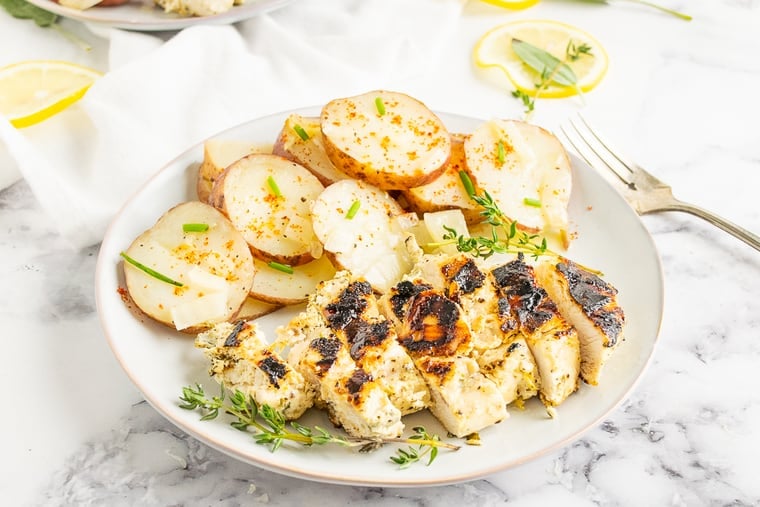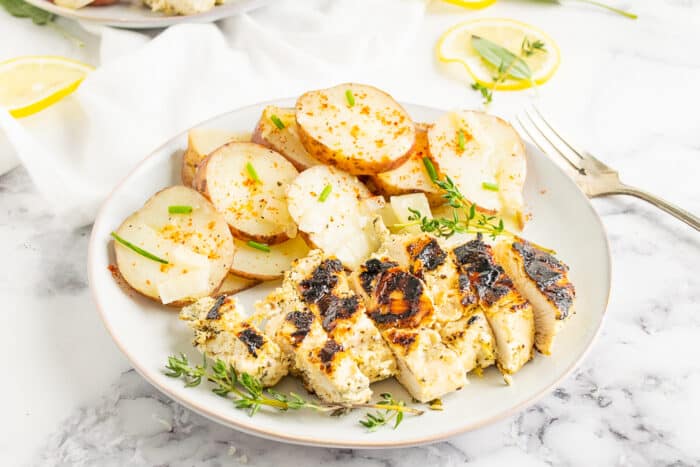 More grilled chicken recipes
Lemon Herb Greek Yogurt Marinated Chicken
A handful of ingredients in this easy marinade gives your juicy grilled chicken breasts every time. Customize with your favorite fresh herbs or whatever you have on hand. So tasty and versatile!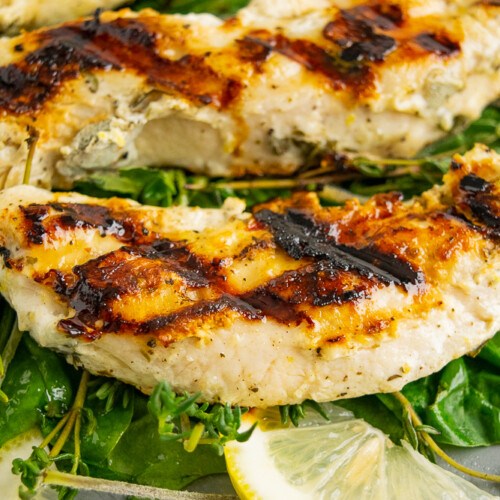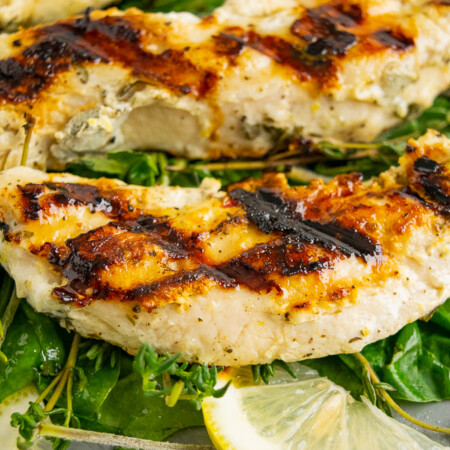 Grilled Lemon Herb Chicken Breasts
Soaking chicken breasts in a Greek yogurt marinade before grilling keeps them moist and juicy, while infusing them with a ton of fresh flavor.
Ingredients
1-1/2

pounds

thinly sliced chicken breasts

or chicken breasts that have been pounded flat with a meat mallet

1/2

cup

plain Greek yogurt

1

Tablespoon

olive oil

juice and zest of one lemon

1

clove

garlic,

crushed or finely minced

2

Tablespoons

chopped fresh herbs

(any combination of parsley, rosemary, thyme, sage, oregano, or whatever you have on hand. In a pinch, 2 teaspoons of dried herbs can be substituted.)

1/2

teaspoon

kosher salt

1/4

teaspoon

freshly ground black pepper
Instructions
Add the chicken to a zip top plastic storage bag, and add all of the remaining marinade ingredients. Squeeze it around until everything is well mixed and the chicken is thoroughly coated.

Seal the bag, and marinate in the refrigerator for at least 30 minutes, or up to 8-10 hours.

Preheat your grill on high heat.

Remove the chicken from the bag and wipe off some of the excess marinade. Discard the marinade.

Place the chicken on the grill, close the cover, and reduce to medium heat.

Grill on the first side for 3-4 minutes, then flip. Chicken should release easily form the grates when the first side is done.

Grill on the second side for another 3-4 minutes, or until chicken is cooked through. It should reach 165°F on an instant-read thermometer and the juices should run clear.

Remove from the grill and serve.
Nutrition Facts
Grilled Lemon Herb Chicken Breasts
Amount Per Serving
Calories 248
Calories from Fat 72
% Daily Value*
Fat 8g12%
Cholesterol 111mg37%
Sodium 501mg21%
Potassium 640mg18%
Carbohydrates 2g1%
Protein 39g78%
Vitamin A 236IU5%
Vitamin C 5mg6%
Calcium 44mg4%
Iron 1mg6%
* Percent Daily Values are based on a 2000 calorie diet.
Enjoy!