Lemon Herb Grilled Chicken Breasts
Disclosure: This post may contain affiliate links. Cupcakes & Kale Chips is a participant in the Amazon Services LLC Associates Program, an affiliate advertising program designed to provide a means for us to earn fees by linking to Amazon.com and affiliated sites.
You'll love this recipe for these simple and versatile, moist and flavorful Lemon Herb Grilled Chicken Breasts.
Lemon Herb Grilled Chicken Breasts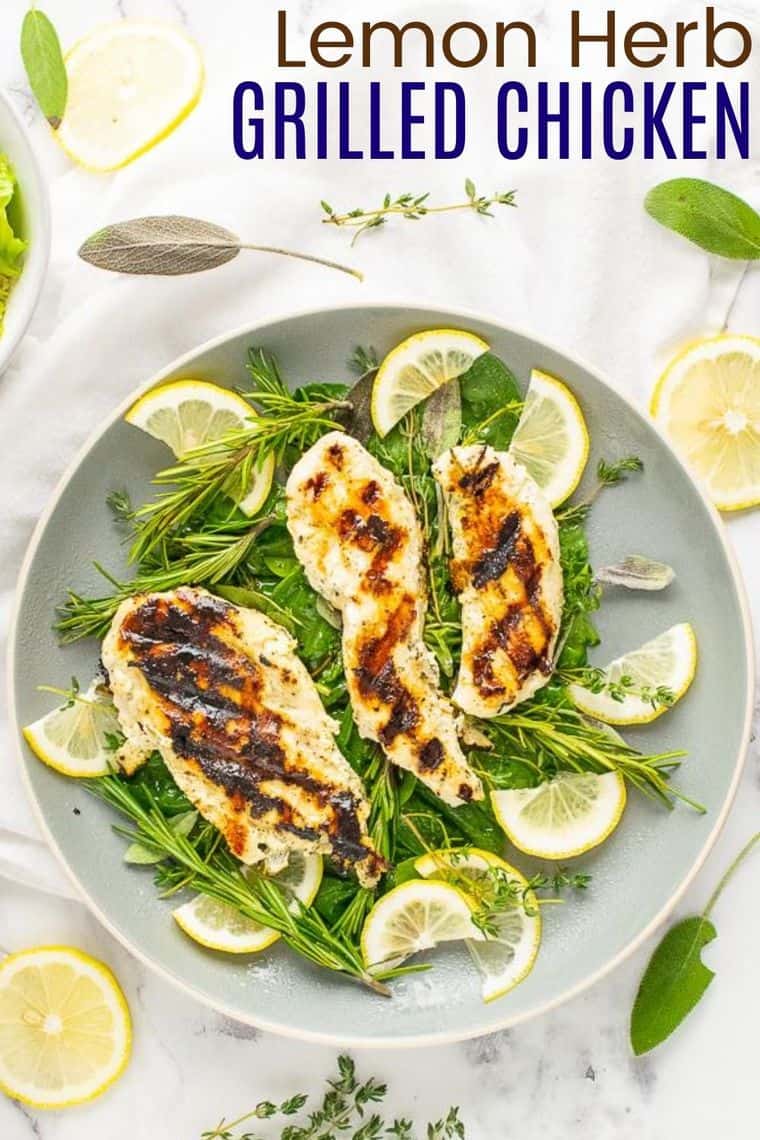 I've been visiting my mom for a long weekend, and tonight we were out for dinner at one of our favorite local restaurants. We were sitting on the outside deck overlooking the bay. Mom and I were enjoying our dinners and some Riesling, and the boys were digging into their Shepherd's Pie. Except a certain four year old boy prefers to shovel his food into his mouth, as opposed to enjoying a leisurely dining experience. Since mom and I were slowly sipping on our wine, and even the little guy was taking his time with his meal, he was getting a bit antsy and wanted to roam around on the deck. Luckily it wasn't too busy in the restaurant, and the waitresses were super sweet. When they saw that he had some extra energy, the promptly put him to work watering the flowers in the flower boxes on the deck.
For all his hard work, he earned a little blue plastic flower that I am assuming they put in their tropical drinks, which we put through a button hole on his shirt, and he proudly strutted around the restaurant displaying his badge of honor. What else did he earn? A new job when we get home. Watering the tomato and pepper plants that Daddy planted while we were away…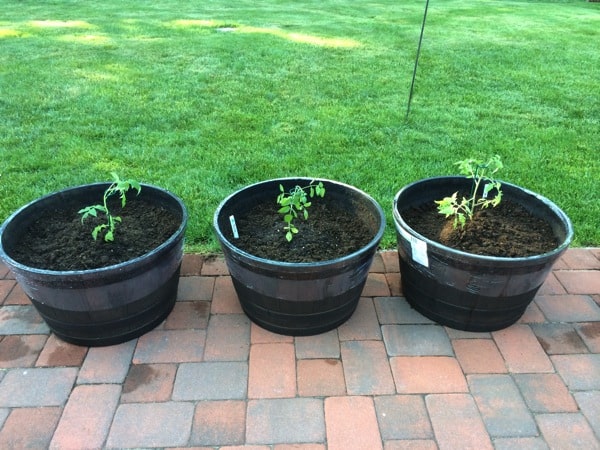 I can't wait to get home and see the plants in person, and to see The Bug excited about taking care of them, since the garden was his idea. He has also loves checking on that high tech herb garden I told you about last weekend, seeing the sprouts at they popped up, adding nutrients and water with Daddy. I am hoping that as our plants grow, we are growing in him an awareness and appreciation of where food comes from, and a sense of responsibility for helping to take care of them so that we have yummy things to eat. Yummy things like these Lemon Herb Grilled Chicken Breasts.
I know, I know, this isn't much different from my Sunday Supper recipe form the garden, but I wanted to give you a weeknight version with similar flavors. This has actually been one of my "back pocket meals", as I like to call them, for many years. Marinating the chicken in Greek yogurt helps to keep it moist and juicy, and you can add so many things to impart tons of flavor. I love to use lemon, garlic, and a handful of whatever herbs I have on hands. Soon enough it'll be whatever herbs I snip from my garden.
The beauty of this recipe is that you can throw it in the marinade when you get home from work, and by the time you've changed and gotten your side dishes prepped, it's ready to toss on the grill. Or you can put your thawed OR even still frozen chicken breasts into a plastic bag with the Greek yogurt mixture in the morning, and pull them out right when it's time to cook dinner. Also, I use thinly sliced chicken breasts (or you could pound the chicken flat with a mallet) so that they cook up in minutes.
This particular night, we enjoyed our chicken simply with brown rice and broccoli, but you can make it as simple or complex as you like – top a salad, serve it over a pasta dish, or make a grilled chicken sandwich. THere are so many possibilities, and you can even grill up extra for lunches or leftovers later in the week.
I hope this recipe will become part of your summertime Weekday Supper rotation for a quick and tasty dinner on those busy weeknights!
How do you have your kids help with your family garden?
Print Recipe
Grilled Lemon Herb Chicken Breasts
Soaking tchicken breasts in a Greek yogurt marinade before grilling keeps them moist and juicy, while infusing them with a ton of fresh flavor.
Ingredients
1-1/2

pounds

thinly sliced chicken breasts

or chicken breasts that have been pounded flat with a meat mallet

1/2

cup

plain Greek yogurt

juice and zest of one lemon

1

clove

of garlic

crushed or finely minced

1/2

teaspoon

kosher salt

1/4

teaspoon

freshly ground black pepper

2

Tablespoons

chopped fresh herbs I used a combination of parsley

rosemary, thyme, and sage, but use what you have on hand. Oregano is especially good, as well.)

1

Tablespoon

olive oil
Instructions
Combine all of the ingredients except the chicken in a zip top plastic storage bag, and squeeze it around until everything is well mixed.

Place the chicken in the bag and make sure that it is thoroughly coated. Seal the bag, and marinate in the refrigerator for at least 30 minutes, or up to 8-10 hours.

Preheat your grill on high heat.

Remove the chicken from the bag and wipe off some of the excess marinade.

Place the chicken on the grill, close the cover, and reduce to medium heat.

Grill on the first side for 3-4 minutes, then flip. Chicken should release easily form the grates when the first side is done.

Grill on the second side for another 3-4 minutes, or until chicken is cooked through.

Remove from the grill and serve.
Enjoy!
Here are some more great grilling recipes: