This post may contain affiliate links. Read my disclosure policy.
Want to make the juiciest grilled chicken breasts? This easy Grilled Lemon Herb Chicken is so moist and flavorful from a simple Greek yogurt chicken marinade. After it's marinated and cooked on the grill, you can use it for so many easy meal ideas, from salads to wraps to rice bowls and more!
The Juciest Grilled Chicken Breasts
Marinating the chicken in Greek yogurt with a bit of olive oil is the secret to keep it moist and juicy. And it helps infuse the flavor of whatever you add to the marinade. A handful of ingredients is all you need in this easy marinade.
I love to use lemon, garlic, and a handful of whatever herbs I have on hand. It can be odds and ends from fresh herbs you picked up at the grocery store for another recipe, whatever you have growing in your garden, or even dried herbs in a pinch.
The beauty of this recipe is that you can throw it in the marinade when you get home from work, and by the time you've changed and gotten your side dishes prepped, it's ready to toss on the grill. Or you can put your thawed OR even still frozen chicken breasts into a plastic bag with the Greek yogurt mixture in the morning, and pull them out to grill right when it's time to cook dinner.
So tasty and versatile! Fast enough for a weeknight meal with lots of fresh flavors, this simple grilled chicken recipe has one of my "back pocket meals" for many years.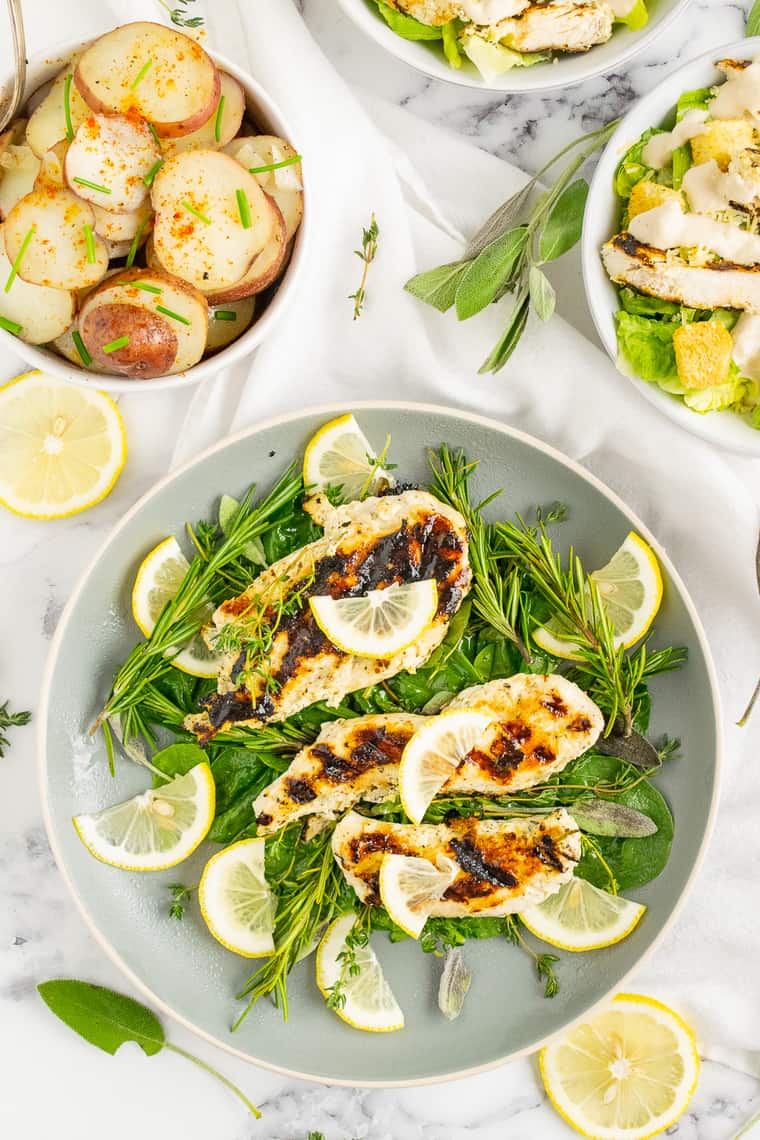 Greek Yogurt Chicken Marinade Ingredients
When I am grilling yogurt marinated chicken, I like to use thinly sliced chicken breasts so they cook quickly and stay moist. If you have larger or thick chicken breasts, either pound flat with a meat mallet or slice lengthwise to have two thick chicken breast halves.
The best part about this Greek yogurt chicken marinade is that you might already have the ingredients on hand. It works with whatever herbs you have! Here's what you'll need. The recipe card will give you the full quantities.
Plain Greek yogurt – you can use nonfat, low fat, or whole milk yogurt depending on whether you want to save calories and fat or are looking to make it keto-friendly.
Olive oil
Lemon – you'll need the juice AND zest from one lemon. You can even use another citrus like lemon or lime to change up the flavors.
Garlic
Fresh herbs – you can use any you have, such as parsley, oregano, rosemary, thyme, sage, etc. In a pinch, you can even use dried herbs.
Salt and pepper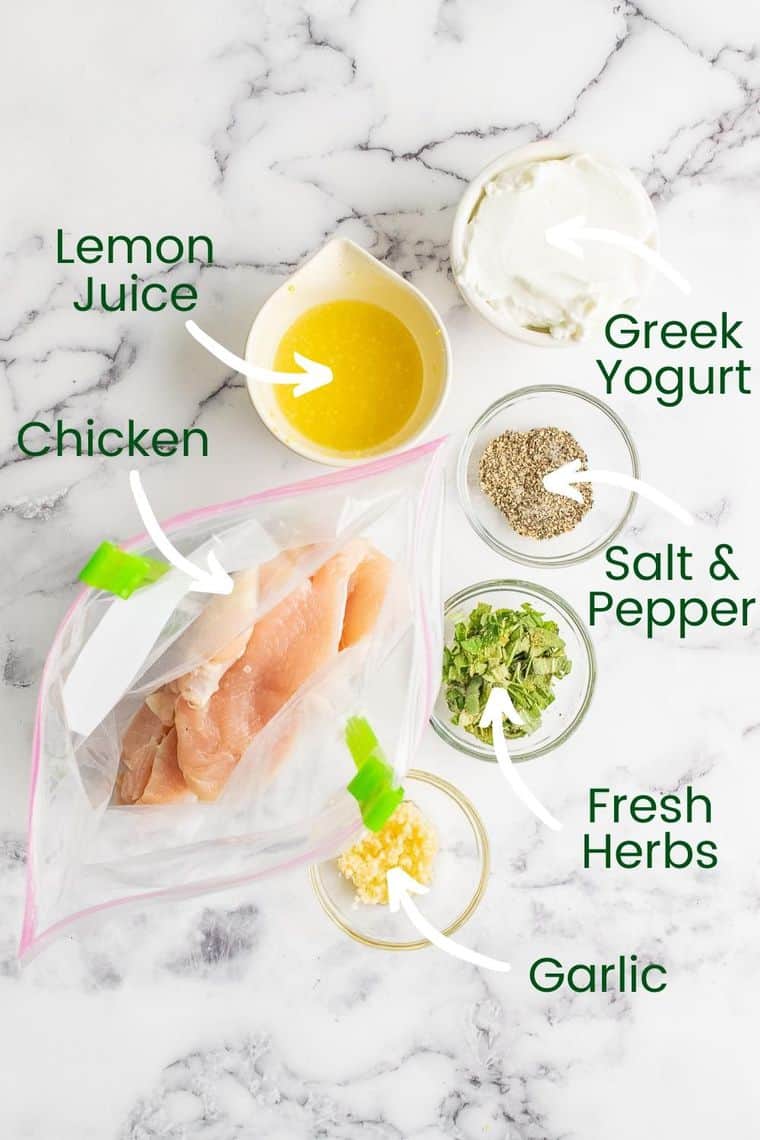 How to Make Yogurt Marinated Chicken
You are just a few steps away for the best grilled chicken ever thanks to the easy yogurt marinade. Here's all you need to do.
Marinate the Chicken. Add the chicken and the marinade ingredients to a plastic zip top bag. Add the chicken and squeeze everything around to make sure it is coated completely. Refrigerate for at least 30 minutes or up to 8-10 hours.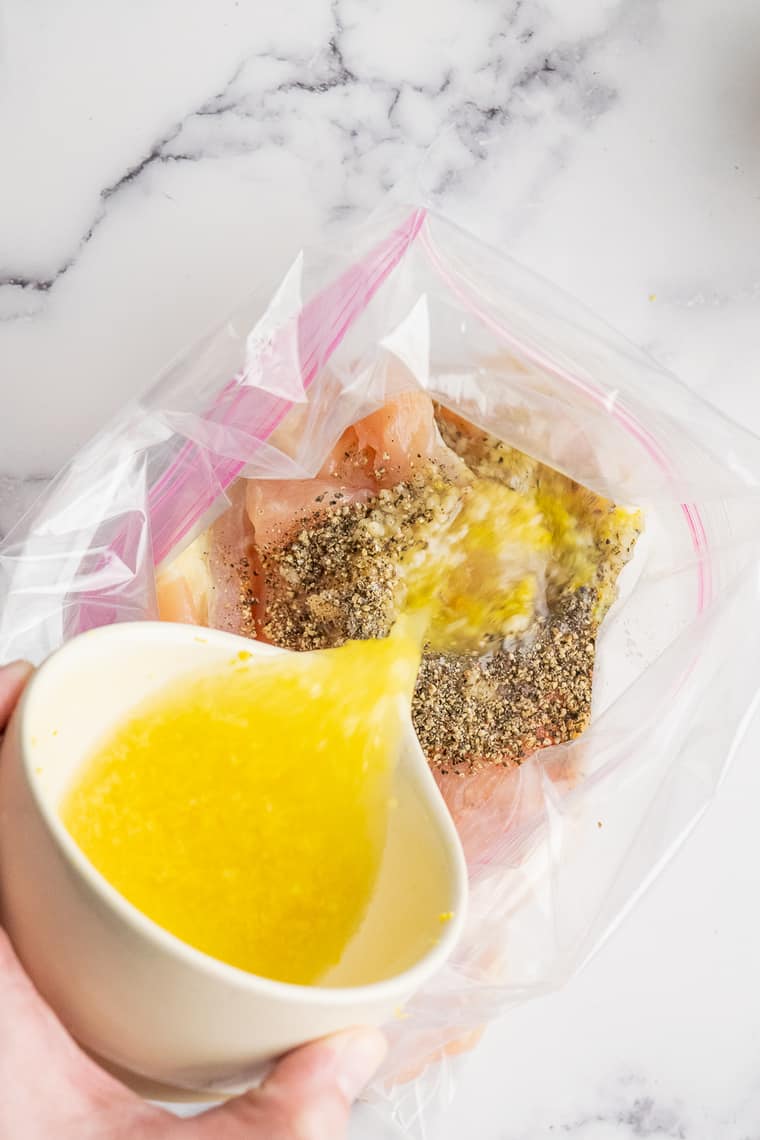 Grill the Chicken. Remove from the marinade and discard the ziploc bag. Wipe off the excess marinade. Grill over medium heat for 3-4 minutes per side, or until the internal temperature is 165°F and the juices run clear.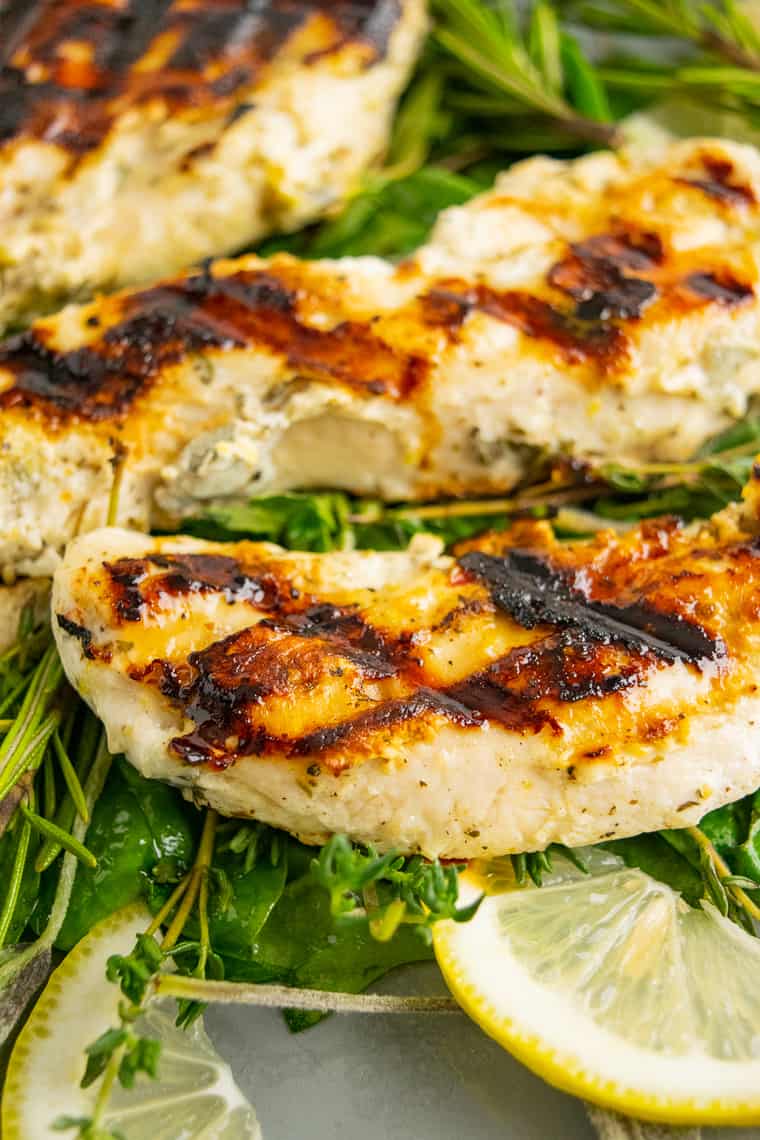 FAQs
What kind of chicken do you use?
I like to use thinly sliced chicken breasts so the flavor infuses completely and they cook quickly and stay juicy. You can pound larger chicken breasts with a meat mallet or slice in half lengthwise to create two thin breast pieces.
You could also use this marinade for thighs or even drumsticks and bake or grill like these Tandoori Chicken Drumsticks.
How long do you marinate chicken?
The minimum time is to marinate the chicken for 30 minutes to impart some of the flavor. But optimally you would marinate for at least several hours.
You can even put the chicken in the marinade the night before or first thing in the morning.
How do you know when grilled chicken is done?
White meat should be cooked to an internal temperature of 165°F and the juices should run clear.
For thin pieces, this will take 3-4 minutes per side. The chicken is ready to flip when it releases easily from the grill grates. Larger or thicker breasts will take longer, which is why I recommend an instant-read thermometer to avoid undercooking or overcooking the chicken.
Can I reuse the marinade?
No, for food safety reasons do not reuse yogurt marinade.
After the chicken is marinated, the leftover marinade can harbor bacteria. Once you cook the chicken thoroughly it is fine to eat. But trying to reuse any leftover marinade is not safe.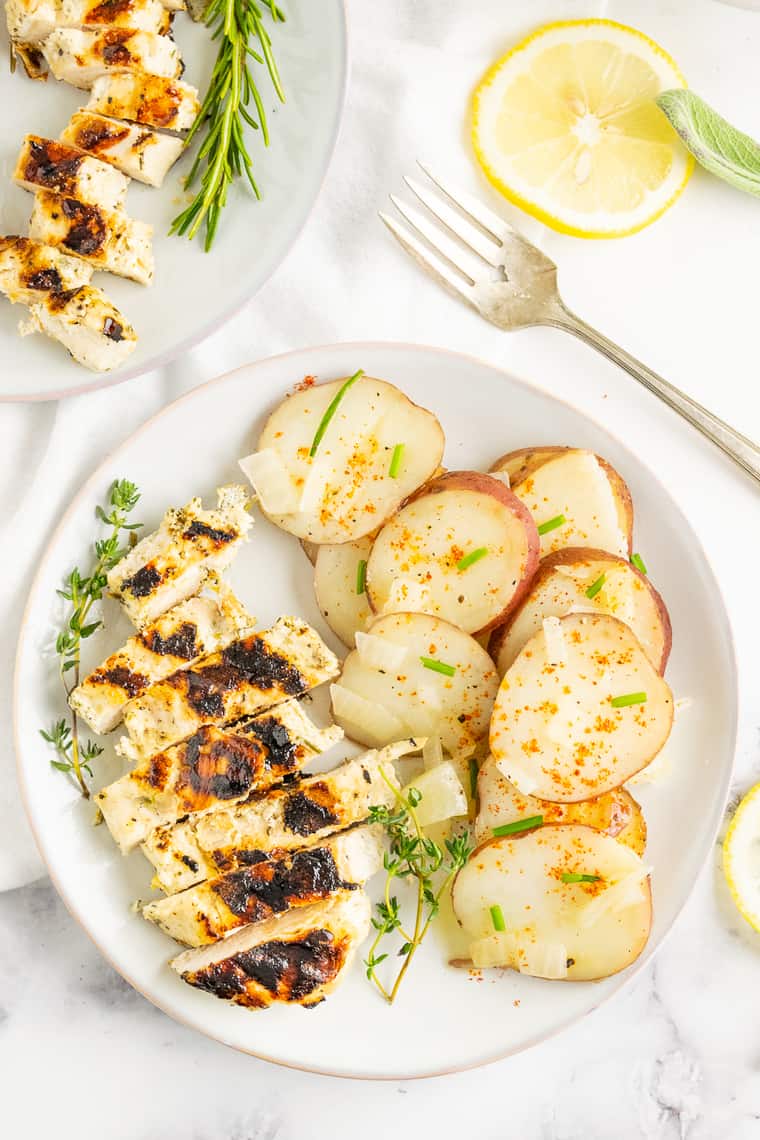 Storing Leftovers
Making extra grilled chicken is always a great idea because you can store the leftovers to use for other meals. Chop or shred it to make Tzatziki Chicken Salad. Or use it on top of a spinach salad for lunch.
Keep the chicken breasts whole or cut them into slices, then place them in an airtight container or plastic storage bags.
You can then refrigerate the chicken for up to 4 or 5 days. Cold chicken is great to put on a salad for lunch or to make chicken salad. Or you can warm it up in a skillet or the microwave.
Or you can freeze it for up to 2 or 3 months. Technically it is safe to eat even if you store it longer than that, but it can start to dry out or get freezer burn. Let it thaw in the refrigerator overnight before using it.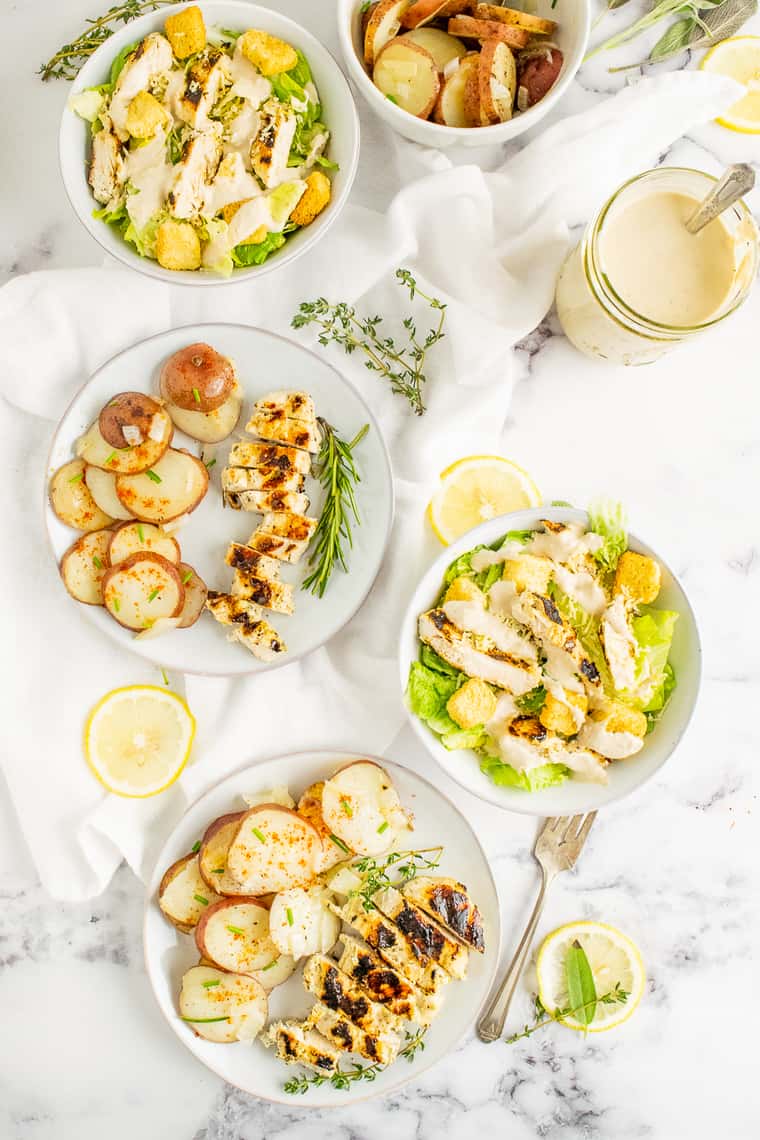 Make it a meal
There are so many ways to use these yogurt marinated chicken breasts. Here are some of my favorites: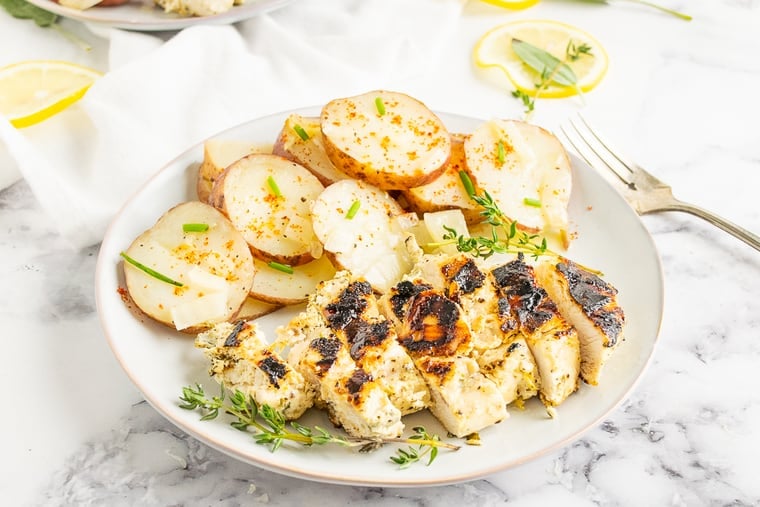 Things You'll Need
Last updated on Dec 7, 2023 6:16 am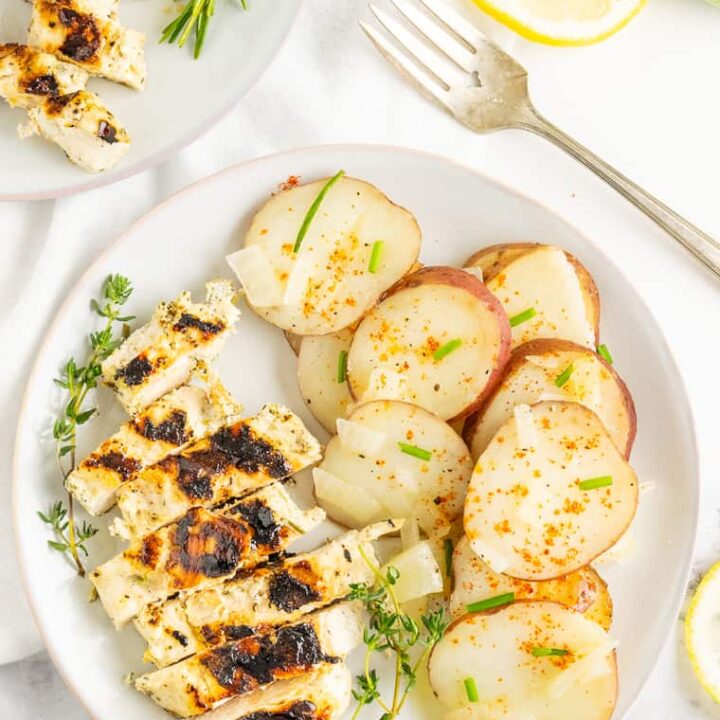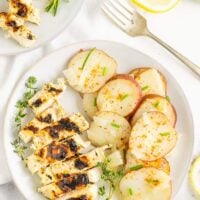 Grilled Lemon Herb Yogurt Marinated Chicken Breasts
Soaking chicken breasts in a Greek yogurt marinade before grilling keeps them moist and juicy, while infusing them with a ton of fresh flavor.
Ingredients
1-1/2

pounds

thinly sliced chicken breasts

or chicken breasts that have been pounded flat with a meat mallet

1/2

cup

plain Greek yogurt

1

Tablespoon

olive oil

juice and zest of one lemon

1

clove

garlic,

crushed or finely minced

2

Tablespoons

chopped fresh herbs

(any combination of parsley, rosemary, thyme, sage, oregano, or whatever you have on hand. In a pinch, 2 teaspoons of dried herbs can be substituted.)

1/2

teaspoon

kosher salt

1/4

teaspoon

freshly ground black pepper
Instructions
Add the chicken to a zip top plastic storage bag, and add all of the remaining marinade ingredients. Squeeze it around until everything is well mixed and the chicken is thoroughly coated.

Seal the bag, and marinate in the refrigerator for at least 30 minutes, or up to 8-10 hours.

Preheat your grill on high heat.

Remove the chicken from the bag and wipe off some of the excess marinade. Discard the marinade.

Place the chicken on the grill, close the cover, and reduce to medium heat.

Grill on the first side for 3-4 minutes, then flip. Chicken should release easily form the grates when the first side is done.

Grill on the second side for another 3-4 minutes, or until chicken is cooked through. It should reach 165°F on an instant-read thermometer and the juices should run clear.

Remove from the grill and serve.
Nutrition Facts
Grilled Lemon Herb Yogurt Marinated Chicken Breasts
Amount Per Serving
Calories 248
Calories from Fat 72
% Daily Value*
Fat 8g12%
Cholesterol 111mg37%
Sodium 501mg21%
Potassium 640mg18%
Carbohydrates 2g1%
Protein 39g78%
Vitamin A 236IU5%
Vitamin C 5mg6%
Calcium 44mg4%
Iron 1mg6%
* Percent Daily Values are based on a 2000 calorie diet.
Categories:
More grilled chicken recipes