This post may contain affiliate links. Read my disclosure policy.
This sweet and sticky Asian Grilled Chicken is the best grilled chicken recipe! Made with tender chicken breasts marinated in a garlicky honey-lime Asian chicken marinade, cooked quickly and easily on the grill. You'll want this mouthwatering chicken recipe at all your summer cookouts! Plus it's easy to make gluten free!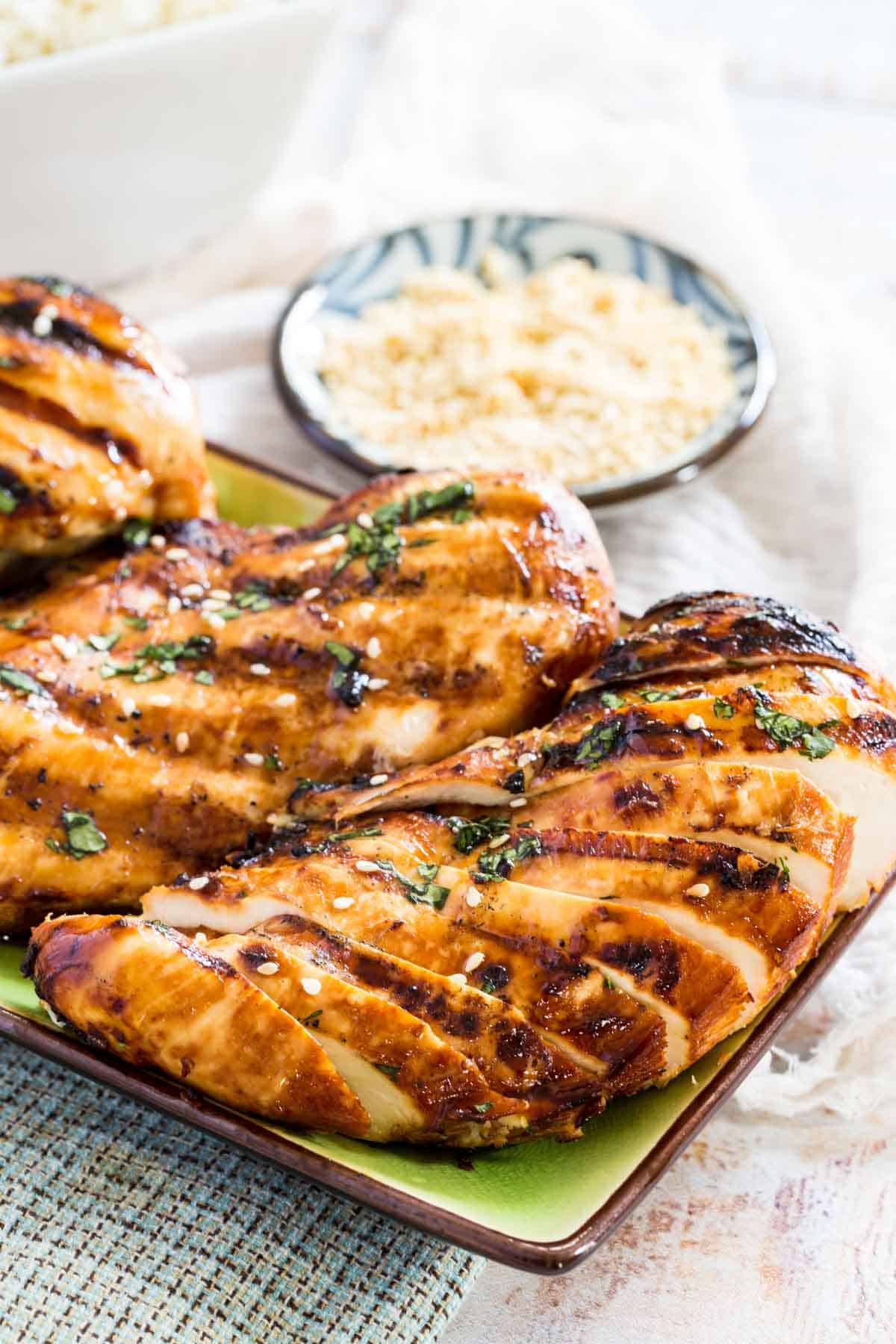 Sticky Asian Grilled Chicken Breasts
Grilling season is around the corner, and we are ready. I can't wait to crack out old favorites like my Lemon Herb Grilled Chicken Breasts and these Orange Saffron Grilled Chicken Legs as the weather gets warm. There's nothing more satisfying than a flavor-packed grilled chicken marinade in the summertime.
Speaking of flavor-packed, this year I'm bringing out a new favorite: this zesty, sweet-and-sticky Asian grilled chicken. This chicken breast recipe is so easy, with layers of irresistible Asian-inspired flavor.
I make this recipe with juicy whole chicken breasts prepared in an Asian-style grilled chicken marinade with garlic, ginger, honey, and lime. The chicken cooks up perfectly on a hot grill in minutes, and it's super versatile. Serve this Asian grilled chicken as a main with a side of rice or noodles, or slice it up to enjoy in salads or rice bowls.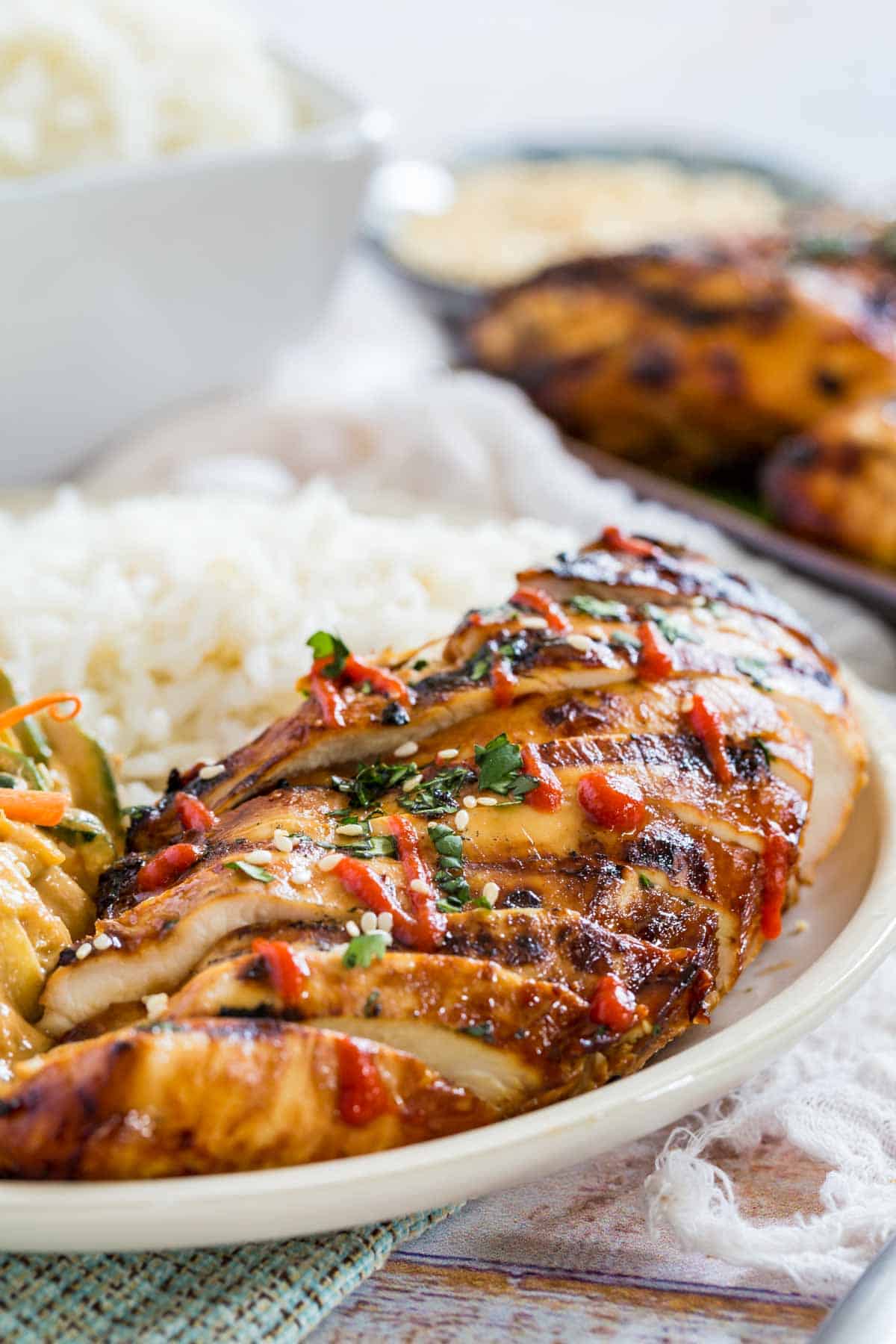 What You'll Need
Below is the easy list of ingredients needed to make this flavor-loaded Asian grilled chicken. Be sure to refer to the recipe card for the full recipe details.
Chicken Breasts: You'll need about 3-4 boneless, skinless chicken breasts. Thighs will also work.
Soy Sauce: Many brands of soy sauce are not gluten-free (see below). Make sure to use gluten-free soy sauce or tamari.
Olive Oil: Use a good quality extra virgin olive oil or another oil with a high smoke point, like sesame oil (not the toasted kind).
Lime Juice: Skip the bottled lime juice and use freshly squeezed lime.
Honey: Honey brings natural sweetness to the chicken marinade and compliments the Asian flavors beautifully. Another option is to use maple syrup or brown sugar.
Ginger: Fresh-grated ginger is best, but ginger powder also works in a pinch.
Garlic: I minced one whole garlic clove, but you can use more or less to taste.
Optional Garnish: Sprinkle the finished chicken with sesame seeds, cilantro, or green onions, or drizzle with sriracha or Gluten Free Teriyaki Sauce.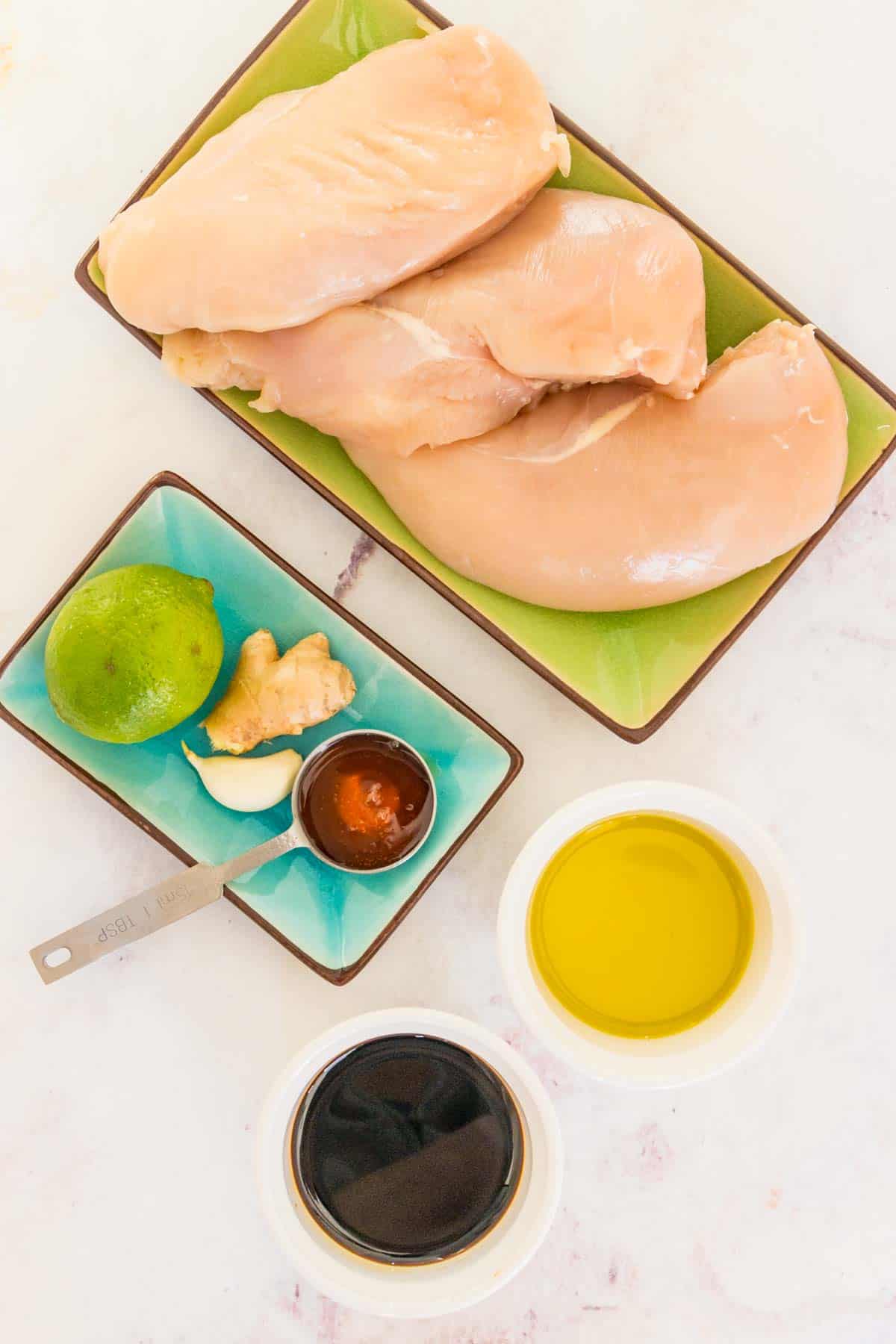 Is Soy Sauce Gluten Free?
I go in-depth in my resource post Is Soy Sauce Gluten Free? But no, not all soy sauce is gluten-free. In fact, most traditional soy sauces are made from soybeans and wheat, making them unsafe for gluten-free diets. Make that you're using either gluten-free soy sauce or a gluten-free alternative like tamari or coconut aminos.
How to Cook Asian Chicken on the Grill
Let's grill some unbelievably tasty, sticky-sweet Asian marinated chicken! Here's how easy it is to make:
Marinade the Chicken: Combine the chicken breasts in a resealable bag along with the soy sauce, olive oil, lime juice, honey, ginger, and garlic for the marinade. Thoroughly coat the chicken and then seal the bag airtight and place it into the fridge to marinate for 30 minutes. I always place the bag into a dish in case it leaks.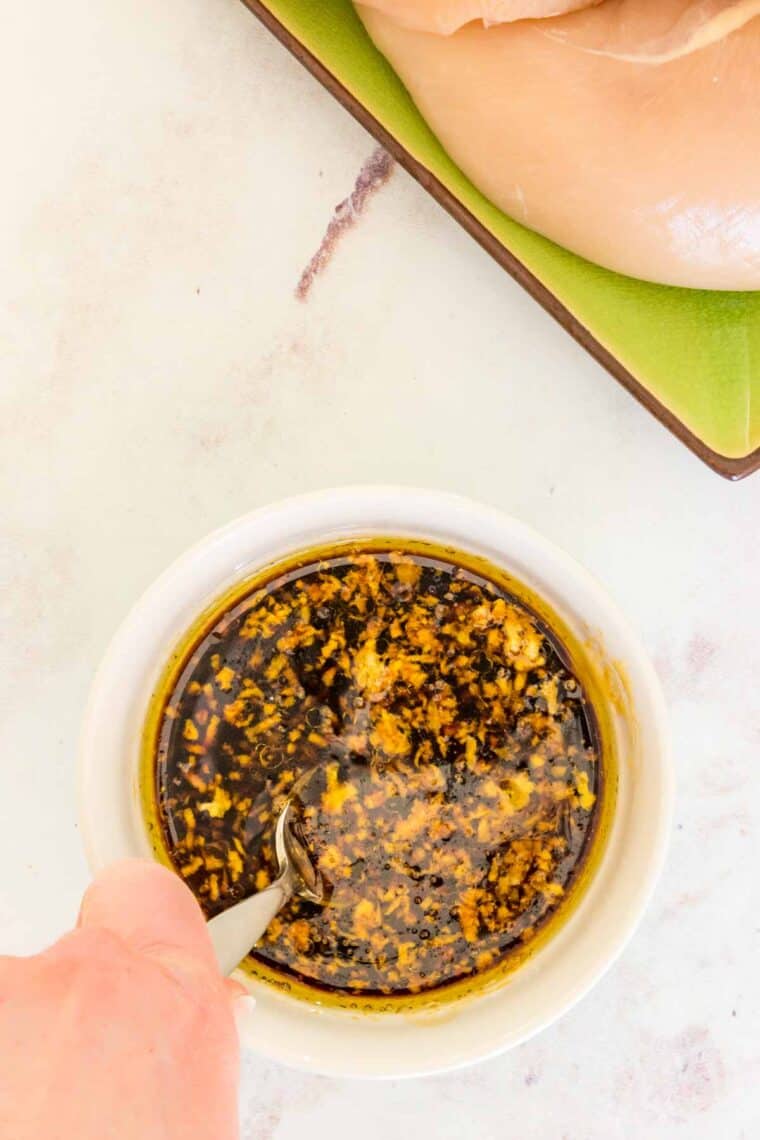 Grill: While your chicken marinates, preheat the grill. Afterward, take the chicken out and discard the marinade. Place the chicken breasts onto the hot grill, then cover and cook for 4-6 minutes per side.
Rest: When your chicken is cooked through, take it off the grill and place it on a plate or cutting board to rest for a few minutes before slicing. Resting lets the juices redistribute, resulting in ultra-juicy chicken. Don't skip it! After, your Asian grilled chicken is ready for serving. See below for easy ways to use this zesty chicken in all kinds of meals.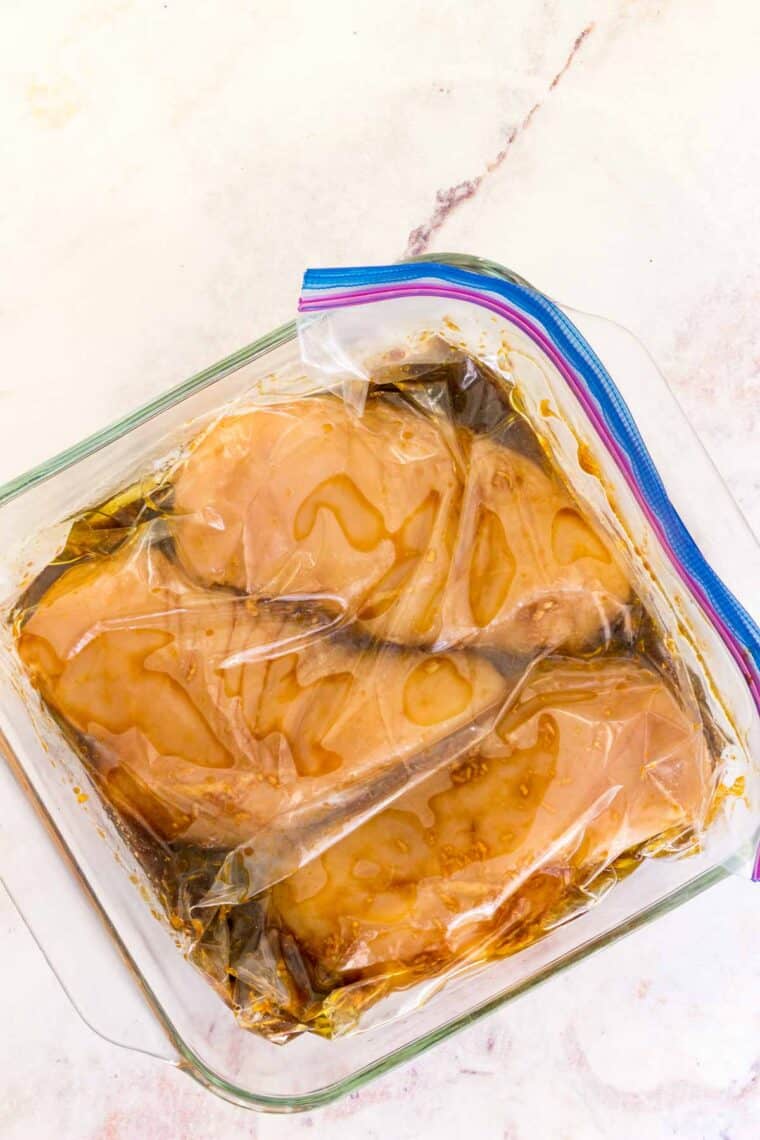 Can I Make This In the Oven Instead?
Absolutely. If you'd like to make baked Asian chicken instead, follow the recipe and marinate as directed. Place the marinated chicken onto a parchment-lined baking sheet and bake at 375°F for 25-35 minutes, until the internal temperature reaches 165ºF. Remember to rest the chicken for 5-10 minutes afterward.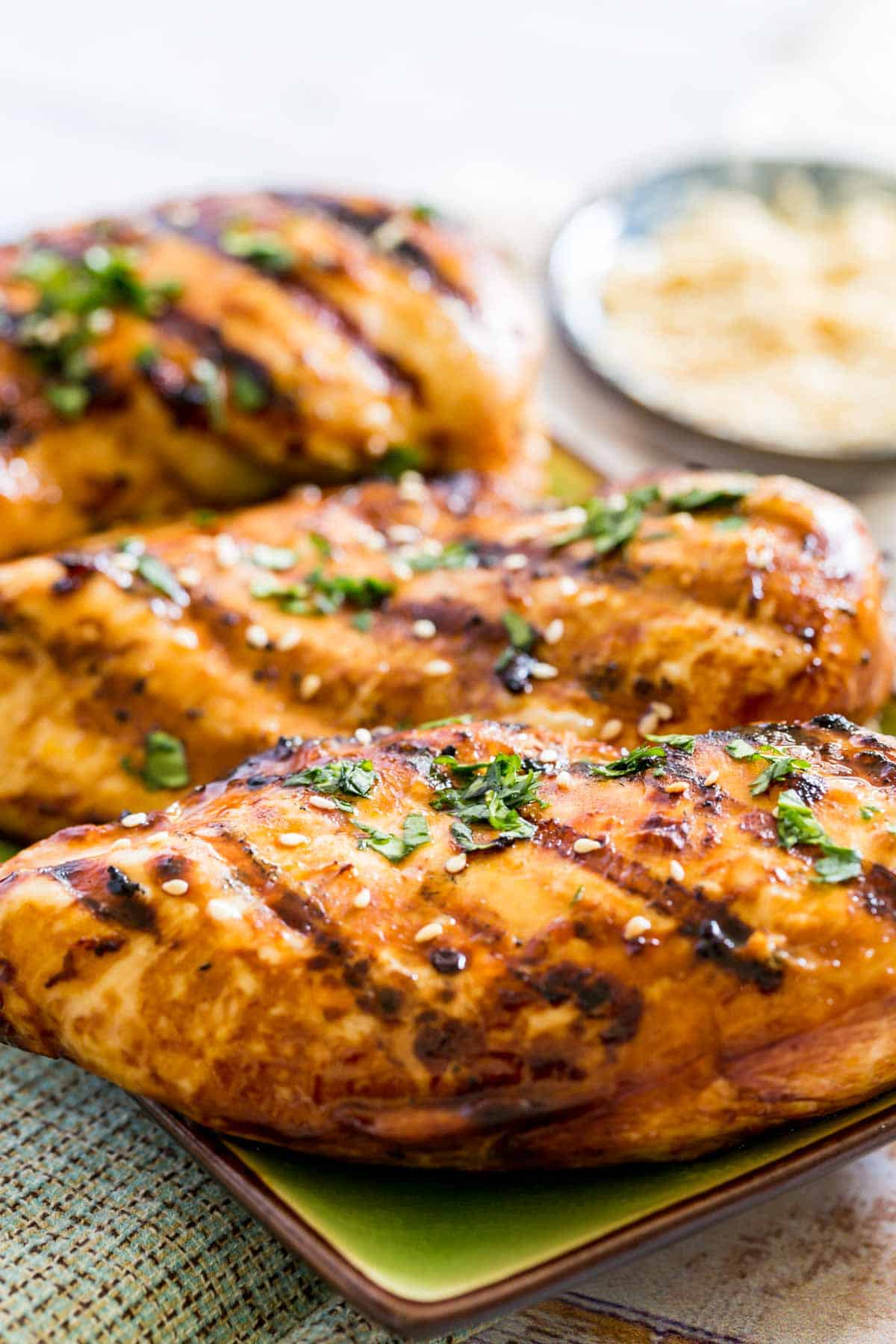 Recipe Tips and Variations
I love how simple and delicious this grilled Asian chicken is. It really doesn't require a lot of effort to come out amazing! Here are some final tips and suggestions on how to make this recipe to your tastes:
How to tell when grilled chicken is done: The easiest way to tell is to take the temperature at the thickest part of the chicken breast using an instant-read thermometer. Your Asian chicken is ready to come off the grill when the internal temperature reaches 165°F.
The chicken should release easily from the grill grates when it is ready to flip. This takes about 4-6 minutes per side depending on the size of your chicken breasts (thinner breasts will cook faster).
Discard any leftover chicken marinade. The leftover marinade can harbor dangerous bacteria, so for food safety reasons, don't reuse it.
Make it spicy and add crushed chili flakes or minced fresh chilies to the marinade.
Serve with sauce. Try this chicken with a drizzle of Gluten Free Teriyaki Sauce, Thai Peanut Sauce, or homemade Bang Bang Sauce for even more flavor.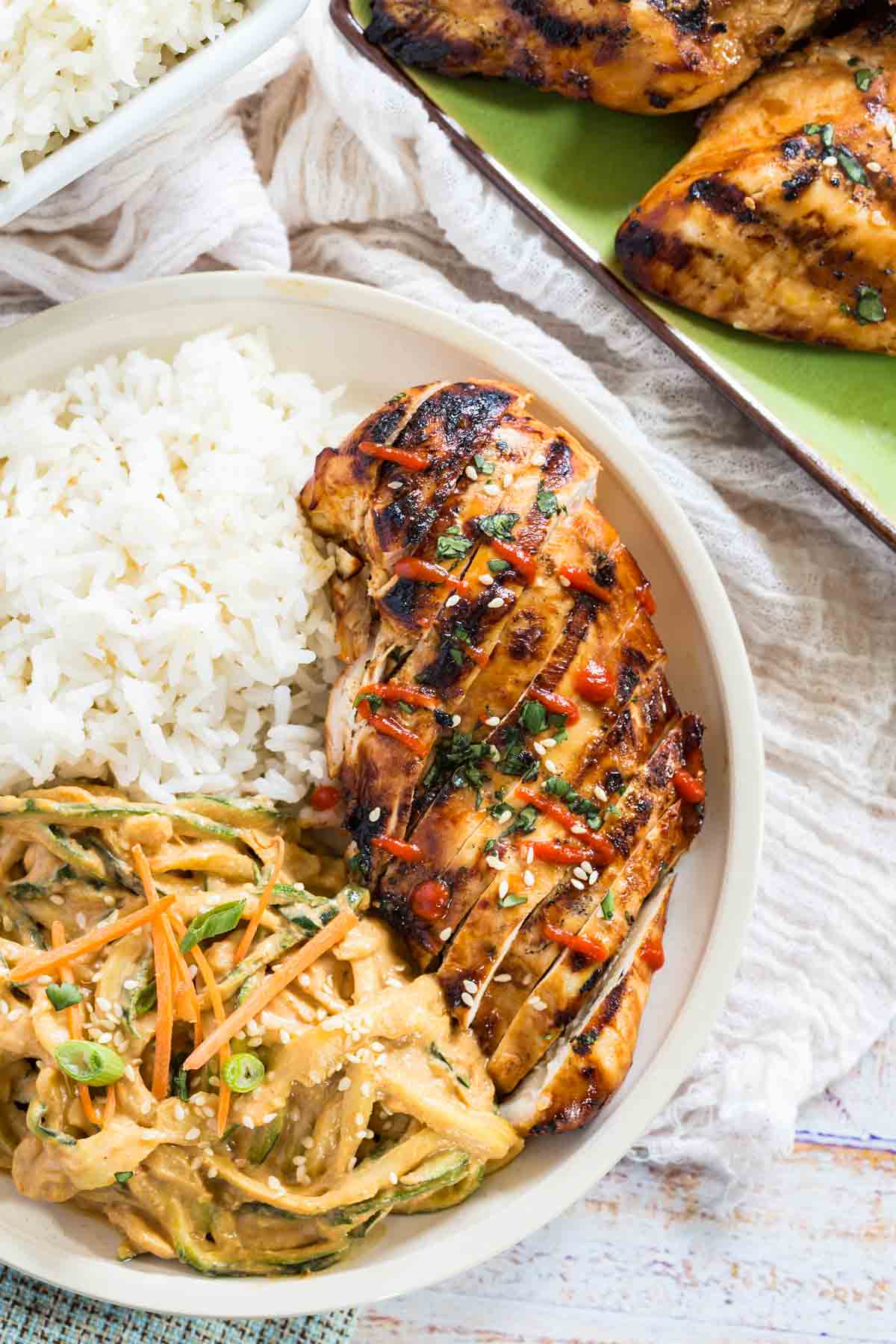 Make It a Meal
Serve grilled Asian chicken with a side of White Rice and Air Fryer Broccoli or Bang Bang Cauliflower. If rice isn't your thing, dish up over Spicy Sesame Noodles (or try Sesame Zoodles for a low-carb meal). These Shrimp Rice Paper Rolls also make a great starter or side dish in warmer weather.
Make an easy Asian chicken salad and serve warm, flavorful chicken chopped up over fresh greens, or use it to replace the meatballs in a Vietnamese-style Banh Mi Salad. This chicken is also perfect for meal prep. Add it as protein in easy Asian-inspired Rice Bowls or Buddha Bowls for quick, flavor-filled lunches!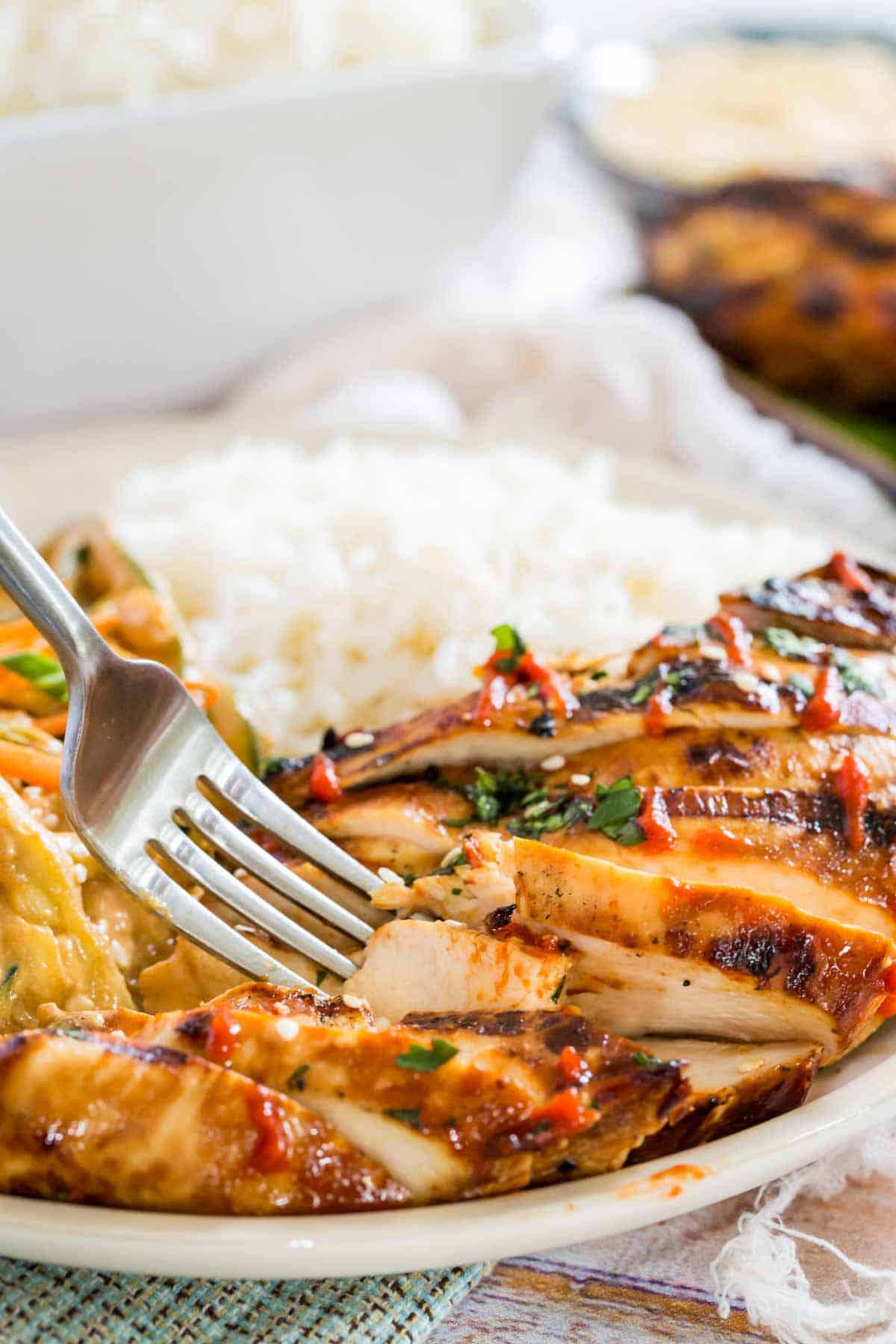 Storing and Reheating Leftover Chicken
I love grilling enough of this juicy Asian chicken to have leftovers. Cooked chicken breasts are great to slice up and serve cold in salads or chicken wraps, or you can reheat them. Store your leftover grilled chicken airtight in the fridge for up to 3-4 days. Reheat the chicken in the microwave or on the stovetop.
Can I Freeze Asian Grilled Chicken?
Yes, this grilled chicken recipe stays fresh when frozen for up to 2-3 months. Store the cooked chicken airtight, and defrost it in the fridge before reheating.
Things You'll Need
While gluten free soy sauce is essential if you want to make gluten free Asian chicken, a few other tools will help make this recipe even easier than it already is.
HANDHELD JUICER – Fresh lime juice has the best flavor, and this tool ensures you get every bit of that juice.
GARLIC PRESS – Avoid large chunks of garlic in your marinade, extract the most flavor into the chicken, and keep that garlicky smell off of your fingers.
INSTANT READ THERMOMETER – Ensures you cook the chicken to juicy perfection without drying it out.
Last updated on September 29, 2023 4:16 pm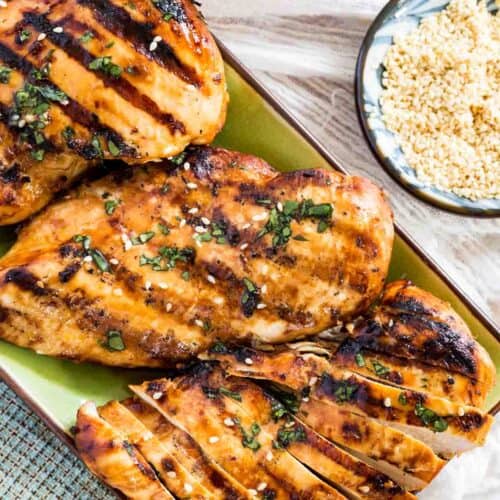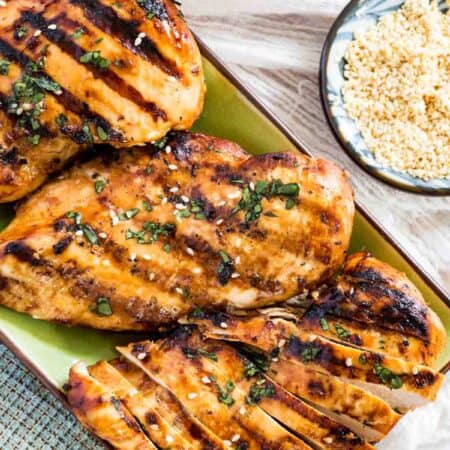 Asian Grilled Chicken
Sweet and sticky Asian Grilled Chicken is seasoned with a garlicky honey lime chicken marinade and cooked quickly and easily on the grill. It's the perfect flavorful chicken recipe for summer cookouts!
Ingredients
Optional garnish:
Toasted sesame seeds

Cilantro

Scallions
Instructions
Add the chicken to a zip-top plastic storage bag.

Stir the soy sauce, olive oil, lime juice, honey, ginger, and garlic together in a small bowl and pour it over the chicken in the storage bag.

Press the air out of the bag and seal it tightly. Make sure the chicken is fully coated with the marinade and place the bag in a dish just in case it leaks.

Marinate in the refrigerator for at least 30 minutes, or up to 8-10 hours.

Preheat your grill on high heat.

Remove the chicken from the bag and discard the marinade.

Place the chicken on the grill, close the cover, and reduce to medium heat.

Grill on the first side for 4-6 minutes, then flip. Chicken should release easily from the grates when the first side is done.

Grill on the second side for another 4-6 minutes, or until the chicken is cooked through. It should reach 165°F on an instant-read thermometer and the juices should run clear.

Remove from the grill and let it rest for 5 minutes for slicing and serving.
Nutrition Facts
Asian Grilled Chicken
Amount Per Serving
Calories 285
Calories from Fat 99
% Daily Value*
Fat 11g17%
Cholesterol 109mg36%
Sodium 1008mg42%
Potassium 682mg19%
Carbohydrates 6g2%
Protein 38g76%
Vitamin A 55IU1%
Vitamin C 5mg6%
Calcium 14mg1%
Iron 1mg6%
* Percent Daily Values are based on a 2000 calorie diet.
Categories:
More Easy Grilling Recipes