Grilled Greek Beef Kabobs (aka Souvlaki)
Disclosure: This post may contain affiliate links. Cupcakes & Kale Chips is a participant in the Amazon Services LLC Associates Program, an affiliate advertising program designed to provide a means for us to earn fees by linking to Amazon.com and affiliated sites.
Make Greek Beef Kabobs on the grill for a trip to Greece without going any further than your own backyard! Just thread steak and vegetables on skewers and the easy marinade might make this kabob recipe even better than your favorite Mediterranean restaurant.
And with this basic recipe, you can customize your meal to be gluten free, low carb, or paleo based on your choice of side dishes. Serve the beef skewers with rice or cauliflower rice, or alongside a Greek salad. Slide them off into pita for beef souvlaki. And have some hummus or tzatziki for dipping or drizzling. It's definitely one of my favorite grilling recipes!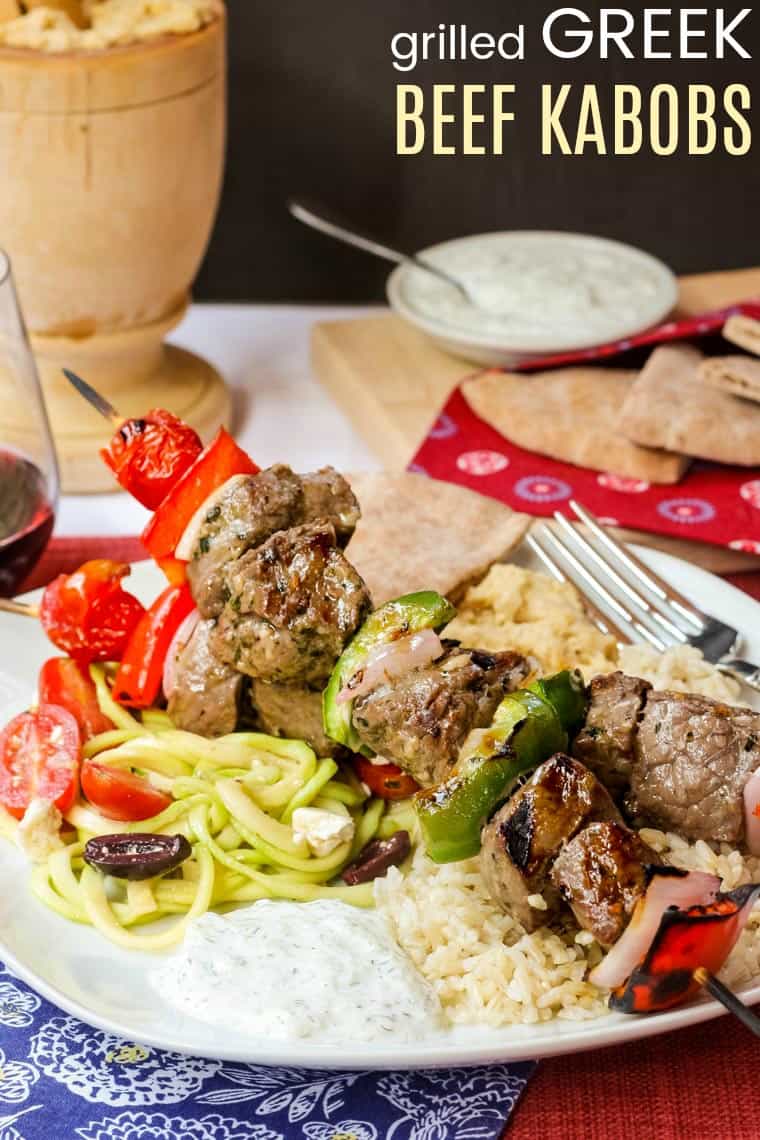 Originally published on Aug 3, 2014
Kabobs, kebabs, skewers – what ever you want to call them, we truly have a love/hate relationship. Meat, veggies, lots of flavor from a spectacular marinade, grilled to perfection – what's not to love? So flavorful, so fun! Yeah, except when you are slightly obsessive with these types of things like I am.
You see, my meticulous nature requires that I have each skewer absolutely identical, with the exact same number and pattern of meat and vegetable pieces. So I cut and count and sort little piles of the individual components. Then I carefully plan the order that I will thread them on the skewers, then painstakingly assemble my beef kabobs. Essentially this dinner takes all afternoon for me to prepare.
What does this mean? Well, beef kabobs pretty much never happen, unless The Hubby steps up. Or perhaps I should say he intervenes to protect me from my own perfectionism.
But there are so many cuts and ways of preparing beef that we have plenty of other options. So we are never short on beef dinners around here. But just this once, for all of you, I put my big girl pants on and made beef kabobs, also known as souvlaki!
But you may be wondering a few things…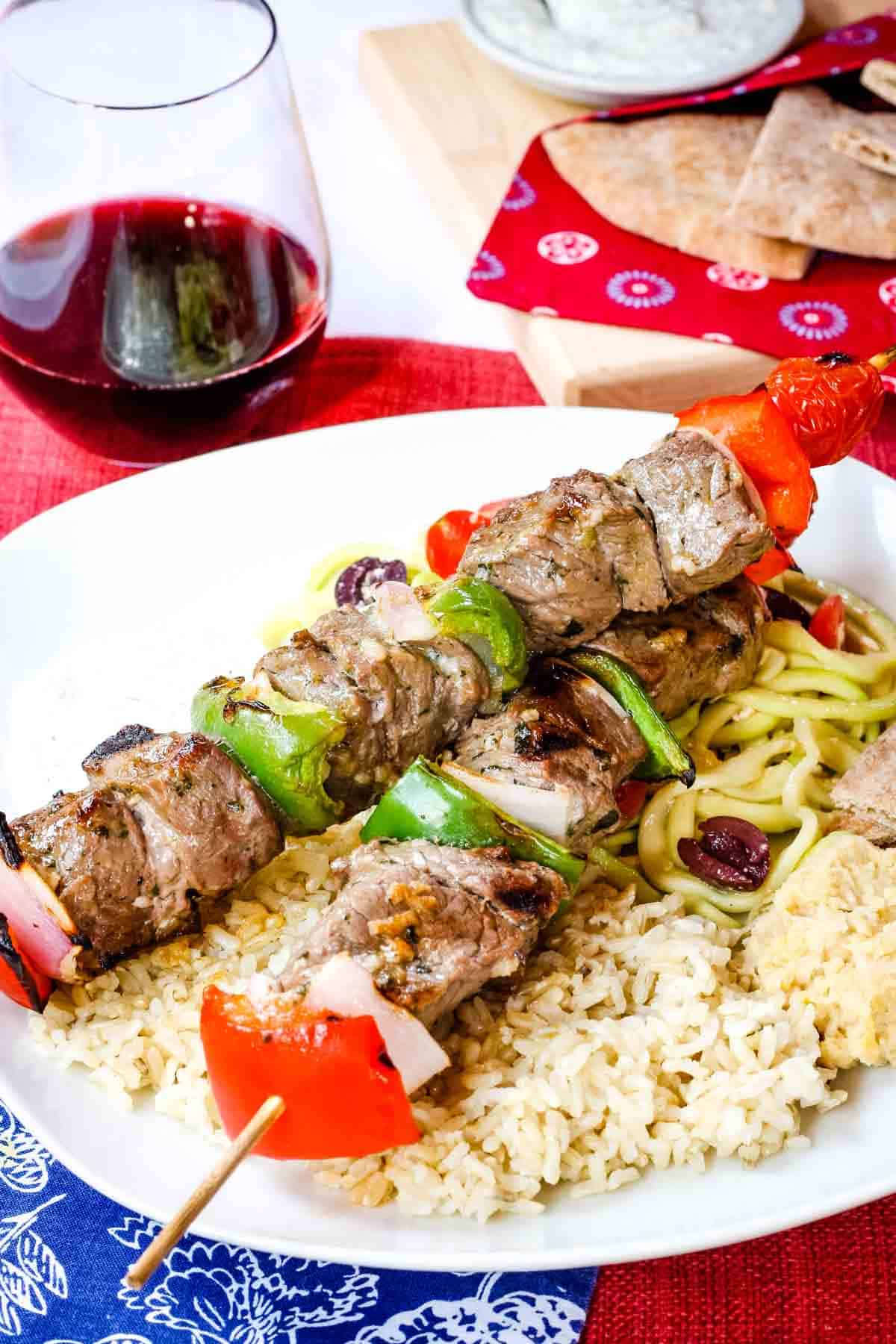 Grilled Beef Kabobs with a Greek Marinade
In this recipe, I start with a simple marinade, which I used previously in this Chicken Souvlaki Dinner inspired by Noshing with the Nolands. It simply consists of:
Olive oil
Lemon juice
Garlic
Fresh oregano
Salt and pepper.
After marinate for 2-4 hours, it imparts so much flavor to the meat.
What is the best beef for kabobs?
Some people would say that filet mignon is the best choice for beef kabobs. When cut into small pieces and grilled, it stays tender. However, filet, along with similar options like porterhouse and ribeye, can be quite pricy. But since these skewers are soaked in a marinade for several hours, the lemon juice will break down the meat an tenderize it quite nicely. That allows you to go with a more affordable option and leaner option like a beef top round.
You'll just cut the meat into 1 1/4 inch cubes and pour the marinade over it. Place everything in the refrigerator for a few hours. In the meantime, you can cut your onions and peppers into pieces about the same size as the beef and prepare tzatziki, if desired.
Do you have to soak kabob sticks?
Don't forget, if you are using wooden or bamboo skewers, you'll need to soak them in water for at least 30 minutes to keep them from burning. Better yet, plan ahead and soak them overnight.
If you don't want to worry about this step, you can always invest in metal skewers. I actually like these flexible skewers because you can twist them into a circle and connect the ends so that nothing falls off into the grill.
How do you grill kabobs?
After your meat has marinated, thread it onto the skewers, alternating with onions and peppers.
Preheat your grill to medium-high heat.
Place the skewers over direct heat and reduce to medium.
Grill for 4-5 minutes, then flip and grill for another 4-5 minutes.
Remove from the grill and serve as desired.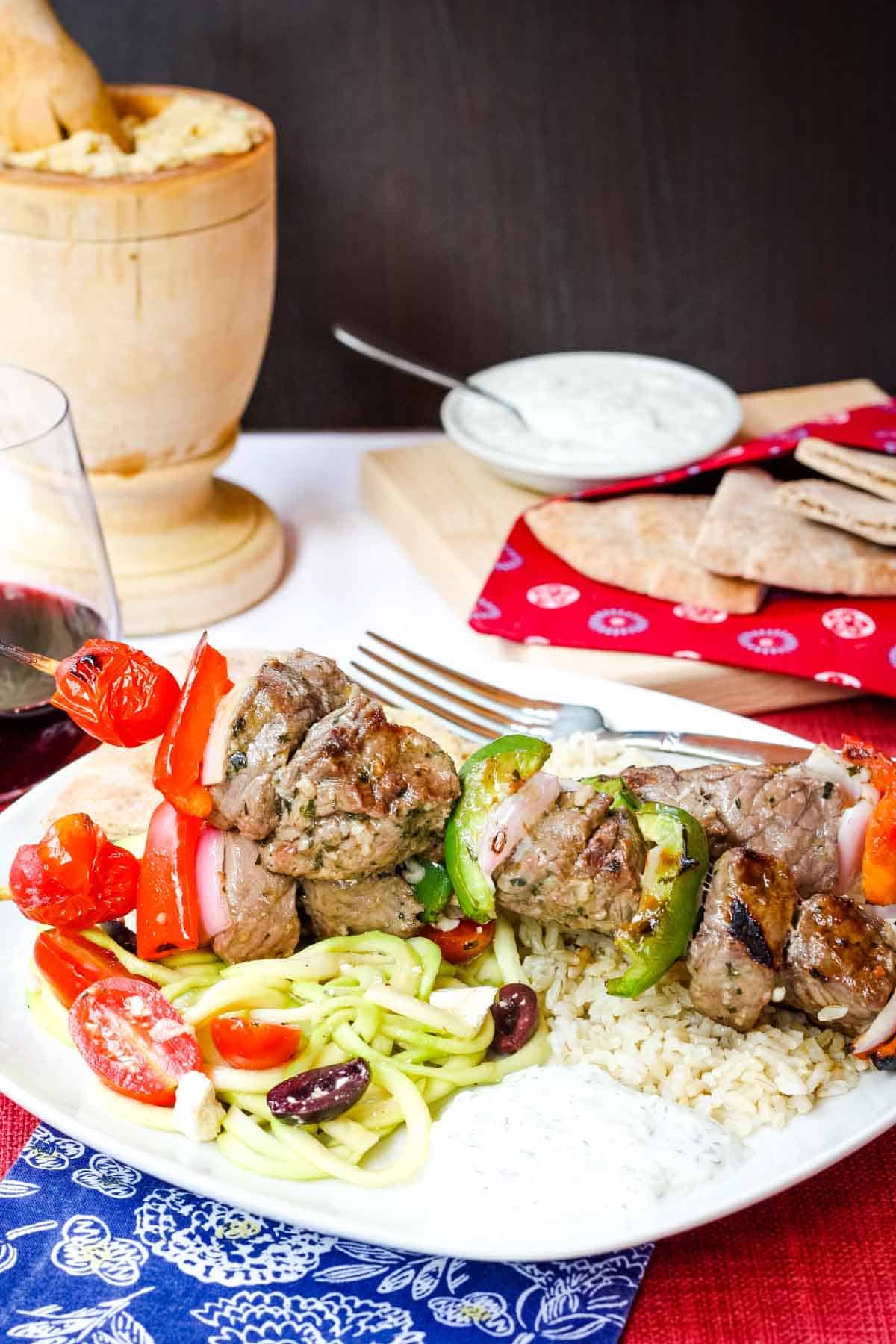 Are souvlaki and beef kabobs the same thing?
These two dishes are essentially the same, with one small exception. They both feature skewers of grilled beef and vegetables, but beef kabobs are typically served on the skewers while Souvlaki is often served in pita bread. So that gives you some serving options.
What can I serve with Greek Beef Kabobs?
Then enjoy a total Mediterranean feast!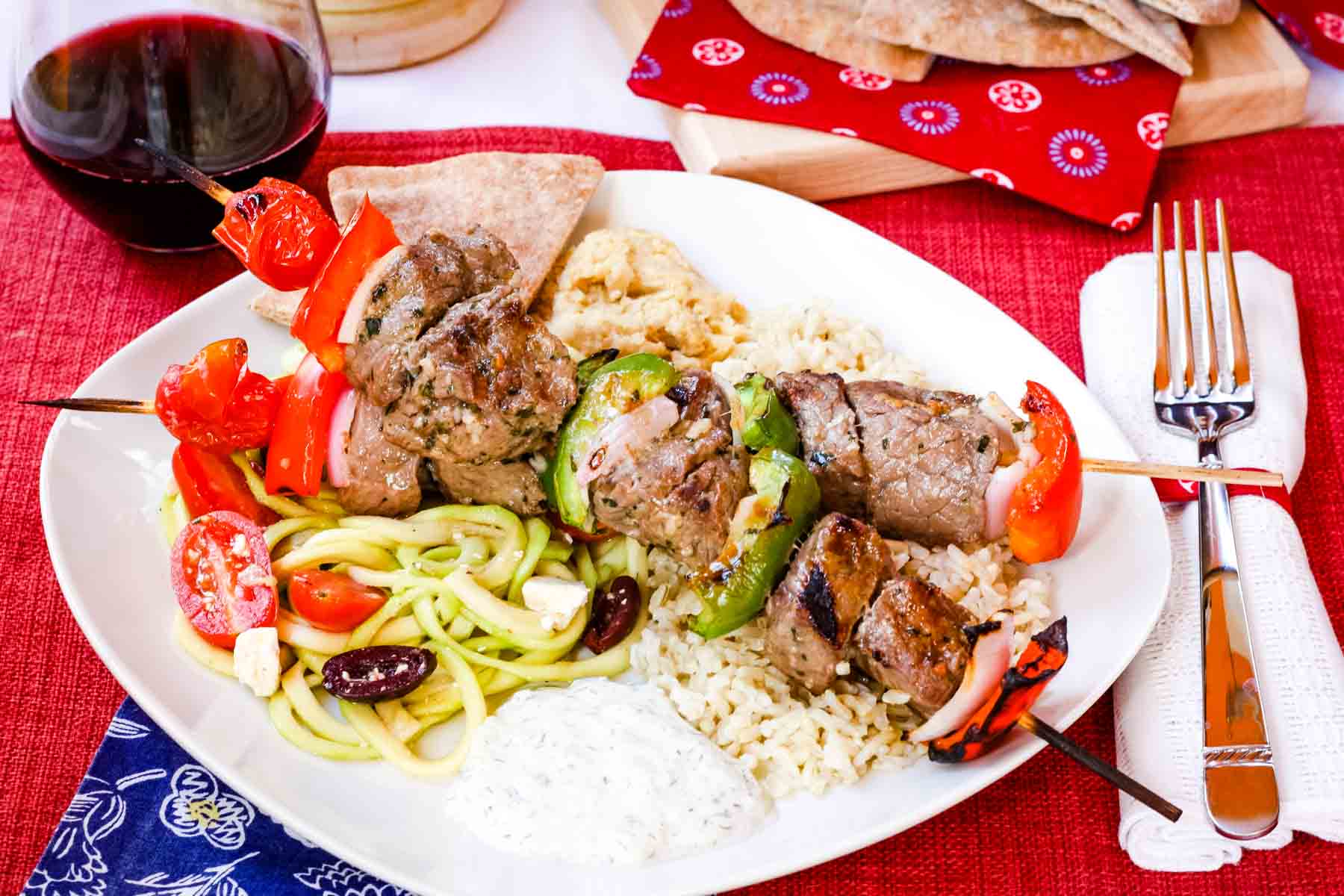 For more yumminess from me and my foodie friends, keep up with me on…
Or sign up to have Cupcakes & Kale Chips delivered straight to your Inbox!
What are some other grilled beef recipes?
Greek Beef Kabobs Recipe
The grilling season is a great reason to make delicious skewers of grilled meat and veggies for a Mediterranean feast of beef kabobs. This recipe is super easy, and while it has to marinate for a few hours you can prepare it ahead, then grill it in no time. Then pair it with your favorite sizes like rice or pita or salad, and a dip like hummus or tzatziki for a Grek meal the whole family will enjoy.
I hope you'll leave a comment and give the recipe a FIVE STAR rating. And share a photo of it on this pin, over on Pinterest!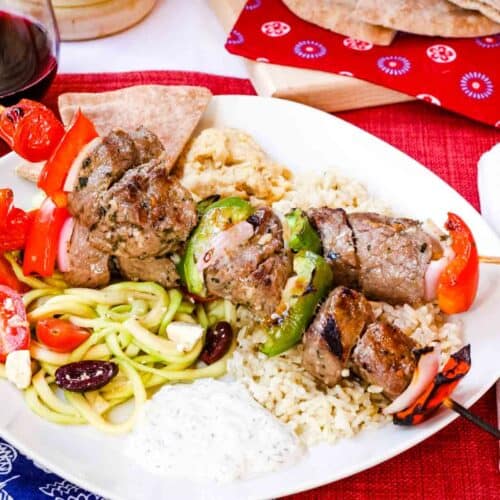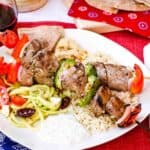 Print Recipe
Greek Beef Kabobs (aka Greek Souvlaki)
Travel to Greece without going any further than the grill in your backyard.
Ingredients
For the kabobs:
2-2.5

lbs.

beef top round

cut into 1 ¼ inch cubes

1/4

cup

olive oil

1/4

cup

fresh lemon juice

2

garlic cloves,

minced

2

Tablespoons

fresh oregano,

minced

1 1/2

teaspoons

Kosher salt

Freshly ground pepper

A mixture of peppers,

onions, tomatoes, or whatever vegetable you prefer cut into chunks (I used one red pepper, one green pepper, 2 peppers, half large red onion, about 8 grape tomatoes)

Tzatziki for dipping

if desired (use the recipe below or your favorite)

Pita,

hummus, rice, Greek salad (like this Zucchini Noodles Greek Salad) etc. for serving
For the tzatziki:
1

medium cucumber,

peeled and finely shredded

1

cup

plain Greek yogurt

1

clove

garlic,

crushed

1/2

teaspoon

Kosher salt

2

teaspoons

dried dill

1

Tablespoon

fresh lemon juice
Instructions
For the kabobs:
Place the beef cubes in a large plastic storage bag or shallow pan.

Combine the olive oil, lemon juice, garlic, oregano, salt and pepper in a small bowl and pour over the beef.

Seal the bag, pressing out any extra air, or cover the dish and marinate the beef for 2-4 hours, turning once or twice.

Thread the beef cubes and vegetables onto skewers (see Note).

Preheat your grill to medium high heat.

Place the skewers on the grill, reduce to medium, and grill over direct medium heat for 8-10 minutes, turning once.

Serve with tzatziki, hummus, pitas, rice, etc., as desired.
For the tzatziki:
Combine all of the ingredients in a bowl and stir until thoroughly combined.

If possible, let sit in the refrigerator for at least 30 minutes to allow flavors to develop.
Notes
If you are using wood/bamboo skewers, be sure to soak them in water for at least 30 minutes to keep them from burning.
Enjoy!