This post may contain affiliate links. Read my disclosure policy.
This flavor-packed Honey Balsamic Marinated Flat Iron Steak recipe is an easy way to take your dinner on the grill to the next level. A simple five-ingredient balsamic vinegar marinade gives this grilled flat iron steak sweet and smoky crust and a tender, melt-in-your-mouth texture. It is sure to be on your list of favorite grilling recipes.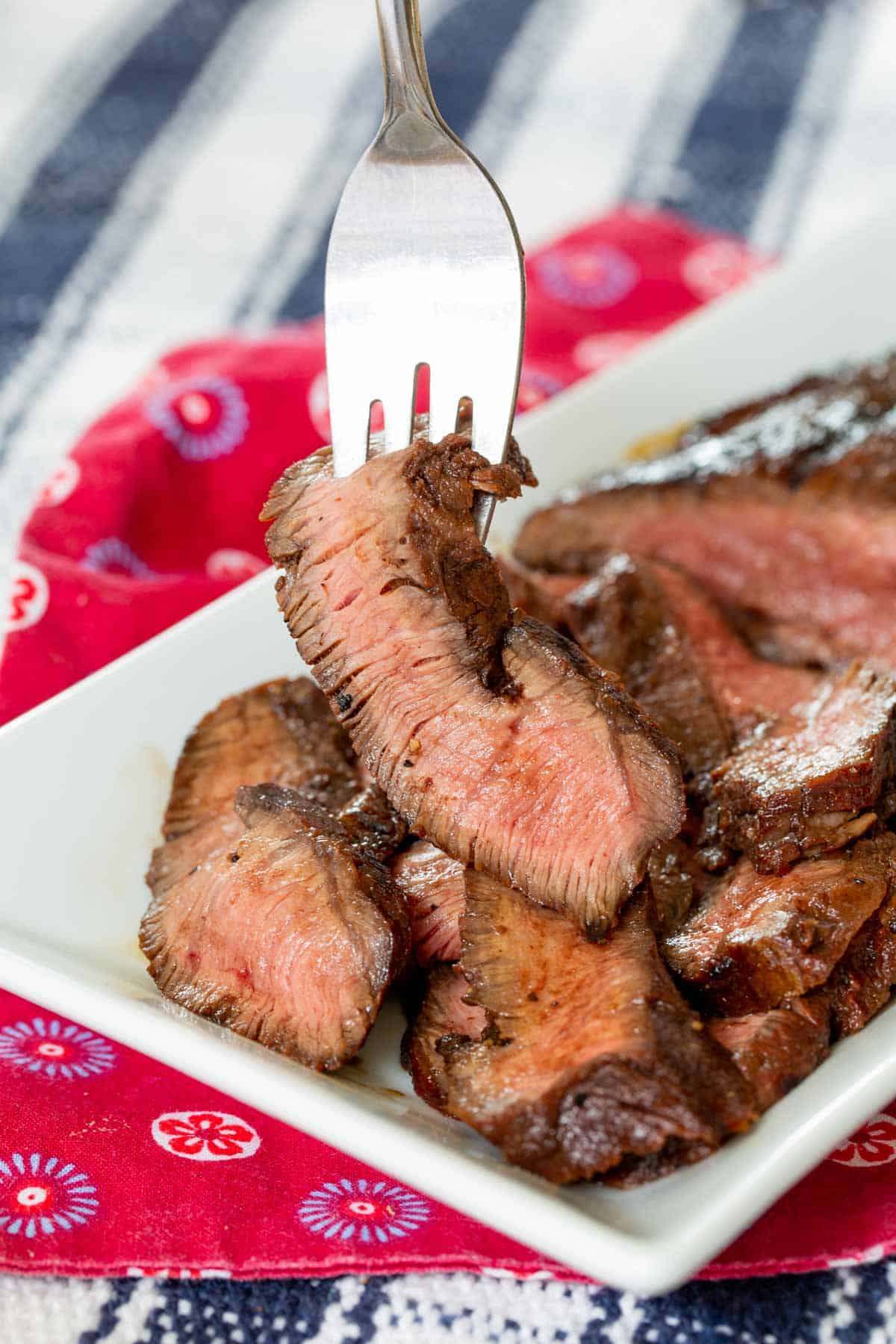 Disclosure: This​ ​post​ ​is​ ​sponsored​ ​by​ ​the​ ​Certified​ ​Angus​ ​Beef​​®​ ​brand​ ​in​ ​conjunction with​ ​a​ ​social​ ​media​ ​campaign​ ​through​ ​Sunday​ ​Supper​ ​LLC.​ ​All​ ​opinions​ ​are my​ ​own.
Originally published July 20, 2018.
An Easy Flat Iron Steak Recipe
[adthrive-in-post-video-player video-id="GavFH6hp" upload-date="Fri Jul 20 2018 00:00:00 GMT+0000 (Coordinated Universal Time)" name="Honey Balsamic Marinated Flat Iron Steak" description="Honey Balsamic Marinated Flat Iron Steak that starts with an easy marinade recipe with five ingredients to make your steak tender, juicy, and delicious."]
I'm a lazy steak girl. I see all these recipes for rubs and marinades and sauces and compound butter, and do you know what I usually do? I sprinkle salt and pepper on my steaks before grilling and call it a day.
If I am feeling really ambitious I will break out a steak seasoning. I mean, shouldn't the flavor of the steak just speak for itself? That's my excuse and I'm sticking to it.
And then to make it even worse, I call for the hubby and tell him it's time to grill the steaks.
To be fair, I'm usually inside whipping up some side dishes like Whipped Cauliflower Gratin with Goat Cheese or Maple Dijon Apple Cole Slaw. Well, except when I also hand the hubby a bowl of veggies and maybe a sliced pineapple and tell him to grill those too.
I'm the worst. But at least I open the bottle of wine.
So what that means is if I made a marinade, was patient enough to actually let the steak marinate, and I even grilled it myself, you know this grilled Flat Iron Steak recipe has to be super easy. And it's also super delicious.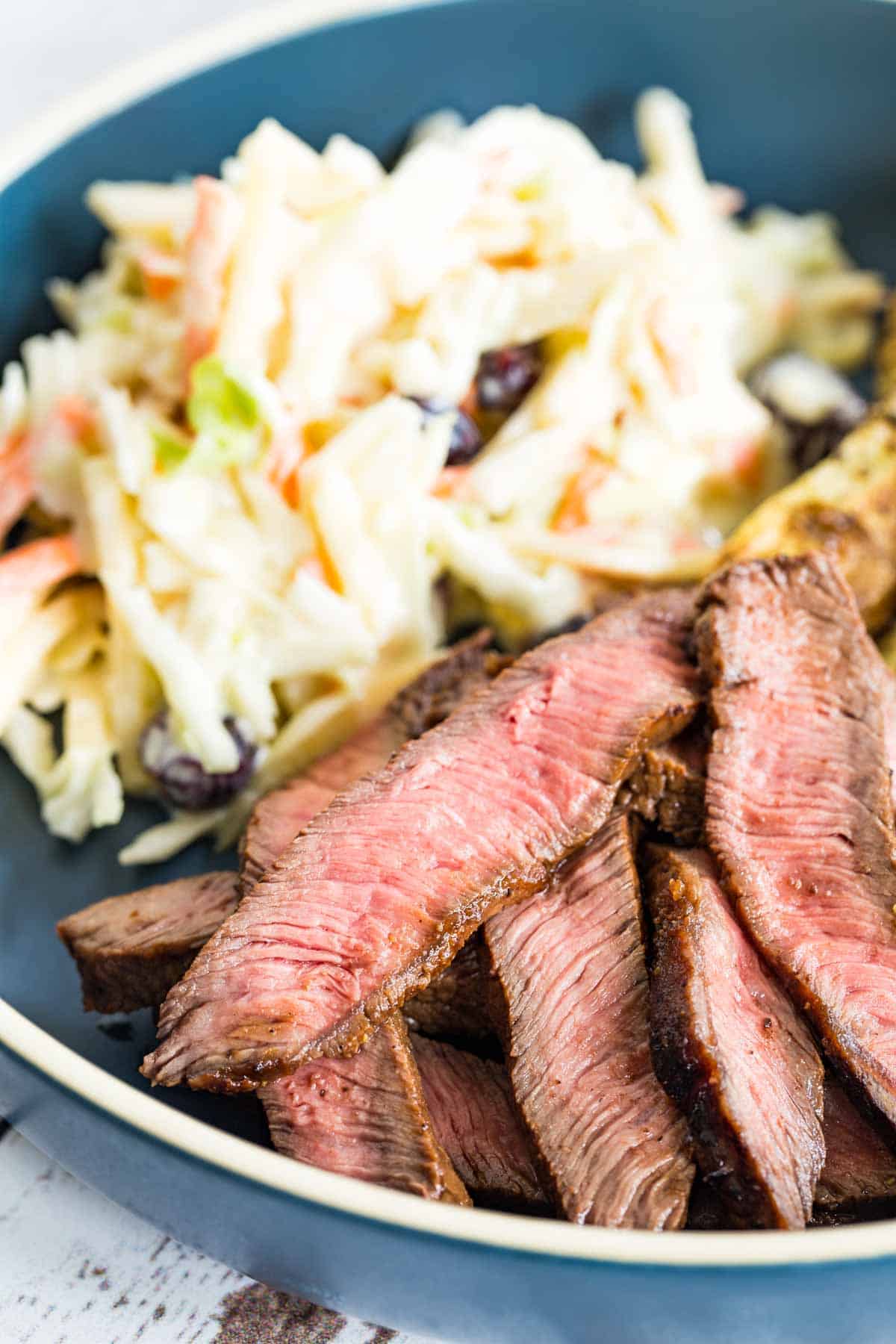 What Makes this Flat Iron Steak Recipe So Good?
This flat iron recipe is sure to be your go-to for grilling season. Here's why:
Simple ingredients: The marinade only needs 5 basic ingredients you probably already have in your pantry.
Easy Prep: You can let your flat iron steak marinate for as little as thirty minutes, or up to several hours prior to grilling. You can even marinate it overnight.
Cooks Quickly: A few minutes on the grill and you have a delicious and juicy flat iron steak the family will love.
Makes Tender, Flavorful Steak: The balsamic vinegar in the marinade tenderizes and flavors the meat. Honey caramelizes on the grill for that sweet and slightly charred flavor. Finally, the Dijon mustard adds just a bit of zing.
What is Flat Iron Steak?
A flat iron steak is also known as a Shoulder Top Blade Steak, Flatiron Steak, Top Blade Filet, or Top Blade Steak. It is a richly flavored steak that's well-marbled to keep it nice and juicy. Flat iron steak is also an economical choice, as it is usually cheaper than the same grade of rib eye or strip steak. The best ways to cook a flat iron stead are by sautéing it or grilling.
If you choose a Certified Angus Beef® brand steak, you get beef that is truly a cut above even Choice and Prime steaks because it must meet ten demanding quality standards. These standards ensure flavorful, tender, and juicy cuts of meat. That makes it the choice of 15,0000 of the most elite restaurants and retailers around the world.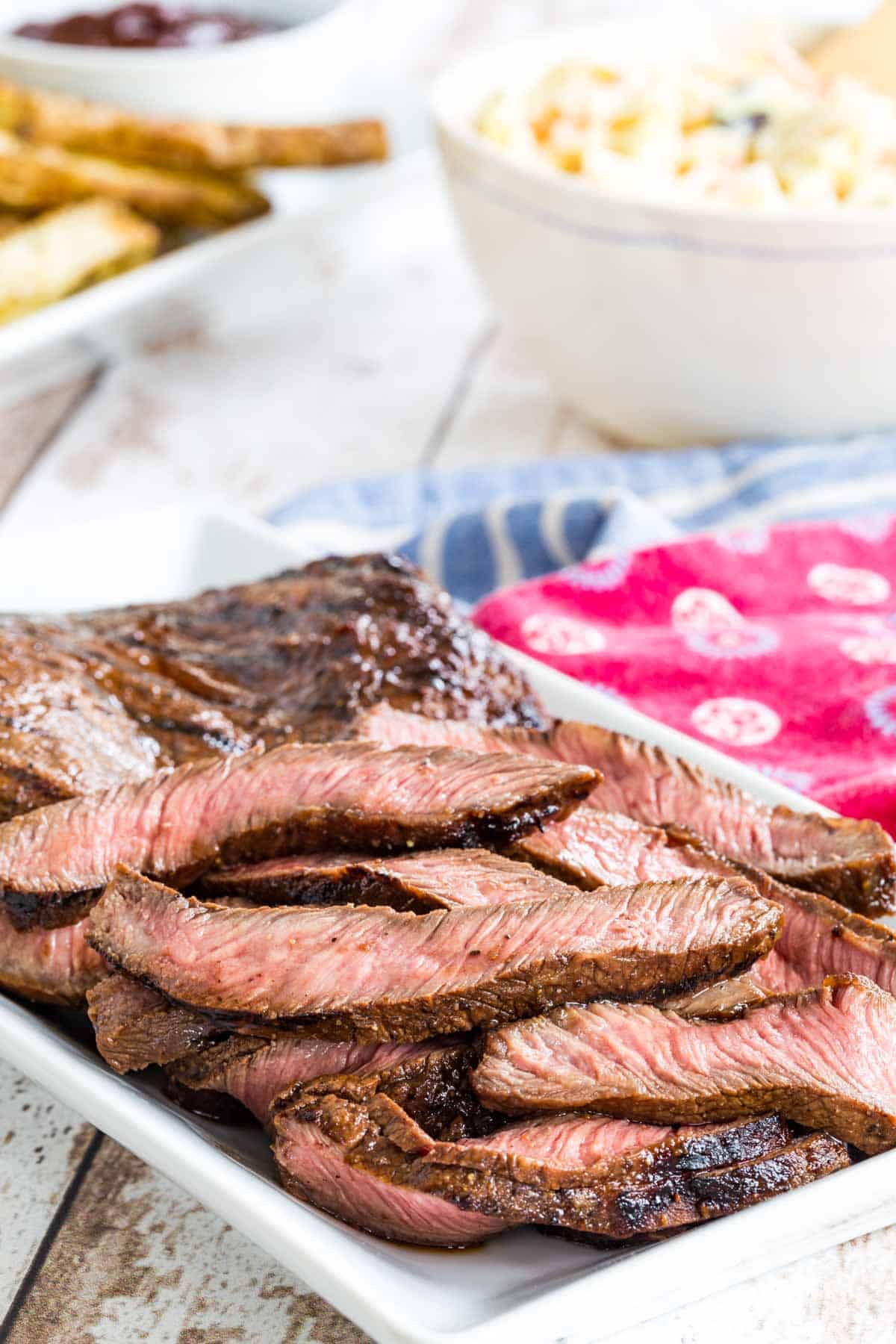 Balsamic Steak Marinade Ingredients
This make enough for 1 to 1 /2 pounds of flat iron steak. You can get one larger steak or two smaller ones.
Balsamic vinegar – This helps tenderize the meat.
Olive oil – Helps lock in moisture.
Honey – Caramelizes on the grill and adds incredible flavor!
Dijon mustard – Add a bit of zing to the flavor.
Garlic powder – Adds more depth to the flavor.
Salt and pepper – To taste.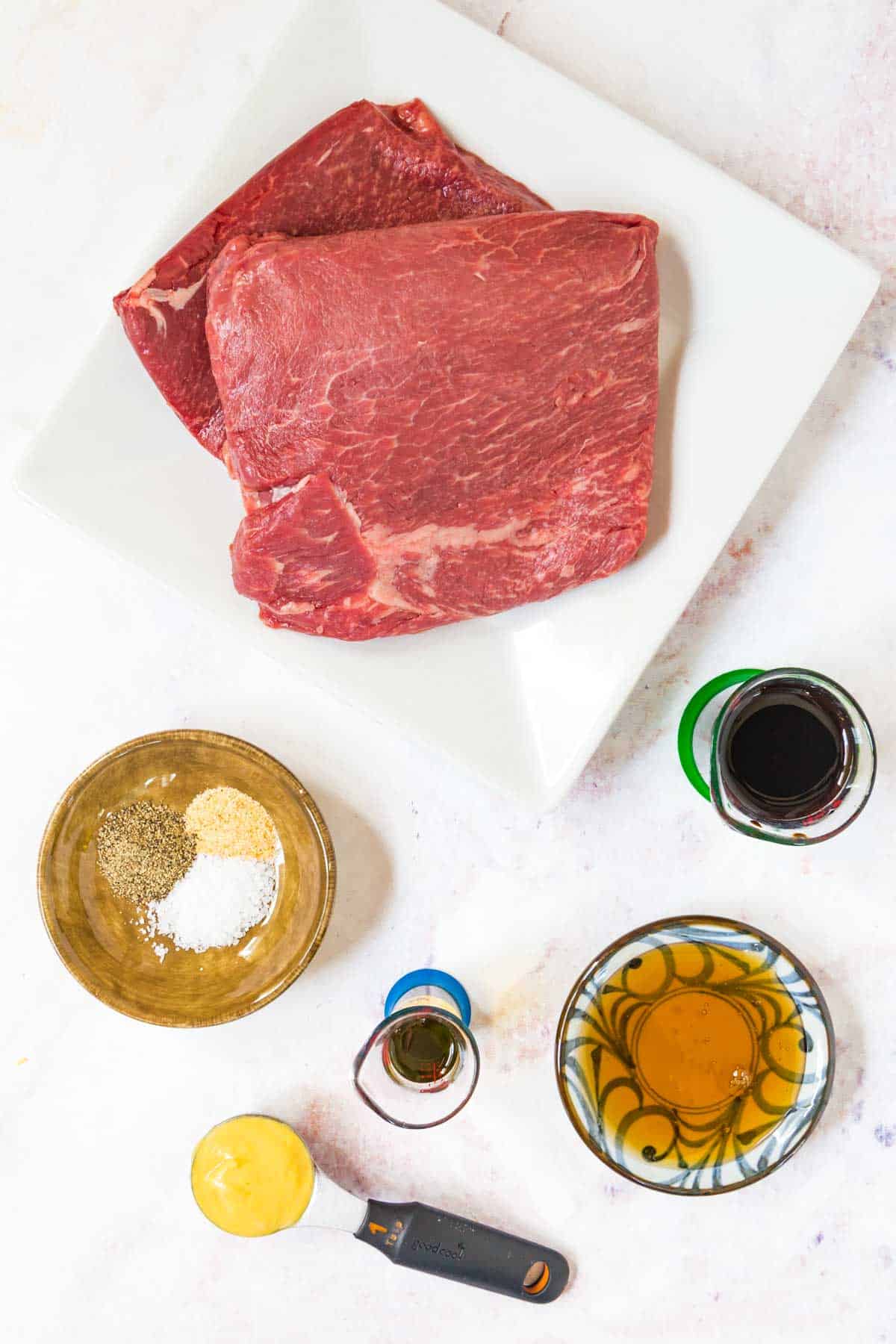 How to Grill Flat Iron Steak with Honey Balsamic Marinade
Here is a brief overview so you can see just how easy it is to make. Scroll down to the printable recipe card for the full quantities and details. But don't skip my PRO TIPS below!
Make the marinade
Add the balsamic vinegar, honey, olive oil, salt, pepper, and garlic powder to a shallow bowl or baking dish or plastic storage bag. Stir it together and add the steak.
Marinate and season the steak
If your steak is in a dish, cover it, or seal the plastic bag well pressing out all of the air. Put it in the refrigerator to marinate for at least 30 minutes or up to overnight.
Remove the steak from the marinade, discard the marinade, and season the steak with salt and pepper.
Grilling flat iron steak
Preheat the grill to medium-high heat. Place the steak on the grill, and cook for 3-5 minutes per side to a perfect medium-rare or your desired doneness.
Rest, slice, and serve
Remove the steak from the grill and let it rest for 5-10 minutes. Then thinly slice it against the grain. You now have a Honey Balsamic Marinated Flat Iron Steak grilled to perfection. All that's left to do is to devour it!
What temperature to cook steak to
Pro Tip
I always use an instant-read thermometer when grilling to make sure the meat is perfectly cooked.
Here is a quick internal temperature guide:
Rare: cool red center, 125°F
Medium-Rare: warm red center, 135°F
Medium: warm pink center, 145°F
Medium-Well: slightly pink center, 150°F
Well-Done:Source: Certified Angus Beef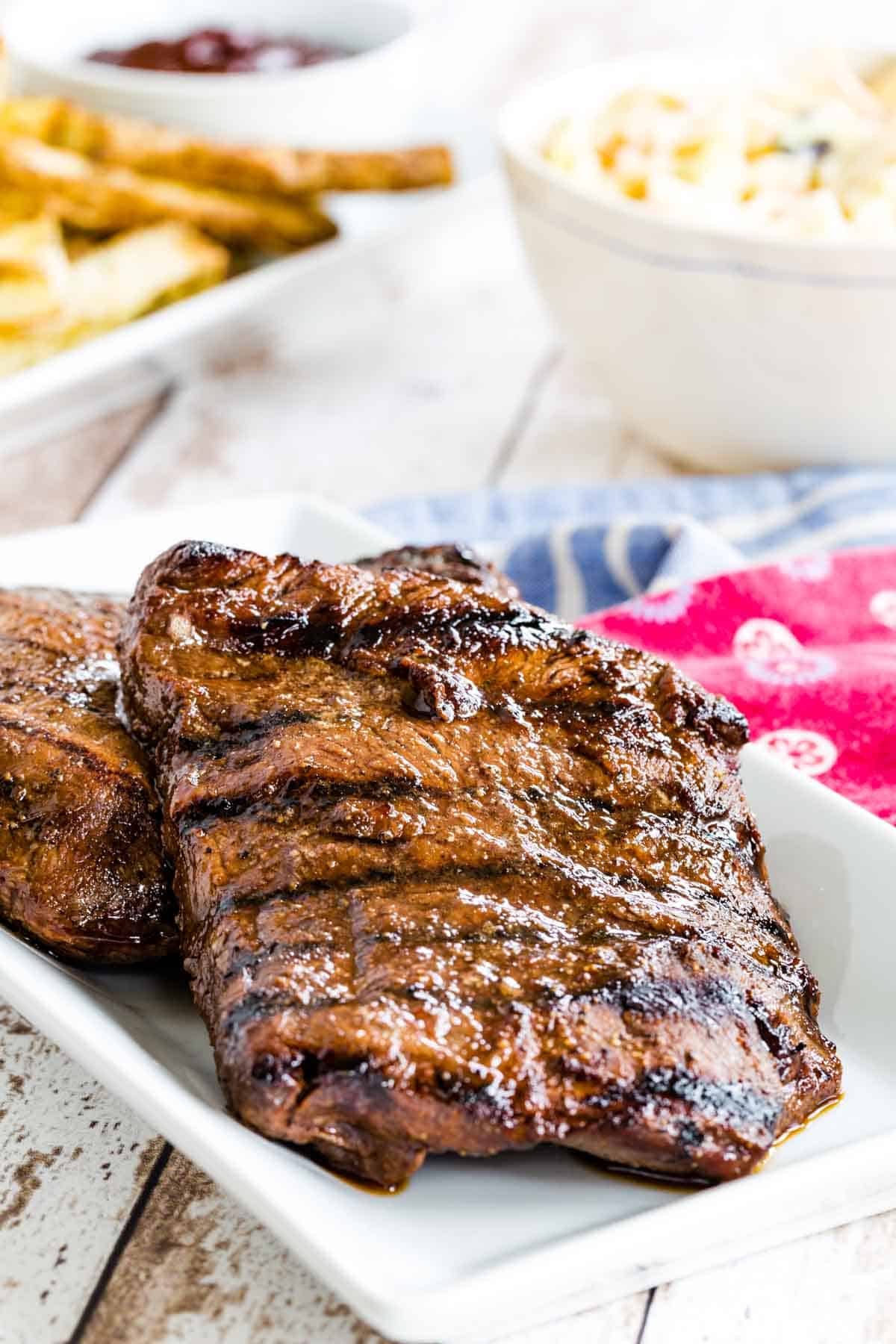 Brianne's Pro Recipe Tips
Mixing up the marinade right in a zip-top plastic bag saves extra dishes to clean. Plus, if you press out the air, you ensure the marinade contacts every surface of the steak for the entire time.
Just a half-hour in the fridge is enough, but you can certainly let it marinade longer to really infuse the flavor.
A meat thermometer will ensure you hit the right temperature for medium-rare perfection.
Don't forget to let the steak rest for five minutes or so. This will allow the juices to redistribute and keep your steak moist.
Thinly slice the flat iron steak against the grain for tender, melt-in-your-mouth bites.
This marinade is also delicious for a flank steak or even some steak bites.
Side dishes
A few simple sides will make this the perfect summertime meal.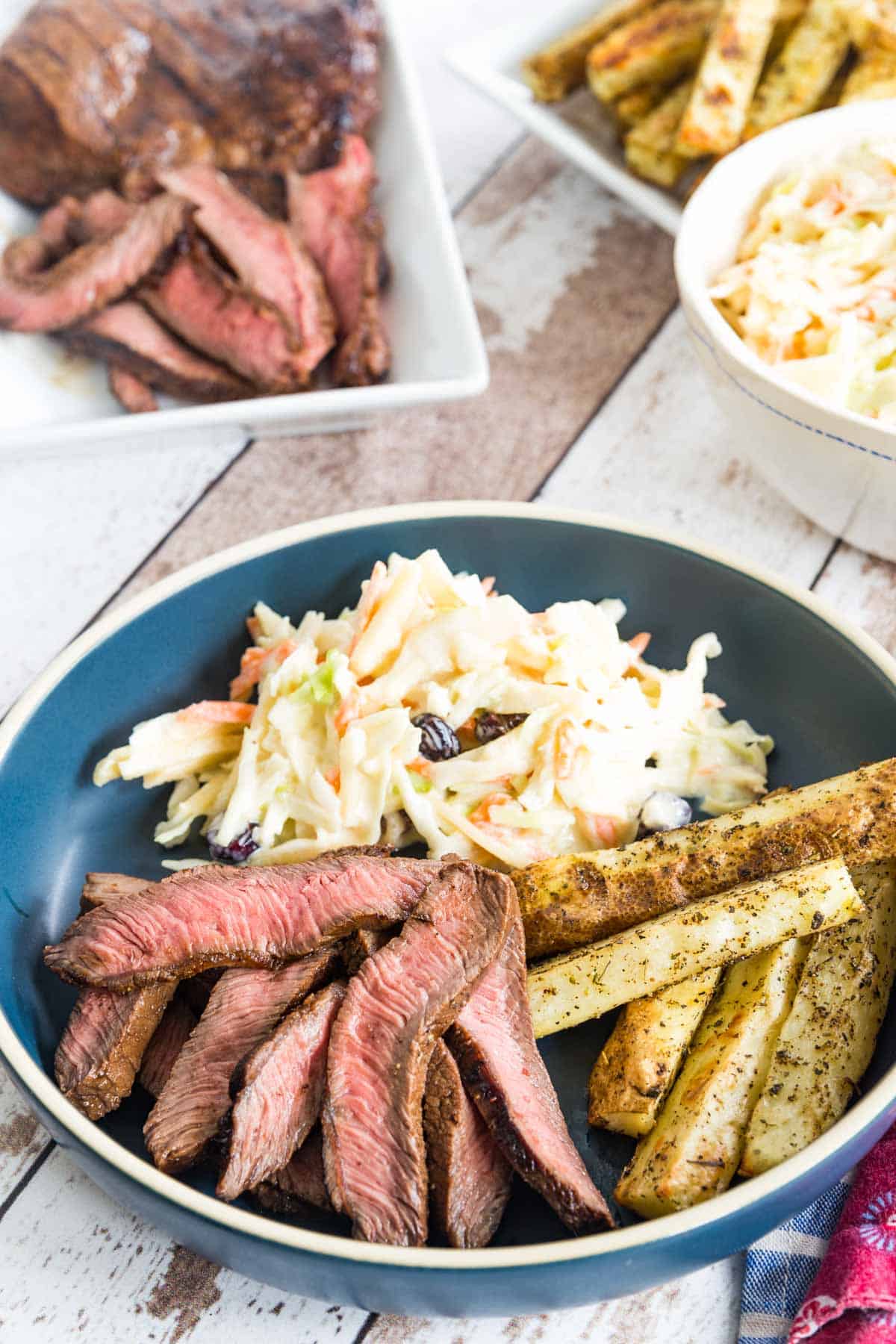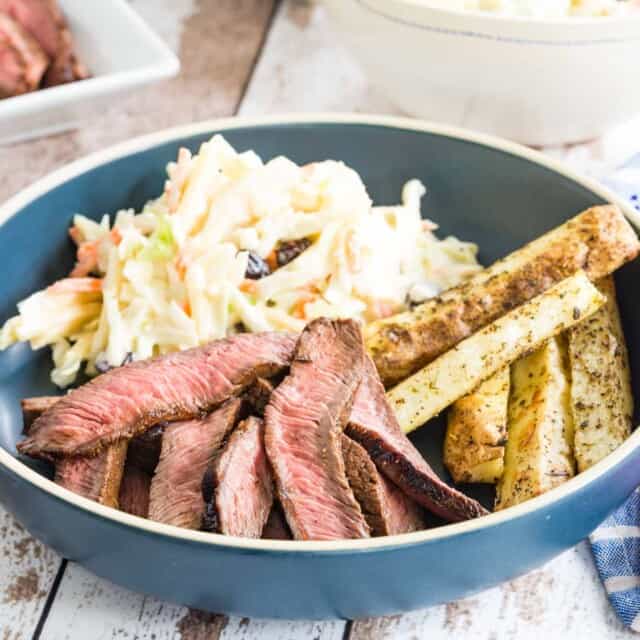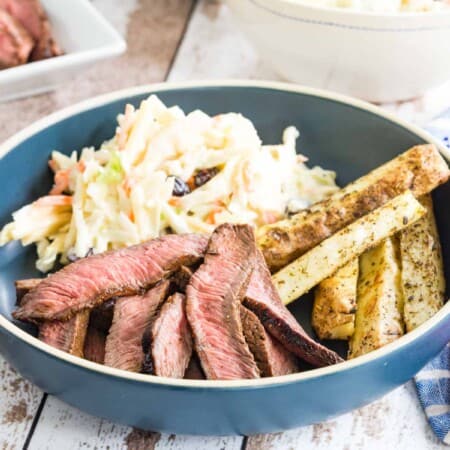 Honey Balsamic Marinated Flat Iron Steak
A simple marinade adds amazing rich flavor and delicious caramelization when you fire up the grill to make this easy steak recipe.
Instructions
Combine balsamic vinegar, honey, olive oil, Dijon mustard, salt, pepper, and garlic powder in a bowl or plastic bag. Stir together.

Add the flat iron steak to the bag and seal or place the steak in a shallow glass baking dish and pour the marinade over the steak and turn to coat.

Marinate in refrigerator for at least 30 minutes or up to overnight. Remove steaks and discard the marinade.

Season beef with salt and pepper to taste.

Preheat grill to medium high.

Grill 3-5 minutes per side to 135°F for medium rare or to desired doneness.

Remove steaks and let rest 5 minutes, then slice thinly across the grain.
Nutrition Facts
Honey Balsamic Marinated Flat Iron Steak
Amount Per Serving (4 oz.)
Calories 294
Calories from Fat 135
% Daily Value*
Fat 15g23%
Cholesterol 74mg25%
Sodium 425mg18%
Potassium 386mg11%
Carbohydrates 14g5%
Protein 21g42%
Calcium 15mg2%
Iron 3mg17%
* Percent Daily Values are based on a 2000 calorie diet.
Categories:
More steak recipes you'll love