Chili Lime Steak Bites
Disclosure: This post may contain affiliate links. Cupcakes & Kale Chips is a participant in the Amazon Services LLC Associates Program, an affiliate advertising program designed to provide a means for us to earn fees by linking to Amazon.com and affiliated sites.
This easy Chili Lime Steak Bites recipe packs plenty of spicy and zesty flavor into tender pieces of sirloin steak. With only a handful of ingredients and in less than fifteen minutes, you can have a gluten free appetizer or a quick and easy dinner with an irresistible flavor that is a fiesta for your taste buds.
Success is a funny thing. Some people don't care what they have to do to achieve it, even if it is at the expense of others. There are those who, once they feel they have "made it", they forget about the "little people" they passed along the way or those who helped them get there. But then there are people like Donna and Chad of the wildly popular food blog The Slow Roasted Italian. They just work their butts off, and all along the way they just want to support everyone and use their success to help others learn, grow, and achieve their dreams. That's why I am honored to tell you about and share a recipe from their new cookbook, The Simple Kitchen.
If you are already a fan of The Slow Roasted Italian, then nothing will surprise you about Donna and Chad's cookbook. And that's a good thing. It's page after page of the vibrant photos of their belly-filling and soul-satisfying comfort food that you've come to know and love.
And if you don't already know and love them, I guarantee that you soon will. They create, capture, and share dishes filled with ingredients and flavors that are familiar, but always put together in a way that just takes it to another level. Whether it's the most colorful pasta dishes or heartiest soups and stews or juiciest meats, every recipe is at the same time familiar and approachable as it is impressive.
The Simple Kitchen will have dog-eared corners in no time. It's a collection of slow cooker recipes, one-pot meals, super fast dinners and sides, fun party appetizers, and of course desserts. I've already marked a ton of recipes I know my family will love, like Melt-In-Your-Mouth Spicy Ribs, Lemon Rosemary Chicken and Rice, and Banana Berry Cheesecake Salad.
And some of the dishes are super versatile, too. I made Donna's Cheesy Taco Skillet and put half of it in a mini crockpot to take to a Halloween party to serve as a taco dip with chips. We ate some the next day for dinner over rice for the guys and cauliflower rice for myself. And the little bit that was left I turned into nachos for lunch over the weekend.
And you can also get some other sneak peeks into The Simple Kitchen cookbook.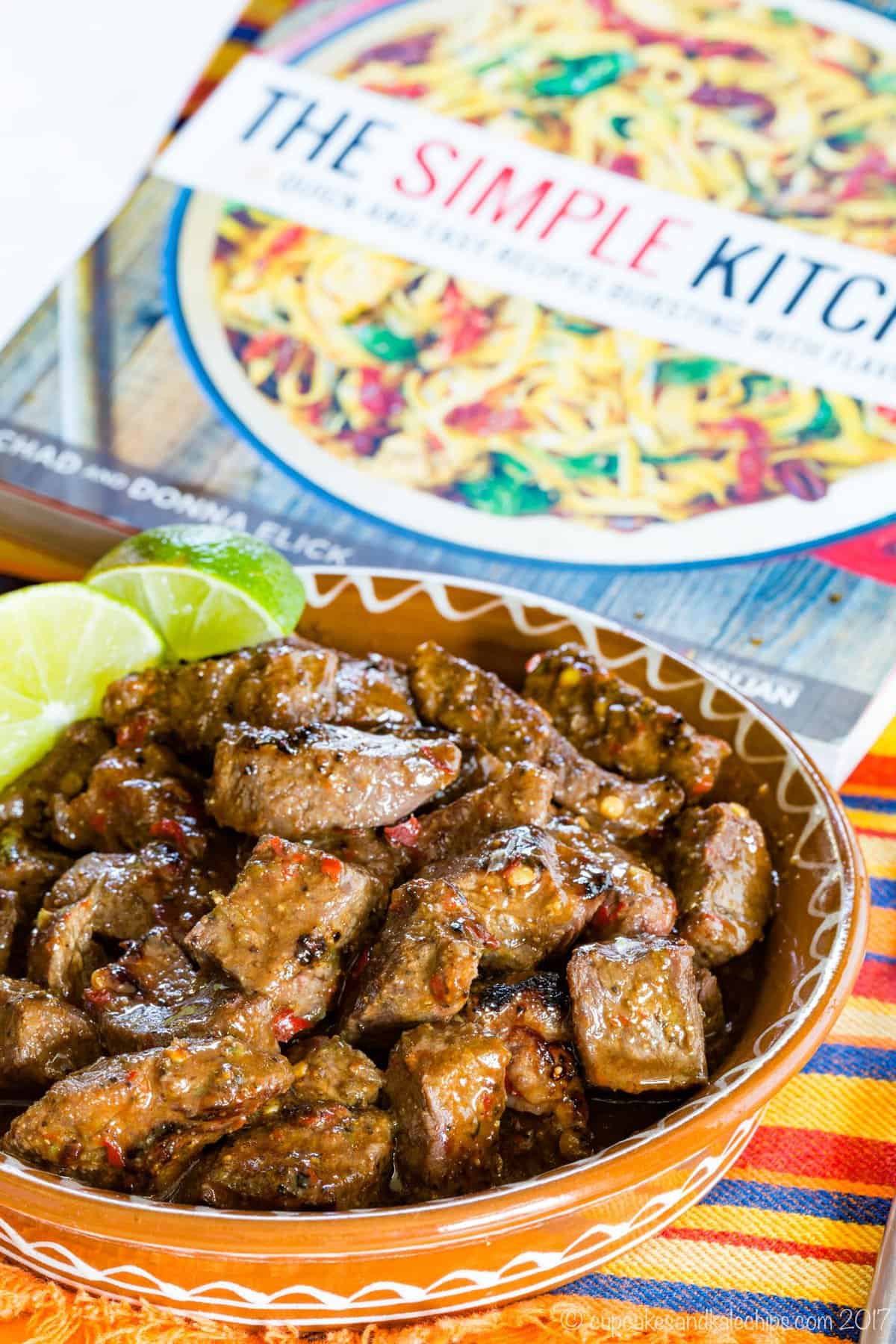 Are there gluten free recipes in The Simple Kitchen Cookbook?
For my fellow gluten-free readers, there are definitely gluten free recipes to choose from. There are a fair amount of pasta dishes, so you might have to substitute gluten free pasta in those dishes.
A few of the soups and sauce are thickened with flour, so perhaps you can give those a shot with rice flour. And admittedly a few of the recipes, like Jalapeno Pretzel Twists and Donna's Famous Sugar Cookies would need a complete gluten free overhaul. But there's still plenty to choose from. There are even a couple of desserts like No-Bake Rocky Road Avalanche Bars.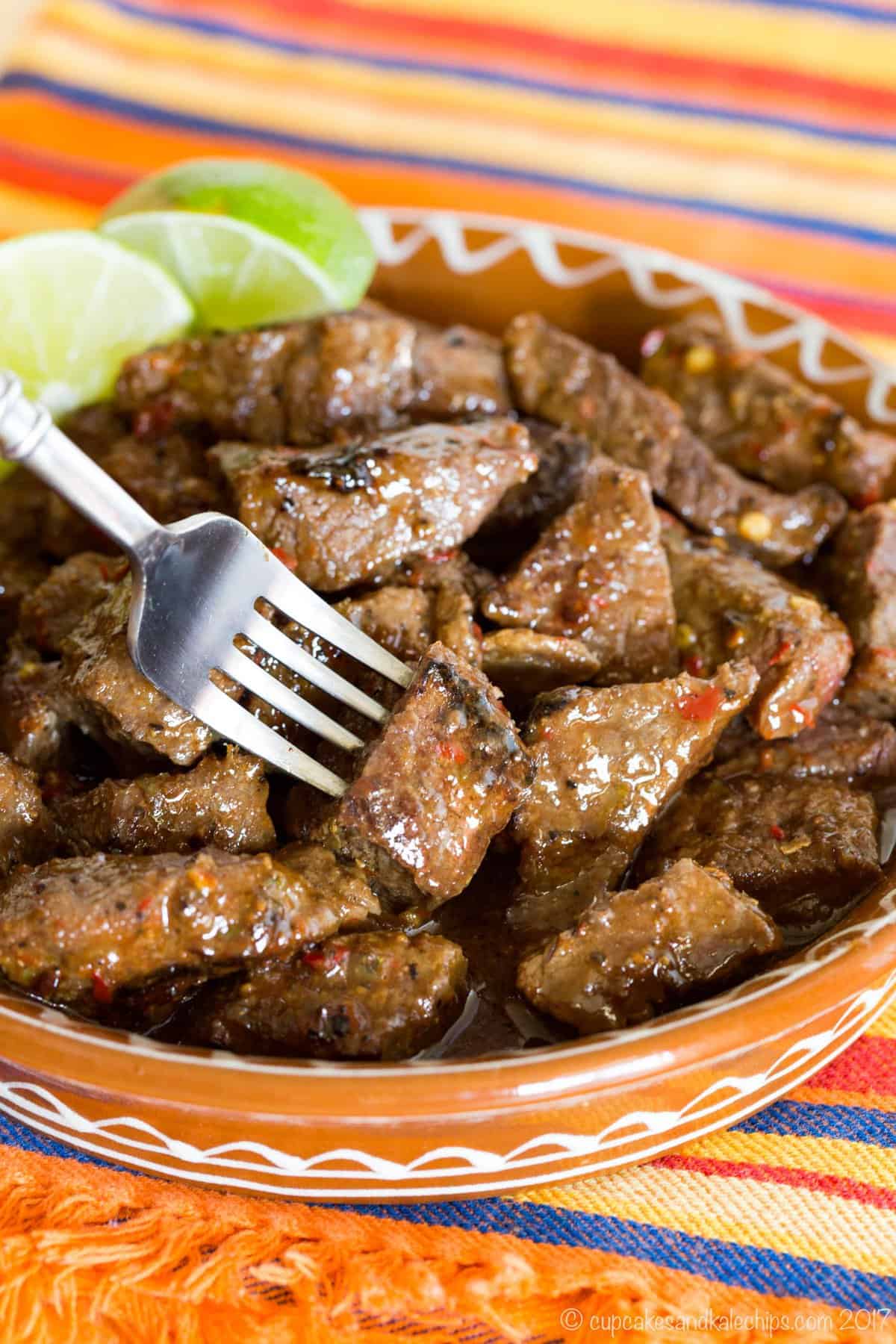 Sirloin Steak Bites with Chili and Lime
Do you know what is going to be a regular part of my dinner rotation? These chili lime steak bites! With only six ingredients (plus salt and pepper), they are ready in less than 15 minutes!
How to make Chili Lime Steak Bites…
Cut top sirloin steak into cubes.
Toss the steak in salt, pepper, and garlic powder.
Coat it with chili paste and honey.
Heat your cast iron skillet on the stove and get it screaming hot.
Sear the steak for just a few minutes.
Remove the steak out of the pan.
Add lime zest and juice to create a zingy glaze to slather over those steak bites.
It doesn't get any easier than that!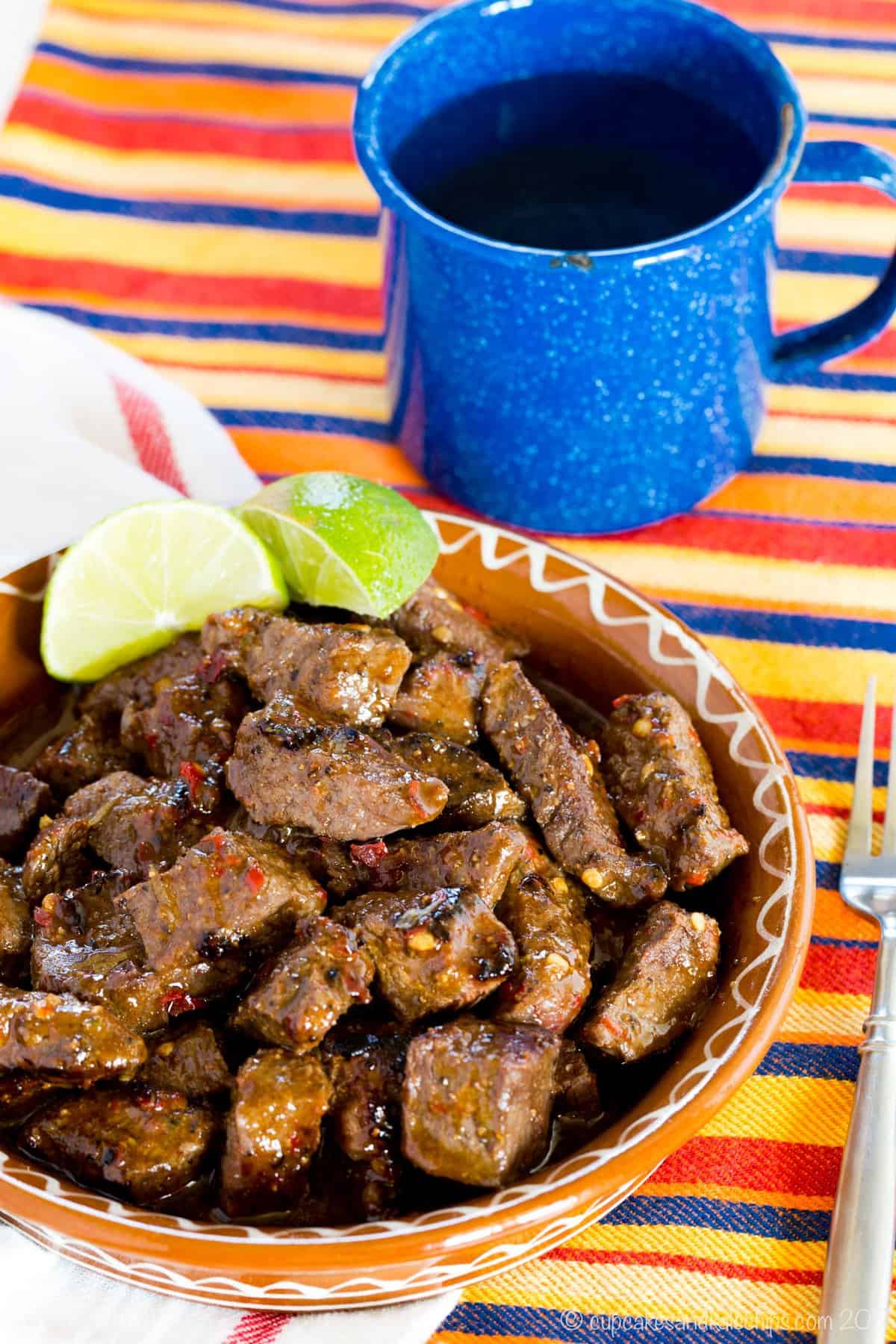 What other cookbooks do I recommend?
I also share cookbook recommendations from me and all of my blogger friends, which is especially helpful if you are looking for gift ideas!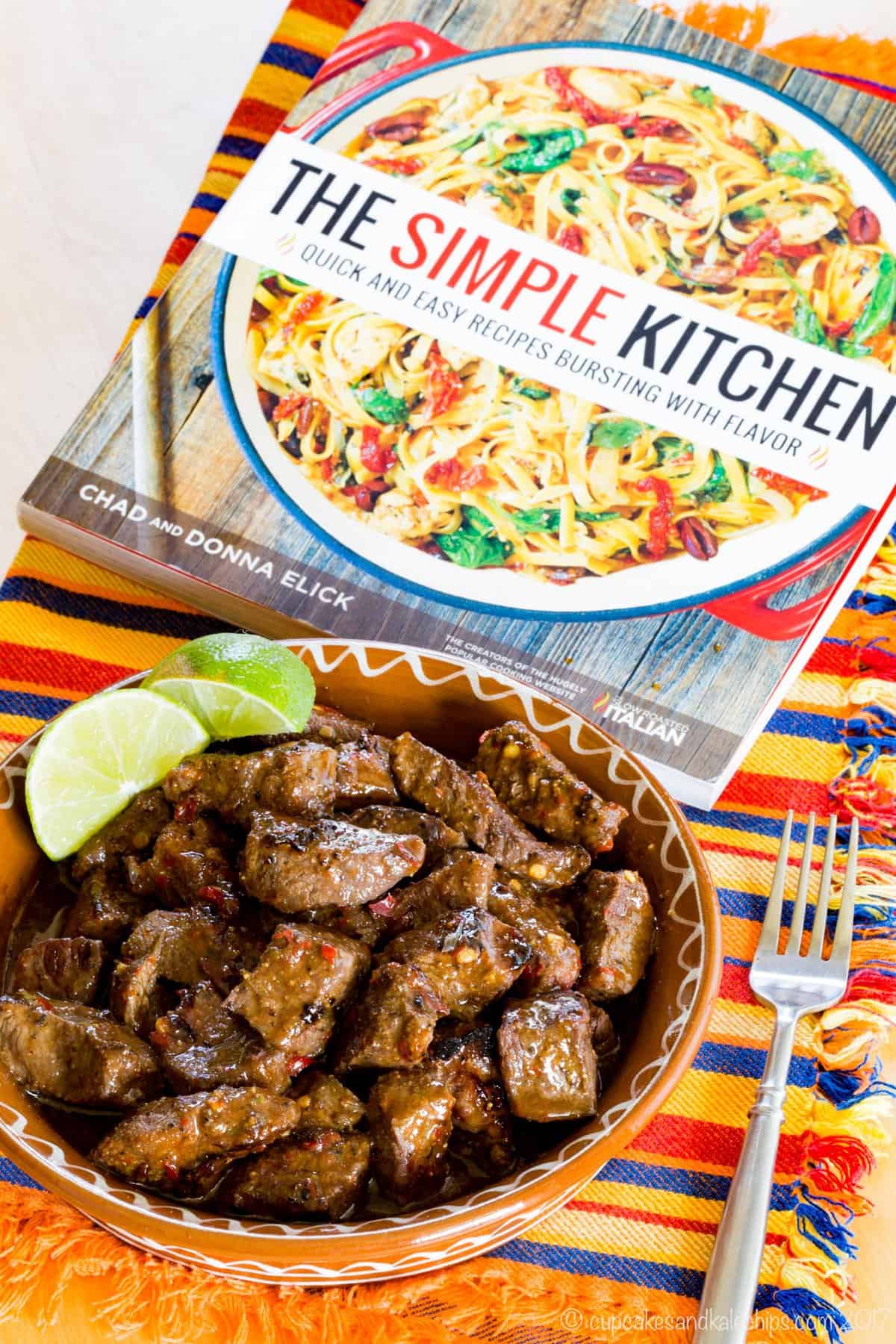 For more yumminess from me and my foodie friends, keep up with me on…
Or sign up to have Cupcakes & Kale Chips delivered straight to your Inbox!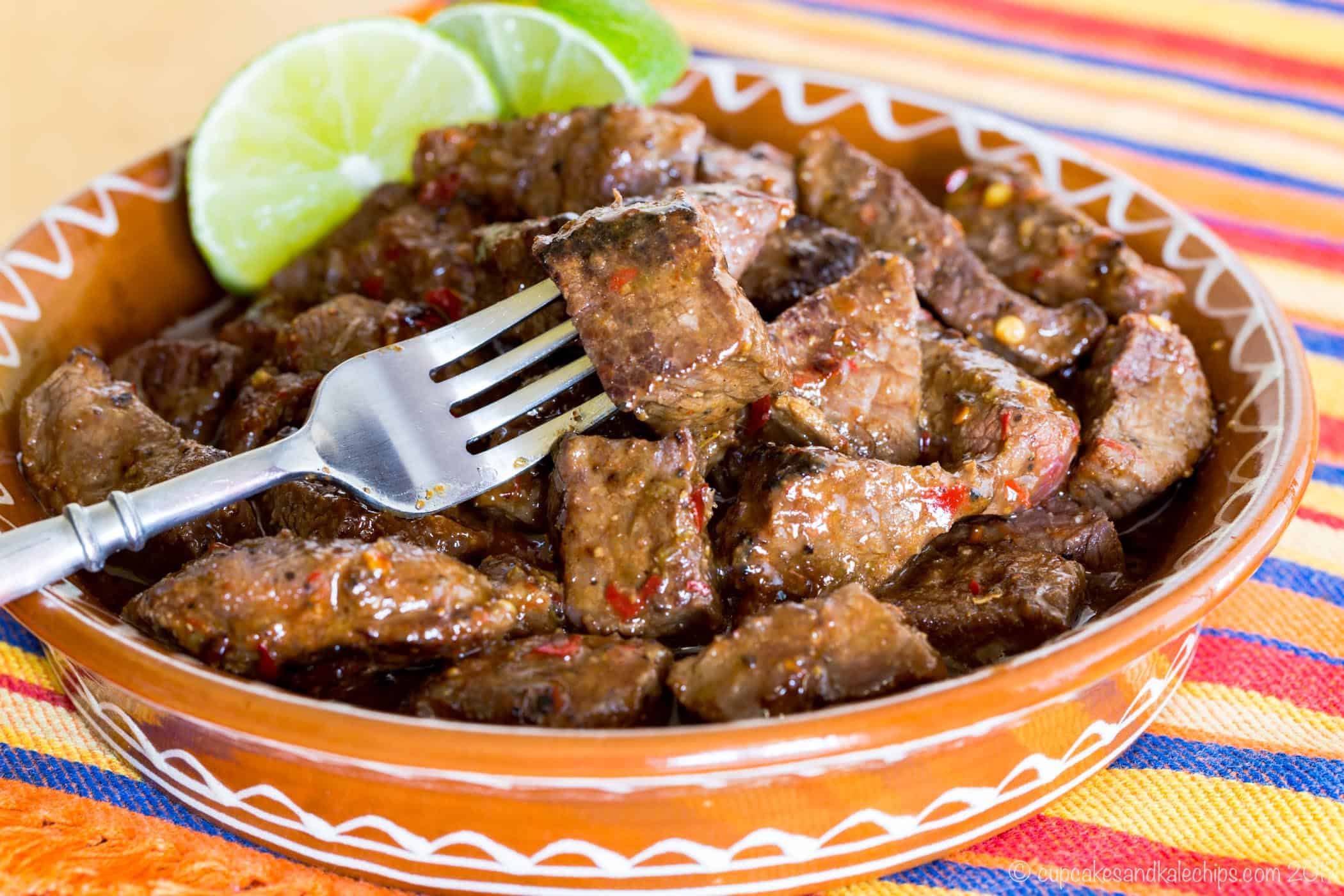 What should I serve with steak bites?
You might also enjoy these steak recipes…
Chili Lime Steak Bites Recipe
With only a few ingredients and 15 minutes, you can make this easy dinner recipe or steak appetizer that is a party your mouth. You are going to want to always keep the ingredients on hand. The family is going to love this steak bites recipe, and it's perfect to whip up when you only have a few minutes to make dinner. If you want to add these to your game day or Cinco de Mayo party menu, just be sure to double or triple the batch. I guarantee they will disappear faster than you can make them.
I hope you'll leave a comment and give it a FIVE STAR rating or share a photo on this pin on Pinterest!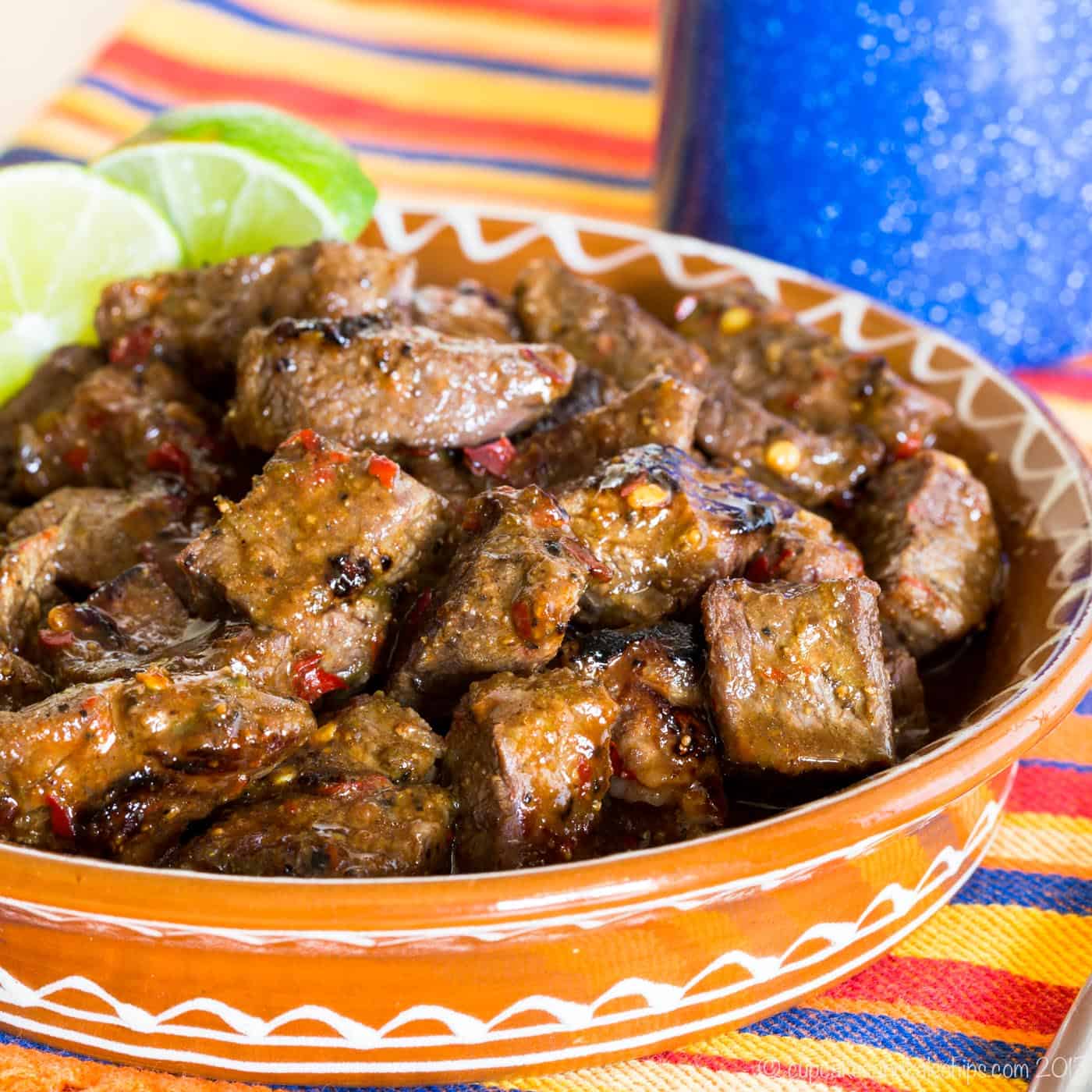 Print Recipe
Chili Lime Steak Bites
A super easy recipe that's ready in less than fifteen minutes, and packs plenty of spicy and zesty flavors with only a handful of ingredients. Make them for a quick dinner or a simple party appetizer.
Instructions
Cut the steak into 1-inch strips, then cut the strips into 1/2-inch pieces.

Place the steak in a small bowl, and sprinkle with salt, pepper, and garlic powder. Stir to coat the steak in the spices.

Add the chili pasta and the honey, and stir again to coat the steak completely.

Place a 10-inch cast iron skillet over medium-high heat. Hold your hand about 6 inches above the pan, and when you can feel the heat, add the olive oil and swirl around the pan. Add the steak to the pan in a single layer. If it doesn't sizzle and hiss, the pan is not hot enough.

Sear the steak for 1 minute before touching it, then flip the steak bites with tongs or a spatula. Sear the steak on the second side for an additional 1 minute, then remove the steak from the pan to a plate.

Add the lime zest and lime juice to the hot pan, stir to combine, and pour the chili lime sauce of the steak bites.
Nutrition
Serving:
1
g
|
Calories:
242
kcal
|
Carbohydrates:
10
g
|
Protein:
25
g
|
Fat:
11
g
|
Saturated Fat:
2
g
|
Cholesterol:
66
mg
|
Sodium:
357
mg
|
Potassium:
468
mg
|
Fiber:
1
g
|
Sugar:
5
g
|
Vitamin A:
35
IU
|
Vitamin C:
11.1
mg
|
Calcium:
36
mg
|
Iron:
2.1
mg
Enjoy!