This post may contain affiliate links. Read my disclosure policy.
Peruvian Green Sauce, also known as Aji Verde, is a spicy and fresh sauce traditionally served with roast chicken to really kick up the flavor. This version has the kick of spice and creamy texture of the traditional recipe, but it's a little lighter and made with easy-to-find ingredients. A little drizzle will liven up your chicken, but also any roasted or grilled vegetables, potatoes, rice, salads, or even a nice, juicy steak.
Years back, my friend married a man from Peru. When they started dating, she raved about the amazing Peruvian food she was enjoying at all of his family gatherings.
Foodie that I am, I knew I had to try it, so we made plans for a double date where I had my first opportunity to try traditional dishes from Peru. I loved the spices and flavors of Latin American cultures intermingle with native ingredients and just a splash of Asian influence.
But most of all, I loved the green sauce.
It was creamy and rich with a kick of spice and just the right amount of freshness and zing to balance it all out. I poured it over everything until my tastebuds were on fire.
In fact, my love of the sauce lasted longer than the marriage seeing as we still enjoy it to this day. And the marriage, well, let's just say we don't talk about that anymore.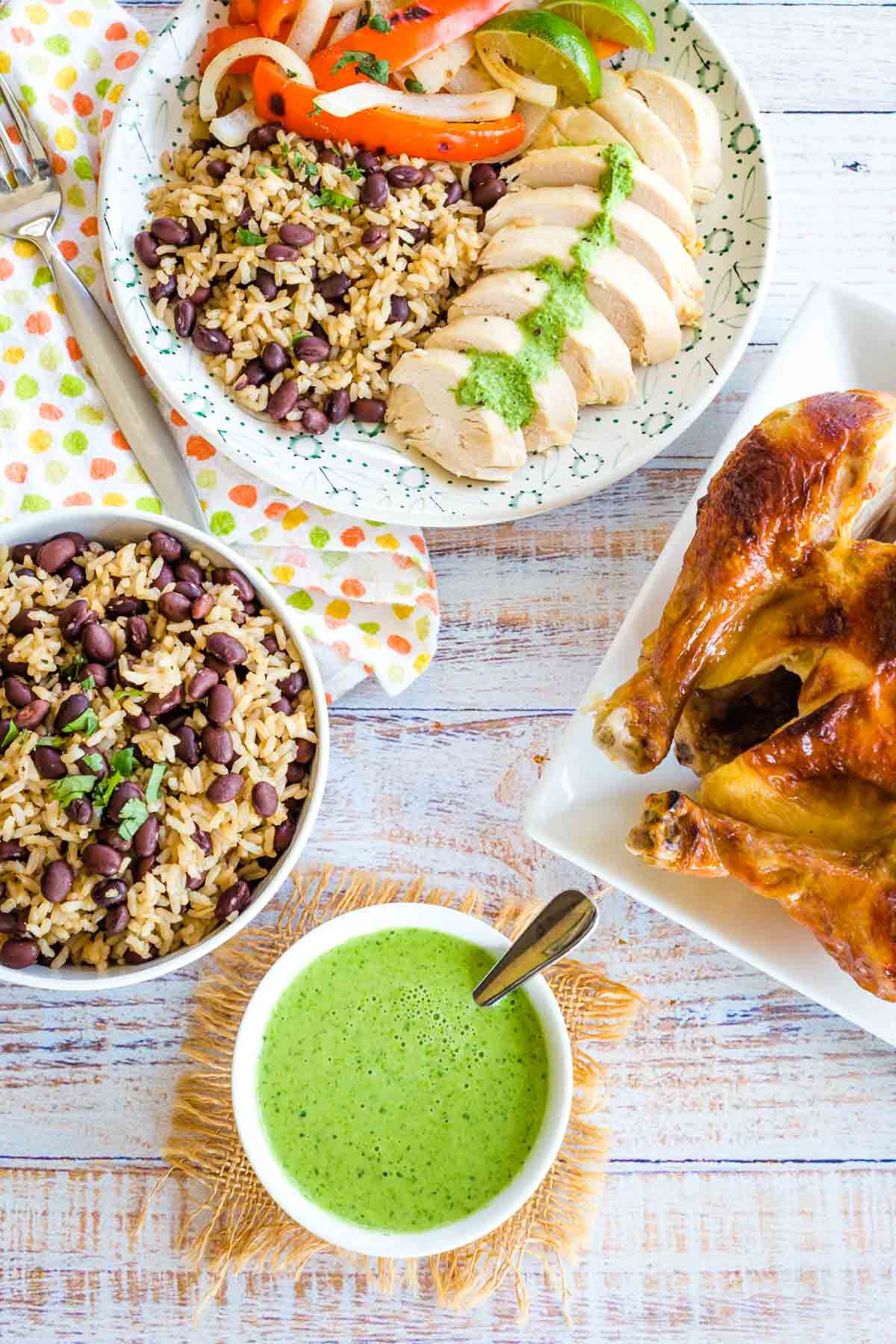 Peruvian Aji Sauce Recipe
The traditional green sauce recipe has a mayonnaise base, and is made with traditional ingredients like aji amarillo paste and cotija cheese.
I knew that I'd want to make this not only a bit lighter, especially since I'm not a big fan of mayo. But I also wanted to be able to make it with ingredients I can easily find in my regular grocery store or that I keep on hand. Because that means it's easy to make any time I crave it.
So you'll find that all the spice comes from jalapenos, and I swapped Greek yogurt for the mayo and cheese combination. It still has that creaminess, but it actually gives it a bit brighter of a flavor, especially complementing light, summery meals. Go ahead, slather it on!
Here is a brief overview so you can see just how easy it is to make. Scroll down to the printable recipe card for the full quantities and details.
But don't skip my PRO TIPS below!
What You'll Need
Plain Greek yogurt
Olive oil
Lime juice
Apple cider vinegar
Jalapenos
Cilantro
Garlic
Salt and pepper
Equipment
Measuring cups and spoon
Knife
Citrus juicer – this handheld juicer has become my new best friend lately because it gets out tons of juice without a lot of work or mess.
Blender – you can use any type of blender to make this recipe, but I always recommend the Blendtec, which I use multiple times a day because it is such a workhorse. The Mini Wildside+ Jar is the perfect size for this batch of aji sauce.
I am a Blendtec ambassador, and should you make any purchases through my Blendtec Store link, I will receive a small commission, but that also means you can use the code CUPCAKESANDKALECHIPS to receive 25% off.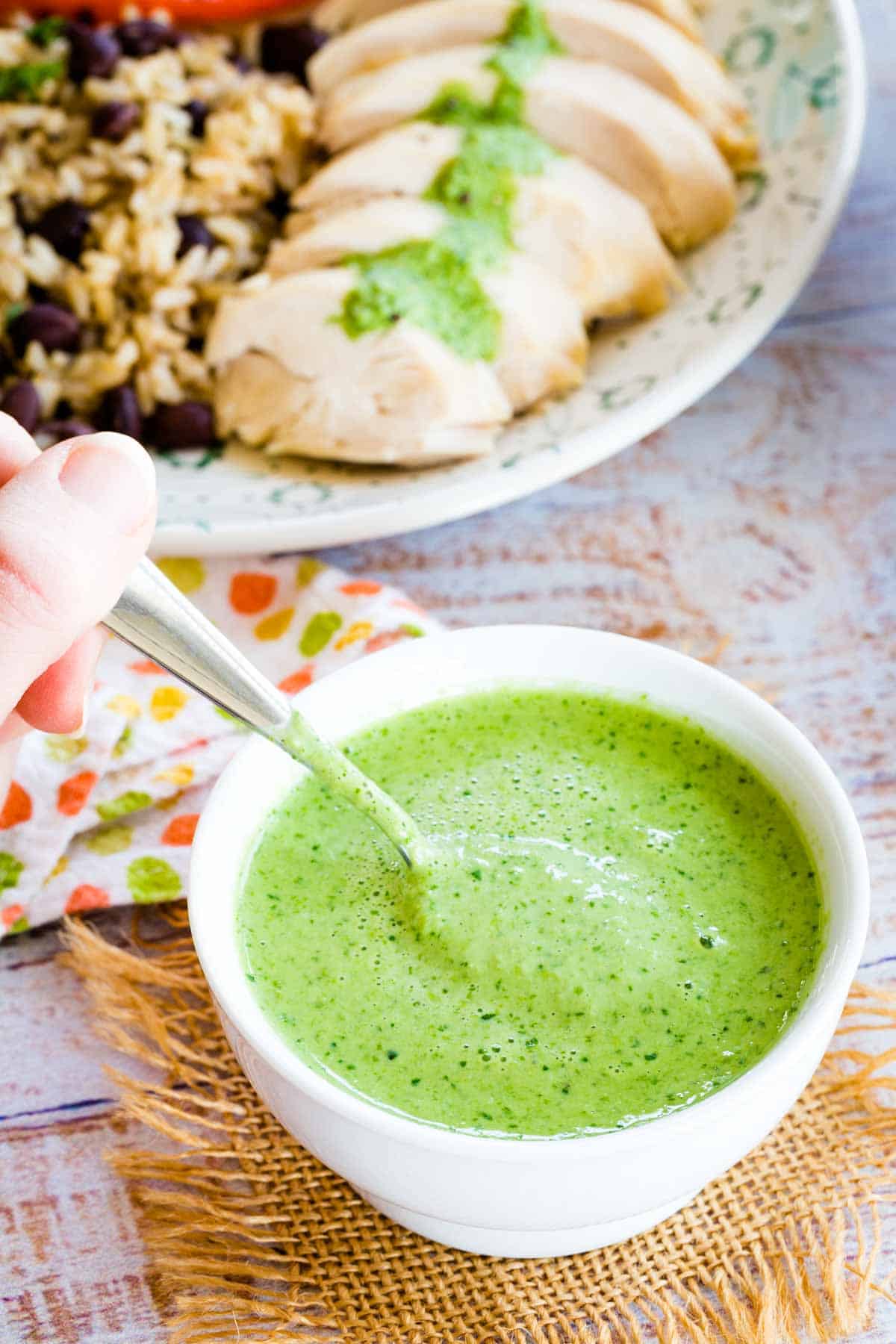 Directions
Most of the work to make Peruvian Aji Sauce is in preparing the ingredients, but even that takes little time since it will get broken down in the blender.
Measure the liquids
No prep needed for these, other than measuring the Greek yogurt, olive oil, and apple cider vinegar.
Juice the limes
I do NOT recommend bottle lime juice as it is too strong and bitter. Fresh lime juice will give you just the right amount of acid and ing without being too harsh.
Cut the jalapenos
I do recommend wearing gloves for handling jalapeno peppers. Slice the top off, then cut it half lengthwise. Remove the seeds and membranes, as that is where you'll get most of the heat. If you like it super spicy, I guess you could leave those in.
The recipe calls for two jalapeno peppers. Sometimes I have gone to the store and they have only had huge jalapenos. In that case, I typically only use one because while we like some spice, we don't want to overdo the heat.
Add the cilantro and garlic
Rinse and dry the cilantro between a couple layers of paper towels. You want to try to remove as mush moisture as possible so it doesn't water down your sauce.
No need to remove the leave from the stems or chop them up. Just grab a handful and pack it in your measuring cup, stems and all. It will all get broken down when you blend it.
For the garlic, you'll want to remove the skin, but it isn't really critical to mince it. Just give it a quick chop into a few pieces.
Blend the sauce
All you have to do is combine all of the ingredients in the order listed and blend until smooth. Then season to taste with salt and pepper.
Storage
Because of the fresh ingredients and yogurt, you'll need to store the sauce in the refrigerator. It will last for two or three days if you keep it covered or in a jar with a lid. I do not recommend freezing it.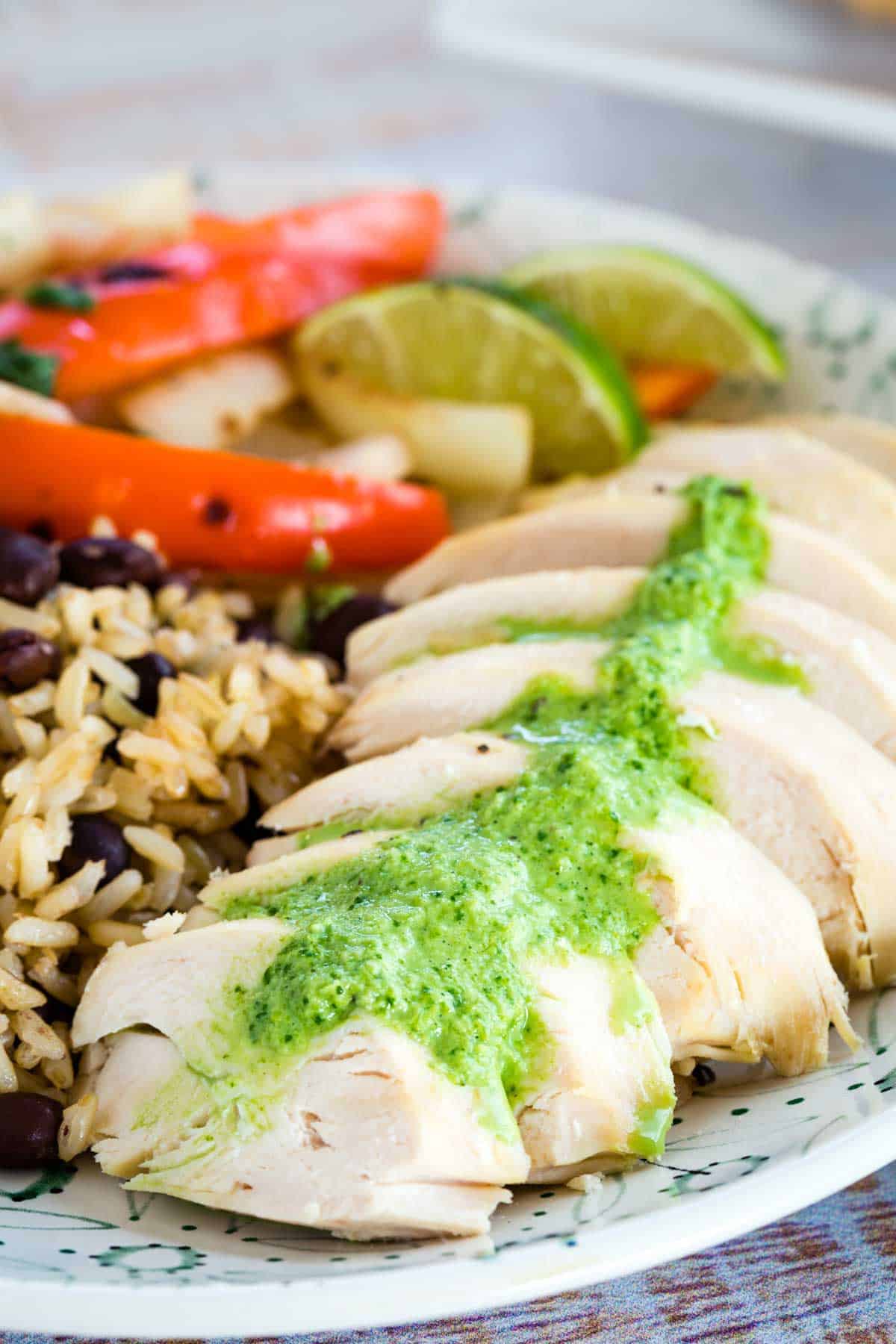 What do you serve aji sauce with?
As I mentioned traditionally this spicy green sauce is served with Peruvian Roast Chicken alongside French fries and a salad. To keep things super simple, I will often whip up a batch when I've picked up a Costco rotisserie chicken, and serve it with a rice or cauliflower rice side dish and sauteed vegetables.
It's also delicious over veggies, really livening up basic roast cauliflower or carrots or zucchini.
And try it with a grilled steak or Chili Lime Steak Bites, on some breakfast tostadas, or to add something new and different to your fish tacos!
But if you want to take that South American influence and try something new, check out these dishes that put a creative spin on some traditional recipes: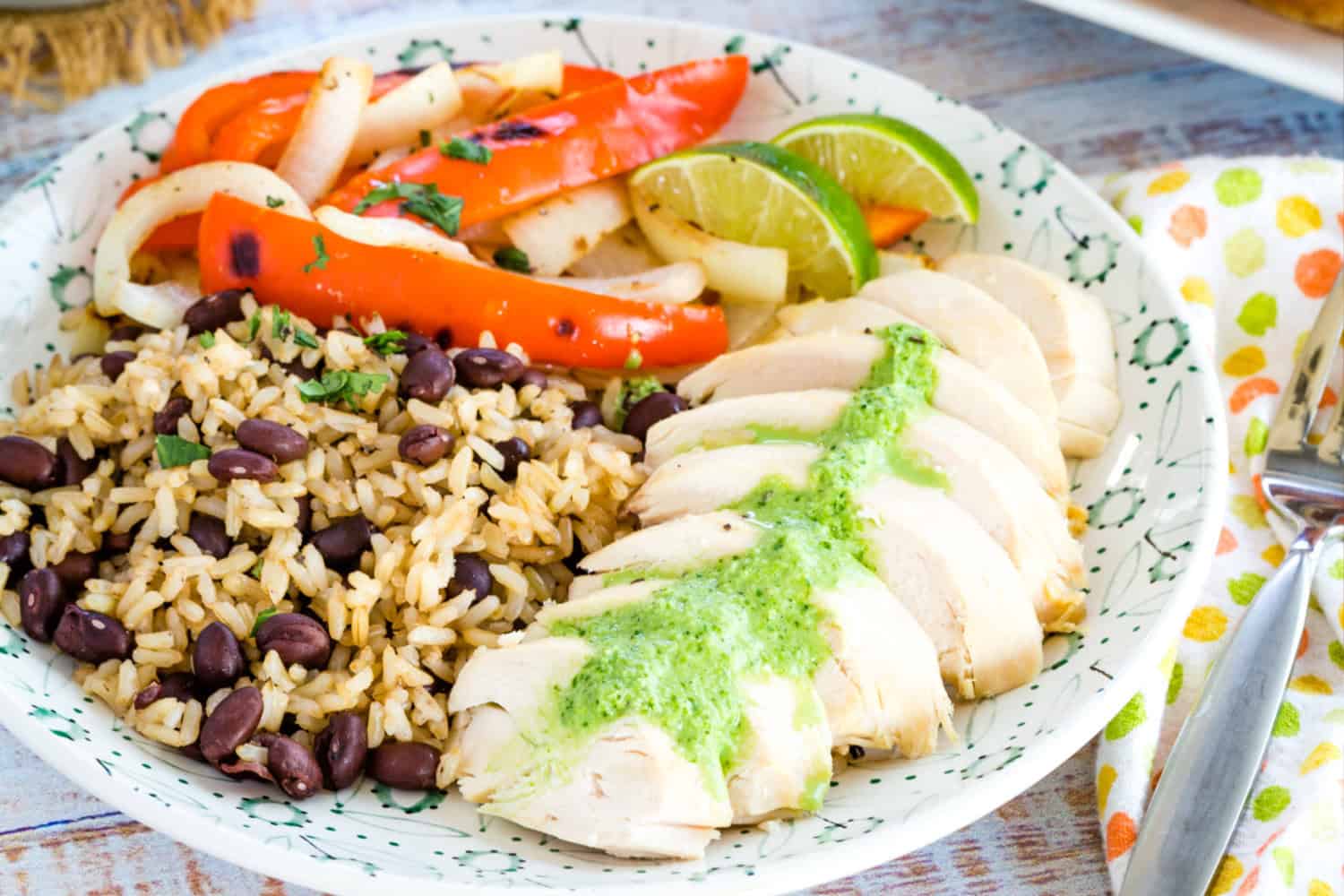 More sauces to jazz up your meals
Peruvian Green Sauce Recipe
With fresh flavors and a creamy texture to balance the jalapenos and zing of lime, this easy sauce recipe will liven up any dish. A healthy version of the classic aji sauce, you can pour it over meats, vegetables, salads, and rice, or use it for dipping fries and more. It will bring bold South American flair to your meals with some simple ingredients and a few minutes of work.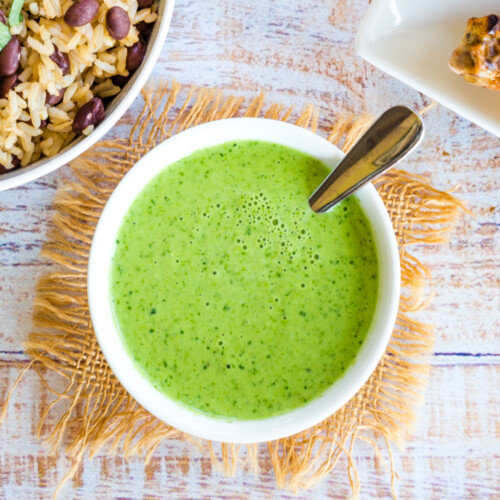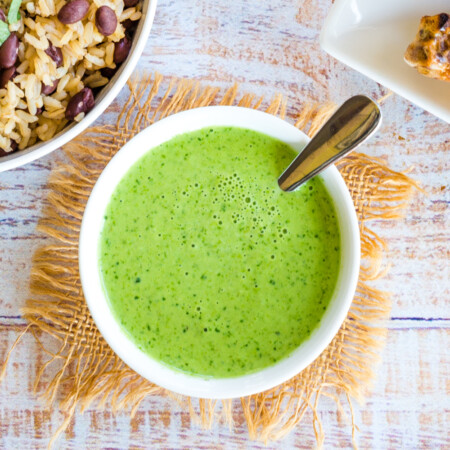 Peruvian Green Sauce (Aji Sauce)
Peruvian Green Sauce, or Ai Verde, is spicy, fresh, and creamy to liven up any dish. But this recipe is lighter and made with easy-to-find ingredients. Of course it pairs with roast chicken, but it's also delicious on vegetables, salads, potatoes, rice, and all kinds of grilled meats or seafood.
Ingredients
⅓

cup

plain Greek yogurt

2

Tablespoons

olive oil

1

Tablespoon

freshly squeezed lime juice

1

teaspoon

apple cider vinegar

2

jalapenos,

roughly chopped (ribs and seeds removed unless you want it extra spicy)

1

cup

packed fresh cilantro,

including the leaves and stems

1

clove

garlic,

roughly chopped

Salt and pepper,

to taste
Instructions
Combine the ingredients in a blender and puree until smooth. Season to taste with salt and pepper. Store in the refrigerator.
Nutrition Facts
Peruvian Green Sauce (Aji Sauce)
Amount Per Serving (2 Tablespoons)
Calories 41
Calories from Fat 36
% Daily Value*
Fat 4g6%
Cholesterol 1mg0%
Sodium 5mg0%
Potassium 19mg1%
Carbohydrates 1g0%
Protein 1g2%
Vitamin A 173IU3%
Vitamin C 5mg6%
Calcium 12mg1%
Iron 1mg6%
* Percent Daily Values are based on a 2000 calorie diet.