This post may contain affiliate links. Read my disclosure policy.
Sauteed Vegetables in Brown Butter is a quick and easy summertime side dish. A medley of fresh summer veggies, including zucchini, squash, corn, and tomatoes are tossed in just a bit of browned butter. This naturally gluten free recipe highlights the best flavors and ingredients of the season.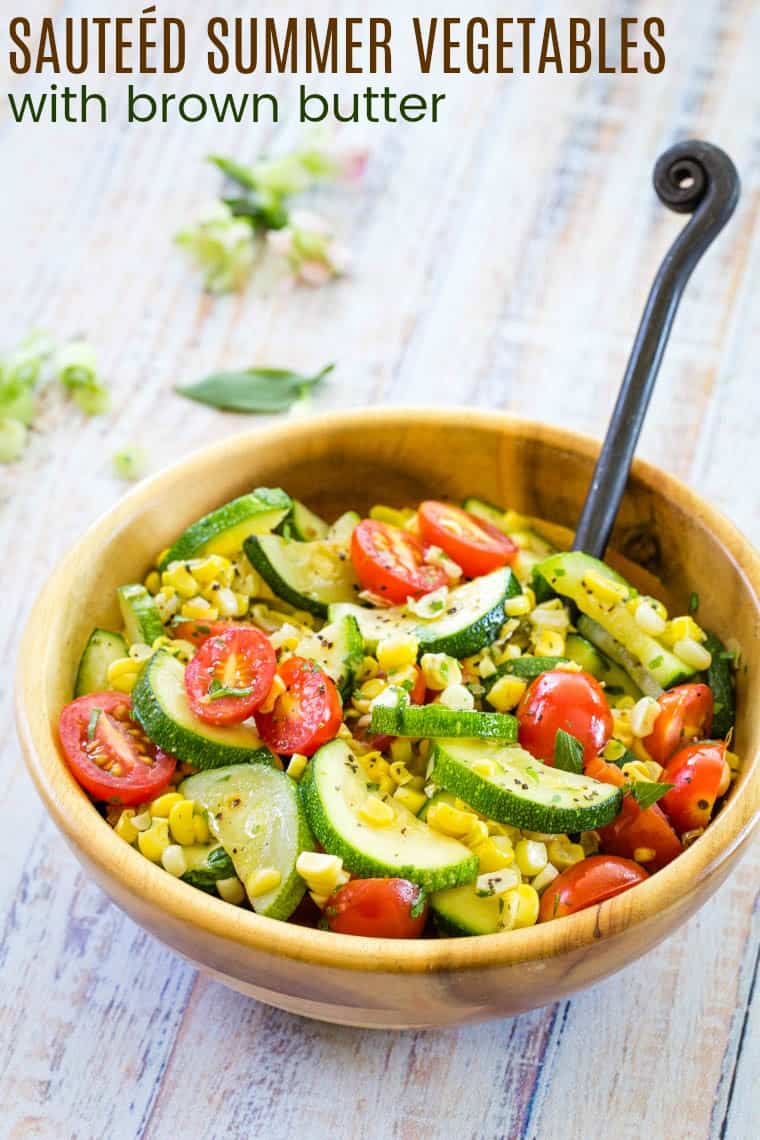 Originally published on Aug 6, 2013
On Sunday I waxed poetic over salted caramel ice cream and what I love about The Hubby, and the blossoming of our relationship. Today I'll tell you about one point on which we always disagree.
Let's say we are having some people over for dinner. And suppose we have to cook for four adults and three kids. He insists that we have enough food for the starting offensive line of an average NFL team. Like, you know, an entire batch of my best chili recipe.
I always want to have enough, but not way too much. So I tell him what I am making and how much, and then he "strongly suggests" that I purchase quadruple what I have on my grocery list.
I think I have a few reasons why I am like this. First, I am not a big fan of consuming leftovers in the form that I had originally eaten the food. I think this is because we just rarely did that when I was a kid. You see, my stepfather hated leftovers. So there was never that obligatory "Parade of Leftovers" night that most families seem to have.
But, I also hate throwing food away.
When The Bug was really little and didn't eat nearly the quantity he eats now, I'd save every little scrap. Then I would find some way to repurpose it to feed to him – tiny sandwiches, scrambled eggs, mixed with noodles, and such.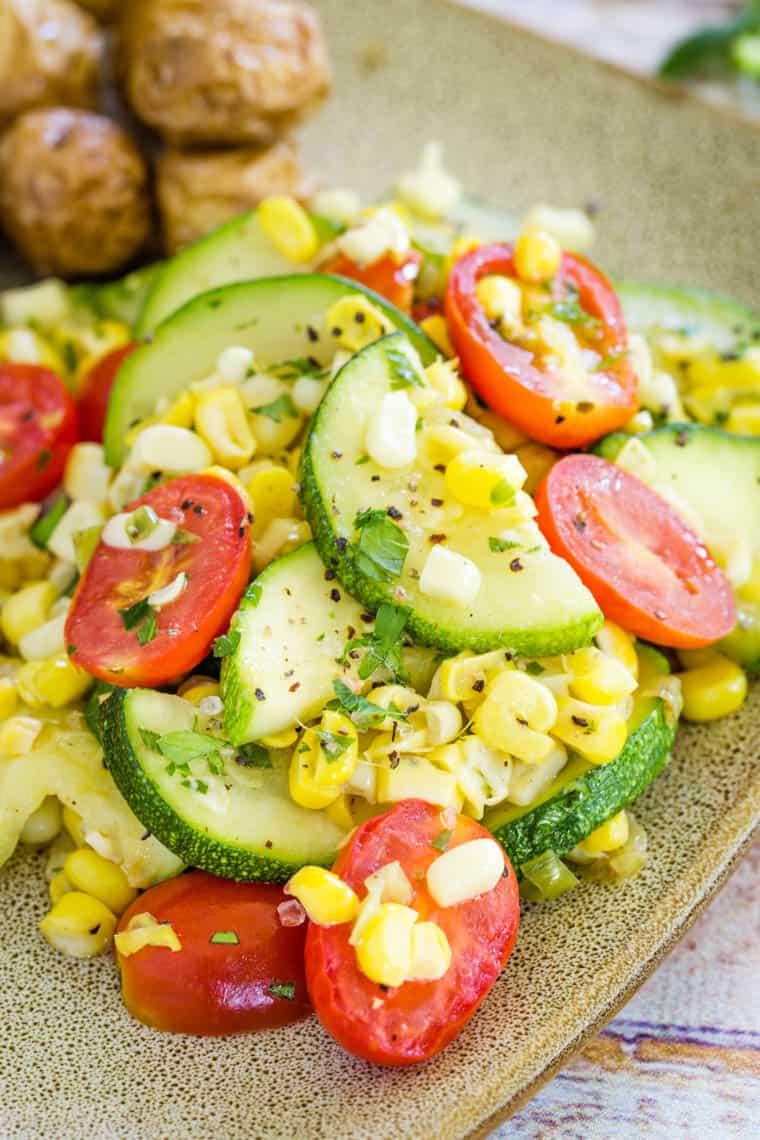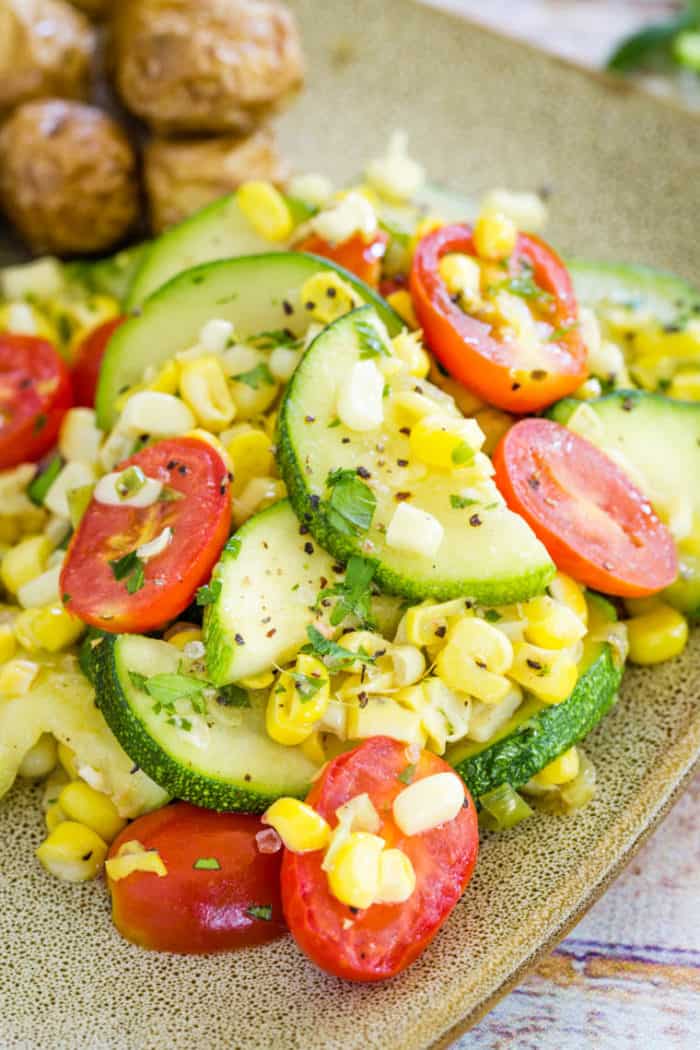 In fact, I am always repurposing leftovers, whether it's Barbecue Chicken Tostadas or Veggie Cheesy Quinoa Bites.
So, that is where this dish came from. I had one leftover summer squash, extra corn, because, you know, for three of us, we clearly need six ears of corn (yep, Hubby picked up the corn), and a few tomatoes from making Mango Avocado Salsa.
And parsley. Oh the darn parsley. I bought it for Peach Pecan Chicken Salad. But I am never able to use up one of the ginormous bunches of parsley that they insist on selling in the grocery store before it turns into a mushy mess.
I needed a side dish one night, and even more than that, I HAD.TO.USE.ALL.THE STUFF!!!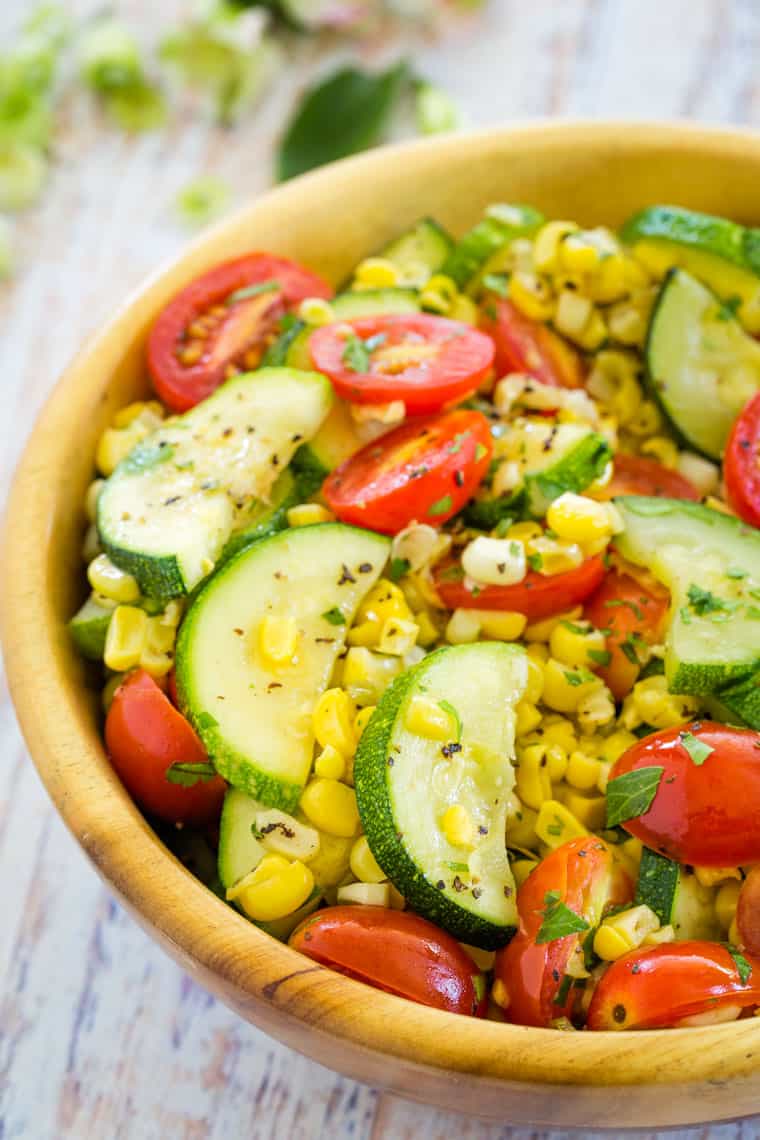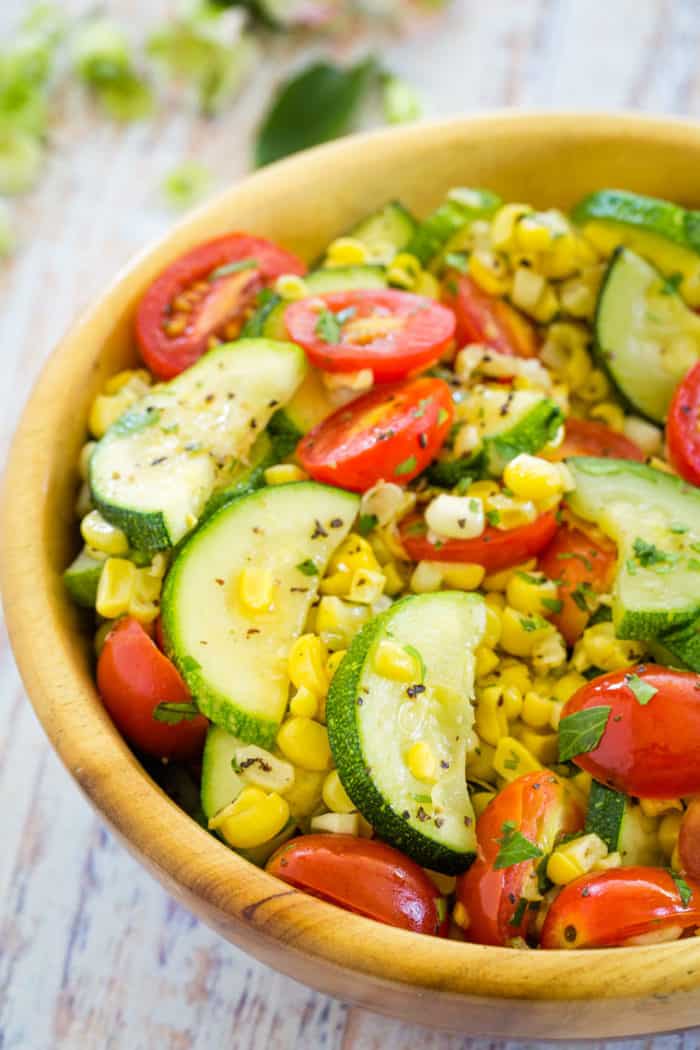 Summer Sauteed Veggies
These easy sauteed veggies are a fresh and healthy side dish. Toss zucchini, summer squash, tomatoes, corn, or whatever vegetables you love in just enough browned butter for a nutty, rich flavor the entire family will love. What else can you say? This vegetable medley is simple perfection.
What veggies can you saute?
Almost any vegetable you choose is suitable for sauteeing. You might need to parboil cruciferous vegetables like broccoli or cauliflower in order to achieve the desired tenderness. But other than that, there isn't much you can't add to this recipe.
This sauteed vegetable medley includes:
Scallions
Zucchini or yellow squash
Tomatoes
Corn
However, you can also add:
Green beans
Eggplant
Mushrooms
Parboiled broccoli or cauliflower
Carrots
Peas (yes, even frozen, which can be tossed in at the last minute)
And more!
How to saute vegetables in brown butter:
Prepare your veggies. Slice scallions. Cut zucchini or squash in half or quarters lengthwise, then into one-quarter-inch thick slices. Halve grape tomatoes or remove seeds and coarsely chop whole tomatoes. Cut cor kernels off the cob.
Add butter to a large pan and melt over medium-low heat.
Cook the butter slowly until it just begins to brown. Be careful not to burn it.
Add the scallion and saute until tender.
Add the squash or zucchini and cook until tender.
Gently stir in the corn and tomatoes, and toss to coat and warm through.
Sprinkle in chopped parsley and stir.
Serve immediately.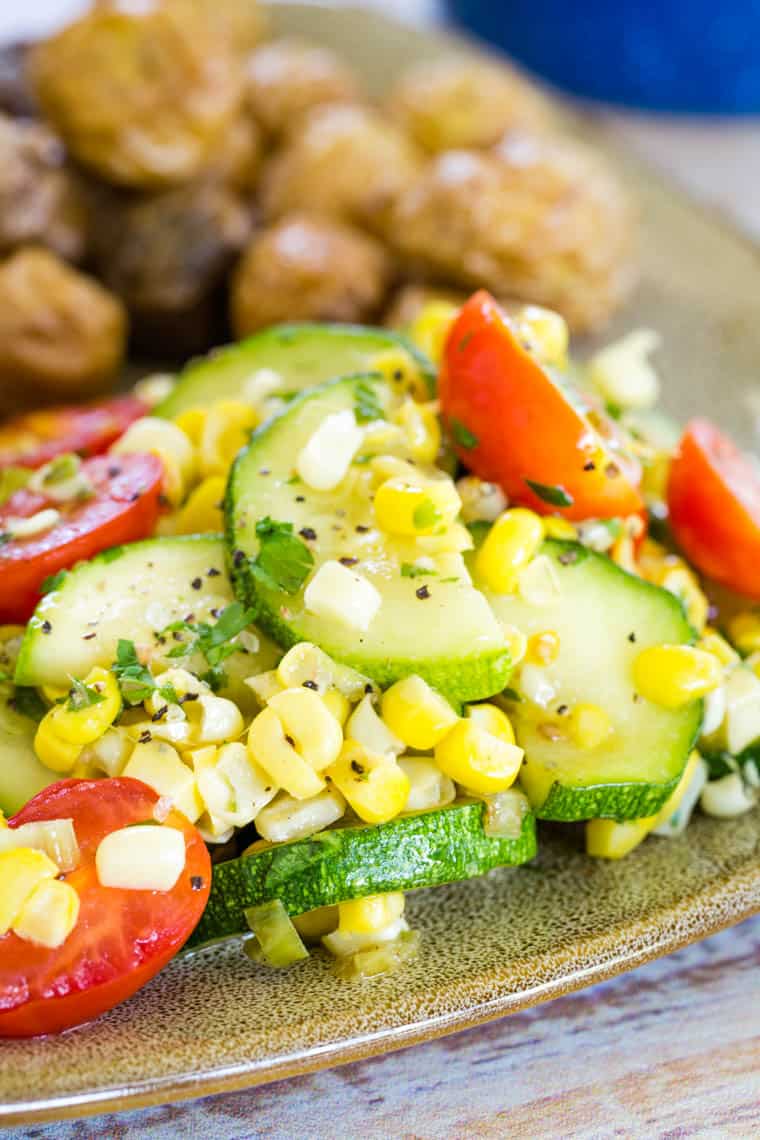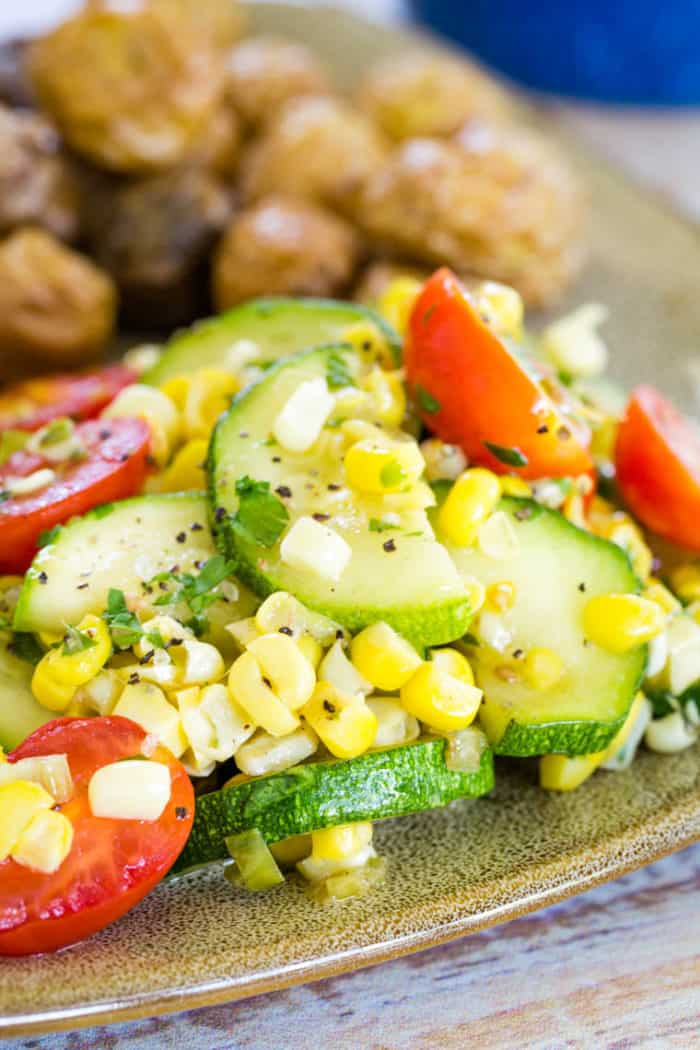 Are sauteed vegetables healthy?
Unlike fried vegetables, sauteed veggies are cooked in just a relatively small amount of fat. Also, they are not coated in a batter or breadcrumbs to add additional calories and carbs. Therefore, like roasted vegetables, this is a healthy way to prepare your produce.
While you often use heart-healthy olive oil, these are sauteed vegetables in butter. But it's just a small amount of butter – one tablespoon in the entire recipe. So it does not add a lot of fat or calories. In fact, one serving, or a quarter of the recipe, contains only about 80 calories.
And this recipe is naturally gluten free. Plus, if you use ghee in place of the butter, it's also a paleo side dish. In fact, if you leave out the corn and use extra squash or another low carb vegetable, you can also make it keto-friendly.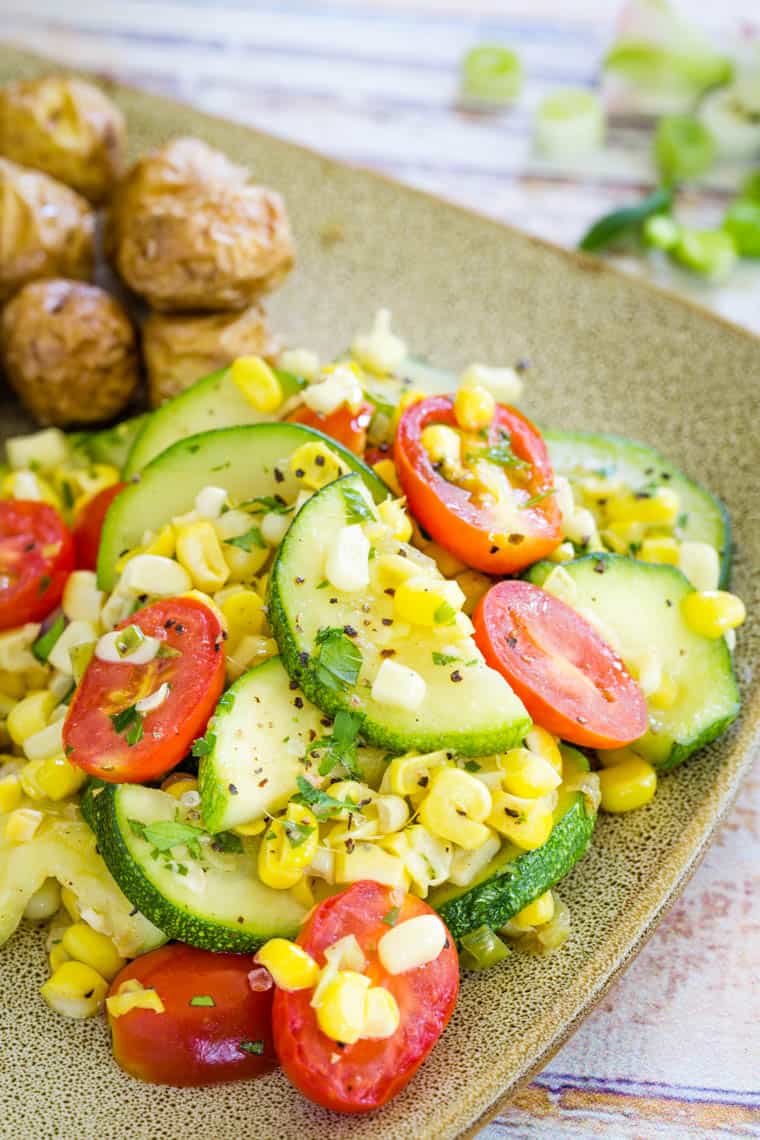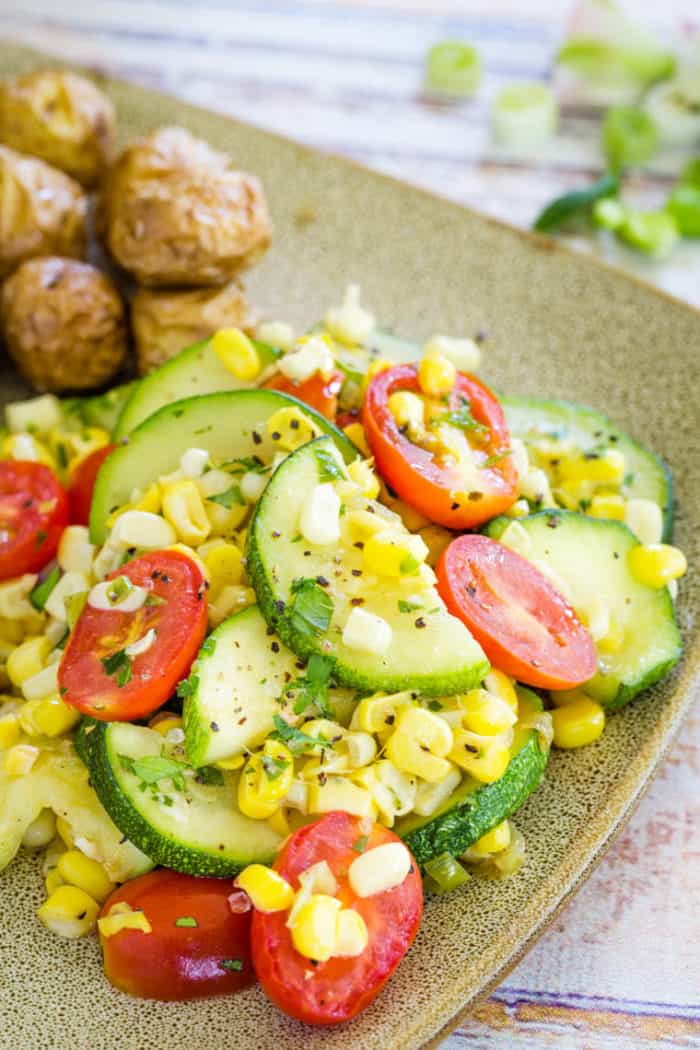 What to eat with sauteed vegetables?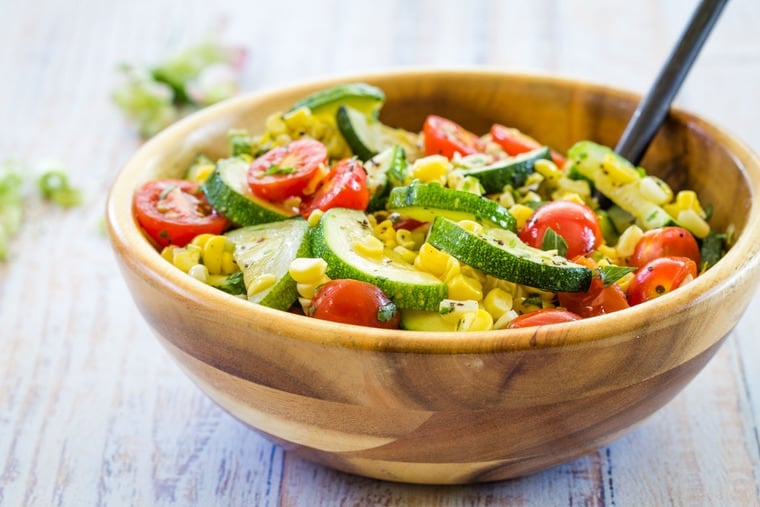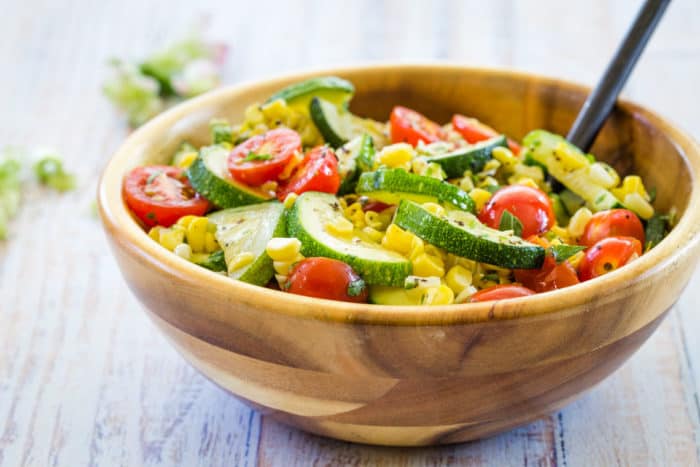 For more yumminess from me and my foodie friends, keep up with me on…
Or sign up to have Cupcakes & Kale Chips delivered straight to your Inbox!
Summer Brown Butter Sauteed Vegetables Recipe
I hope you'll leave a comment and give it a FIVE STAR rating or share a photo on Pinterest! If you make it, be sure to leave a comment or tag #cupcakesandkalechips on social media.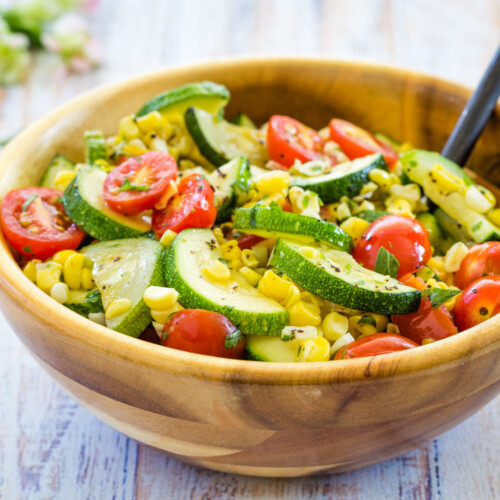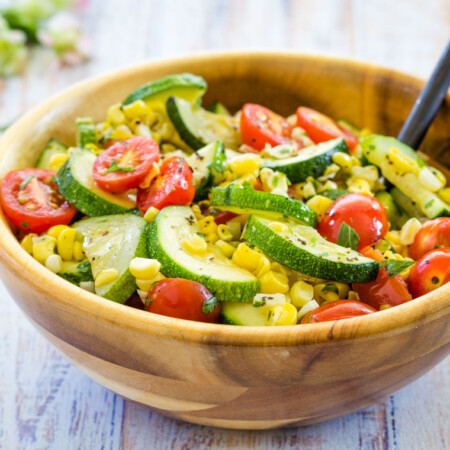 Browned Butter Summer Vegetable Saute
A easy side dish of fresh veggies with just enough browned butter for a nutty, rich flavor.
Ingredients
1

Tablespoon

unsalted butter

1

scallion,

thinly sliced

1

yellow summer squash

or zucchini, halved or quartered lengthwise (depending on size), and sliced about 1/4 in. thick

1

cup

grape tomatoes,

halved

2

ears of corn,

kernels removed from the cob

1/2

teaspoon

kosher salt

1/4

teaspoon

pepper

1

Tablespoon

chopped parsley
Instructions
Over medium-low heat, melt the butter in a pan, and cook slowly until it just begins to brown.

Add the scallion, and saute until it just begins to soften.

Add the squash and cook to desired doneness.

Add the tomatoes and corn, stir to combine, then season with salt and pepper, adjusting to taste.

Stir in parsley.
Nutrition Facts
Browned Butter Summer Vegetable Saute
Amount Per Serving
Calories 78
Calories from Fat 36
% Daily Value*
Fat 4g6%
Cholesterol 8mg3%
Sodium 295mg12%
Potassium 301mg9%
Carbohydrates 12g4%
Protein 2g4%
Vitamin A 710IU14%
Vitamin C 17.4mg21%
Calcium 11mg1%
Iron 0.5mg3%
* Percent Daily Values are based on a 2000 calorie diet.
Categories:
Enjoy!