This post may contain affiliate links. Read my disclosure policy.
Reunited, and it feels so good! Yes, I'm back in the Improv Challenge! And why the reference to cheesy music? Well, this month's theme is "Peaches & Herb" and I've got a sweet and savory Peachy Pecan Chicken Salad for you.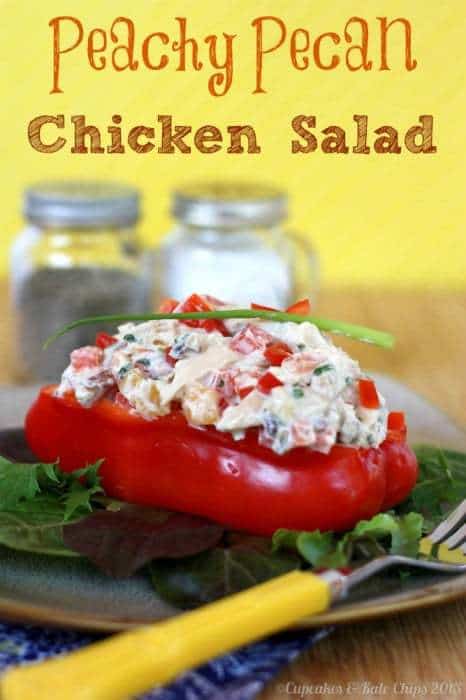 There's this radio station in New Jersey that is talk radio during the week, but on the weekends they play "oldies" (except now 80's music is considered oldies, which is starting to make me feel, well, umm, old), with a fairly heavy emphasis on "cheesy oldies". Is that even a thing? Well, it should be. You know, "The Pina Colada Song", "If You Get Caught Between the Moon and New York City", anything by Neil Diamond (now don't get on my case. I loves me some "Sweet Caroline" and "Cracklin' Rosie", but you gotta admit – CHEESE).
Even back in our pre-kid days, The Hubby and I typically didn't sleep in very late. But that doesn't mean we actually got up and out of bed. Occasionally we'd put on the TV, but usually The Hubby would flip on his clock radio, which was set to NJ 101.5 because that is the only station that came in very clear, and we would chit chat. And at some point during that chat, undoubtedly we would hear coming from the radio,
There's a port on a western bay
And it serves a hundred ships a day
Lonely sailors pass the time away
And talk about their homes
Ah, yes, Brandy, you're a fine girl. And if we didn't hear it while laying in bed, we would hear it in the car on the way to church, or on our way out to get pancakes, or while we were doing chores in the kitchen. I still say that it isn't officially a weekend in New Jersey until Big Joe Henry plays "Brandy" on NJ 101.5. So as awful of a song as it is, it will always remind me of lazy Saturdays or Sundays, so I love it. But seriously – CHEESE!!!!
Speaking of cheese…. Umm… wait, I actually made a recipe that does NOT have cheese. Terrible segueway. Can't believe it. That would have worked almost any other day. I mean salad with cheese, salad with cheese, grilled cheese, cheesecake, cheesecake, cheesecake, burger with cheese, steak with cheese, soup with cheese, mac and cheese. Oh crap!
So speaking of anything other than cheese, Peachy Pecan Chicken Salad. Ever since I saw this chicken salad from Isabel the Family Foodie, and made this chicken salad, I have been obsessed with Greek yogurt-based chicken salads. I've made a few variations that someday I'll have to share with you. But this one just fit in perfectly with the Peaches & Herb theme – a hint sweetness from the peach yogurt, balanced by a bit of freshness from the parsley and some savory scallion, a nice pop of color with crisp red pepper, and crunchy pecans. This would make a delicious sandwich, but I enjoyed it just as you see it – stuffed in the remaining half of the red pepper. The rest I'll probably throw on top of a salad, not being a big bread girl. And it's not overly peachy, so I would think you could use other flavors of yogurt as well, or plain and then maybe add a touch of honey.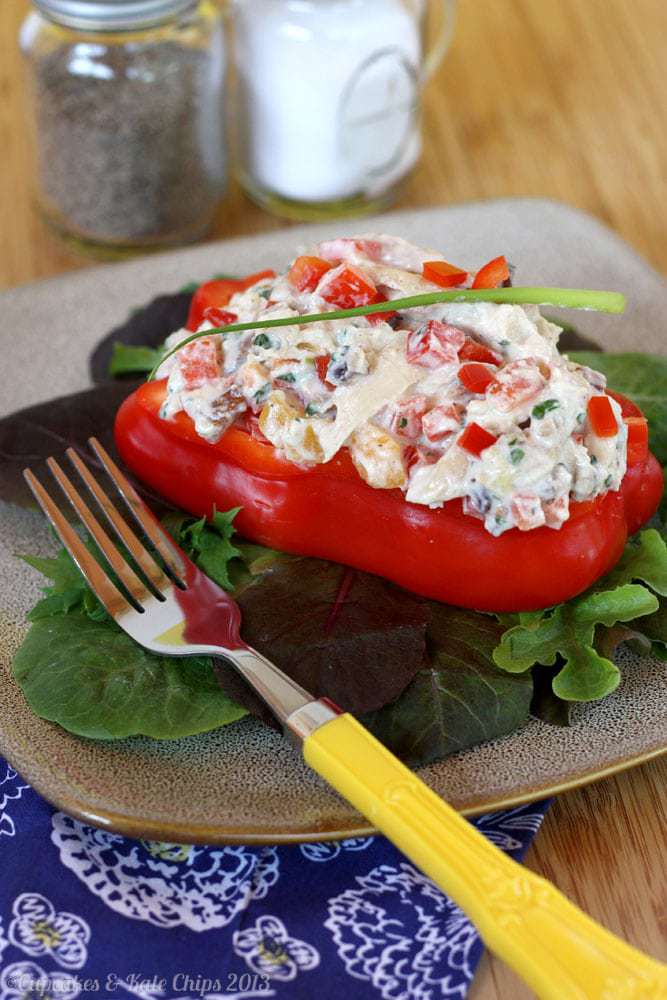 As I mentioned, this recipe is part of the Improv Challenge, which is a blog hop hosted by Kristen of Frugal Antics of a Harried Homemaker. A theme is given, which is two assigned ingredients. Then it is up to the participating bloggers to let the creative juices flow, and see what they can come up with. Then on the third Thursday of the month, we will all publish our new recipes based on the theme. This month's theme – peaches & herb. If you are have a blog and would like to join us, click on the picture to the below to learn more. If you are new to my blog, finding me because you have been following the Improv Challenge, then WELCOME!
Check out the links at the bottom of this post to more great Peaches & Herb Recipes! I can't wait to see what everyone has come up with!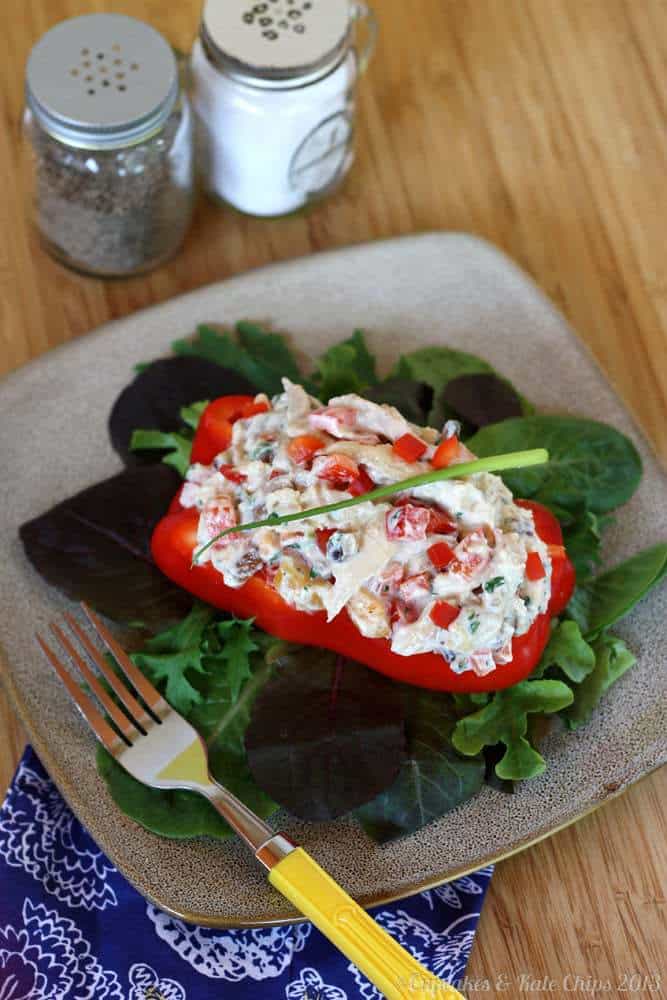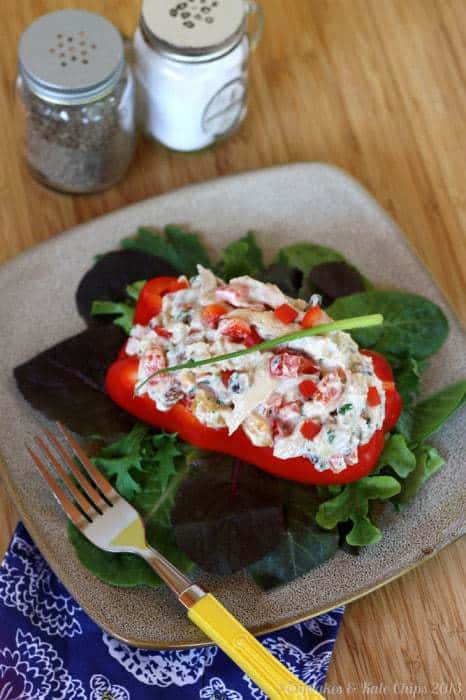 What is your favorite guilty pleasure "cheesy" song?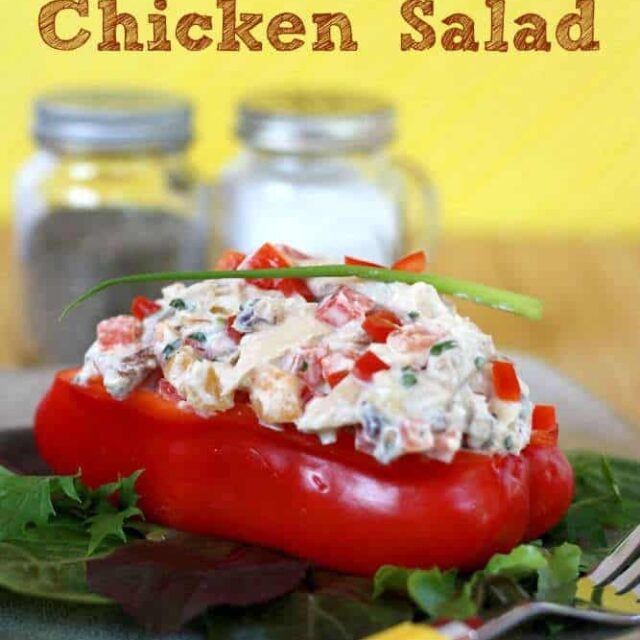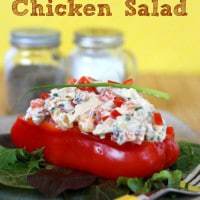 Peachy Pecan Chicken Salad
A Greek yogurt-based chicken salad with a hint sweetness balanced by freshness from parsley and some savory scallion, with crisp red pepper and crunchy pecans for texture.
Ingredients
One 6 oz. container Peach Greek yogurt

I used Chobani 0%, could probably substitute apple, pear, or honey flavors with delicious results

2

T

Dijon mustard

half of a red pepper

diced

1/4

c

chopped pecans

1

T

minced parsley

1

T

chopped scallions or chives

or more, to your preference

salt and pepper

to taste

About 2 c shredded

cooked chicken
Instructions
Combine all of the ingredients except the chicken in a bowl, and mix until evenly distributed.

Fold in the chicken.

Serve on a sandwich, salad, crackers, pita, etc.
Nutrition Facts
Peachy Pecan Chicken Salad
Amount Per Serving
Calories 219
Calories from Fat 126
% Daily Value*
Fat 14g22%
Cholesterol 45mg15%
Sodium 137mg6%
Potassium 193mg6%
Carbohydrates 7g2%
Protein 16g32%
Vitamin A 682IU14%
Vitamin C 22mg27%
Calcium 62mg6%
Iron 1mg6%
* Percent Daily Values are based on a 2000 calorie diet.
Categories:
Enjoy!