This post may contain affiliate links. Read my disclosure policy.
Curried Butternut Squash Soup brings exotic Thai flavors to a healthy and aromatic twist traditional comfort food. This velvety smooth curried soup recipe will warm you from the inside out, plus it is naturally gluten free and vegan.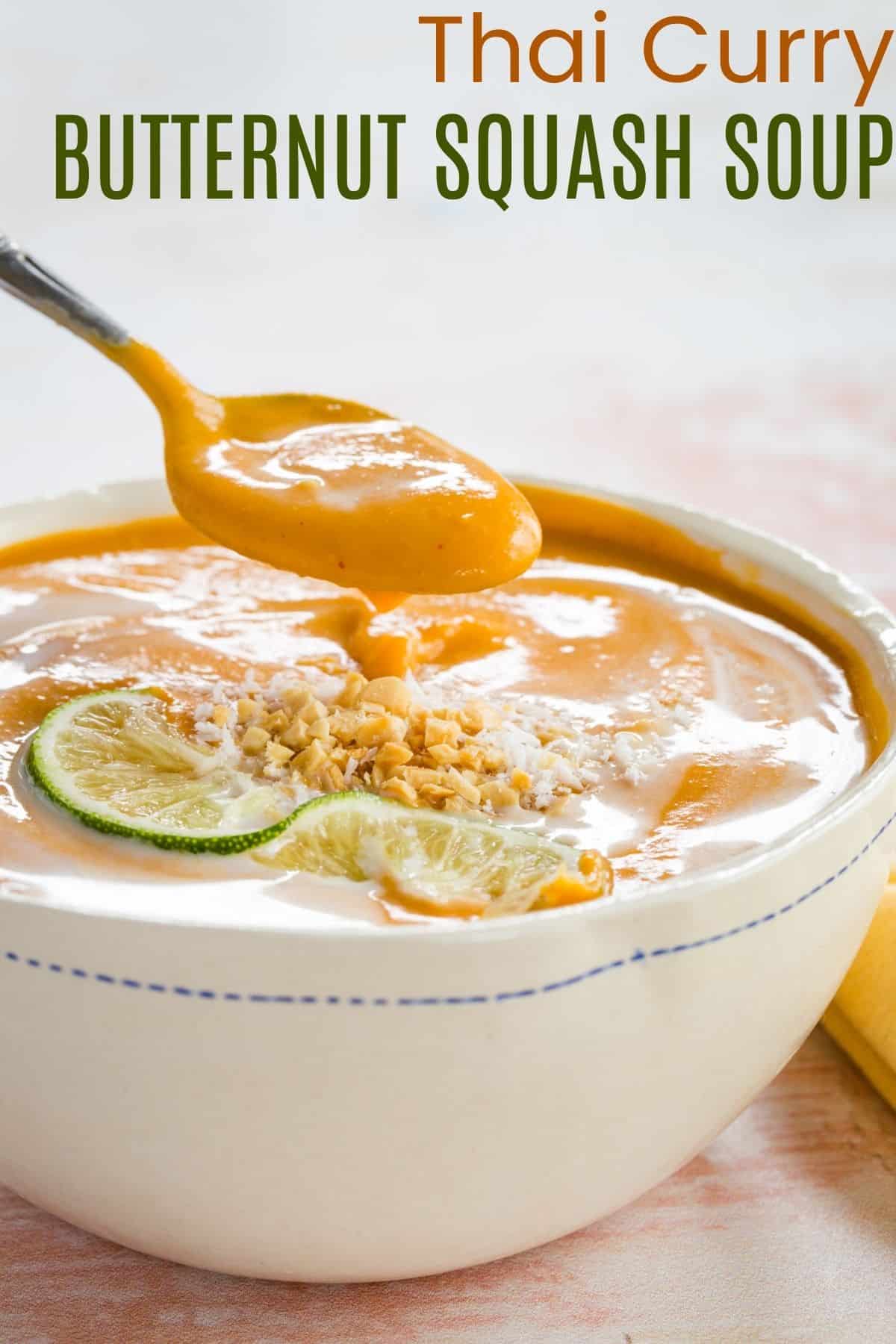 Originally published March 9, 2014. Updated with new photos and more helpful information about the recipe.
My family has always been pretty big meat and cheese eaters. Our staple dinners were often very similar to Cheesy Ground Beef Skillet. And even out vegetarian meals most certainly had dairy – pizza, grilled cheese, pierogies. Even spaghetti was usually covered with a mountain of parmesan.
So the first day of Lent, when we don't eat meat and dairy, was always a little tricky for us. Seafood is allowed, but you'd never catch my mom cooking or eating something like, say, broiled salmon.
As I got older and learned more about cooking, I realized I didn't have to stick to a diet of Pop Tarts, Jello, and bananas with peanut butter on those two days of the year. I started branching out, making shrimp stir fries, Tomato Sauce with Chickpeas for my pasta, and even Vegan Cauliflower Chili with Quinoa.
As well as vegan soups like this Thai Coconut Curry Butternut Squash Soup recipe!
While many butternut squash soup recipes tend to be on the sweet side, with that sweetness only enhanced by adding spices like cinnamon and nutmeg, I've always preferred a more savory version. Whether I make my butternut soup with sage and thyme, or make a veggie-packed version of cheddar cheese soup, I don't want mint to taste like pie.
But I had the idea for this spices and sassy version in my head for like a year and a half before I actually made it. Why I waited so long I'll never know because now I want to keep eating it.
Thai Butternut Squash Soup Recipe
Butternut squash simmered in coconut milk and pureed makes it rich and creamy, peanut butter also adds to the smooth, luxurious texture. Thai red curry paste brings in the exotic flavor and a bit of warmth. But the spice is not overwhelming since it is balanced by the natural sweetness of the squash.
A steaming bowl of this Curry Butternut Squash Soup is so satisfying and comforting. I know I'll be making it over and over!
Here is a brief overview so you can see just how easy it is to make. Scroll down to the printable recipe card for the full quantities and details.
But don't skip my PRO TIPS below!
About the ingredients
Butternut squash
You'll need one large butternut squash, about 3 pounds. This does not have to be exact as you can always add more water or broth to adjust the thickness of the soup depending on the size of your squash.
Do you have to peel butternut squash?
Yes, while newly harvested butternut squash can have tender skin, typically it is too tough and tender. In some recipes that call for roasted butternut squash, you can roast it in the skin and scrape out the flesh.
Thai red curry paste
Thai red curry paste is a blend of flavorful ingredients like chilis, garlic, ginger, lemongrass, and spices that are blended to form a paste. You can make your own with a Thai red curry paste recipe, or you can buy it from a brand such as Thai Kitchen, which is gluten free.
Coconut milk
This is canned coconut milk not the kind from a carton. Light coconut milk works fine to save calories. Full fat coconut milk will make it richer and thicker, so you may need to add a little more liquid at the end.
Soy sauce or tamari
You can use your favorite soy sauce, but if you ned to make this gluten free, just be sure to use a brand that does not include wheat or use tamari. Coconut aminos would also work, but you may need an extra pinch of salt.
Other ingredients
The rest of the ingredients are pantry staples that you may already have in your kitchen.
Coconut or olive oil
Onion
Garlic
Fresh ginger
Water or vegetable broth
Creamy peanut butter
Salt and pepper
Lime
Garnishes
Taking inspiration from the soup ingredients, you can set aside a little of the coconut milk and drizzle it on top, give it an extra squeeze of lime, or sprinkle on some shredded coconut or chopped peanuts for texture.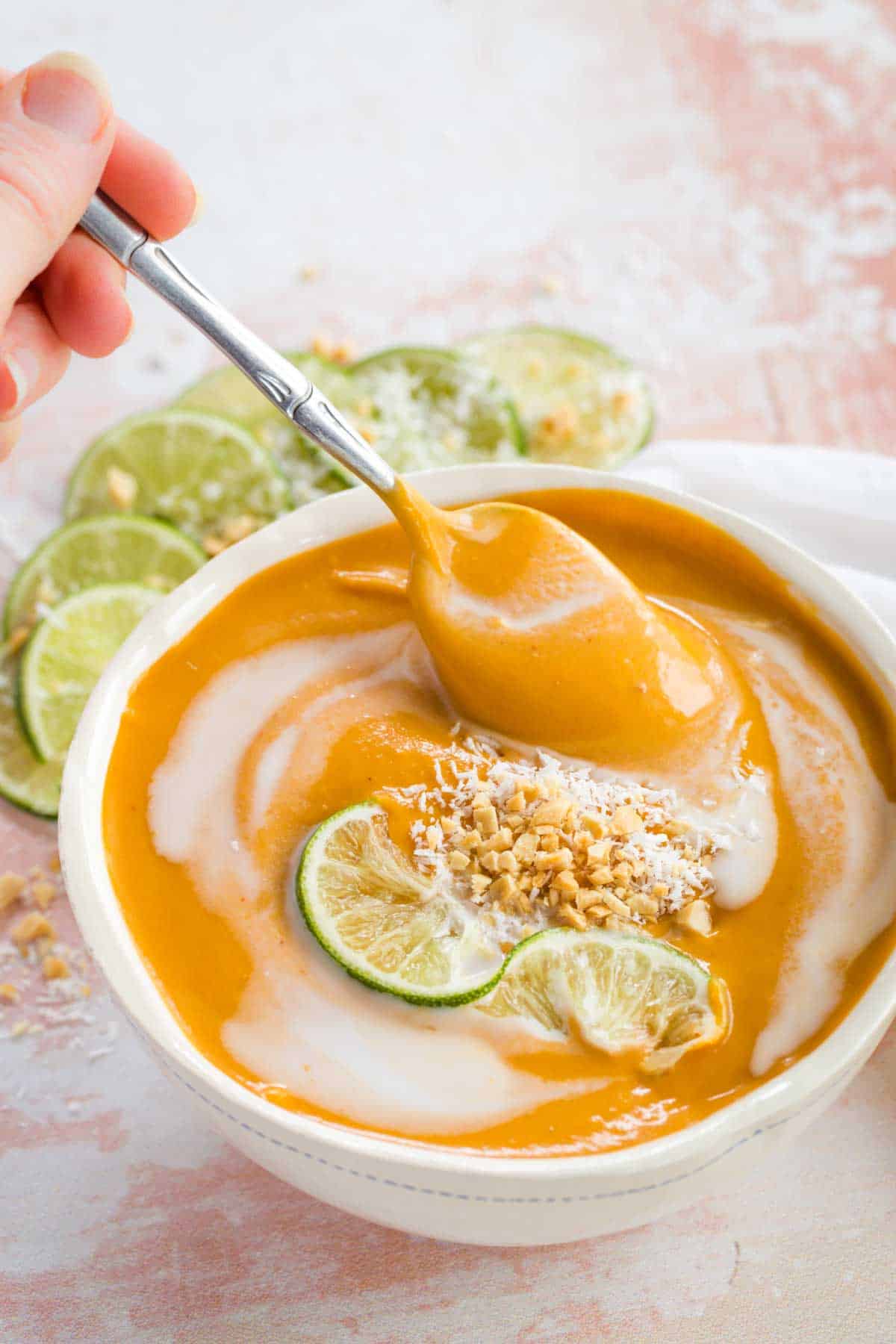 Is butternut squash soup healthy?
Yes, butternut squash is a powerhouse of vitamins, minerals, fiber, and antioxidants for relatively few calories. It is loaded with Vitamins A and C, and that orange color is a great indicator that it has high levels of beta-carotene. The fiber and antioxidants also make this one of the best heart-healthy recipes. (source)
Plus this soup is naturally gluten free and vegan.
How do you thicken butternut squash soup?
One of the best things about butternut squash soup is that you don't need anything else to thicken it. After you simmer the squash in whatever liquid you choose, it purees into a beautifully smooth texture.
I always recommend cooking it in a little less liquid, then adding more after you puree it so that you can get the texture you enjoy.
For pureeing the soup, you'll need one of the following:
Immersion blender – also called a hand blender or stick blender, an immersion blender allows you to puree the soup right in the pot without transferring it to a blender. This makes it easier, with less mess to clean up.
Blender – you can use any blender you have, but for the smoothest, most silky soup, I love to use my Blendtec Designer 725. The Wildside+ Jar is nice and big, so you don't have to blend it in batches, as you would with a smaller blender, and it gets perfectly smooth in seconds. You can even use the "Soup" setting to keep it hot while you blend it. I am a Blendtec ambassador. Should you make any purchases through that link, I will receive a small commission. But that also means you can use the code CUPCAKESANDKALECHIPS to receive 20% off.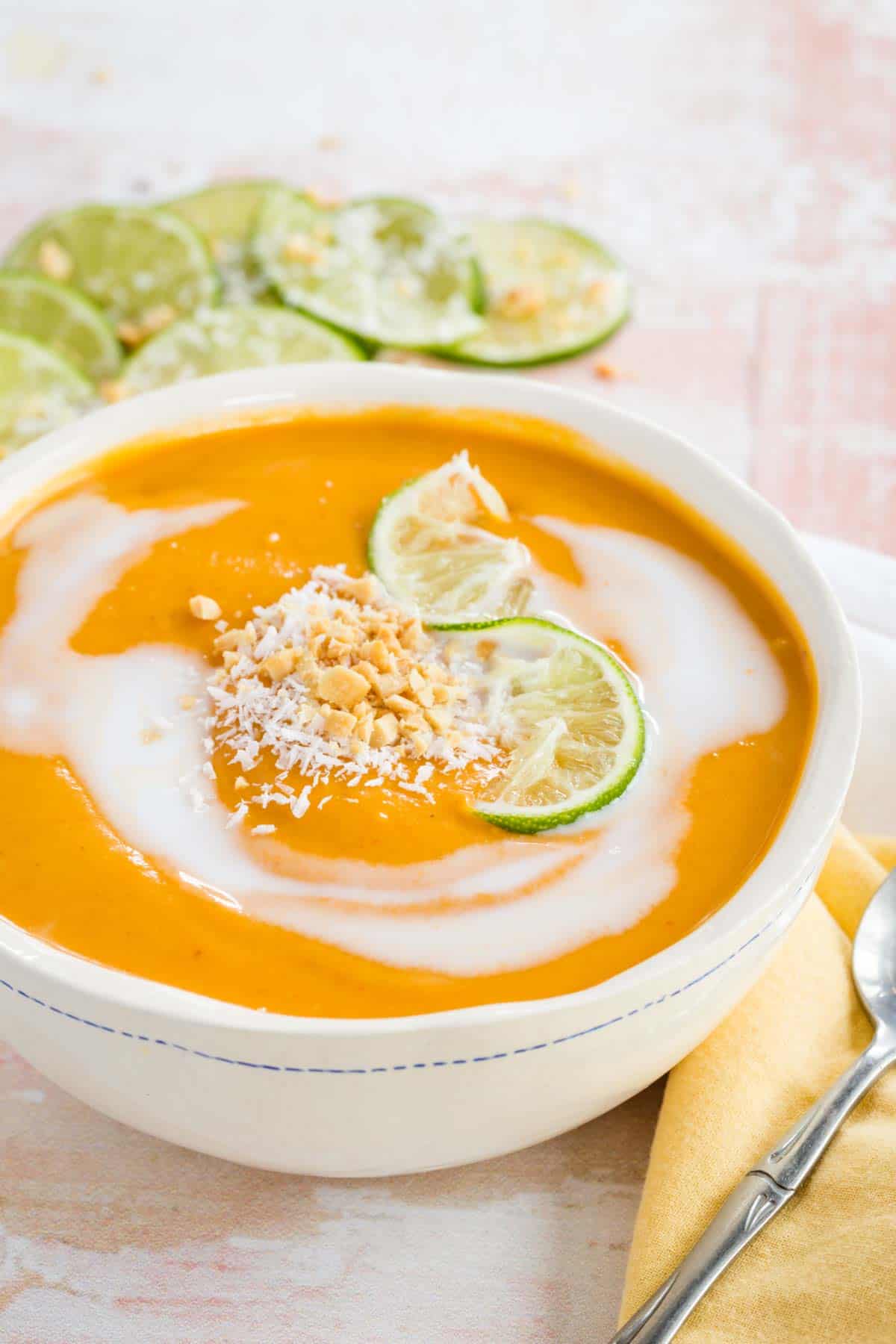 Make it a meal
While this soup is rich and satisfying all on its own, you can always round out the meal by serving it with one of these dishes.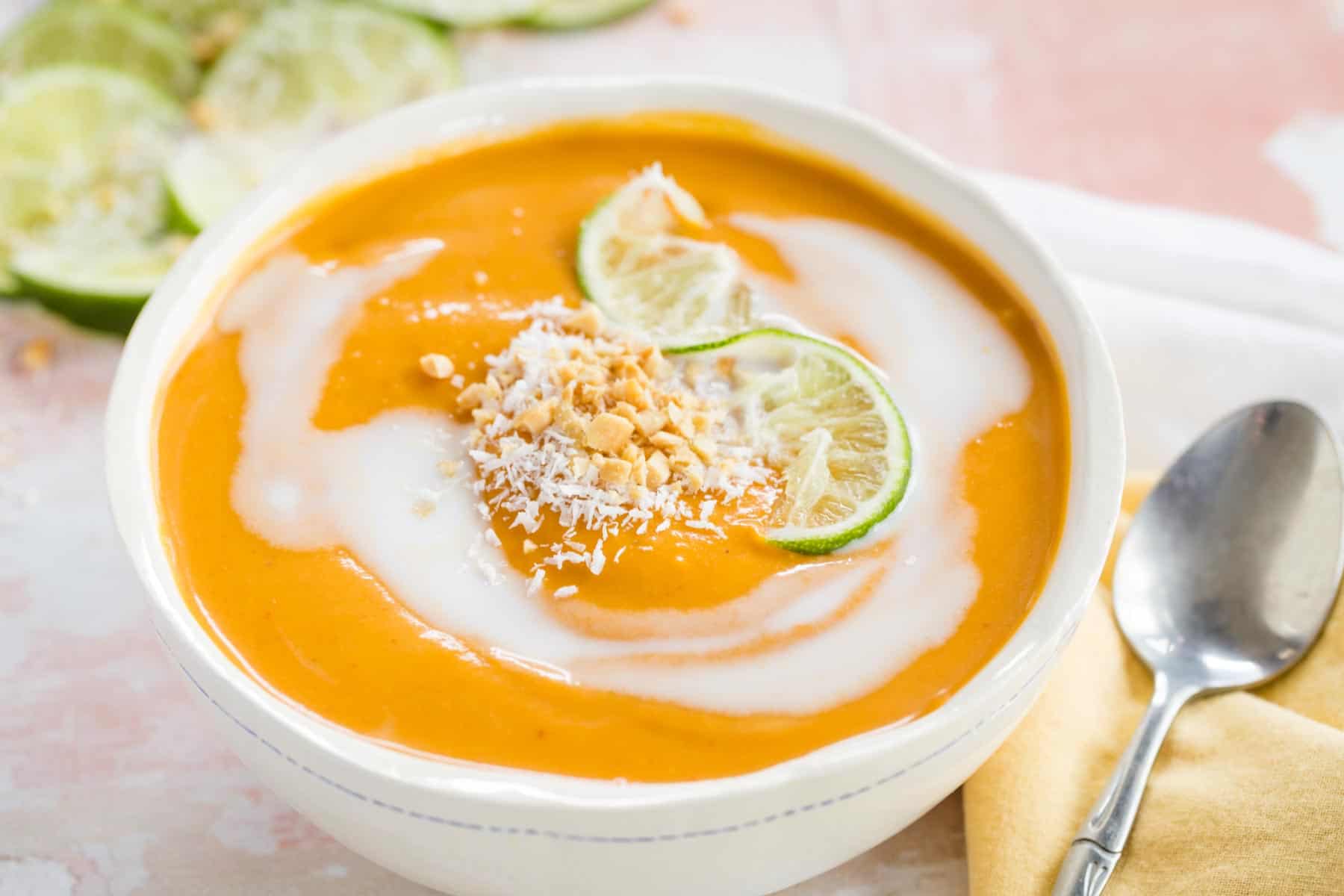 More healthy soup recipes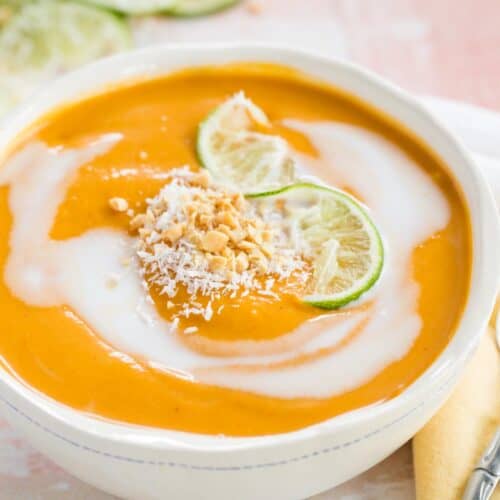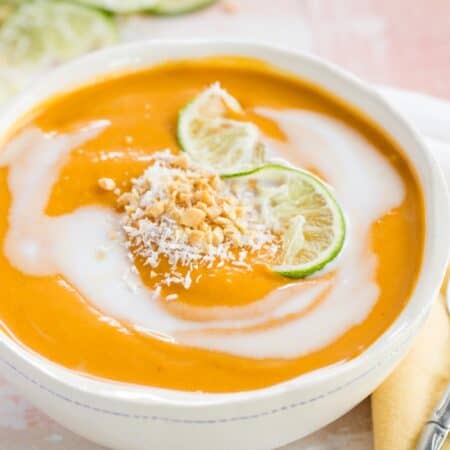 Thai Coconut Curry Butternut Squash Soup
Take the classic butternut squash soup and add exotic East Asian flavors for a new twist on a traditional comfort food.
Ingredients
1

teaspoon

coconut or olive oil

half

of a

medium onion,

chopped

1

large butternut squash,

peeled, seeded, and cut into chunks

1

clove

garlic

minced

1

teaspoon

minced or grated fresh ginger

1/4

cup

Thai red curry paste

13.5

oz.

can coconut milk

(you can use light)

1

cup

water or vegetable broth,

or more if needed to adjust thickness

1/4

cup

creamy peanut butter

2

Tablespoons

soy sauce or tamari

salt and pepper,

to taste

1

lime

Additional coconut milk shredded unsweeted coconut, chopped peanuts, etc. for garnish, if desired
Instructions
In a large sauce pan, heat the oil over medium heat.

Add the squash, onion, and a pinch of salt and pepper.

Cook for about 5 minutes, or until the onion and squash are starting to get tender.

Add the garlic, ginger, and curry paste, and saute for another minute or two, until fragrant.

Add the coconut milk, cover, and bring to a simmer. Simmer for 20-25 minutes, or until squash is tender.

Puree with an immersion blender, or in batches in a blender or food processor.

Return soup to the pot, return to a simmer and stir in the vegetable broth or water, peanut butter, soy sauce or tamari, and the juice of one lime.

If thicker than you desire, add additional water or vegetable broth to thin it out.
Nutrition Facts
Thai Coconut Curry Butternut Squash Soup
Amount Per Serving (1 bowl (about 1 cup or 8 oz.))
Calories 150
Calories from Fat 72
% Daily Value*
Fat 8g12%
Sodium 450mg19%
Potassium 400mg11%
Carbohydrates 16g5%
Protein 4g8%
Vitamin A 11193IU224%
Vitamin C 23mg28%
Calcium 62mg6%
Iron 1mg6%
* Percent Daily Values are based on a 2000 calorie diet.
Categories:
Enjoy!