Easy Peanut Butter Banana Snacks
Disclosure: This post may contain affiliate links. Cupcakes & Kale Chips is a participant in the Amazon Services LLC Associates Program, an affiliate advertising program designed to provide a means for us to earn fees by linking to Amazon.com and affiliated sites.
Peanut Butter Banana Snacks are an easy snack recipe with only three-ingredients. You can whip up as the kids are getting off the bus to have them ready the second they run through the door. Super yummy and naturally vegan and gluten-free (depending on the granola you choose), these banana bites are definitely healthy no-bake snacks kids love.

Easy Banana Snack Recipe
Let me paint the picture for you. I had pulled one load of laundry out of the dryer, moved one from the washer to the dryer, and put yet another load in the washer. I had the counter covered with little containers and dirty knives and packages of grapes and carrots and cheese and bread and crackers and cucumbers and bags of raisins and tubs of yogurt and bottles of honey and everything else needed to prep two kids' lunches and breakfast for the next three days. Steak was thawing and the zucchini was recently sliced for that night's dinner, I moved the chicken from the freezer to the fridge to thaw for tomorrow's dinner. Dirty dishes were multiplying next to the sink. The phone was ringing because mom was calling.
And what do I hear from down in the basement?
"Moooommmmmmm, the batteries on my Wii controller died! It's not working anymore. Mom. Mommy! Mommmmmmyyyyy!"
Five minutes later he got the hint. He walked his seven-year-old butt upstairs, and politely asked for me to get him some batteries for the controller. And I did.
Well, clearly the hint was not taken by the five-year-old. What did I hear ten minutes later bellowing over the music from Super Mario Brothers?
"Mommmmmmyyyy, we're hungry! Can you bring us a snack?"
Yeah, that would be a hard NO.
Maybe if he had come upstairs and asked nicely I would have made these…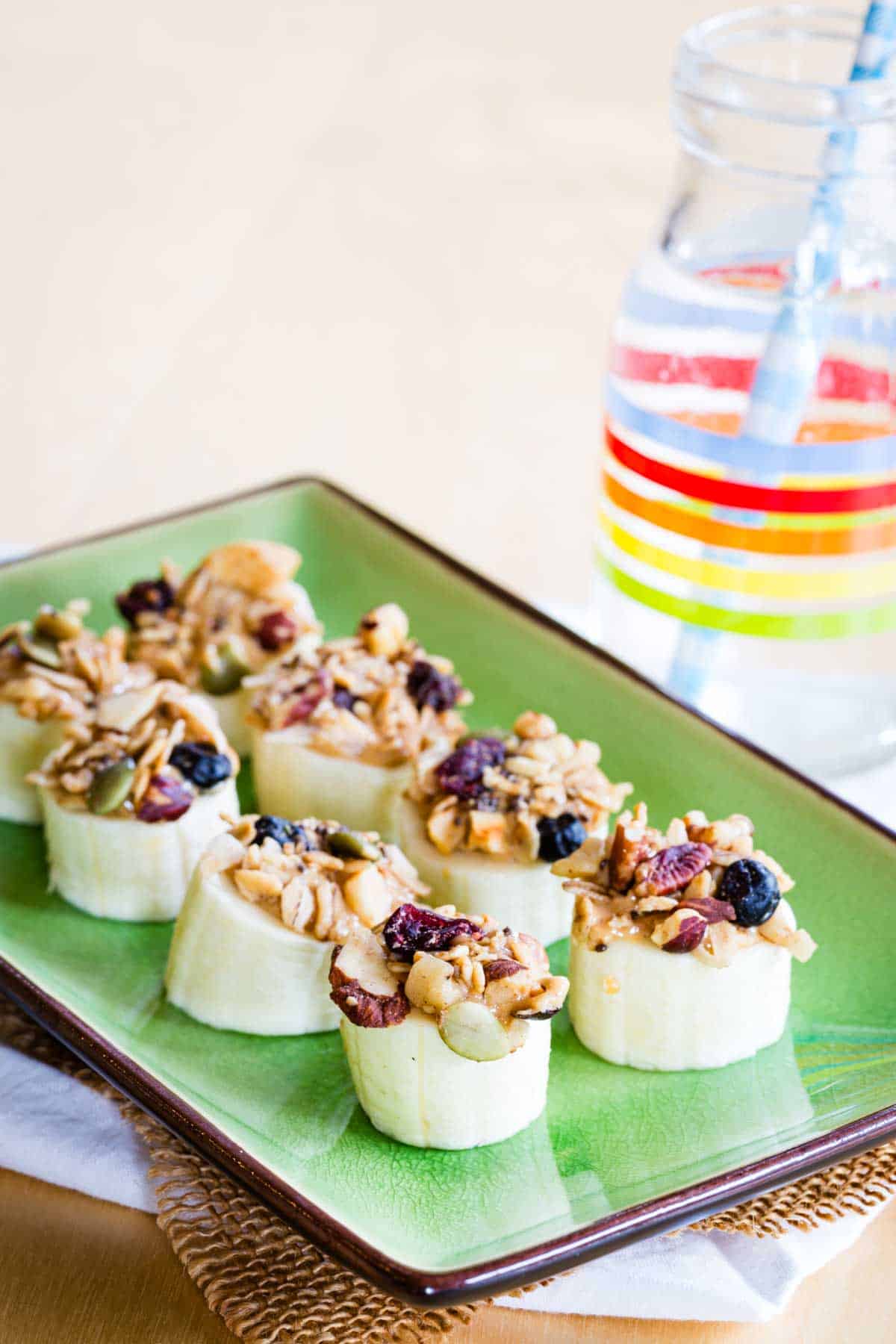 Peanut Butter Banana Snacks are mom-approved kid favorite!
The older kiddo begs me to make him these banana bites, and yours will too. Peanut butter and banana is always a favorite combination in everything from this Skinny Peanut Butter Chip Smoothie or these Flourless Funky Monkey Oatmeal Muffins, and even into more indulgent treats like the Peanut Butter Chocolate Chip Banana Ice Cream he requested for his birthday one year. So it was only natural I use this favorite combo for a super quick and easy snack recipe. I love that they are packed with healthy ingredients, the kids love that they taste yummy, with the soft and sweet banana, salty peanut butter, and crunch from their favorite granola.
All I do is slice a banana into about 1-inch pieces, spread some peanut butter on top of each piece, and dunk it in granola.
Heck, you might even find yourself snacking on these Easy Peanut Butter Banana Snacks too!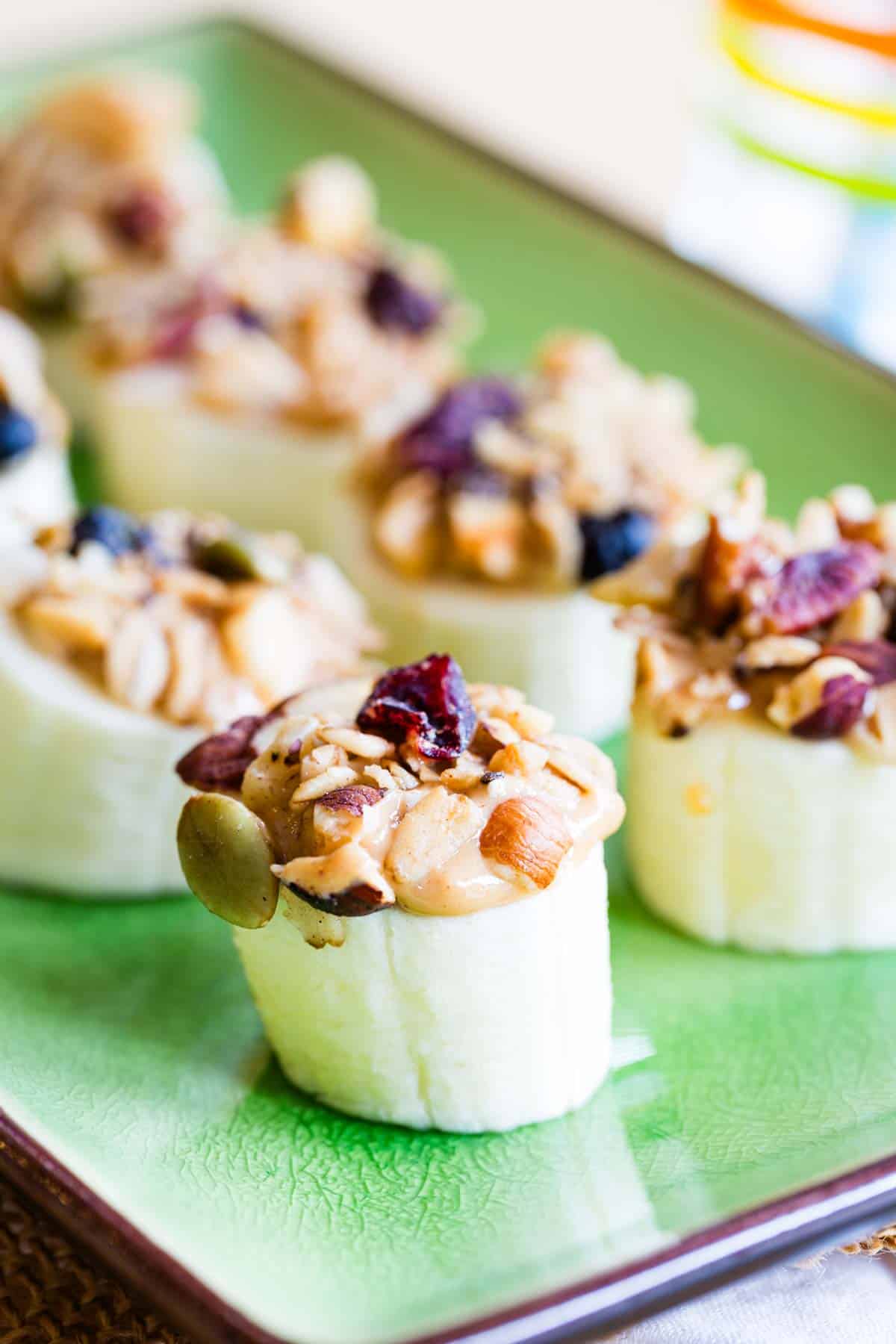 How many ways can you make Easy Peanut Butter Banana Snacks?
After slicing a banana into chunks, the possibilities are endless.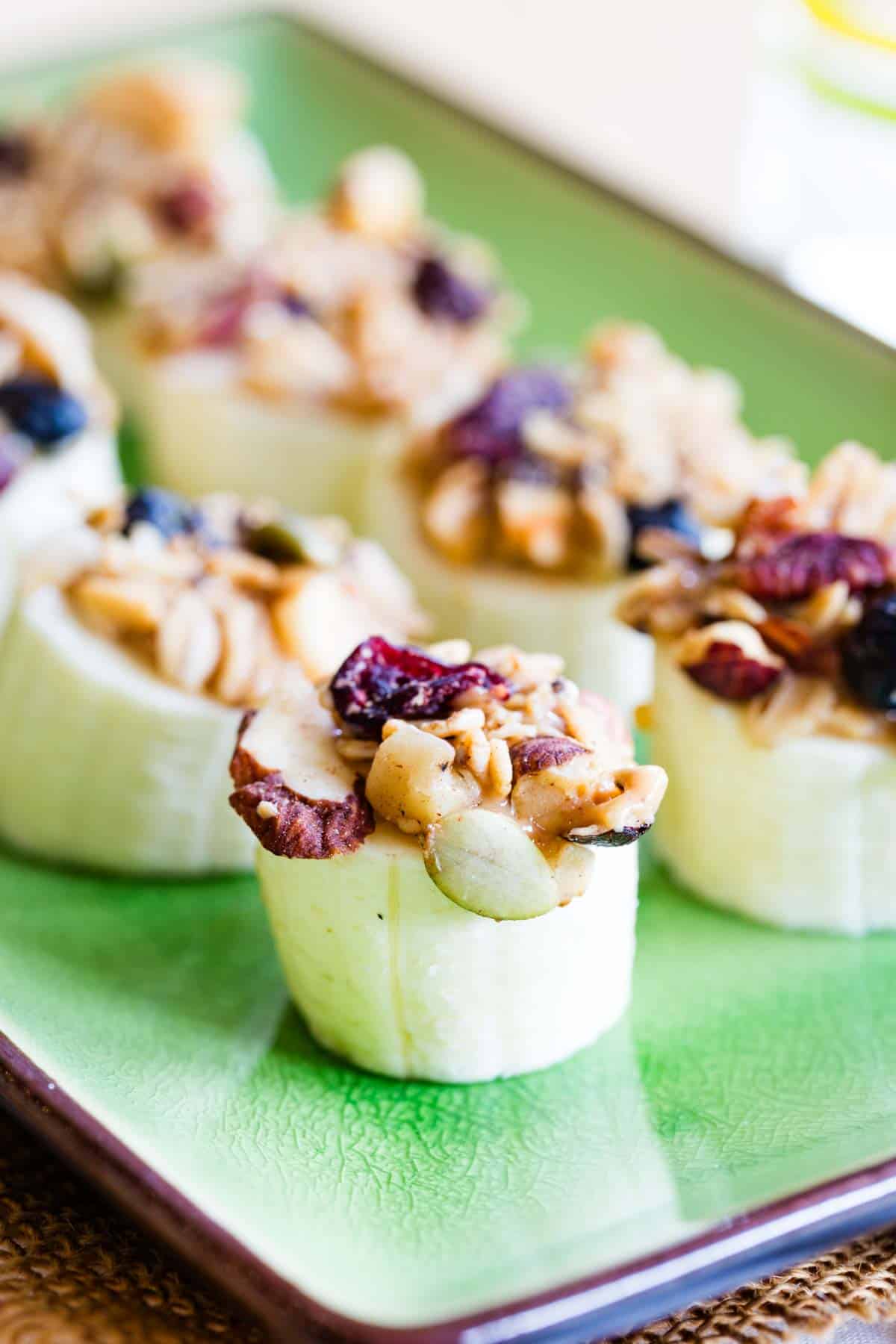 Looking for some more easy snack recipes for kids? Each of these has only three ingredients!
You can also try some Three Ingredient Chocolate Chip Oatmeal Breakfast Cookies from Princess Pinky Girl. Take a dunk into Healthy Fruit Dip from Bless This Mess that has only three ingredients. Or blend up a Three Ingredient Pineapple Green Smoothie from Tried and Tasty.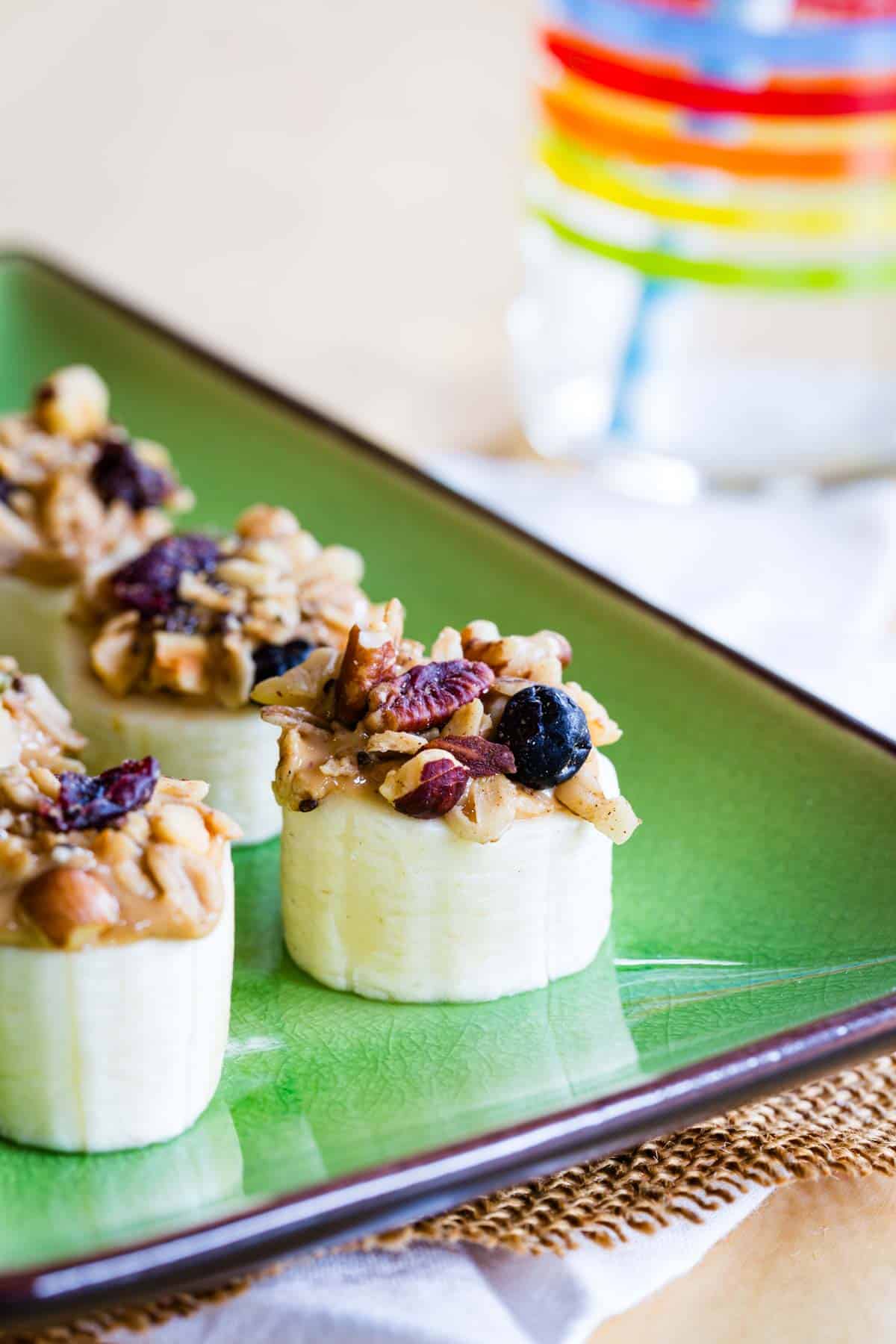 Want to chat with fellow foodies? Join the No-Fuss Food and Fun group on Facebook to share recipes and ideas, ask and answer questions, and tell everyone what you're making for dinner! Request to join HERE.
For more no-fuss wholesome meals and snacks with a sprinkle of sweet treats, keep up on…
Or sign up to have the weekly newsletter from Cupcakes & Kale Chips delivered straight to your Inbox!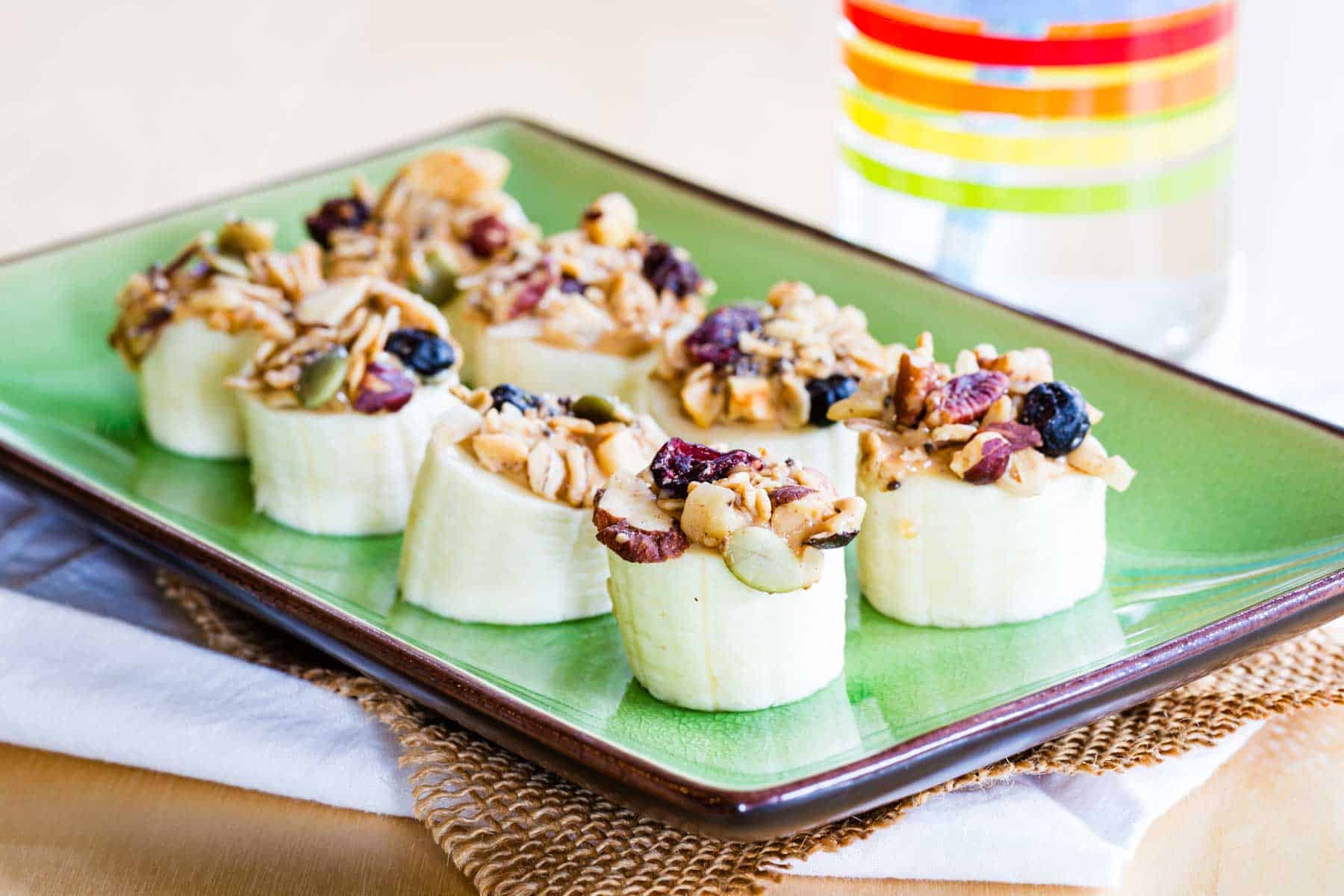 You only need a few things to make Easy Peanut butter Banana Snacks…
Products from Amazon.com
‹
›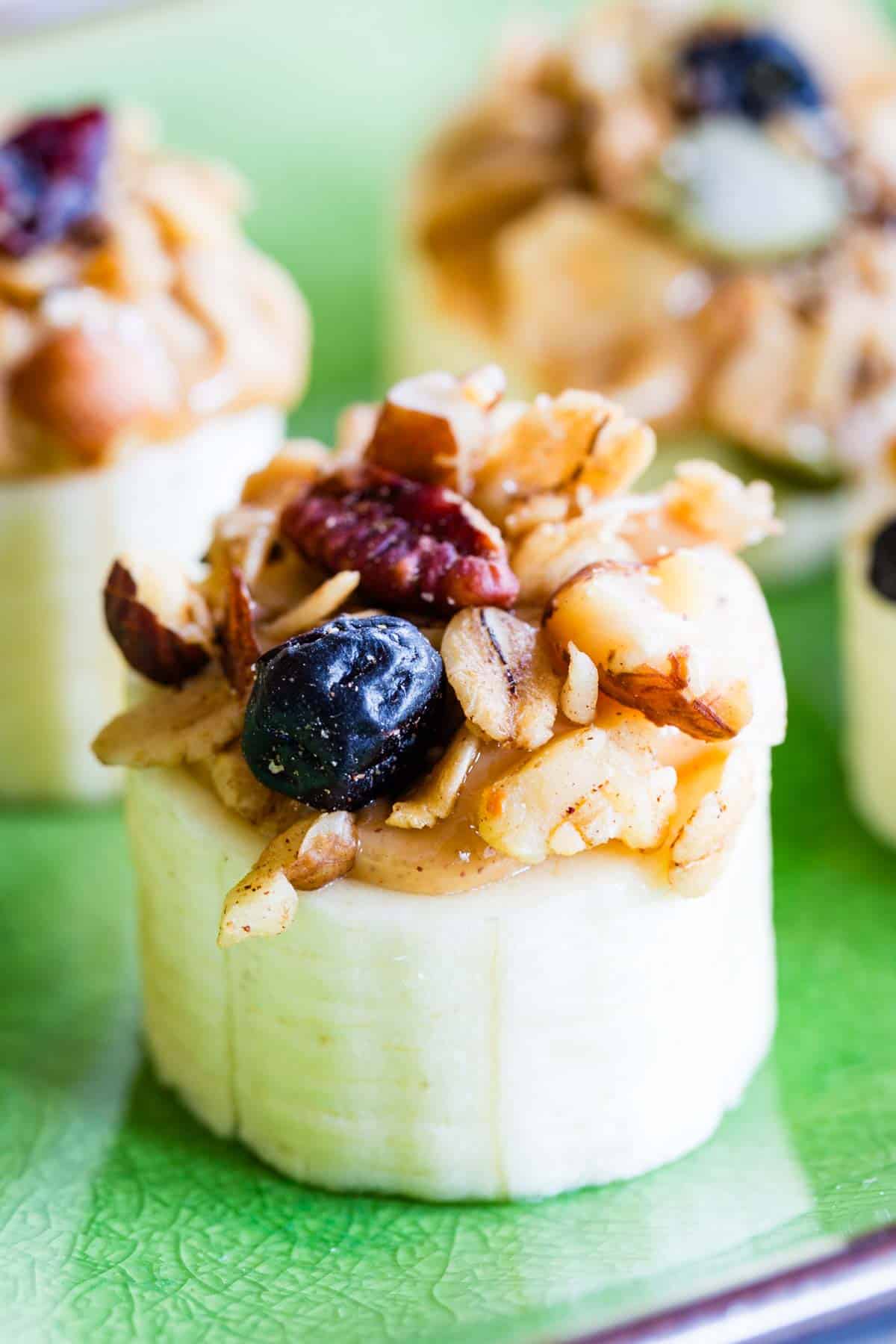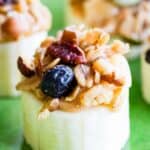 Print Recipe
Easy Peanut Butter Banana Snacks
An easy three-ingredient snack that is sure to be a mom-approved kid favorite since it is simple, healthy, and super yummy.
Ingredients
1

banana

1

Tablespoon

peanut butter

or other nut or seed butter

2

Tablespoons

granola

(use more or less, as desired)
Instructions
Peel banana and cut tip off of each end.

Cut the banana into 8-10 pieces, each about 3/4-1 inch long.

Place a small amount of peanut butter (or other nut butter) on top of each piece of banana and dip into or sprinkle on granola.
Nutrition
Calories:
292
kcal
|
Carbohydrates:
43
g
|
Protein:
7
g
|
Fat:
12
g
|
Saturated Fat:
2
g
|
Sodium:
81
mg
|
Potassium:
603
mg
|
Fiber:
5
g
|
Sugar:
19
g
|
Vitamin A:
1.5
%
|
Vitamin C:
12.4
%
|
Calcium:
1.7
%
|
Iron:
8.2
%
Enjoy!