This post may contain affiliate links. Read my disclosure policy.
Crunchy, nutty, and oh-so-good with a totally classic flavor combination, you'll want to grab some milk or a bowl of yogurt so you can enjoy this Cherry Vanilla Almond Granola.
Cherry Vanilla Almond Granola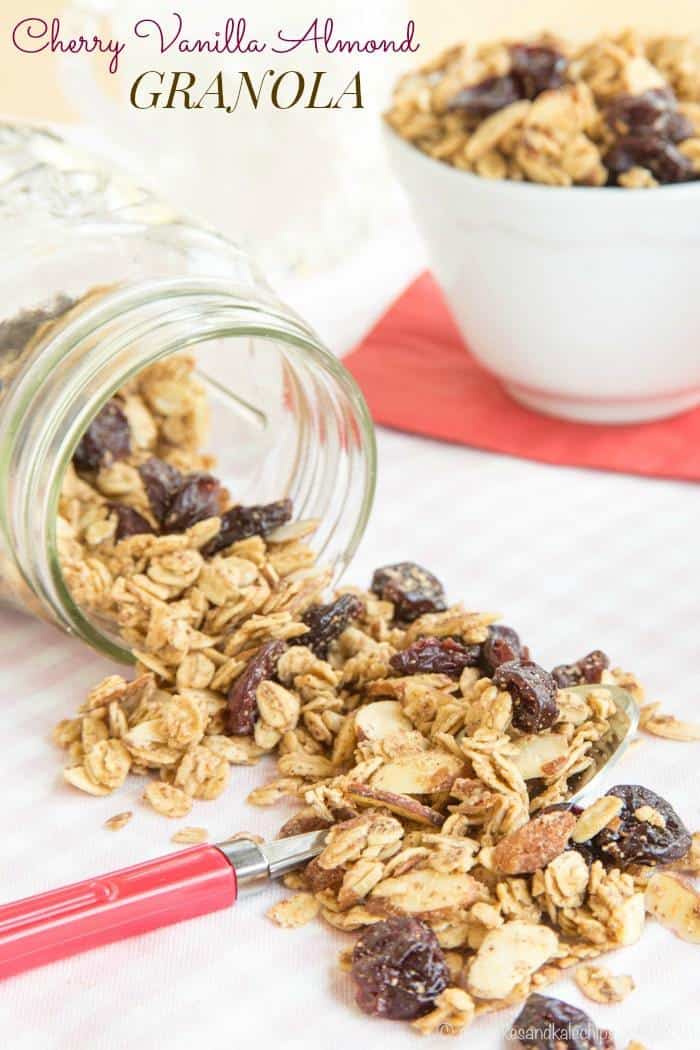 OK, I know #BrunchWeek just started, but let's take a brief pause from all of the brunchy festivities to acknowledge what a momentous day it is. You guys, The Bug turns five (FIVE!!) today! It's like an entire hand. It's like we're only several months away from Kindergarten. It's like, capable of (though not always willing to) brushing his own teeth, getting snacks, formulating ideas into well-thought-out, complete, nearly grammatically correct sentences (paragraphs, novels). It's like, time for the little Legos.
And on that last one – ugh! Not awesome when you also have a two-year-old.
Of course, he has had a debacle of a birthday weekend. I've been feeling guilty that we didn't plan a kiddie party, but there were good reason for it. However, I planned some other things to try to make amends. Yeah, well that all went down the tubes. On Thursday we went for a walk around the block and while I chased a pesky Little Dude into the backyard, he face planted into the sidewalk and now has road rash on his nose. Friday was a debacle I don't even want to get into. Saturday was actually pretty fun, till he came down with a stomach virus. And Sunday, well, in fear that The Bug still had a bug, he had to miss his classmate's birthday party, we just hung around, and I didn't make the salmon he requested for a birthday dinner because the thought of eating salmon after being ill made me feel nauseous, and I wasn't even the one who was sick.
Poor guy. Hoping we make it up to him today with a fun outing with just mommy and daddy, and that aforementioned salmon dinner. And of course, cake. Cake that has been sliced, photographed, and reassembled, but you know, such is the life of a food blogger's kid.
And since we have a fun day planned, not sure I'll get to make him pancakes or another special breakfast. He may just have to be satisfied with a bowl of fruit and yogurt topped with some, as The Bug likes to say, "crunchy stuff"…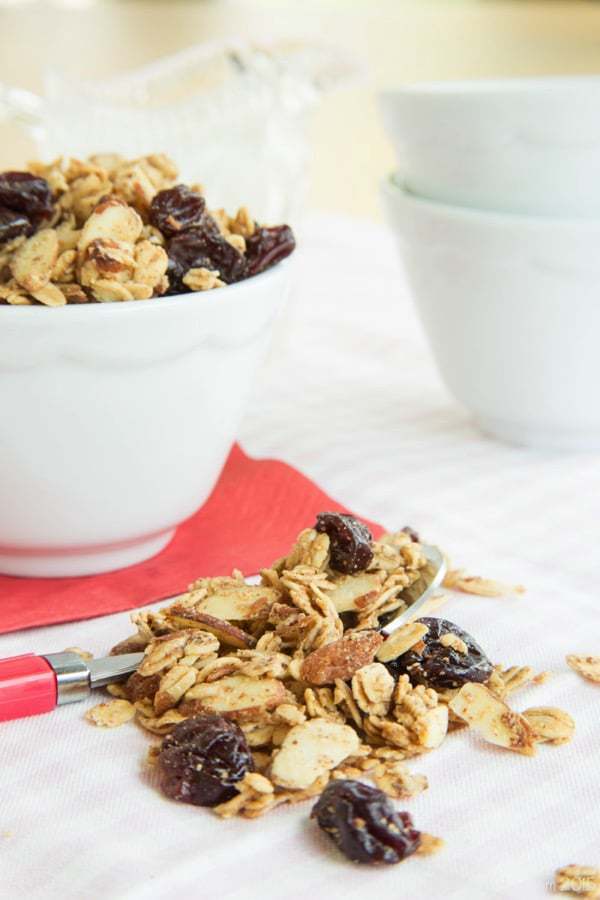 And this particular "crunchy stuff" is Cherry Vanilla Almond Granola – a touch of salt, kinda sweet, definitely nutty, with great crunch factor interspersed by chewy bits. The Bug was begging me to let him have some while I waited a few days for the right light and a large enough window of time to get my photos taken. He was so thrilled when I finally let him sample it, and now he is begging for more! I think this batch will disappear quickly!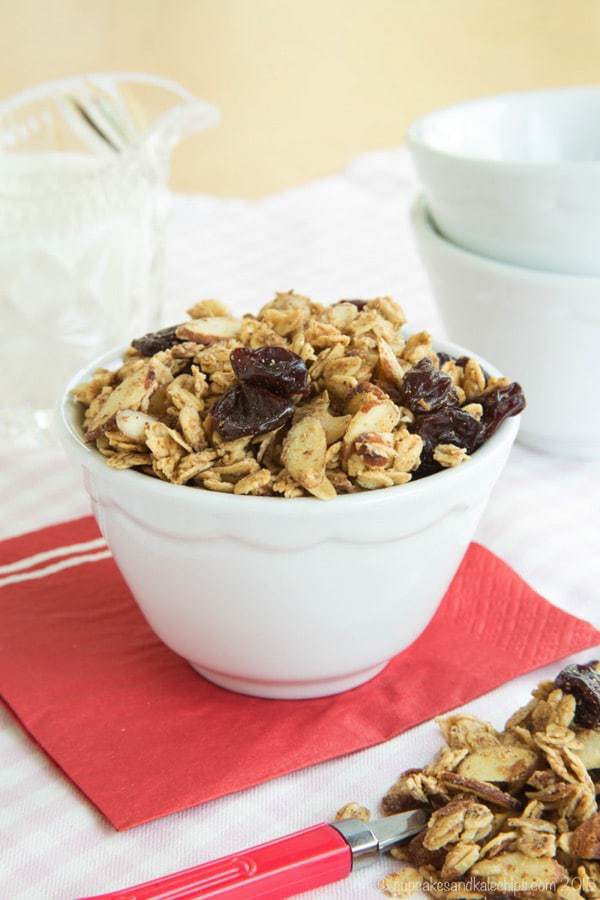 Of course this granola is so fabulous because of high quality ingredients from our #BrunchWeek sponsors Bob's Red Mill and Nielsen-Massey. Stir it up with a Le Creuset Revolution® Bi-Material Saute Spoon, and serve it on top of some Stonyfield Yogurt and WootFroot peaches, pears or nectarines.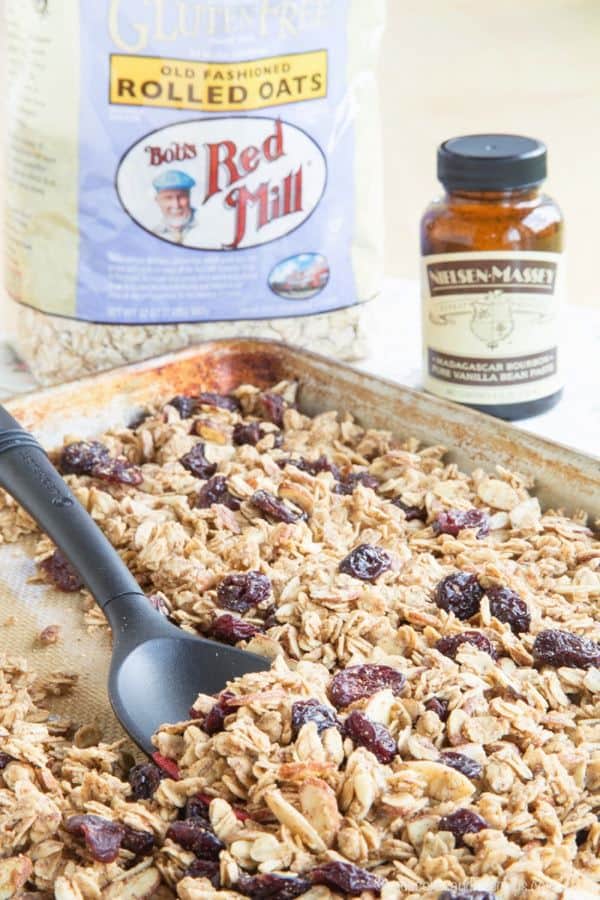 Make sure you check out all of our other sponsors too, and enter that awesome giveaway I mentioned earlier. You won't believe the amazing prize packs – stand mixers, juicers, panini presses, blenders, as well as some of the wonderful products from our sponsors.
Disclaimer: Thank you to #BrunchWeek Sponsors: Bob's Red Mill, Cabot Creamery Cooperative, California Walnuts, Dixie Crystals, Grimmway Farms/Cal-Organic/True Juice, KitchenAid, Le Creuset, Nielsen-Massey Vanillas, Pacari Chocolate, Stonyfield Organic, Vidalia Onions, and Woot Froot for providing the prizes free of charge. These companies also provided the bloggers with samples and product to use for #BrunchWeek. All opinions are my own.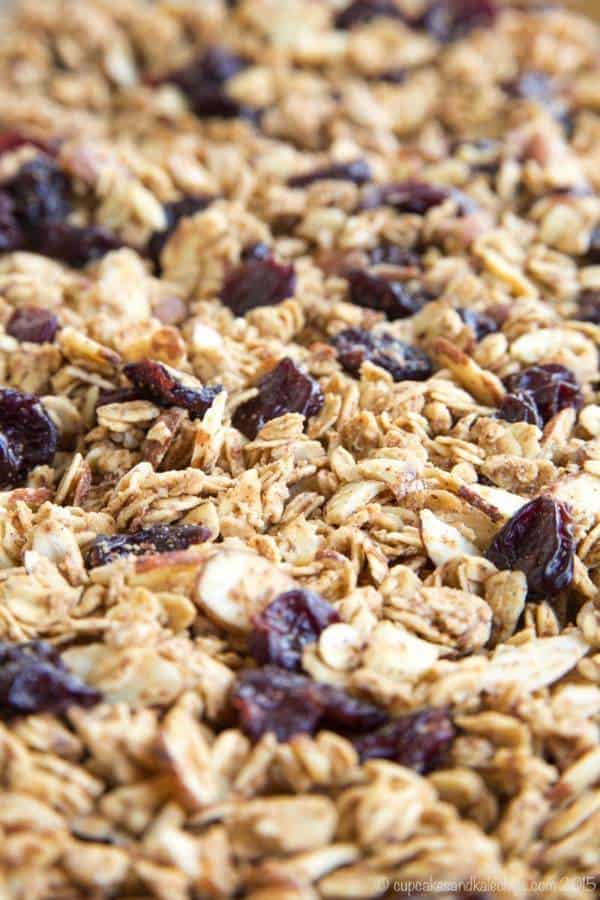 And be sure to check out all of the other #BrunchWeek deliciousness at the bottom of this post!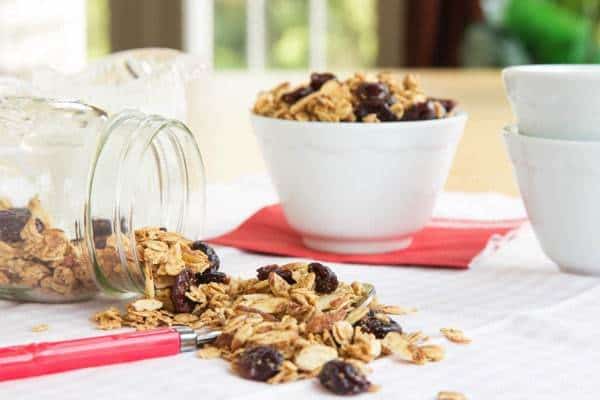 Do you make a special breakfast for your kids' birthdays? Did your parents do that for you?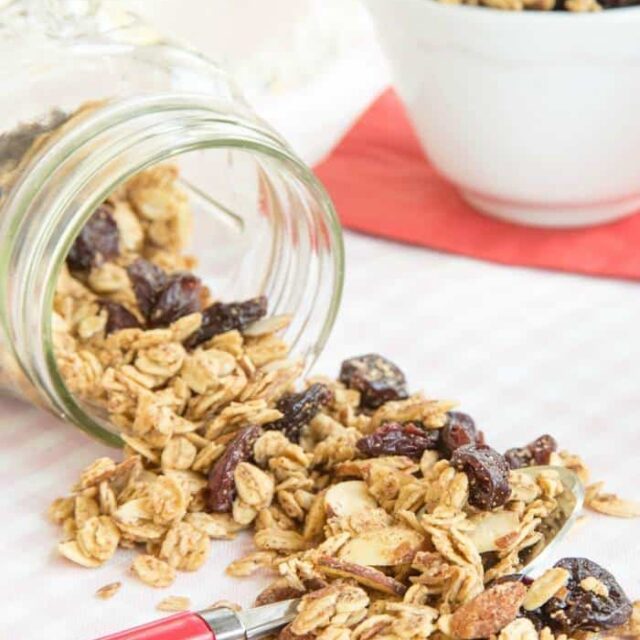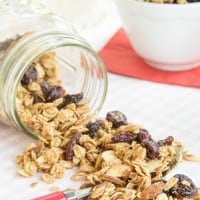 Cherry Vanilla Almond Granola
Sweet and nutty with lots of crunch interspersed with chewy bits. Perfect for topping your yogurt!
Servings:
20
servings (1/4 cup each)
Ingredients
3

cups

rolled oats

certified gluten free, if necessary, such as Bob's Red Mill

1

cup

sliced almonds

½

cup

almond butter

½

cup

pure maple syrup

or honey

1

Tablespoon

vanilla bean paste

or good quality vanilla extract, such as Nielsen-Massey

1/4

teaspoon

salt

1

cup

dried cherries
Instructions
Preheat you oven to 275°F and line a baking sheet with a silicone baking sheet or parchment paper.

Toss the oats and almonds together in a large bowl.

Combine the almond butter and maple syrup in a microwave safe bowl and microwave for 30 seconds or until the almond butter starts to melt, or place in a small saucepan and warm on the stove over low heat.

Stir the almond butter and maple syrup until combines, then stir in the vanilla and salt.

Pour the almond butter mixture over the oats and nuts and stir until evenly coated.

Spread the mixture into an even layer on the prepared baking sheet.

Bake for 20 minutes, stir, then bake for another 10-20 minutes, stirring and checking after 10 minutes until slightly crisp. It will become more crisp as it cools.

Remove from the oven, mix in the dried cherries and once again spread in an even layer on the sheet.

Cool completely on the baking sheet and transfer to an airtight container.
Nutrition Facts
Cherry Vanilla Almond Granola
Amount Per Serving (0.25 cup)
Calories 159
Calories from Fat 54
% Daily Value*
Fat 6g9%
Sodium 31mg1%
Potassium 146mg4%
Carbohydrates 20g7%
Protein 4g8%
Vitamin A 215IU4%
Calcium 56mg6%
Iron 1mg6%
* Percent Daily Values are based on a 2000 calorie diet.
Categories:
Here's some more granola goodness…
Plus the rest of today's #BrunchWeek menu…
BrunchWeek Beverages:
BrunchWeek Egg Dishes:
BrunchWeek Breads, Grains and Pastries:
BrunchWeek Main Dishes:
BrunchWeek Fruits, Vegetables and Sides:
BrunchWeek Desserts: