This post may contain affiliate links. Read my disclosure policy.
Apple Cinnamon Granola has your favorite fall flavors in a breakfast yogurt topping or healthy snack. With apples, oats, nuts, and cinnamon, it will fill your house with incredible autumn aromas as it bakes. And a few white chocolate chips add the perfect hint of vanilla flavor. This homemade granola recipe is gluten free and makes a great gift!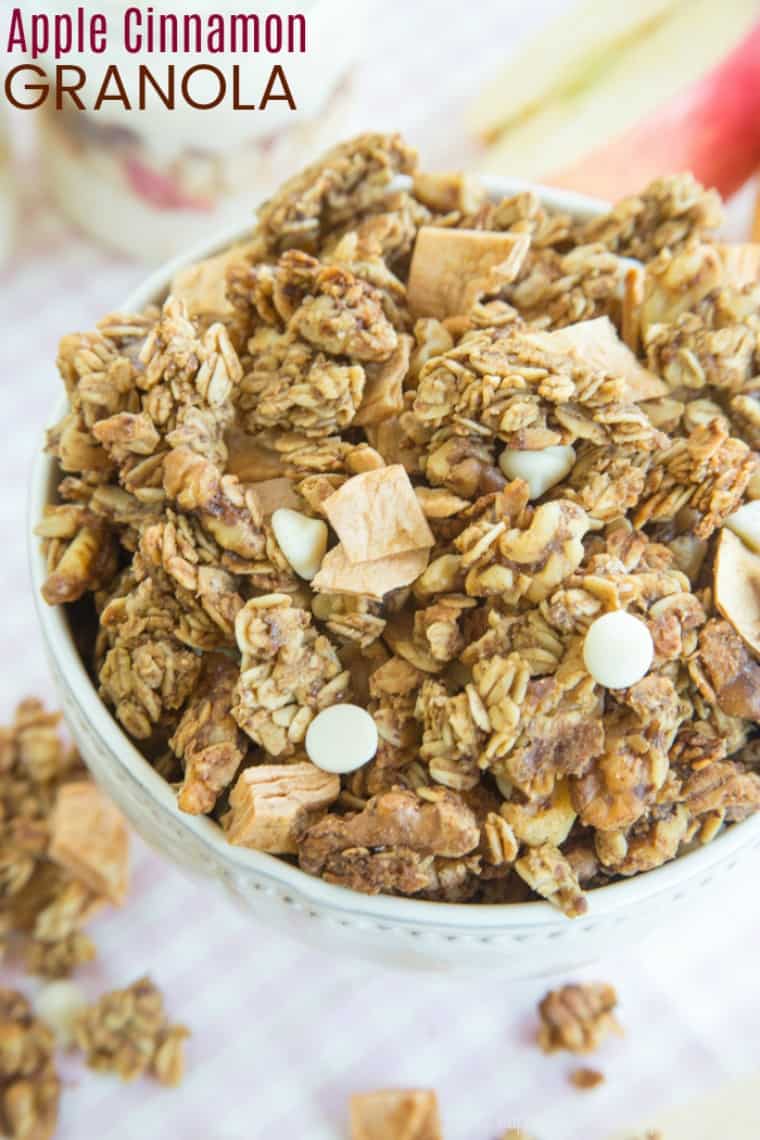 Crunchy Cinnamon Apple Granola
This Apple Cinnamon Granola recipe will make your kitchen smell incredible while it's baking. It's bursting with the flavors of warm spices like cinnamon and nutmeg. In addition, there's plenty of crunch, chewy bits, and sweet, creamy bursts from the white chocolate chips you add after it cools. And of course, there is tons of apple flavor from applesauce and dried apples.
Not to mention, it has lots of crunchy clusters, which is what my boys beg for, like Maple Brown Sugar Granola Clusters. Because if it's granola clusters that get them to eat their yogurt for breakfast, it's granola clusters they'll get! I mean, I'm sure they'd prefer Caramel Apple Ice Cream for their apple fix, but any time they request something healthy, I'm all over it. I mean, they do love Cauliflower Tots.
Plus you control the ingredients, so you can keep the amount of sugar and fat under your control.
Ingredients
It's truly the combination of ingredients that make it both delicious and good for you:
Oil – avocado oil is healthy and neutral-tasting oil. You can also use canola oil or melted coconut oil, though that does contribute a bit of a coconut flavor.
Egg white – this is one of the key ingredients for forming yummy granola clusters. It helps to bind the ingredients together.
Applesauce – also helps to form the chunks while adding a hint more sweetness and apple flavor.
Coconut sugar – an unrefined sweetener with a lower glycemic index and some additional health benefits, but brown sugar works just as well.
Kosher salt – a hint of salt in a sweet recipe always enhances the flavors.
Vanilla – another flavor enhancer, and I always recommend using a pure vanilla extract versus imitation for a richer flavor. If you are gluten free, be sure you use a vanilla extract that is gluten free, such as Nielsen-Massey Pure Vanilla Extract.
Cinnamon, nutmeg, and allspice – warm spices add the quintessential fall flavors.
Old fashioned oats – I do not recommend quick oats in granola, and if needed be sure to get certified gluten free oats.
Ground flaxseed – this is a great way to sean in some extra superfood goodness, like omega-3s.
Chopped dried apples – these are the chewy style of dehydrated apples, not the crispy freeze-dried ones. Many brands add extra sugar and preservatives to their dried fruits, so I do like to use dried apples that are organic so that they maintain as many of the nutritional benefits as possible.
White chocolate chips – technically these are optional, but I like the little creamy pockets they add. While I typically love Ghirardelli chocolate chips for baking, their white chocolate chips are NOT gluten free, so I usually stick with Nestle White Chocolate Chips.
Apple Cinnamon Granola recipe tips to create perfect chunky clusters…
Be sure to line a baking sheet with parchment paper or a silicone baking sheet to prevent the granola from sticking.
In one bowl you'll mix together all of your wet ingredients, then toss the dry ingredient together in another bowl.
Do not add the dried apples or white chocolate chips before baking or the apples will burn and the chips will melt.
Pour the wet ingredients over the dry ingredients and make sure everything is moist.
Press it into a single layer on the baking sheet. This is the first step to ensure you get those nice, crunchy clusters.
Bake for 30 minutes, and about halfway through, stir gently so that the middle can get crisp without the edges burning. But be careful not to break up the large clusters while stirring.
Bake till golden and dried out.
Let it cool on the baking sheet in order to let the clusters crisp up.
After it's cool you can toss in the dried apples and white chocolate chips.
What can you do with Cinnamon Apple Granola? How do you store it?
Store the granola in an airtight container for up to several weeks.
Package in jars or cellophane bags to give out as gifts.
It's delicious to eat by the handful, or in a bowl with milk.
If you'd love a breakfast that tastes like dessert, this granola recipe is the perfect addition to these Apple Crisp Yogurt Parfaits.
There are plenty of healthy ways to get your apple a day. Try these apple recipes:
What are some other ways to make homemade granola?
Apple Cinnamon Granola Recipe
You'll love the aroma of fall spices wafting through your home as you bake this delicious granola. It's filled with crunchy clusters, flavors of apple, cinnamon, and nutmeg, plus chewy dried apples and creamy white chocolate chips. That is why it will become one of your favorite healthy snacks or additions to a wholesome breakfast this autumn. With just a few minutes of prepping the ingredients and a half hour in the oven, it's easy to make your own granola at home.
I hope you'll leave a comment and give it a FIVE STAR rating or share a photo on this pin on Pinterest!

Apple Cinnamon Granola
A healthy breakfast or snack with the warm flavors of fall that makes it taste like an apple crisp dessert.
Instructions
Preheat oven to 350°F and line a baking sheet with a silicone baking sheet or parchment paper.

In a medium bowl, whisk together the oil, egg white, apple sauce, sugar, vanilla, salt, and spice.

In a large bowl, toss together the oats, flax seed meal, and walnuts.

Pour the wet mixture over the oats mixture, and toss to combine.

Spread granola on the prepared baking sheet, and spread into an even layer.

Bake 350°F for 15 minutes. Stir gently, being careful not to break up large clumps.

Bake for another 10-15 minutes, or until golden and dry. Cool on the baking sheet.

Once completely cool, sprinkle the dried apples and white chocolate chips over the top and transfer to an airtight container.
Nutrition Facts
Apple Cinnamon Granola
Amount Per Serving (0.25 cup)
Calories 127
Calories from Fat 63
% Daily Value*
Fat 7g11%
Sodium 108mg5%
Potassium 99mg3%
Carbohydrates 13g4%
Protein 2g4%
Vitamin C 0.2mg0%
Calcium 19mg2%
Iron 0.7mg4%
* Percent Daily Values are based on a 2000 calorie diet.
Categories:
Enjoy!