Apple Cinnamon Granola
Disclosure: This post may contain affiliate links. Cupcakes & Kale Chips is a participant in the Amazon Services LLC Associates Program, an affiliate advertising program designed to provide a means for us to earn fees by linking to Amazon.com and affiliated sites.
Apple Cinnamon Granola will satisfy all your crunchy cravings for autumn flavors. Since it tastes like an apple crisp, apple granola with cinnamon has all the elements of a favorite fall dessert in a breakfast yogurt topping or healthy snack.  Because of the apples, oats, nuts, and cinnamon, it will make the house small incredible while it bakes. In addition, there are also a few white chocolate chips for just the perfect hint of vanilla flavor. This apple crisp granola recipe is also gluten free. Plus it makes a great gift for the holidays.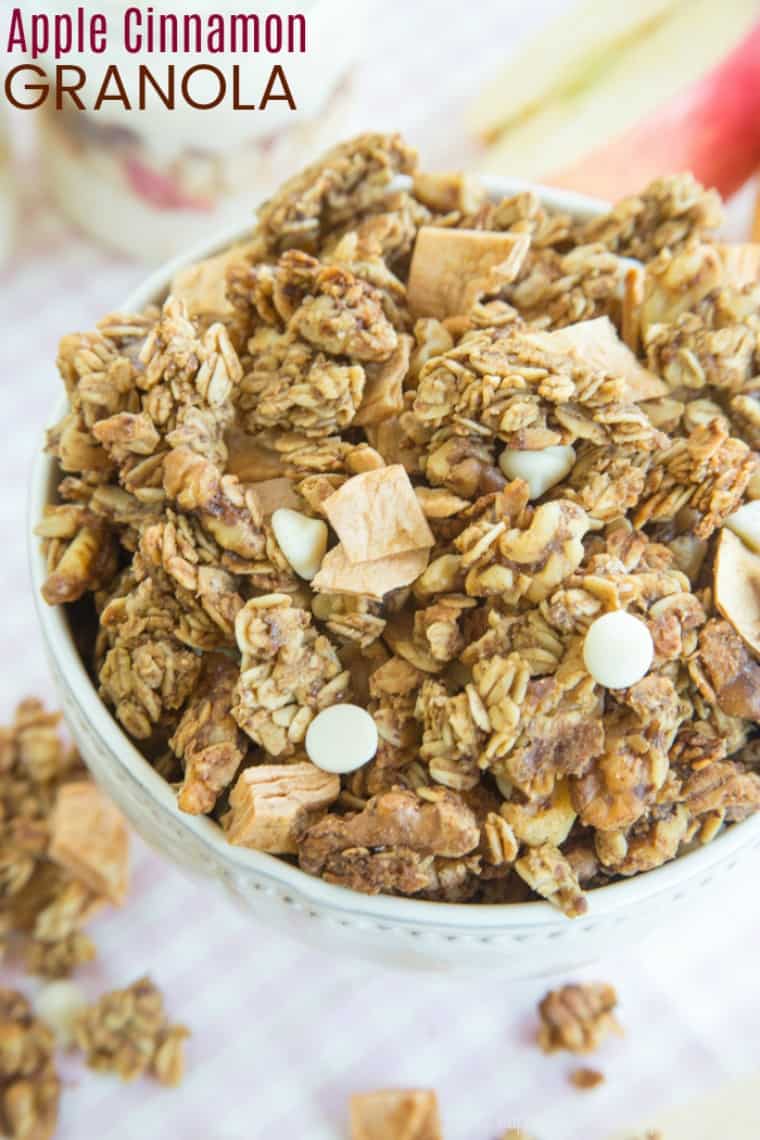 Crunchy Apple Crisp Granola
Originally published on November 19, 2015 with the full recipe on another site. I thought about changing the text, but given recent world events, I felt that I these emotions should not be deleted from my site. They still hold true now, perhaps even moreso. Republishing on August 23, 2017 with the full recipe on my site.
I'm sure every generation has said this, but it is seriously a tough time to be a parent. Globally we have the attacks in Paris, the bombings in Lebanon and Iraq, and terrorists striking fear and inflicting death and destruction. There are refugees fleeing horrible circumstances, children scared, hungry, even dying.
In our own country there's violence – some of it to a greater degree that it makes national news. But even sadder are the daily occurrences that are such a part of life that they don't even make headlines or draw attention. Putting my kid on the school bus each day is one of the most frightening things I do. Everyone is mad at everyone for something they said, did, didn't say, or didn't do. And the more we preach about it, the more that tolerance and, heaven forbid, acceptance of others around us is at an all-time low.
In my own local area in the short time I have lived here I have heard the reports of shooting outside of strip malls and gas stations. The same strip malls and gas stations that I go to. Just several blocks away a young man was run down by a driver because this man, walking his dog, yelled out that the speedster should slow down through the neighborhood.
Even at the bus stop I see taunting and teasing that we used to think was just typical of kids, but honestly now sometimes we worry that it's something more. It's a future bully or worse.
My kids are still young enough to be unaware. Pretty soon they won't be. Pretty soon I should actually make them aware because it's better I put things in context for them to understand. And I want to make sure they know that we do all we can to keep them safe. Also, the best thing that they can do, as little people, is to be kind to others no matter what.
But what do I say? How do I explain things that won't make sense to them, don't make sense to me, and baffle most of the general public? Things that really I don't want them to hear, know, or ever experience. I'm never one to say "don't grow up so fast" to my kids because one of my favorite parts of being a parent is watching them grow, learn, and do new things. This stuff, though, if I could keep them babies and shield them form all of this forever, I would.
Sometimes I feel too much like a scared child to be a strong parent.
All I can do right now, I suppose, is hold them, love them, sit around the breakfast table with them and let them be little boys. Let them be silly. Let them get yogurt on their faces and granola on the floor, because there's bigger things out there. Things that kisses and band-aids and "just one more snack mom" can't fix. So for now, snacks…
Why should you make homemade granola?
First of all, this Apple Cinnamon Granola recipe will make your kitchen smell incredible while it's baking. You don't get that when you just pick up store bought granola from the grocery store. Plus you control the ingredients, so you can keep the amount of sugar and fat under your control. In this recipe I stuck with unrefined sweeteners like coconut sugar, but you can certainly use brown sugar. And I used unsweetened applesauce as well as avocado oil, which are better options to a healthy granola recipe.
Finally, when it comes to dried fruits, I prefer to use brands that don't add sugar, preservatives, and other stuff. That is another reason why I like to make my own granola. I can even use dried apples that are organic.
Why is Apple Cinnamon Granola good?
We love warm spices of cinnamon and nutmeg, toasty oats and walnuts, just like in these Cinnamon Apple Quinoa Breakfast Bars, and this apple granola is bursting with those flavors. In addition, there's plenty of crunch, chewy bits, and sweet, creamy bursts from the white chocolate chips you add after it cools. And of course there is tons of apple flavor from applesauce and dried apples.
Not to mention, it has lots of crunchy clusters, which is what my boys beg for. That is why I make Maple Brown Sugar Granola Clusters and Coconut Chia Granola Clusters. Because if it's granola clusters that get them to eat their yogurt for breakfast, it's granola clusters they'll get! I mean, I'm sure they'd prefer Caramel Apple Cheesecake No-Churn Ice Cream for their apple fix, but any time they request something healthy, I'm all over it. I mean, they do love Cauli-Tots.
If you'd love a breakfast that tastes like dessert, this granola recipe is the perfect addition to these Apple Crisp Yogurt Parfaits.
Apple Cinnamon Granola Recipe Tips…
First, you'll want to line a baking sheet with parchment paper or a silicone baking sheet to prevent the granola from sticking.
I used avocado oil to have a more neutral flavor than olive oil, but really any oil would work. You can try canola oil, or even melted coconut oil if you like.
The egg white in the wet ingredients is one of the key ingredients for forming yummy granola clusters.
In one bowl you'll mix together all of your wet ingredients, then toss the dry ingredient together in another bowl. Remember not to add the dried apples or white chocolate chips now or the apples will burn and the chips will melt.
After you pour the wet ingredients over the dry ingredients, make sure everything is moist, then press it into a single layer on the baking sheet. This is the first step to ensure you get those nice, crunchy clusters.
Bake for 30 minutes, and about halfway through, stir gently so that the middle can get crisp without the edges burning. But be careful not to break up the large clusters while stirring.
Bake till golden and dried out and let it cool on the baking sheet in order to let the clusters crisp up. After it's cool you can toss in the dried apples and white chocolate chips.
While I typically love Ghirardelli chocolate chips for baking, their white chocolate chips are NOT gluten free, so I usually stick with Nestle White Chocolate Chips.
Store the granola in an airtight container or package in jars or cellophane bags to give out as gifts.
[amazon_link asins='B0049C2S32,B00Y5VO7F4,B06XWG55RN,B00F739OFC,B01N3JJNRB' template='ProductCarousel' store='cupkalchi-20′ marketplace='US' link_id='7d14eabe-c592-11e8-ad75-fd192d4b05f3′]

Here are some more apple recipes…
There's plenty of other healthy ways to get your apple a day. Slice 'em thin and make these Ginger Cinnamon Apple Chips from Rachel Cooks. If you prefer warm and creamy to crunchy, start your day with Apple Cinnamon Baked Oatmeal from Two Peas and Their Pod. Or sip your apples through a straw with an Apple Pie Smoothie from Texanerin Baking.
[adthrive-in-post-video-player video-id="7PxY157t" upload-date="2017-08-16T13:10:06.000Z" name="Tropical Granola" description="Tropical Granola with banana, pineapple, and coconut will take you on vacation at your breakfast table."]
For more yumminess from me and my foodie friends, keep up with me on…
Or sign up to have Cupcakes & Kale Chips delivered straight to your Inbox!
Apple Cinnamon Granola Recipe
You'll love the aroma of fall spices wafting through your home as you bake this delicious granola. It's filled with crunchy clusters, flavors of apple, cinnamon, and nutmeg, plus chewy dried apples and creamy white chocolate chips. That is why it will become one of your favorite healthy snacks or additions to a wholesome breakfast this autumn. With just a few minutes of prepping the ingredients and a half hour in the oven, it's easy to make your own granola at home.
I hope you'll leave a comment and give it a FIVE STAR rating or share a photo on this pin on Pinterest!

Print Recipe
Apple Cinnamon Granola
A healthy breakfast or snack with the warm flavors of fall that makes it taste like an apple crisp dessert.
Instructions
Preheat oven to 350°F and line a baking sheet with a silicone baking sheet or parchment paper.

In a medium bowl, whisk together the oil, egg white, apple sauce, sugar, vanilla, salt, and spice.

In a large bowl, toss together the oats, flax seed meal, and walnuts.

Pour the wet mixture over the oats mixture, and toss to combine.

Spread granola on the prepared baking sheet, and spread into an even layer.

Bake 350°F for 15 minutes. Stir gently, being careful not to break up large clumps.

Bake for another 10-15 minutes, or until golden and dry. Cool on the baking sheet.

Once completely cool, sprinkle the dried apples and white chocolate chips over the top and transfer to an airtight container.
Nutrition
Serving:
0.25
cup
|
Calories:
127
kcal
|
Carbohydrates:
13
g
|
Protein:
2
g
|
Fat:
7
g
|
Saturated Fat:
1
g
|
Sodium:
108
mg
|
Potassium:
99
mg
|
Fiber:
2
g
|
Sugar:
5
g
|
Vitamin C:
0.3
%
|
Calcium:
1.9
%
|
Iron:
4.1
%
Enjoy!