This post may contain affiliate links. Read my disclosure policy.
For a wholesome snack choice with all the flavors of the season that tastes like one of everybody's favorite fall desserts, get ready to dig your spoon into Apple Crisp Yogurt Parfaits with Homemade Apple Crisp Granola.
Apple Crisp Yogurt Parfaits with Homemade Apple Crisp Granola
I am such a snack packer. Which is funny because at home, when the kids are begging for snacks, I'm usually telling them how soon their next meal is, so they really have no need for snacks right now.
But if The Bug comes home from school and we have to get right in the car to go to karate, I'm bringing him a snack because it's a pretty darn long stretch from his lunch at noon to a late dinner at 6:30pm. When we go on vacation, I pack enough applesauce pouches and cheese sticks and trail mix and dried fruit and granola bars to sustain a family of ten for a month. We are a family of four going away for a week. I still don't know why I do this. Even for the three hour car trip to my mom's, I make sure I have a few things I can toss to them so that I don't have to drive over the Chesapeake Bay Bridge listening to hungry, grumpy kids yelling while I'm trying to not get us run off the road and into the depths of the bay below us (have you ever been on that bridge? Scary stuff!).
And this weekend, when The Hubby took the boys to visit his mom for an overnight, yup, you guessed it, snacks. And not just car snacks. Mom guilt set in since I was sending them off and spending a weekend utterly and completely alone, and I didn't want him to have to ask his mom to pick up anything in particular or have to think about what they would have after a long car ride or their inevitable request for a post-dinner snack, so I made these…
I knew I could come up with a packable snack that would be perfect for fall and filled with ingredients that would make them full and happy. Because when daddy is flying solo with two boys, you want to make sure those boys never get to the point of hangry! I was having daydreams about a warm dish coming out of the oven bubbling with juicy, tender apples and topped with a buttery crumble, just beckoning to be topped with a scoop of vanilla ice cream. Not exactly the kind of treat you can pack for a three hour car ride. So I turned it into a healthier and portable snack…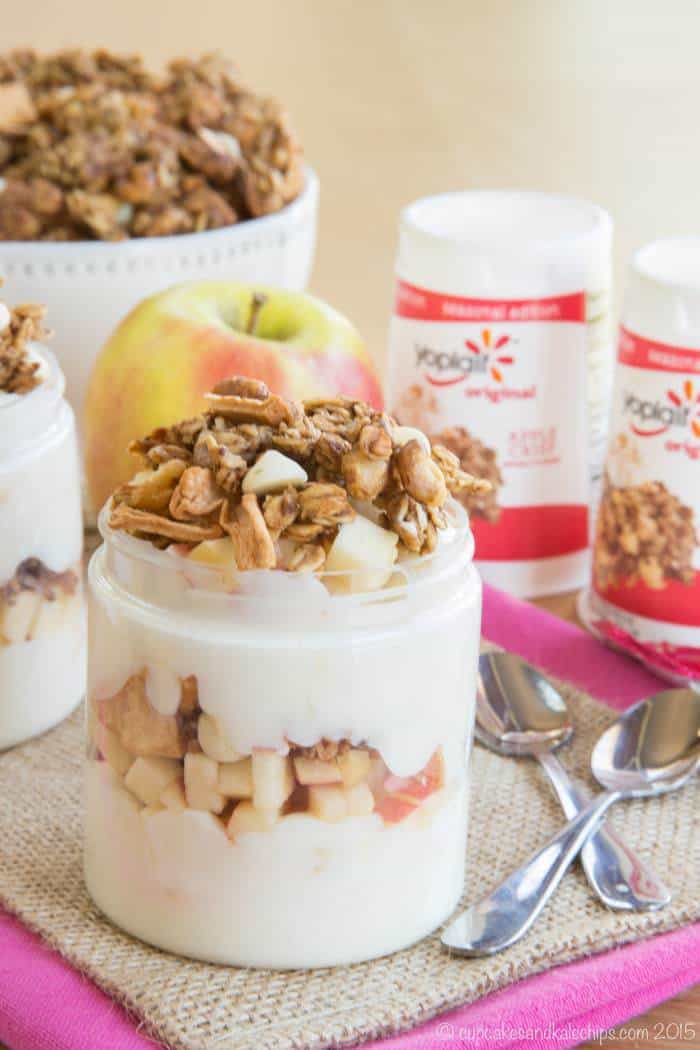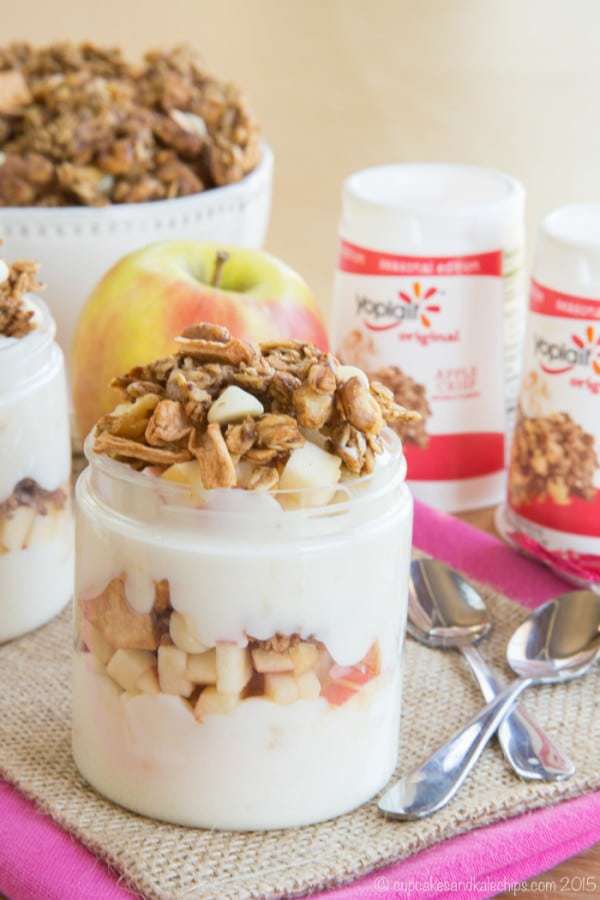 First I made up a batch of a super simple apple crisp granola packed with walnuts and dried apples and cinnamon, with applesauce mixed in for even more apple-ness. The granola itself is not super sweet, which is why the little burst of sweet vanilla flavor from the white chocolate chips balance it so perfectly. Layered with the Yoplait original Apple Crisp yogurt and chopped apples, you get all of the creaminess and spices and fresh apple flavor of that favorite fall dessert, but in a wholesome, satisfying snack. It's also good enough for breakfast and sweet enough for dessert, making this recipe a total winner in my book! And reports from Daddy were that the boys devoured theirs in minutes!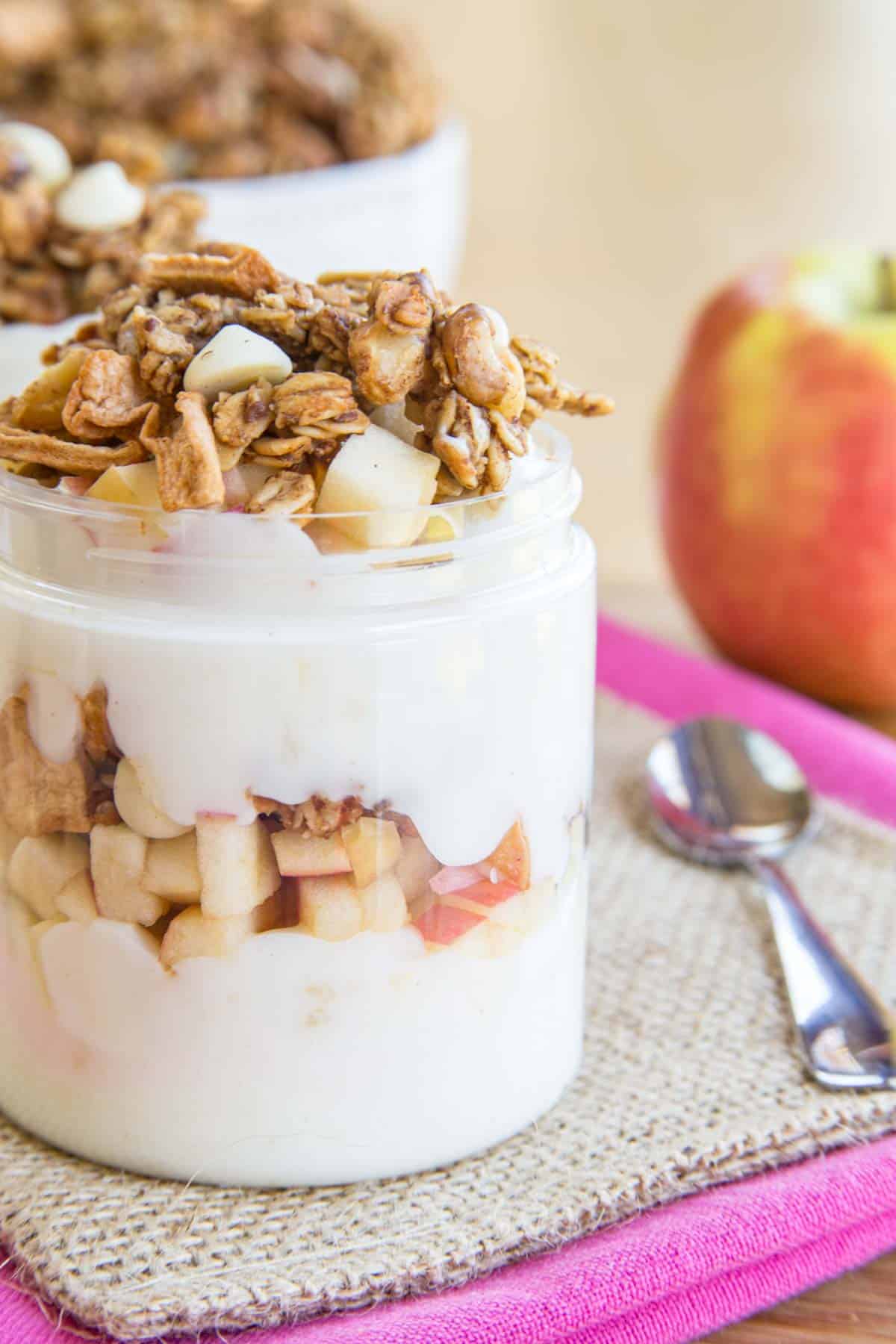 No more Mom guilt. This was a total Mom win!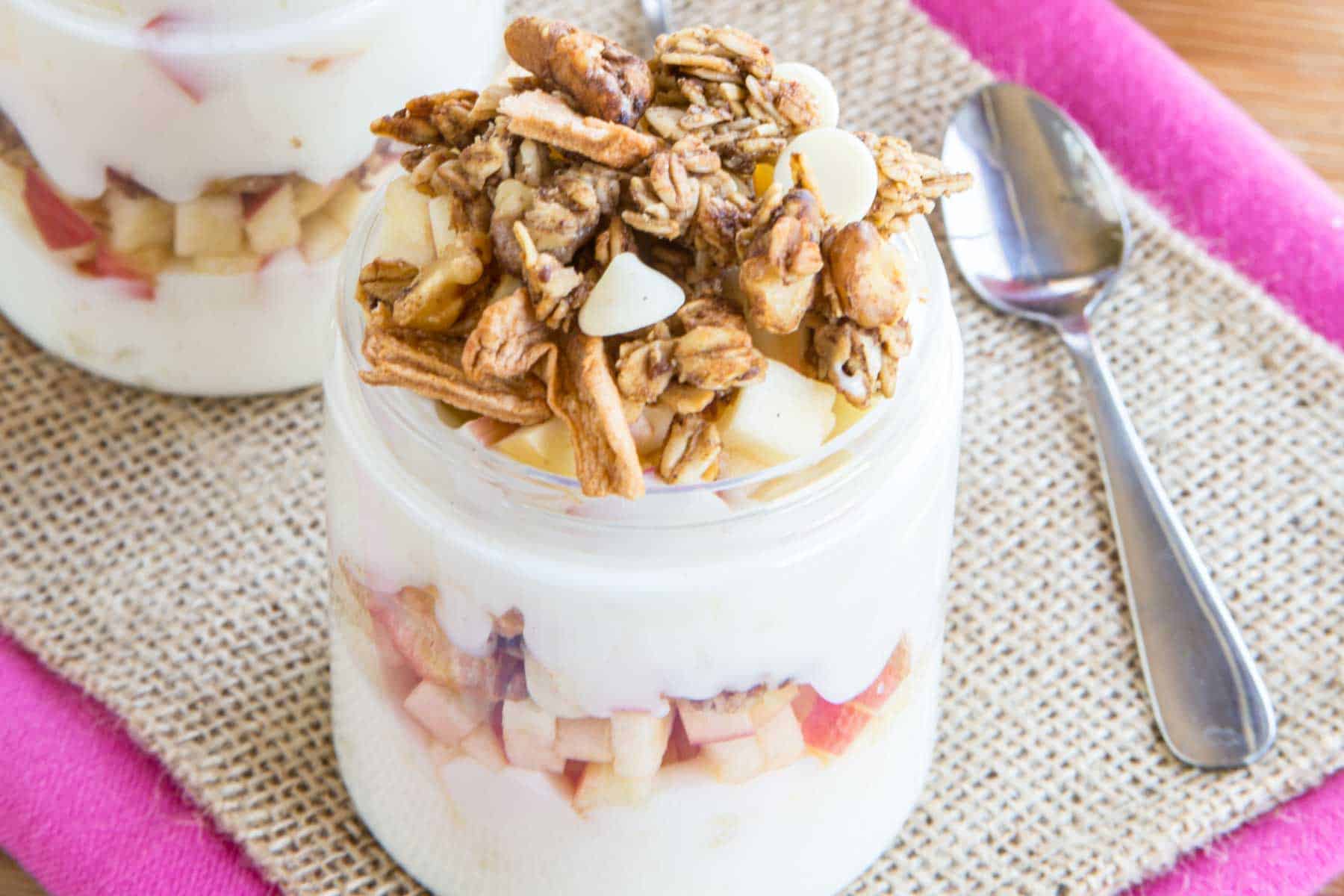 What is your favorite way to snack with Yoplait?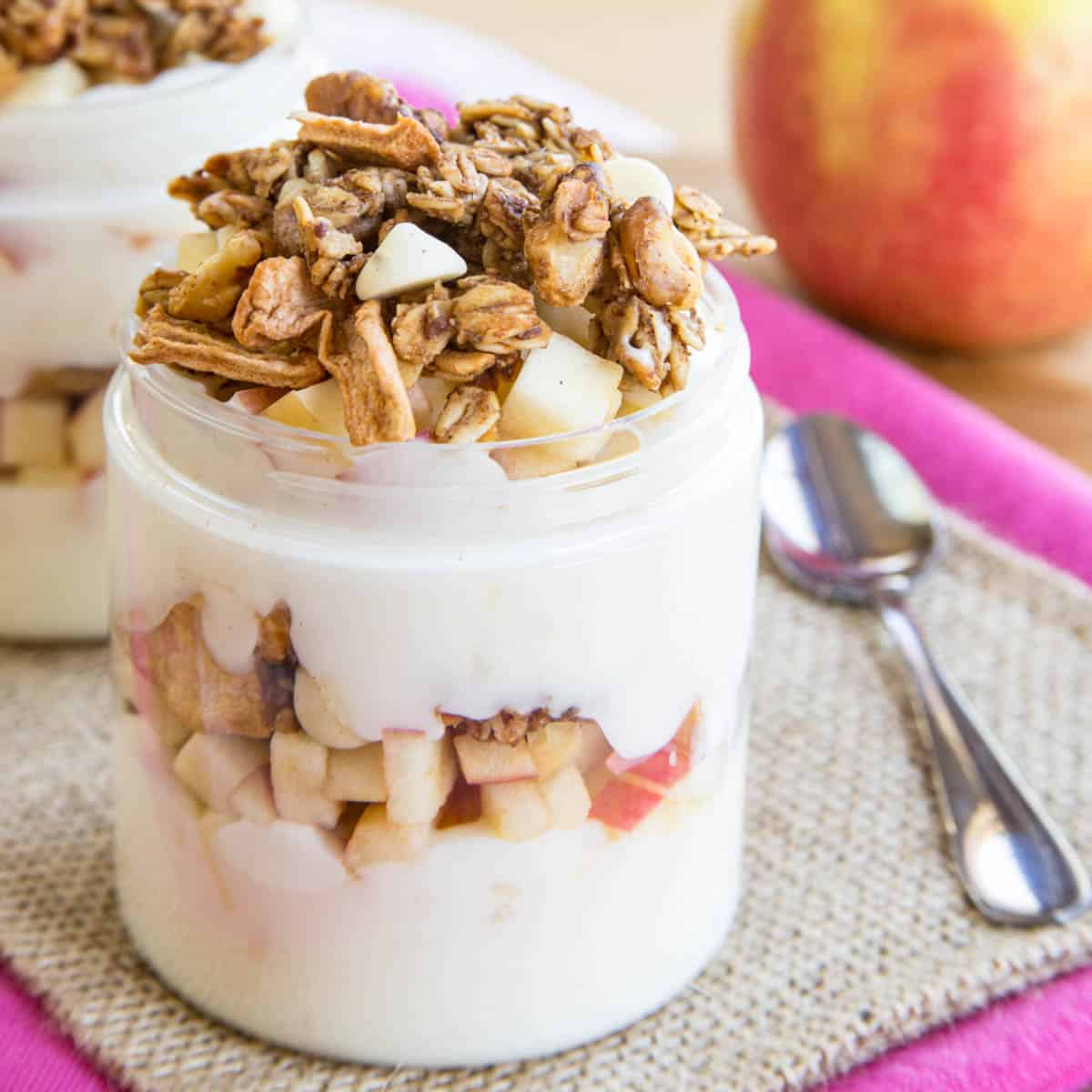 Apple Crisp Yogurt Parfaits with Homemade Apple Crisp Granola
A wholesome remake of a favorite fall dessert perfect for breakfast, snack, or dessert.
Ingredients
For the Homemade Apple Crisp Granola:
For the Apple Crisp Yogurt Parfaits:
12

oz

Yoplait original Apple Crisp yogurt

two 6 oz. containers

1

large

apple

diced

1/2

cup

Homemade Apple Crisp Granola
Instructions
For the Homemade Apple Crisp Granola:
Preheat oven to 350°F and line a baking sheet with a silicone baking sheet or parchment paper.

In a medium bowl, whisk together the oil, egg white, apple sauce, sugar, vanilla, salt, and spice.

In a large bowl, toss together the oats, flax seed meal, and walnuts.

Pour the wet mixture over the oats mixture, and toss to combine.

Spread granola on the prepared baking sheet, and spread into an even layer.

Bake 350°F for 15 minutes. Stir gently, being careful not to break up large clumps.

Bake for another 10-15 minutes, or until golden and dry. Cool on the baking sheet.

Once completely cool, sprinkle the dried apples and white chocolate chips over the top and transfer to an airtight container.
For the parfaits:
Divide one yogurt container between two bowls, cups, or jars. Top each with about a quarter of the apples and two tablespoons of the granola.

Divide the second yogurt container between the two parfaits, and repeat the apple and granola layers.
Categories:
Here are a few of my favorite recipes featuring Yoplait yogurt…
And a few season Yoplait #SnackandSmile treats from my friends…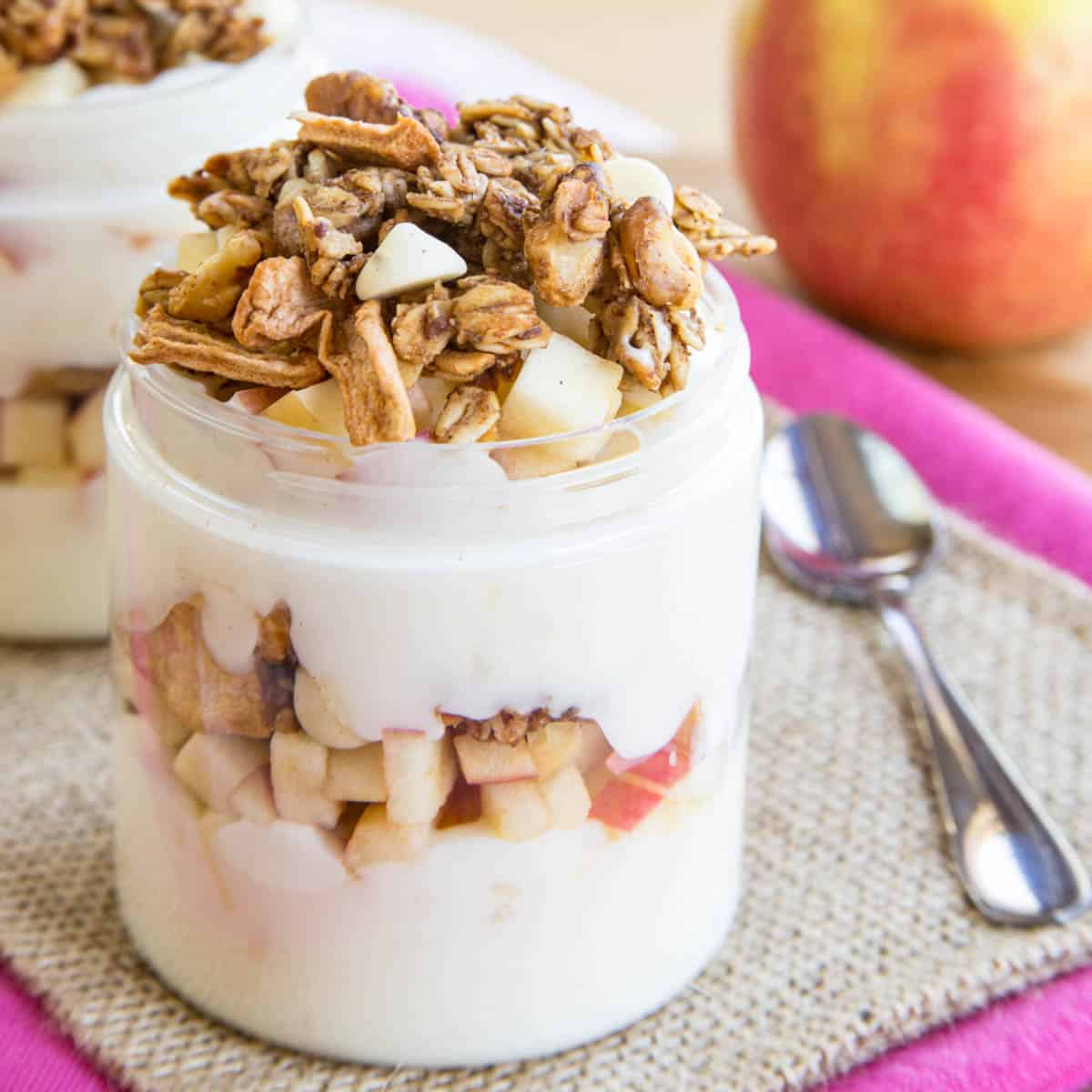 This is a sponsored conversation written by me on behalf of General Mills. The opinions and text are all mine.