This post may contain affiliate links. Read my disclosure policy.
Honey Glazed Walnuts are so simple to make and are a sweet and crunchy addition to salads, snacks, desserts, and so much more. With only 4 ingredients and a few minutes, you can add the perfect hint of toasted nut flavor with the sweetness of honey and warmth of cinnamon to any dish. Or just crunch on a handful as a satisfying and healthy snack.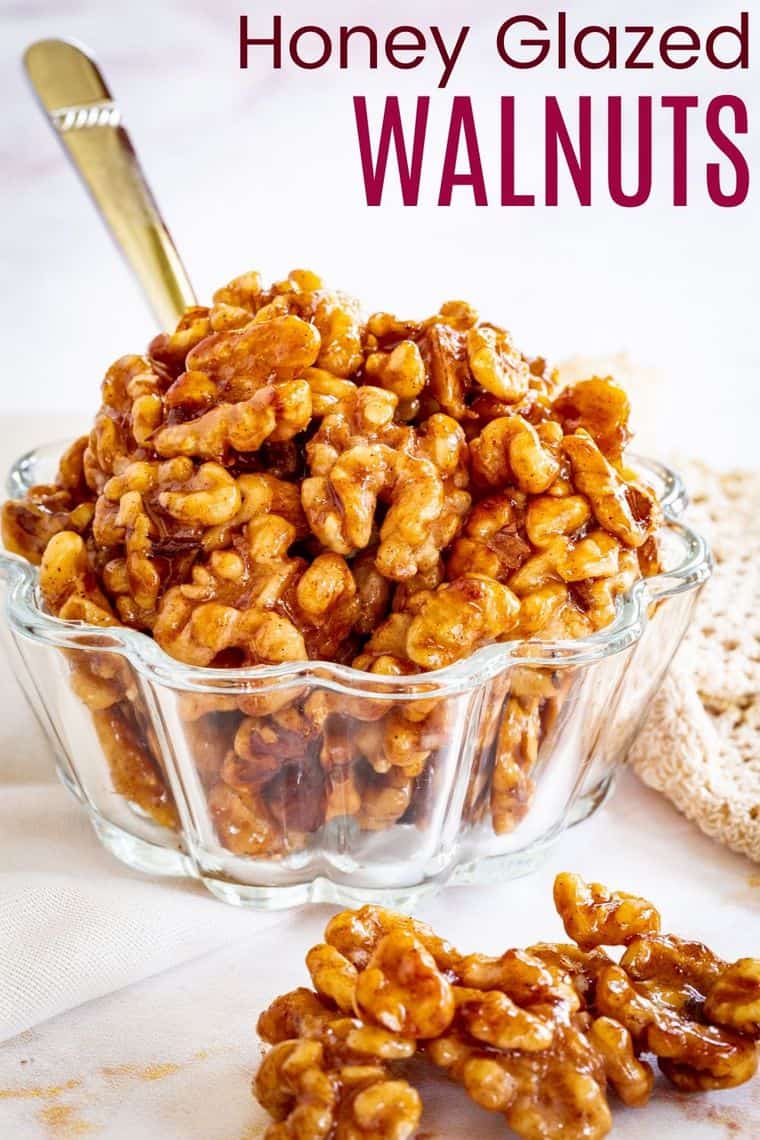 What can you do with Honey Glazed Walnuts?
Honey Glazed Walnuts are incredibly versatile. Knowing this technique means you can always add a special touch to so many recipes, dishes, and snacks.
Salads
As a gluten free alternative to croutons, glazed walnuts add an element of texture to a salad, whether you make it with greens, grains, or both. Try them on:
Breakfasts and Snacks
A crunchy way to add some protein and healthy fats to your morning meal or keep your satisfied through the afternoon slump. Enjoy them with:
Cheese Boards and Charcuterie Platters
Yes, you can just scatter nuts on your snack boards, but candied nuts go to the next level. Add them to:
Desserts
Yes, you can even have glazed nuts with your favorite sweet treats. They'll be tasty with:
You can even use them to make the Best Baked Brie!
Of course you can always just grab a handful to snack on all by themselves. But watch out – they are addictive!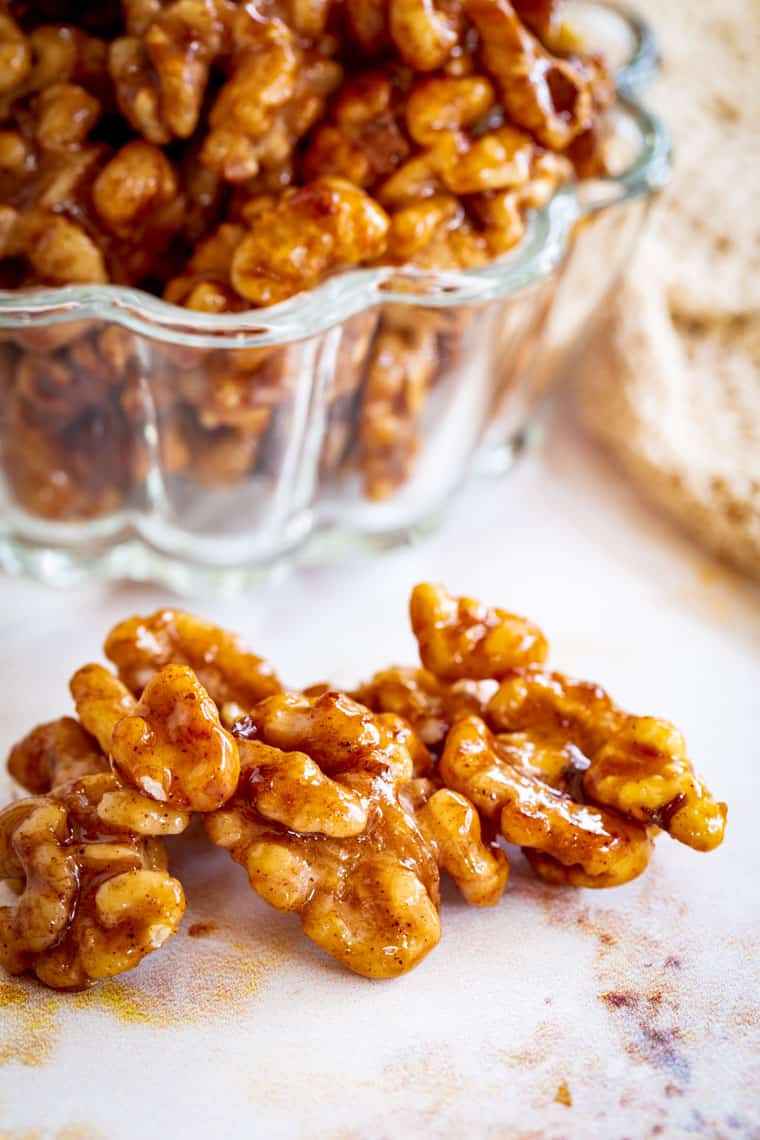 How do you make Honey Glazed Walnuts?
It really is super simple. First, gather the handful of ingredients and some basic kitchen equipment. Then you are just minutes away from this nutty snack or topping.
Here is a brief overview so you can see just how easy it is to make. Scroll down to the printable recipe card for the full quantities and details.
But don't skip my PRO TIPS below!
What you'll need
INGREDIENTS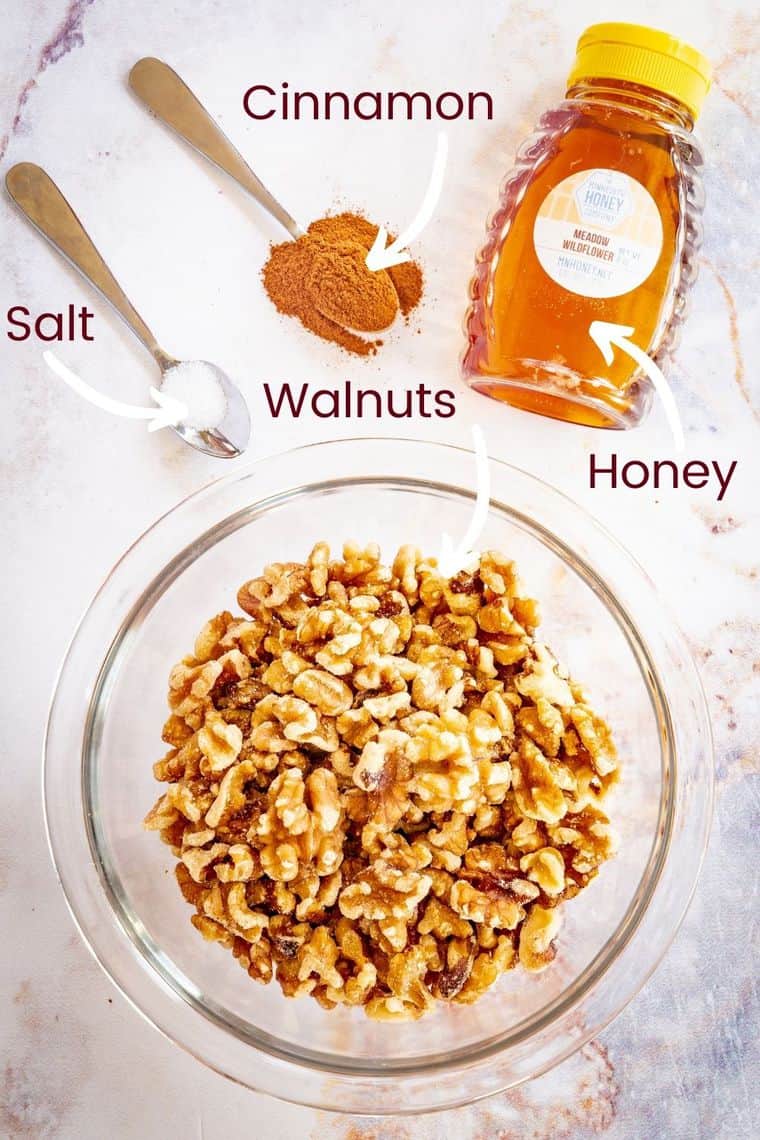 Walnuts – you'll want to use halves or large pieces
Honey
Cinnamon
Salt
EQUIPMENT
Skillet – a 9-inch or 10-inch skillet will do. I like to use nonstick because the honey can get a bit sticky, but you can use cast iron as well.
Silicone spatula – again, this helps stir and deal with with the stickiness of the honey. I keep a variety of shapes and sizes on hand for different jobs and use them daily.
Silicone baking mats or wax paper – you'l need something to cool and allow your walnuts to harden on. A Silpat or wax paper will keep them from sticking. Amazon now has very affordable silicone baking mats.
Baking sheets – while you can just let the nuts cool on the baking mat or wax paper on the counter, placing it on a baking sheet will allow you to move them, if needed. I love the ones from NordicWare.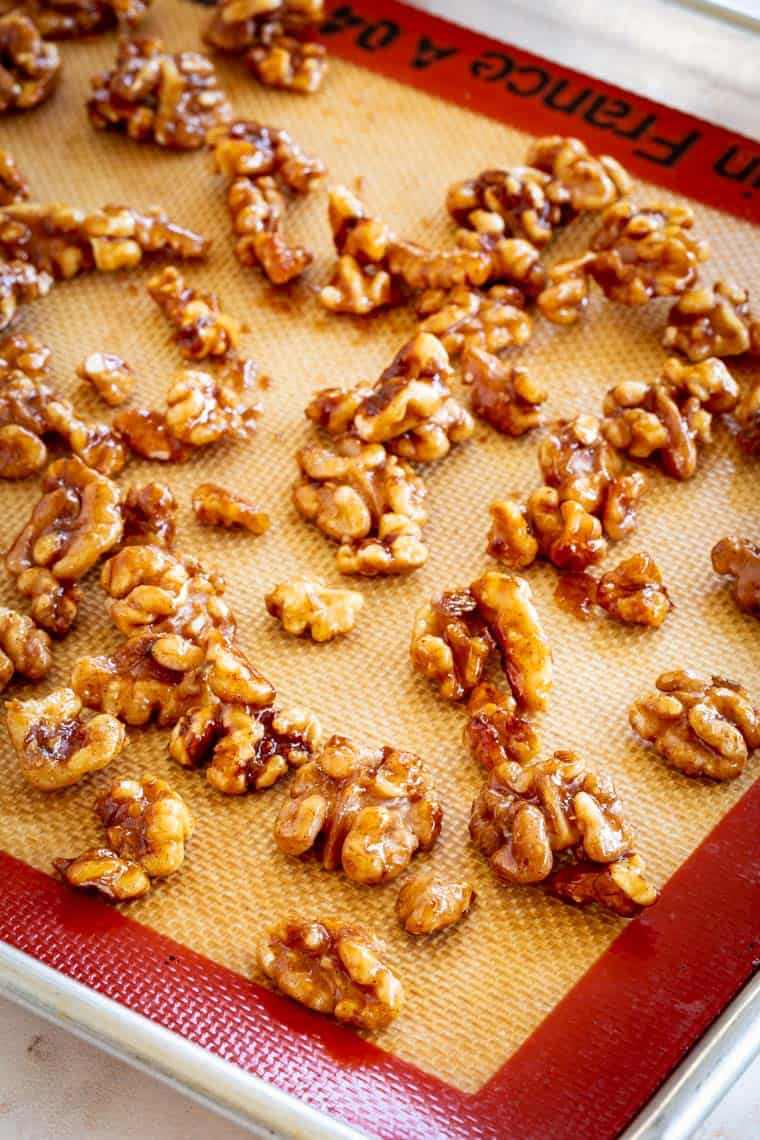 How to make them
Line a baking sheet with wax paper or a silicone baking sheet. Set aside.
Toast the walnuts in a skillet over medium heat for 2 or 3 minutes. You'll just start to smell the nutty aroma.
Add the honey and cinnamon and stir to coat evenly. The cook about 5 minutes until glazed and toasted.
Pour the nuts onto the prepared baking sheet and quickly separate the nuts. Let cool completely.
Storing glazed nuts
You'll want to make sure the walnuts are cooled completely before storing. You can then seal them in an airtight container at room temperature for up to a week.
They may stick together a bit, but they can be easily broken apart, or even chopped smaller if you prefer.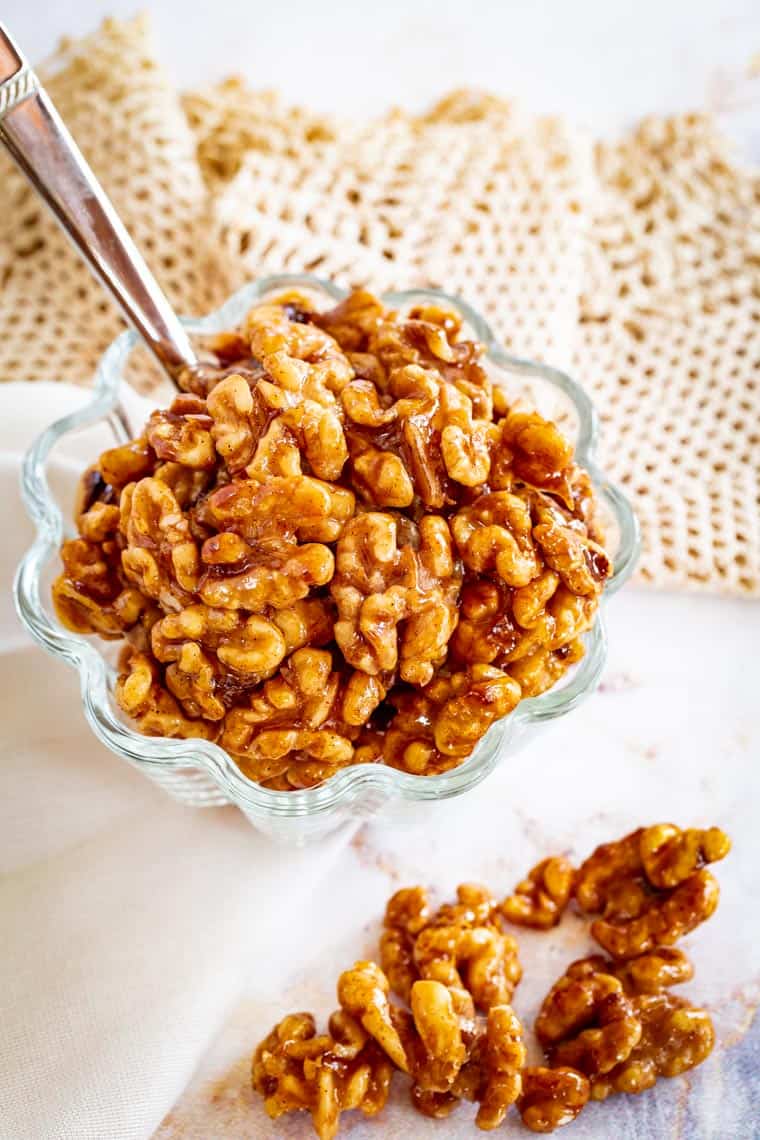 Frequently Asked Questions
Are honey glazed walnuts healthy?
Walnuts themselves are healthy, and in fact, are considered a superfood. Like all nuts, they are high in calories and fat, with 185 calories and over 18 grams of fat in a 1-ounce serving. But because they are also rich in fiber and protein, they are satisfying and are not shown to contribute to weight gain.
Plus, because they are rich in polyunsaturated fats, as well as omega-3 and omega-6 fatty acids, they have a whole host of other health benefits. They can lower your bad cholesterol and improve brain function.
Plus they are loaded with vitamins and minerals, and may even improve digestion.
However, some recipes for candied walnuts can be loaded with sugar, and sometimes butter or oil. While you still get the health benefits of walnuts, it comes along with a lot of empty calories. This recipe uses just a moderate amount of honey and not butter or oil. So it has no refined sugars and no added fat. Therefore it's a healthier way to enjoy this sweet and crunchy treat.
Are they gluten free?
Yes, this is a gluten free recipe for making glazed nuts.
Can you use other types of nuts?
Yes, try this recipe and technique with pecans, cashews, almonds, or your favorite type of nuts. You can even use a combination to make glazed mixed nuts.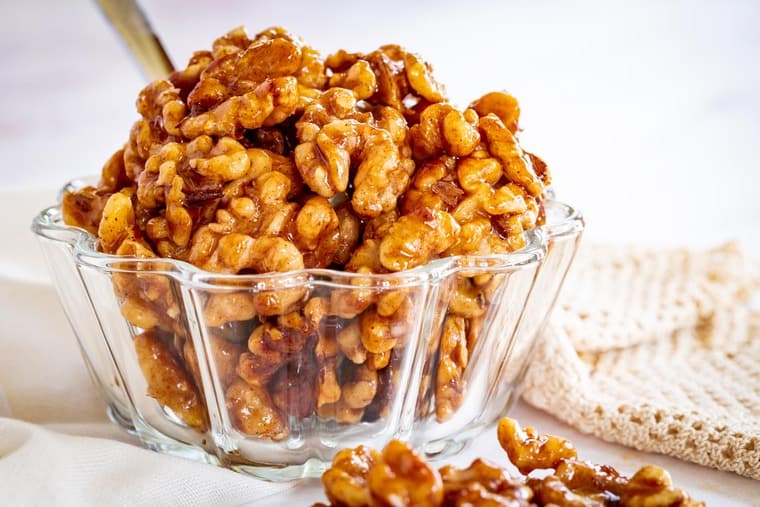 More recipes with walnuts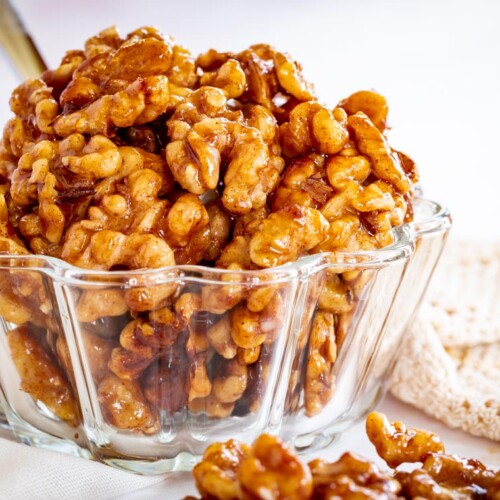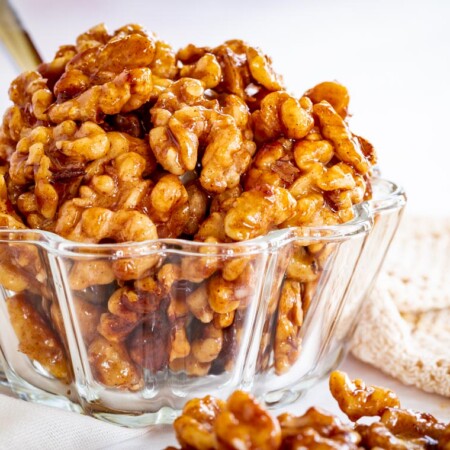 Honey Glazed Walnuts
So simple to make, yet they add something special to salads, snack mixes, cheese platters, desserts, or even roasted veggies or grain salads. You only need four ingredients to make this sweet and crunchy snack.
Ingredients
2

cups

walnuts,

halves or large pieces

1/4

cup

honey

1/4

teaspoon

ground cinnamon

pinch

salt
Instructions
Line a baking sheet with wax paper or a silicone baking sheet. Set aside.

Heat a 9-inch skillet over medium heat, then add the walnuts and toast for 2 or 3 minutes.

Add the honey and cinnamon and stir to coat evenly.

Cook over medium heat for 5 minutes, stirring often until coated and toasted.

Pour the nuts onto the prepared baking sheet and quickly separate the nuts. Let cool completely.
Notes
Store the nuts in an airtight container for up to a week.
Nutrition Facts
Honey Glazed Walnuts
Amount Per Serving (0.25 cup (approximately))
Calories 224
Calories from Fat 171
% Daily Value*
Fat 19g29%
Sodium 1mg0%
Potassium 135mg4%
Carbohydrates 13g4%
Protein 4g8%
Vitamin A 6IU0%
Vitamin C 1mg1%
Calcium 30mg3%
Iron 1mg6%
* Percent Daily Values are based on a 2000 calorie diet.
Categories: