This post may contain affiliate links. Read my disclosure policy.
Waldorf Fruit Salad is perfect and light for breakfast or brunch. It's a sweet and juicy mixture of seasonal fruits lightly coated with a honey Greek yogurt dressing and some toasted nuts for crunch. With the colors and flavors, it makes a festive Christmas fruit salad. But you can enjoy it any morning of the year, or even as a healthy snack or dessert.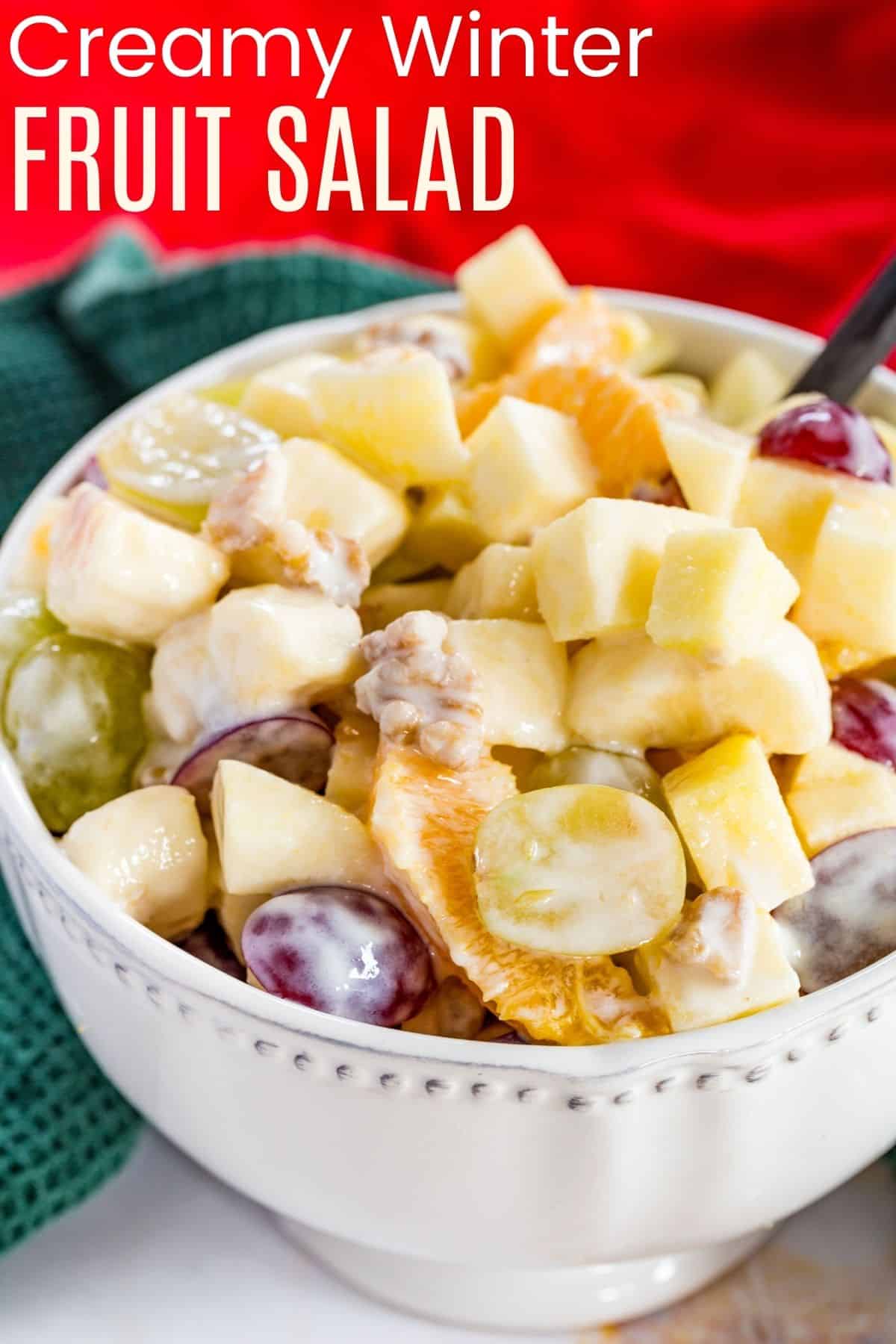 <
span id="more-6156″>
Originally published on Dec 8, 2013. Updated with new photos, additional information, and video in 2019.
Do you make a special breakfast on Christmas morning? I always see recipes for holiday-inspired cinnamon rolls, or hear people talking about their Christmas morning tradition of making and eating a mountain of pancakes, and I am kind of jealous.
We've never really had a Christmas morning breakfast tradition. Partially because we need to get in the present opening before heading off to church or to visit family. But really, a lot of it comes down to the fact that after our Christmas Eve carb-fest of mashed potatoes and pierogi, nobody is really in the mood for a bready, doughy, sugary breakfast. I'm usually happy to just munch on Almond Crescents.
And now that I have kids of my own, the last thing I want to do is slave away in the kitchen when I could be watching them unwrap all of their brand new toys and games and other cool stuff.
So over the years, this Waldorf Fruit Salad recipe has become part of our Christmas Eve breakfast-for-dinner tradition with something like Hawaiian Cheesy Scrambled Eggs.
The apples add a nice crunch against the soft and juicy grapes and bananas. A mixture of red and green grapes give it festive holiday colors. Then gently toss it all in a light coating of honey yogurt dressing with some nice, toasty walnuts, and you have something more fun and festive than a plain old fruit salad.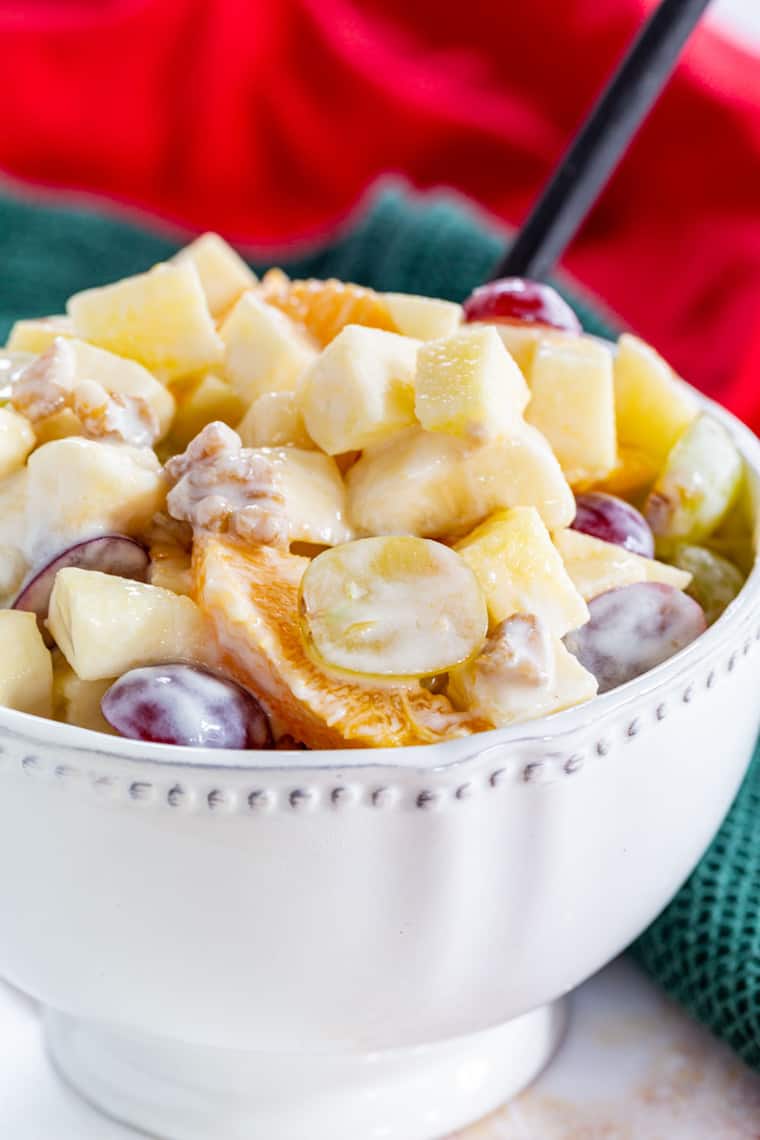 But first, you may be wondering…
What is Waldorf Salad?
Waldorf Salad is typically an appetizer salad consisting of apples, celery, grapes, and walnuts tossed in a mayonnaise-based dressing that sometimes contains orange or lemon zest. It is usually served on a bed of lettuce.
This Waldorf Fruit Salad recipe swaps a few of those ingredients to make it a sweeter fruit salad. You can then enjoy it for breakfast or brunch, a healthy snack, or even a light dessert. The celery is omitted, and oranges and bananas are added. And the dressing is made with Greek yogurt instead of mayonnaise, and lightly sweetened with honey and orange juice.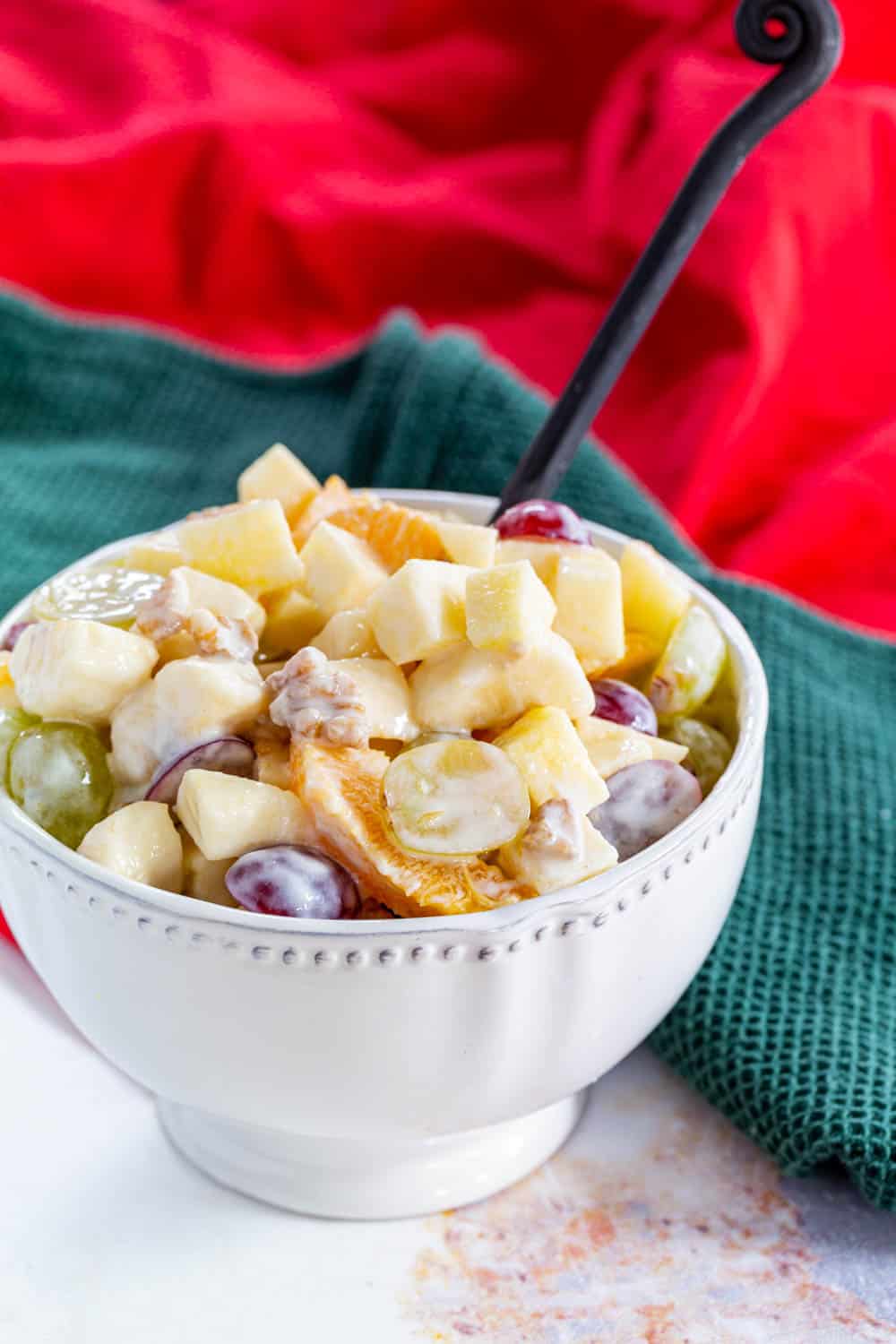 How do you make a good fruit salad?
Fresh fruit with a combination of flavors, colors, and textures will give you the best-tasting fruit salad. And a light Greek yogurt dressing pulls it all together for a creamy dish with an extra bit of sweetness. As an added bonus, besides adding flavor, it also helps prevent the fruit from turning brown, meaning you can make it in advance. And don't forget some toasted nuts for a bit of crunch.
What are the best fruits for fruit salad?
Typically you'll want to choose fruits that are in season so that they taste the best. Summer fruit salads often contain berries and watermelon and other fruits that grow in the summer. This can be more challenging in the winter. But there are some types of fruit that still taste fresh, sweet, and delicious even around Christmas.
This fruit salad contains:
Apples – use your favorite variety based on how sweet or tart you like them. I usually use Gala or Fuji apples. You can peel them or leave the peels on for more color.
Grapes – I like to mix red and green grapes for the colors, but you can just use one type.
Oranges – cut off the peel and the white pith and cut the orange into segments. Then, once you have cut the orange from the membranes, squeeze the extra juice into a bowl to use in the yogurt dressing
Bananas – you'll want them to be ripe but not too soft.
Walnuts – not a fruit, but they do add a nice crunch. BRIANNE'S TIP: You can substitute pecans or even pomegranate seeds for more festive color and a nut-free option.
How do you make yogurt dressing for fruit salad?
You only need three simple ingredients for a sweet, creamy, and delicious yogurt dressing.
Yogurt – Greek yogurt is recommended, but you can use any type.
Orange juice – reserved from segmenting the oranges.
Honey – you can also use maple syrup.
Stir these together, pour over the fruit, and toss until coated.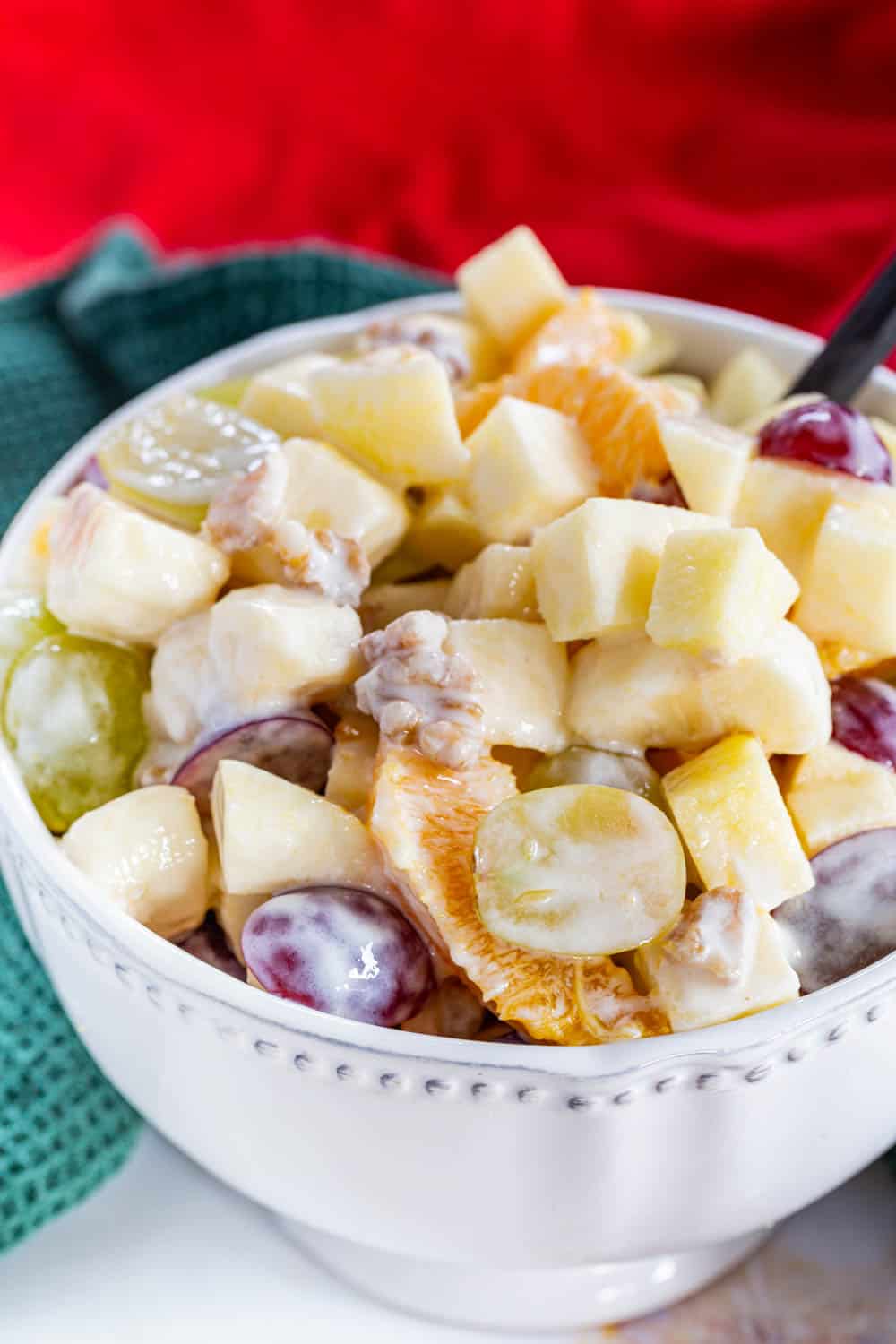 BRIANNE'S WALDORF FRUIT SALAD RECIPE TIPS and FAQs:
What kind of yogurt should I use?
I prefer to use plain Greek yogurt since it is thicker, and the dressing will be a nice consistency once you add the honey and orange juice. Whether you use nonfat or whole milk yogurt is up to you.
You can use regular yogurt, but it will be a thinner consistency. And if you have vanilla yogurt or another flavored yogurt on hand, you can use that, but you may want to omit the honey or it will be too sweet.
Non-dairy yogurt also works.
How do you cut oranges for fruit salad?
For this fruit salad, you will want to segment the oranges, also known as cutting it into supremes. This ensures that you have removed all of the pith, or white part, which can be bitter. It also gives you bright pops of color without the chewy membranes in the fruit salad. Then you can squeeze the juice from the membranes for the dressing so you don't have to use an additional orange.
Here is what you need to do:
Using a serrated knife, cut off the top and bottom of the orange. BRIANNE'S NOTE: This is the serrated knife I use.
Place one of the flat sides down on the cutting board and cut the peel off from top to bottom, ensuring that you have removed the pith. Do this all the way around the orange.
Then cut off each segment, or supreme, by cutting as close to the membrane as possible to slice out each wedge.
Once you have removed all of the segments, squeeze the juice from the membranes into a bowl and set aside.
Can I make fruit salad the night before?
Yes, you can make this fruit salad the night before, or save any leftover for the next day. If you are making it in advance, I recommend leaving the nuts on the side and mixing them in or just sprinkling them on top right before serving
I'll make it up the day before (leaving the walnuts on the side so that they don't get mushy overnight), and then for those that just want a light breakfast, they can grab a bowl, and for those that want to pick on some cookies or pastries that we undoubtedly have around, this is a nice, healthy breakfast "side dish".
How do I keep fruit salad from turning brown?
Once peeled and cut, fruits like apples and bananas can start to turn brow. Generally, the way to prevent this is by tossing the fruit in acid such as lemon juice, or, for a less tart option, pineapple juice.
In this recipe, the yogurt is acidic, and it is mixed with orange juice. Therefore, once tossed int the dressing, it will prevent the fruit from turning brown rapidly. I still recommend eating it within a couple of days.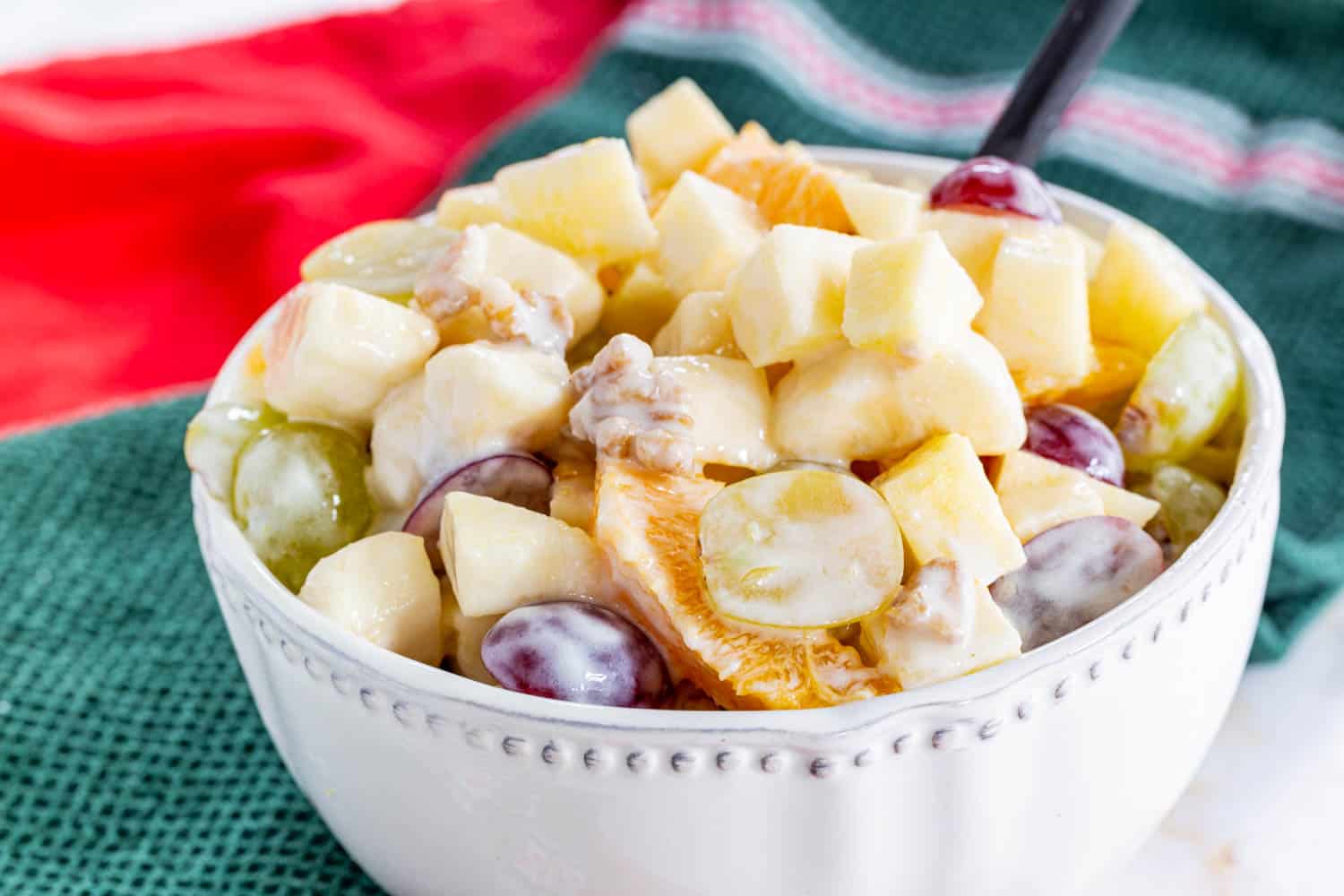 For more yumminess from me and my foodie friends, keep up with me on…
Or sign up to have Cupcakes & Kale Chips delivered straight to your Inbox!
What do you serve this fruit salad with?
Related recipes:
Waldorf Fruit Salad Recipe
This easy fruit salad recipe is made extra special with a simple yogurt dressing with honey and orange juice. It is sweet and creamy with the crisp of the apples, juicy oranges and grapes, soft bananas, and crunchy toasted nuts. While you can enjoy it for breakfast or brunch any day of the year, the festive colors of the seasonal fruits make it perfect to serve for Christmas.
I hope you'll leave a comment and give it a FIVE STAR rating or share a photo on this pin on Pinterest!
Waldorf Fruit Salad
A fun, festive mixture of seasonal fruits tossed with a honey Greek yogurt dressing and toasted walnuts for crunch. Perfect for any breakfast or brunch on a holiday or any day.
Ingredients
2

apples,

peeled (if desired) and chopped

2

oranges,

cut into supremes or segments, juice squeezed from membranes after cutting out the segments, and reserved (see Note 1)

1

banana

cut into chunks

2

cups

grapes,

halved if desired (I like to use a mixture of red and green)

1/2

cup

plain Greek yogurt

1

Tablespoon

honey

or to taste

1/2

cup

walnuts

toasted
Instructions
Combine all of the fruit in a large bowl and mix.

In a small bowl, combine the yogurt, honey, and juice reserved from the orange and stir until smooth.

Pour the yogurt mixture over the fruit, add the walnuts (see Note 2), and toss gently to combine.
Notes
1 - To cut segments or supremes from the orange, using a sharp knife, slice off the top and bottom, then cut off the peel down to the fruit. Using the knife, cut between the membranes to cut out the juicy segments. When finished, squeeze the remaining membrane to collect the juice.
2 - If you are preparing the salad in advance, keep the nuts separate and top or toss when serving.
Enjoy!