This post may contain affiliate links. Read my disclosure policy.
My Easy Gluten-Free Almond Flour Pancakes are the ultimate weekend breakfast! Light, fluffy and mildly sweet, they're perfect with syrup and all of your favorite toppings!
Gluten Free Almond Flour Pancakes
Are you a breakfast food person? I definitely am, and my family enjoys a big, hearty breakfast as well. In our family, we tend to enjoy savory breakfast foods like eggs, maybe hash browns, toast, or even a big omelet as breakfast for dinner, or maybe brunch. But for me and my kiddos, the pinnacle of breakfast food is pancakes.
And I'll admit, before I had to give up gluten, you'd find me spending many Sunday mornings at a good New Jersey diner working my way through a big old stack of fresh pancakes. Really, whose mouth wouldn't water a little bit? They're just so warm and comforting – a true classic for a good reason.
So of course, now that I can't just place my order at the diner anymore, I have to share my favorite recipe for making classic breakfast pancakes, gluten-free style! This version uses mainly almond flour, with a little bit of gluten-free all-purpose flour as well, for the best texture and fluffiness. Let's get cooking!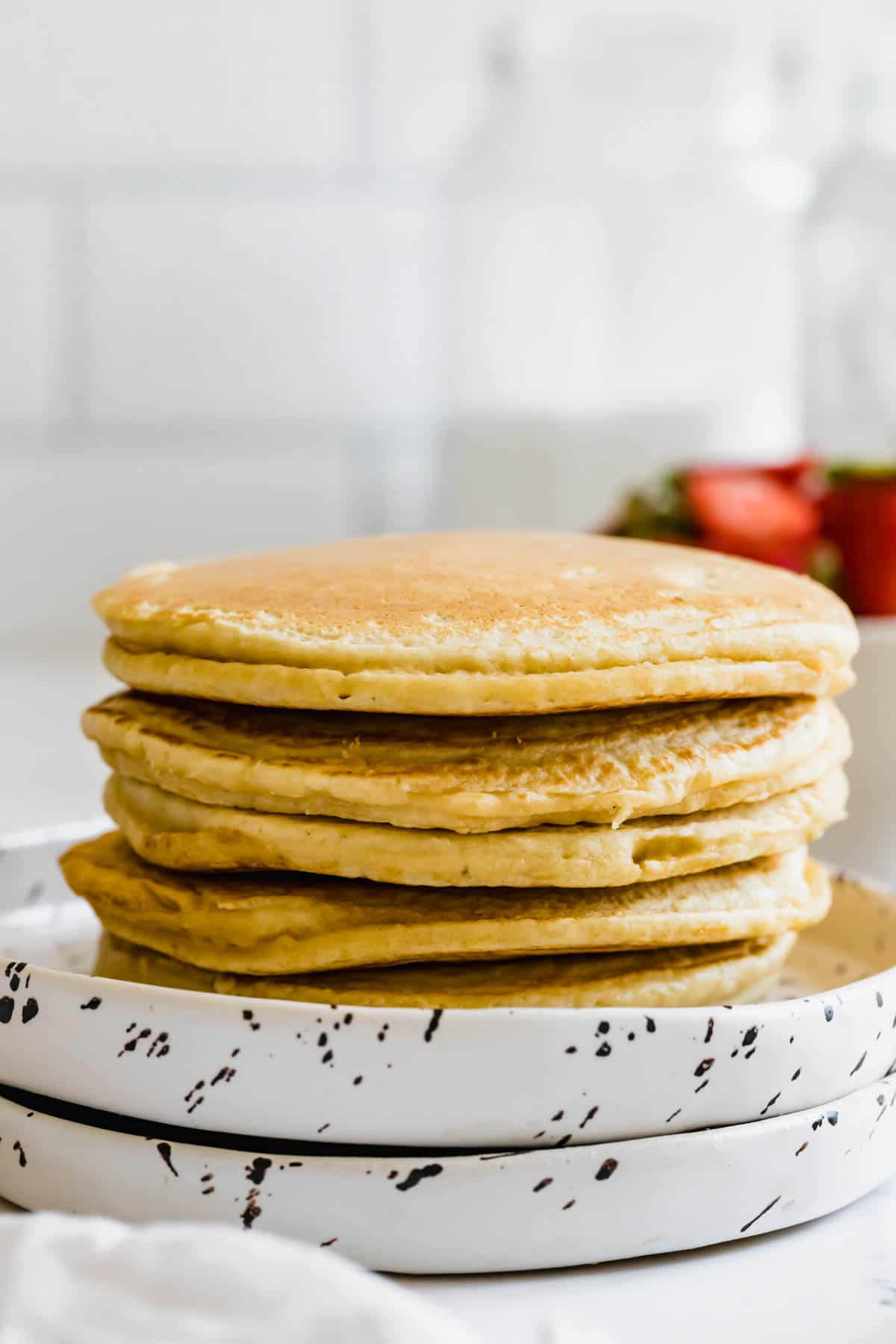 Why Use Almond Flour?
Using almond flour in pancakes works really well because it's naturally gluten-free. Additionally, almond flour is high in protein, fiber and healthy fats! All of that means that you feel fuller and more satisfied after eating them, without raising your blood sugar dramatically.
Plus, the mild, nutty flavor of almond flour tastes great in pancake form! It's the perfect partner for berries, syrup, or whatever other tasty add-ins you'd like to use.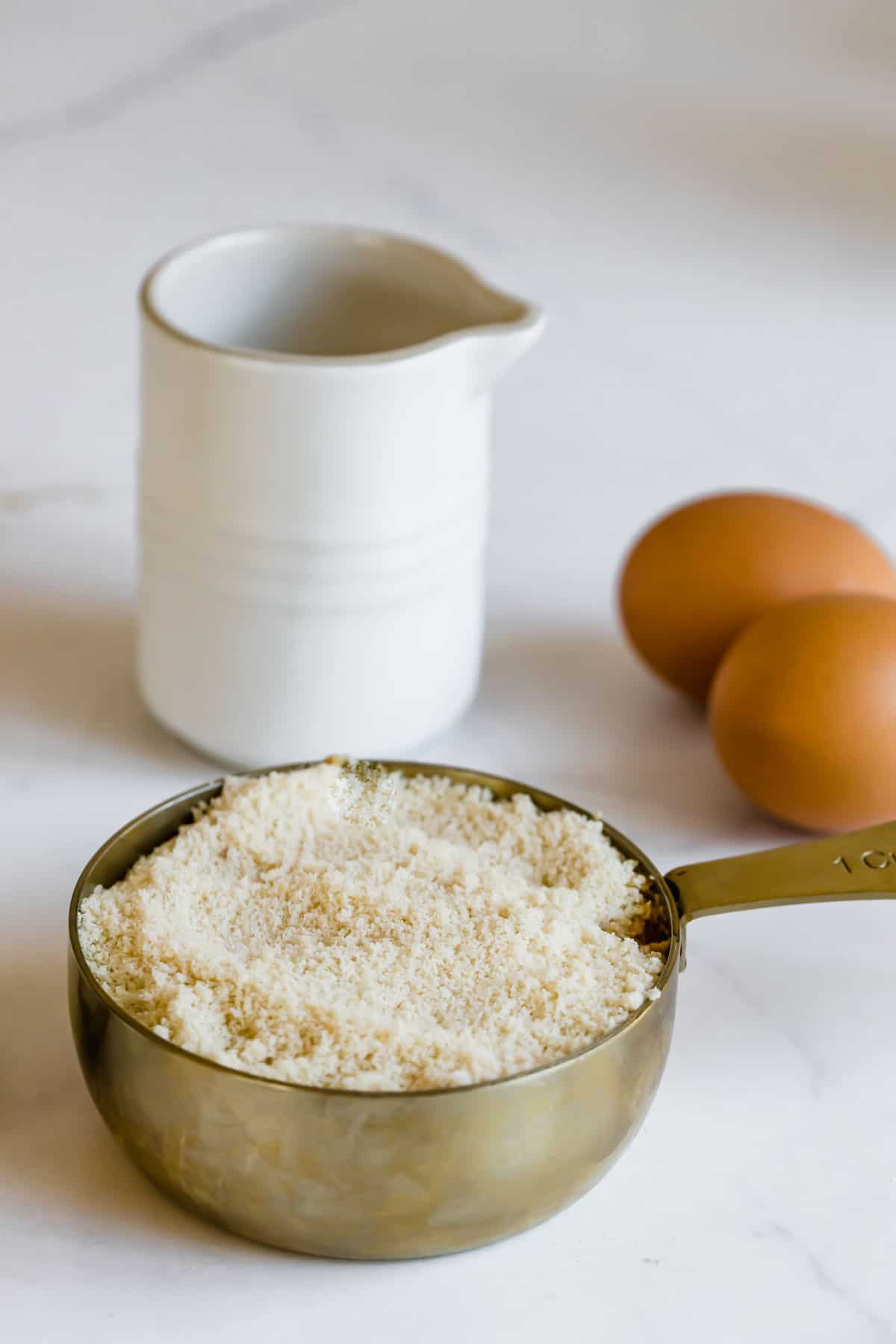 Recipe Ingredients
Let's get into the simple list of ingredients for almond flour pancakes. Here's what you'll need:
Almond Flour: To make one batch of these pancakes, you'll need a cup of almond flour. You can also double this recipe, if you'd like!
Gluten-Free Flour: Your favorite 1-to-1 gluten-free flour helps bind the mixture and give it a fluffy texture.
Baking Powder: To make the batter light, you'll need ¾ teaspoon of baking powder.
Salt
Eggs: Eggs are crucial to making sure these pancakes don't fall apart! You'll need 3 whole eggs, room temperature is best.
Almond Milk: I like to use almond milk for the batter, but you can use dairy milk, if that's what you have.
Coconut Oil: This adds richness and a nice texture to the batter. You'll want it slightly melted. You can also use another neutral oil, such as avocado oil or even melted butter.
Vanilla: To flavor the pancakes, I used two teaspoons of vanilla extract.
Oil: For the pan.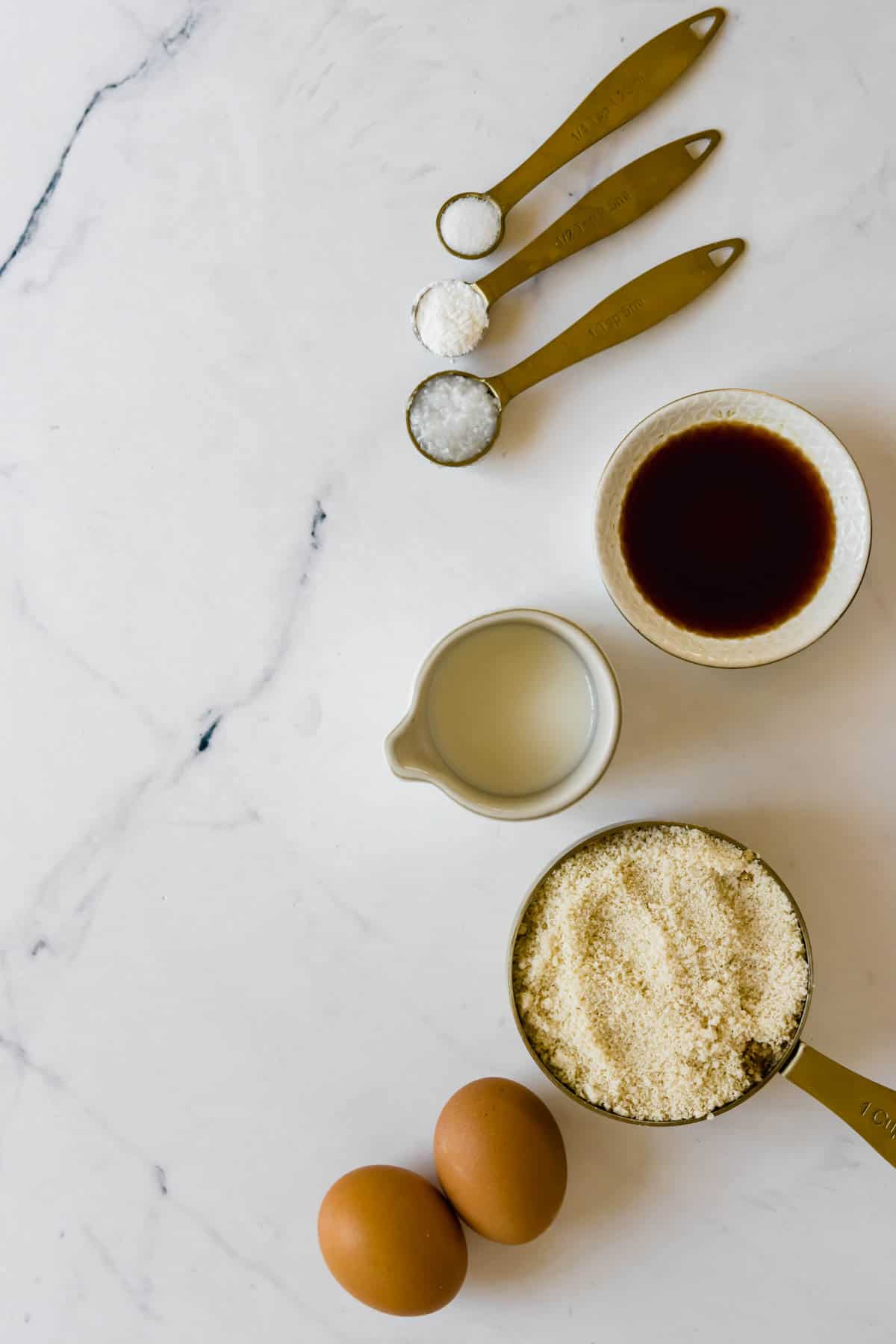 Almond Flour is Not Almond Meal
One thing to keep in mind when cooking with almond flour is that it's not exactly the same as almond meal. While both are made from almonds, the flour is lighter and fluffier. To make almond flour, the almonds are first blanched and peeled, then ground finely.
On the other hand, almond meal is usually made from raw almonds with the skins left on. Plus, it's not ground as finely. The result is a slightly coarser meal, similar to cornmeal, flecked with tiny bits of almond skin.
How to Make Almond Flour Pancakes from Scratch
If you like making pancakes, you're in luck! Making these gluten-free pancakes is just like making ordinary pancakes. All you have to do is mix, cook, flip and enjoy!
Mix Batter: In a large mixing bowl, whisk together the eggs, almond milk, coconut oil and vanilla extract. Add the almond flour, gluten-free flour, baking powder and salt.
Heat Skillet or Griddle: Place a large skillet over medium heat, add a little oil (any kind you like) and allow the skillet to heat up. You can also heat an electric or stovetop griddle.
Make Pancakes: Ladle the batter onto your skillet or griddle. Let the pancakes cook for two or three minutes before flipping. You'll know they're ready to flip when little bubbles form on the surface of the pancakes. Cook for another 2 minutes and transfer to a plate.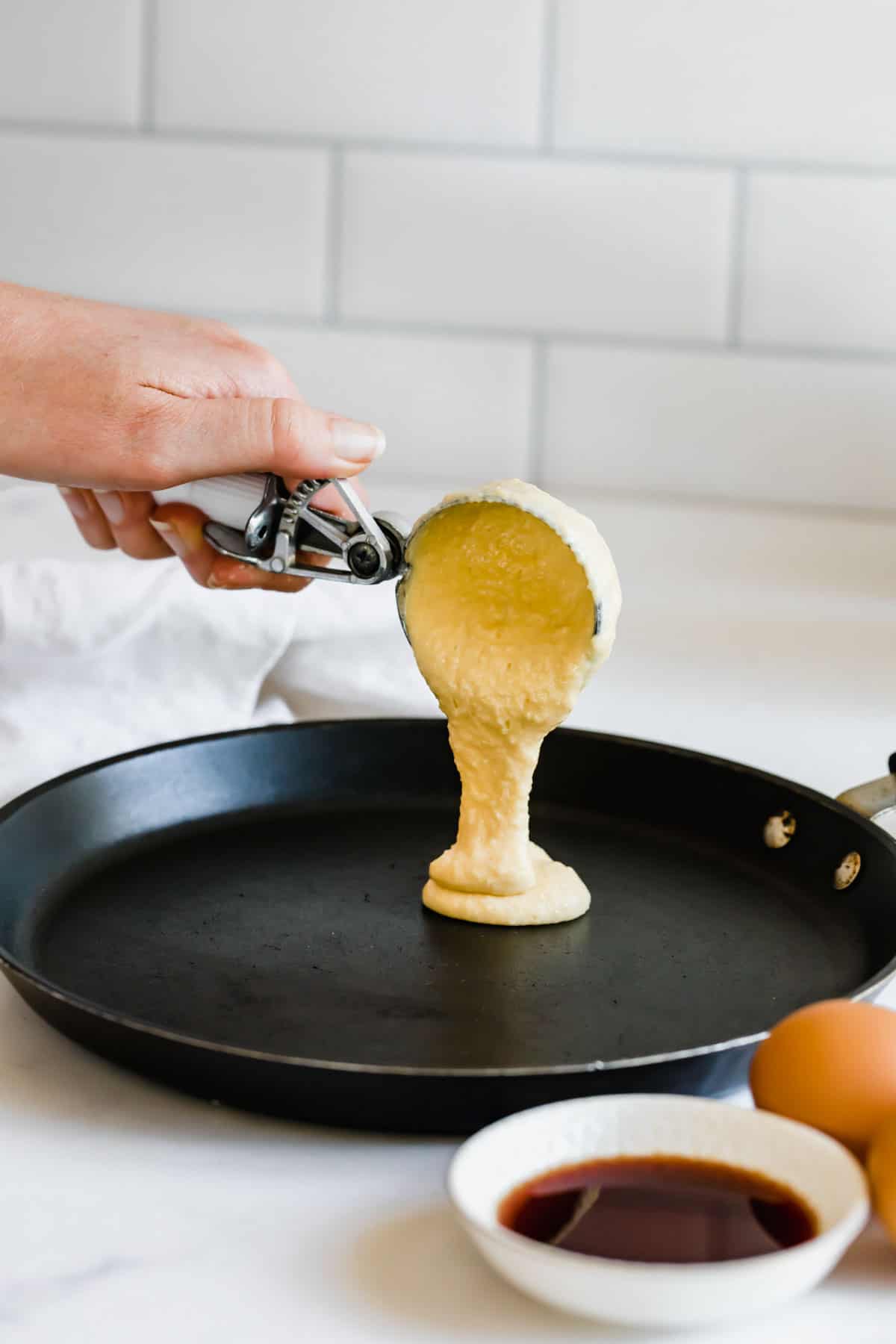 Enjoy! Serve your pancakes warm with your favorite toppings.
Toppings Ideas
Berries – Everything tastes better with fresh berries! Well, almost everything. But definitely pancakes!
Yogurt – You can add a dollop of yogurt on top similar to the way you might use whipped cream.
Honey or Syrup – Drizzle them over the pancakes, or add them to a small bowl to dip each forkful of pancakes before you take a bite.
Butter or Nut Butter – You can add a pat of butter and let it melt on top, or add a swath of your favorite nut butter. I especially like almond butter or hazelnut butter.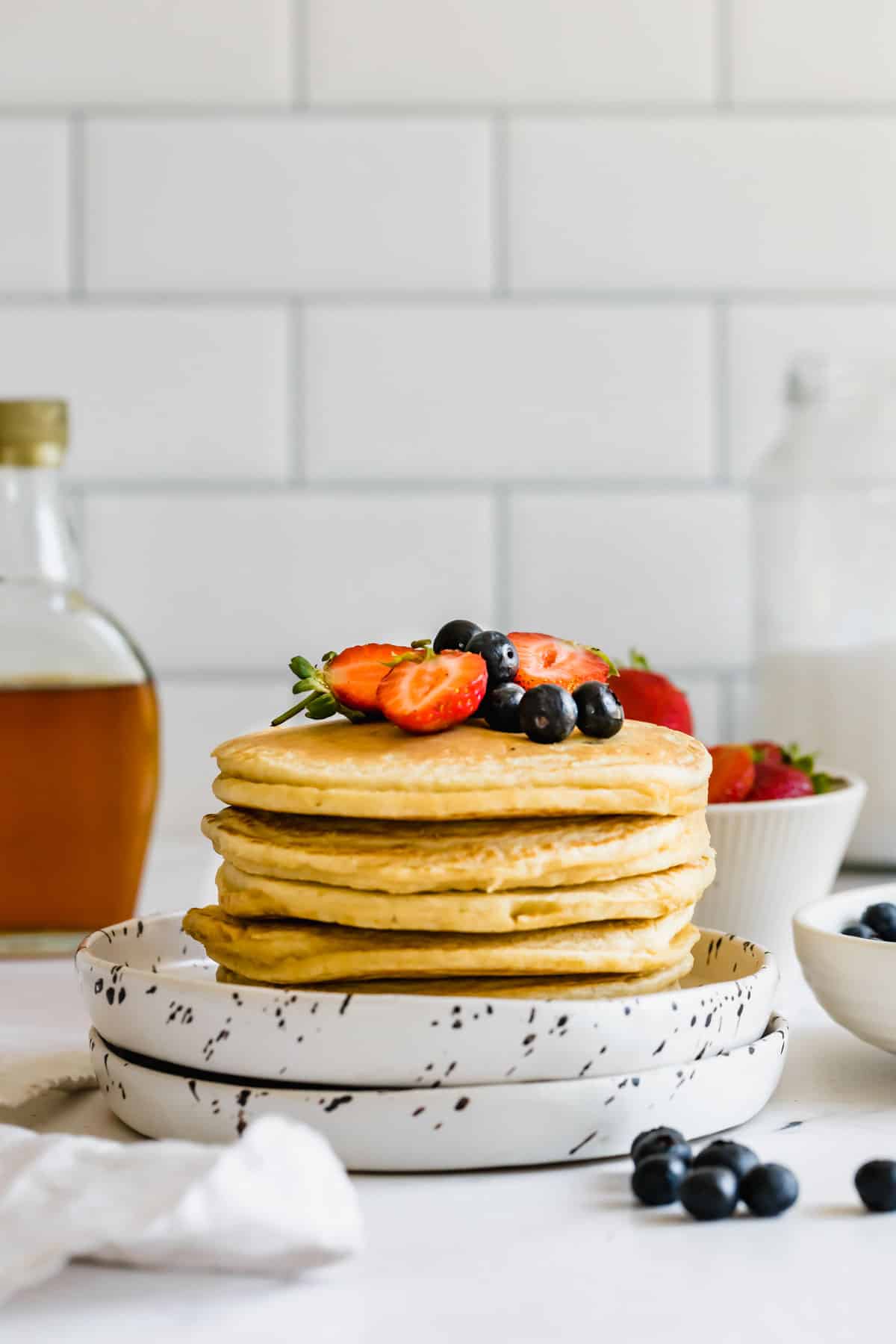 Tips for Success
Here are a few other helpful hints for making these yummy pancakes. I'm so excited for you to try this easy recipe! It's definitely one you'll want to make again and again.
The Skillet Should Be Hot: You'll know that the skillet is hot enough when a drop of water sizzles on the surface. If the drop of water skids across the surface rapidly, the pan is too hot. If the drop of water just sits there and bubbles a little, the pan is too cold.
Omit the Vanilla: If you don't like your pancakes to taste too dessert-y, you can omit the vanilla extract. Bonus: plain pancakes make yummy "flatbreads" for a breakfast sandwich!
Add Some Fun: If you want to dress up your pancakes with some additional flavor, try adding fresh or frozen blueberries, a handful of chocolate chips, some chopped bananas and walnuts, or just a sprinkle of cinnamon! Anything you like, it's all up to you!
How to Store and Reheat Leftovers
If you have leftover pancakes, or just want to make extras, they keep well in the refrigerator for up to 3 days. Just cover them well and heat them up in the oven or toaster oven. Don't use a toaster to heat up pancakes, since the pancakes can collapse against the heating element and burn.
Can I Freeze Pancakes?
Yes, you can! Just place the pancakes on a baking sheet in a single layer and freeze them until frozen solid. Then, place the frozen pancakes between pieces of wax paper and stack in a freezer bag. They will stay good in the freezer for up to three months. Thaw almond flour pancakes overnight in the refrigerator before reheating.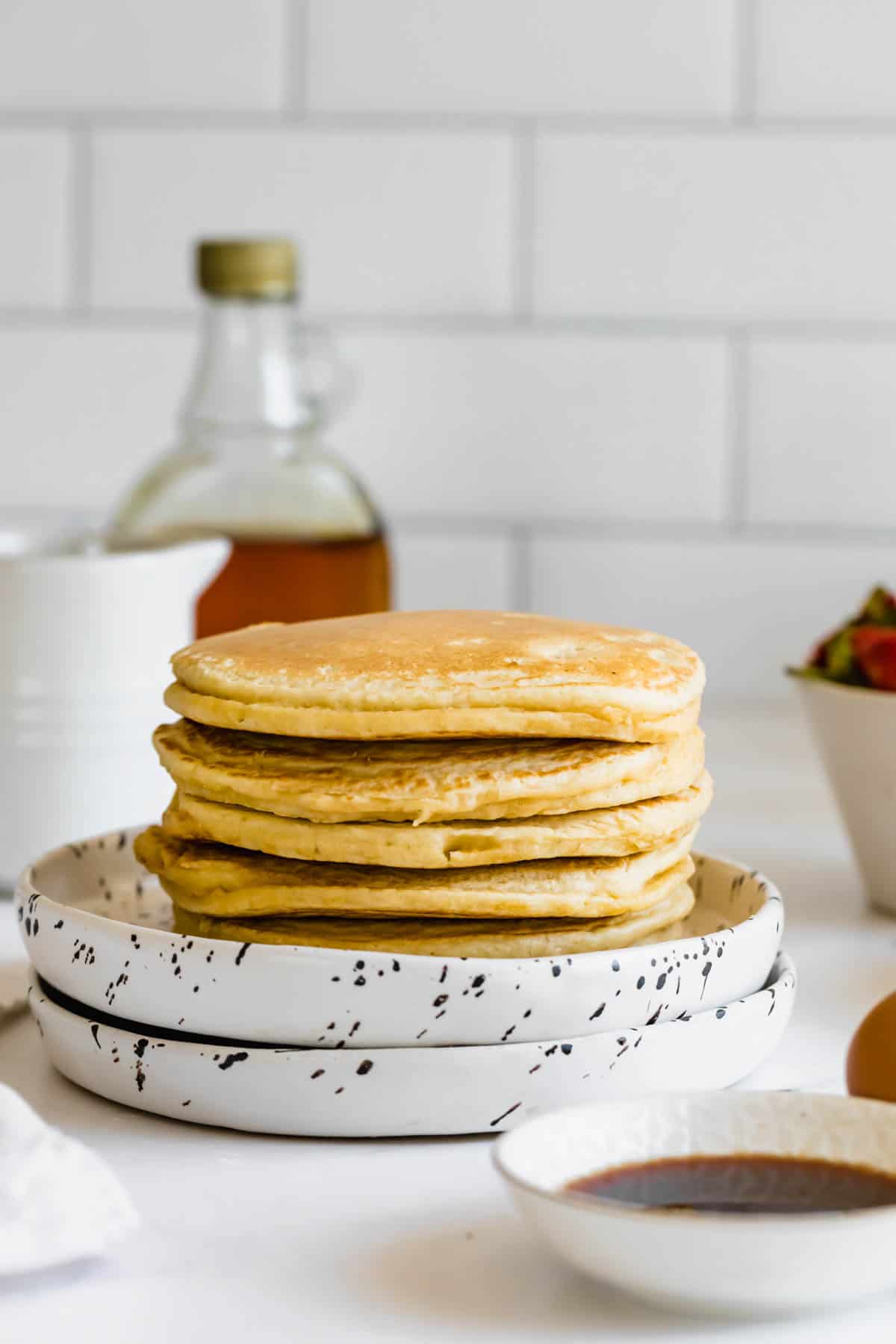 Serving Suggestions
So what should you serve alongside your fresh, hot almond flour pancakes? I'm glad you asked! Here are a few great dishes to partner with these pancakes.
Quick Breakfast
Yogurt: If you've made these pancakes as part of your weekend meal prep, then prepare a few of these Fruit and Yogurt Parfait Jars so you can just grab one out of the fridge while you reheat your pancakes.
Smoothie: It doesn't get better than a couple of pancakes and a nice creamy Chai Smoothie.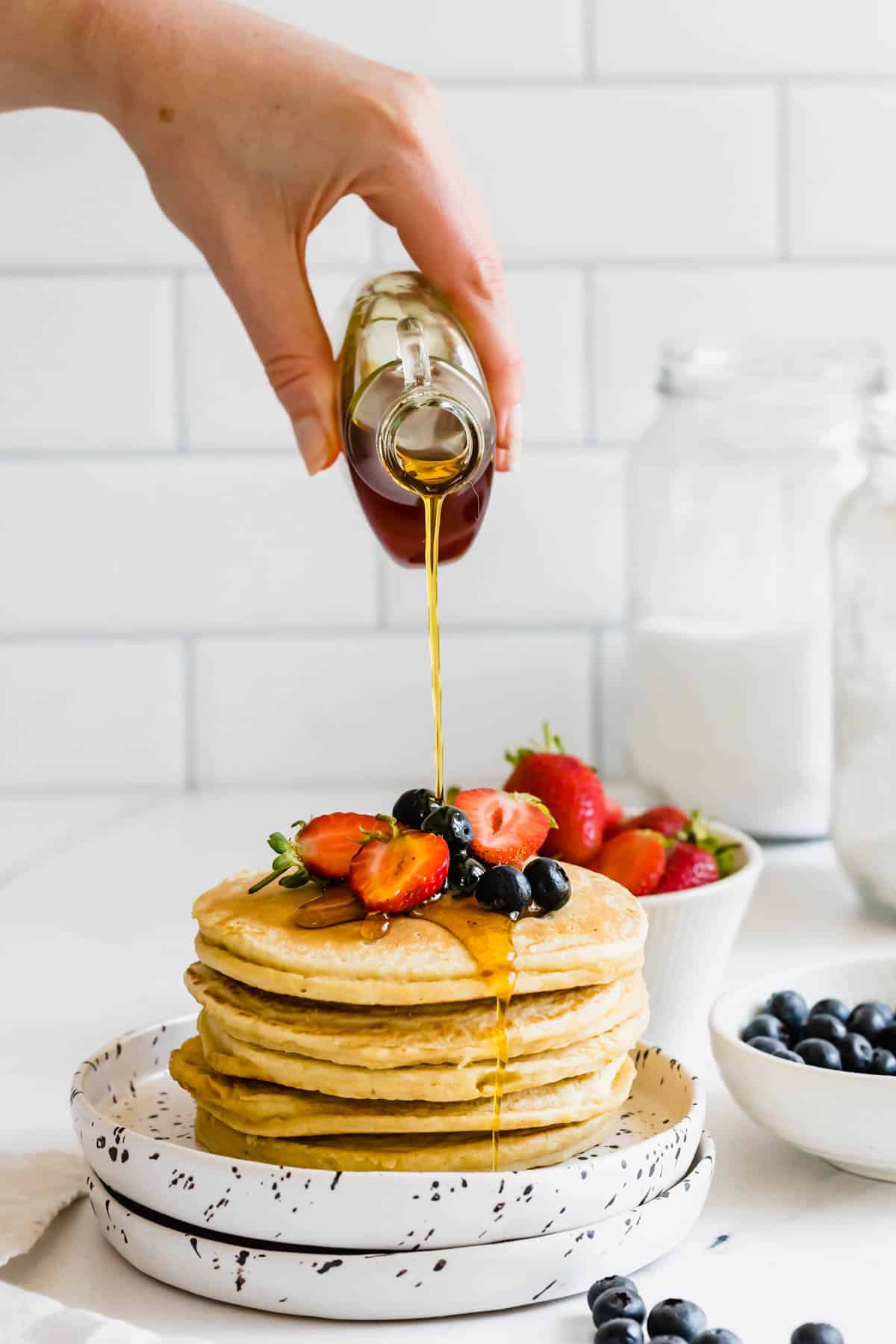 Brianne Recommends
While I use a variety of 1:1 gluten free flour blends, Bob's Red Mill is usually my go-to.
As mentioned, be sure you are using almond flour, NOT almond meal.
I find that a cookie scoop is the best way to make nice, even pancakes.
If you want to make a lot of pancakes fast, a nice, large electric griddle is the way to go. I've had mine since my wedding!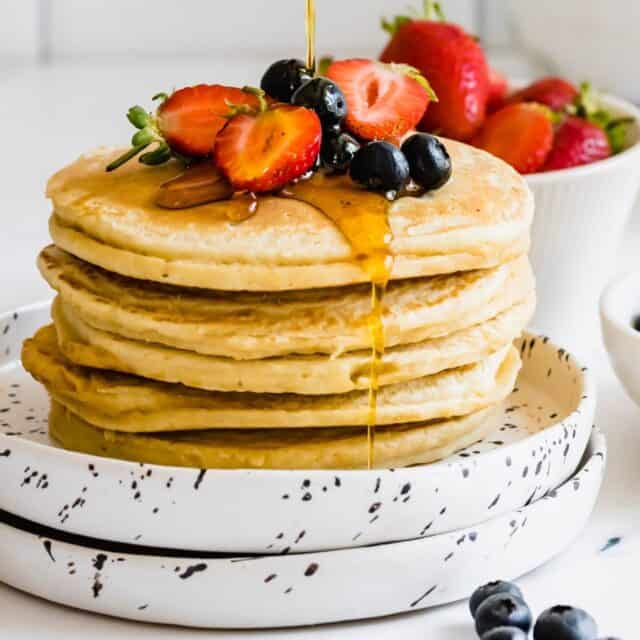 Easy Gluten-Free Almond Flour Pancakes
My Easy Gluten-Free Almond Flour Pancakes are the ultimate weekend breakfast! Light, fluffy and mildly sweet, they're perfect with syrup and all of your favorite toppings!
Ingredients
1

cup

almond flour

1/2

cup

1-to-1 gluten-free flour bland

3/4

teaspoon

baking powder

1

pinch

salt

3

large eggs

1/2

cup

almond milk

2

teaspoon

coconut oil

2

teaspoon

vanilla extract

Oil for pan
Topping Ideas
Berries

Yogurt

Nuts and Seeds

Honey or Syrup

Nut Butter
Instructions
In a large mixing bowl, whisk together the eggs, almond milk, coconut oil, and vanilla extract.

Add the almond flour, gluten-free flour, baking powder, and salt.

Place a large skillet on a medium heat and add a little oil of your choice and allow it to heat.

Pour a ladle of batter into the pan. Let the pancake cook for 2 – 3 minutes before flipping -when little bubbles will form on the surface of the pancake, it is ready to flip.

Let it cook for another 2 minutes and then serve with your favorite toppings.
Notes
Makes 6-10 pancakes, depending on the size of each one.
Nutrition Facts
Easy Gluten-Free Almond Flour Pancakes
Amount Per Serving
Calories 112
Calories from Fat 72
% Daily Value*
Fat 8g12%
Cholesterol 49mg16%
Sodium 23mg1%
Potassium 50mg1%
Carbohydrates 7g2%
Protein 5g10%
Vitamin A 71IU1%
Calcium 48mg5%
Iron 1mg6%
* Percent Daily Values are based on a 2000 calorie diet.