This post may contain affiliate links. Read my disclosure policy.
This deliciously Cheesy Cauliflower Hash Browns Casserole is an easy side dish recipe that's packed with veggies and plenty of cheddar cheese. With a golden brown top and crispy edges, everyone will be ready to dig into this breakfast bake first thing in the morning, or for brunch or dinner. Made with only a handful of ingredients, it is naturally gluten free and one simple swap makes it low carb and keto-friendly, as well!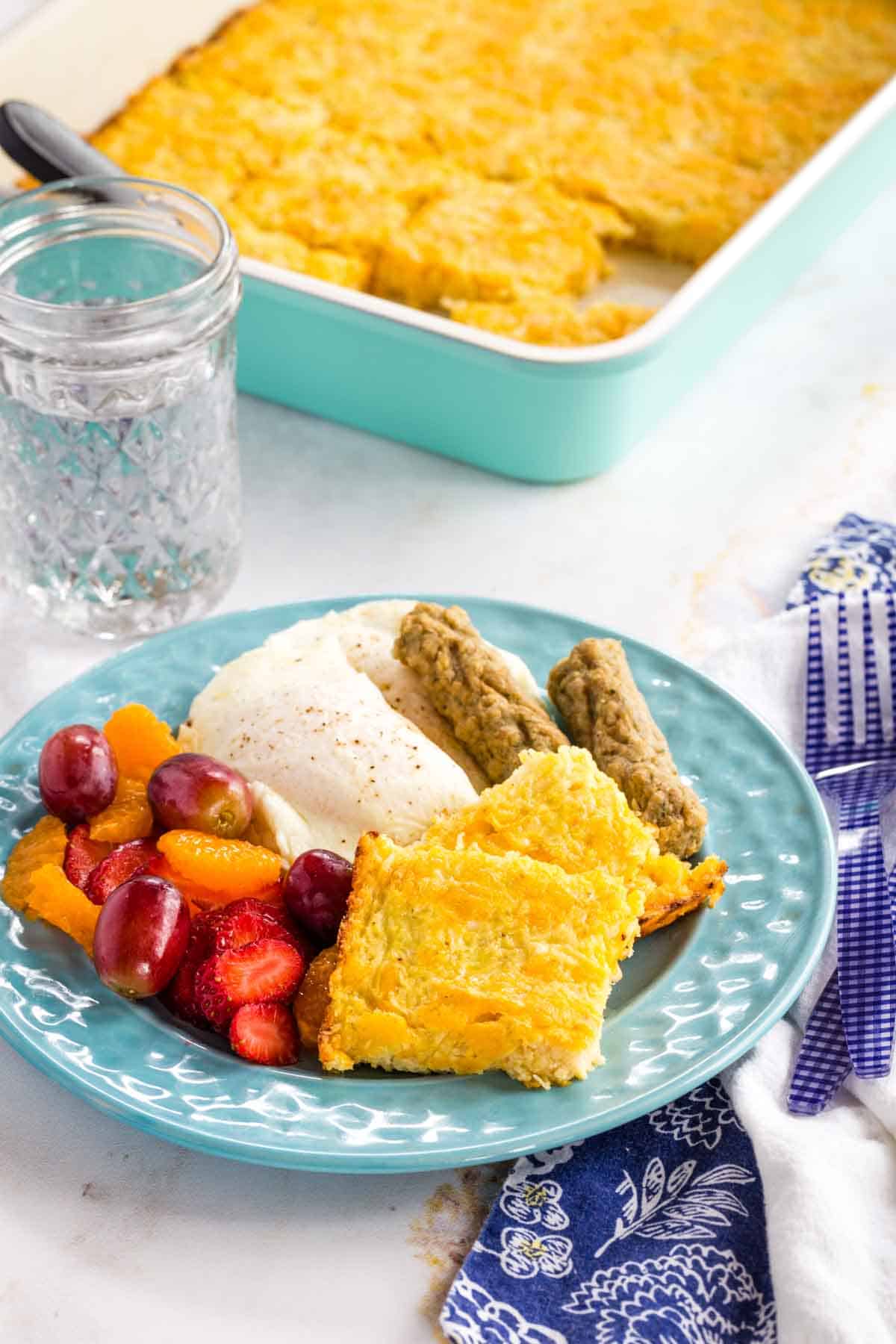 Disclaimer: This recipe was developed through a sponsored partnership with Cabot Creamery Co-operative. As always, all opinions are my own.
Cheesy Cauliflower Breakfast Bake
I personally don't have anything against potatoes.
I like to pop some fries in my air fryer or have Broccoli Cheddar Twice-Baked Potatoes with my steak. And I'm not against digging into a pile of Bacon Cheddar Mashed Potatoes. But as more and more people are adopting a keto lifestyle, they are swapping the spuds (and lots of other things) for cauliflower.
Even though we may not be strictly low carb in our house, I do just love cauliflower. I'm happy to enjoy your basic roasted cauliflower. But its magical powers to transform into almost anything make it a great way to not only cut down on some of those extra carbs, but also to get the kids to eat more veggies.
Take Shepherd's Pie and give it an extra dose of vitamins with Shepherd's Pie with Cauliflower Mash. Make a vegetable-infused pizza crust.
And, of course, the favorite in our house – Cauliflower Tots! But when you are short on time or patience, those little buggers can be a bit much to make. All that scooping and pressing into mini muffin tins and such.
So I just dumped the entire mixture into a pan and baked it. Voila! All that crispy, cheesy, golden goodness with a boatload of sneaky veggies. But much less time, work, and cleanup. Let me present to you what I originally called Baked Cauli-Tots Casserole. However, that name just came from the fact that it has all the taste and crispness of Baked Cauli Tots, but it is so much easier to make.
As I made it over and over, I realized that it's more like a hash brown casserole. So the same deal, just a more accurate name. And it is double the size of a batch of cauliflower tots. That means it is perfect to whip up for company or as a potluck dish.
Or, if you're in my house, you don't have to ration it out to two tot-loving kiddos just to make sure you get at least a couple for yourself.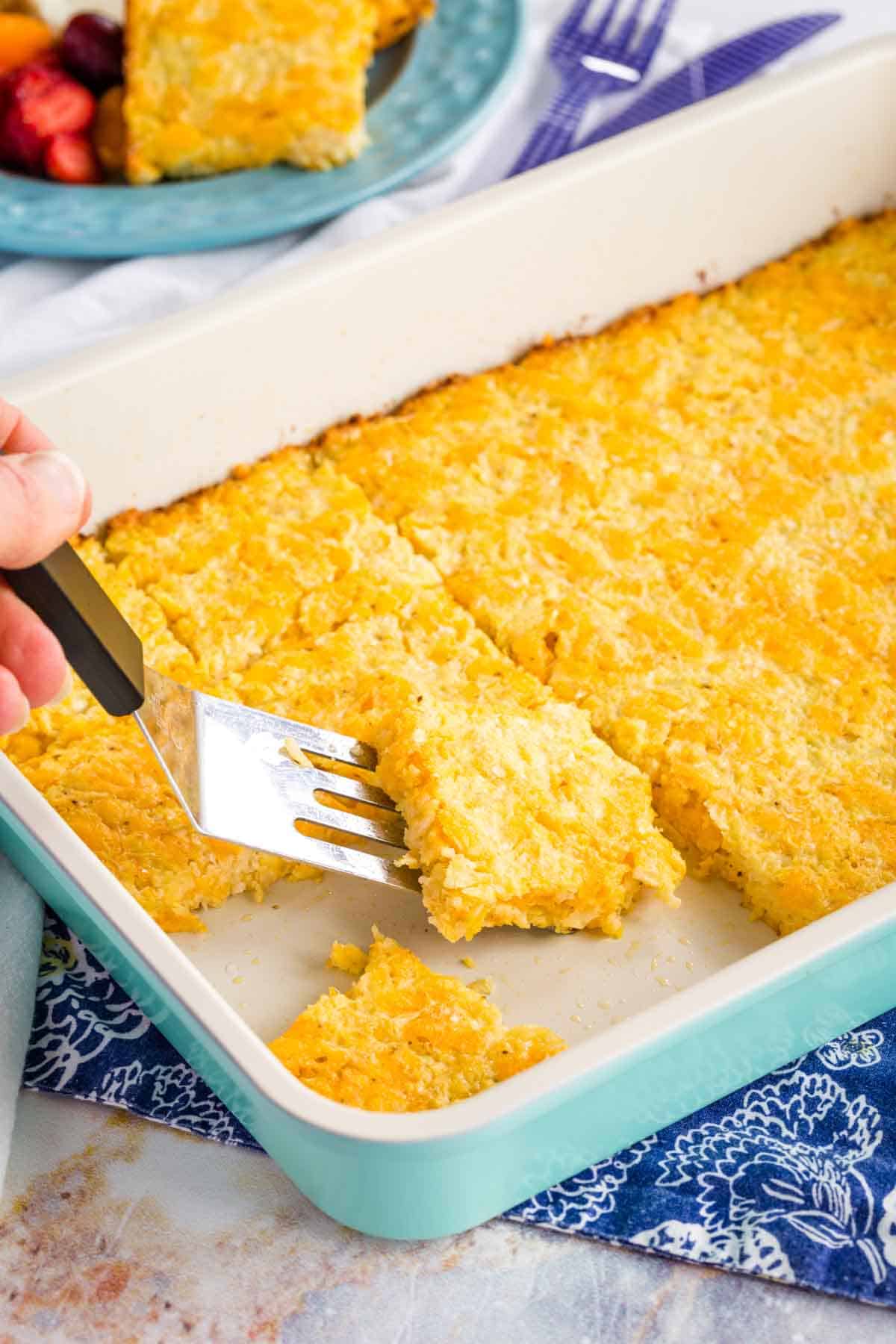 Ingredients
Here is a quick list for you. See below for the details and the recipe card for the full amounts:
Cauliflower

Cheddar cheese

Eggs

Cornmeal or almond meal

Dry ground mustard

Salt

Pepper
Cauliflower
You'll need about one medium-sized head of cauliflower that gets shredded to yield about six cups of shredded cauliflower. You will want to remove it from the core. But since you are shredding it, there is no need to cut off just the florets. You can toss the stems right in there too.
The important thing is to squeeze out as much excess moisture as possible. I do this by wrapping the shredded cauliflower in an old kitchen towel and squeezing and twisting until it starts releasing liquid. Then squeeze more. And then a little more.
You can even do this in batches if it is easier for you.
Cheddar cheese
Whether you prefer sharp or mild, yellow or white, you can choose your favorite cheddar to make this recipe. Personally, I like the Seriously Sharp Cheddar Cheese from Cabot Creamery Co-operative. It adds a ton of flavor to the neutral base of the cauliflower. And I usually use yellow cheddar because I love the color it gives the dish. But white cheddar tastes equally delicious.
Eggs
These act as a binder to help hold the cauliflower casserole together.
Cornmeal or almond meal
When I first started making all of my favorite cauli tots recipes and cauliflower hash browns casserole, I used cornmeal. It is a naturally gluten free binding ingredient, and it also gave that little bit of texture similar to frozen tater tots.
However, as more people began looking for low carb options, I tried replacing it with almond meal. This particular recipe works really well by replacing all of the cornmeal with almond meal because it is baked and cut into pieces. So it doesn't have to hold together on its own.
But for a firmer texture, using half the amount of almond meal and a bit of coconut flour to absorb the excess moisture works perfectly. You can use either of these options to make these cheesy keto cauliflower hash browns.
Ground mustard
Dry mustard powder is an essential ingredient in many recipes with cheddar cheese. It helps enhance that cheesy flavor by giving it a little extra sharp bite.
Salt and pepper
It's always essential to season your food while preparing it.
Equipment
Food processor with shredding disc

– I find using the shred attachment for a food processor is the fastest and easiest way to shred the cauliflower. It also makes quick work of that large block of cheese, though you can use a regular box grater for both if you choose.

Large bowl
Kitchen towel

– an old, dingy one is fine because it is just for squeezing the moisture out of the cauliflower.

Measuring cups and spoons
Fork
9×13 inch baking pan

– I used to always bake this in a

glass baking dish

. However, I have recently tested it several times in a metal

pan

and it works perfectly too. It does brown on the edges a little faster though. But either will work. I still prefer the glass because I can let it bake a little longer to dry out and crisps up a little more.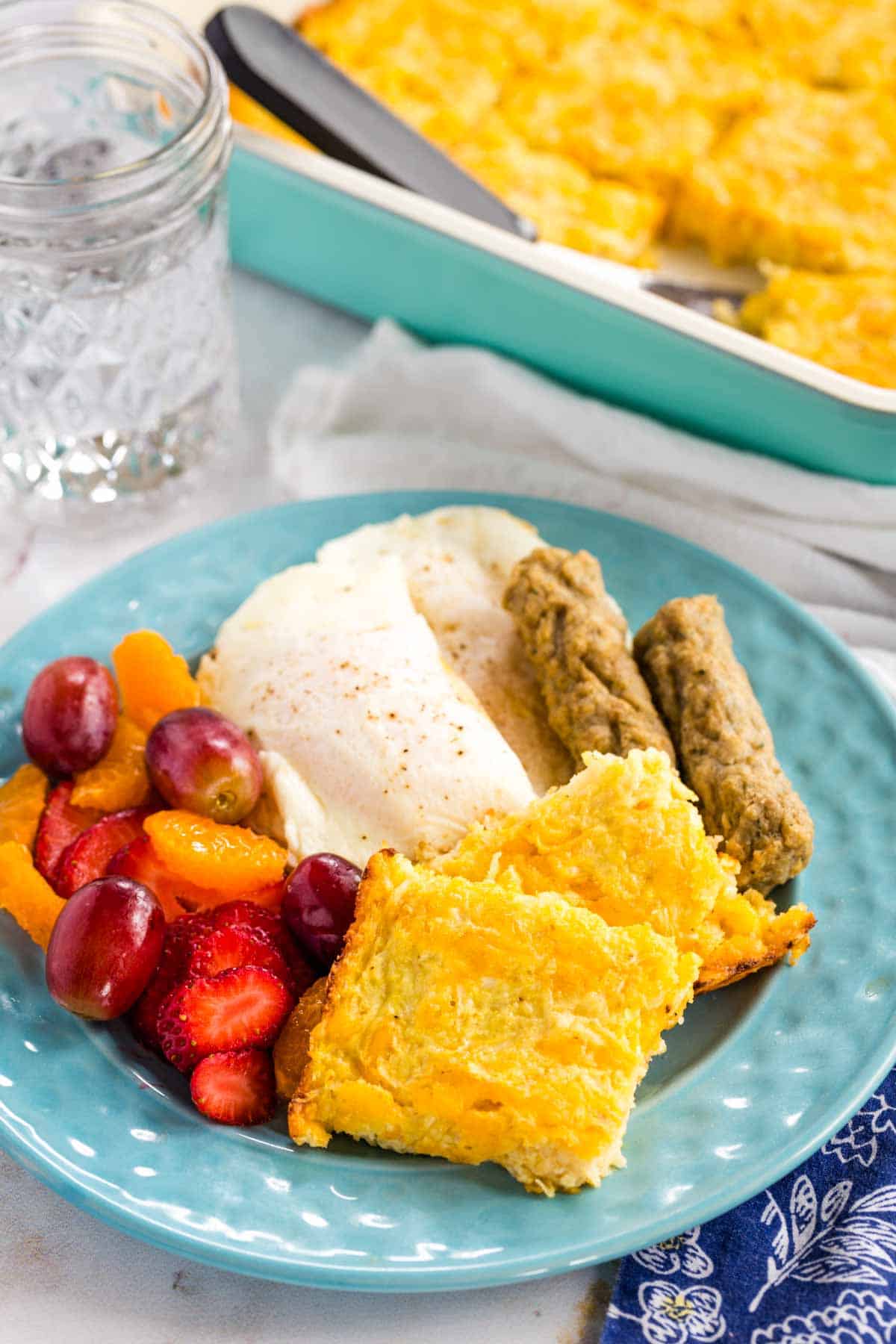 How to make Cauliflower Hash Browns Casserole
Directions
Preheat your oven to 350°F and coat your baking dish with nonstick cooking spray.
Shred the cauliflower and squeeze out the excess moisture.
Add to a large bowl with the remaining ingredients.
Toss together with a fork until well combined.
Transfer the mixture to the prepared pan and press down firmly.
Baked until golden brown and crispy.
Cut into pieces and serve immediately.
Pro tips
Preparation tips
I don't always use nonstick cooking spray when cooking or baking, but this is one case where it is important to be able to remove the pieces from the pan without it sticking or falling apart.
Yes, you are reading the recipe correctly – you do NOT cook the cauliflower before shredding it.
As I already mentioned squeezing out the extra liquid from the cauliflower is the key step to get cauliflower hash browns that don't fall apart.
Also, pressing it down firmly into the pan will make everything hold together well.
Make ahead and reheating
This recipe can be made up to two days in advance and reheated before serving.
You can throw the entire pan back in the oven at 350°F for 10-15 minutes, or cut individual squares and place them on a baking sheet. This will get you the browned edges on all sides.
The squares can also be crisped up in an air fryer at 400°F for 8-10 minutes, or until hot and brown and crispy on the edges.
Gluten free and low carb variations
As mentioned, this dish is a naturally gluten free casserole. But do be sure to read the packaging on your cornmeal, as some are processed on shared equipment with wheat ingredients.
For the keto cauliflower hash brown recipe, you can use almond meal in place of the cornmeal or a combination of almond meal and a little coconut flour.
All of the other ingredients are low carb and gluten free, including the Cabot cheddar cheese.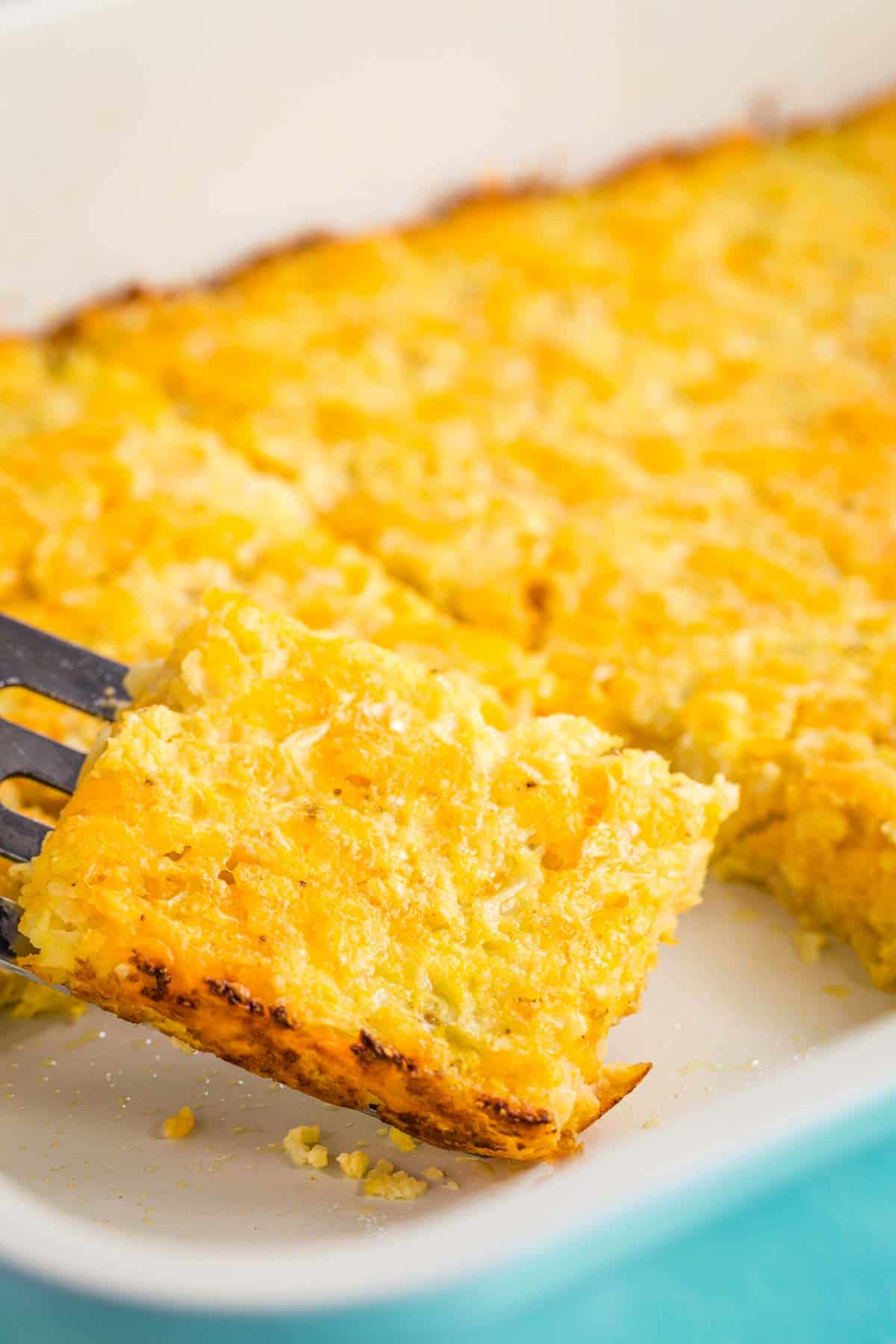 About Cabot Creamery Co-operative
Cabot is a co-operative owned by farm families throughout New England and New York and 100% of profits go back to the farmers. They have been making high-quality dairy products since 1919, and with a 100-year history, you know their award-winning cheddars will make this and any recipe extra delicious. You can use your favorite Cabot cheese, from Vermont Sharp to the Legacy Collection Farmhouse Reserve. Whatever cheese you choose, you'll taste Cabot's commitment to making the best products in every bite.
Plus Cabot is dedicated to communities, the environment, and volunteers. Learn more about not only the products, but also their B Corporation certification and the Reward Volunteers program by following them on Facebook, Twitter, Pinterest, and Instagram.
Serving suggestions
For breakfast or brunch, serve this breakfast casserole with:
Or enjoy cauliflower hash browns with one of your favorite easy dinner recipes, like:
And don't forget your homemade ketchup!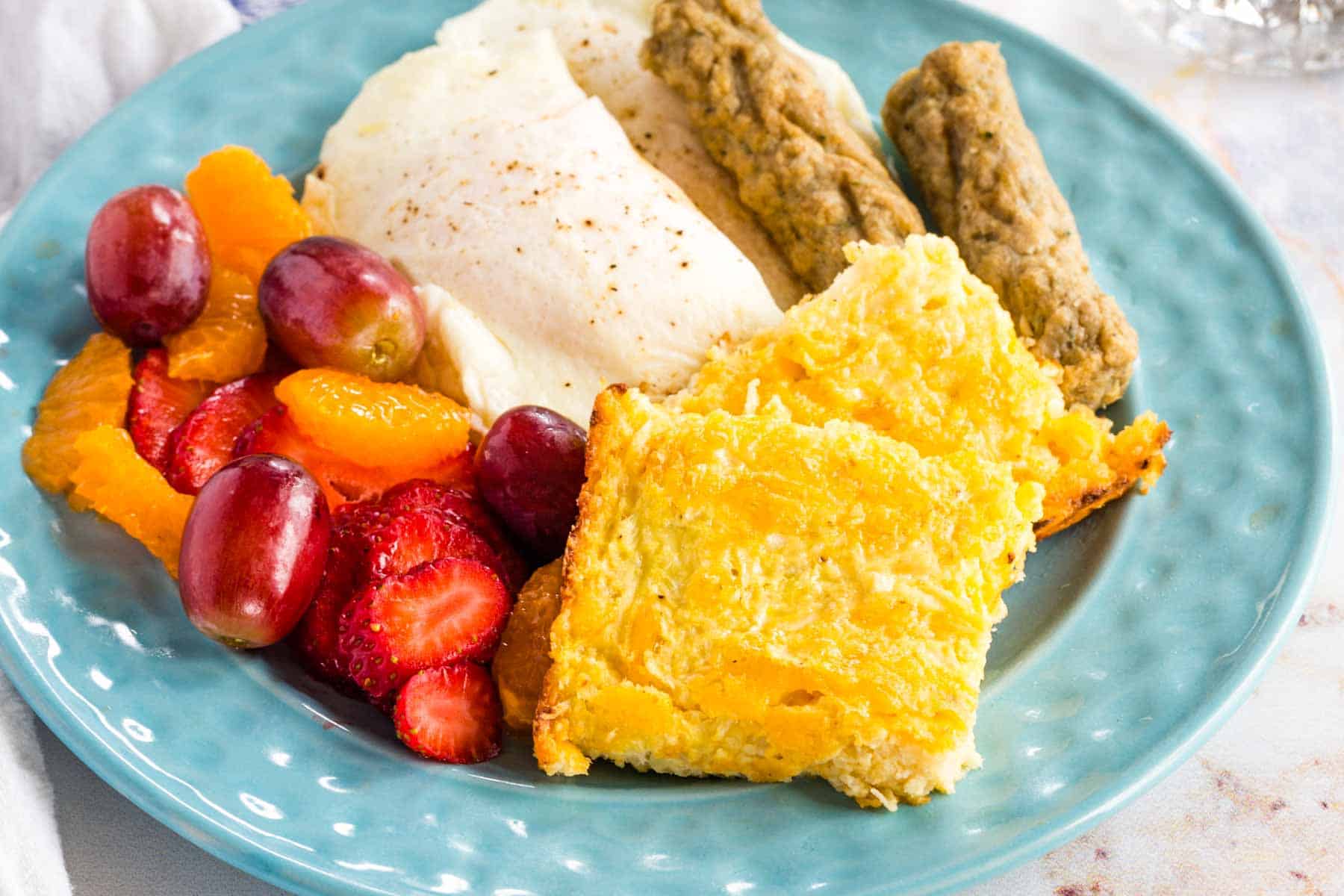 More favorite cauliflower side dishes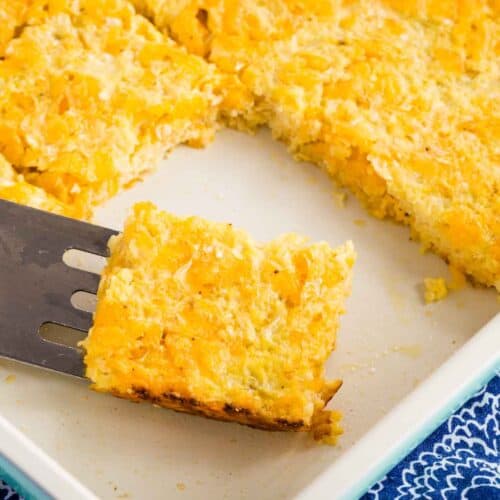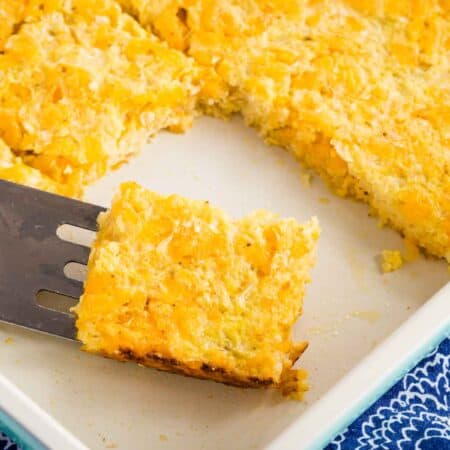 Cheesy Cauliflower Hash Browns Casserole
An easy, cheesy, crispy side dish packed with veggies. Move over tater tots and hash browns and make room for this casserole.
Ingredients
1

head

cauliflower,

shredded to yield about 6 cups

8

oz.

shredded Cabot cheddar cheese

(about 2 cups)

2

large

eggs

1/2

cup

cornmeal

or almond meal (or 1/4 cup almond meal plus 2 Tablespoons coconut flour)

1

teaspoon

ground mustard

1

teaspoon

kosher salt

1/4

teaspoon

black pepper
Instructions
Preheat your oven to 350°F. Spray a 9×13 glass or ceramic casserole dish or metal baking pan with oil or cooking spray.

Using a knife, remove the core from the cauliflower. You can keep the stems with the florets. Using a box grater or, preferable, the shredding blade on a food processor, shred the cauliflower.

Place the uncooked shredded cauliflower in a kitchen towel or several layers of paper towels and squeeze out the excess moisture.

Place the cauliflower in a large bowl and add the cheese, eggs, cornmeal or almond meal, ground mustard, salt, and pepper. Toss with a fork until everything is thoroughly combined.

Transfer the mixture to the prepared baking dish and press down firmly until it is even and packed down.

Bake at 350°F for 40-45 minutes, or until golden brown. Cut into 24 squares and serve.
Notes
Note that Nutrition Facts are based on using cornmeal. If replacing with almond meal, there will be approximately 4 grams of carbs per serving.
Nutrition Facts
Cheesy Cauliflower Hash Browns Casserole
Amount Per Serving (2 squares)
Calories 126
Calories from Fat 72
% Daily Value*
Fat 8g12%
Cholesterol 51mg17%
Sodium 338mg14%
Potassium 195mg6%
Carbohydrates 8g3%
Protein 7g14%
Vitamin A 234IU5%
Vitamin C 23mg28%
Calcium 151mg15%
Iron 1mg6%
* Percent Daily Values are based on a 2000 calorie diet.
Categories:
Enjoy!