This post may contain affiliate links. Read my disclosure policy.
#SundaySupper is joining along with Andrew Wilder's October #Unprocessed Challenge and giving you a huge menu of recipes to help you get those processed food out of your diet, or at least cut down a little. I decided to give you one of my family favorite vegetables in on of its simplest (and most delicious) forms. I could eat the entire batch of my Basic Roasted Cauliflower.
Basic Roasted Cauliflower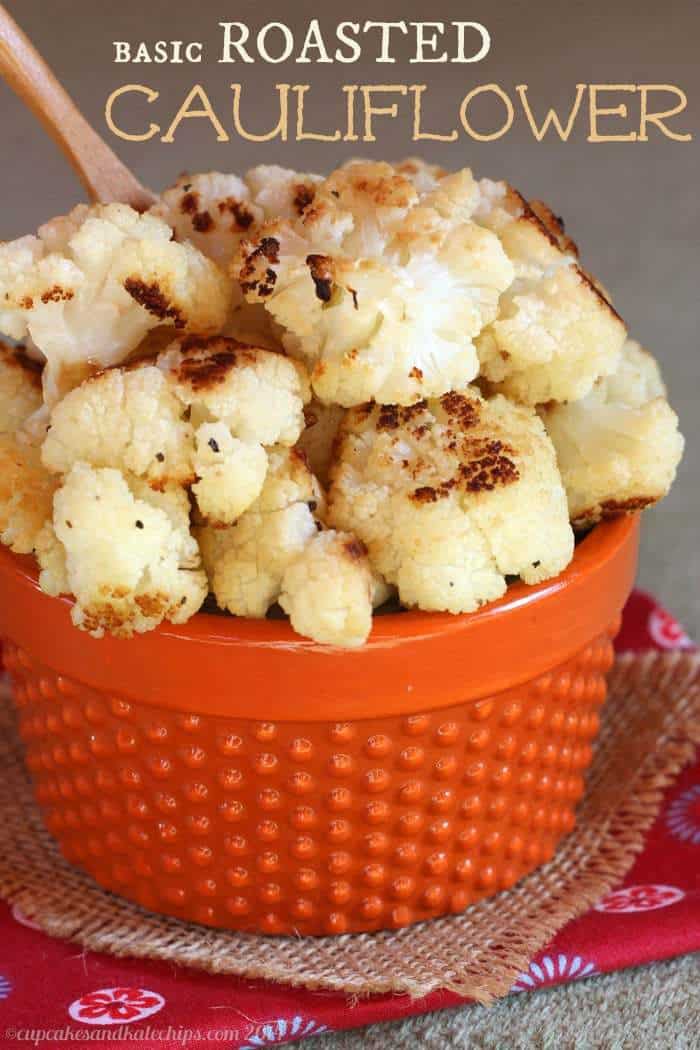 I have to tell you, the timing for this week's even is kind of hilarious for me. Now you all know I love to cook. I mean, duh, I have a food blog. But I do have my moments of using convenience foods, and I do also enjoy eating out. Sometimes it's a fancy dinner, other times it's just a good gluten free pizza, or maybe it's just a really fabulous salad from our favorite local place. This week though, it was just too much.
Our house went on the market a week and a half ago and just a couple days after that I headed down to Maryland for a weekend house hunting trip with The Hubby. That meant a few days of hotel breakfasts, granola bars on the road, and restaurant dinners. By the time I got home, we were being inundated with appointments for people to come see our house. And do you think most of these appointments were in the mornings and early afternoons when my boys were at school? Of course not.
No, basically I spent every late afternoon and evening lugging my kids in and out of the house, to the car, to the park, to whatever random place happened to have a Kids Eat Free night or was just flat out cheap and amenable to cranky kids, a frustrated and exhausted mommy, and no daddy because he was two states away working at his new job. So unfortunately we aren't talking about nice, little organic health-food cafes. We're talking about places I usually try to avoid.
And then the ice cream. Always ice cream because oh my goodness, people, the stress, the lack of sleep after The Hubby and I spent two to three hours on the phone every night discussing budgets and school districts and potential to convert electric stoves to gas and commute times and grocery store locations and all of the other things to consider when you are moving to an area that you know nothing about.
The carb and sugar and comfort food cravings were insatiable! Processed food worked its way into out diets this week way more than I care to admit to!
Buuuut, after all of our hard work, a week of utter chaos, and SIX (count 'em, SIX) offers later, our house is under contract. Now we just have to find somewhere to live once we have to get out of this place.
Oh gosh, I'm predicting a bit more stress eating!
But really, after all of the junk and , you know what I was totally craving, and was probably one of the most delicious things I ate this week? This…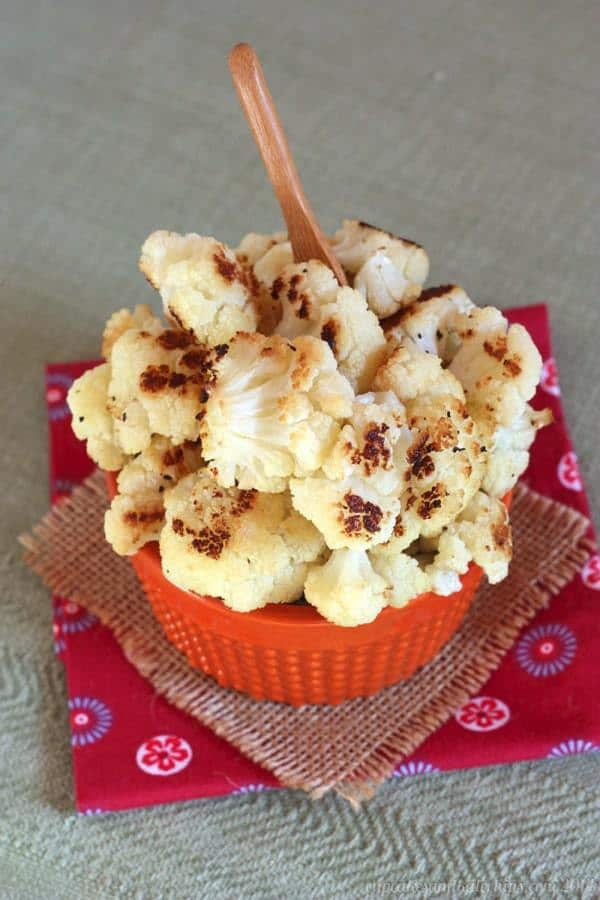 Now I know you're used to seeing me transform cauliflower into other things like tots, wings, rice, even alfredo sauce. And every time I get cauli-freaky, I tell you that, yes, really, we do like our veggies looking like the actual veggie. I don't have to shred it or puree it or otherwise hide it to get the kids and hubby to eat it. And you're probably all like, "Sure, yeah, uh-huh, right." But really, this Basic Roasted Cauliflower shows up on our table pretty much once a week. And then promptly disappears. All four of us go crazy for it. Well King Stuff usually wants some ketchup on it because that kid loves any and all things tomato-related.
And there are probably a million "recipes" out there for how to roast cauliflower, if you can even call it a recipe. But I kinda just felt like during a Sunday Supper event where we are celebrating unprocessed foods, highlighting the ingredients and their natural flavors, I had to pay homage to my favorite cruciferous vegetable and let it shine on its own with just a little olive oil, salt and pepper.
And not everyone know how to so it (here's looking at you, mom and Sam).
I like my cauliflower soft but crispy, if that makes sense. As a matter of fact, by the time we ate it, it was more browned and crispy than what you see here. I kinda undercooked it a bit because I knew I'd have to reheat it for dinnertime after the photo shoot. In order to get that perfect texture and roasty toasty flavor, I cook it on a baking sheet at a really high temperature, cover it with foil for the first half of the cooking time to allow it to cook through, and then uncover it make sure to toss it a couple of times so that all the sides have a chance to get all nice and brown.
The flavor once you let it get really toasted is just unbelievable. I could seriously pop the stuff like candy. I might have eaten half the head myself!
And if you have any leftovers, make my Buffalo Cauliflower Baked Eggs. OK, unless you make your own hot sauce, that's not completely unprocessed, but it's so good!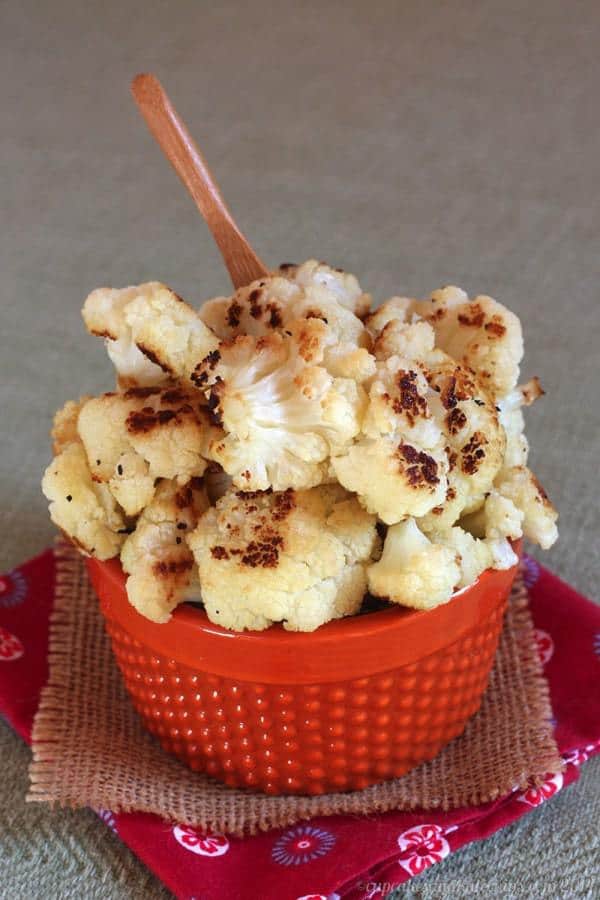 Join the #SundaySupper conversation on twitter on Sunday! We tweet throughout the day and share recipes from all over the world. Our weekly chat starts at 7:00 pm ET. Follow the #SundaySupper hashtag and remember to include it in your tweets to join in the chat. To get more great Sunday Supper Recipes, visit our website or check out our Pinterest board.
Would you like to join the Sunday Supper Movement? It's easy. You can sign up by clicking here: Sunday Supper Movement.
Are you ready to take the challenge? Or really do you just want some awesome recipes that truly highlight the amazing flavors of their unprocessed ingredients? Make sure you check out all of this week's #SundaySupper recipes at the bottom of this post.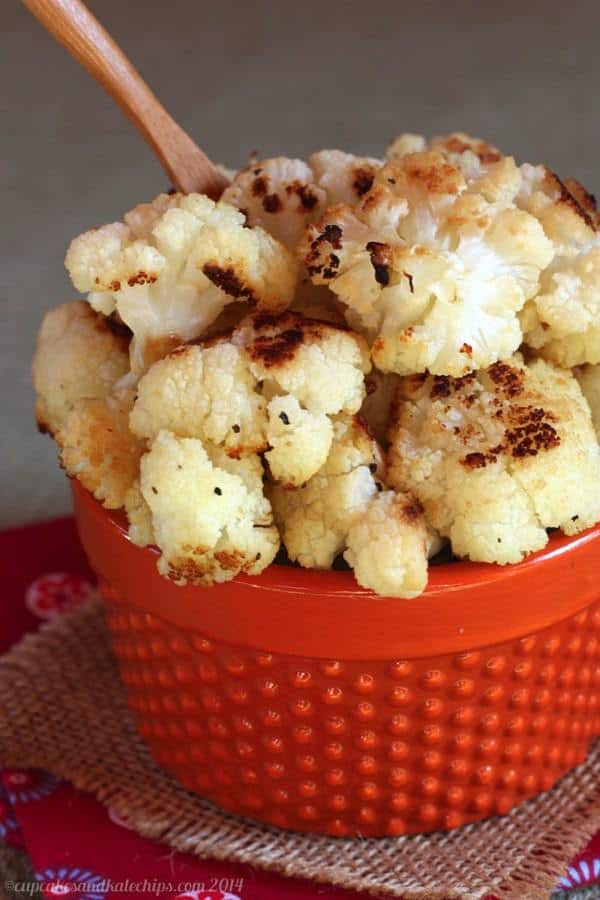 Are you trying to cut down on the processed food in your diet?
You can save this or any of my recipes and those from many of your favorite brands, blogs and website to your own personal recipe box. After creating your account, simply click 'Save Recipe' below. It will then be saved in your personal recipe box which you can access at any time, and even create meal plans and grocery lists.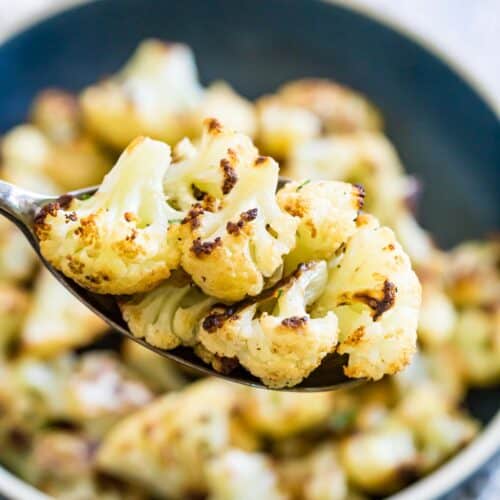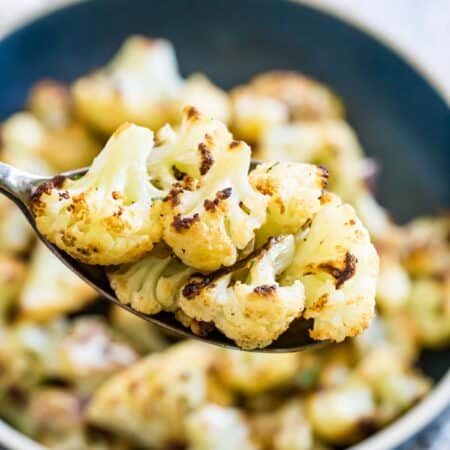 Roasted Cauliflower
This perfect Roasted Cauliflower is one of the best and easiest ways to cook this cruciferous vegetable. Baking the cauliflower on high heat turns it into a sort of vegetable candy with crisp caramelized edges and soft centers - and it's absolutely impossible to stop eating!
Instructions
Preheat oven to 450°F and coat a large metal baking sheet with a small amount og olive oil.

Wash and dry cauliflower and cut into florets. The smaller you cut it, the more toasty and crispy the edges will get.

Place the cauliflower in a pile on the baking sheet, drizzle with about a tablespoon of olive oil and sprinkle with salt and pepper.

Toss to coat and spread into a single layer on the baking sheet.

Cover tightly with aluminum foil and bake for 20 minutes.

Remove from the over and using a metal spatula, gently flip the cauliflower.

Return, uncovered to the oven, and roast for an additional 10-15 minutes, flipping again after about 10 minutes.
Nutrition Facts
Roasted Cauliflower
Amount Per Serving (1 serving)
Calories 59
Calories from Fat 27
% Daily Value*
Fat 3g5%
Sodium 433mg18%
Potassium 453mg13%
Carbohydrates 8g3%
Protein 3g6%
Vitamin A 0.5IU0%
Vitamin C 73mg88%
Calcium 34mg3%
Iron 1mg6%
* Percent Daily Values are based on a 2000 calorie diet.
Categories:
Enjoy!
I've got a few more simple vegetable side dishes for you…
And here are all of the #SundaySupper Unprocessed recipes…
Alluring Appetizers and Stunning Sides
Enticing Entreés
Decadent Desserts