This post may contain affiliate links. Read my disclosure policy.
Have cozy and creamy Mushroom Risotto ready on the stovetop in just 45 minutes! This classic Italian-style recipe is made from starchy arborio rice cooked in a savory broth with thyme, then finished with fresh parmesan and lemon.
Rich and Creamy Stovetop Mushroom Risotto
When it comes to cozy winter dinners, I don't think anything rivals a fresh pot of creamy stovetop mushroom risotto. The rich flavors and silky texture of slow-cooked risotto rice, combined with buttery sautéed mushrooms, onions, and herbs all come together in the ultimate comforting dish.
Today I'm sharing my go-to, fail-proof recipe for a rich and creamy mushroom risotto recipe with parmesan and thyme, brightened with a squeeze of fresh lemon. It's simple enough to make on a weeknight but luxurious enough to wow friends and guests when we entertain.
You're not going to believe how easy it is to pack so much flavor into one pot of creamy rice.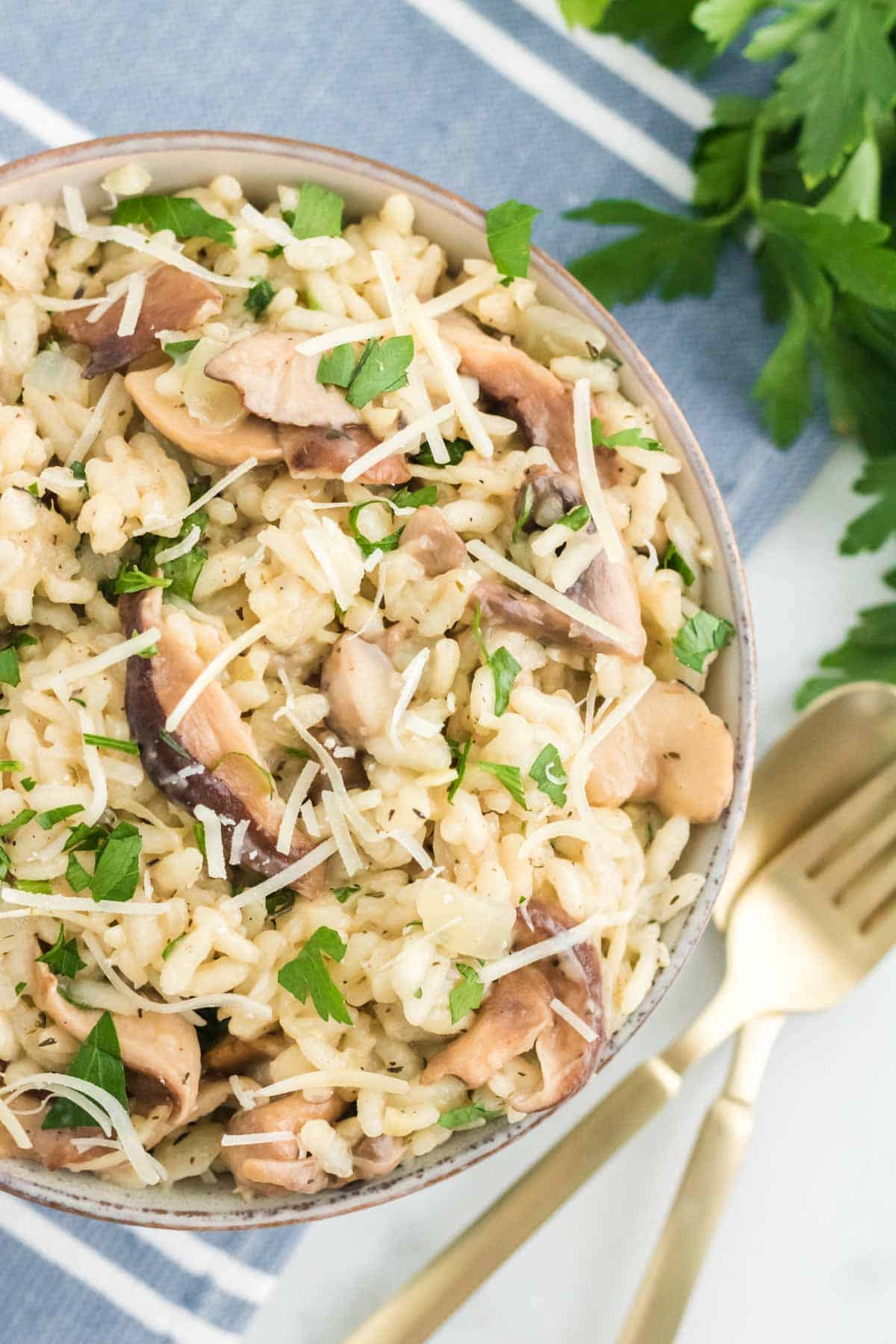 What Is Risotto?
Risotto is an Italian dish made by cooking starchy, short-grain rice (such as Italian Arborio) in broth until the texture becomes rich and creamy. Other ingredients, like white wine, parmesan, and in this case mushrooms, can also be added for flavor.
There are countless variations of Italian risotto out there – be sure to check out the section later in this post with more easy ideas!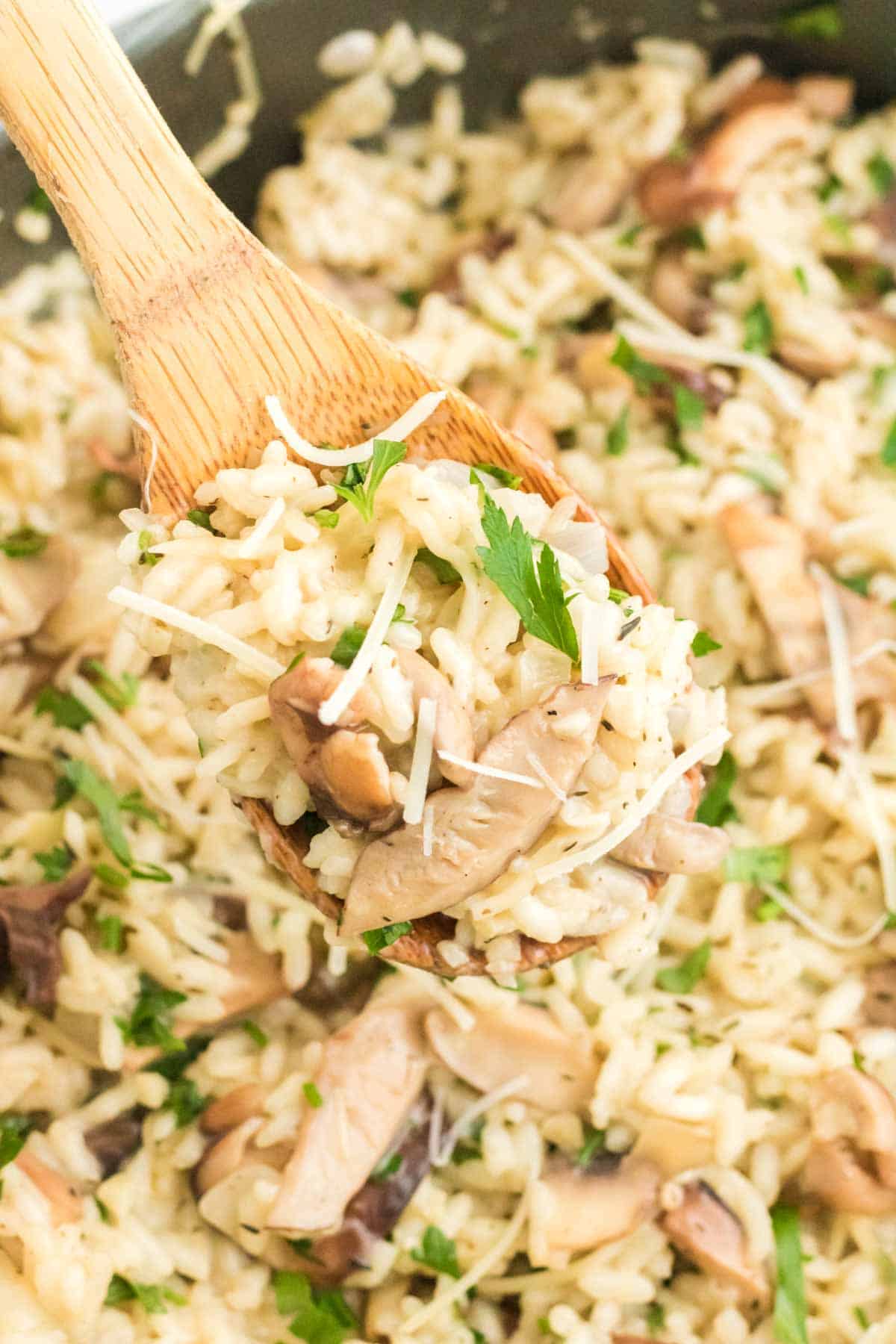 What You'll Need
This parmesan risotto is brimming with the delicious umami flavor of mushrooms and savory herbs. Below is a summary of the ingredients you'll need to make it. Please refer to the recipe card for the full amounts!
Chicken Broth: I prefer to use low-sodium broth when making this stovetop risotto, as it gives more control over the amount of salt in the recipe. You can also use vegetable stock or broth to make a vegetarian risotto.
Butter: Again, for better control of the overall saltiness, I use unsalted butter.
Mushrooms: You can really use any mushrooms of choice here. I love this risotto with a mix of shitake and cremini mushrooms. But you can also use baby Bella mushrooms, button mushrooms, morel, porcini, and others.
Onion and Garlic: Yellow onion, sautéed with minced garlic in a bit of oil, forms the flavor base for the risotto.
Risotto Rice: Arborio rice is the most common type of risotto rice, available in most grocery stores. Risotto rice is a bit different than regular white rice, see below.
Thyme: I love the combination of mushrooms with fresh or dried thyme. You can use any other herbs you prefer, such as oregano or basil.
White Wine: Risotto calls for a dry white wine like sauvignon blanc or chardonnay. If you prefer to cook without alcohol, you can sub in equal parts stock in place of wine.
Lemon: Freshly squeezed lemon juice brings a burst of acidity to this exceptionally rich mushroom risotto. It's the perfect way to lighten things up while enhancing the flavors!
Parmesan Cheese: I highly recommend using freshly grated Parmesan from a block.
Salt and Pepper
Fresh Parsley: Optional, for serving.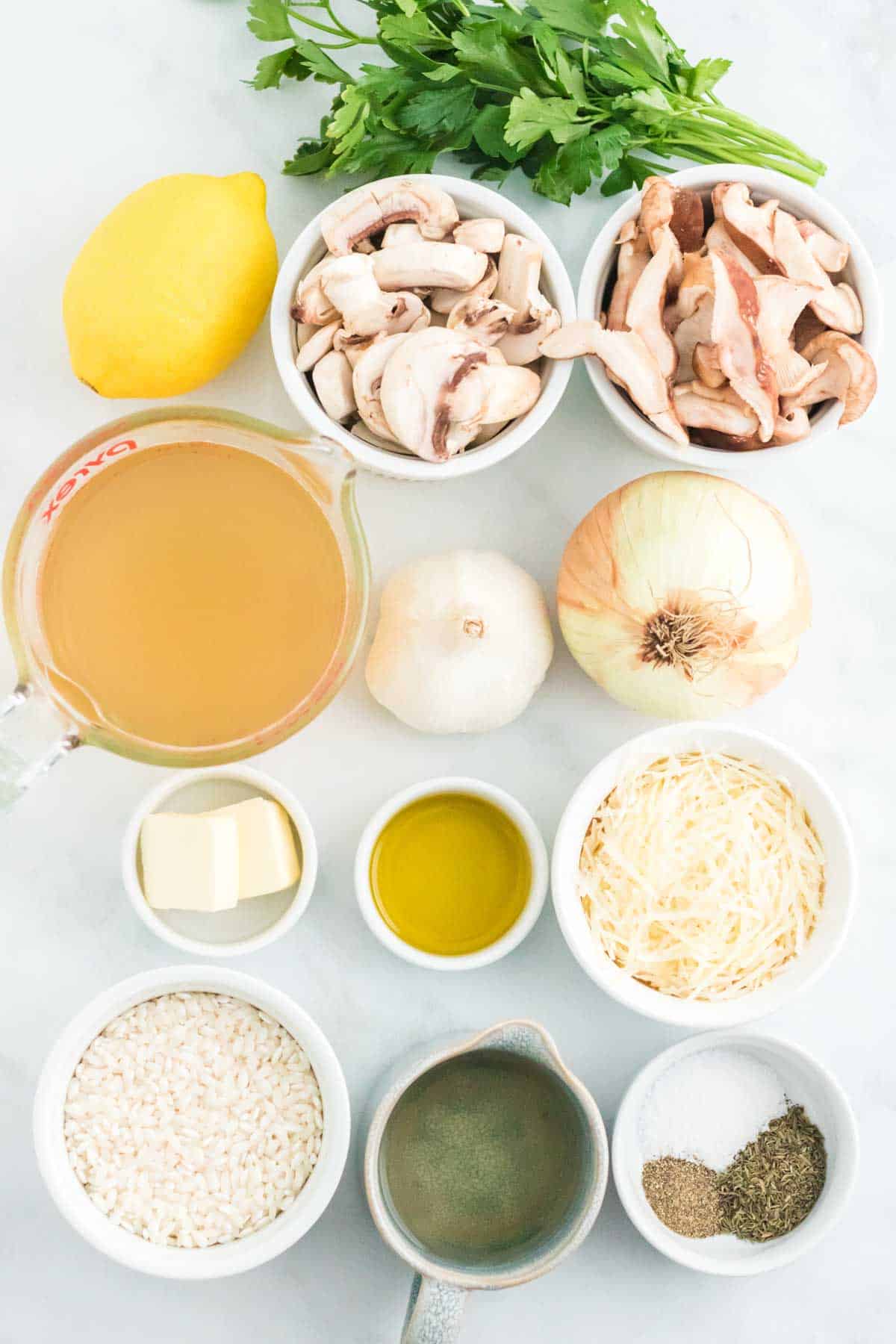 What's the Difference Between Arborio Rice and Regular Rice?
Arborio rice has a higher starch content than regular long-grain or short-grain rice, which makes it ideal for risotto recipes. The process of slowly cooking the rice while stirring in the broth is what releases the starch, and gives a risotto a creamy, chewy texture.
You can use another type of rice, like Basmati or sushi rice, in a pinch. The texture of your risotto just might turn out slightly different.
Read next: Is Rice Gluten Free?
$6.58
in stock
3 new from $6.58
as of Dec 7, 2023 4:50 pm
Last updated on Dec 7, 2023 4:50 pm
How to Make Mushroom Risotto on the Stove Top
This easy risotto recipe is ready in under an hour! While making risotto on the stovetop does require a bit of attention, I've always found it a relaxing process!
Prep the Ingredients: To start, you'll want to warm the chicken broth. While it heats on the stovetop, slice up your mushrooms and chop up the onions.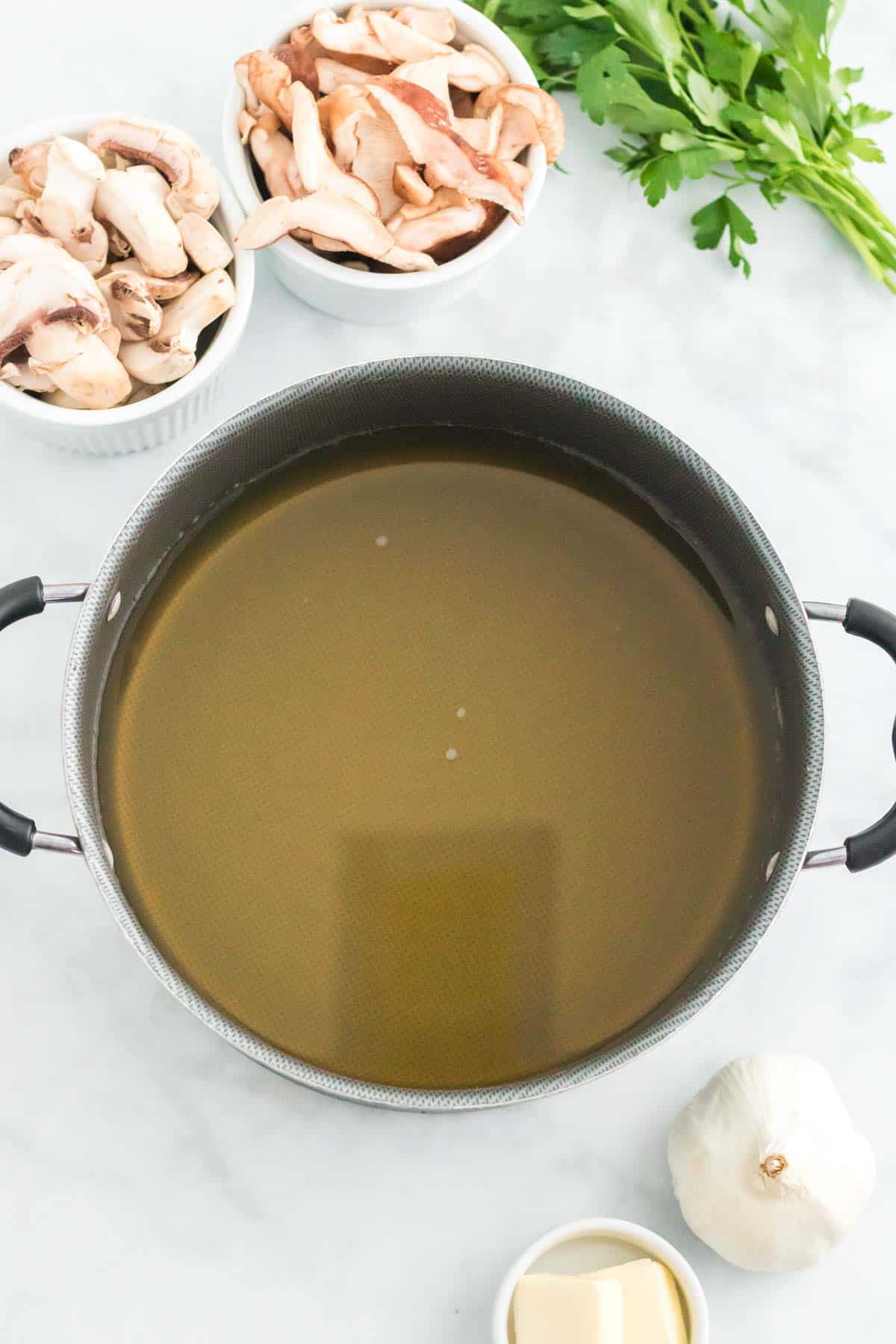 Sauté the Mushrooms and Onions: Sauté the mushrooms for a few minutes in a skillet with melted butter, then remove them from the pan to set aside. Next, cook the onions with a bit of olive oil, then stir in the garlic until fragrant.
Add Rice and White Wine: Add the arborio rice to the skillet along with the thyme. Next, pour in the white wine and allow it to cook off for a few minutes until the liquid is well absorbed.
Add Broth: Now, you'll add the warmed chicken broth to the rice, about a half-cup at a time. Stirring often, let the liquid soak in before adding more. The rice should swell up and still have a slight al dente chew when it's finished cooking.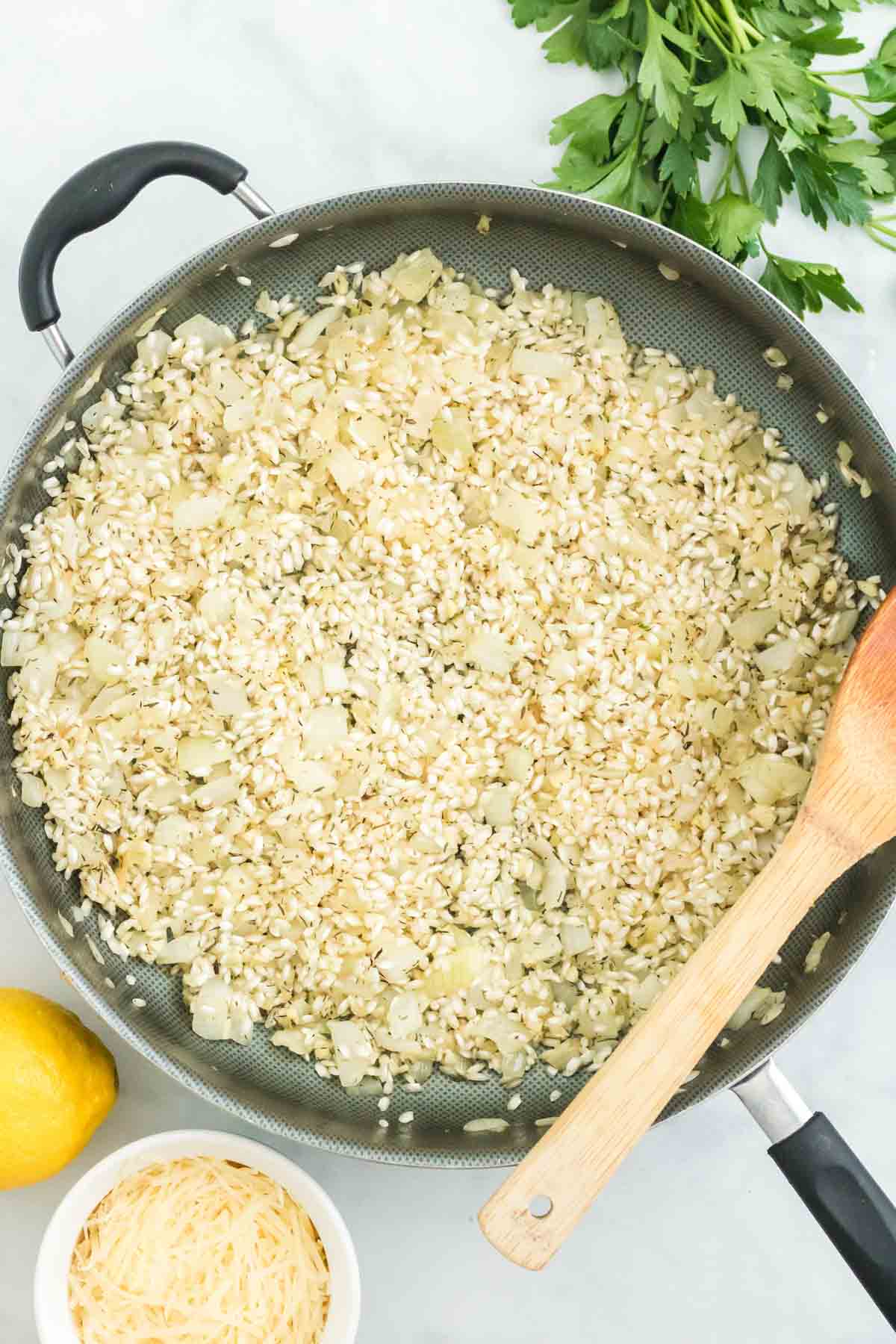 Add the Rest of the Ingredients: With your risotto rice cooked and creamy, it's time to finish off your dish! Stir in the parmesan, and season with salt and pepper to taste. You can stir fresh chopped parsley directly into the risotto, or sprinkle it over top before serving! I also like to give my risotto an extra sprinkle of shredded parmesan.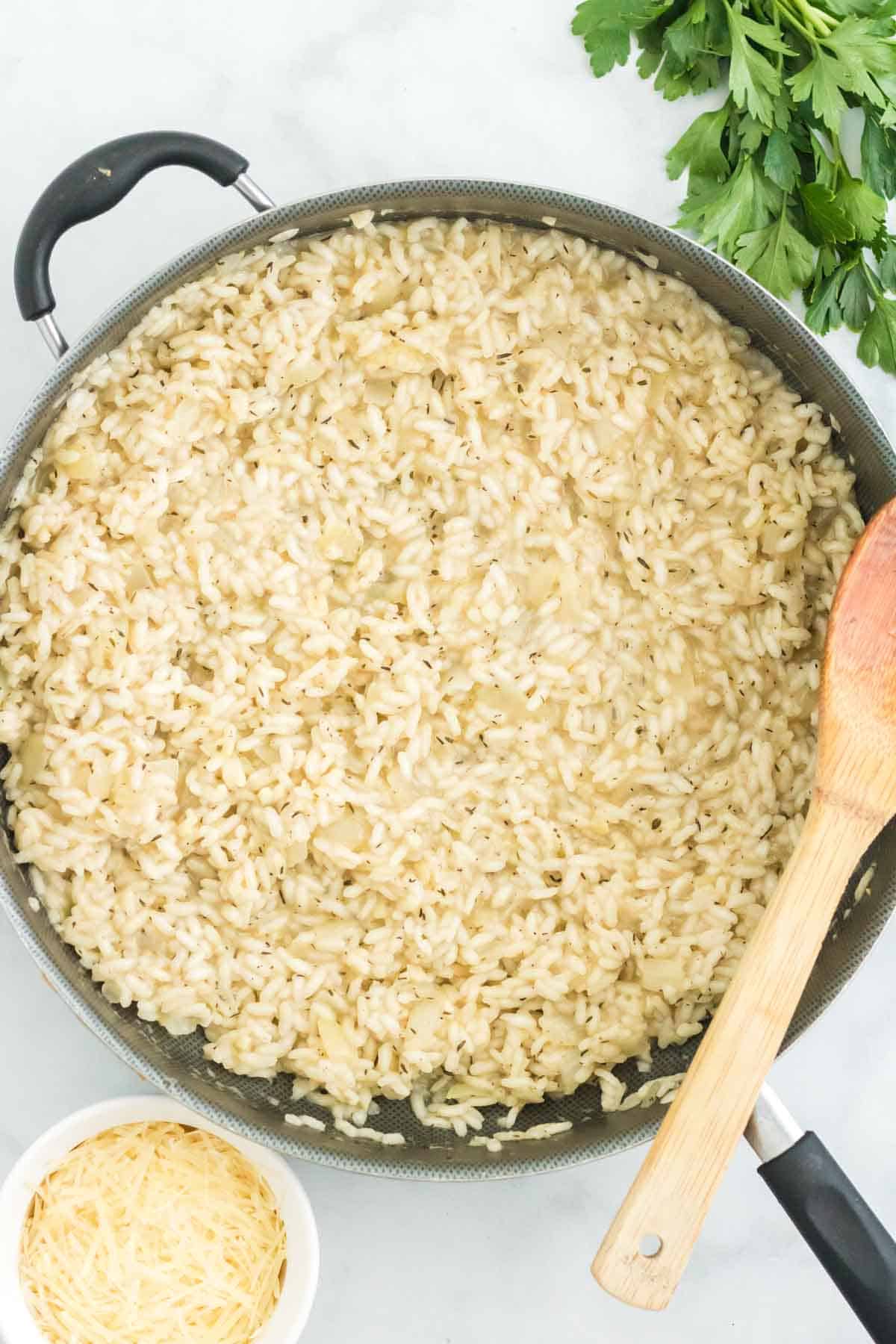 Tips for Success
Here are some extra tips I've picked up while perfecting this homemade mushroom risotto recipe:
Patience is key. A good risotto takes some attention and patience. You'll want to stay by the skillet's side while gradually adding broth to the rice, stirring frequently while the liquids absorb.
Use equal parts chicken broth in place of wine, if you'd prefer to make your risotto without alcohol.
Do you have to stir risotto constantly? Stirring the rice is what releases the starches necessary for a creamy risotto. You don't want to stir it constantly (as this will turn the rice gluey), and you don't want to let it sit so long that the bottom burns. A frequent, gentle stir will do the trick.
Is it safe to reheat risotto rice? Yes, though I don't recommend keeping the leftover mushroom risotto longer than a day or two in the fridge before reheating. When you reheat it, make sure the rice is piping hot all the way through. See the section further on with detailed storage and reheating instructions!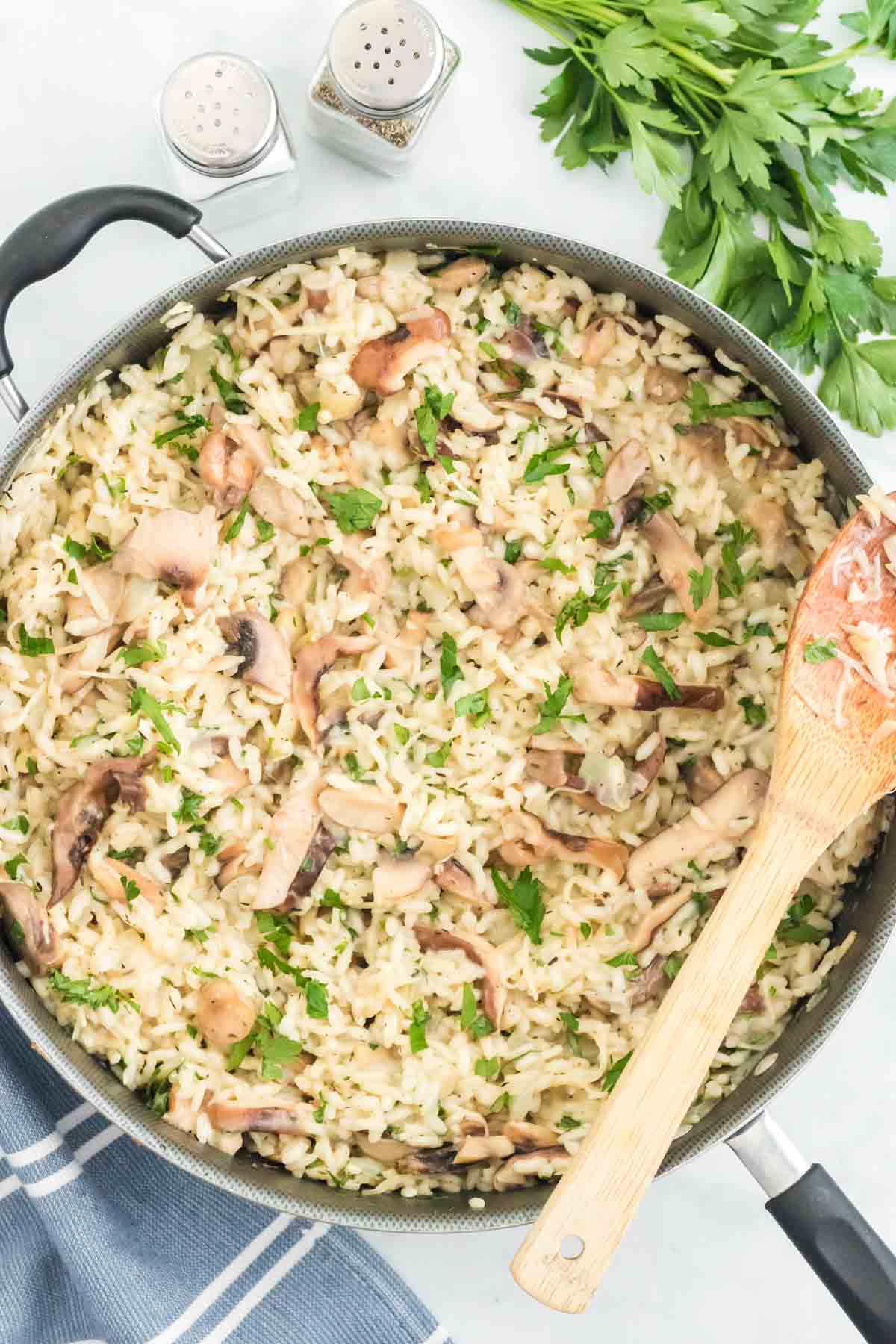 Risotto Variation Ideas
This earthy mushroom risotto is one of my favorites. But once you have the basics down, there are so many ways to customize this classic Italian dish. Below are just a few popular variations you can try, and I'd love to hear your favorite risotto variation in the comments!
Saffron Risotto: Known as Risotto Milanese, this is probably the most famous variation of Italian risotto. It's very similar to this recipe, minus the mushrooms, and made with saffron spice.
Butternut Squash Risotto: Stir in Roasted Butternut Squash in place of mushrooms.
Chicken Risotto: Add leftover cooked chicken. Risotto is a great way to use up leftover Air Fryer Rotisserie Chicken!
Asparagus Risotto: Also called Risotto Primavera, earthy sautéed or Roasted Asparagus along with other spring vegetables (such as peas and zucchini) are a green alternative to mushrooms in this recipe.
Seafood Risotto: If you like to cook with seafood, try cooked shrimp risotto, lobster risotto, or a mix of different add-ins like mussels, crab, or calamari.
Vegan Risotto: Omit the parmesan cheese and use vegan butter and vegetable broth to make this recipe a vegan mushroom risotto instead.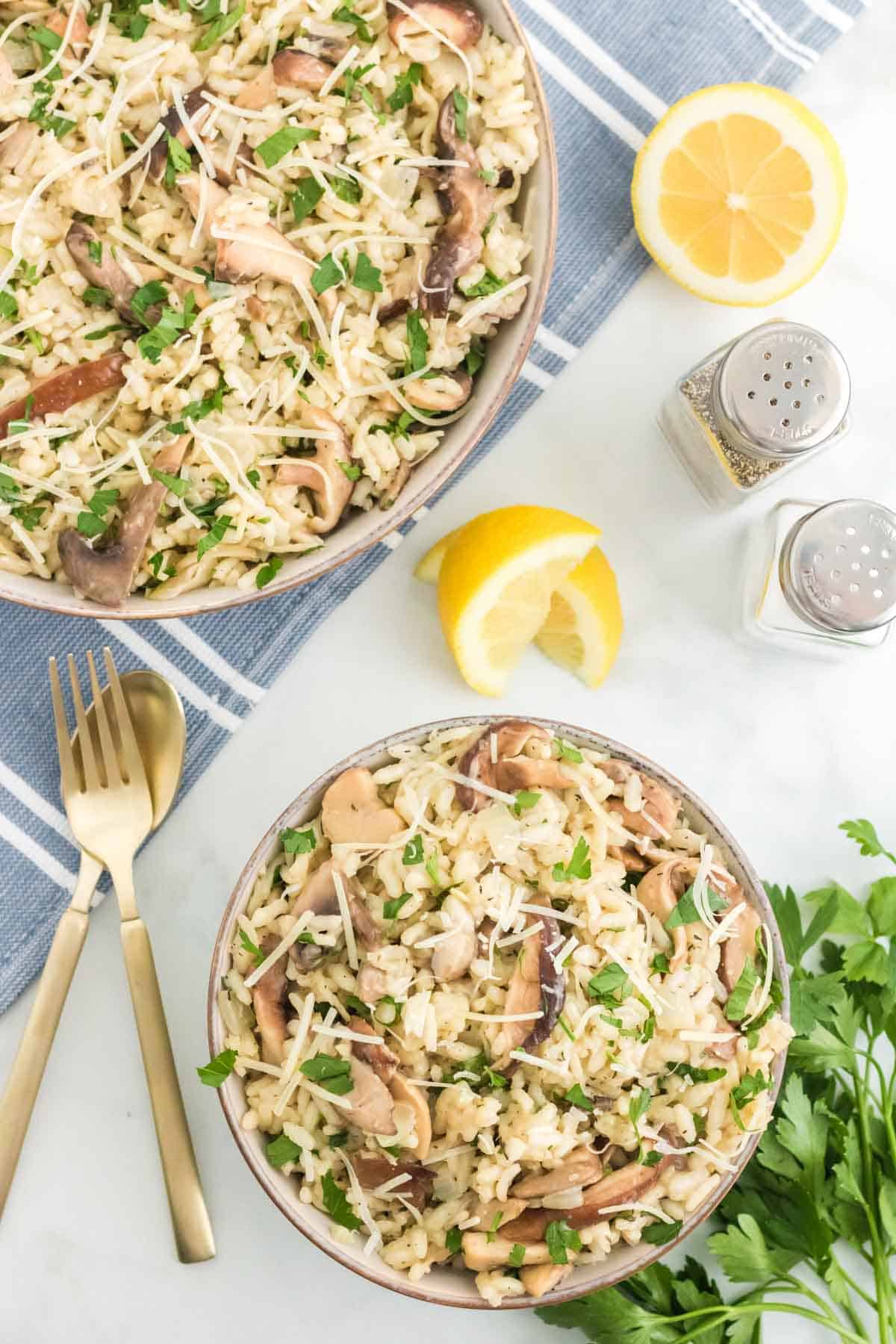 Make It a Meal
This stovetop mushroom risotto makes a wonderful entree or side dish, or even a wholesome lunch! The rich and velvety texture and cheesy flavors make it one of our favorite winter comfort foods.
If you're looking to round out a cozy meal, try these other easy dinner ideas to serve with mushroom risotto: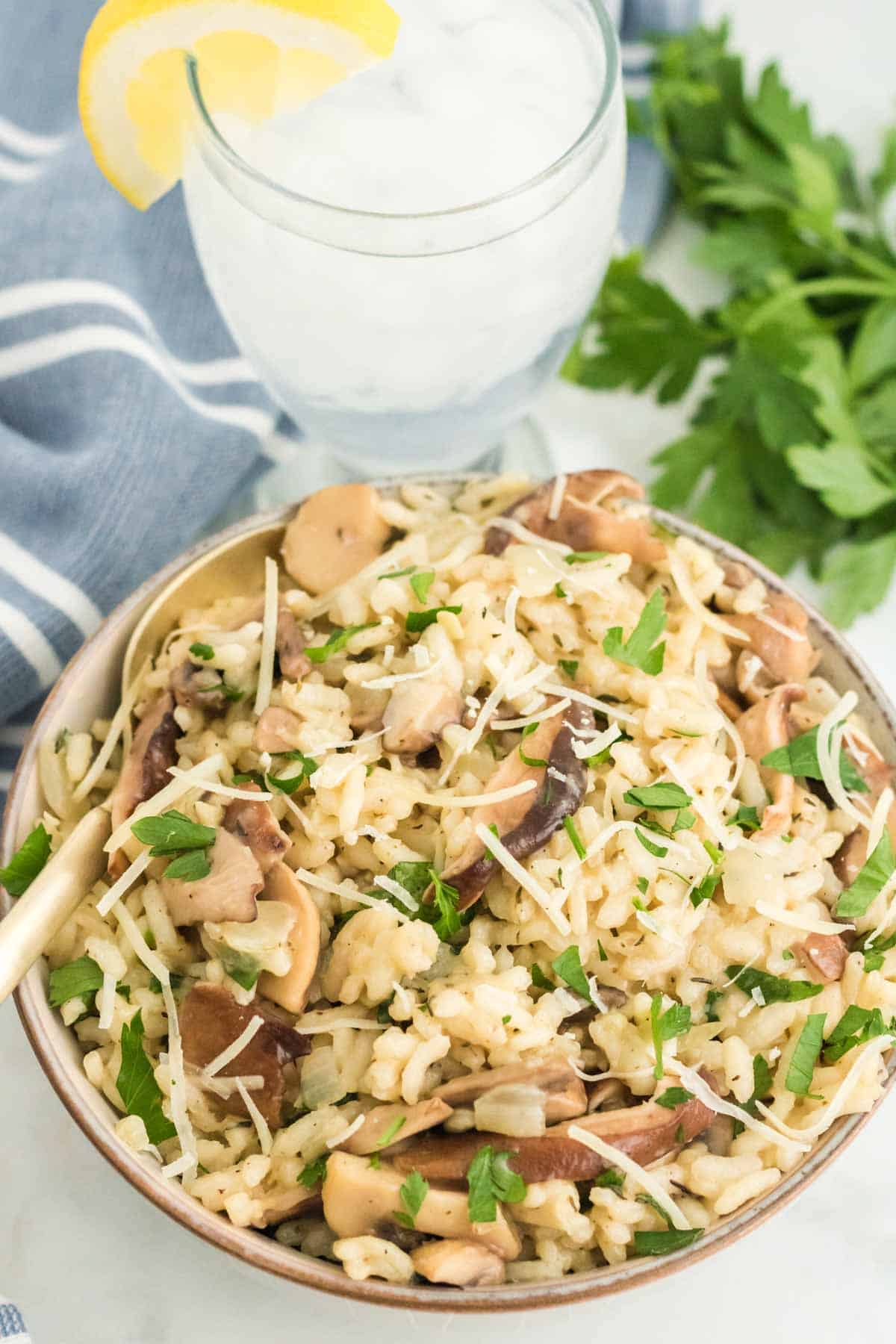 Storing and Reheating Leftover Mushroom Risotto
This creamy mushroom risotto is at its best the day that it's made. However, you can store leftovers airtight in the fridge for 1-2 days afterward. Risotto tends to thicken the longer it's refrigerated, though.
To reheat, add the leftover mushroom risotto to a skillet with a bit of additional chicken broth. Warm the risotto over medium-low heat, stirring frequently, until the risotto is hot throughout.
Can I Freeze Risotto?
I'll admit, risotto isn't the best meal for freezing. As risotto thaws, its creamy texture changes and can become grainy. However, if you are set on freezing your mushroom risotto, you can store it in an airtight container to freeze for up to 3 months. Defrost frozen risotto in the fridge before reheating.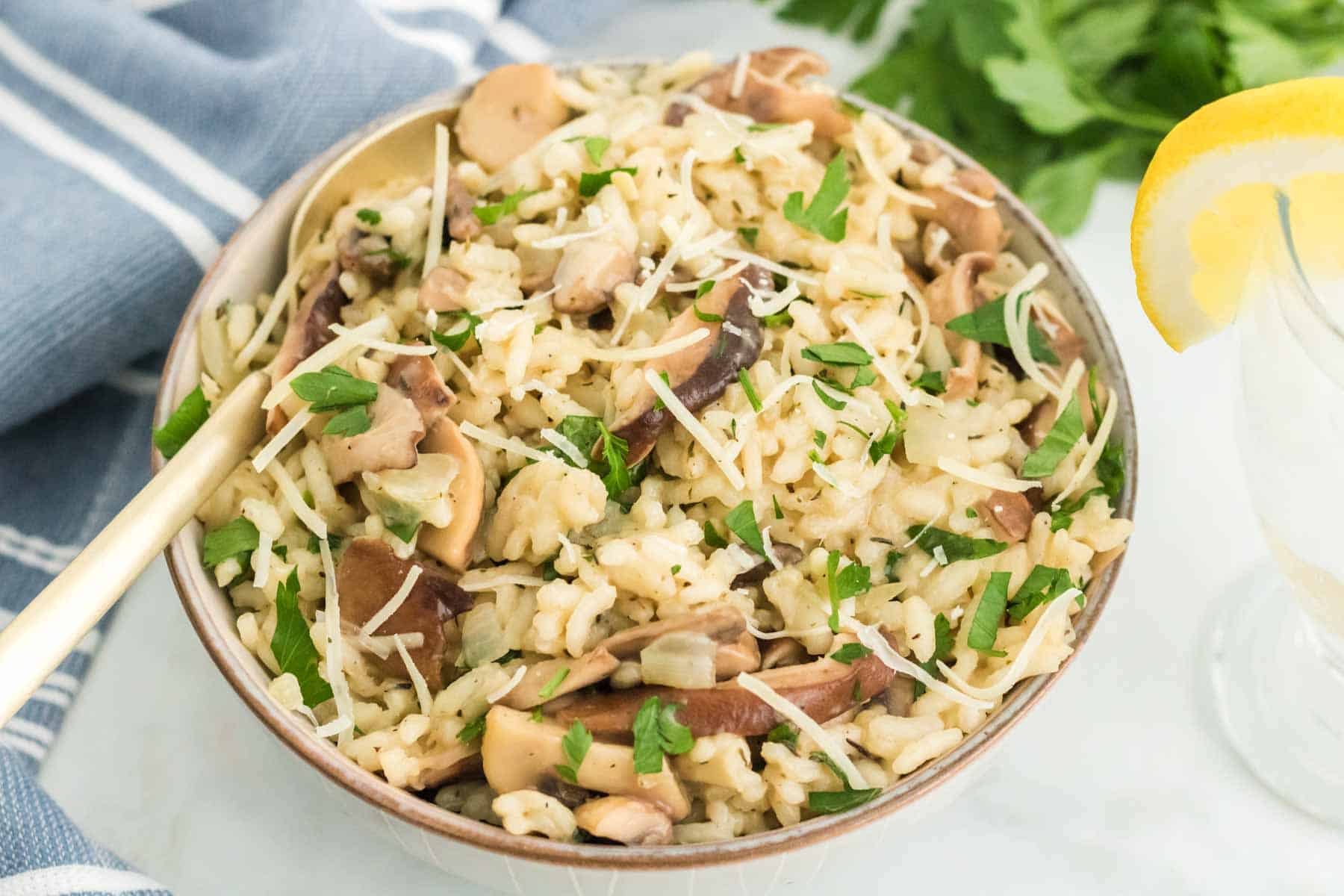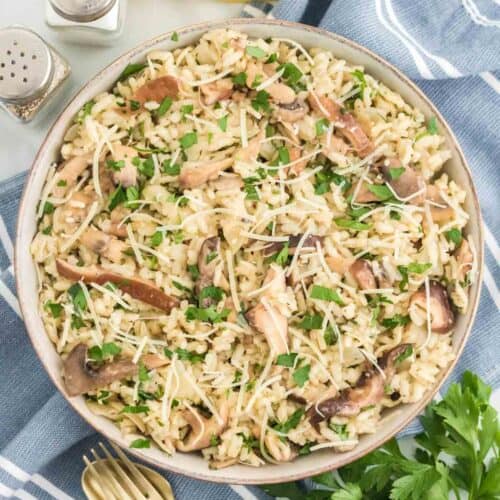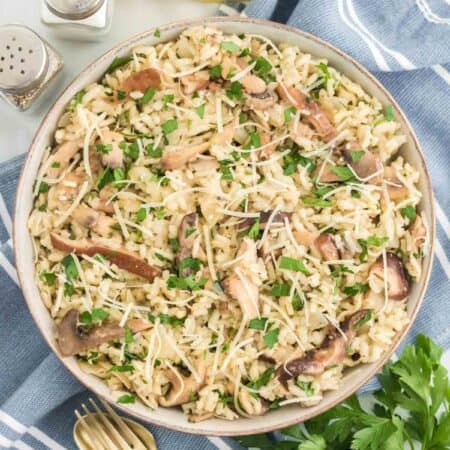 Stovetop Mushroom Risotto
This rich and creamy stovetop Mushroom Risotto recipe is ready in 45 minutes! Made with tender arborio rice cooked in savory broth with mushrooms and thyme, finished with fresh parmesan and lemon.
Ingredients
4 to 5

cups

low sodium chicken broth

or vegetable broth, as needed

2

Tablespoons

unsalted butter

2

cups

mushrooms

of your choice (I used shitake and cremini)

1

tablespoon

olive oil

1

medium-sized

yellow onion

, chopped

3

large

cloves garlic

, minced

1 ½

cups

arborio rice

1

teaspoon

dried thyme

½

cup

dry white wine

2

tablespoons

fresh lemon juice

½

cup

shredded parmesan cheese

Salt and pepper to taste

Fresh chopped parsley for topping
Instructions
Heat the chicken broth in a pot on low heat.

In a large saucepan, heat the butter over medium heat and add the mushrooms. Stir and cook for about 5 minutes or until tender. Move the mushrooms to a bowl, cover, and set aside.

In the same saucepan, heat the olive oil over medium-high heat. Add the chopped onion and cook until translucent, about 3-5 minutes.

Add the garlic and stir until fragrant, about 1 minute.

Add the arborio rice and dried thyme. Stir well.

Pour in the white wine, stir, and allow the rice to soak it up, which should take only a few minutes.

When the rice has soaked up the white wine, slowly pour the heated chicken broth by the ½ cup-full over the rice and stir. Allow the rice to soak up the broth and continue this step, stirring regularly, until the rice is plump and al dente when tasted.

When the rice is done, add the mushrooms and lemon juice and stir.

Add the parmesan cheese, salt, and pepper. Stir until well incorporated.

Top with fresh chopped parsley and additional parmesan cheese if desired.

Serve immediately.
Notes
Keep close attention to the rice as it absorbs the liquids. You will want to be stirring and add liquid very regularly until the rice is done.
You can replace the white wine with additional chicken/vegetable broth if desired.
Get creative with which mushrooms you use! All of the following are great suggestions: baby Bella, cremini, shitake, button, morel, porcini, etc.
Nutrition Facts
Stovetop Mushroom Risotto
Amount Per Serving
Calories 504
Calories from Fat 126
% Daily Value*
Fat 14g22%
Cholesterol 24mg8%
Sodium 284mg12%
Potassium 564mg16%
Carbohydrates 73g24%
Protein 16g32%
Vitamin A 284IU6%
Vitamin C 9mg11%
Calcium 191mg19%
Iron 5mg28%
* Percent Daily Values are based on a 2000 calorie diet.