This post may contain affiliate links. Read my disclosure policy.
Creamy, comforting Chicken and Wild Rice Soup is just what a cozy family meal calls for. This gluten-free soup recipe is made with a savory, velvety broth brimming with tender veggies and chicken, plus hearty wild rice.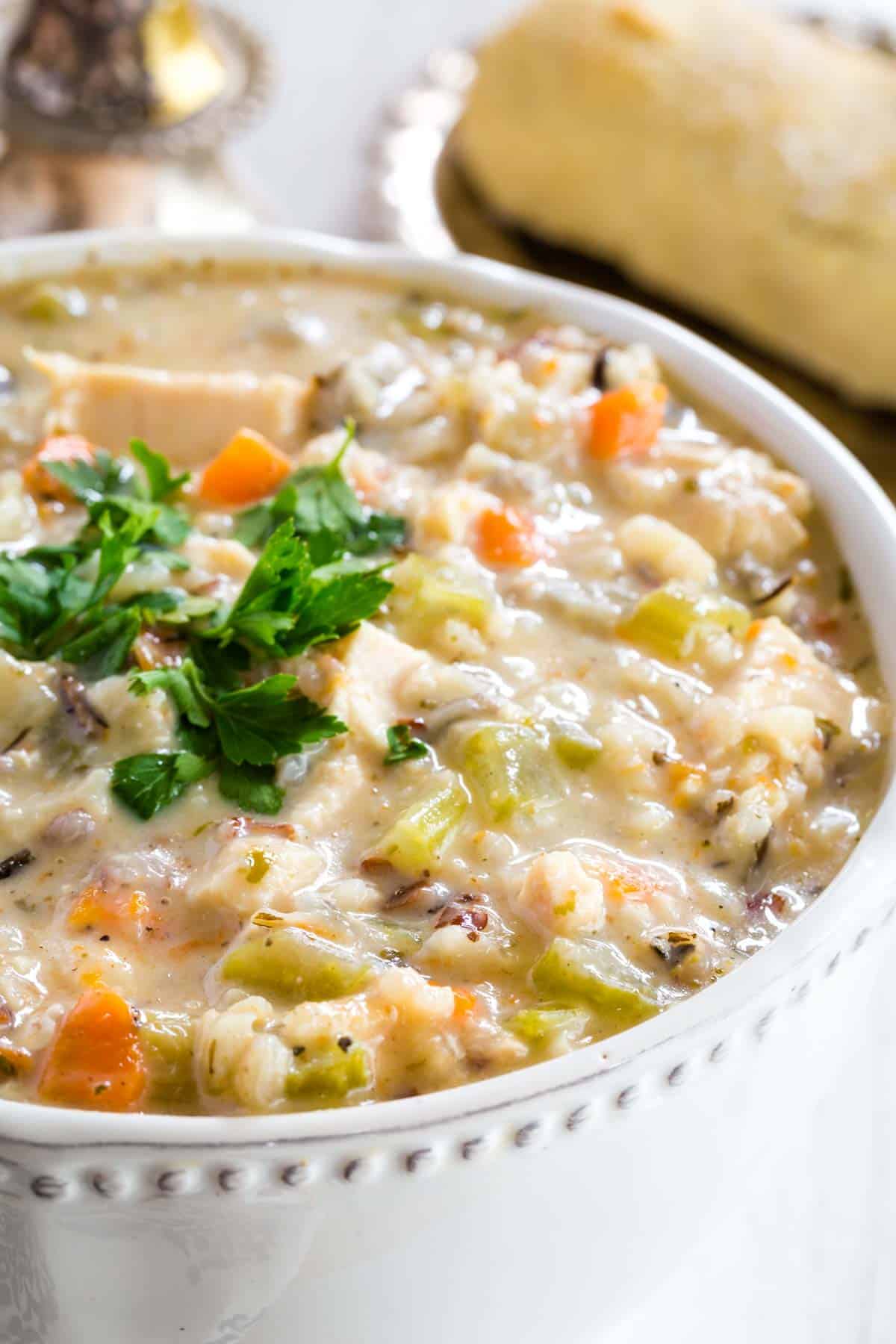 The Coziest Chicken and Wild Rice Soup
Are you ready to get cozy? Because I sure am! This is the coziest and easiest gluten-free soup recipe, and one of my family's craving-worthy comfort foods. It's such an easy soup made with chicken, veggies, and a tender wild rice blend in a creamy broth. And yet the flavors are just out of this world!
This chicken and rice soup comes together in one pot on the stovetop (easy clean up!). All the ingredients, herbs, and seasonings mingle together with the contrasting textures in a way that can only be described as sheer perfection! Like a creamier, heartier version of your favorite chicken noodle soup, made with wild rice instead of pasta.
I love serving this homestyle rice and chicken soup for family dinner alongside gluten-free bread. I'll even make up a big batch to have for easy lunches all week long! It's delicious and versatile and I can't wait for you to try it.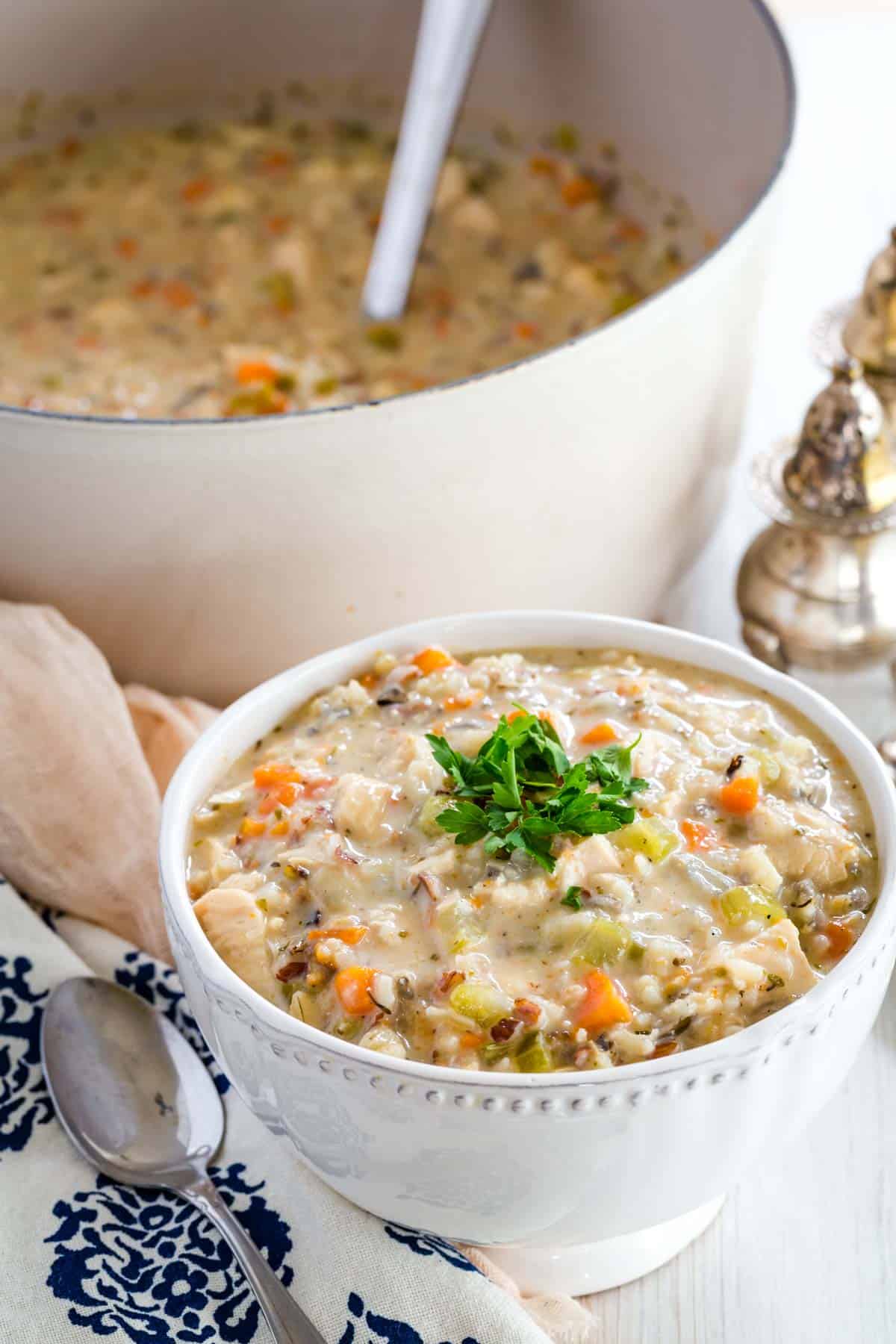 What You'll Need
Flavor is the name of the game when it comes to this chicken wild rice soup recipe. Layers of ingredients come together, bringing new flavors with each addition! Here's what you'll need:
Onion, Carrot & Celery: Diced. This classic combination is also known as "mirepoix" in French cooking. It's the base for many recipes, from soups to sauces like bolognese!
Chicken Broth: Or vegetable stock if you'd prefer.
Wild Rice: Your preferred blend, uncooked. Be sure to use rice blends that contain 100% wild rice, and not black rice as this will turn your soup purple!
Chicken: I use cooked diced or shredded chicken for this soup. You can prepare the chicken in advance, or use leftovers. Air Fryer Rotisserie Chicken or leftover turkey is also great for this recipe!
Herbs: Dried or fresh sage, thyme, marjoram, and bay leaf.
Garlic: A whole clove, finely minced.
Rice Flour: A gluten-free alternative to flour, used to thicken the soup without making it gluey or grainy.
Fresh Parsley: For garnish.
Milk
Butter
Salt & Pepper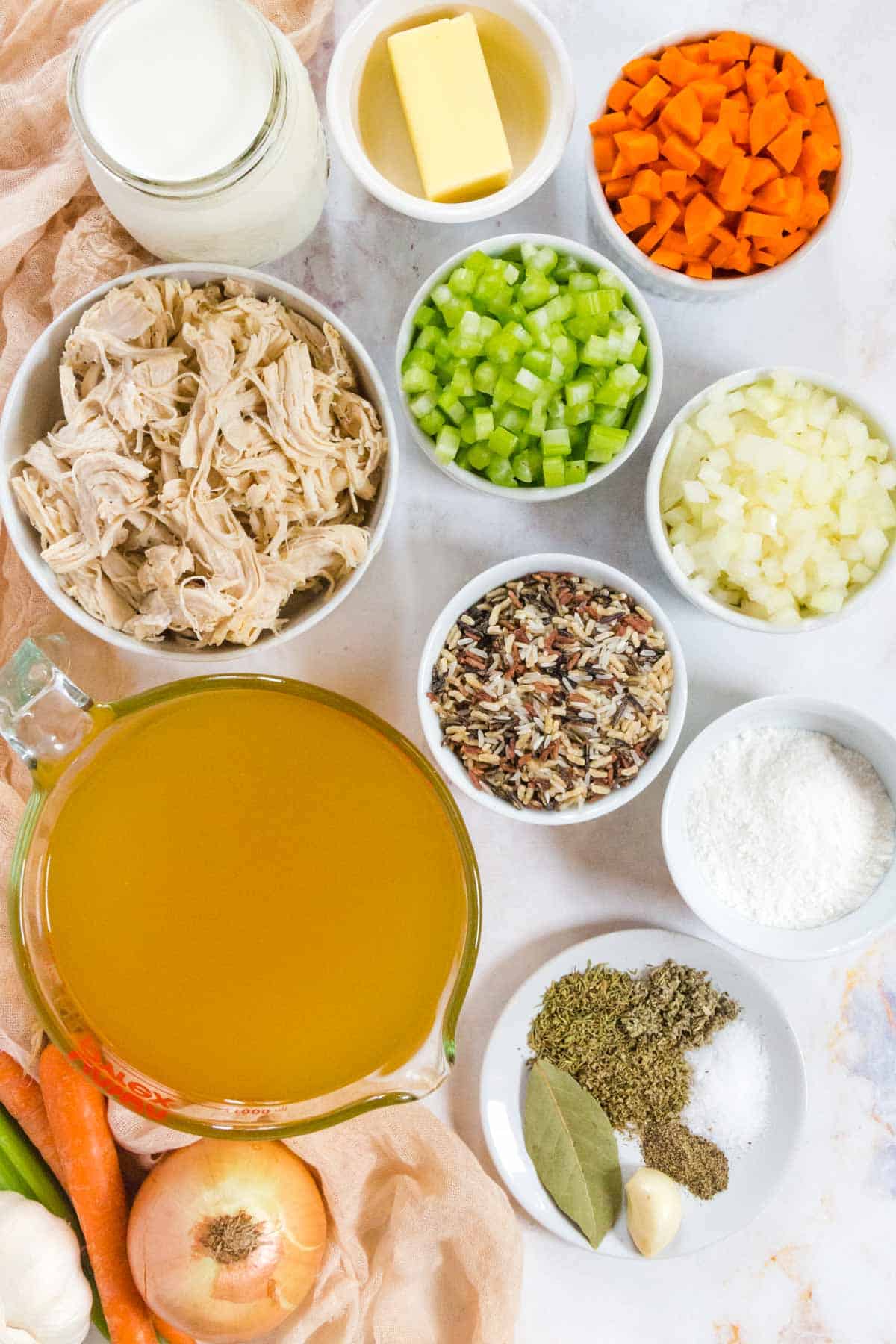 How to Make Gluten-Free Chicken and Rice Soup
This gluten-free version of chicken and rice soup is just as simple to make as the original! Just saute, combine, cook, and serve. Here's how to make it:
Saute the Vegetables: Saute the carrots, onion, and celery in butter, along with the herbs and spices. After a few minutes, add in the garlic and bay leaf. Finally, sprinkle in the rice flour and stir while it becomes golden.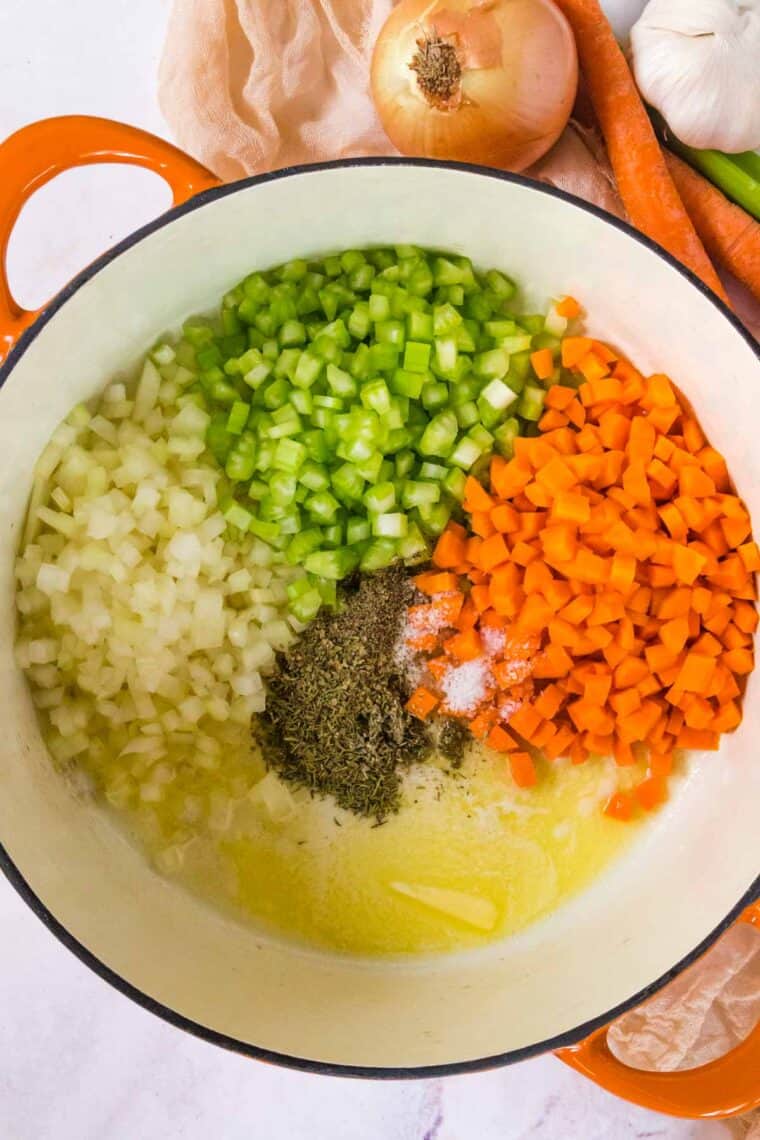 Add the Broth: Gradually add in the chicken broth. Keep stirring until the mixture is smooth.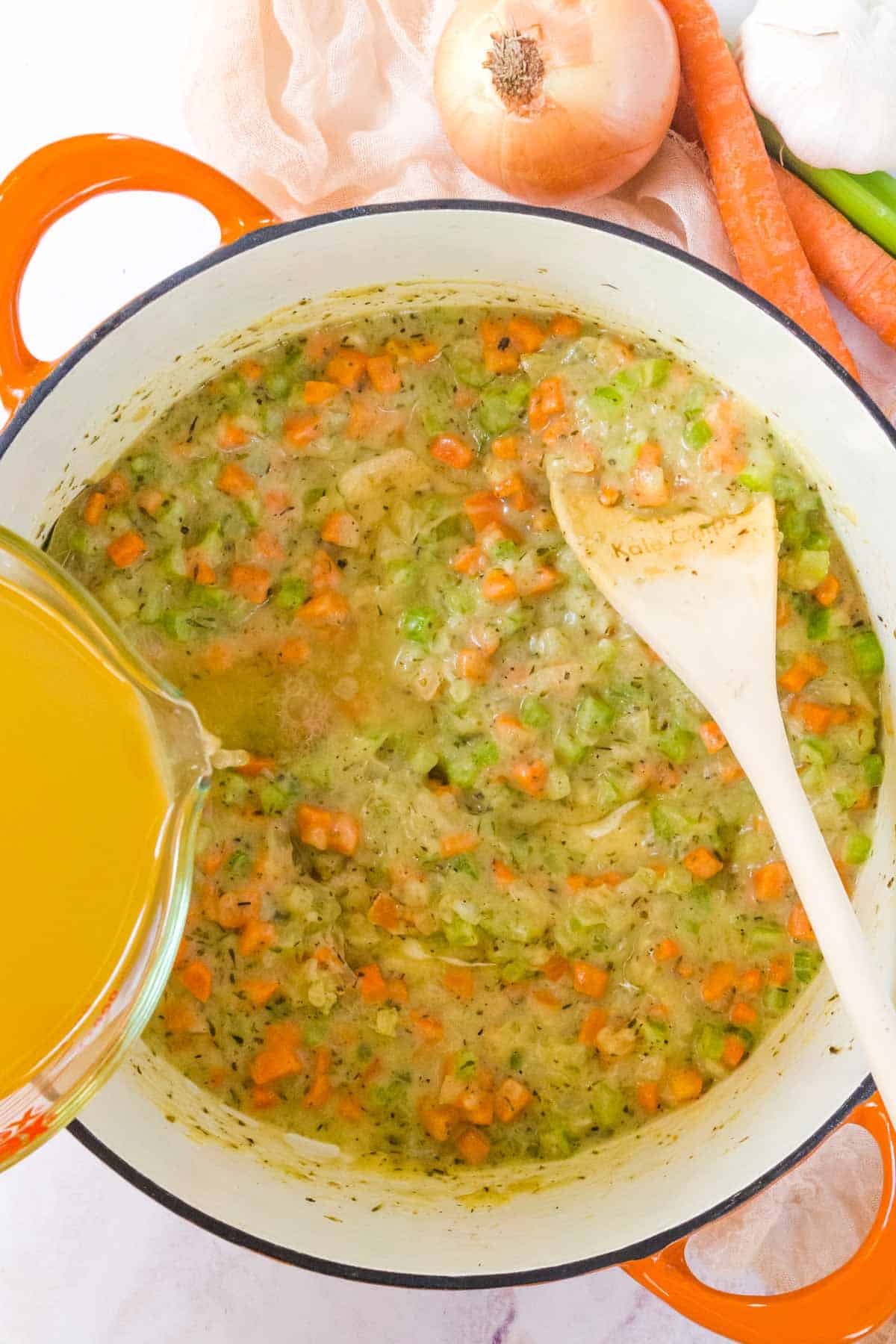 Add the Rice: Stir in the wild rice blend. Bring everything to a boil, then lower the heat and simmer the soup until the rice is tender.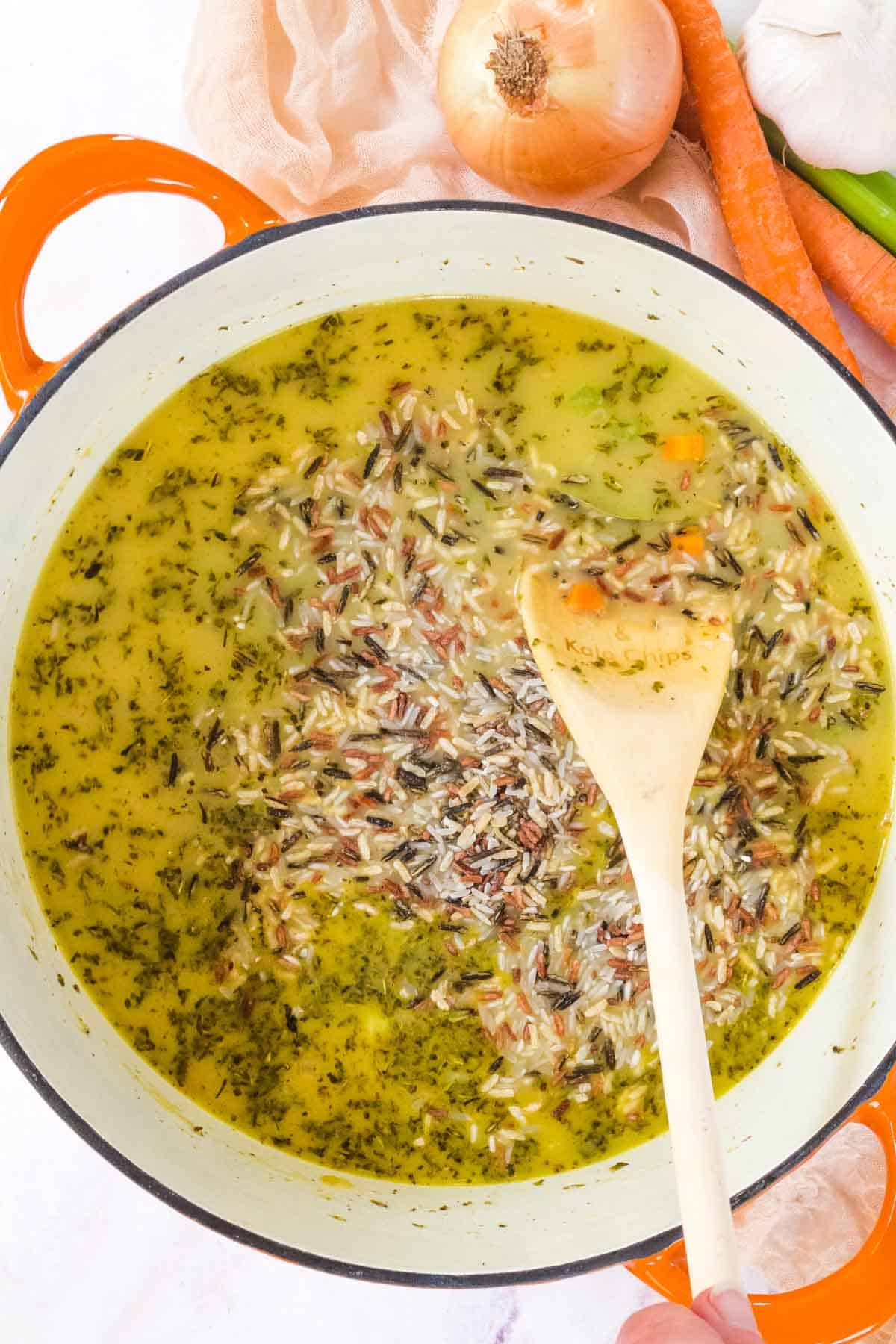 Add the Chicken & Milk: Add the cooked chicken into the soup, followed by the milk or cream. Avoid letting it come to a boil as it heats through, as this may cause the dairy to separate!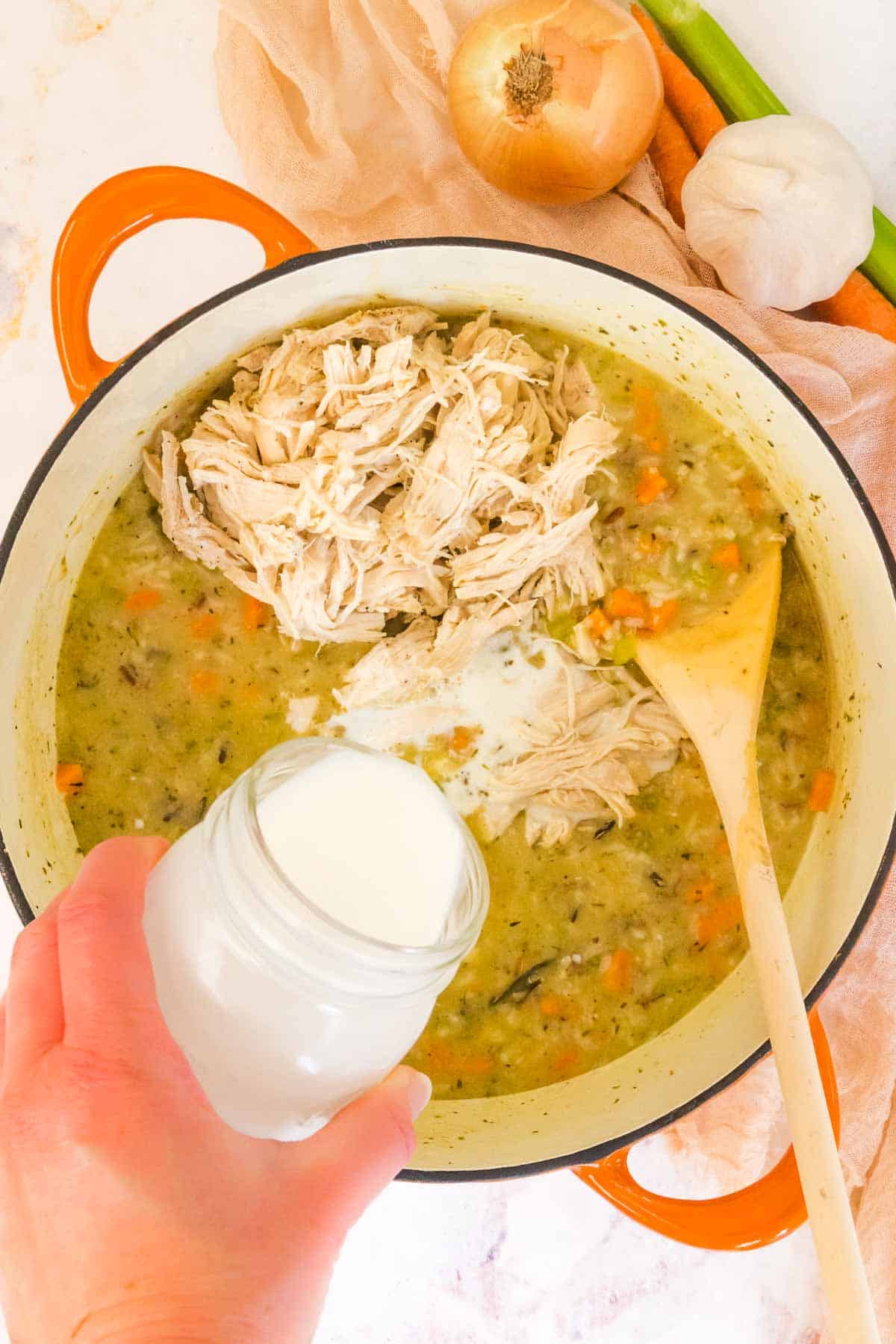 Serve: Finish your wild rice soup by seasoning it to taste with salt and pepper. Dish up with a sprinkle of fresh chopped parsley, and serve!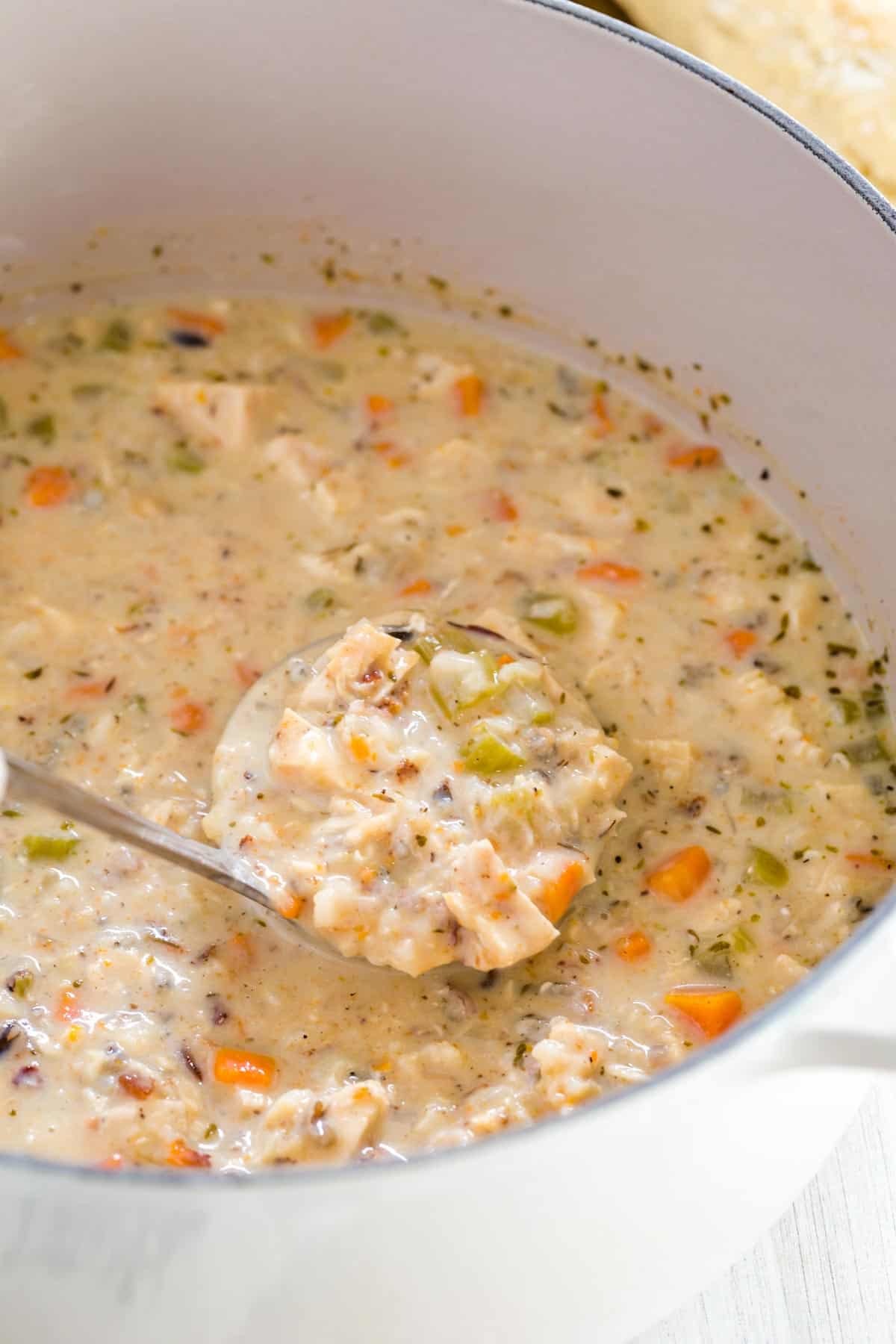 Tips for Success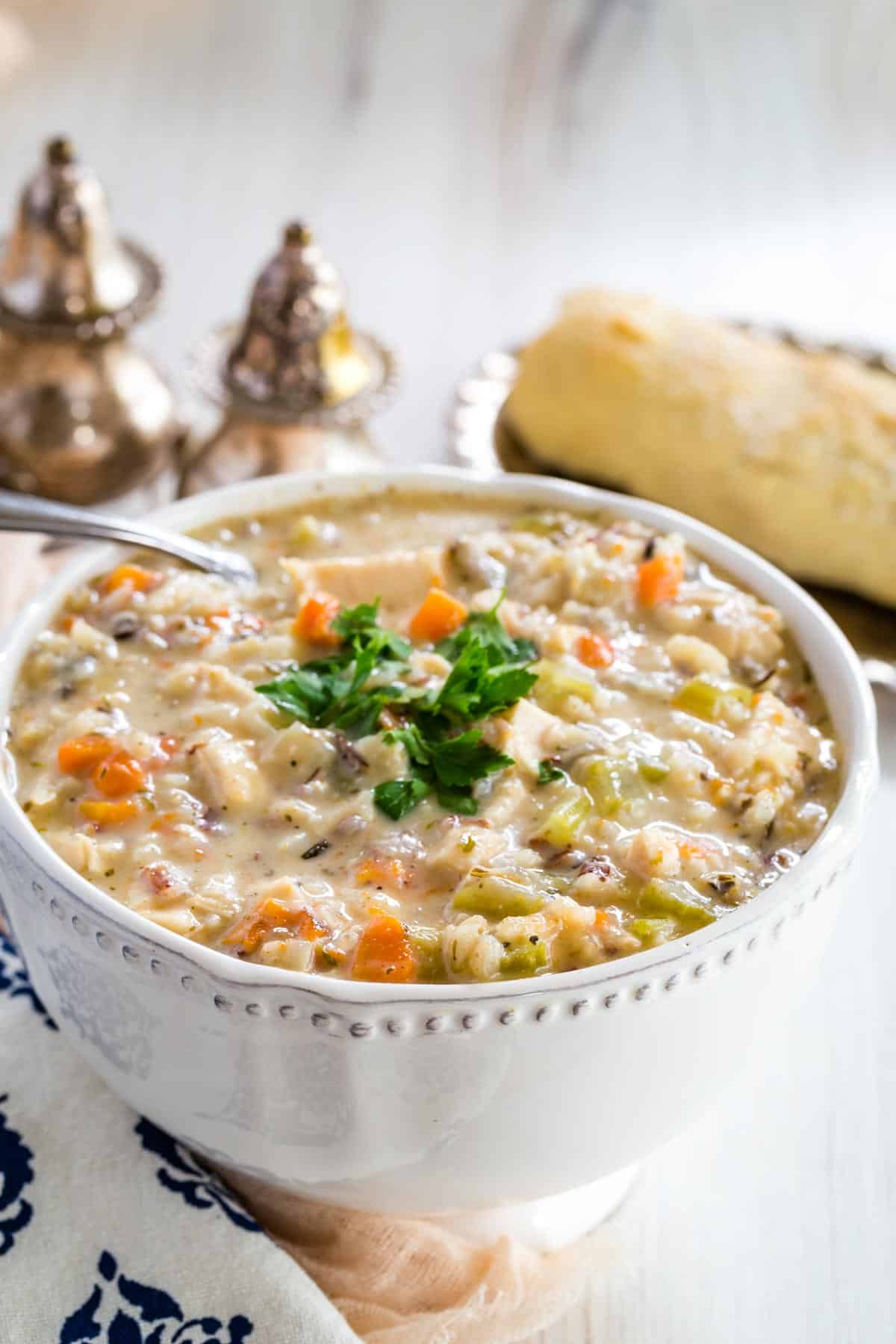 Variation Ideas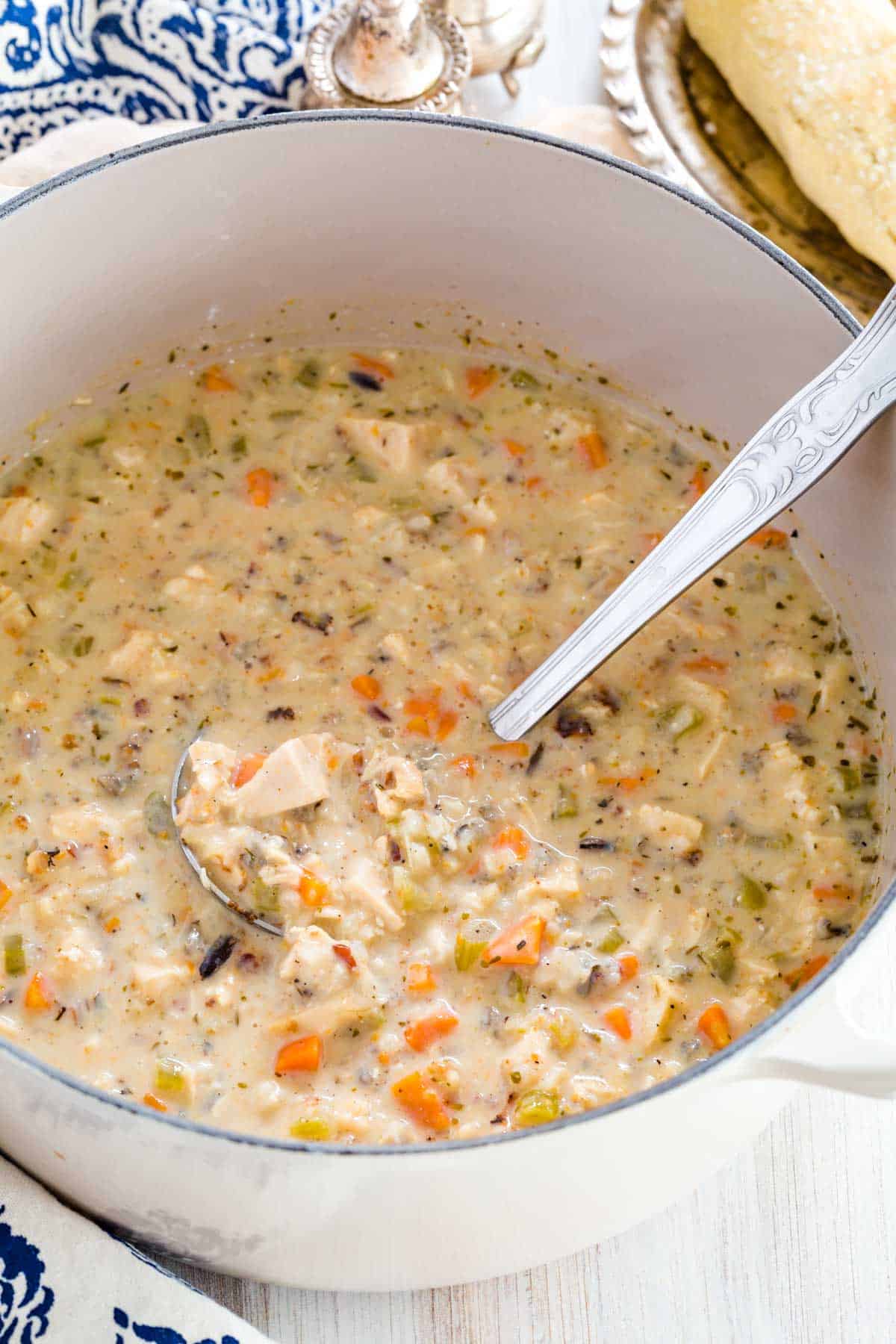 Make it a Meal
Serve this soup as a side dish or main event! Here are some suggestions on what you can serve it with:
Bread for Dunking
Salads on the Side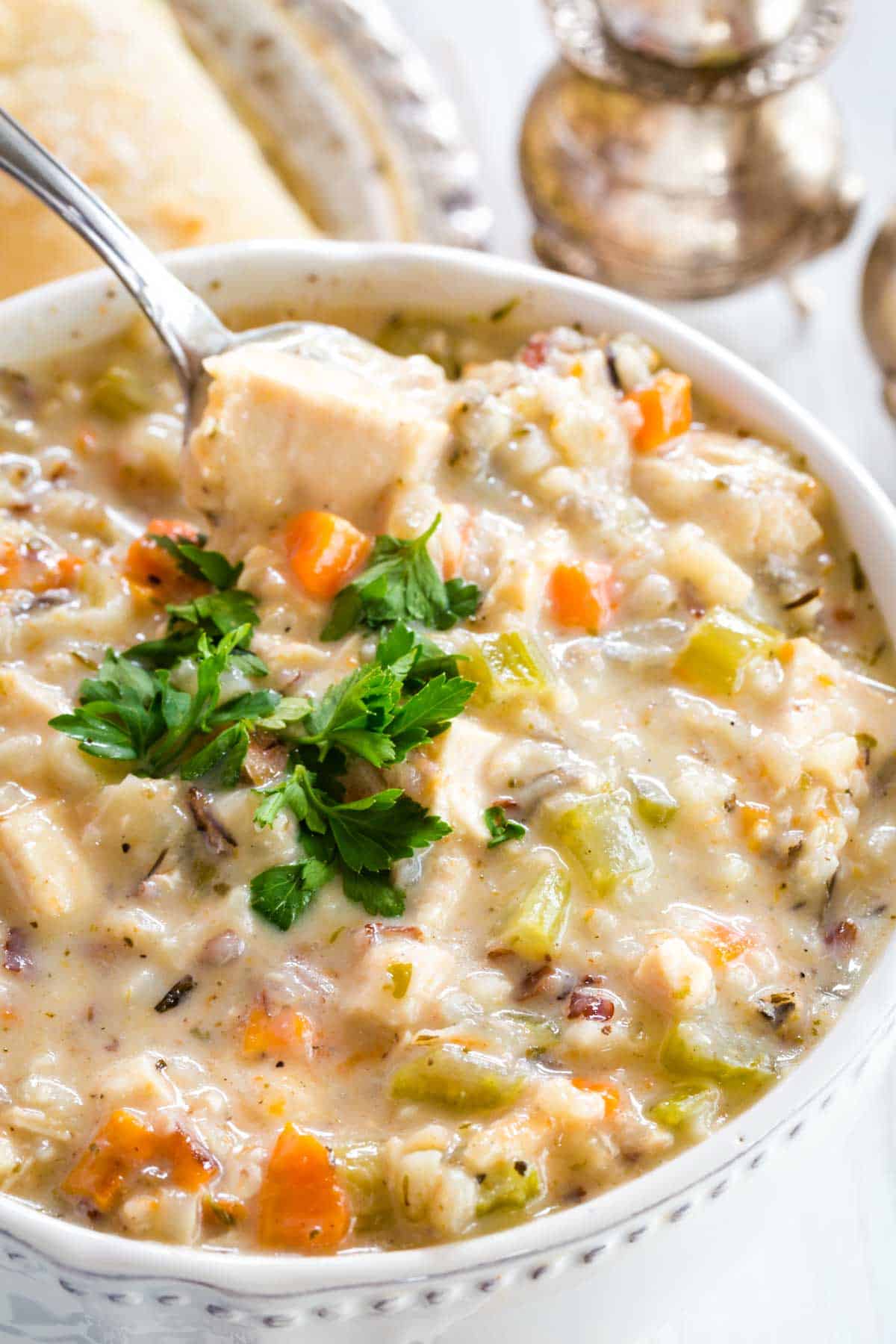 How to Store Leftover Soup
You can make this soup ahead, or store leftovers in the fridge for up to one week. Store the chicken wild rice soup airtight and then reheat portions on the stovetop or in the microwave. Be careful to not overheat or boil the soup when reheating, as this could cause the cream to separate.
You may notice the texture of the soup become thicker as it cools, but don't worry – it thins out again once it's warmed up! If you'd prefer it even thinner, add a spoonful of water.
Can I Freeze This?
Since this soup recipe contains milk that risks separating as it freezes, I wouldn't recommend freezing it.
One workaround is to follow the recipe up until you would normally add in the chicken and cream, and then leave out the cream. Leave the soup as it is to cool completely, and then store in a freezer-safe container. When you thaw and reheat the soup, add in the cream and finish as usual.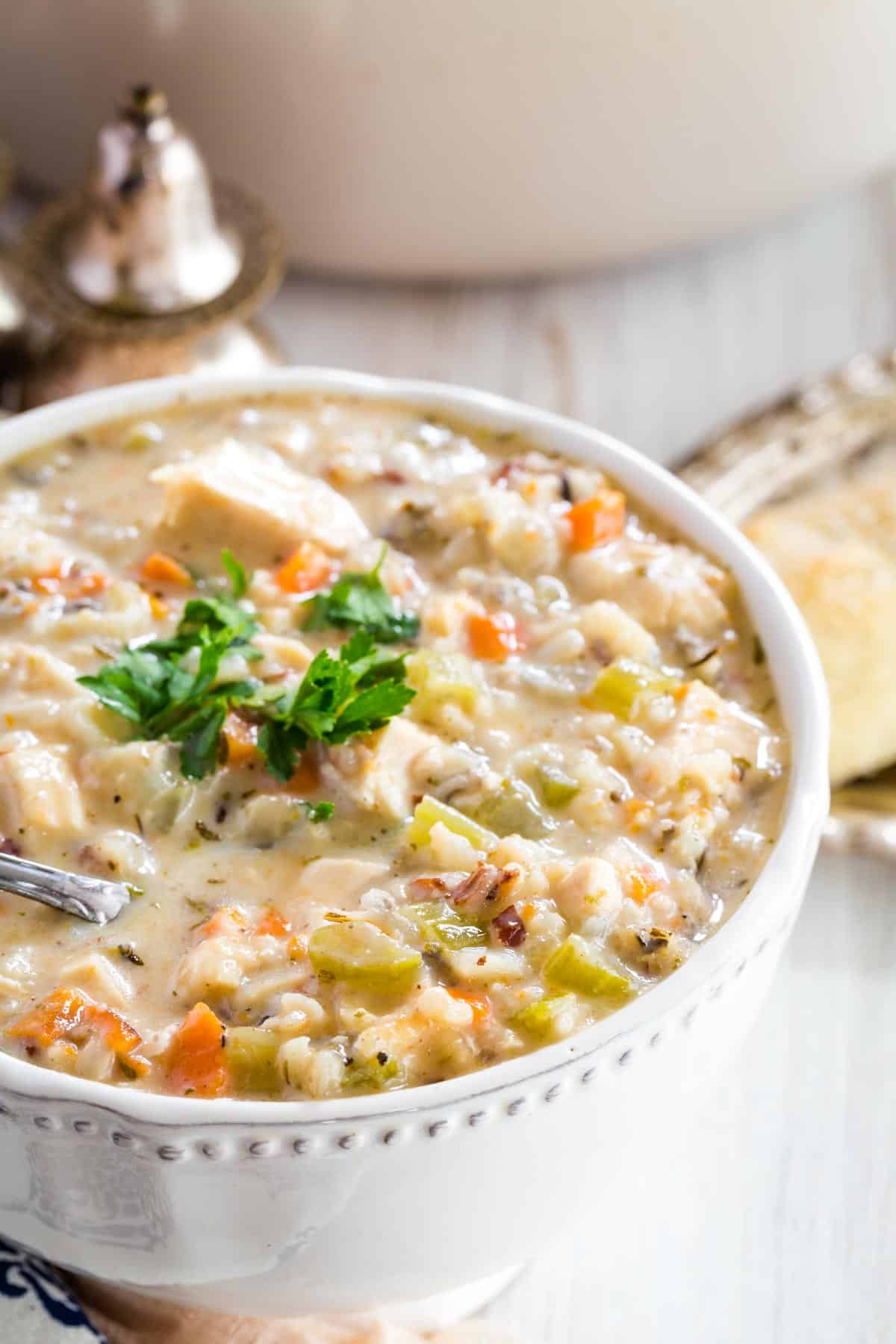 More Gluten Free Soup Recipes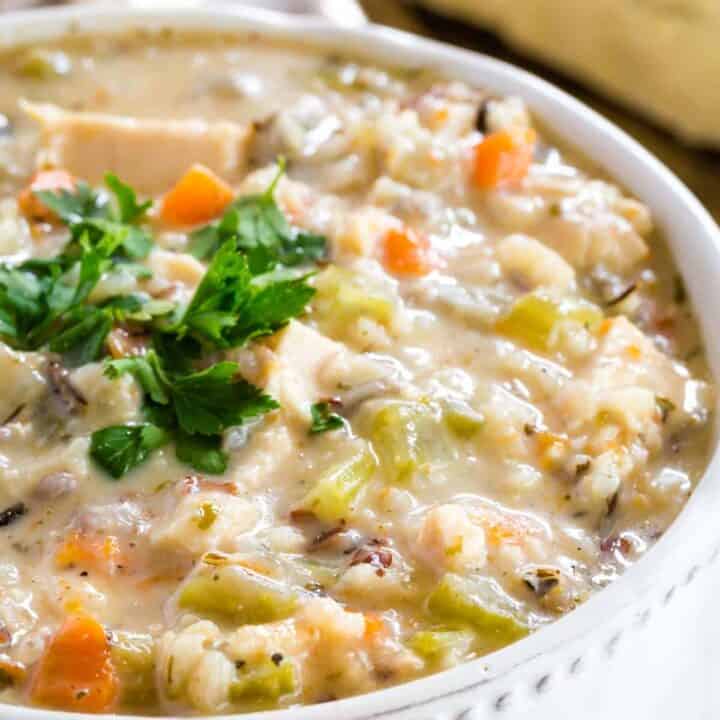 Gluten Free Chicken Wild Rice Soup
This creamy Chicken and Wild Rice Soup is the definition of comfort food! A gluten-free soup recipe brimming with tender veggies, chicken, and rice in a savory, velvety broth.
Ingredients
4

tbsp

unsalted butter

1

cup

diced onion

1

cup

diced carrot

1

cup

diced celery

1

tsp

Kosher salt

1

tsp

dried sage

1

tsp

dried thyme

1

tsp

dried marjoram

1/2

tsp

black pepper

1

bay leaf

1

clove garlic

finely minced

2

tbsp

white rice flour

4

cups

chicken broth

plus more if needed

3/4

cup

uncooked wild rice blend

2

cups

shredded cooked chicken

2

cups

whole milk

fresh parsley

for garnish, if desired
Instructions
Melt the butter in a large heavy-bottomed pot over medium heat. Add the onion, carrot, celery, salt, sage, thyme, marjoram, and black pepper. Saute for 6-8 minutes or until the onion is translucent.

Add the garlic and bay leaf, and saute for another minute or two, until the garlic is fragrant.

Sprinkle the white rice flour over the vegetables and stir for about 2 minutes until it becomes lightly golden. Add the broth a little at a time, stirring after each addition until it is smooth. Once all the broth has been stirred in, add the wild rice blend. Bring to a boil, cover, reduce heat to low, and simmer for about 30-45 minutes until the rice is cooked (this may vary depending on the brand of rice you use).

Stir in the chicken, then slowly stir in the cream/milk, and let everything heat through but do not let it come to a boil.

Season with salt and pepper, to taste. Sprinkle with parsley before serving, if desired.
Nutrition Facts
Gluten Free Chicken Wild Rice Soup
Amount Per Serving
Calories 143
Calories from Fat 54
% Daily Value*
Fat 6g9%
Cholesterol 30mg10%
Sodium 543mg23%
Potassium 332mg9%
Carbohydrates 14g5%
Protein 9g18%
Vitamin A 2019IU40%
Vitamin C 8mg10%
Calcium 68mg7%
Iron 1mg6%
* Percent Daily Values are based on a 2000 calorie diet.
Categories: