This post may contain affiliate links. Read my disclosure policy.
Irresistibly creamy Instant Pot Broccoli Cheese Soup is the best way to warm up this winter! Making this homestyle cheesy soup in your pressure cooker is a breeze. It's filled with plenty of tender-cooked broccoli, veggies, and lots of melty cheese.
Looking for an equally tasty stovetop version? Try my Creamy Keto Broccoli Cheese Soup!
Easy Broccoli Cheese Soup in the Instant Pot
This easy Instant Pot soup isn't far off from the broccoli and cheese soup you'll get at Panera Bread – only it is way, way better. Homemade is the only way to go when it comes to making a classic soup filled with authentic flavor around here. And the Instant Pot makes the process so much easier!
I can't believe it's taken me this long to make a cheesy soup in my Instant Pot. The pressure cooker fast-tracks this recipe so that it's ready in no time. I'll make a 30-minute broccoli cheese soup whenever we're hankering for a wholesome bowl of soup in a hurry. It never disappoints.
Why You'll Love This Recipe
Tender-cooked broccoli and veggies come together in a creamy cheese soup that's warming and nourishing all at the same time. Not to mention, this soup is totally gluten-free! Here are even more reasons to love this easy Instant Pot recipe:
Ready in 30 minutes. Have a steaming, hearty bowl of broccoli cheese soup on the table in minutes, when it tastes as though it was slow-cooked for hours.
Cheesy and creamy. Freshly shredded cheese melts seamlessly into this broccoli cheddar soup, combined with ingredients like half-and-half and butter for a texture that's super rich and creamy.
Free from additives. I make my cheesy soup 100% gluten-free and vegetarian, with no weird additives or funny ingredients. It's all-around better for you in general!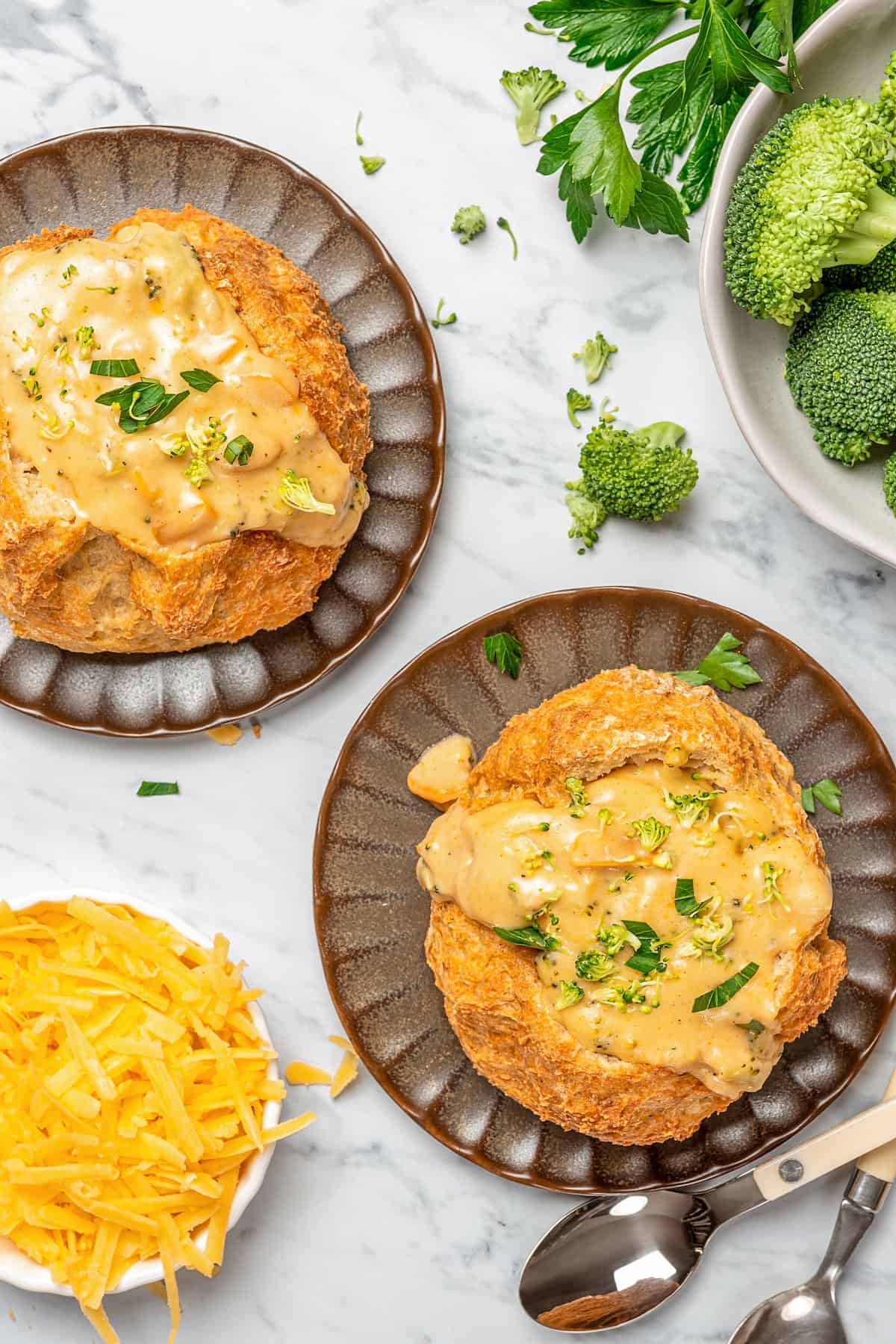 What You'll Need
Let's have a look at the ingredients you'll need to make Instant Pot broccoli cheese soup. Below is a short overview, but don't forget to scroll to the recipe card for the full details.
Broccoli, Carrots, and Onion: The perfect trio of vegetables. Broccoli is a given in broccoli and cheese soup, with diced carrots and onion for aromatics.
Broth: Using vegetable broth or stock keeps this soup vegetarian-friendly. However, chicken broth will also work. I recommend using low-sodium broth so it's easier to control the soup's saltiness.
Butter: Let's be honest, you can't make comfort food without it.
Garlic and Seasonings: Freshly minced garlic adds delicious flavor, enhanced by paprika, onion powder, salt, and pepper.
Half-and-Half: I use half-and-half as the "cream" component in this creamy soup recipe. You can also use milk if you prefer something lighter, or even heavy cream if you're throwing calorie caution to the wind.
Cheese: Shredded cheddar melds into this soup beautifully and goes well with the broccoli. See below for more options and details.
Cornstarch: You'll combine cornstarch with water, to form a slurry that will thicken the soup.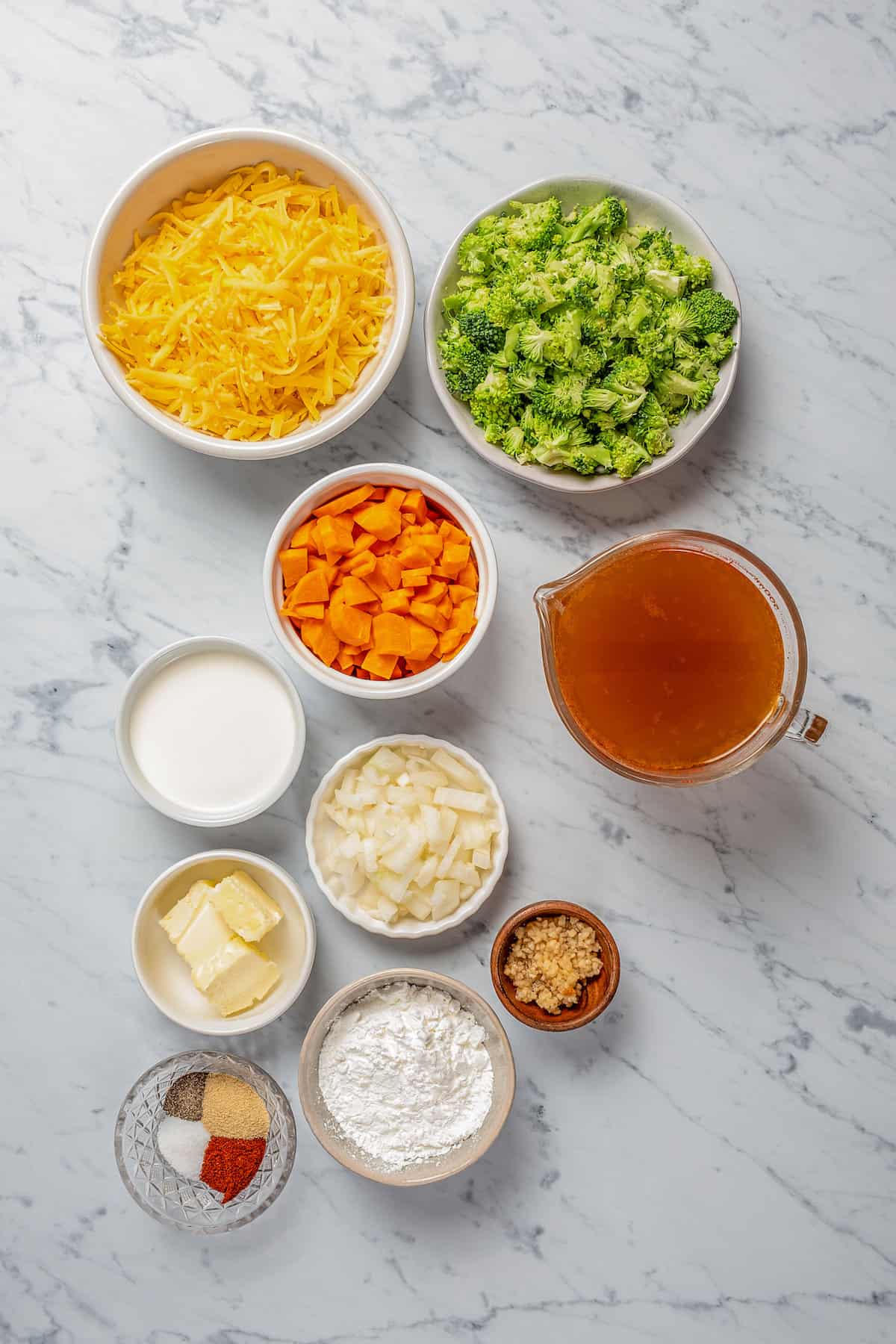 What Is the Best Cheese to Melt in Soup?
Cheesy soups call for smooth-textured, melty cheeses, like the cheddar in this recipe. Other good options are Gruyere, Monterey Jack, and fontina cheese. Shredding the cheese allows it to easily melt into the soup.
Whichever cheese you choose, I highly recommend grating it fresh from the block. Pre-shredded, packaged cheese often comes coated in a waxy preservative and won't melt down so smoothly.
How to Make Instant Pot Broccoli Cheese Soup
The Instant Pot turns this velvety broccoli cheese soup into what's essentially a 3-step process. And an unbelievably easy one at that:
Add the Ingredients and Cook: Combine the chopped broccoli, veggies, broth, butter, and seasonings in your Instant Pot. Stir, then seal the lid and set the Instant Pot to cook on high for 1 minute. In case you're new to pressure cooking, note that the Instant Pot will need about 15 minutes total to come to pressure.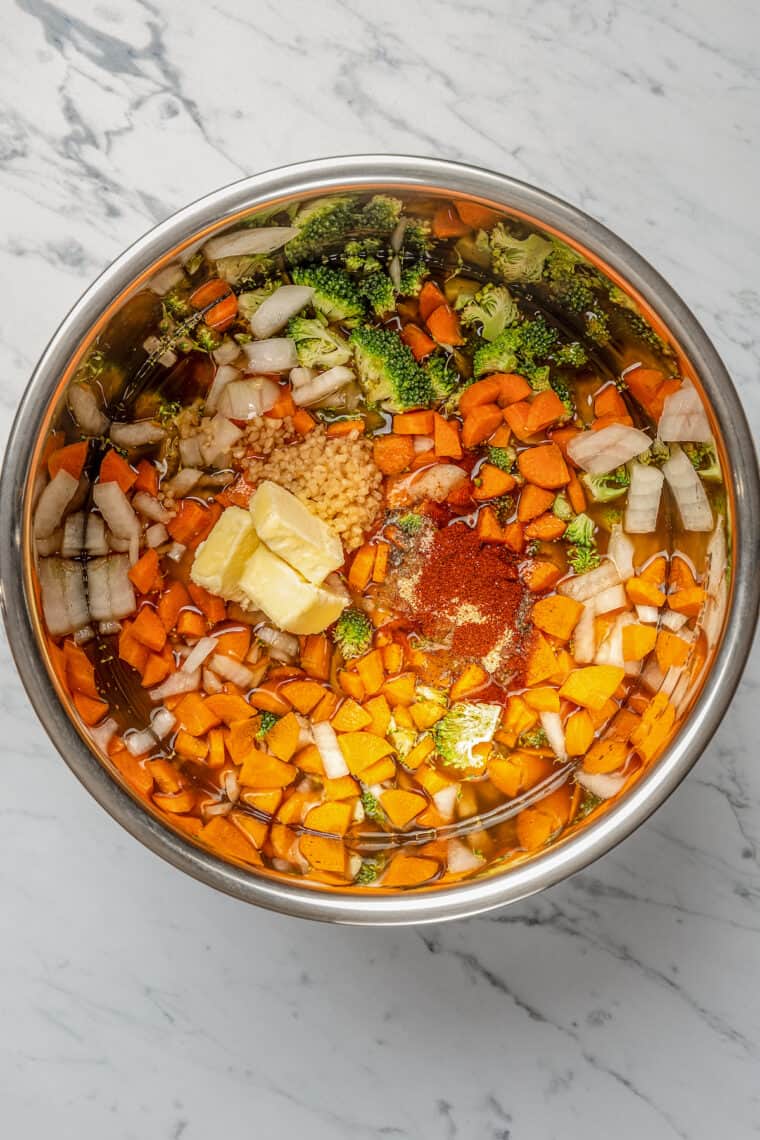 Add the Cheese: When the soup is done, quick-release the pressure. Lift the lid and then stir in half-and-half along with shredded cheese. When the cheese is melted, create a slurry of cornstarch and warm water, then add this to the pot, too. Switch the pot to sauté, and stir to thicken.
Serve: Finally, season the soup to taste and ladle it into bowls right away. I like to garnish my broccoli cheese soup with a sprinkle of fresh parsley, see below for more easy serving suggestions.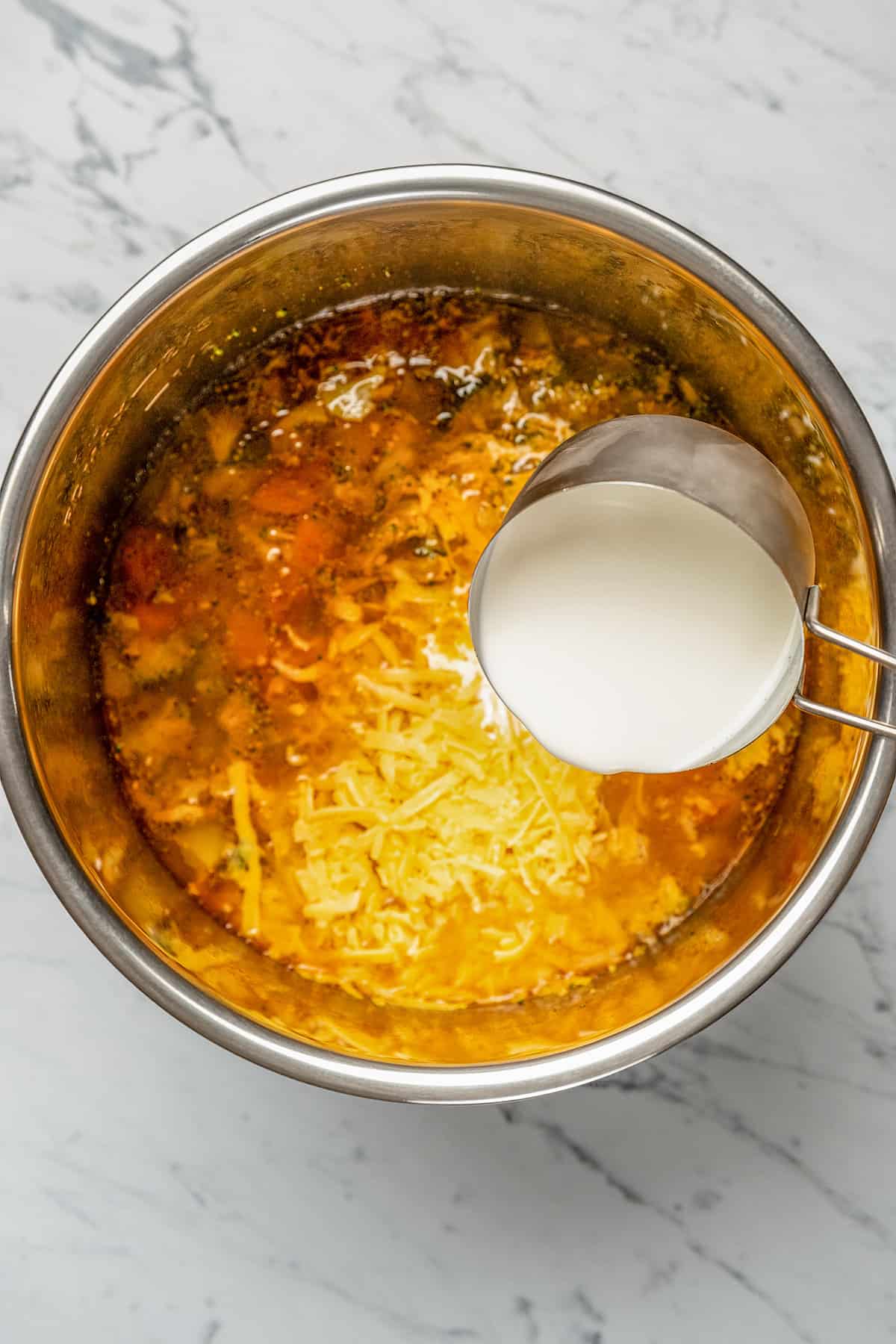 Can I Make This on the Stovetop Instead?
Sure. If you don't have an Instant Pot, you can still make this soup recipe without one (though I can't recommend the IP enough!). Instead of softening the veggies through pressure-cooking, simply simmer them in the broth on the stove for 20 minutes instead. Afterward, take the soup off the heat and proceed with adding the cream and cheese as directed.
I also have a Low-Carb Broccoli Cheese Soup that you can make on the stovetop, too.
Tips for Success
This cozy soup recipe is straightforward and reliably delicious, making it perfect for Instant Pot beginners and pros alike. Here are some additional tips to keep in mind:
Can I use frozen broccoli? Yes! Fresh is always first in my books, but frozen broccoli also works in this soup recipe.
Cut the vegetables into small pieces. Finely chopping up the veggies allows them to cook evenly. It also means you'll have a bit of everything in each spoonful.
The soup thickens quickly. Keep an eye while you're stirring in the cornstarch slurry, and turn off the pot once the soup reaches your desired thickness.
Why is my broccoli cheese soup gritty? This can happen if the soup is too hot when the cream and cheese are added. High temperatures can cause dairy to curdle, so add the cheese slowly and stir constantly as it melts.
Season the soup at the end. Since cheese is salty, wait until after you've added the cheese to season your soup with additional salt and pepper. You don't want to wind up with an overly seasoned soup.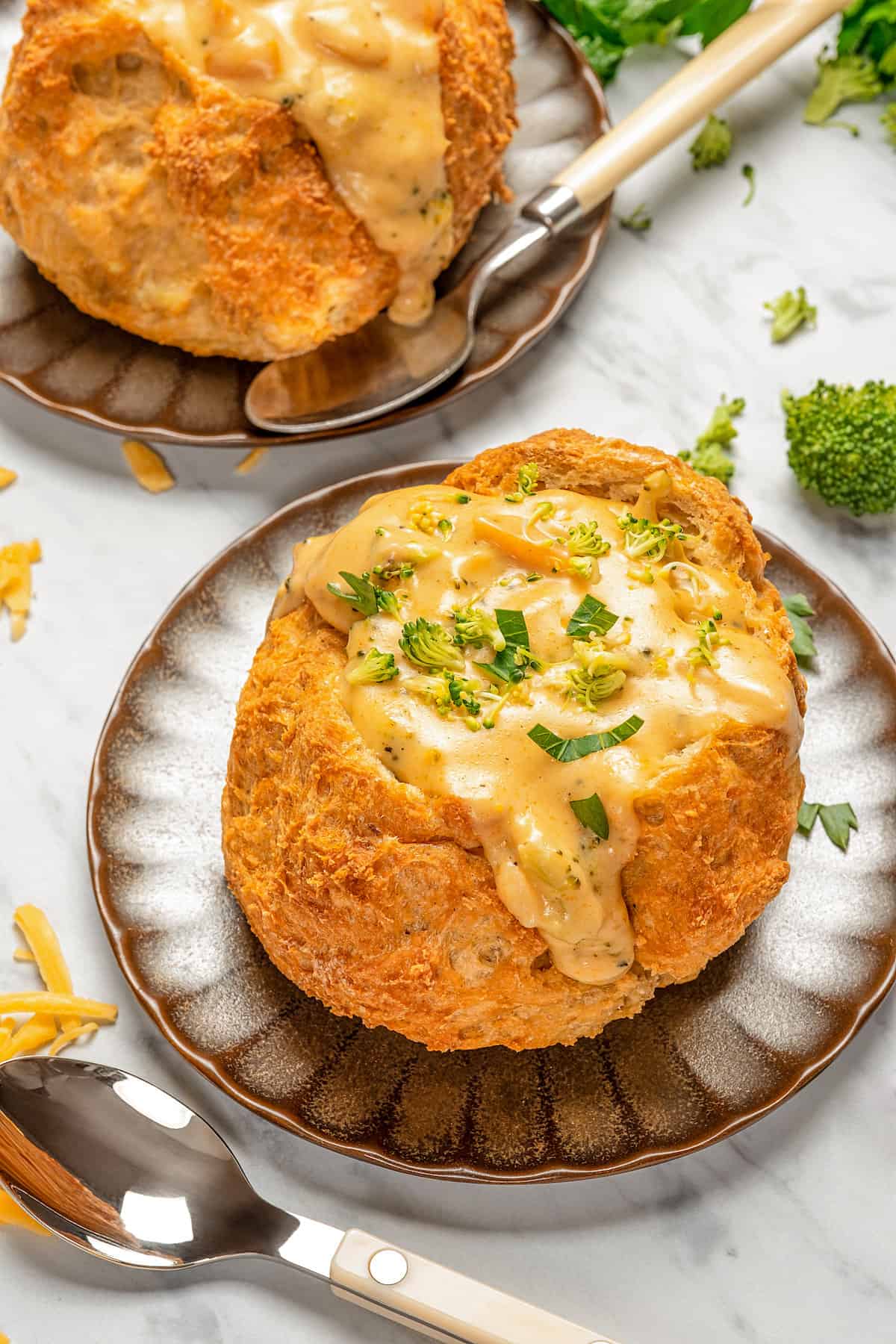 Make It a Meal
Instant Pot broccoli cheese soup makes a cozy and easy weeknight meal served in Gluten-Free Bread Bowls. Or, pair it with bread sides like my Garlic Breadsticks or Gluten Free Buttermilk Biscuits. We'll never run out of ways to dip fluffy chunks of bread into this cheesy soup!
To round out a winter dinner, enjoy a hearty bowl of soup as an entrée or appetizer. Serve it with a Baked Potato, Baked Sweet Potato Fries, or a Romaine Wedge Salad.
Broccoli and cheese soup also makes an easy, bistro-syle lunch with a Grilled Cheese Sandwich on the side.
Storing and Reheating Leftover Soup
Store leftover Instant Pot broccoli cheese soup airtight in the fridge. It's best to enjoy it within a day or two, but it will keep for up to 3 days.
To reheat the soup, microwave or warm portions on the stovetop until heated through, stirring frequently. You may notice the cheese separates a bit upon reheating, but your soup will still taste great.
Can I Freeze Broccoli Cheese Soup?
Due to the high amount of dairy, I don't recommend freezing your broccoli cheese soup. The good news is, the Instant Pot makes this recipe quick and easy enough to whip up any time!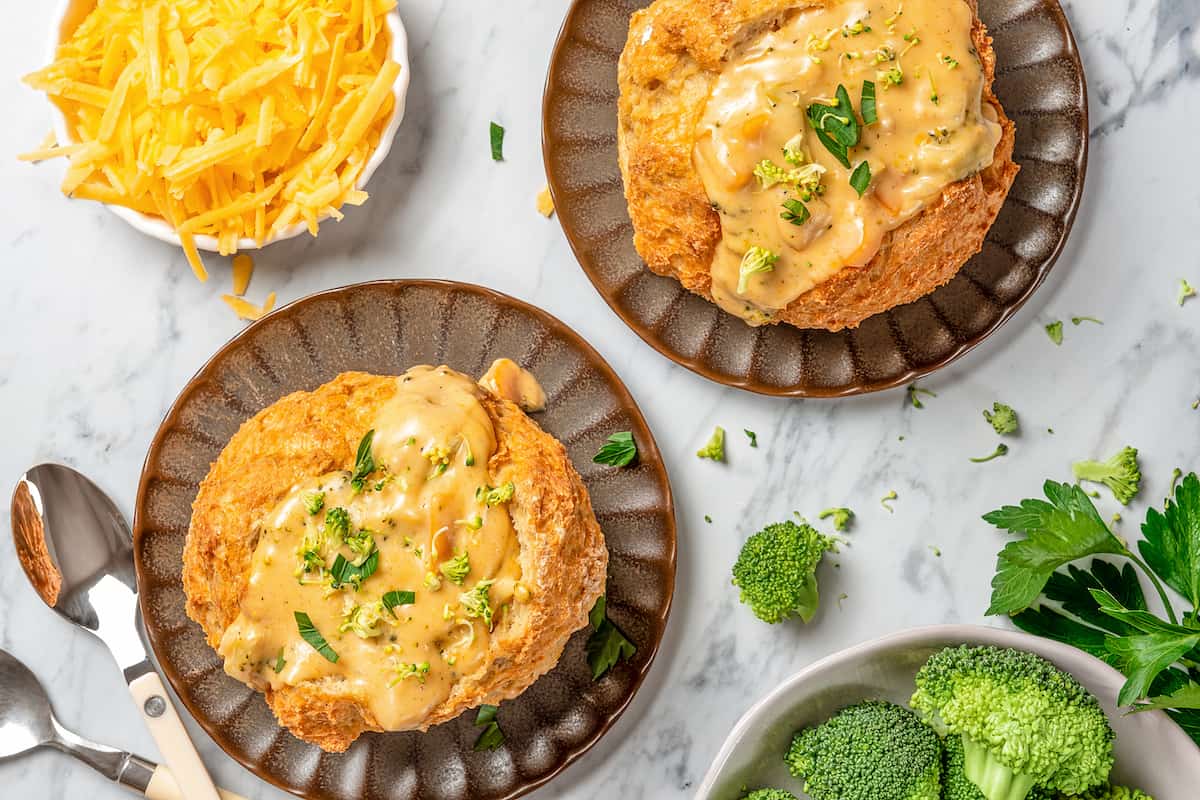 What Instant Pot Do I Need?
Which Instant Pot you buy depends on your budget and the size you need based on the many people you usually cook for. To have enough volume to make this broccoli cheese soup, you'll want to skip one of the small 3-quart models and get one that is at least 6 quarts. Here are some options.
Last updated on Dec 8, 2023 1:45 am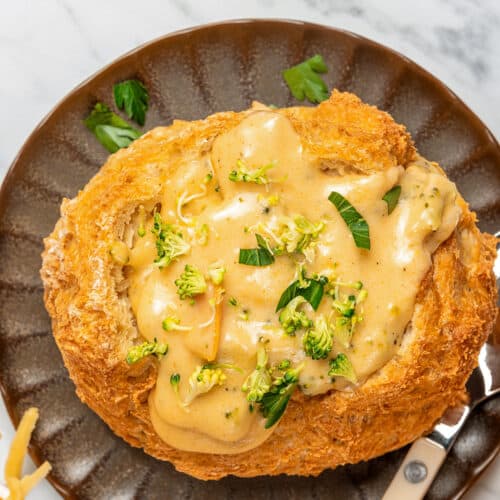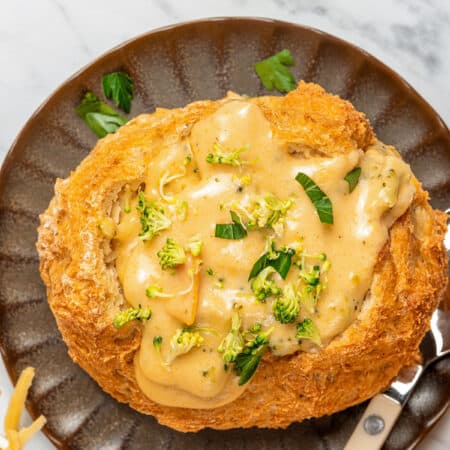 Instant Pot Broccoli Cheese Soup
Instant Pot Broccoli Cheese Soup is sure to become one of your favorite Instant Pot soup recipes! This creamy soup is the perfect comfort food, filled with tender-cooked broccoli, veggies, and plenty of melty cheese.
Ingredients
2

cups

broccoli,

chopped very small

1

cups

carrots,

chopped very small

1/2

medium onion,

chopped

2

cups

vegetable broth

3

tbsp

unsalted butter

3

garlic cloves,

minced

1/4

tsp

kosher salt

1/4

tsp

black pepper

1/2

tsp

paprika

1/2

tsp

onion powder

1

cup

half and half

1 1/2

cups

medium cheddar cheese,

shredded (about 6 oz.)

1/3

cup

corn starch

1/3

cup

warm water
Instructions
Add chopped broccoli, carrots and onions to the inner pot of your instant pot. Then add in the vegetable broth, butter, garlic, salt, pepper, paprika and onion powder. Stir to combine.

Close your Instant Pot and turn the vent to "sealing." Set the pressure cooker to pressure cook on high for 1 minute. It will take about 15 minutes for your instant pot to come up to pressure. When finished, carefully, quick release the pressure.

Remove lid and stir in the half and half and shredded cheese. Stir until the cheese is melted.

In a small bowl, whisk the corn starch and warm water together until smooth and free of lumps. Slowly stir in the cornstarch mixture to your instant pot. Stir soup until incorporated.

Change the Instant Pot setting to sauté. Heat and stir until the soup thickens. This can happen quickly, so stir constantly and watch for the soup to achieve the right thickness.

Adjust salt and pepper to taste and serve immediately. Garnish with parsley if desired.
Nutrition Facts
Instant Pot Broccoli Cheese Soup
Amount Per Serving
Calories 240
Calories from Fat 144
% Daily Value*
Fat 16g25%
Cholesterol 44mg15%
Sodium 760mg32%
Potassium 368mg11%
Carbohydrates 22g7%
Protein 4g8%
Vitamin A 6481IU130%
Vitamin C 45mg55%
Calcium 109mg11%
Iron 1mg6%
* Percent Daily Values are based on a 2000 calorie diet.
Categories:
More Easy Instant Pot Recipes