This post may contain affiliate links. Read my disclosure policy.
This Gluten-Free Instant Pot Lasagna is a hearty and comforting one-pot meal, ready in a fraction of the time it takes to make traditional homemade lasagna! This easy recipe is made with gluten-free lasagna noodles layered with juicy ground meat, leafy spinach, and plenty of ricotta cheese.
Easy Gluten-Free Lasagna in the Pressure Cooker
We love lasagna. My World's Best Gluten Free Lasagna is one of my family's long-standing favorite dinners and is synonymous with comfort food in our house. There's just something so satisfying and cozy about tucking into warm layers of pasta, sauce, and cheese.
So, you can understand my excitement when I tried out our favorite meal in the Instant Pot. This is one of my best gluten-free lasagna recipes with ricotta cheese, savory Italian sausage, zesty marinara sauce, and melty mozzarella. All these tasty ingredients are layered into the Instant Pot and pressure-cooked to perfection.
While traditional homemade lasagna will always have a special place on our table, this gluten-free Instant Pot lasagna is a win on weeknights. It cooks up in a fraction of the time it would take in the oven, and the flavors still meld together beautifully. Forget game-changer, this recipe is a life-changer!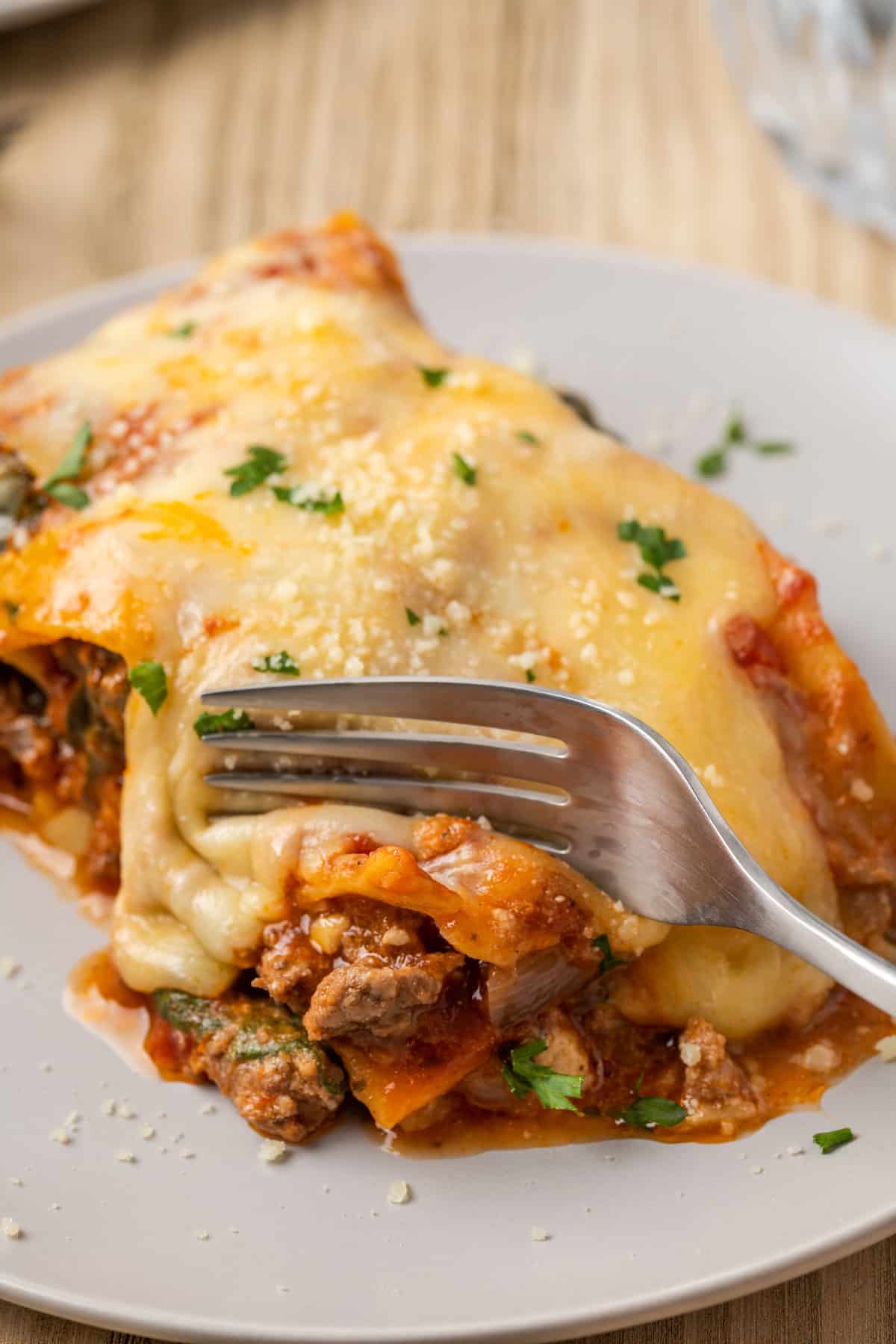 Why You'll Love This Recipe
Let's go over what makes this "lazy lasagna" in the Instant Pot so awesome:
One-pot. Not only does the Instant Pot cut the cooking time in half, but this one-pot lasagna recipe also halves the cleaning time, too.
Full of flavor. The layers of tender gluten-free lasagna noodles, juicy ground meat, silky ricotta, and spinach are classic and irresistible.
Quick. Everything your oven achieves, the IP achieves faster and so easily. This pressure-cooker lasagna is a great time-sensitive option when you're craving homemade comfort food on a busy weeknight.
The best leftovers. Do you know what's better than fresh lasagna? Next-day lasagna, IMHO. This recipe makes enough to feed a family of 4, with leftovers to reheat for future lunches or dinners.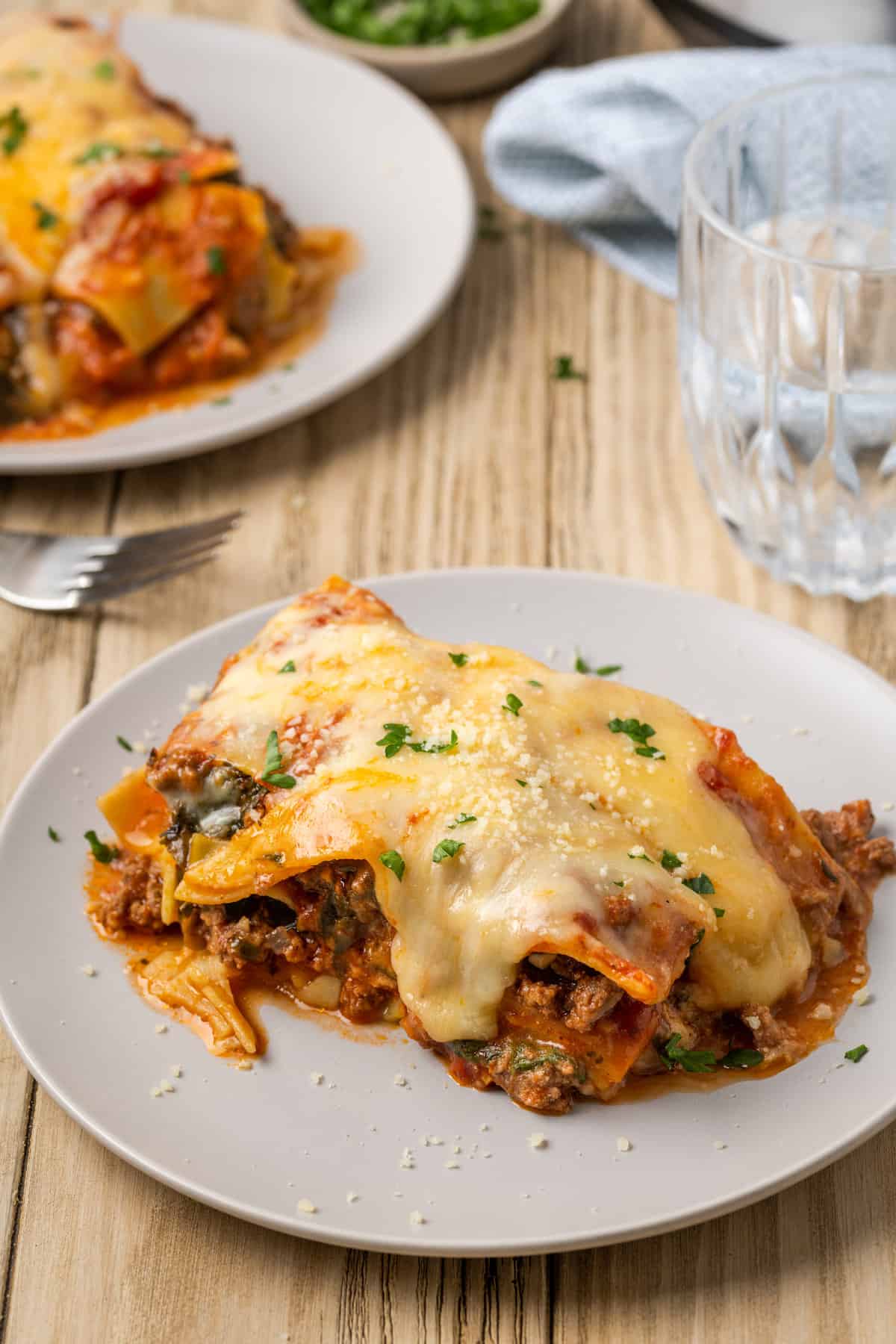 What You'll Need
Here's a short overview of the lasagna ingredients. Make sure to refer to the recipe card for the full amounts and recipe details:
Cheese: I fill the lasagna layers with a mixture of ricotta and freshly grated parmesan cheese seasoned with salt and pepper. You'll also need shredded mozzarella for melting over the top of the final layer.
Ground Beef: I like to use lean ground beef to cut down on excess grease. You can also use another ground meat, like chicken or turkey, for an even leaner option.
Italian Sausage: I make this recipe kid-friendly with mild Italian sausage. Feel free to kick up the spice factor with spicy sausage.
Onion and Garlic: Diced onion and minced garlic are a match made in aromatic heaven.
Italian Seasoning: You'll find pre-mixed Italian herb blends in the spice aisle at your local supermarket.
Marinara Sauce: Jarred marinara sauce works great. But if you have the time, I highly recommend making a batch of Homemade Marinara Sauce! It's super easy and you can't beat the freshness.
Spinach: Use fresh or frozen spinach leaves.
Lasagna Noodles: You'll want to use no-boil gluten-free lasagna noodles for this recipe. Technically, you can make this recipe using any variety of lasagna sheets, but I've found that no-boil or oven-ready noodles are best.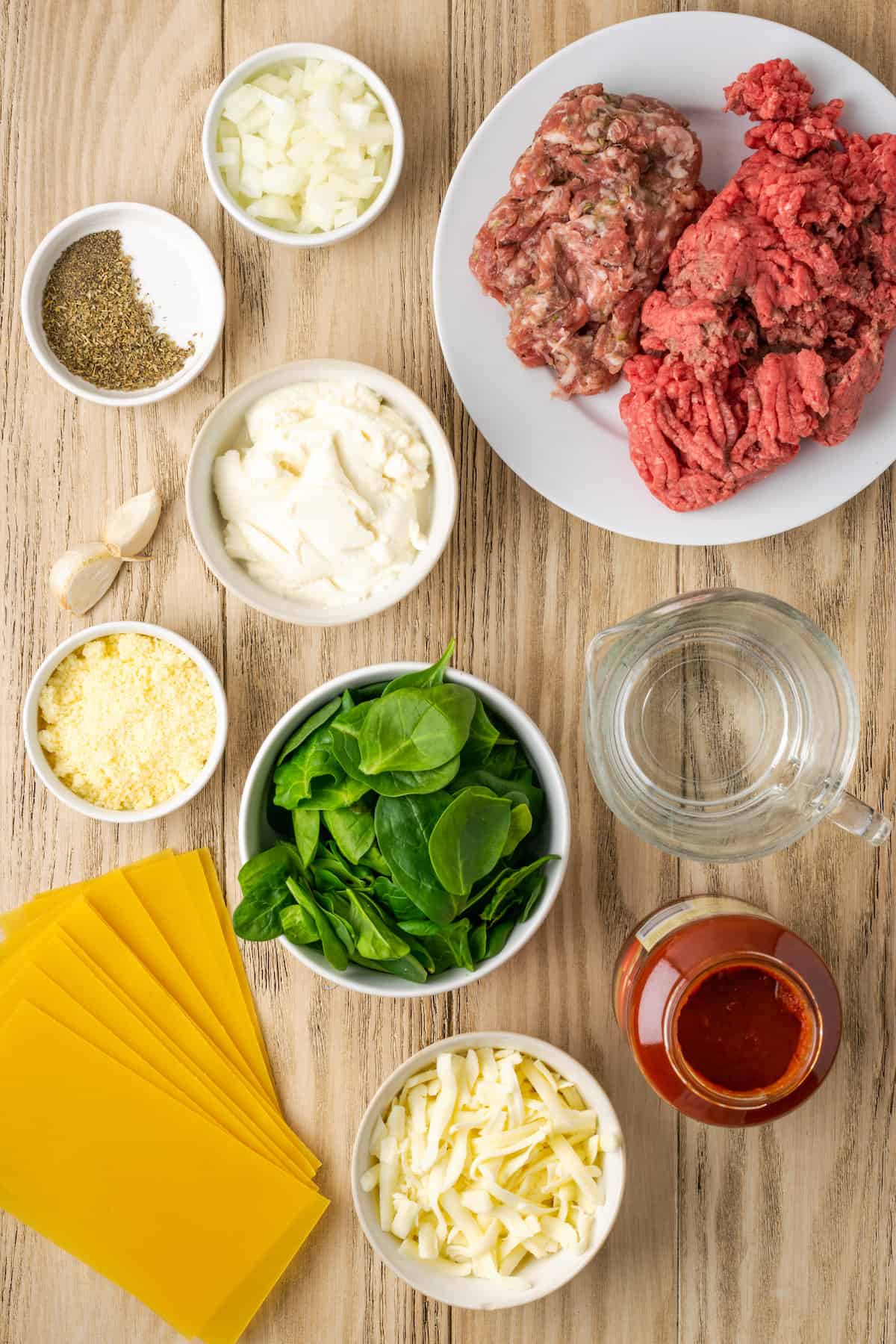 How to Make Gluten Free Instant Pot Lasagna
If you're new to cooking with an Instant Pot, this easy lasagna is a great beginner's recipe. It's super straightforward and always turns out perfectly melty and full of flavor. Let's walk you through it:
Make the Cheese Mixture: Before you start, mix together ricotta and parmesan in a small bowl with salt and pepper.
Saute the Meat: With the Instant Pot set to saute, cook the ground beef and sausage along with the onion. After 5 minutes, stir in the garlic and Italian seasoning. When the beef is browned, switch off the pot and transfer the meat to a bowl. Don't forget to drain the grease from the bottom of the pot!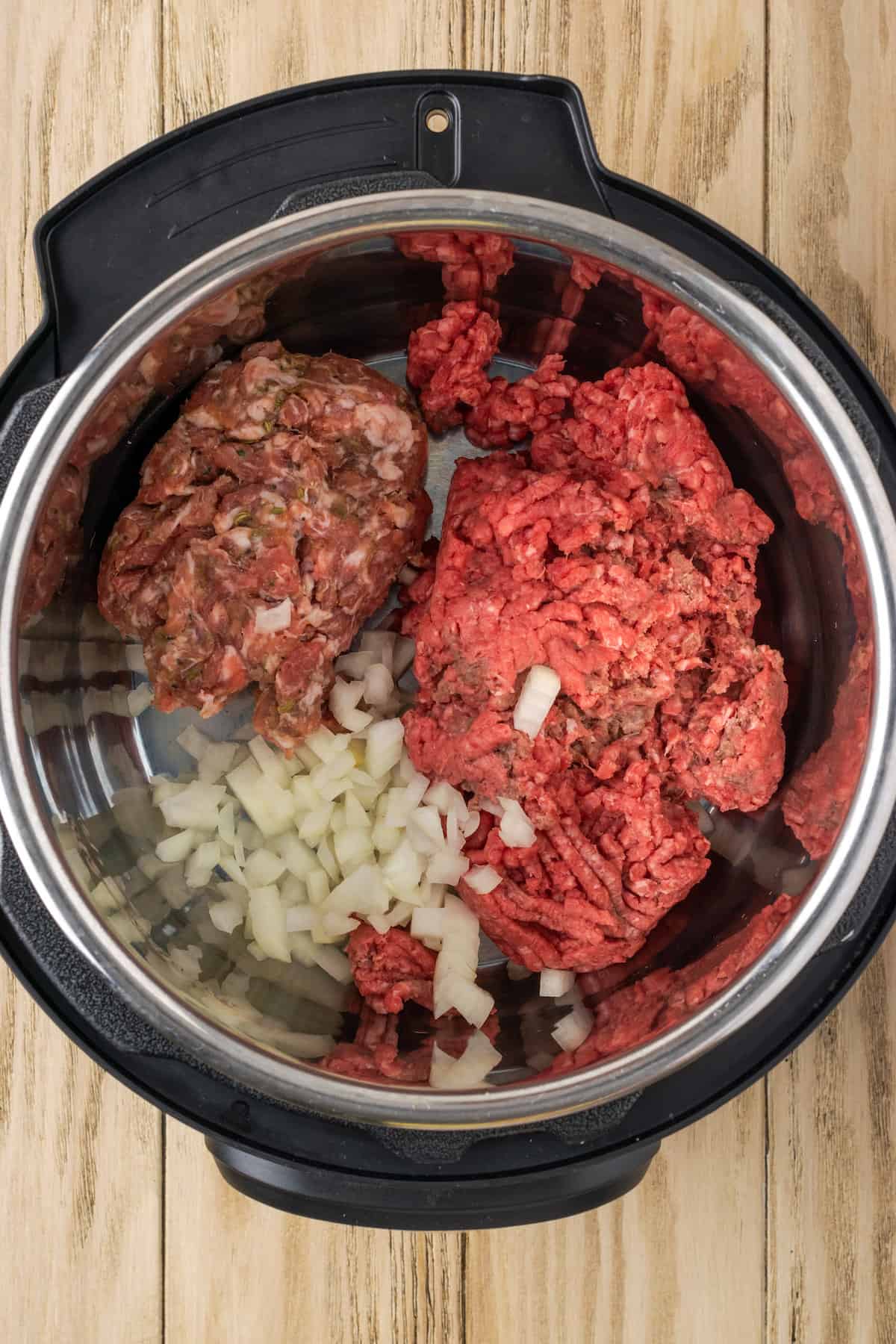 Deglaze: Add a bit of water to the Instant Pot, scraping the bottom to lift up any stuck-on bits.
Add the First Layer: Now, it's time to start with your lasagna layers. Begin with about a third of the beef mixture, and cover this with a layer of lasagna noodles. Spread the marinara sauce over top.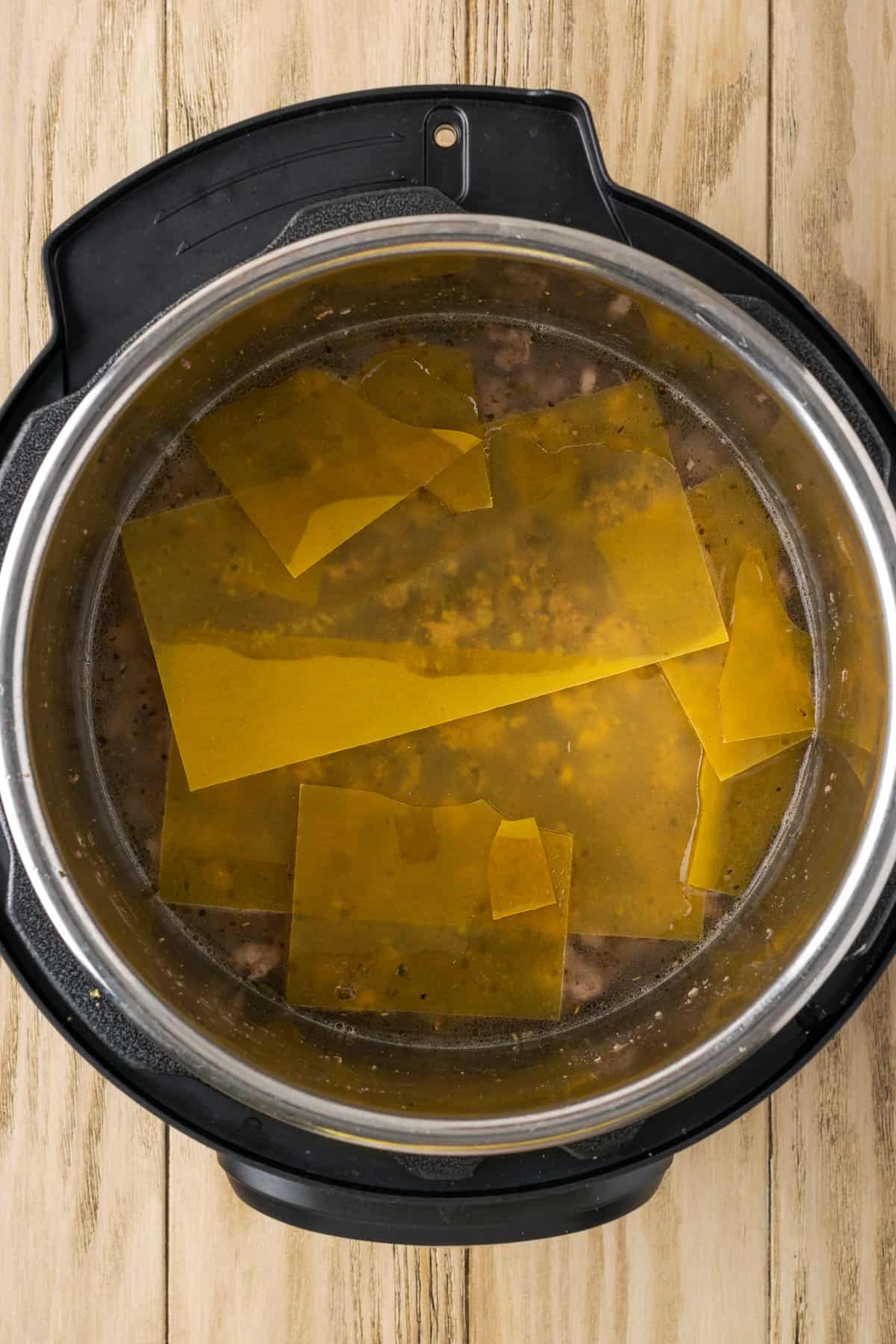 Add More Layers: Follow this with another meat layer, half of the ricotta cheese from earlier, and then spinach. Arrange more lasagna sheets over top, and then repeat. The main goal here is to start with meat on the bottom and end with noodles and marinara sauce on top.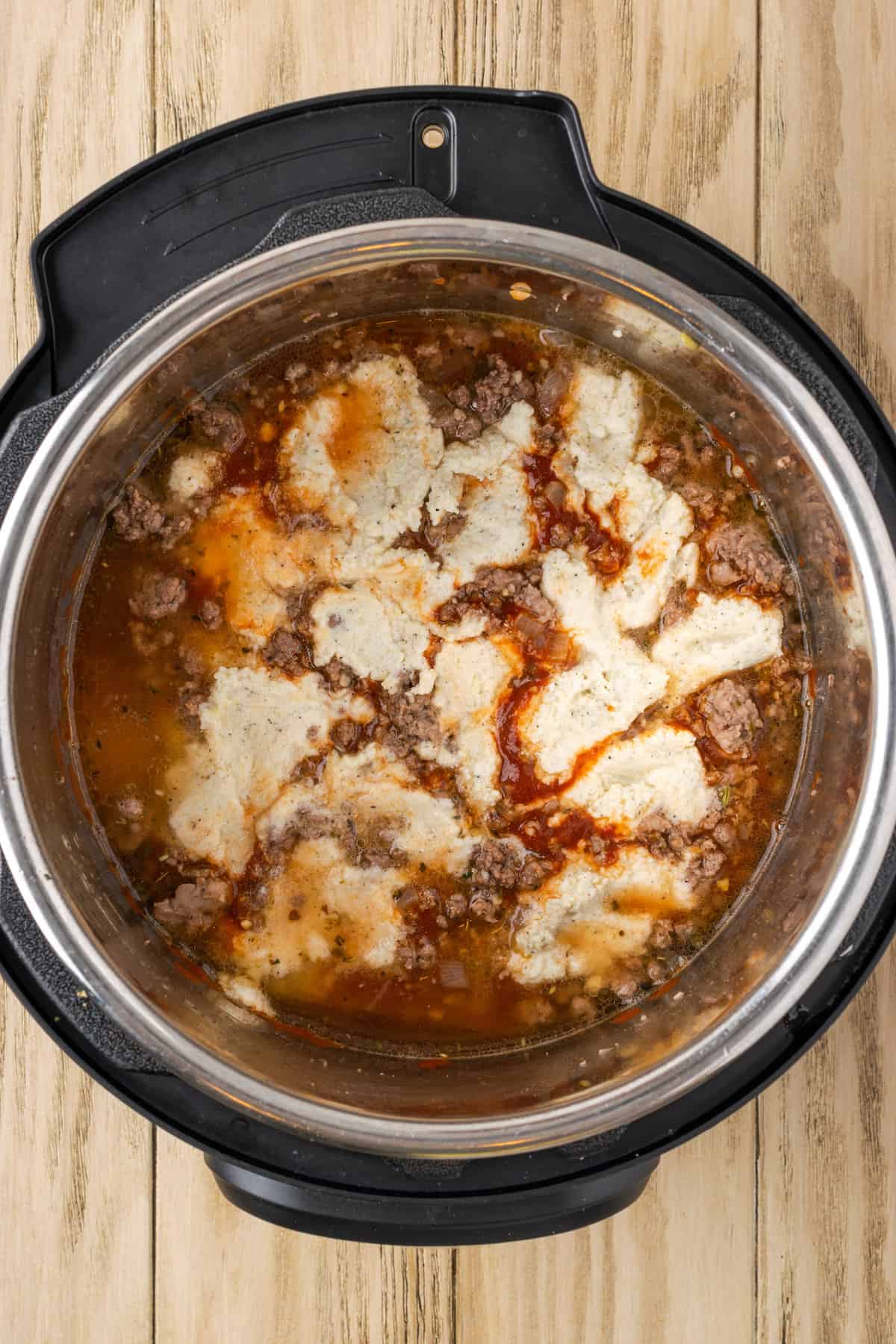 Cook: Close the lid and set the IP to cook on high pressure for 6 minutes. Afterward, naturally release the pressure for 10 minutes before releasing the remaining pressure manually.
Finish and Serve: Open the pot and sprinkle on some shredded mozzarella, then close it again and leave the lasagna on the "keep warm" setting until the cheese is melted. This can take about 15-20 minutes (the perfect amount of time to whip up a fresh Caesar Salad). Then, serve your gluten-free Instant Pot lasagna straight from the pot. See below for more easy serving ideas.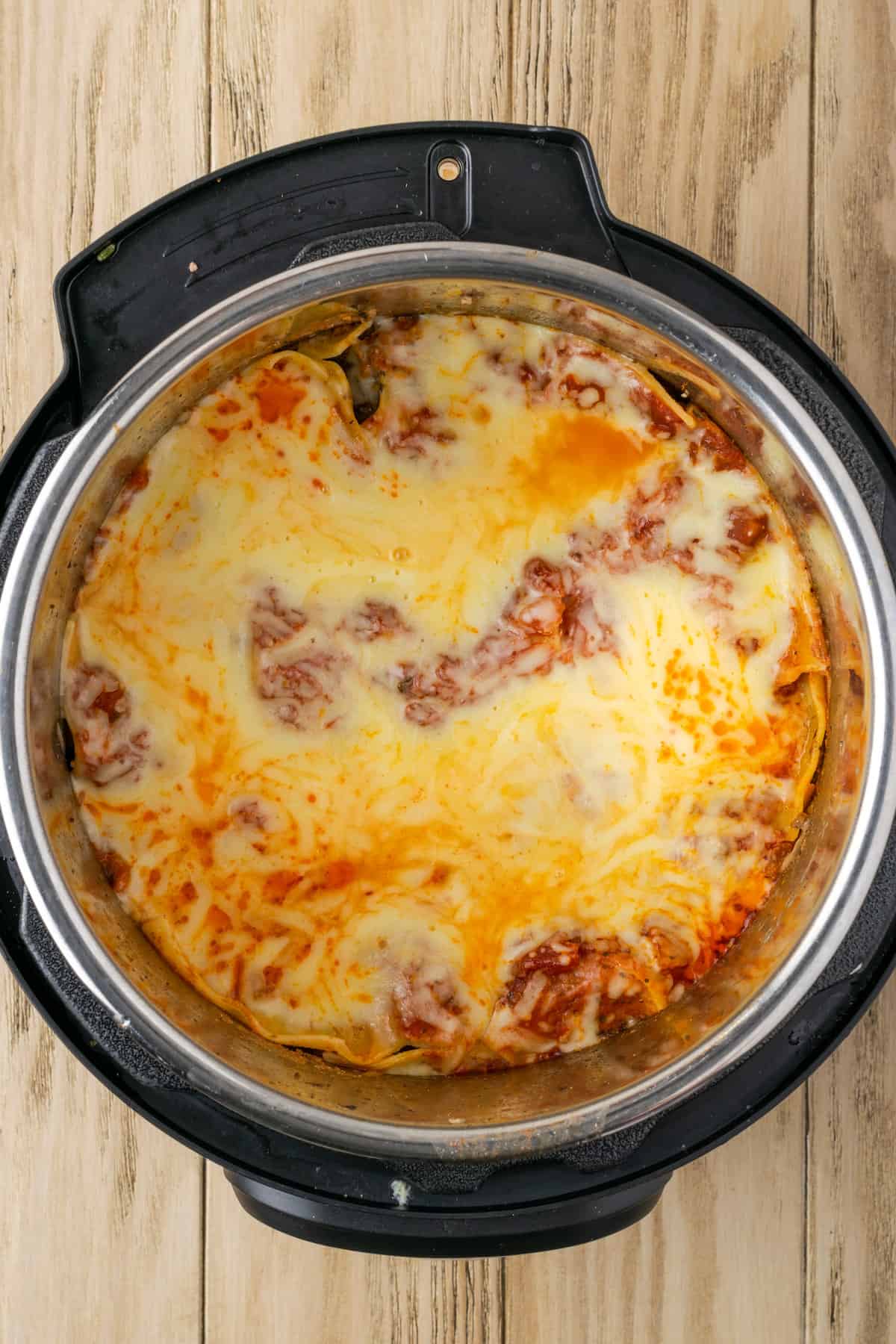 Tips and Variation Ideas
There are lots of ways that you can adapt this Instant Pot lasagna recipe to taste. Here are some last-minute tips for success along with some easy recipe variations:
Use the right noodles. I've tested this recipe using Meuller brand and 365 brand no-boil gluten-free lasagna noodles. Since Instant Pot lasagna cooks quickly, I've found that no-boil noodles are best.
Budget for the time it takes to come to pressure. In the beginning, it can be a bit confusing as to how long it takes to cook lasagna in the pressure cooker (or any recipe for that matter). While the actual cooking time is 6 minutes, the pot will still take about 10 minutes to come to pressure, followed by a 10-minute natural release once the cooking time is up. So make sure to account for that extra time when meal planning.
Try another protein. This recipe uses a combination of ground beef and Italian sausage, however, you can use all ground beef if you prefer. In this case, I recommend adding additional Italian seasoning, as you'll lose some of the flavors that come from the seasoned sausage meat.
Use leaner meat. Since my husband can't eat a lot of pork, I'll sometimes swap in ground turkey or ground chicken in place of the sausage for a leaner lasagna. Just remember the tip above about the seasoning.
Add more veggies. Homemade lasagna is a great way to use leftover or seasonal vegetables. Try adding chopped eggplant or zucchini. You can also swap out the spinach for kale.
Make vegetarian lasagna. Substitute ground meat with mushrooms, cooked lentils, tofu, or your choice of plant-based mince.
Make it spicy. Use hot Italian sausage, or sprinkle in red pepper flakes for a bit of kick.
Can I Make Lasagna In the Oven Instead?
If you don't have an Instant Pot, I recommend my recipe for Gluten Free Lasagna that's baked the traditional way, in a casserole dish in the oven. The ingredients list is similar and it also comes out saucy and amazing.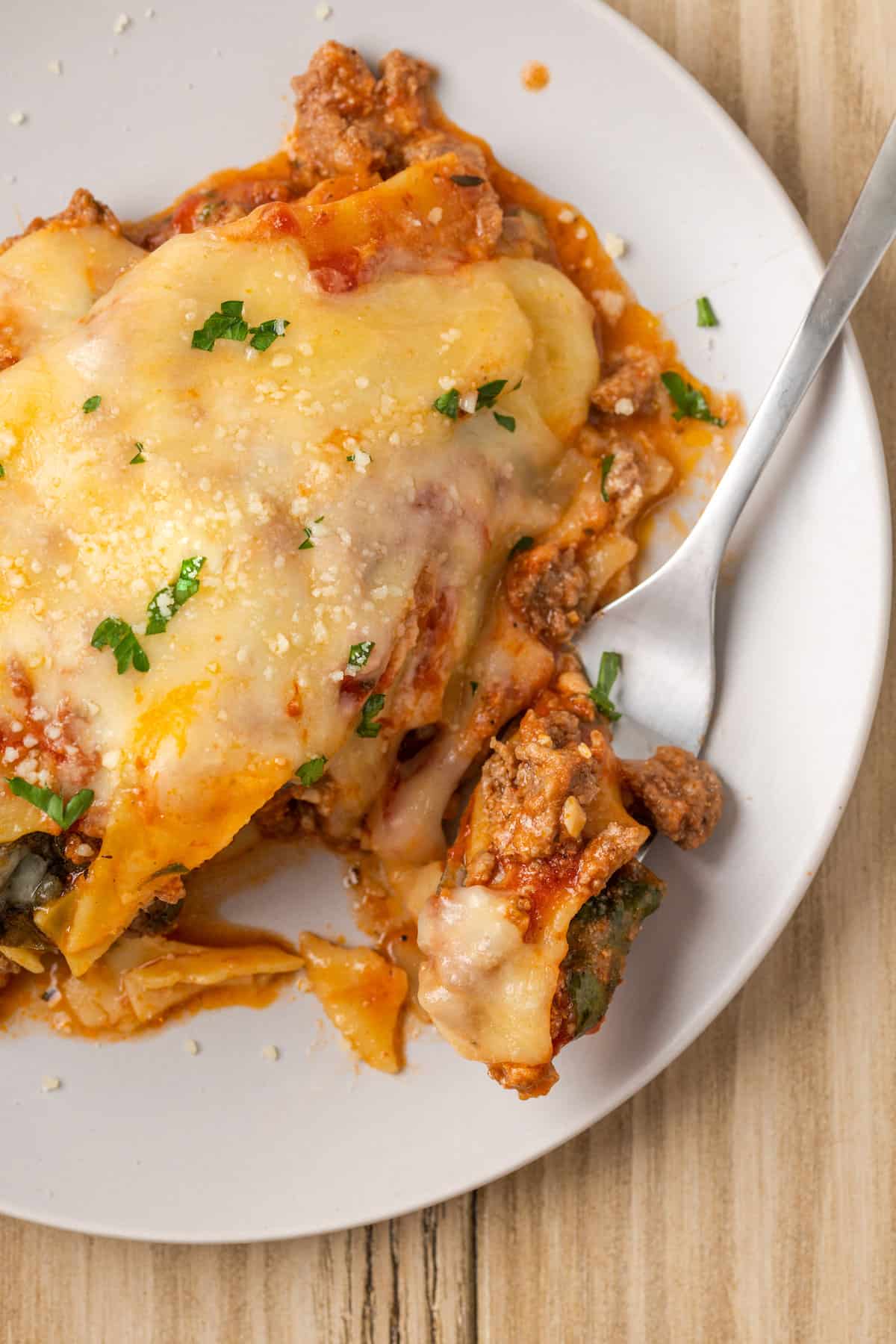 Make It a Meal
This quick and easy gluten-free lasagna is the perfect midweek meal, and it goes with so many delicious sides. I'll prepare an Italian Wedge Salad, or whip up some Air Fryer Asparagus while the lasagna pressure cooks, and have everything ready to serve once the lasagna is ready.
Of course, you'll almost always find a basket of Gluten-Free Garlic Breadsticks or Gluten-Free Dinner Rolls on the table whenever I make homemade lasagna. Fresh bread and that meaty sauce? *Chef's kiss*
For dessert, try following up this hearty lasagna with homemade Gluten-Free Tiramisu!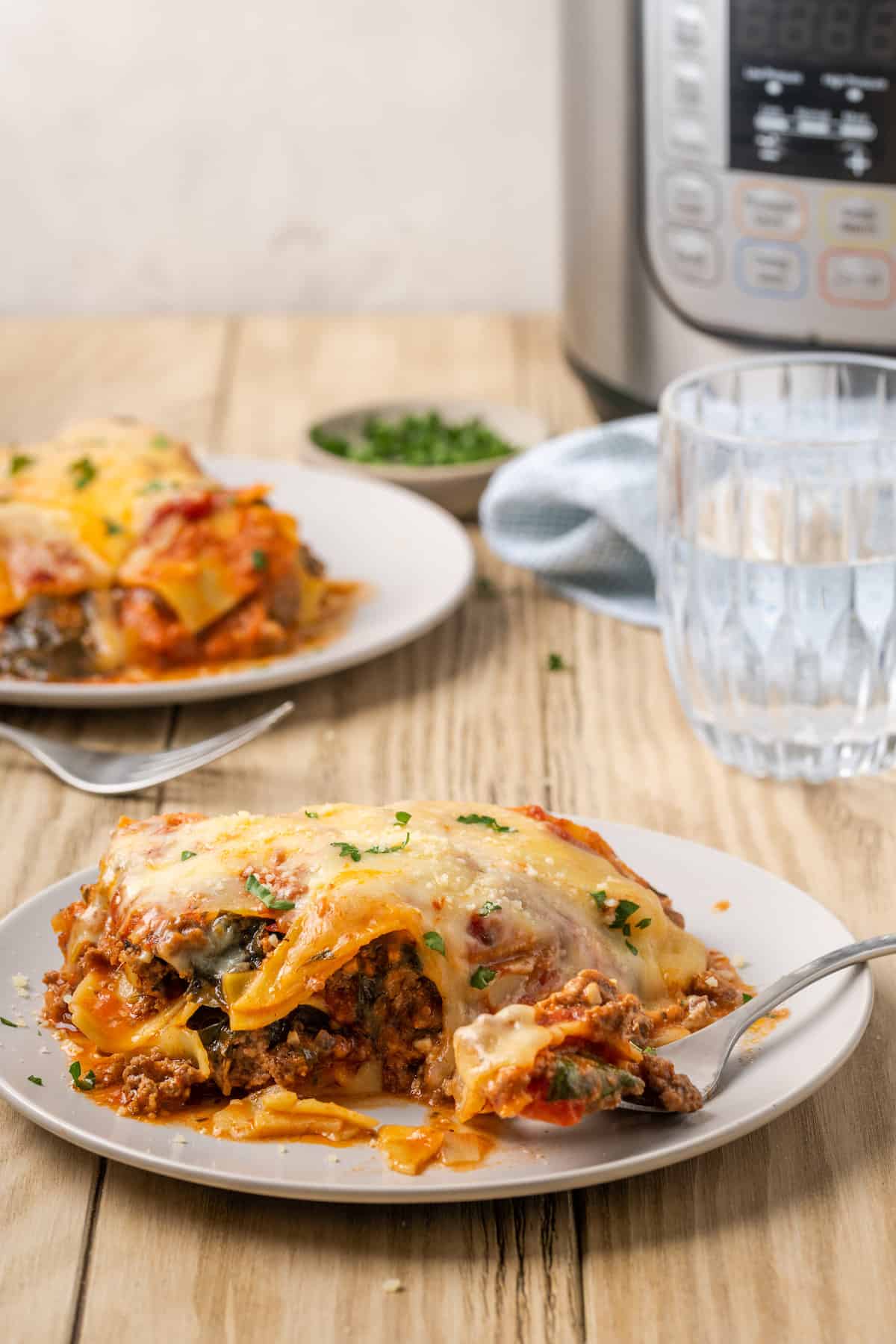 Storing and Reheating Leftover Lasagna
Is it just me, or does homemade lasagna make the BEST leftovers? Sure, the texture will change a little once it's reheated. But what leftover lasagna loses in texture, it makes up for in flavor.
Store any leftover IP lasagna airtight in the fridge for up to 4 days. Reheat servings in the microwave until hot throughout, and enjoy.
Can I Freeze Instant Pot Lasagna?
Yes. Once the gluten-free lasagna has cooled to room temperature, transfer it to a freezer-safe container and freeze it for up to 3 months. Defrost the lasagna in the fridge overnight before reheating.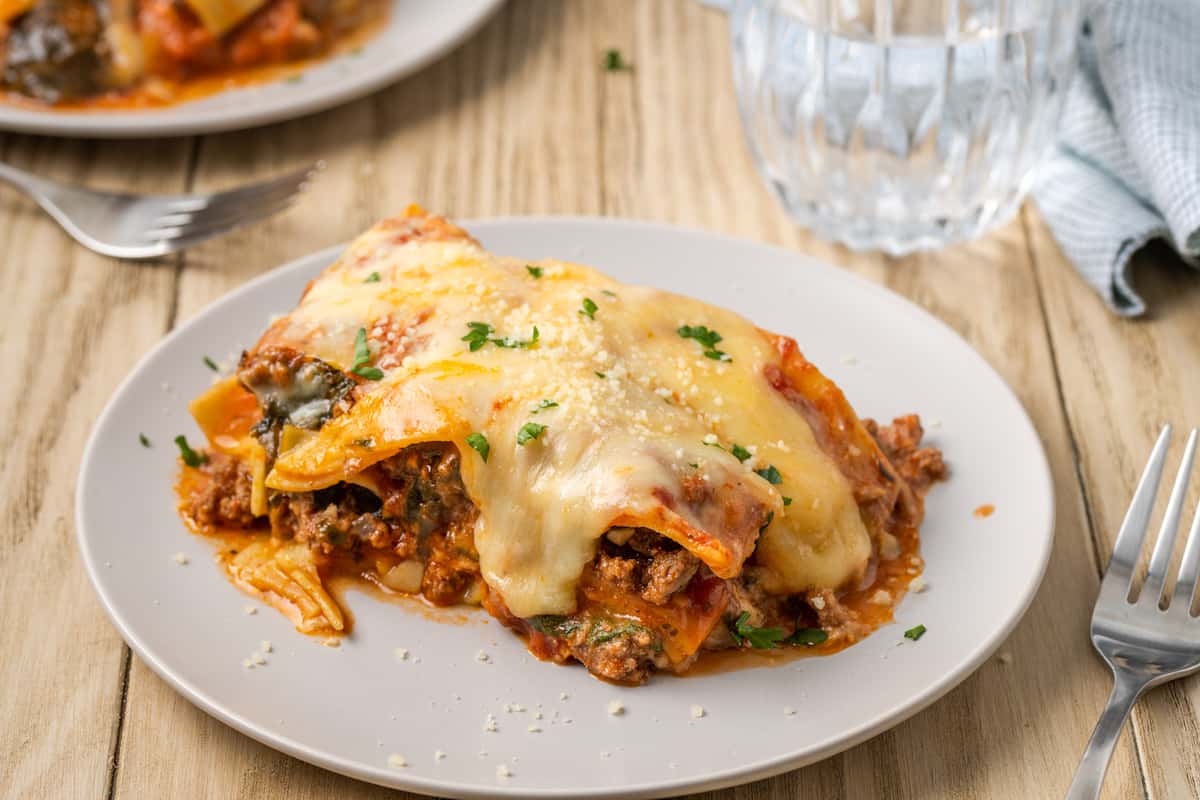 What Instant Pot Do I Need?
A 6-quart Instant Pot will be the perfect size to make this Instant Pot Lasagna. While there are several models in this size, the best budget-friendly option, the Instant Pot Duo 6 Quart 7-in-1, has all the basic features you'll need.
$99.95
in stock
15 used from $61.28
as of Dec 5, 2023 6:13 pm
Last updated on Dec 5, 2023 6:13 pm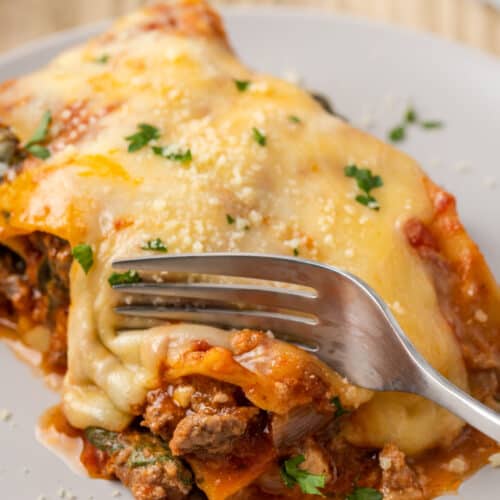 Gluten Free Instant Pot Lasagna
Gluten-Free Instant Pot Lasagna is a hearty and comforting one-pot meal, made from gluten-free lasagna noodles layered with juicy ground meat, leafy spinach, and velvety ricotta cheese.
Ingredients
1

cup

ricotta cheese

1/2

cup

grated parmesan cheese

1/2

teaspoon

salt

1/2

teaspoon

black pepper

1

pound

lean ground beef

1/2

pound

mild Italian sausage

1/2

cup

onion

, diced

2

cloves

garlic

, minced

1

teaspoon

Italian seasoning

1 1/2

cups

water

1

jar

marinara sauce

2

cups

fresh spinach

1 1/4

cups

shredded mozzarella

Approx. 10-12 no-boil gluten free lasagna noodles
Instructions
In a small bowl, combine the ricotta cheese, parmesan cheese, salt and pepper. Mix well and set aside.

Set the instant pot to saute. Add the ground beef, Italian sausage and onion to the instant pot. Cook for 5 minutes. Stirring occasionally.

Add the garlic and Italian seasoning to the beef. Continue to cook until beef is browned.

Turn off the instant pot. Use a slotted spoon to remove the beef to a separate bowl. Pour out the grease, taking care when handling the hot metal pot.

Return the pot to the cooker. Pour in the water. Use a spatula to remove any stuck on bits on the bottom of the pot.

Add 1/3 of the cooked meat back to the pot.

Cover with a layer of lasagna noodles. You will have to break the noodles to make them fit in the pot. The water should cover the noodles just barely.

Spread 1/3 of the marinara sauce over the lasagna noodles. Then add another layer of meat, followed by half of the cheese mixture, followed by half of the spinach. Top that with lasagna noodles and repeat.

Once all of the filing has been used, top with a final layer of lasagna noodles and finish it with marinara sauce.

Put the lid on the instant pot. Set the valve to seal and turn it to high pressure for 6 minutes. Naturally release the steam for 10 minutes, then open the valve to release the remaining steam.

Sprinkle the mozzarella cheese over the cooked lasagna and replace the lid. Let the lasagna sit for about 15-20 minutes with the keep warm setting on.

Remove the lid and serve.
Notes
This recipe was tested with Mueller brand and 365 brand no-boil gluten-free lasagna noodles.
Replace the Italian sausage with additional ground beef and add an additional teaspoon of Italian seasoning. Or replace ground beef with ground turkey for a leaner meal.
Store leftovers in an airtight container in the refrigerator for 3-4 days. Reheat individual servings in the microwave until the internal temperature reaches 165 degrees.
Nutrition Facts
Gluten Free Instant Pot Lasagna
Amount Per Serving
Calories 651
Calories from Fat 297
% Daily Value*
Fat 33g51%
Cholesterol 124mg41%
Sodium 859mg36%
Potassium 501mg14%
Carbohydrates 50g17%
Protein 36g72%
Vitamin A 1358IU27%
Vitamin C 5mg6%
Calcium 315mg32%
Iron 3mg17%
* Percent Daily Values are based on a 2000 calorie diet.
Categories:
More Easy Instant Pot Meal Ideas