World's Best Gluten Free Lasagna Recipe
Disclosure: This post may contain affiliate links. Cupcakes & Kale Chips is a participant in the Amazon Services LLC Associates Program, an affiliate advertising program designed to provide a means for us to earn fees by linking to Amazon.com and affiliated sites.
Gluten Free Lasagna is the ultimate Italian comfort food with layers of rich and hearty meat sauce, three kinds of cheese, and gluten free lasagna noodles. Find out which pasta to choose, and there's no doubt that you'll be calling this the World's Best Gluten Free Lasagna recipe ever!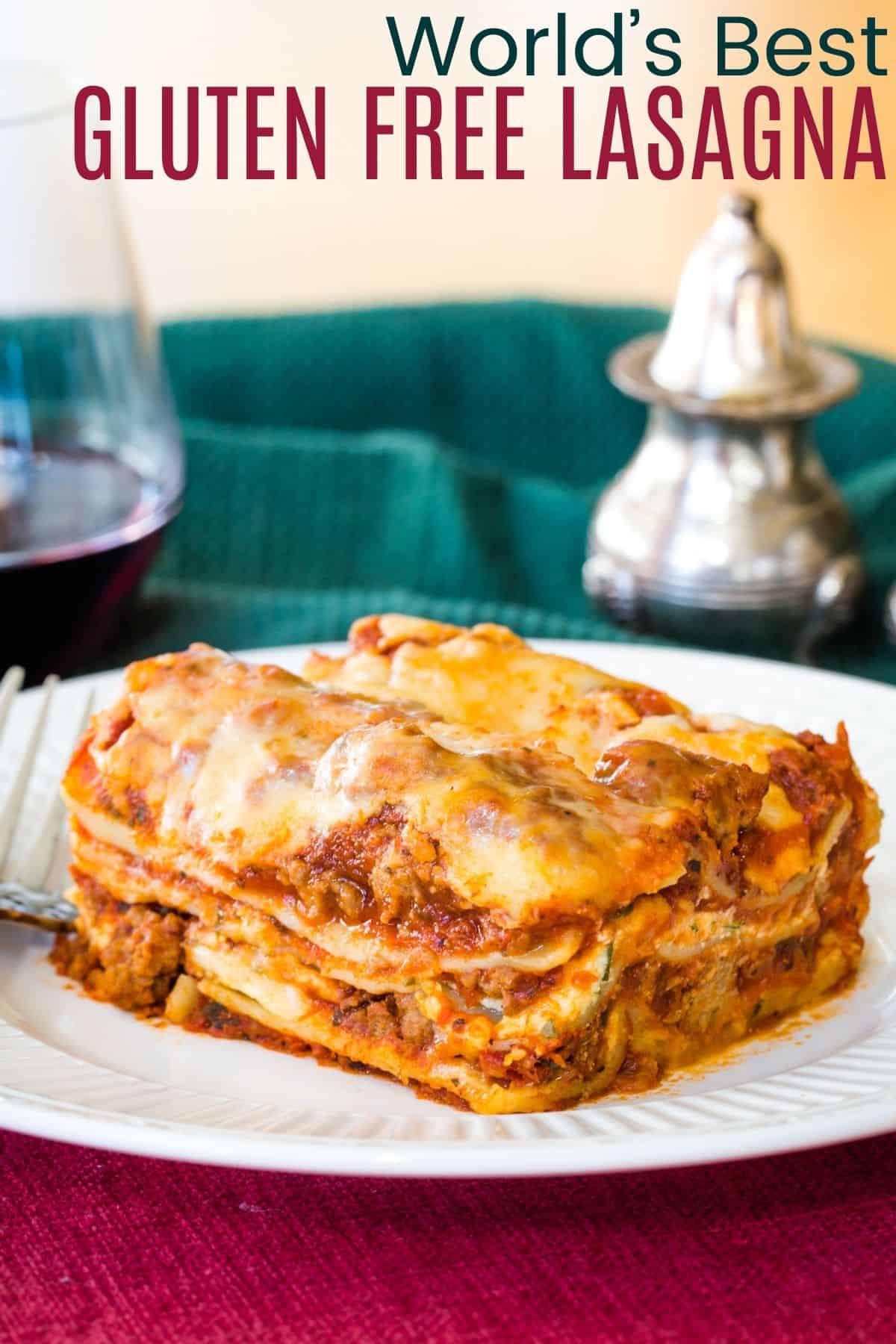 My kid is obsessed with Garfield. I'll be honest, it is adorable and endearing at the same time as it is extremely annoying.
First of all, anything that gets a kid reading for hours on end out of his own free will is a good thing. Albeit, it's in disjointed speech bubbles and thought balloons without any level of scene-setting or detail. I mean, who needs adjectives anyway? But he reads.
And he curls up on the couch or in his bed with his book and just laughs and laughs. If you've ever heard this kid laugh, you'd know how this could warm even the coldest, blackest of hearts. He has this deep belly laugh that just fills the room.
But then he will retell each and every Garfield comic to me. The kicker is that he will start to tell me what happened, say the wrong thing, forget what he was saying, start over, and still get the joke wrong. A four-block comic strip that I could read in two minutes takes him 20 minutes to recount.
However, I listen. And I laugh. As moms do.
My bigger issue is the neverending requests for a lasagna dinner. But at least it was the motivation I needed to take the World's Best Lasagna recipe and turn it into the World's Best Gluten Free Lasagna recipe.
How to make lasagna gluten free?
There are some traditional lasagna recipes that call for a bechamel. This is a white cream sauce traditionally thickened with a roux made with flour and butter. This recipe does not have a bechamel sauce, so that is not a concern. But you do still get that creaminess in this gluten free lasagna with ricotta cheese mixture instead. Ricotta cheese is gluten free, and it is simply mixed with egg, salt, and fresh parsley.
Then there is this epically delicious sauce. That is definitely a major part of what makes it one of the best gluten free casserole recipes.
What is in the best gluten free lasagna sauce?
Pork or turkey sausage and ground beef – do read the labels on your sausage, but most that I've seen are gluten free. If you buy pre-packaged ground beef, there is the possibility of added fillers. This is why I typically buy it ground in the store or I do check the labels on any pre-packaged meats.
Onion, garlic, and fresh parsley – these fresh ingredients are always gluten free,
Canned tomato sauce, tomato paste, and crushed tomatoes – in most cases, these products are gluten free. Do be aware of added seasonings in tomato sauce and crushed tomatoes. I usually use Tuttorosso, in particular for Crushed Tomatoes because it is my favorite.
Dried herbs and seasonings – this is another case where most brands are safe, especially for single herbs. But mixes, such as the Italian Seasoning, can be a risk. So check your labels. McCormick has all of their information on their website, and the only concern is occasionally the blends or other mixes. But all of their ingredients in this recipe are gluten free, including the Italian Seasoning.
Cheese – Ricotta cheese is typically not a concern. I

f you buy pre-grated parmesan cheese or shredded mozzarella cheese, just check your labels for additives or fillers. I do recommend shredding your own mozzarella as it melts better than pre-shredded.
What are the best gluten free lasagna noodles?
Hands down, I only recommend Barilla Gluten Free Oven-Ready Lasagne noodles. These are no-boil noodles that you just layer in a baking dish with the other ingredients. I recommend these for several reasons:
No-boil noodles are less work.
No-boil noodles absorb some of the liquid in the sauce while cooking so you can add plenty of sauce to keep it moist and flavorful, and still end up being able to cut nice slices.
Other brands do not have as good of a flavor and rice noodles tend to have a grittier texture. Plus they do not hold up well to the process of boiling and baking and can leave you with a pile of mush.
Where can I buy Barilla gluten free lasagna noodles?
I've already told you why you these are my favorite gluten free lasagna noodles, but now the question is where to get them. I have often seen them at my regular grocery stores and even at Target, but you can also order from Barilla Gluten Free Oven-Ready Lasagne from Amazon!
How to layer lasagna?
I like three layers of noodles with a good amount of meat sauce and all of the cheeses in between. Plus you can't forget a golden and gooey mozzarella layer on top. Here is how it goes.
Start with a layer of sauce on the bottom.
Add one layer of noodles.
Top with sauce, half of the ricotta mixture, one-third of the mozzarella, and one-third of the parmesan.
Add the second layer of noodles
Repeat with more sauce, the other half of the ricotta mixture, plus half of the remaining mozzarella and parmesan.
Add the final layer of noodles.
Top with sauce, mozzarella cheese, and parmesan cheese.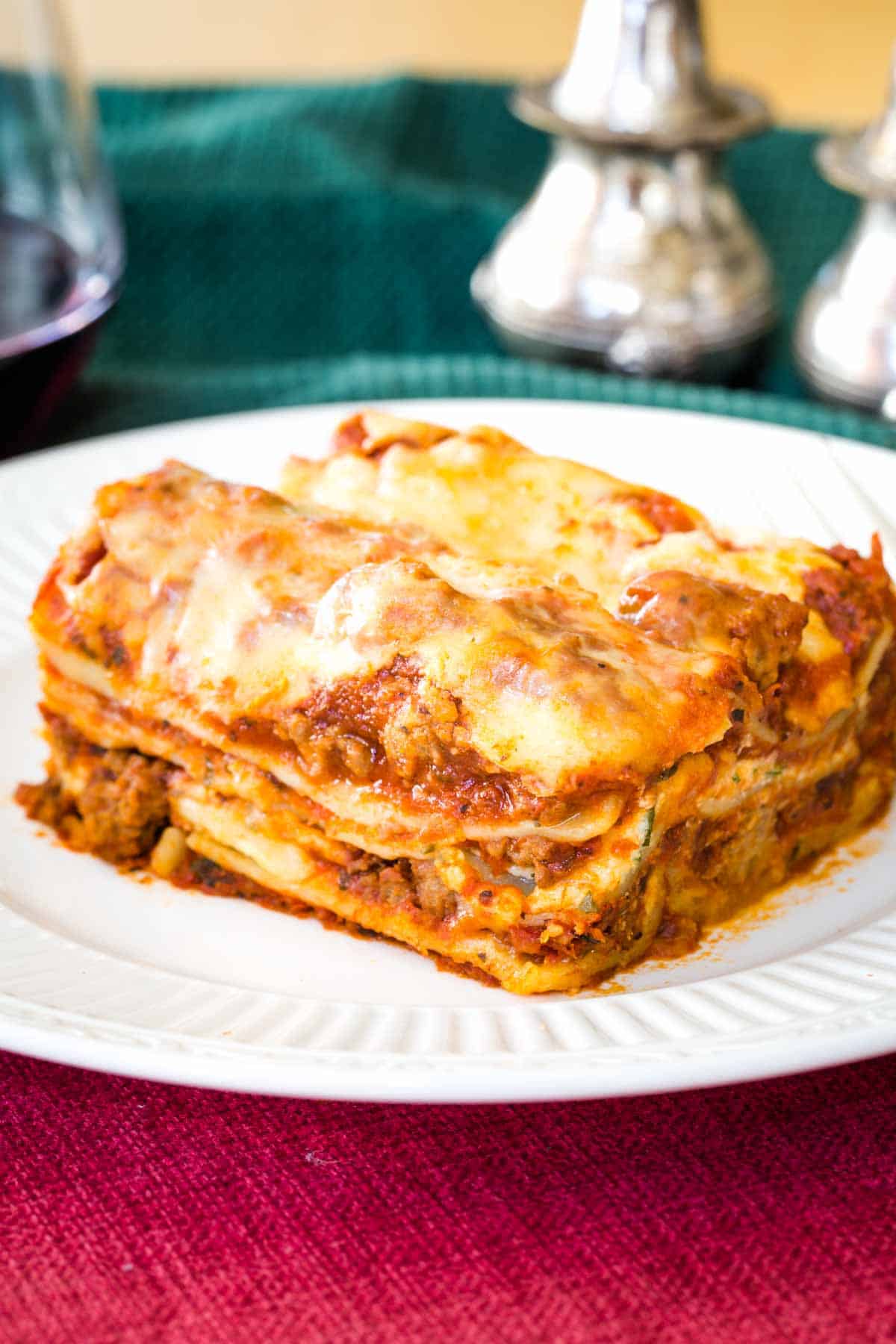 Pro Tips:
I typically use turkey sausage to make it a little less greasy and cut out a few calories (and mainly because my husband can't eat much pork). But any kind of Italian sausage is fine. Like a little more heat? Use hot Italian sausage.
The original recipe calls for a couple of tablespoons of sugar. Some say that this helps balance the acidity in the sauce. I don't feel that it is necessary, so it's your call whether you use it or not.
I like to simmer the sauce for no less than an hour and a half. In fact, I'll often make it the day before I assemble the lasagna. You can also mix the ricotta in advance and keep it in the fridge overnight if you want to assemble the lasagna the next day.
As I mentioned, while the texture does change slightly, this lasagna, when using the Barilla lasagna noodles, has held up well to reheating and even freezing and reheating.
What do you serve with gluten free lasagna?

What else can you make with gluten free noodles?
I've made all of these recipes with gluten free pasta, so give them a try and enjoy your favorite pasta dishes as part of your gluten free lifestyle.
Love lasagna but looking for a low carb lasagna option?
World's Best Gluten Free Lasagna Recipe
This is guaranteed to be the best lasagna recipe you've ever had. And by making it with the best gluten free lasagna noodles, you won't even know the difference. This hearty Italian comfort food is always a family favorite. Now everyone can enjoy the layers of pasta, meat sauce, and creamy, gooey cheese, even if you have to eat gluten free. It is truly a labor of love.
I hope you'll leave a comment and give it a FIVE STAR rating or share a photo on this pin on Pinterest!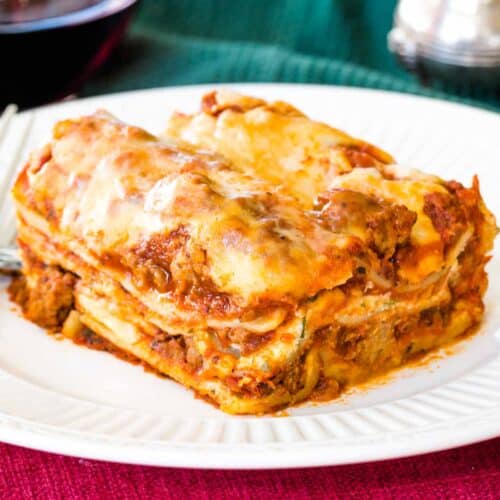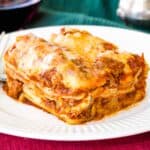 Print Recipe
World's Best Gluten Free Lasagna
The ultimate in gluten free Italian comfort food with layers of hearty meat sauce, creamy ricotta cheese, and gooey mozzarella between sheets of gluten free lasagna noodles.
Ingredients
For the meat sauce:
1

pound

sweet Italian turkey sausage

3/4

pound

lean ground beef

1/2

cup

onion

, minced

2

cloves

garlic

, crushed

28

ounce

can crushed tomatoes

(Tuttorosso is recommended)

12

ounce

can tomato paste

(or two 6 ounce cans)

15

ounce

can tomato sauce

1/2

cup

water

2

Tablespoons

sugar

(optional)

1 1/2

teaspoons

dried basil leaves

1

teaspoon

Italian seasoning

2

teaspoons

salt

1/4

teaspoon

ground black pepper

2

Tablespoons

chopped fresh parsley
For the ricotta cheese mixture:
16

ounces

ricotta cheese

1

egg

2

Tablepsoons

chopped fresh parsley

1/2

teaspoon

salt
For assembling the lasagna:
1 1/2

cups

shredded mozzarella cheese

3/4

cups

grated Parmesan cheese
Instructions
For the meat sauce:
In a large Dutch oven, cook sausage, ground beef, onion, and garlic over medium heat until cooked through and browned. Drain any excess grease, if needed.

Add the crushed tomatoes, tomato paste, tomato sauce, and water, and stir everything together.

Add sugar (if using), basil, Italian seasoning, 2 teaspoons salt, pepper, and 2 Tablespoons parsley, and stir to combine.

Simmer, covered, for at least 1½ hours, stirring occasionally. I usually try to simmer for as long as possible.
For the ricotta cheese mixture:
In a bowl, combine ricotta cheese, egg, 2 Tablespoons parsley, and ½ teaspoon salt. Refrigerate until needed.
For assembling the lasagna:
Preheat oven to 375°F.

To assemble, spread 1½ cups of meat sauce in the bottom of a 9×13 inch baking dish. Arrange a single layer of three noodles over meat sauce.

Spread with one half of the ricotta cheese mixture. Top with 1/2 cup of mozzarella cheese.

Spoon 1½ cups meat sauce over mozzarella, and sprinkle with ¼ cup Parmesan cheese.

Repeat layers, and top with remaining mozzarella and Parmesan cheese.

Cover with foil and bake in preheated oven for 25 minutes.

Remove foil, and bake an additional 25 minutes.

Cool for 15 minutes before serving.
Notes
Adapted from this World's Best Lasagna recipe on AllRecipes.
Nutrition
Serving:
1
slice
|
Calories:
388
kcal
|
Carbohydrates:
37
g
|
Protein:
26
g
|
Fat:
15
g
|
Saturated Fat:
8
g
|
Cholesterol:
87
mg
|
Sodium:
1572
mg
|
Potassium:
851
mg
|
Fiber:
3
g
|
Sugar:
11
g
|
Vitamin A:
1190
IU
|
Vitamin C:
28.1
mg
|
Calcium:
277
mg
|
Iron:
6.9
mg
Enjoy!
For more yumminess from me and my foodie friends, keep up with me on…
Or sign up to have Cupcakes & Kale Chips delivered straight to your Inbox!