This post may contain affiliate links. Read my disclosure policy.
These three-layer Gluten-Free Rainbow Cookies are a stunning almond-flavored treat for the holidays topped with chocolate. Add them to your Christmas cookie tray along with Gluten Free Snowball Cookies or Gingersnap Cookies!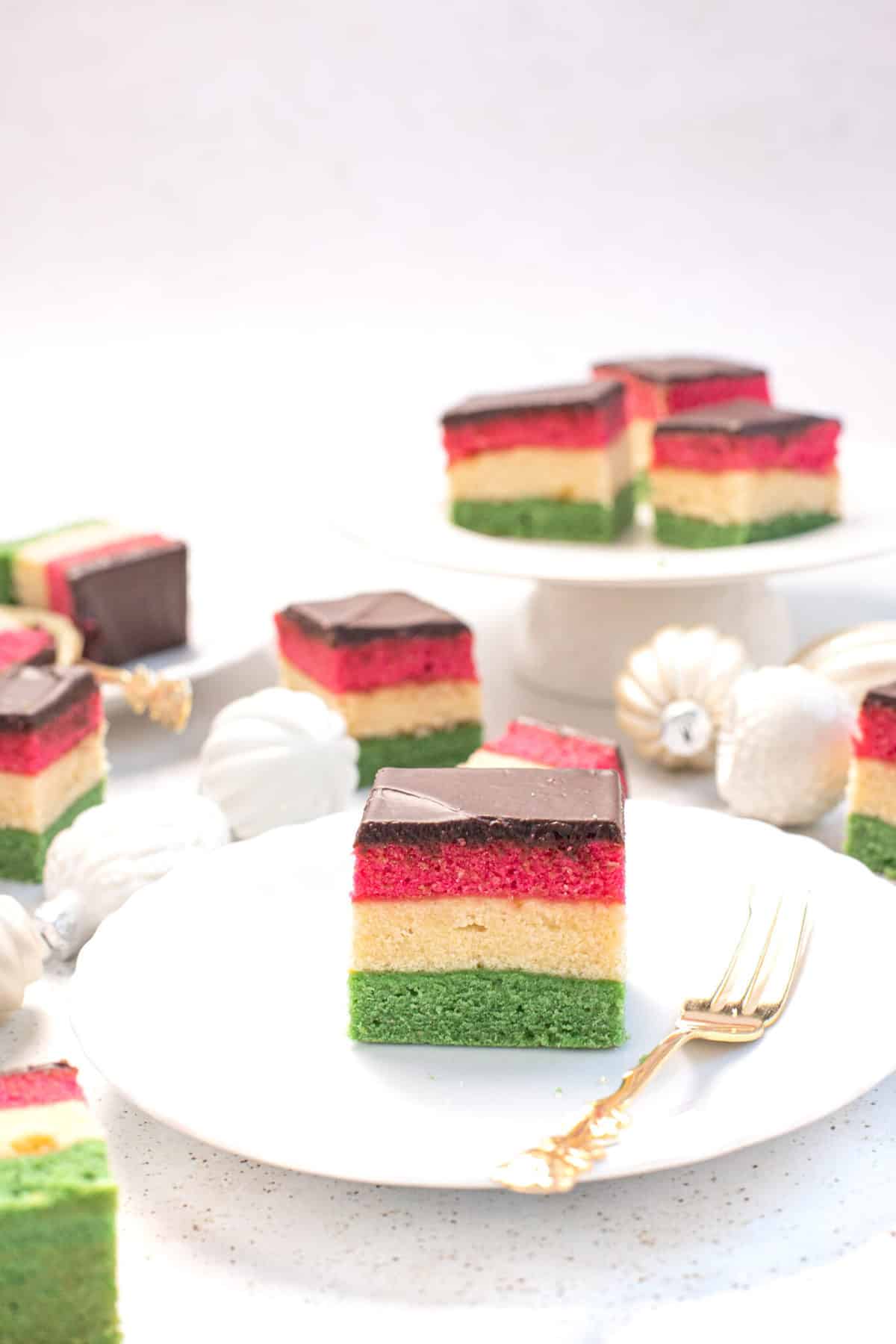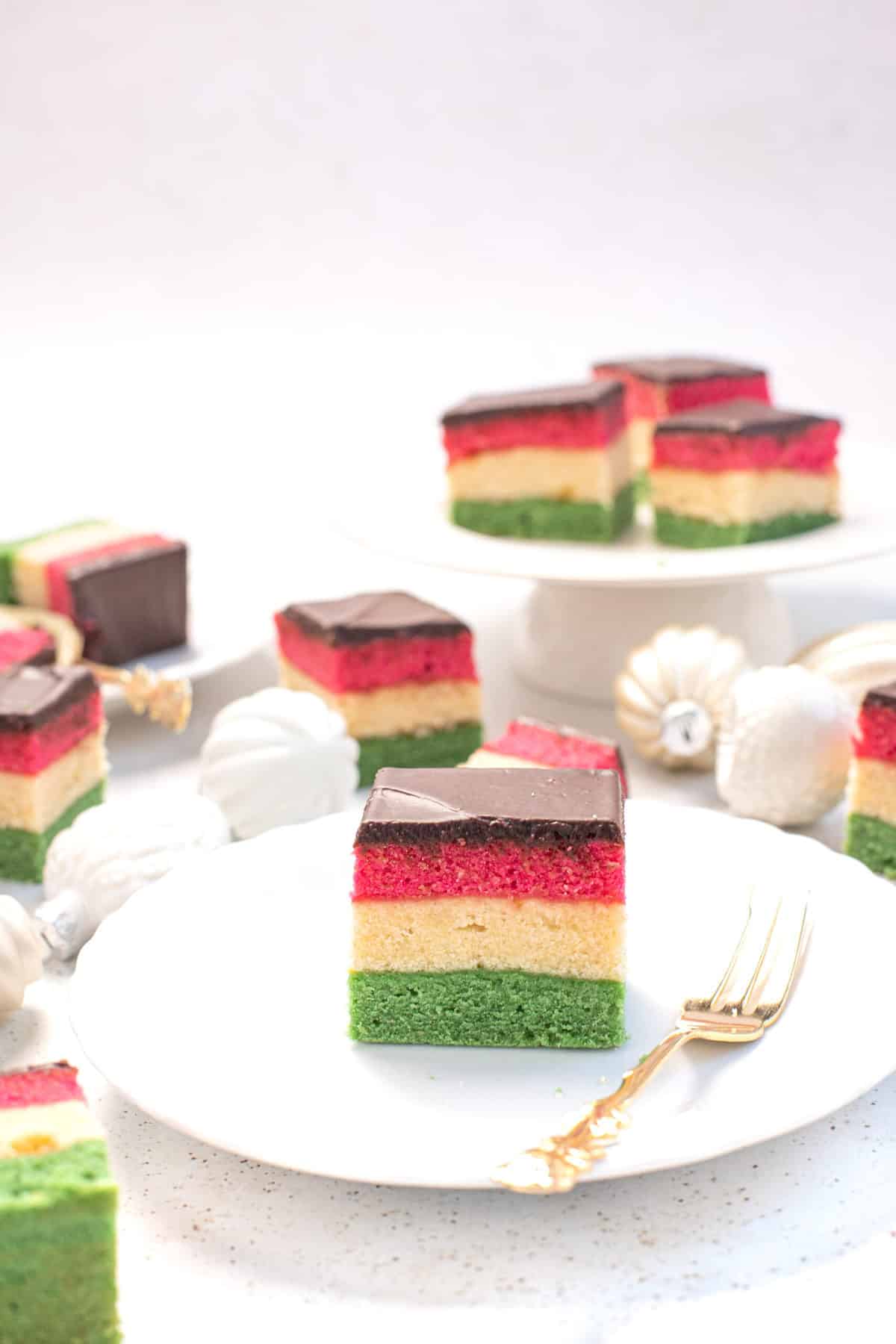 Gluten Free Italian Rainbow Cookies
There are some classic holiday cookies like Gingerbread Men, Peppermint Meringues, and Frosted Sugar Cookies. But this year, if you want to add some extra color and flavor to your holiday cookie spread, you'll love these beautiful rainbow cookies. They're gluten free but have a dense, moist, and creamy texture thanks to marzipan. And of course, the cookies' color is an instant nod to the festive time of year.
While you can make these layered cookies any time of year with all sorts of pretty colors, I love them around the holidays, and I think you will too. Don't forget the shiny chocolate glaze on top because there's never too much chocolate on a dessert plate!
What Are Rainbow Cookies?
If you haven't seen or tried these cookies before, you're in for a treat. These layered cookies are a classic Italian-American dessert. They're made by layering three thin sponge cakes on top of each other. In between the cake layers is a thin coating of apricot jam. This holds the cake together and adds an extra dose of moisture that seeps into the cake layers. On top is a thin and shiny chocolate glaze that adds a festive note to tie your dessert together.
These cookies were invented in Italian-American bakeries in New York City. The colors represent the Italian flag. Today, you'll find them all over Italian communities around Christmas.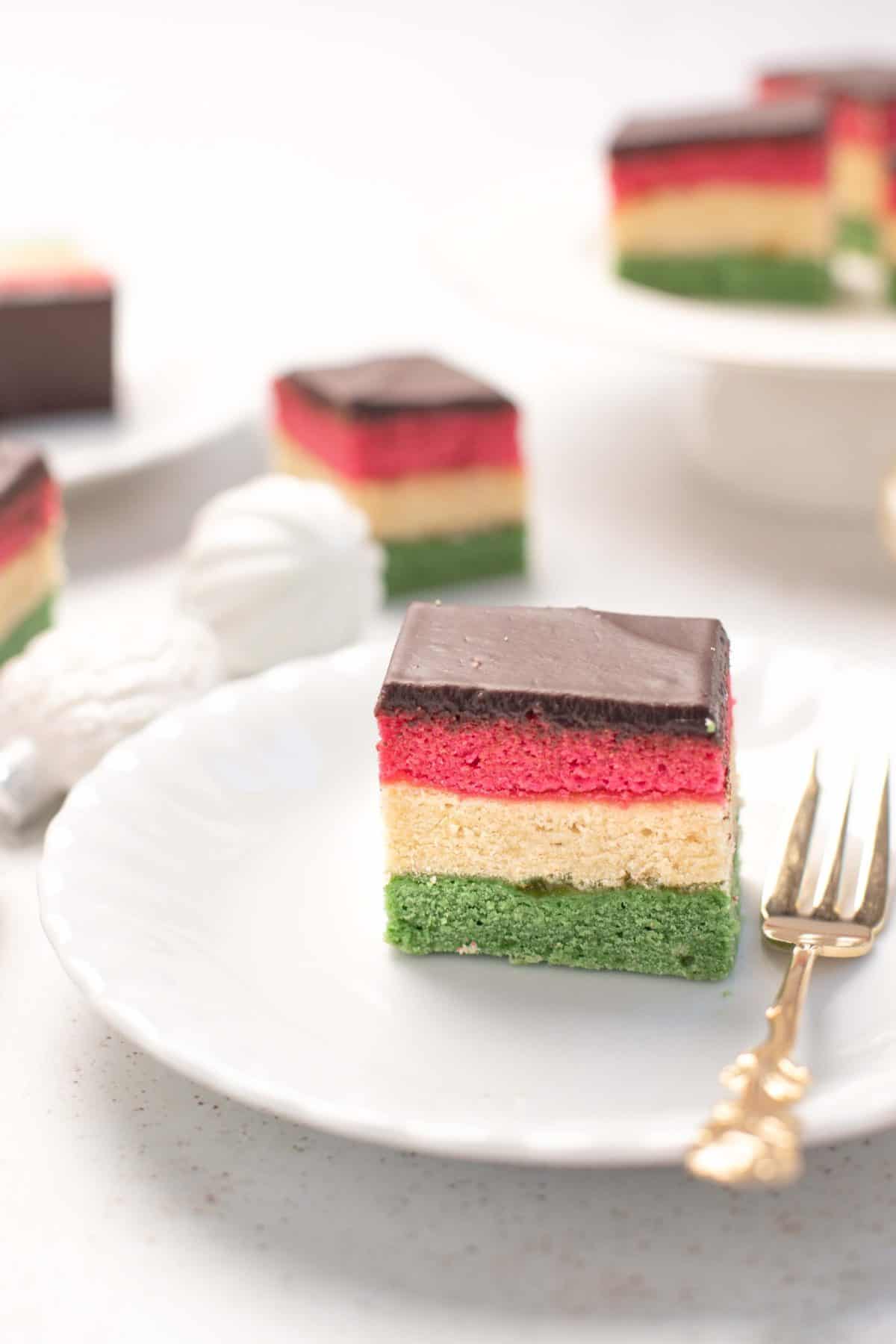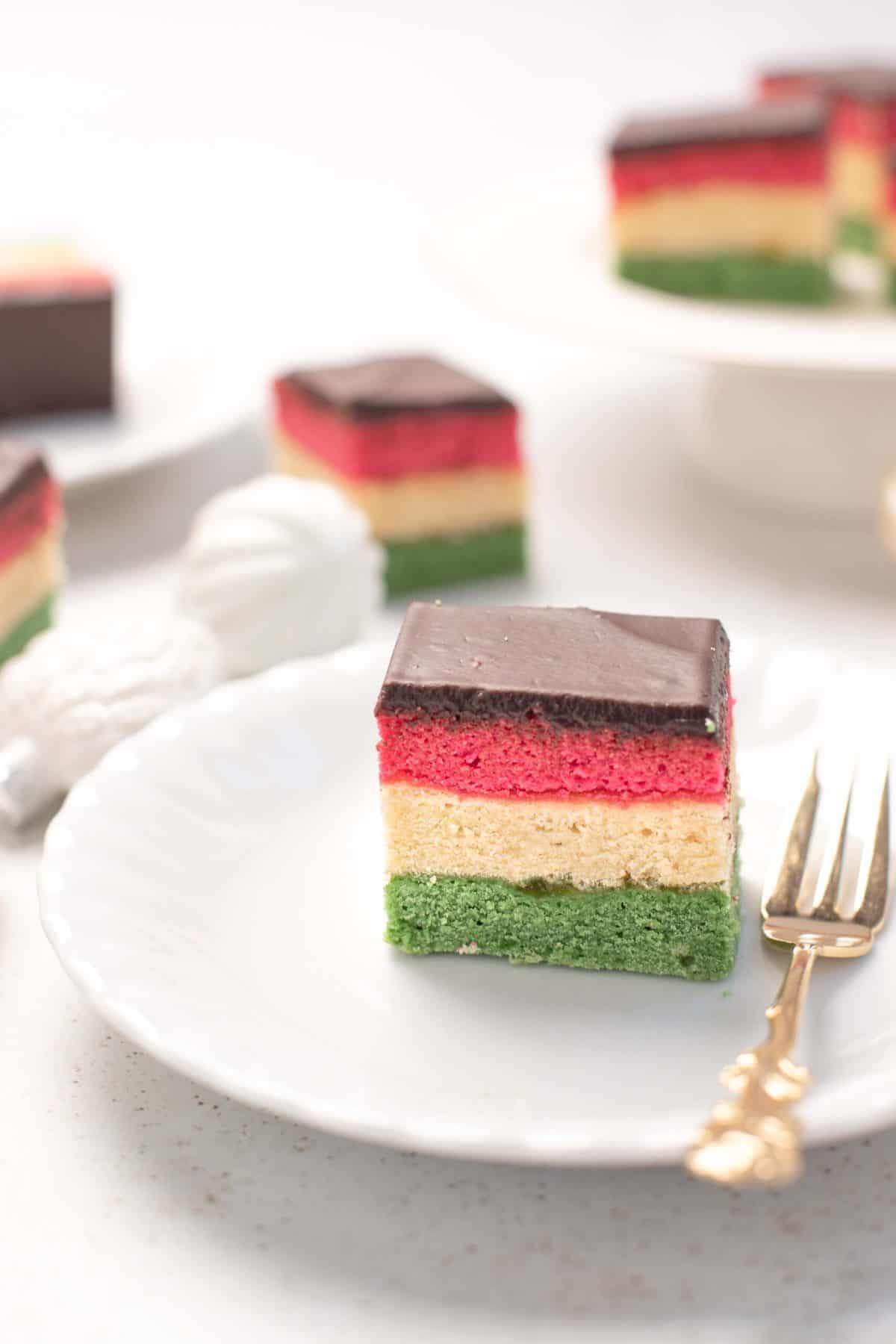 What Makes this Recipe Work
This recipe works well for several reasons.
First, the cakes are made with a combination of gluten-free all-purpose flour and tapioca flour. Tapioca is a great gluten-free flour alternative that acts as a binder so your sponge cakes hold their shape well without crumbling.
In addition, you'll beat egg whites to stiff peaks. This gives sponge cakes their signature airy texture and lightness.
Finally, when the cakes are all baked and assembled, everything is pressed and chilled for several hours. This step helps the sweet apricot jam soak into the sponge cake for more flavor and moisture. It also helps the layer cookies hold their shape better when you slice them.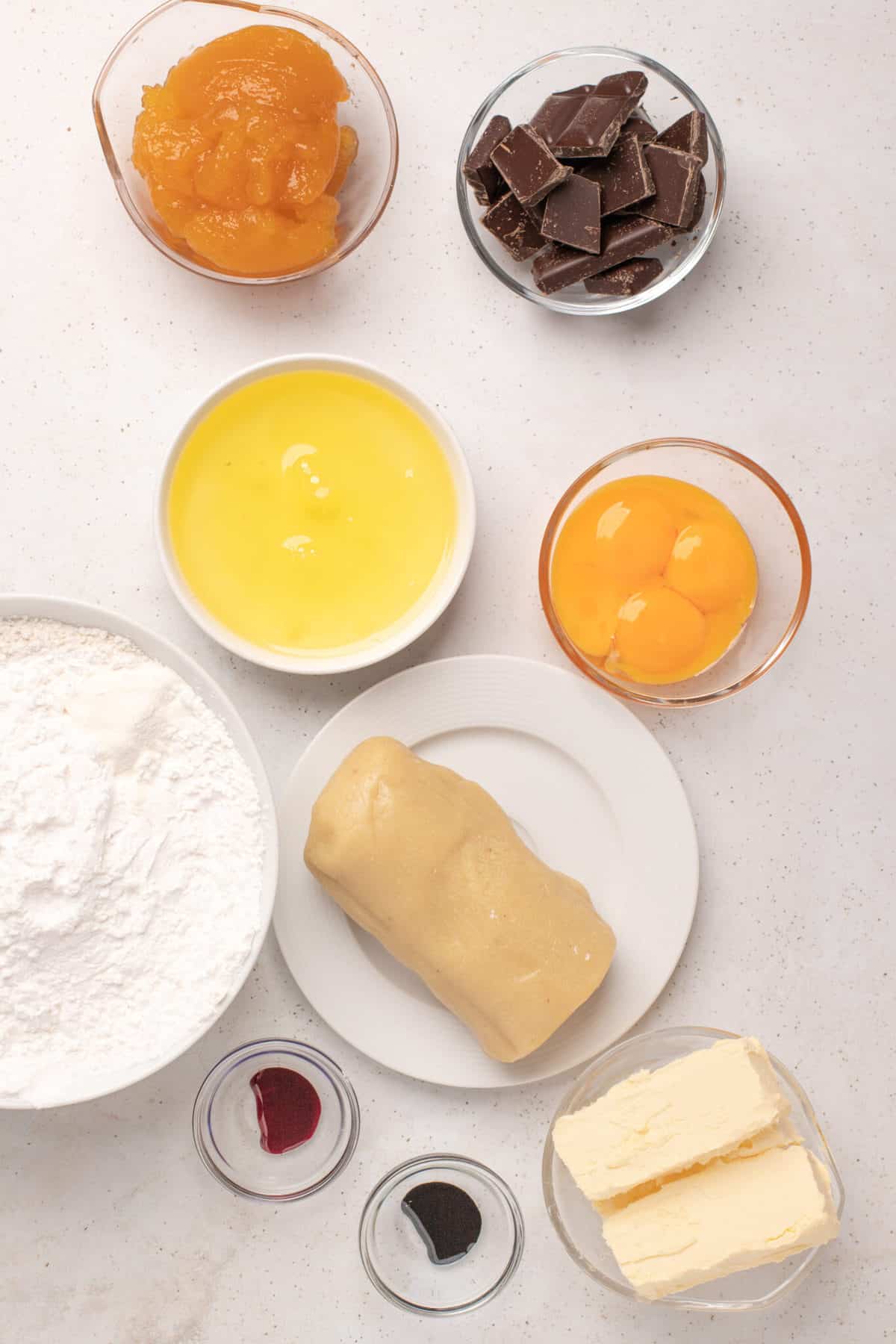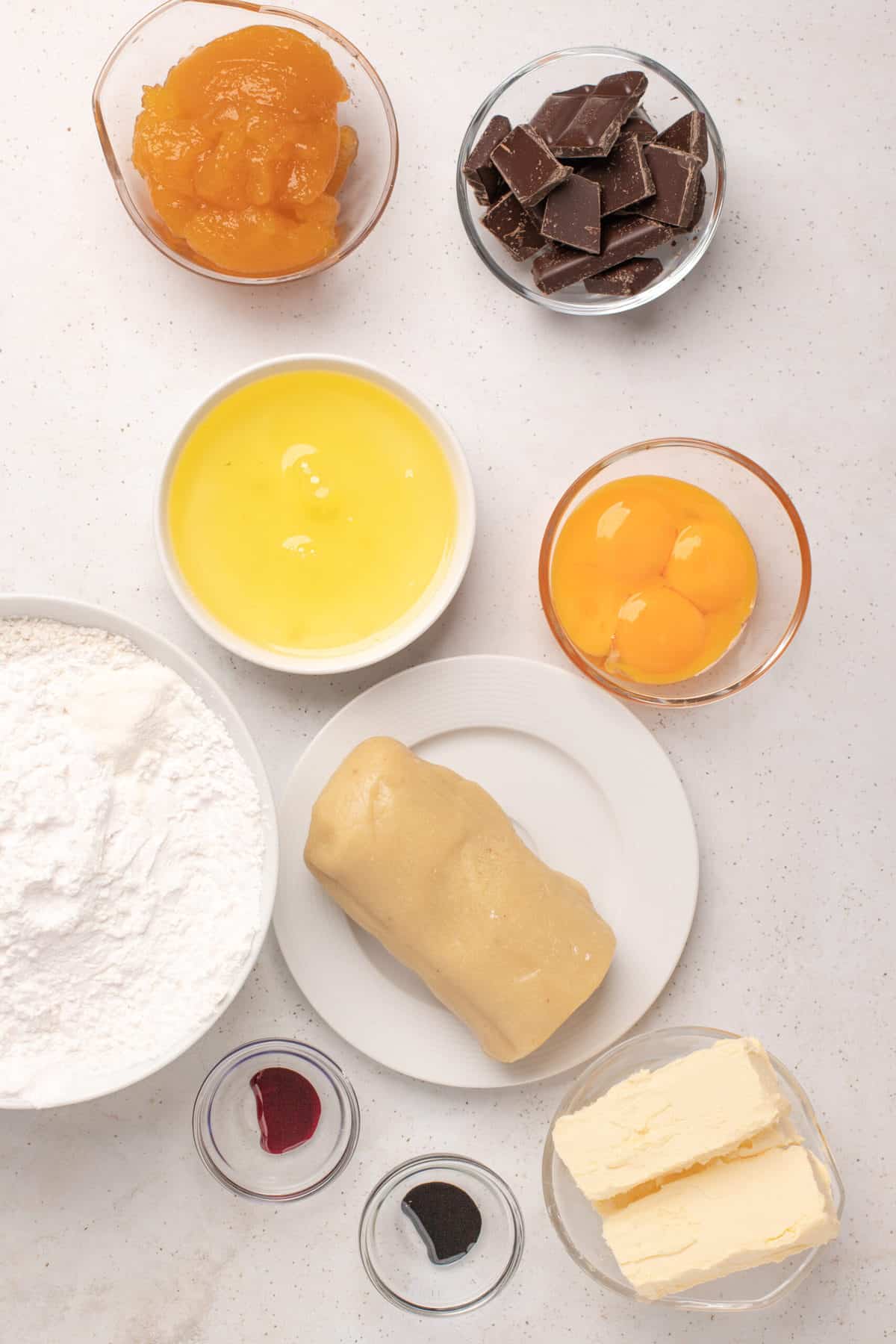 Ingredients
The ingredients in these cookies yield the softest, springiest texture with a rich, nutty flavor. Here's what you need to make these beautiful layer cookies:
Almond paste. Make sure it is gluten free. Some brands have gluten ingredients. (See my guide for How to Read Labels)
Eggs. You'll use the whites and yolks separately in this recipe.
Sugar
Butter. Use unsalted.
Almond extract. To intensify that almond flavor.
Gluten-free flour. I used Bob's Red Mill 1-to-1 all-purpose flour blend.
Tapioca flour. You can also find this from Bob's Red Mill.
Baking powder
Xanthan gum. You can find this online or at a well-stocked grocery store.
Salt. Enhanced the sweet and nutty flavors.
Apricot jam. Feel free to use a different flavor if you prefer.
Chocolate. I use semi-sweet or dark for these cookies.
Food coloring. Use red and green for a holiday vibe.
How to Make Gluten Free Rainbow Cookies
You'll need three mixing bowls, three quarter sheet baking pans, and parchment paper to make these cookies. Once you have the ingredients and equipment ready, here's how to make these gluten-free holiday cookies:
Combine the wet ingredients: In a mixing bowl, combine the almond paste, butter, sugar, egg yolk, and almond extract until light and fluffy, about 5-6 minutes.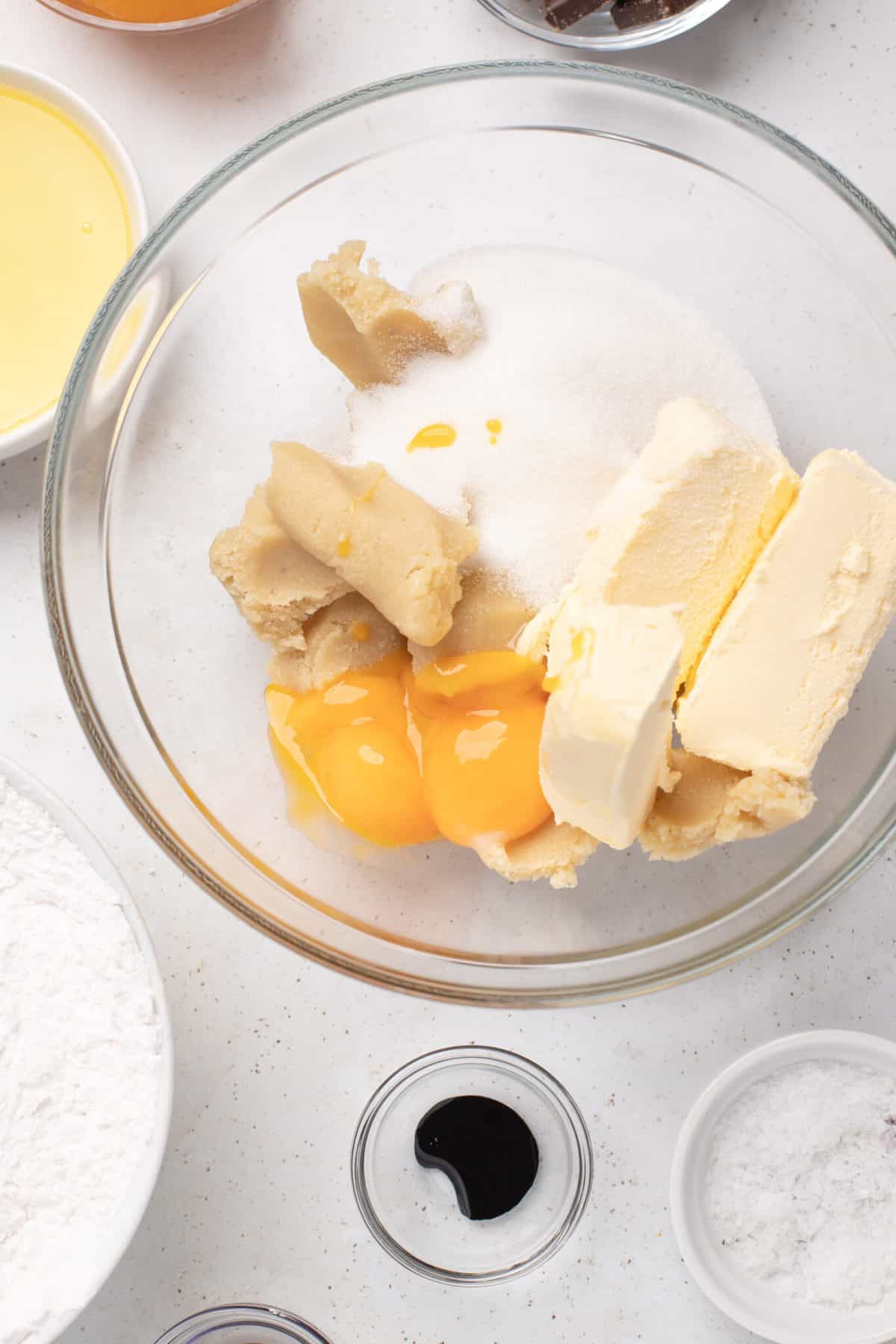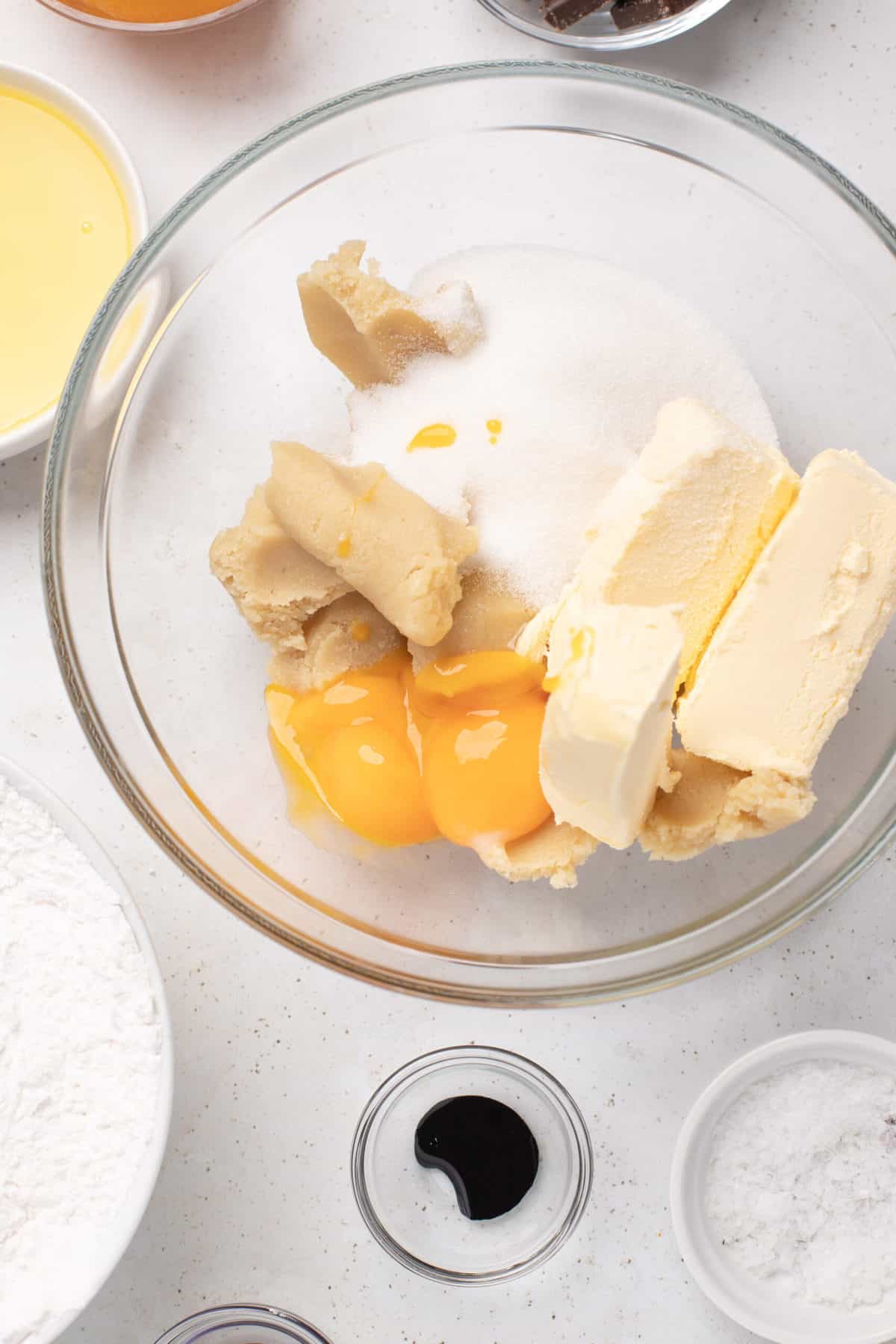 Combine the dry ingredients: In a separate bowl, combine the flour, baking powder, and xanthan gum. Add the dry ingredients to the wet ingredients, mixing until evenly combined.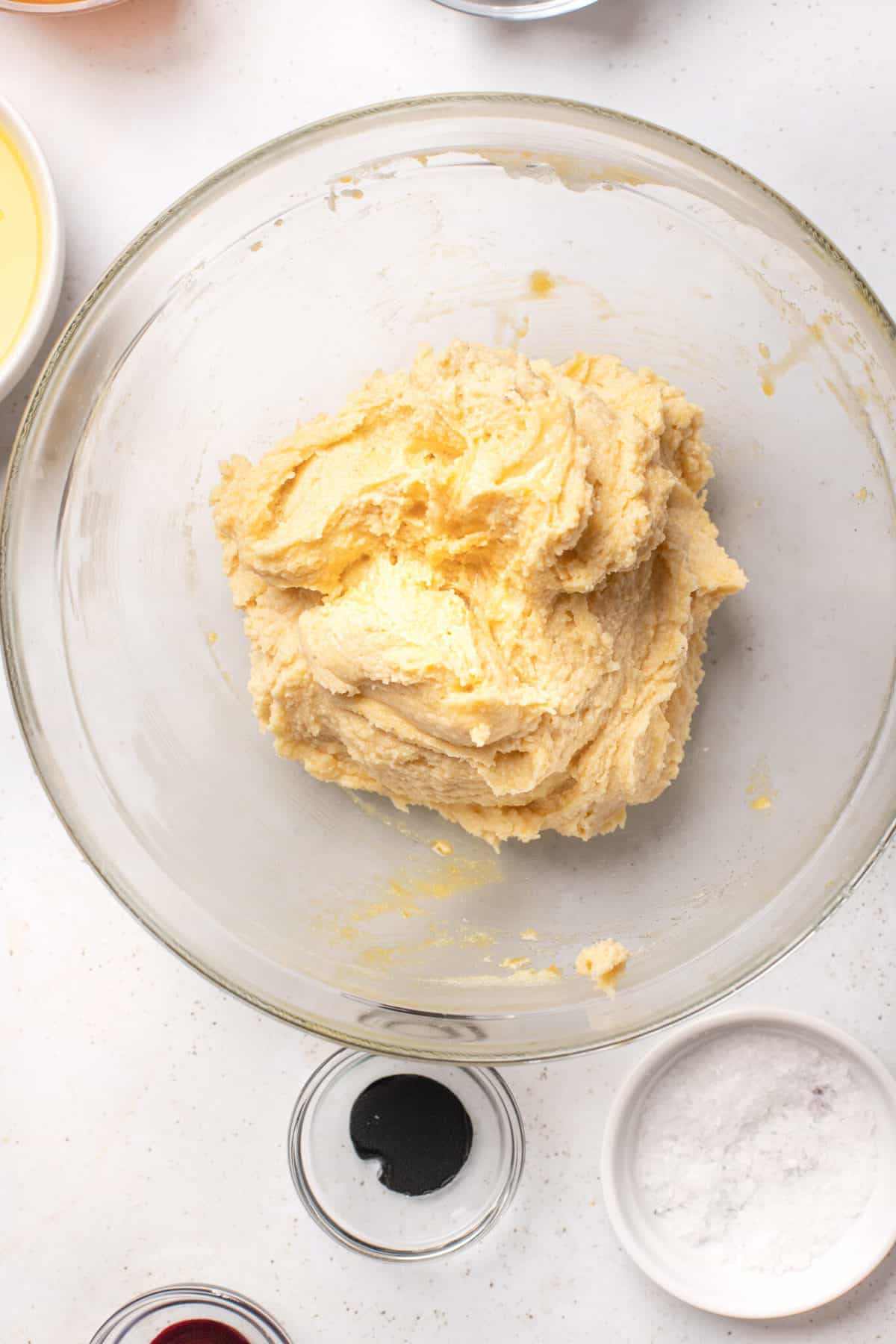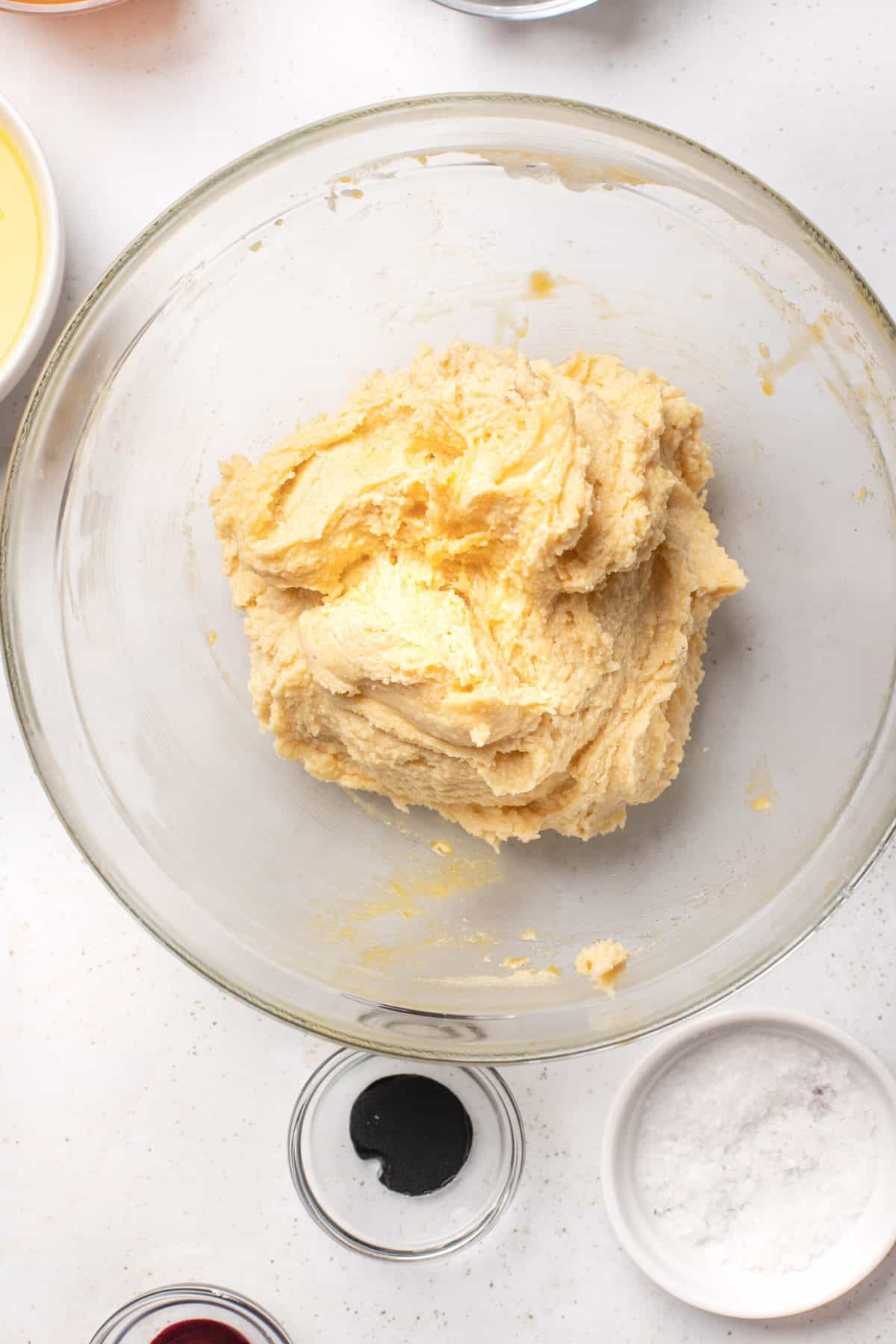 Whip the egg whites: In a new bowl, beat the egg whites with an electric mixer until stiff peaks form. Add the egg whites to the batter and gently fold the egg whites in, taking care not to crush the egg white foam.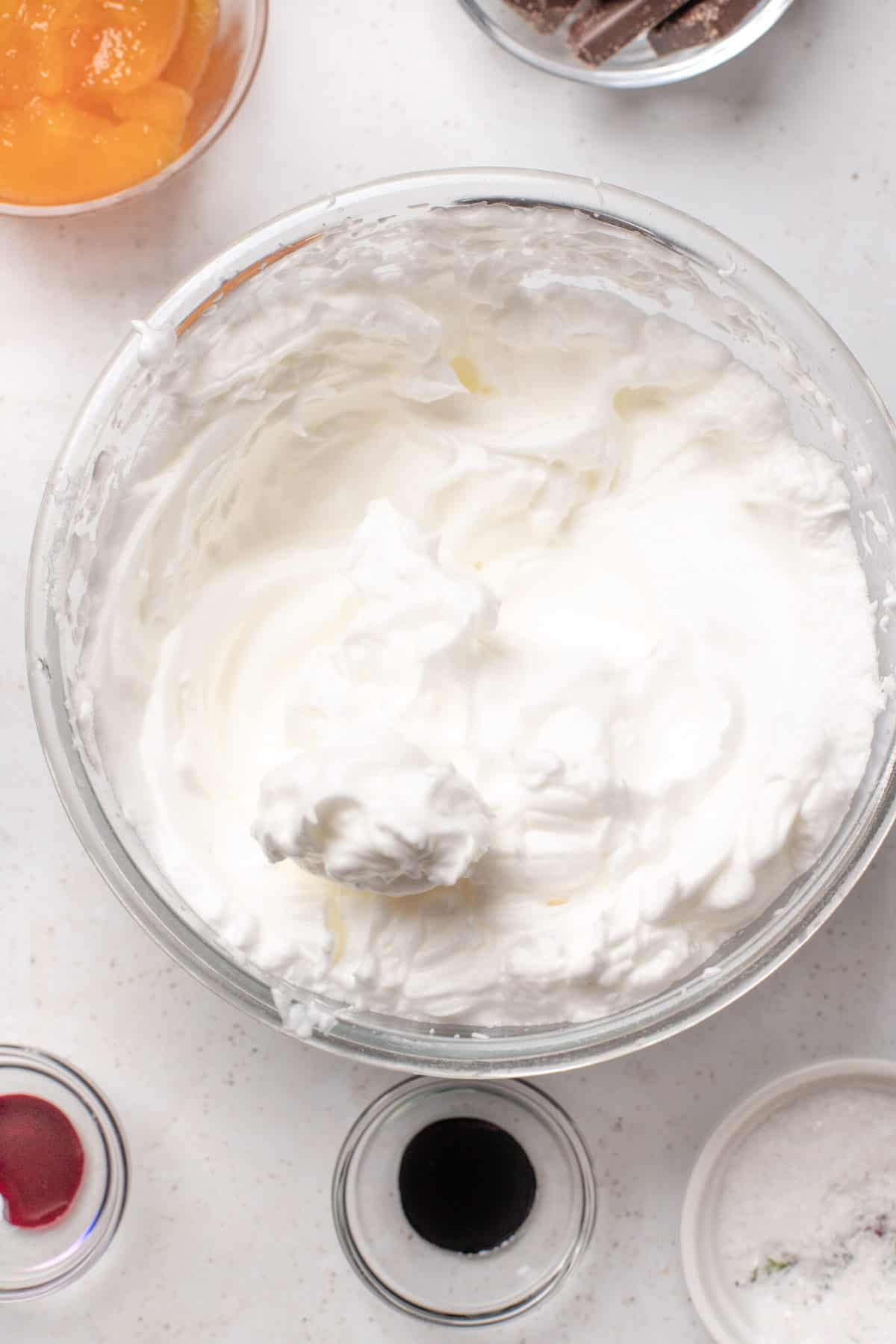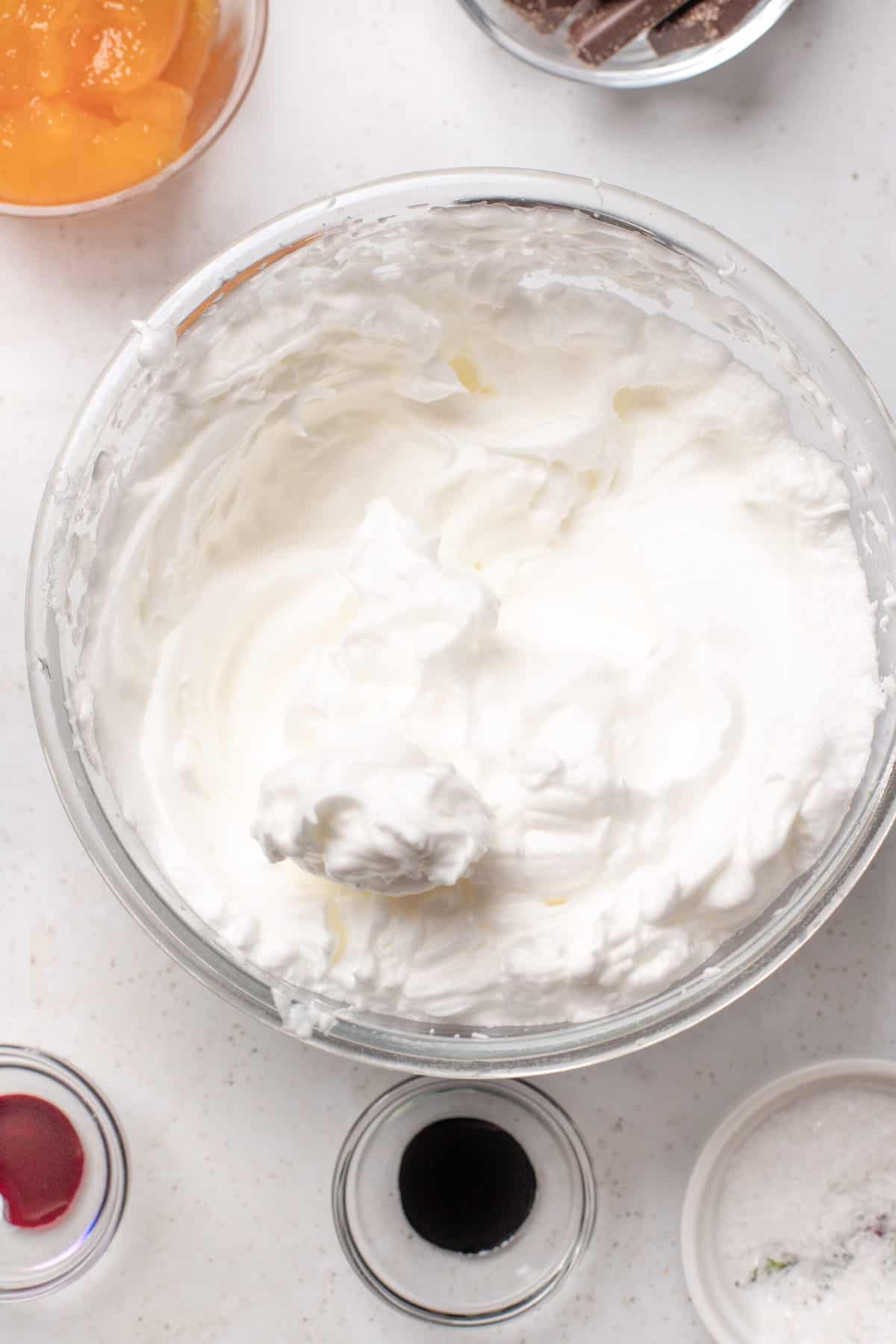 Color the dough: divide the cookie dough into 3 equal portions. Add green food coloring to one and red food coloring to a second. Stir until the color is even and to your desired shade.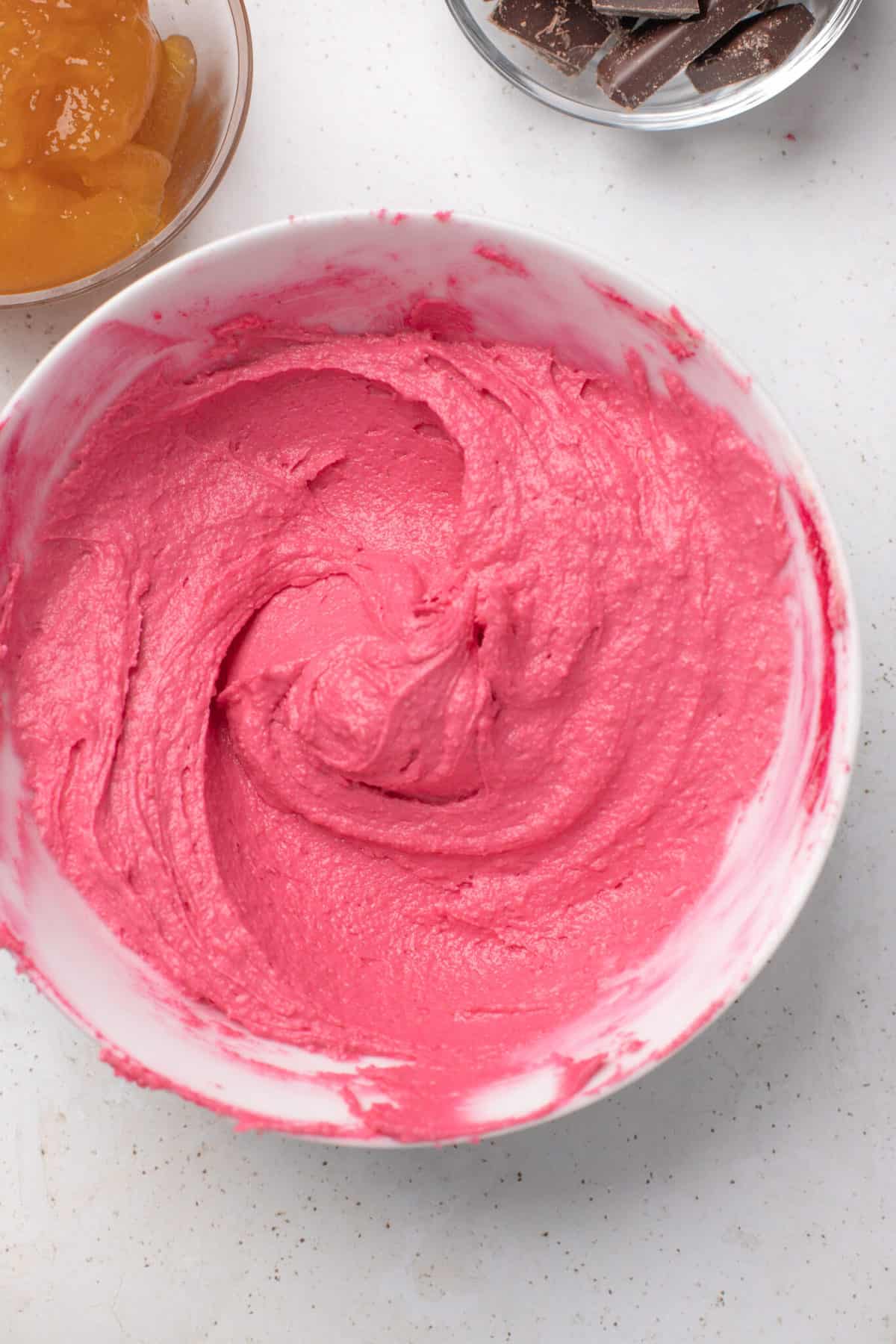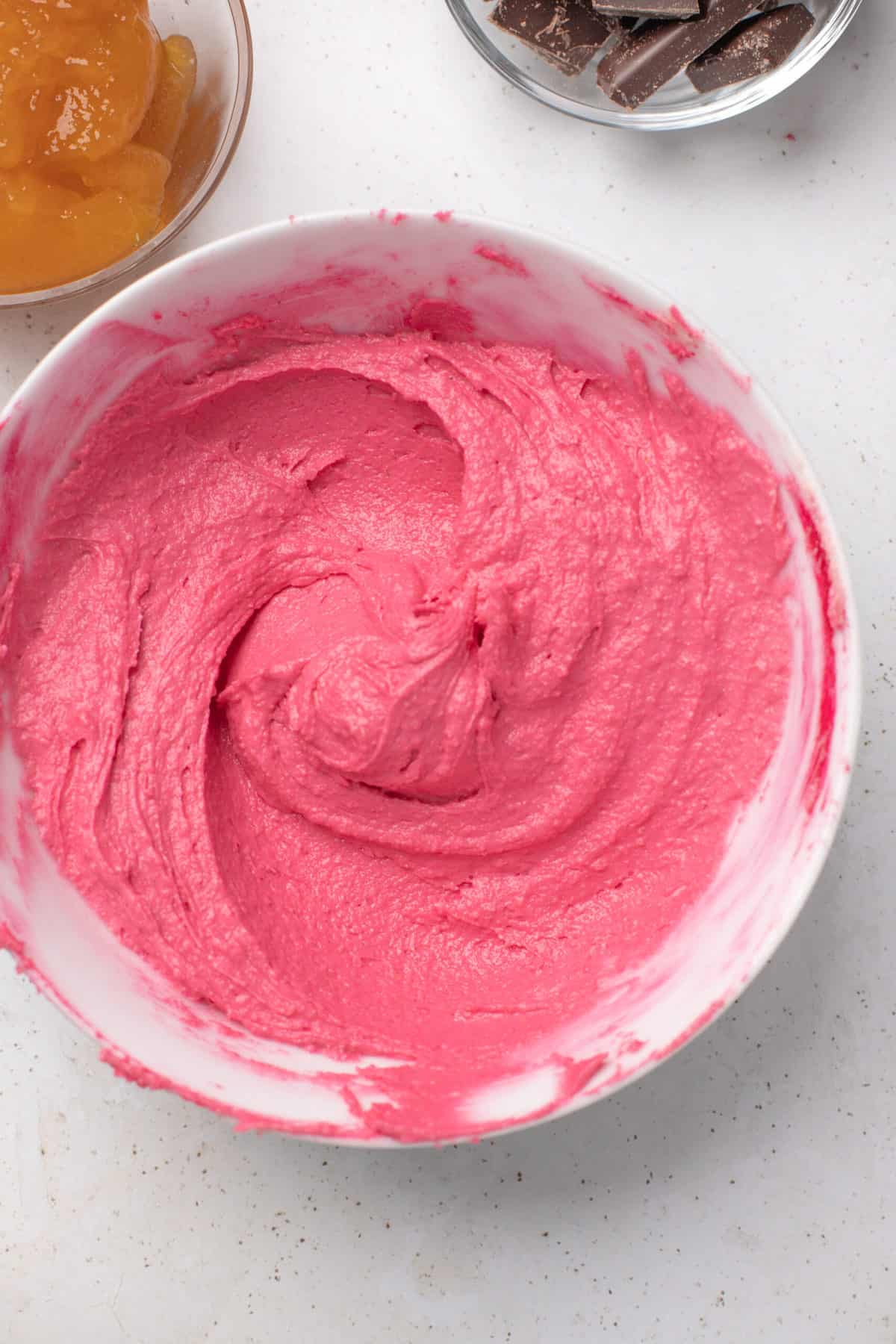 Prepare for baking: Preheat the oven to 350°F and line three baking sheets with parchment paper. Spread the cookie dough evenly onto the baking sheets. Bake for 12-15 minutes, until the edges are golden brown. Remove from the oven and let cool completely on a wire rack.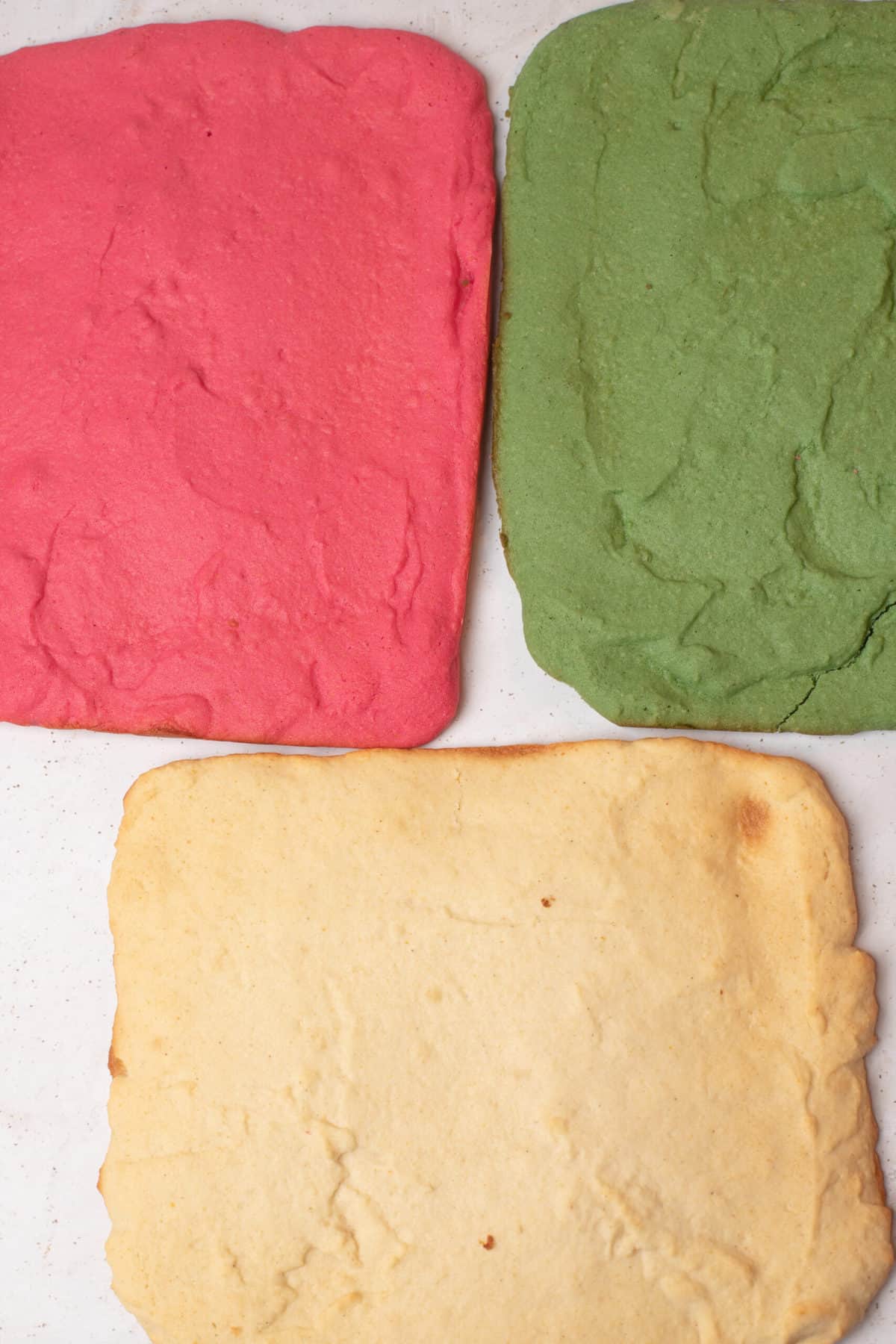 Assemble the cake: Remove the cakes from the baking sheets. Place the green cake on a working surface. Cover the cake with the jam all the way to the edges. Place the plain cake on top and cover with the remaining jam. Place the red cake on top. Put a cutting board on top of the layered cake. Place several jars full of water on top of the board and place everything in the fridge for at least 2 hours to firm up.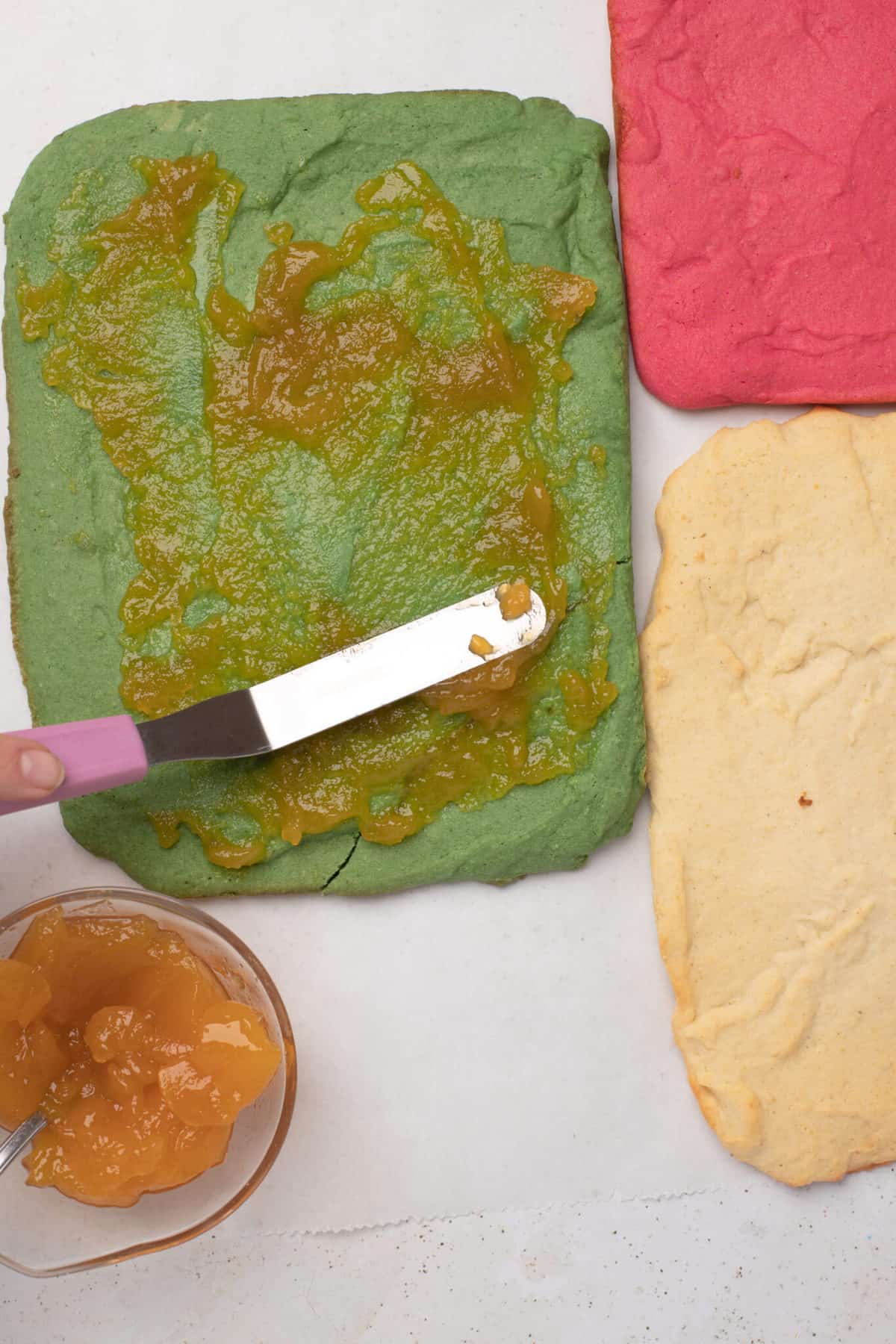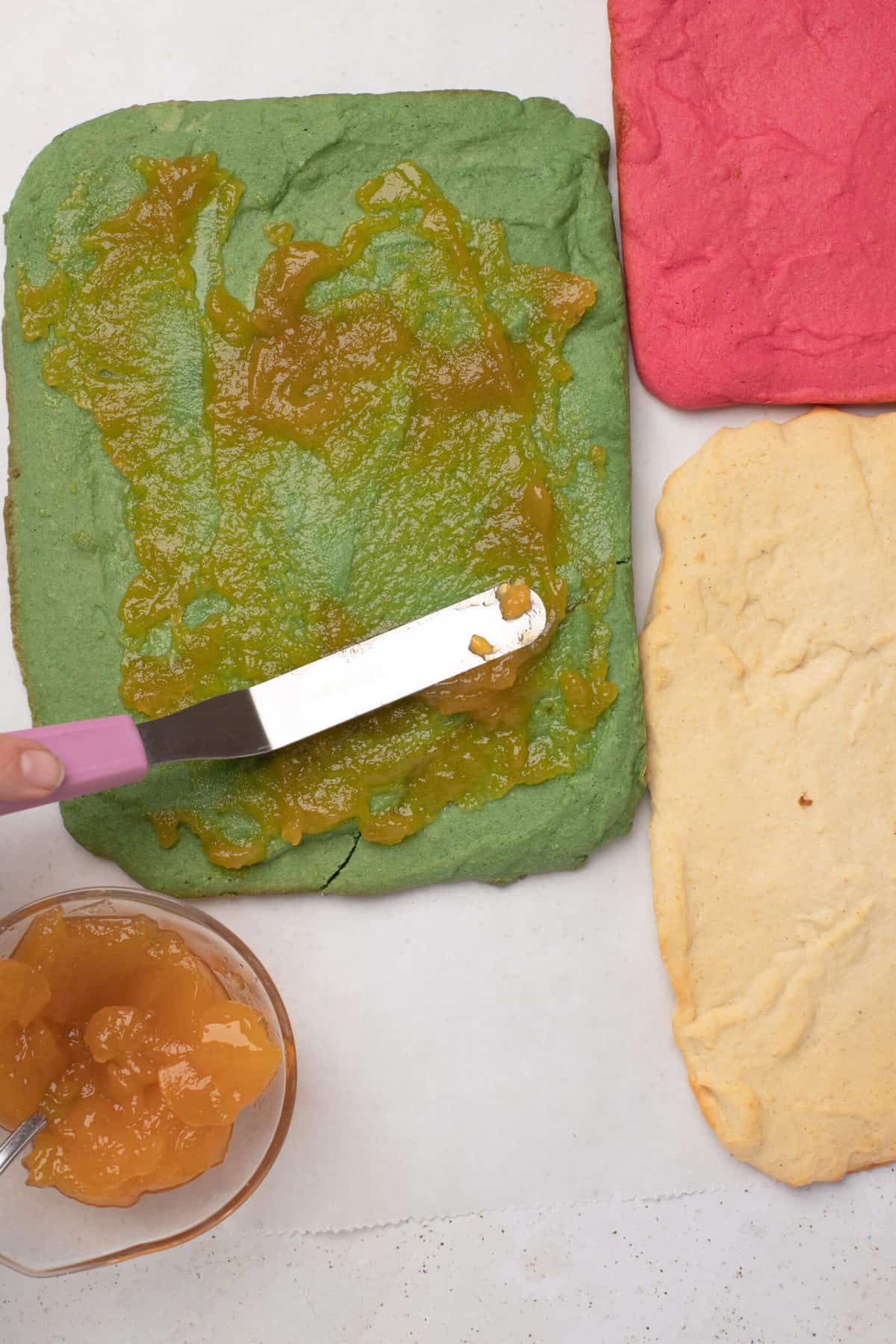 Prepare the chocolate: When the cake is done chilling, melt the chocolate in a microwave-safe bowl until smooth. Spread the melted chocolate over the top of the cake. Let the cake rest until the chocolate is hardened. Trim the edges if necessary, then slice into individual cookies and enjoy.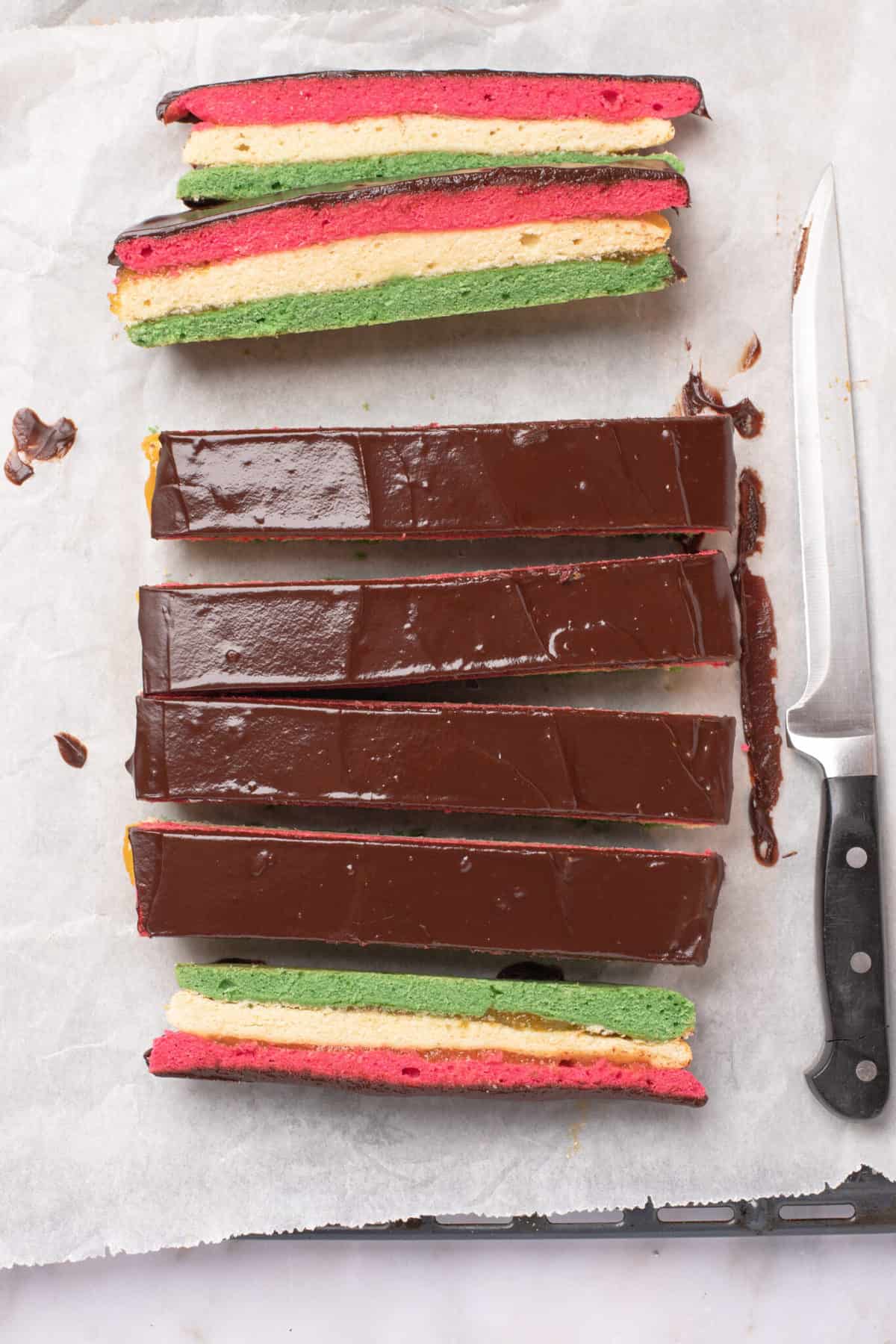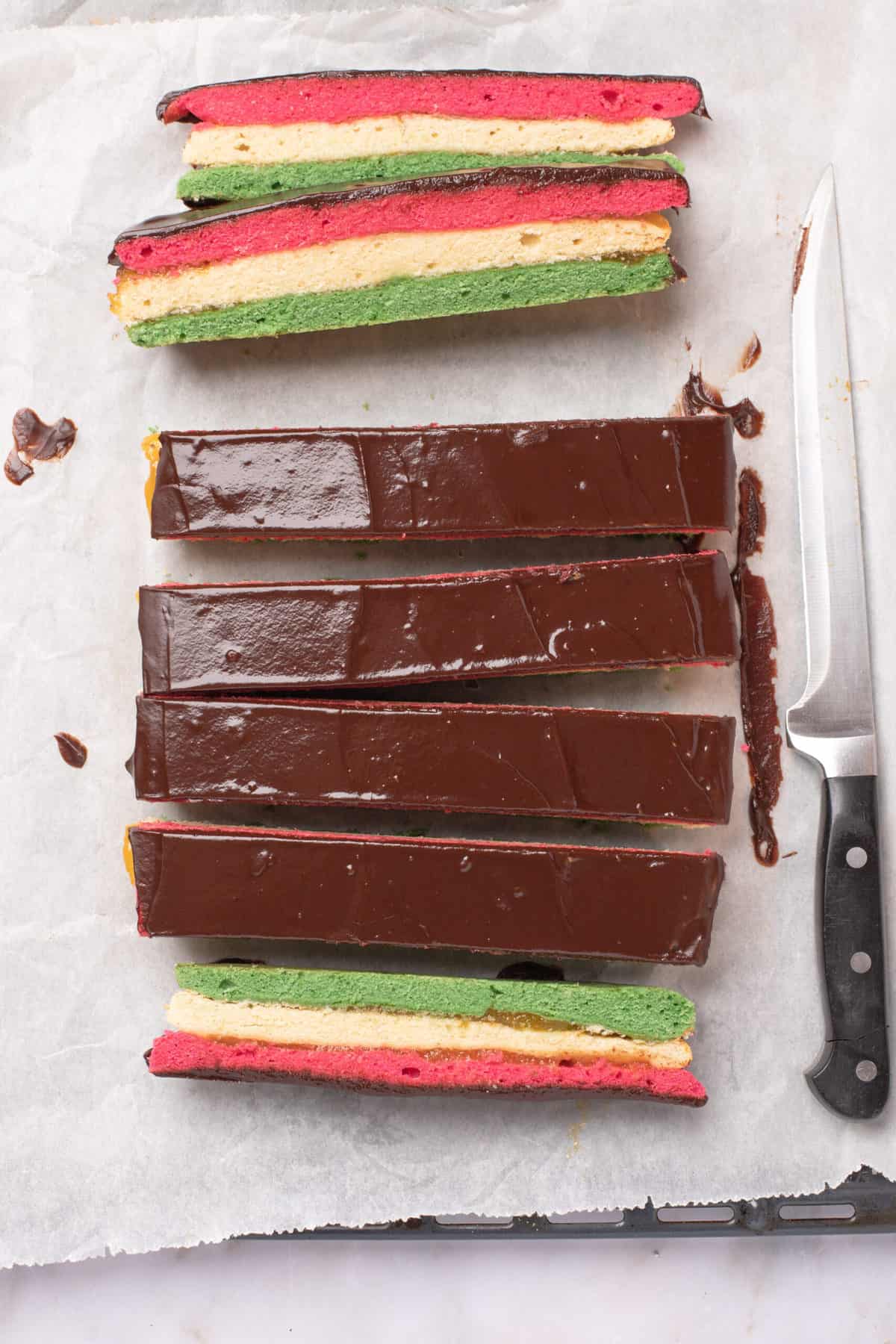 Tips for Success
If this is your first time making these layered colorful cookies, use these tips to make sure they come out perfectly:
Use more or less food coloring to reach your desired color. Some brands of food coloring are more vibrant than others.
Make sure your egg whites are stiff and firm before adding them to the cookie dough. Otherwise, they might deflate. Makwe sure your bowl and beaters are very clean. I like to wipe mine down with a bit of vinegar on a paper towel to make sure to remove and traces of fats that keep them from whipping well.
Use a rubber spatula to fold the stiff egg whites into the cookie dough. Be gentle so you keep as much of the air in the egg whites as possible.
When you transfer the cookie dough to the baking sheets, use an offset spatula to smooth it into a flat layer.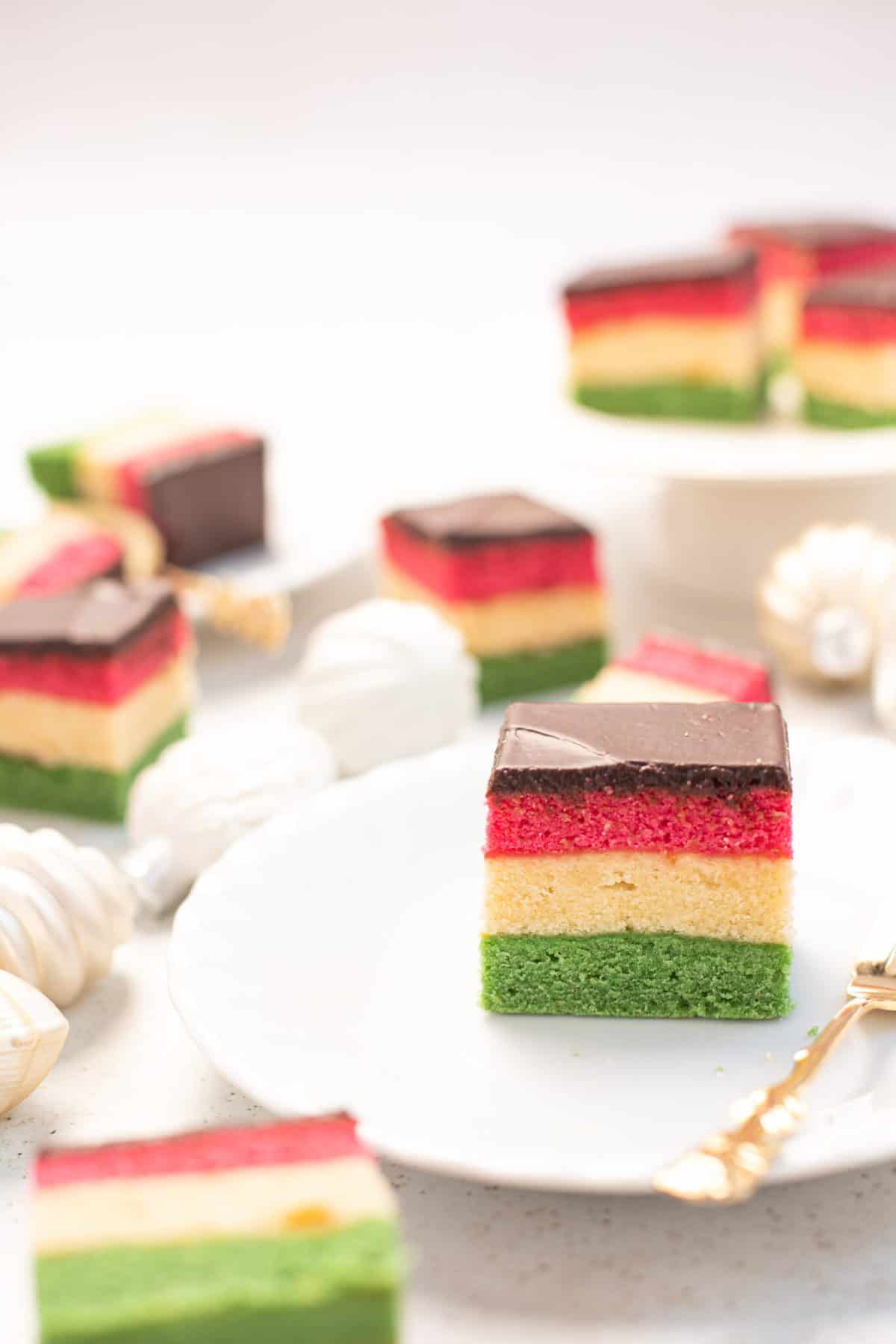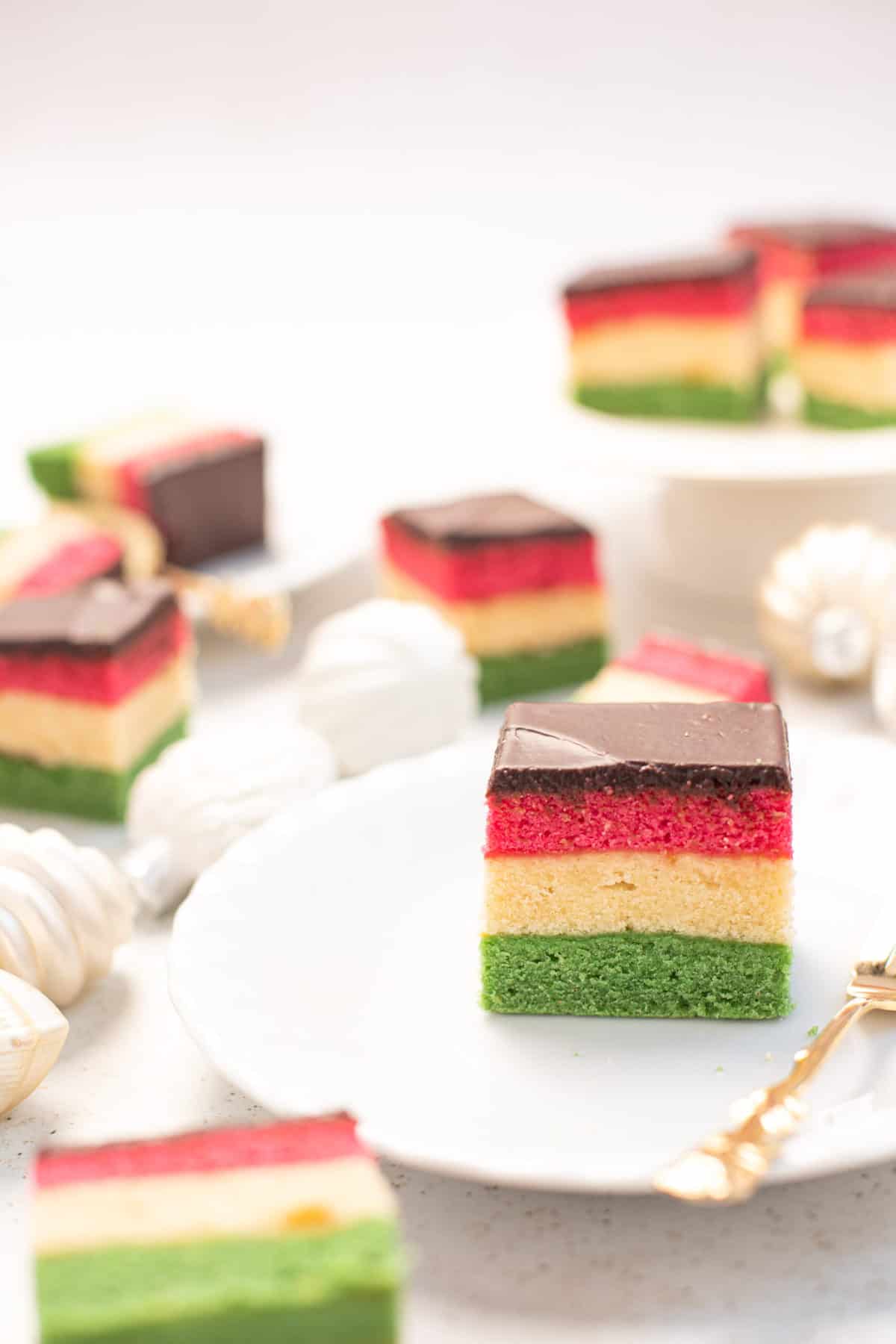 Storage Suggestions
Store leftover rainbow cookies in an airtight container at room temperature for up to one week. Make sure the cookies are fully cooled before placing them in the container.
Can I Freeze the Cookies?
Yes, you can freeze these cookies after they've cooled fully. Place the cookies in an airtight container in the freezer for up to two months. To serve, remove the cookies from the freezer and let sit at room temperature for a few hours to thaw.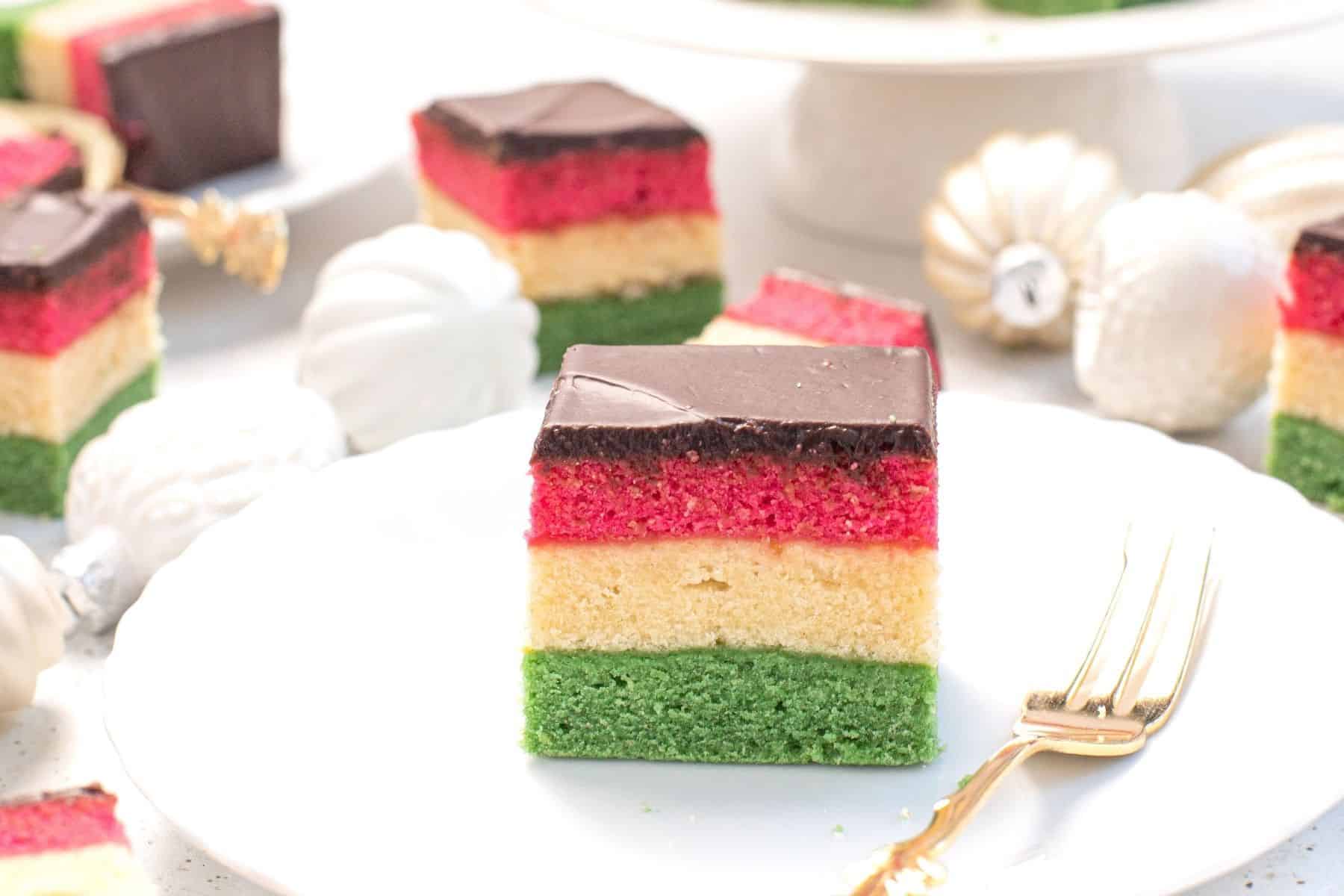 Shop the Recipe
Here are some of the ingredients and supplies you will need.
Be sure you have your gluten free flours, and the almond paste and food coloring to give the cookies their characteristic colors and flavor. You'll want to fold the egg whites in gently to avoid deflating them, and bake the cookies in quarter sheet pans lined with parchment to make them easy to remove. A small offset spatula is helpful for spreading the jam and chocolate.
Last updated on September 23, 2023 5:42 pm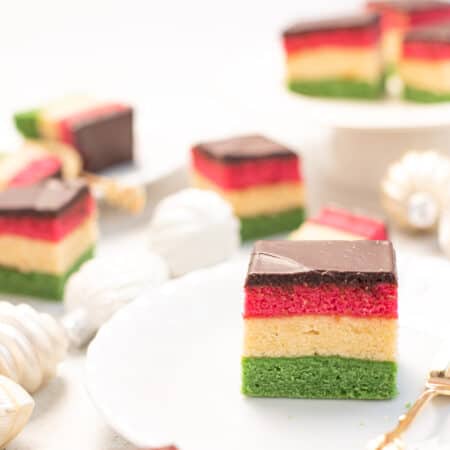 Gluten Free Rainbow Cookies
These fun layered gluten free rainbow cookies are an adorable and festive treat perfect for holiday baking.
Servings:
36
cookies (approximately)
Ingredients
8

oz

almond paste

1

cup

unsalted butter,

softened to room temperature (2 sticks)

1

cup

granulated sugar

4

eggs,

yolks and whites separated

1/4

teaspoon

almond extract

2

cups

1:1 gluten free flour

(recommended Bob's Red Mill 1-to-1)

3/4

cup

tapioca flour

1/2

teaspoon

gluten free baking powder

2

teaspoons

xanthan gum

1/4

teaspoon

salt

12

oz

jar apricot jam

or your preferred flavor

1 1/2

cups

chopped chocolate,

semi sweet or dark

red and green food coloring
Instructions
In a large mixing bowl, break up the almond paste. Add butter, sugar, egg yolks, and almond extract. Beat with a hand mixer on medium speed until light and fluffy, about 5-6 minutes.

Sift the gluten free flour, tapioca flour, baking powder, xanthan gum, and salt into a bowl.

Add the sifted dry ingredients to the wet ingredients. Blend in with the mixer until it's well-incorporated.

In a separate very clean bowl, use clean beaters to whip the eggs whites until stiff peaks are formed. Gently fold the egg whites into the batter using a spatula.

Preheat oven to 350°F. Line three quarter sheet baking pans with parchment paper.

Divide the batter into three equal portions, about 24 oz. each. Add green food coloring to one portion, and red food coloring to another portion. Leave the last portion natural. Depending on the food coloring brand, add the coloring in small portions until you get the desired color.

Using a spatula, spread one color of batter evenly on the bottom of eash of the pans. Bake in the oven for 12-15 minutes until the edges are golden brown. Keep an eye on it as it is thin and delicate, and can burn easily.

Let the cakes cool in the pans on a cooling rack.

Assemble the cookies. Place the green cake on a flat surface. Evenly spread half of the apricot jam on the top of the green cake, making sure to get it all the way to the edges. Place the white cake on top of the green cake, lining up the edges. Evenly spread the remaining apricot jam on the top of the white cake, making sure to get it all the way to the edges. Place the red cake on top of the white cake, lining up the edges.

Place a sheet pan or small cutting board on the top of the cake. Place a couple of large jars filled with water on top. Refrigerate for at least 2 hours.

Melt the chocolate in the microwave in 15-30 second intervals or in a double boiler on the stove until it is smooth.

Spread the melted chocolate on top of the cake to the edges. Let the chocolate harden.

Trim the edges off the cake. Then cut it into various sizes, or make small 1 inch squares.
Nutrition Facts
Gluten Free Rainbow Cookies
Amount Per Serving (1 cookie)
Calories 198
Calories from Fat 90
% Daily Value*
Fat 10g15%
Cholesterol 32mg11%
Sodium 40mg2%
Potassium 77mg2%
Carbohydrates 26g9%
Protein 2g4%
Vitamin A 207IU4%
Vitamin C 1mg1%
Calcium 29mg3%
Iron 1mg6%
* Percent Daily Values are based on a 2000 calorie diet.
Categories:
More Gluten Free Cookie Recipes