This post may contain affiliate links. Read my disclosure policy.
The sweet and salty combination make these Dulce De Leche Cookies totally irresistible. Why? Because instead of a basic cookie, these are flourless peanut butter thumbprint cookies filled with that thick, gooey goodness. Since they have no flour, it's an easy gluten free cookie recipe made right in one bowl!
From chocolate-covered pretzels to candied bacon, there is just something about the combination of sweet and salty flavors that is so hard to resist. That is why this recipe takes your basic dulce de leche cookies to another level.
I'm sure you've seed dulce de leche thumbprints before. They usually start with a basic butter cookie dough that is baked and, while still warm and soft, an indentation is made in the middle. The little well is then filled with a dollop of thick, caramelized deliciousness.
But I said these are going to elevate you ideas about that cookie. You see, instead of a simple shortbread-like cookie, the base is peanut butter cookies. And not just any PB cookie. These are flourless peanut butter cookies. So they have an extra intense salty, roasted, peanutty taste that plays so well with the nutty, rich, sweetness of dulce de leche.
Before we get too far, you may be wondering what dulce de leche even is and how you can get your hands on some.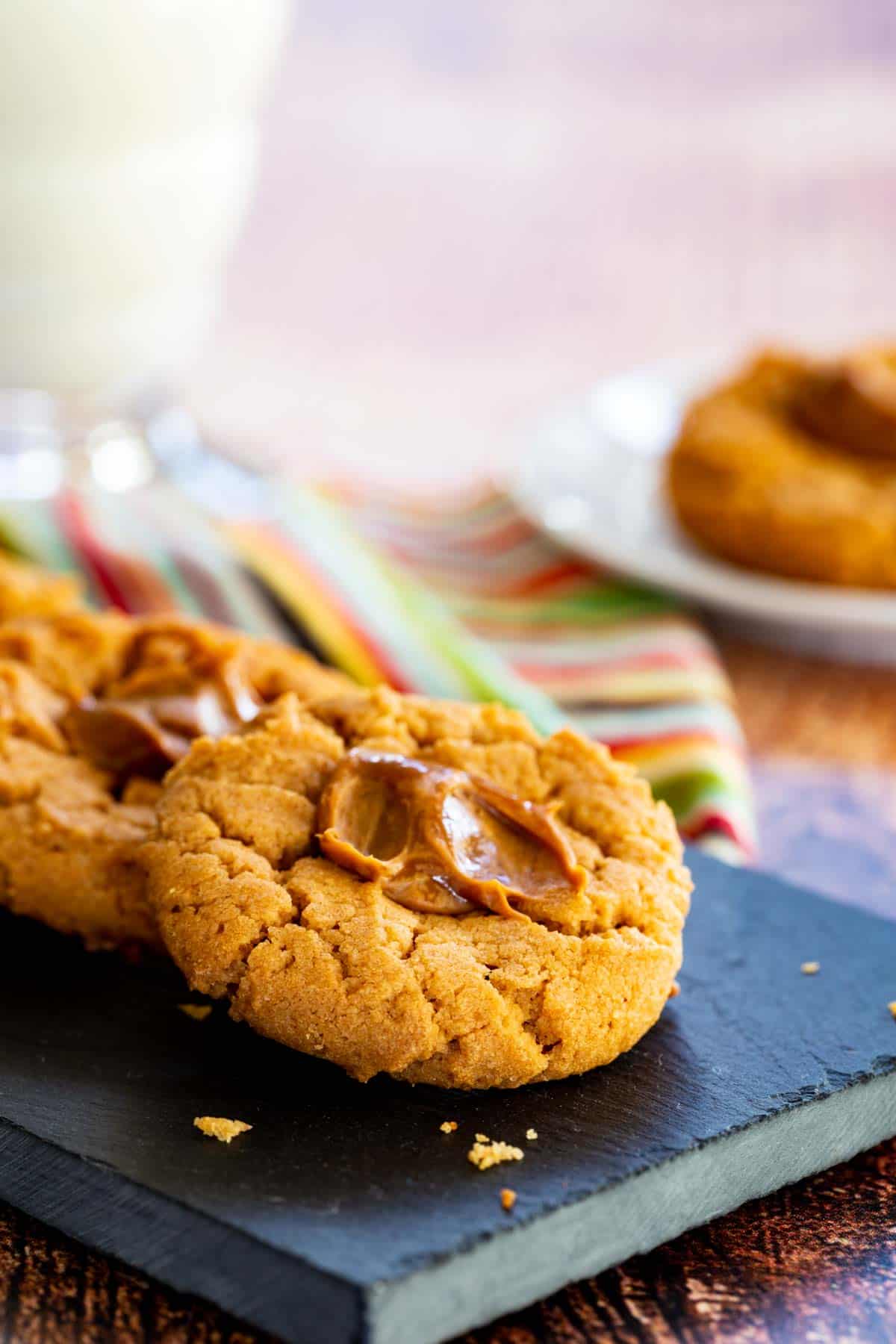 What is dulce de leche?
The words in Spanish literally mean "candy of milk". Traditionally it is made from slowly boiling down sugar and milk at a low temperature until it becomes a thick, golden brown mixture. Unlike caramel, which gets its color and flavor from the cooking of the sugar, some of the browning of dulce de leche comes from the actual cooking of the milk.
You may hear it referred to as "cajeta", but that is specific to a version made from goat's milk.
Some people think that it is simply cooked sweetened condensed milk. And while that is one way to do it (with some inherent risks to boiling a can of molten liquid), you make authentic dulce de leche by cooking the milk and sugar together.
However, the easiest things to do is to pick up a can of Nestle La Lechera Dulce de Leche at the grocery store. You can usually find it in the baking aisle near the sweetened condensed milk, or in the International section near the other Mexican ingredients.
It's also available on Amazon, but it's quite pricey so take a look to see what the can of La Lechera looks like, then pick it up for a couple of dollars at the store.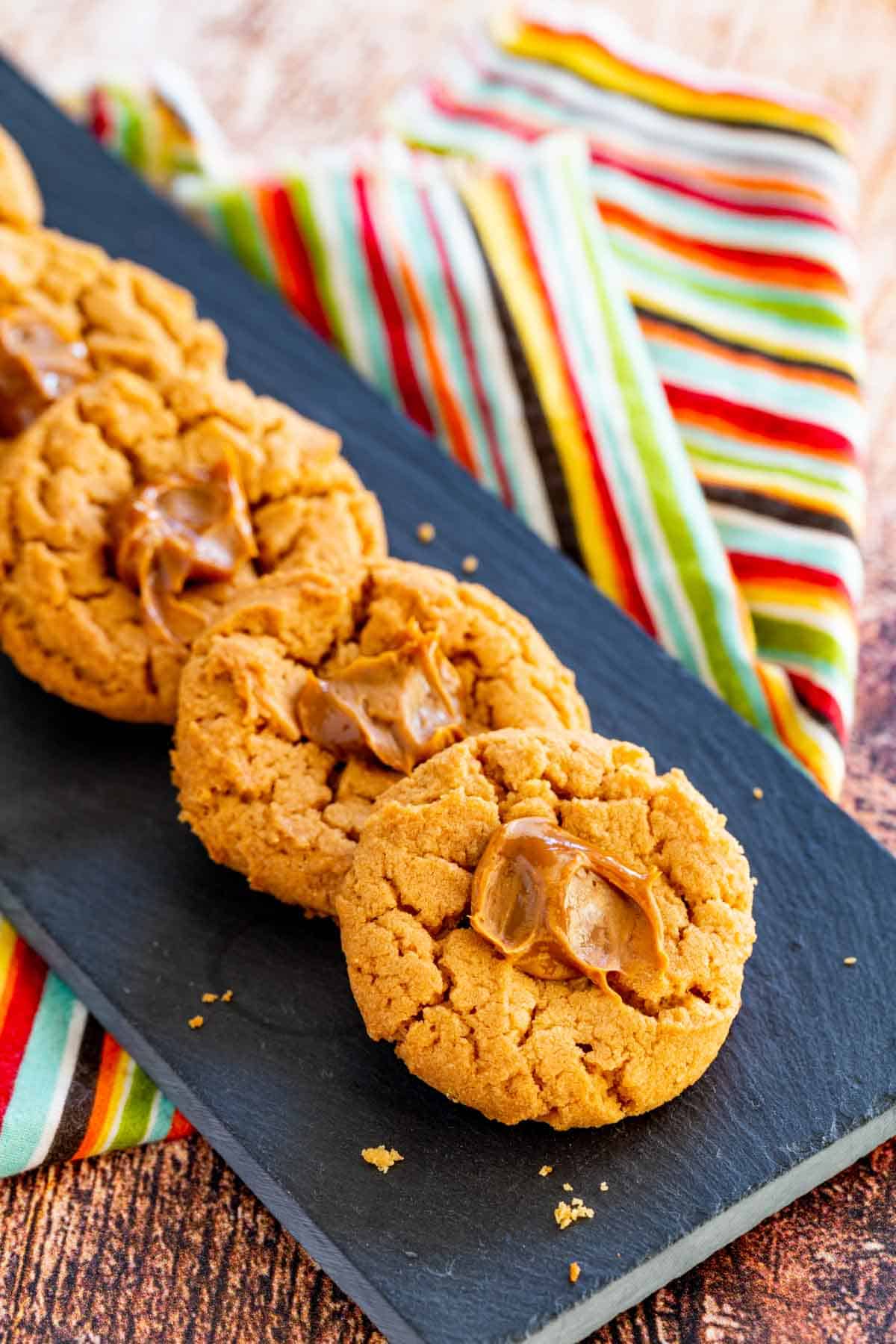 Why this Recipe Works
It starts with my tried and true peanut butter cookies recipe made without flour. Only 6 ingredients, and so simple to make in one bowl. In minutes you have a tender but crisp, slightly chewy cookie with a serious punch of peanut flavor.
When you add that dollop of dulce de leche, it comes together with familiar flavors or peanut butter and caramel that will make kids happy. But the intensely nutty, not overly sweet peanut butter cookie with the deeply caramelized dulce de leche has just enough sophistication for even the biggest foodies.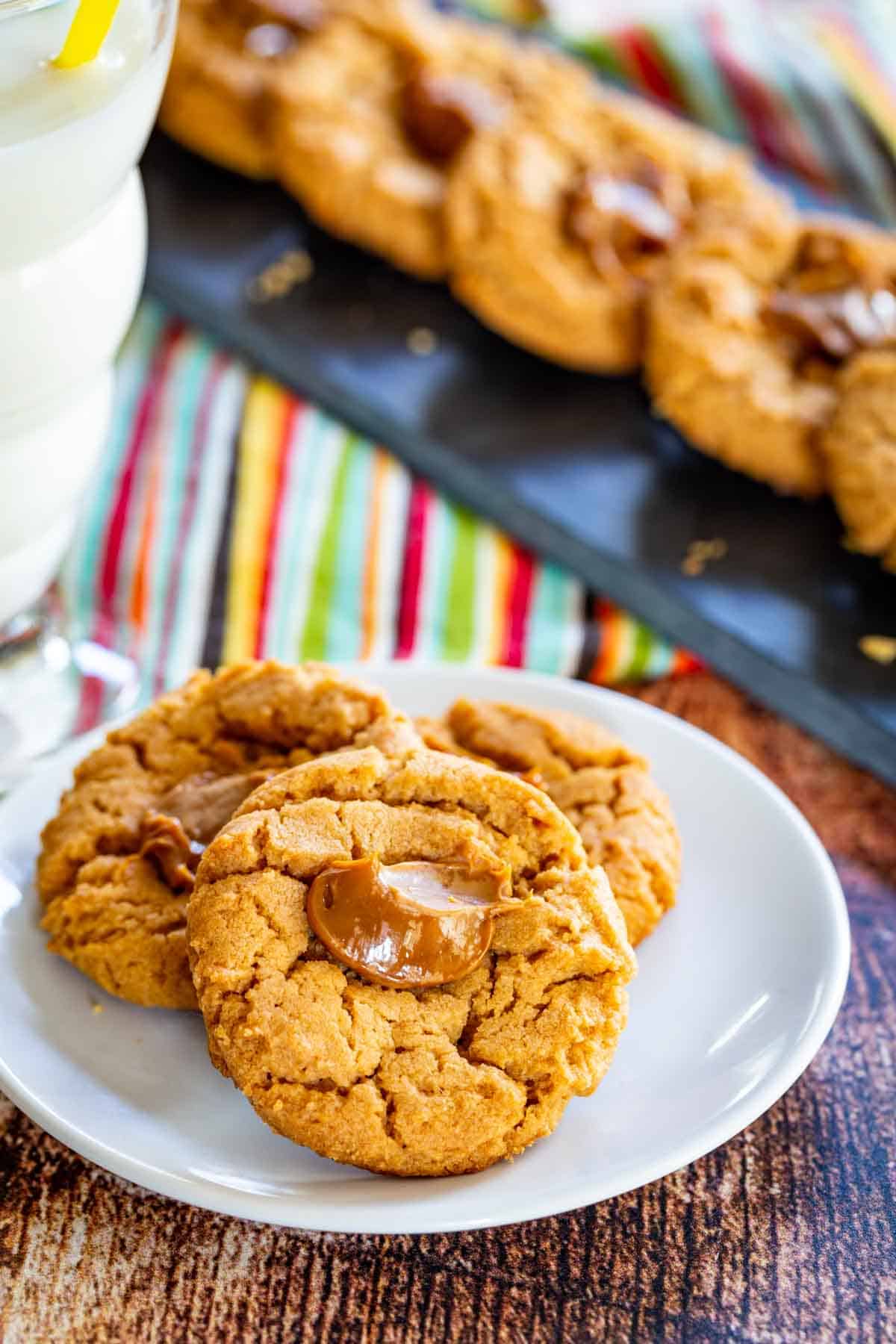 Here is a quick overview of how to make them. The full amounts and directions are in the recipe card below. If you want to know more details about the Flourless Peanut Butter Cookies, make sure you check out that recipe where I give you all the specifics about why each ingredient is used.
Ingredients
Granulated sugar
Brown sugar
Baking soda
Peanut butter: I recommend a natural peanut butter for the best, strongest peanut flavor.
Egg
Vanilla
Dulce de Leche: You can make your own, or just buy a can, like I mentioned earlier. Sometimes you can even find it in squeeze bottles, which will make it even easier to fill the cookies. You'll only need about one teaspoon per cookie, so there will be extra. Use it to make Dulce de Leche Banana Cream Pie or Dulce de Leche Marshmallows.
Equipment
Measuring cups and spoons
Bowl
Fork
Hand mixer
Cookie sheets
Parchment paper
Cooling racks
NordicWare Baking Sheets are my favorites for cookie baking and much more. From roasting veggies to sheet pan meals, cookies to cake rolls, we use them almost daily. They are light, and the aluminum distributes the heat evenly.
Directions
Preparations: Preheat oven to 350°F. Line cookie sheets with parchment paper.
Make the cookie dough: Using a fork, mix together the sugar, brown sugar, and baking soda in a bowl, then beat in the peanut butter until creamy. Blend in the egg and vanilla. The dough will be uniform but slightly grainy.
Bake the cookies: Form balls using about 1 tablespoon of dough, place on the cookie sheet, and flatten slightly with your hand. Bake for 10-12 minutes. They should be golden and set, but not firm or hard.
Fill the peanut butter thumbprints: Immediately after taking the cookies out of the oven, using your finger or the back of a measuring teaspoon, make an indentation in the back of the cookie. While still warm, spoon or squeeze about a teaspoon of dulce de leche into the well in each cookie.
Cool: By the time you have filled the cookies, the should be set enough to transfer to a wire rack to cool completely.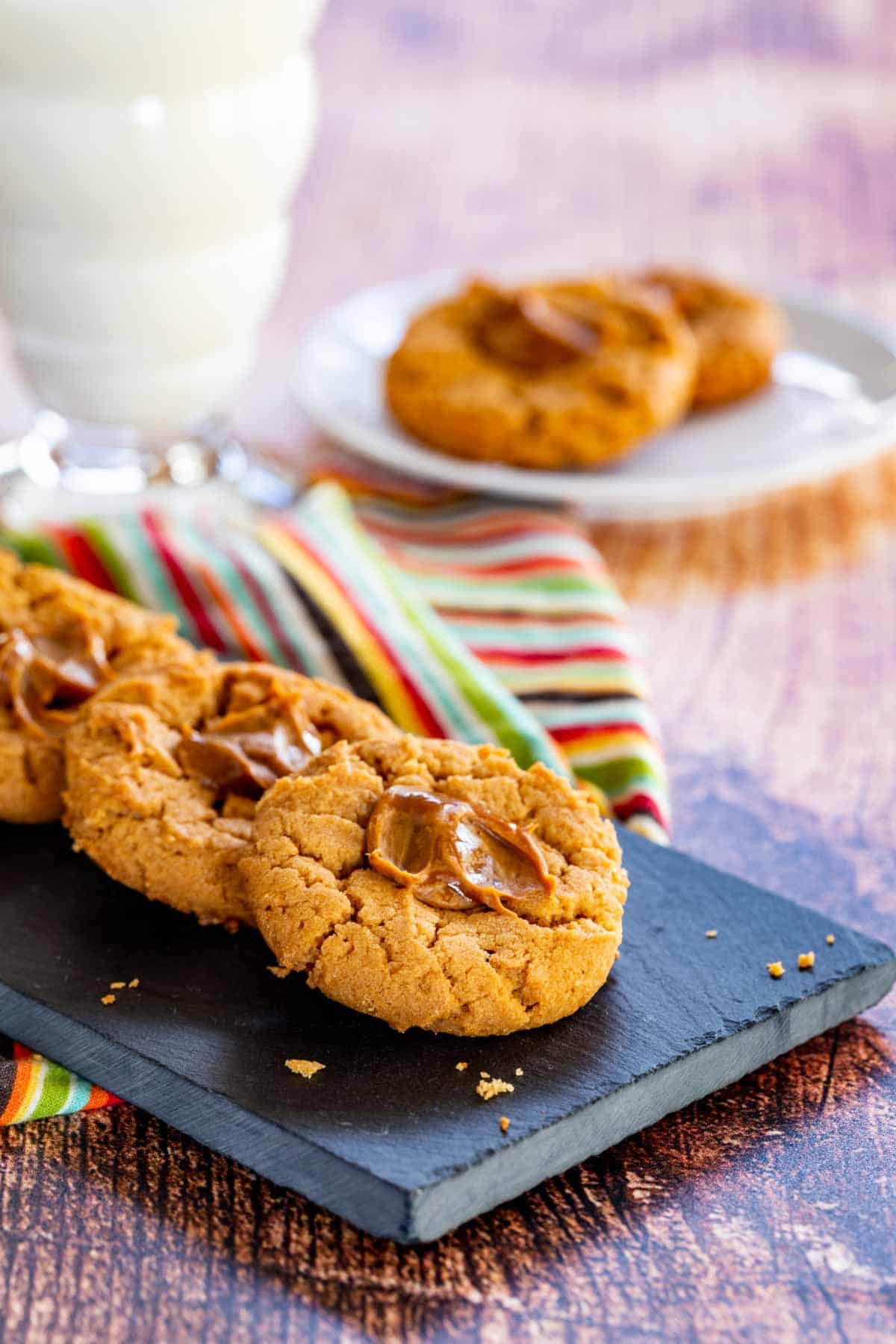 Be sure to store the peanut butter thumbprints in an airtight container. I recommend storing in a single layer or putting a piece of wax paper between each layer to keep the cookies from sticking to each other.
They can be kept at room temperature for about a week.
Can you freeze dulce de leche cookies?
Yes, the cookies will freeze well if packaged properly. Just as if you were storing at room temperature, place them in a single layer or in layers separated by wax paper in an airtight container.
Wrap the container in a couple of layers of plastic wrap and/or aluminum foil to prevent frost forming on the cookies. Then place the container in the freezer.
For the best flavor, enjoy within 2 months, though they will be safe to eat for much longer.
Can you double the batch?
Yes, you can definitely make a double batch. In fact, if you double the dough, you can use half to make another one of these peanut butter cookie recipes: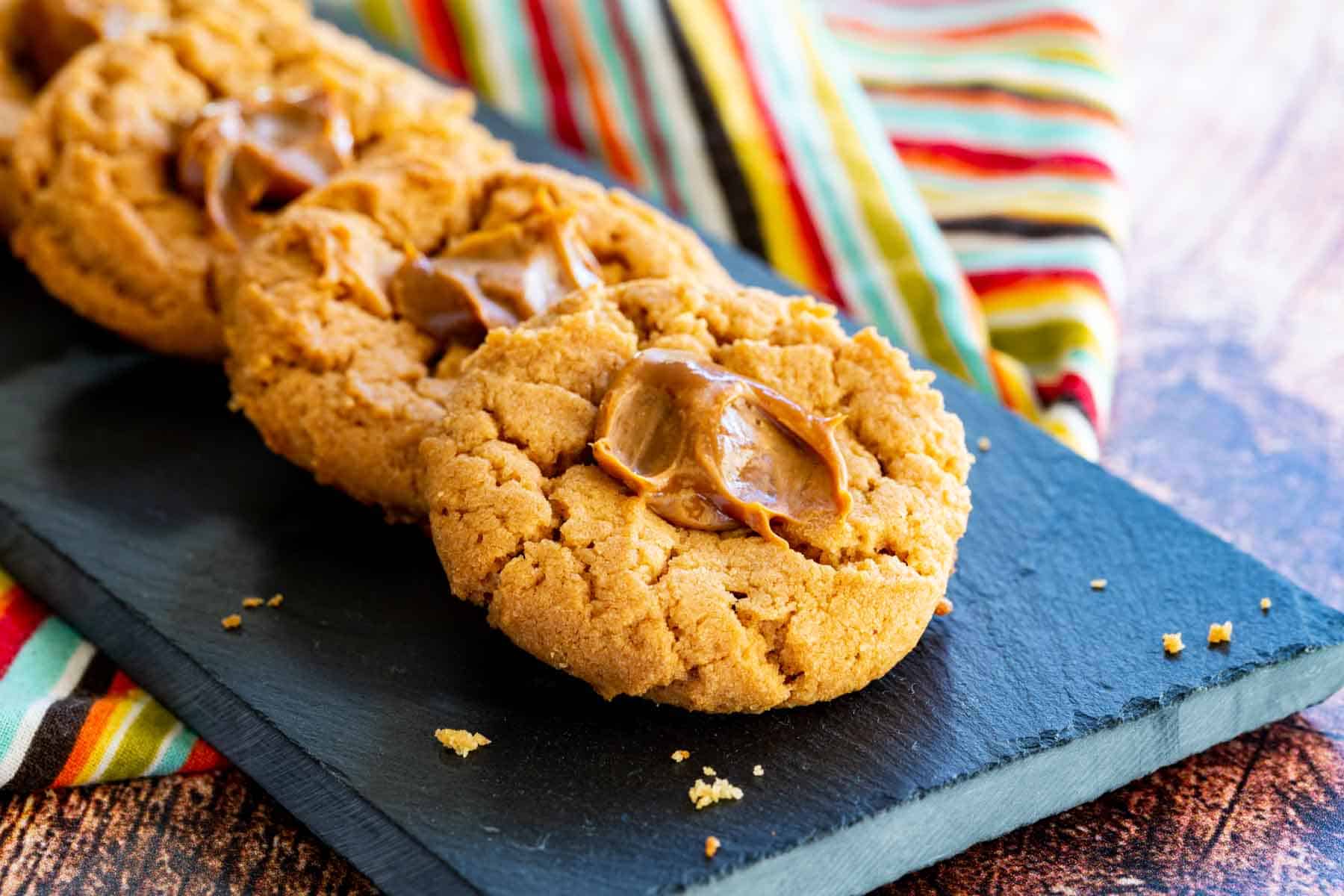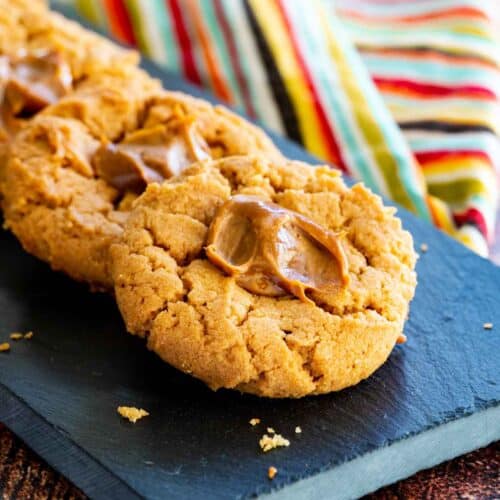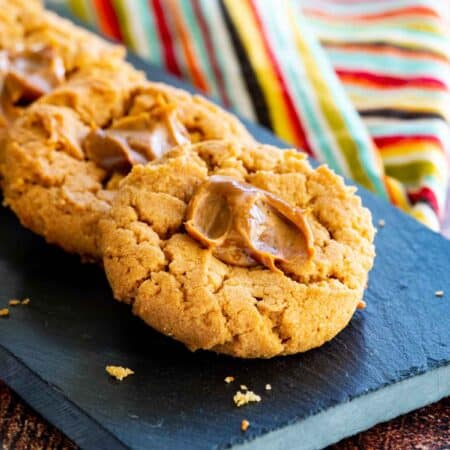 Basic dulce de leche thumbprints get a sweet and salt upgrade when you put a dollop of that caramelized deliciousness in the middle of peanut butter cookies. Crisp, chewy, and so irresistible.
Ingredients
½

cup

sugar

½

cup

dark brown sugar

1

teaspoon

baking soda

1

cup

creamy natural peanut butter

1

large

egg

1

teaspoon

vanilla

one

can

dulce de leche

(you'll need about half a cup)
Instructions
Preheat oven to 350°F. Line cookie sheets with parchment paper.

Using a fork, mix together the sugar, brown sugar, and baking soda in a bowl.

With a hand mixer or stand mixer, beat in the peanut butter until creamy.

Add the egg and vanilla and mix thoroughly.

Form balls using about 1 tablespoon of dough, place on the cookie sheet and flatten slightly with your palm.

Bake for 10-12 minutes, or until slightly golden and set.

Cool on the sheet for a minute or so, then use your finder or the back of a measuring teaspoon to make an indentation in the cookies. Fill each indentation with about a teaspoon of dulce de leche.

Once the cookies are set (about 10 minutes total on the cookie sheets), transfer to a cooling rack to cool completely.
Nutrition Facts
Flourless Peanut Butter Dulce de Leche Cookies
Amount Per Serving (1 cookie)
Calories 100
Calories from Fat 54
% Daily Value*
Fat 6g9%
Cholesterol 8mg3%
Sodium 99mg4%
Potassium 79mg2%
Carbohydrates 11g4%
Protein 3g6%
Vitamin A 11IU0%
Calcium 10mg1%
Iron 1mg6%
* Percent Daily Values are based on a 2000 calorie diet.
Categories: