This post may contain affiliate links. Read my disclosure policy.
Soft and chewy, these flourless Mexican hot chocolate cookies are loaded with all the sweetness and spice you crave. Deliciously chocolaty with a little kick, they'll be your favorite gluten free cookie recipe from now on for the holidays, Cinco de Mayo, or any time you want a quick and easy treat.
Loaded with chile and a warm spice blend, these Mexican hot chocolate cookies are the exciting recipe that your holiday recipe tin was waiting for. Every bite is soft, spicy, sweet, and earthy— how many cookies do you know with this much personality?
Best of all, they'll be on your table in less than 30 minutes! Made with 9 simple ingredients, you won't need to fret over another shopping list to take care of before Christmas. You probably have everything you need already! Even if you have friends or family on special diets, these can become much more than flourless cookies with the help of coconut sugar and paleo-chocolate.
Get ready to bake them in batches because they're actually spectacular "healthy" cookies! No one will miss the flour one bit… Just saying! Bake them in advance to beat the holiday craze and hide them really well because once the secret's out that you're baking them, you may as well start taking orders. Until then, take a breath, and enjoy a cookie or two or ten.
If the flavor isn't enough to make them your new favorite cookie, here are more reasons to love them:
Diet-friendly. With a couple of simple ingredient swaps, these can go from gluten-free to paleo, to low-carb cookies in seconds.
Easy. 7 steps and 9 ingredients are all it takes to set batches of these on your kitchen counter.
Quick. Ready in less than 30 minutes, can you really resist baking them?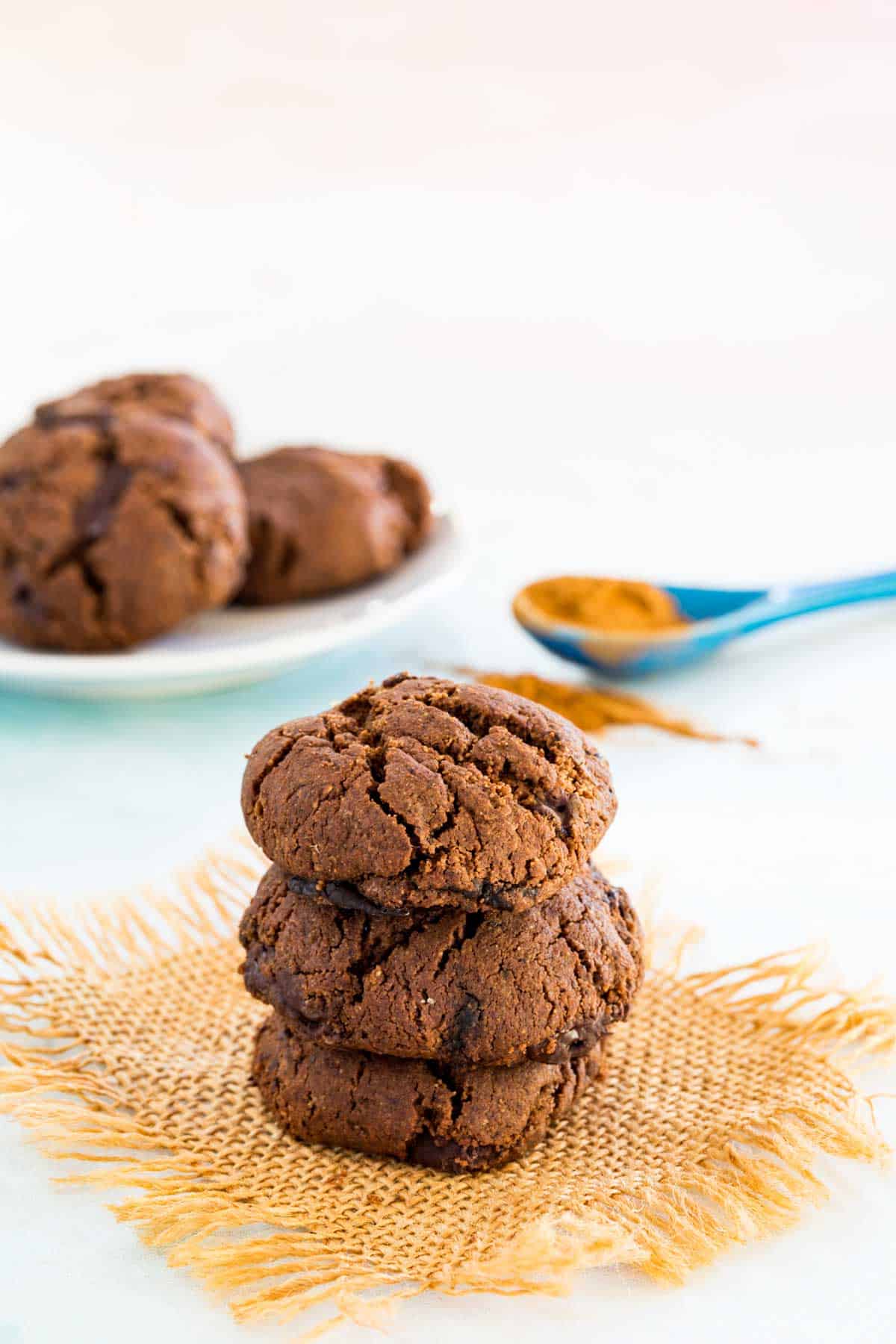 What Is Mexican Hot Chocolate?
Mexican hot chocolate is a rich and zesty drink packed with a combination of warm spices like cinnamon, whole cloves, black pepper, and star anise. Not every recipe contains all of these, but it's what makes every cup unique.
A bit of chile also highlights the chocolate's flavor and gives Mexican hot chocolate its signature taste. Depending on the region, it can be made with water or milk— but milk is usually the liquid of choice for this drink during cold weather.
Frothy and foamy or smooth, it's an absolutely delicious and exciting drink that is usually enjoyed on its own or with a large piece of sweet bread.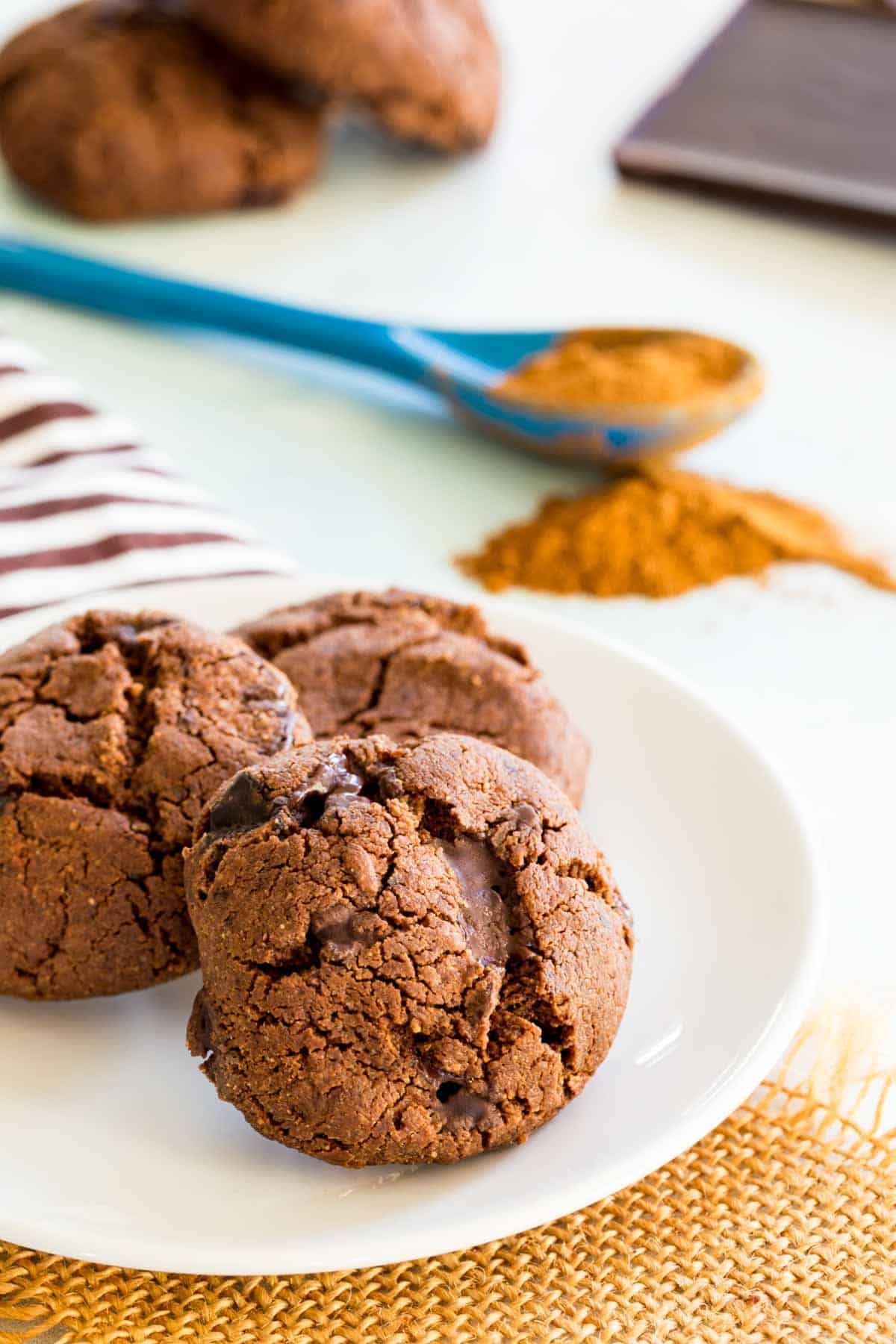 Recipe Ingredients
Baking enthusiast or not, you've probably got most of these ingredients on hand already. Check the recipe card at the bottom of the post for exact amounts.
Egg
Almond butter – I prefer the creamy kind, but feel free to use chunky almond butter for added texture.
Dark brown sugar – Swap it out for light brown sugar or coconut sugar if you want. No white sugar, please.
Unsweetened cocoa powder – Don't use hot cocoa mix because it's not the same thing and is loaded with sugar.
Baking soda – Please don't use baking powder.
Mexican Chocolate Spice Mix – Make it by mixing 1/2 tsp ground cinnamon, 1/4 tsp ground ginger, and 1/8 tsp cayenne pepper.
Salt – Leave it out if the almond butter has salt.
Vanilla extract – You can leave it out or swap it for almond extract.
Dark chocolate – This goes best with the cookies, but milk and bitter-sweet chocolate work too. Chocolate chips are also great.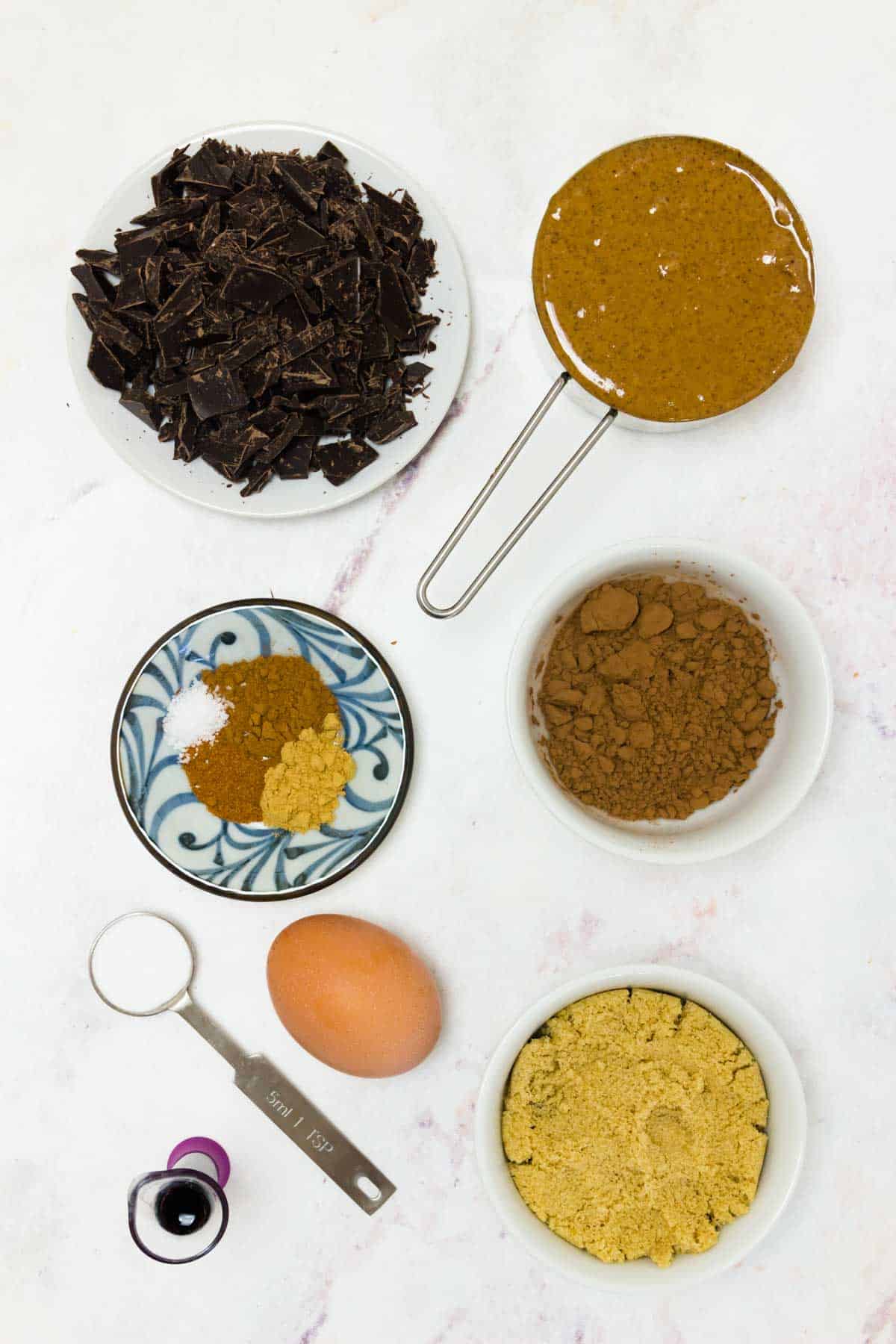 With only 7 steps, these will be ready before you know it!
Prepare the tray. Preheat the oven to 350F. Line two baking sheets with parchment paper. You can also use silicone baking mats. Set them aside.
Whisk the egg. Use a fork to whisk the egg in a large bowl until well combined.
Make the dough. Add the almond butter, sugar, cocoa powder, baking soda, Mexican chocolate spice mix, salt, and vanilla extract. Mix the ingredients until the dough comes together. Gently fold in the chocolate.
Form balls. Use your hands to roll the dough into balls the size of 1 tablespoon. Arrange them on the prepared baking trays, placing them 2″ apart.
Flatten them. Use your hand to press down on them slightly to form disks about 1/4″ thick.
Bake. Pop the trays into the oven for 8-10 minutes or until set.
Cool them. Remove them from the oven and let them rest in the tray for at least 10 minutes. Then transfer them to a wire rack to finish cooling. Enjoy.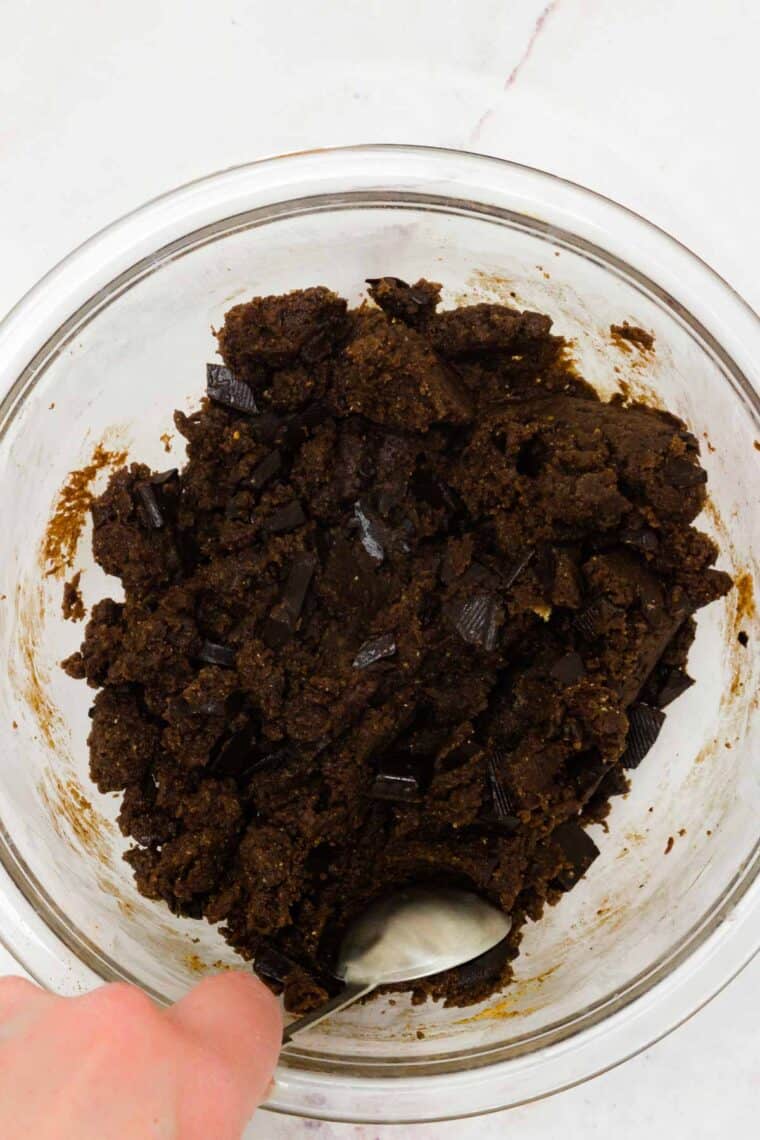 Tips for Success
Follow these tips for super yummy cookies:
Don't over-bake. Leaving them in the oven way longer than they need won't make them crispier, it will only dry them out. Bake them until they're just set.
Let them cool. Although freshly baked cookies are extremely tempting, let them cool for at least 10 minutes before removing them from the tray. Moving them before this will make them crumble.
Use an oven thermometer. Sometimes the temperature that your oven reads is actually off because it's been a while since it was calibrated. Use a special oven thermometer to make sure your oven temperature is right where it needs to be.
Don't make them too thick. You definitely don't need to measure their thickness but make sure your cookies are about 1/4″ thick. Any thicker than this and they'll come out under-baked.
Make them crispy. Flatten them a bit more for crispier cookies.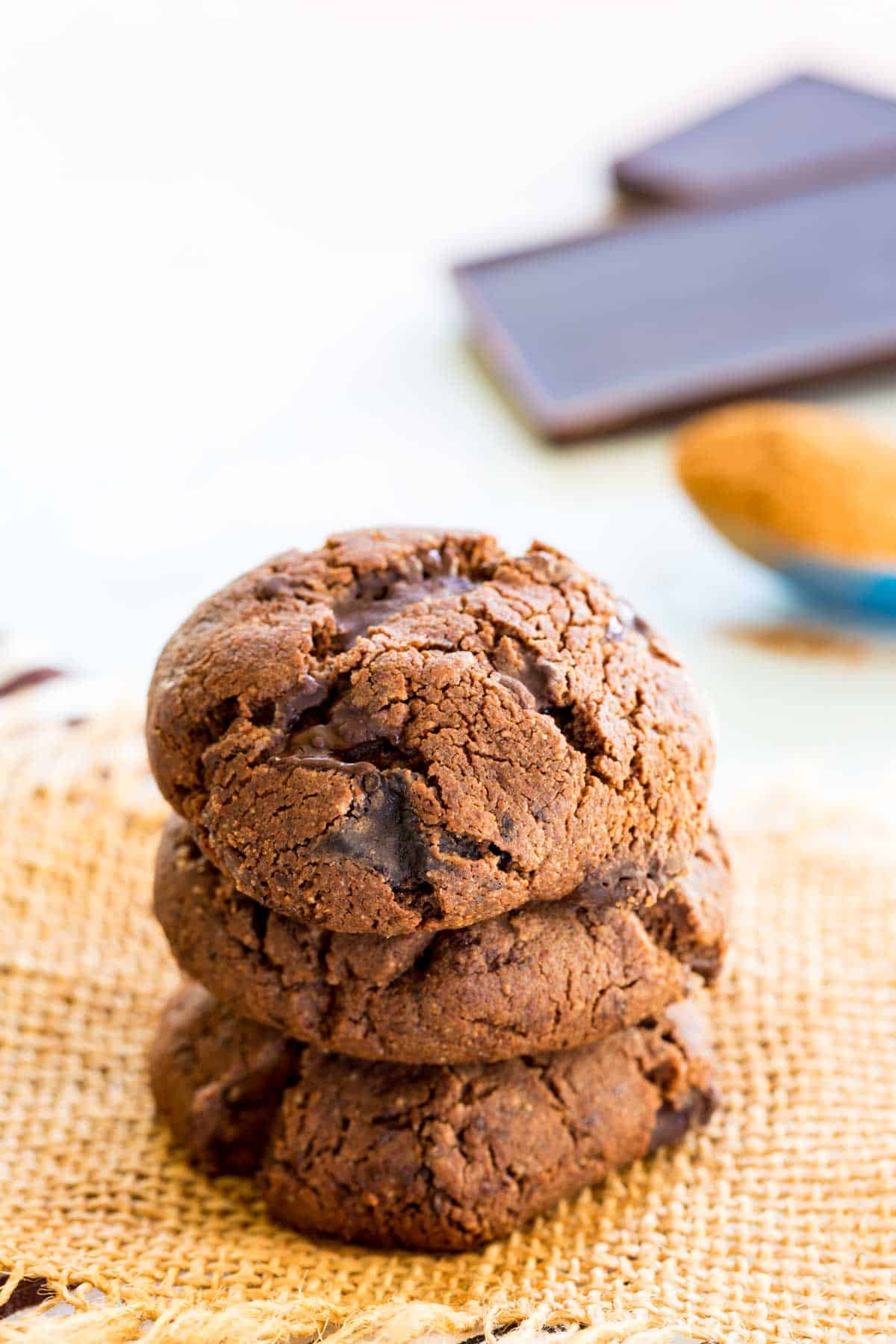 Serving Suggestions
On their own or drizzled with a little caramel or butterscotch, these are absolutely divine! Don't forget to have them with a milkshake or coffee for a decadent afternoon treat. Try my Chocolate Almond Protein Blended Cold Brew and Blended Iced Coffee for a caffeine boost.
A bit of ice cream also never hurt anyone and my Easy No-Churn Vanilla Bean Cheesecake Ice Cream is my favorite flavor to go with these cookies.
Skip the spice blend. Leave it out entirely or substitute it entirely for ground cinnamon to avoid spiciness.
Add almonds. Fold almonds or walnuts into the dough for a nutty, crunchy bite.
Make them paleo. Swap the brown sugar for coconut sugar, make sure the almond butter is sugar-free, and use paleo-friendly chocolate for scrumptious paleo cookies.
Make them gluten-free. Check the labels and as long as all the ingredients you use are gluten-free, these cookies will be too!
Add coconut. Remove the spice blend and swap 1 tbsp cocoa powder for shredded unsweetened coconut. It'll taste just like an Almond Joy bar!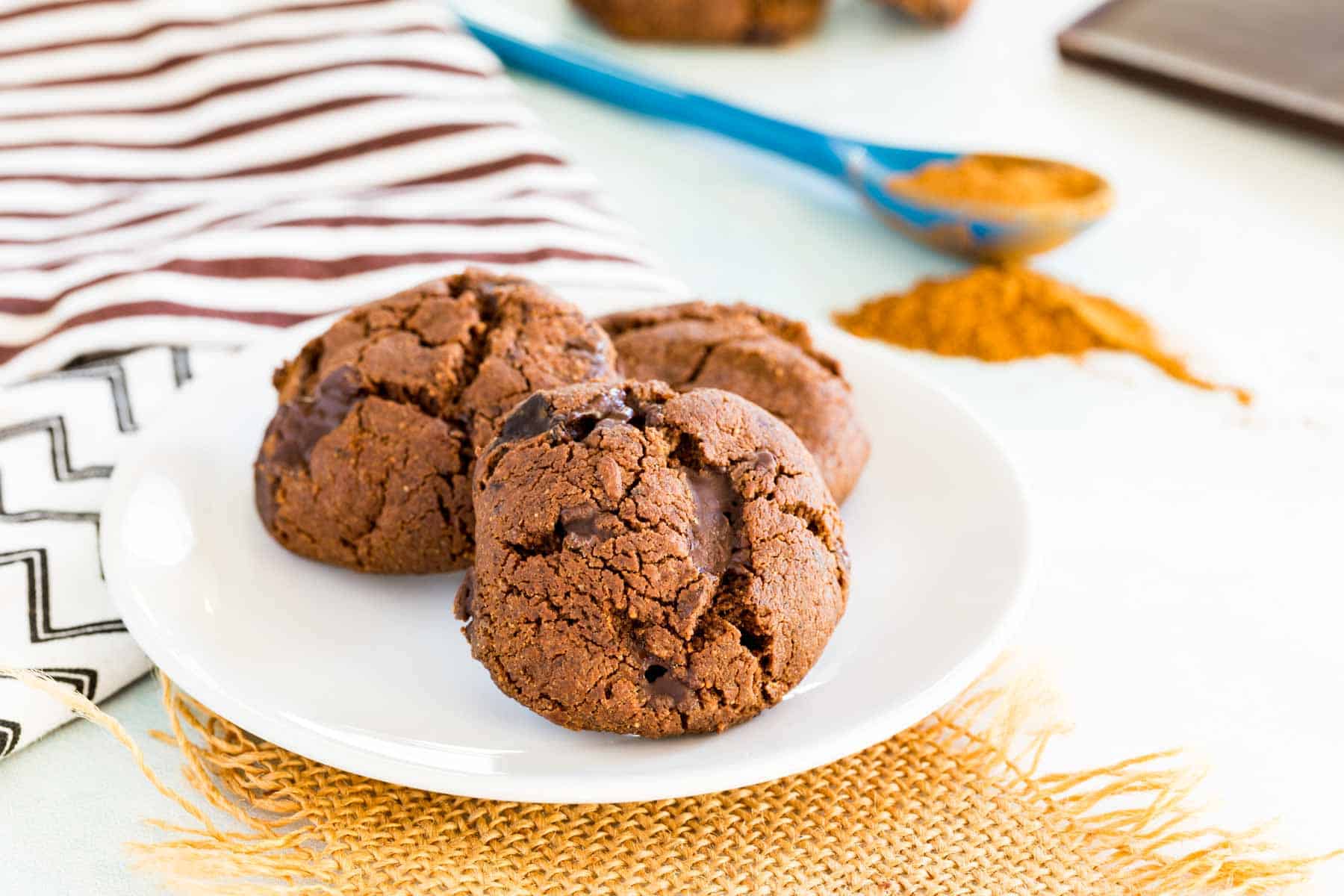 How to Store
These will keep in an airtight container for up to 5 days. If you refrigerate them, they will last an additional 2 days— just make sure to let them come to room temperature before eating them.
Yes! Place them in an airtight bag inside a freezer-friendly container and then freeze them. They taste best when eaten within 2 months, but you can freeze them for up to 6 months.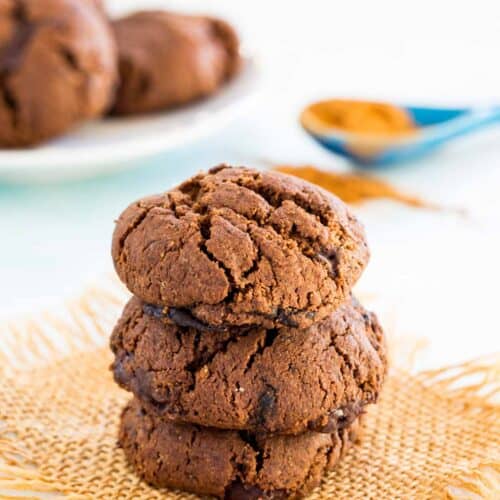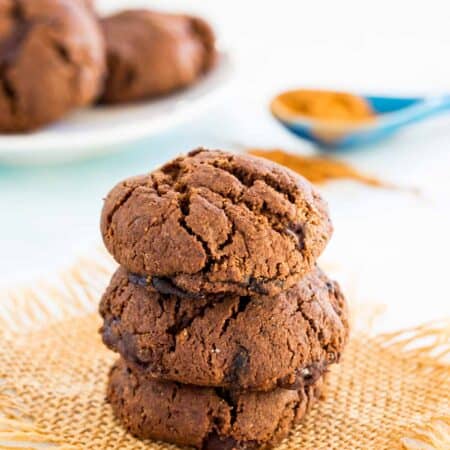 Soft and chewy, these flourless Mexican hot chocolate cookies are loaded with all the sweetness and spice you crave. Deliciously chocolaty with a little kick, they'll be your favorite gluten free cookie recipe from now on for the holidays, Cinco de Mayo, or any time you want a quick and easy treat.
Ingredients
1

large

egg

1

cup

creamy almond butter

1/3

cup

dark brown sugar,

firmly packed

3

Tablespoons

unsweetened cocoa powder

1

teaspoon

baking soda

1

teaspoon

Mexican Chocolate Spice Mix

or 1/2 teaspoon cinnamon plus 1/4 teaspoon ground ginger plus 1/8 teaspooon cayenne pepper

pinch

salt

(if your almond butter doesn't contain salt)

1

teaspoon

vanilla extract

3.5

oz.

dark chocolate,

cut into chunks
Instructions
Preheat your oven to 350°F. Line baking sheets with silicone baking mats or parchment.

In a medium bowl, using a hand mixer or just a fork, lightly beat the egg.

Add the almond butter, brown sugar, cocoa powder, baking soda, spices, salt, and vanilla, and mix until thoroughly combined.

Mix in the chocolate chunks.

Form balls with about 1 Tablespoon of dough and place on the baking sheet a couple of inches apart. Press down slightly to form thick disks.

Bake for 8-10 minutes, or until set but still slightly soft to the touch.

Cool the cookies on the baking sheet for about 10 minutes, then transfer to a wire rack to cool completely.
Nutrition Facts
Mexican Hot Chocolate Cookies
Amount Per Serving (1 cookie)
Calories 79
Calories from Fat 54
% Daily Value*
Fat 6g9%
Cholesterol 6mg2%
Sodium 38mg2%
Potassium 93mg3%
Carbohydrates 5g2%
Protein 2g4%
Vitamin A 8IU0%
Calcium 33mg3%
Iron 1mg6%
* Percent Daily Values are based on a 2000 calorie diet.
Categories:
More Flourless Cookies