This post may contain affiliate links. Read my disclosure policy.
Almond Joy Cookies have only four ingredients and taste like a candy bar. Start with basic flourless coconut macaroons that are made with only coconut and sweetened condensed milk. Then just add almonds and dark chocolate for an easy, delicious, and naturally gluten free cookie recipe that is sure to be a favorite!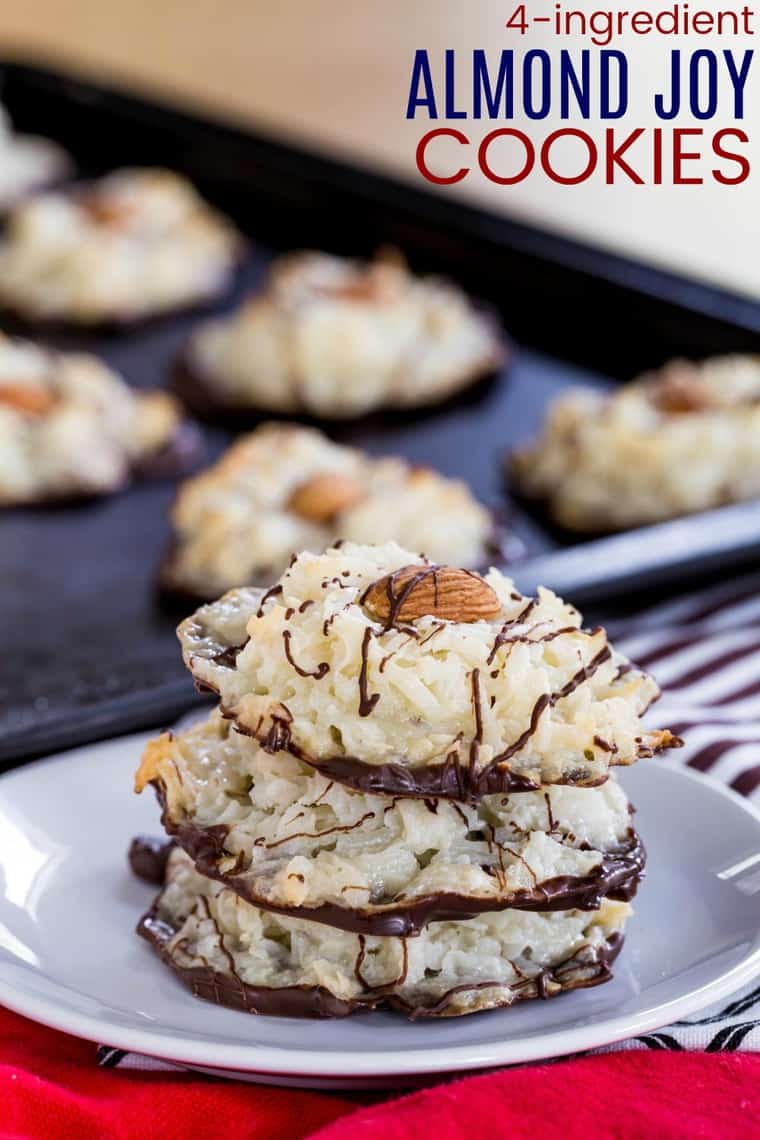 Originally published on Dec 9, 2012.
Grab a glass of milk. It's cookie time. When you are making cookies, do you prefer to stick to old standbys and family favorites? Or try new things?
For me, it is always a mix. I have to make Crispy Snickerdoodles every year for my dad and sister. Mom has to have her Snowballs. And I need Almond Crescents (though now I make Gluten Free Almond Crescents).
But I also like putting a twist on a classic.
Monster Cookies become Toffee White Chocolate Chip Monster Cookies. Add a little exotic flavor and make Coconut Orange Snickerdoodles.
And then there are these Almond Joy Cookies. I started with this recipe for 2-Ingredient Crispy Coconut Macaroons from The Fountain Avenue Kitchen. I added two more ingredients – almonds and melted dark chocolate – and just fancied them up a bit to turn them into Almond Joy Cookies.
Yes, that's right. Only four ingredients. Then just stir, scoop, press, bake, and dip.
And then you have easy cookies that have a chewy middle and crispy edges. They are sweet, but are balanced by the deep, dark chocolate and toasty flavor from the almonds.
What do you need to make Almond Joy Macaroons?
INGREDIENTS:
Sweetened flaked coconut – NOTE that baking time and amount of spreading will differ based on whether your coconut contains cornstarch, as this varies by brand. If it DOES NOT contain cornstarch, you won't want to press down the cookies, and they may take a bit longer to bake. If it DOES contain cornstarch, flatten the cookies a bit because they won't spread much.
Sweetened condensed milk – make sure it is sweetened condensed, not evaporated milk, which will not work
Whole raw almonds – use natural or almonds, as they will toast in the oven, and you don't want them to be salted.
Chocolate – an Almond Joy candy bar is coated in dark chocolate, and I say the darker, the better. But you can use whatever you prefer, or even substitute milk chocolate if that is what you like.
EQUIPMENT:
Bowls – for mixing the cookies and melting the chocolate.
Spatulas – for stirring together the cookies and melting the chocolate
Baking sheet
Parchment paper – essential as these are sticky cookies
Cookie scoop
Wax paper – for letting the chocolate harden so you can easily remove them
How do you make Almond Joy Macaroons?
Stir together the coconut and sweetened condensed milk.
Scoop onto a parchment-lined baking sheet. BRIANNE'S PRO TIP: since this mixture is sticky, spray your cookie scoop with nonstick cooking spray to make it come out easier.
Press an almond into the top of each cookie.
Bake at 350°F for 8-11 minutes, checking after 4 minutes to press the almond in further and flatten as desired.
Cool completely.
Melt chocolate in a double boiler or in the microwave.
Dip the bottom of each cookie in melted chocolate and let cool on wax paper. If you have additional chocolate, use it to drizzle on top.
Package these cookies in an airtight container for up to a week. Freeze for up to two months.
What makes these Almond Joy Cookies different than others?
They are naturally gluten free without needing any special flour or other ingredients.
Some similar recipes have many more ingredients and require you to do things like whip egg whites or sift flour. Here, you only stir together two ingredients with a fork or spatula, scoop them onto a pan, then top with an almond, and dip in chocolate. This makes them easy to make if you have to throw something together last minute.
You can adjust it to how you like them. Flatten them out, keep them mounded, bake a little less, bake a little more – and you can get the thickness, level of chewiness, crispy, brown edges (or lack thereof), that you prefer.
Other Almond Joy Cookies have chopped almonds or chocolate chips. These have a whole almond and are dipped in chocolate, making them more similar to an actual Almond Joy. Skip the almond and you can call them Mounds Cookies!
For more yumminess from me and my foodie friends, keep up with me on…
Or sign up to have Cupcakes & Kale Chips delivered straight to your Inbox!
If you love coconut, chocolate, and almonds together, try these…
Here are more flourless cookies:
Almond Joy Coconut Macaroons Dipped in Chocolate
This simple cookie recipe tastes just like an Almond Joy candy bar. It is gooey and coconutty with crisp edges. An almond on top and a dip in dark chocolate complete the decadent flavor combination. You are going to love making and eating these easy treats.

Only four ingredients to make this simple but delicious (and gluten-free) cookie that tastes like an Almond Joy candy bar.
Ingredients
14

oz.

bag sweetened shredded coconut

14

oz.

can sweetened condensed milk

Whole almonds

about 3 1/2 - 4 dozen, one per cookie

8-10

oz.

dark chocolate
Instructions
Preheat the oven to 350°F.

In a large mixing bowl, mix the coconut and the condensed milk until the coconut is evenly coated.

Place mounds of the mixture on a parchment-lined baking sheet. I sprayed a small cookie scoop with nonstick spray, and this worked very well. Ann says that she presses the mixture into a round tablespoon measuring spoon and slightly overfills it. Then she works it out with fingers and pats it gently into an evenly-shaped mound. Coating the spoon and or fingers with butter or oil helps.

Gently press one almond into the top of each cookie.

Place the pan in the oven, and, after about 4 minutes, press the almonds further into the coconut, flattening as much as you like depending on how thin and/or crispy you want your cookies.

Bake for another 4-7 minutes, or until as browned and crispy as you like them. Watch closely during the last few minutes.

Remove from the oven, and cool completely.

Melt the chocolate in the microwave or a double boiler.

Dip the bottom of each cookie in the melted chocolate, and place on wax paper until they cool and harden.

Store in an airtight container, separating the layers with wax paper.
Notes
The amount of spreading of the cookies seems to depend on whether the coconut used contains cornstarch. Please see The Fountain Avenue Kitchen's recipe for 2-Ingredient Coconut Macaroons for information about this. My coconut did not contain cornstarch. I had to bake on the longer end of the time given, and mine did not brown as much as Ann's. The ones I kept mounded together did not spread much, but those I flattened a little more spread a bit.
Nutrition Facts
Almond Joy Cookies
Amount Per Serving (1 cookie)
Calories 105
Calories from Fat 54
% Daily Value*
Fat 6g9%
Cholesterol 1mg0%
Sodium 34mg1%
Potassium 77mg2%
Carbohydrates 12g4%
Protein 2g4%
Vitamin A 22IU0%
Vitamin C 1mg1%
Calcium 38mg4%
Iron 1mg6%
* Percent Daily Values are based on a 2000 calorie diet.
Categories:
Enjoy!