Almond Joy Macaroons
Disclosure: This post may contain affiliate links. Cupcakes & Kale Chips is a participant in the Amazon Services LLC Associates Program, an affiliate advertising program designed to provide a means for us to earn fees by linking to Amazon.com and affiliated sites.
Almond Joy macaroons will be a perfect addition to your holiday cookie platter! Only four ingredients are needed to make this simple, delicious, gluten-free cookie that tastes like an Almond Joy candy bar. Get ready to devour Almond Joy Macaroons.


Grab a glass of milk, and settle in for awhile – it's time for the #SundaySupper Ultimate Cookie Exchange. Do you love to bake cookies for the holidays? I go a little nuts at Christmastime. I always say I am cutting back, and I always end up with at least 8 different kinds of cookies, and usually more. Some are the old standbys and family favorites, and some are new recipes I have found. This year, I even have some experiments of my own. Can't wait to share them all with you throughout the week.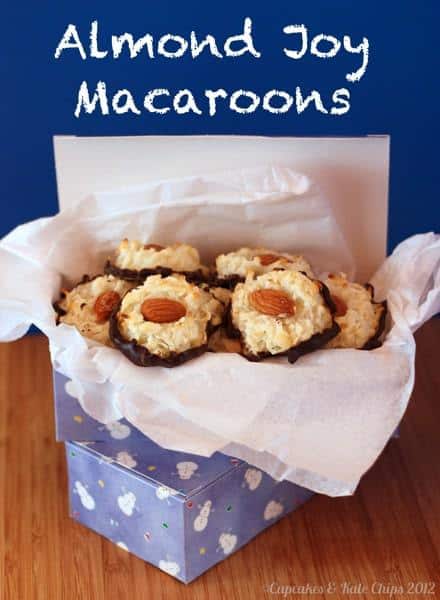 In fact, I was thinking about these experiments when I was trying to decide what to post for #SundaySupper. The event description said to make your favorite cookie for bringing to cookie exchanges. Well, my favorite cookie to eat are almond crescents. I have to make Snickerdoodles every year for Dad and Sam. Mom has to have her Snowballs, and most of my family likes  sugar cookies and cut-outs. Although, this year's have a bit of a different flavor infusion. So really, I can't take any of these to a cookie exchange, because the family just won't allow it.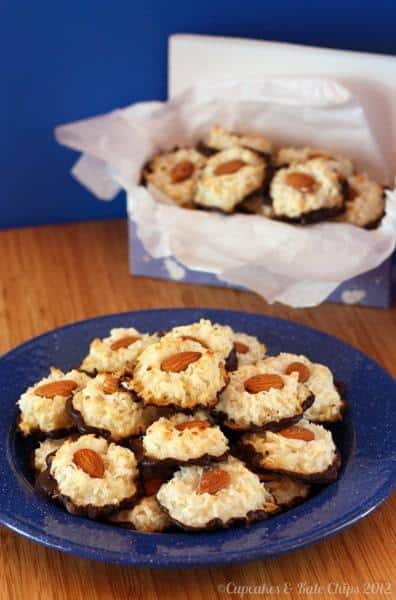 When I am exchanging cookies, I usually bring a batch or three of my new recipes or experiments. Sometimes I haven't even tried them (darn wheat allergy, and after the first year when I started baking massive quantities, tried them all, and, well, didn't feel so hot). So I am counting on everyone to be my guinea pigs. Almond Joy macaroons are a cookie recipe experiment. I saw Ann's recipe for 2-Ingredient Crispy Coconut Macaroons at The Fountain Avenue Kitchen, and loved that they were gluten free, without needing any special flours or anything. And they require only two ingredients, making them easy to make if you have to throw something together last minute. I added two more ingredients – almonds and melted dark chocolate – and just fancied them up a bit to turn them in to Almond Joy Macaroons.
[Tweet "You only need four ingredients to make Almond Joy Macaroons!"]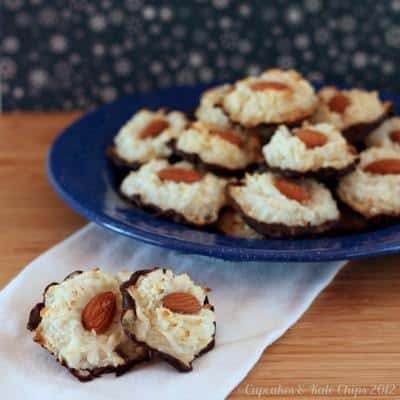 I have held back, only eating one so far (I jammed the rest in my freezer), but I LOVE THEM! Love the chewy parts, the crunchy parts, love the sweet against the bitterness of the dark chocolate (I say, the darker the better). And I love that you can adjust it to how you like them. Flatten them out, keep them mounded, bake a little less, bake a little more – and you can get the thickness, level of chewiness, crispy, brown edges (or lack thereof), that you prefer.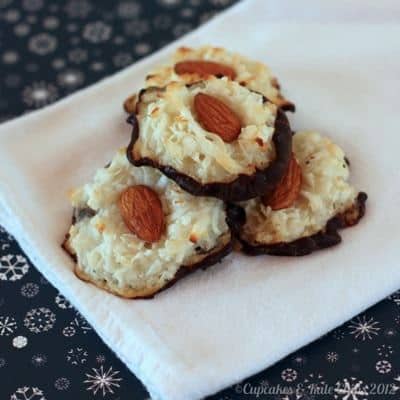 I hope you will give these Almond Joy Macaroons a try! Trust me, they could not be easier for something so delicious!
Please join on us on Twitter throughout the day during #SundaySupper on December 9th. In the evening we will meet at 7pm EST for our #SundaySupper Ultimate Cookie Exchange live chat. All you have to do is follow the #SundaySupper hashtag or you can follow us through TweetChat. This Week, Sunday Supper has  a special host who knows all about Cookies. Janet Keeler, Food & Travel Editor for the Tampa Bay Times and Author of Cookielicious will be joining us with tips on baking for the Ultimate Cookie Exchange and to answer any of your baking questions. We are giving away 5 signed copies of Cookielicious with 150 fabulous recipes to bake and share.
We'd also love to feature your recipe for The Ultimate Cookie Exchange on our #SundaySupper Pinterest board to share them with all of our followers, too.
And if you are still looking for some recipes for cookies to bake this year, look no further than the bottom of this post for over 50 awesome recipes from the amazing #SundaySupper crew!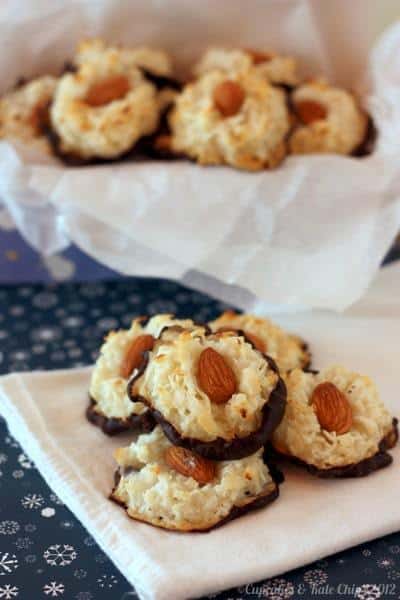 What are your favorite cookies to bake for the holidays?  Feel free to share links to the recipes in the comments or on my Facebook page, and I will share on Facebook and Twitter throughout the week. You'll be seeing some of the ones that I love to make for my family and myself this week on the blog.
Enjoy this Almond Joy macaroons recipe!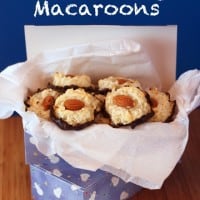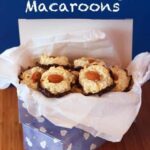 Print Recipe
Almond Joy Macaroons
Only four ingredients to make this simple but delicious (and gluten-free) cookie that tastes like an Almond Joy candy bar.
Servings:
3
1/2 - 4 dozen
Ingredients
1

14 oz. bag sweetened shredded coconut

1

14 oz. can sweetened condensed milk

Whole almonds

about 3 1/2 - 4 dozen, one per cookie

8-10

oz.

dark chocolate
Instructions
Preheat the oven to 350°F.

In a large mixing bowl, mix the coconut and the condensed milk until the coconut is evenly coated.

Place mounds of the mixture on a parchment-lined baking sheet. I sprayed a small cookie scoop with nonstick spray, and this worked very well. Ann says that she presses the mixture into a round tablespoon measuring spoon and slightly overfills it. Then she works it out with fingers and pats it gently into an evenly-shaped mound. Coating the spoon and or fingers with butter or oil helps.

Gently press one almond into the top of each cookie.

Place the pan in the oven, and, after about 4 minutes, press the almonds further into the coconut, flattening as much as you like depending on how thin and/or crispy you want your cookies.

Bake for another 4-7 minutes, or until as browned and crispy as you like them. Watch closely during the last few minutes.

Remove from the oven, and cool completely.

Melt the chocolate in the microwave or a double boiler.

Dip the bottom of each cookie in the melted chocolate, and place on wax paper until they cool and harden.

Store in an airtight container, separating the layers with wax paper.
Notes
The amount of spreading of the cookies seems to depends on whether the coconut used contains cornstarch. Please see The Fountain Avenue Kitchen's recipe for 2-Ingredient Coconut Macaroons for information about this. My coconut did not contain cornstarch. I had to bake on the longer end of the time given, and mine did not brown as much as Ann's. The ones I kept mounded together did not spread much, but those I flattened a little more spread a bit.
Enjoy!
If you love the Almond Joy macaroons, or just the combo of chocolate, almond, and coconut, try these recipes:
The Sunday Supper Favorite Cookie Exchange Cookies:
For more amazing cookies recipes like Snowball Surprise Cookies, check out  Cookielicious, by Food Editor Janet K. Keeler from The Tampa Bay Times.