This post may contain affiliate links. Read my disclosure policy.
It doesn't get much easier to make a crisp, chewy and rich treat that's naturally gluten free for an after school snack that the kids will love. Plus there's plenty of protein and not a lot of sugar, so they are definitely a healthier treat that still tastes indulgent. Welcome them off the bus with a glass of milk and a few of these Flourless Chocolate Almond Cookies.
Flourless Chocolate Almond Cookies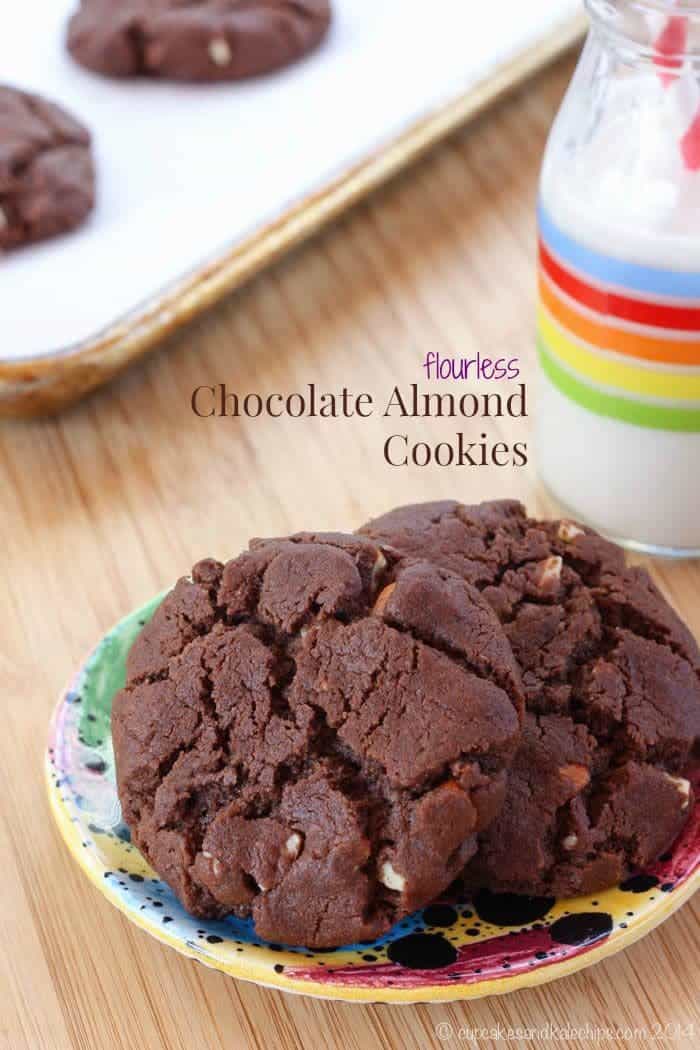 Dear Bug,
Tomorrow you start Kindergarten. The past five and a half years have just flown by, and the past year since we starting getting ready to move to Maryland has particularly been a blur. You are so big and handsome and smart. Really smart. Like, your daddy and I are smart, but once you have a few more years under your belt, you are going to be outsmarting us. Please try not to do that. We really are looking out for what's best for you, even when you think we are just trying to get you to do what we want and not letting you do what you want.
You have such a huge heart, but also your mommy's and daddy's, emotional, impulsive, reactive nature. While we have learned to control that for the most part, it's taken us many years and we still slip up sometimes. So in the hands of a five year old, I know it's a little tough to manage. Your huge heart gets hurt easily, even when nobody is intending to hurt it, and I know you are just reacting to that. When you do make a bad choice and are not happy with the consequences of that choice, you get upset or angry. But once you calm, you always realize that you made a mistake. I know you are learning each and every time this happens. While we all make mistakes, even Mommy and Daddy, as you get older, you will make more and more good choices. I know in that heart of yours, that's what you want to do.
That huge heart is also a very loving. There is nothing that makes me happier or more proud than seeing you help your brother wash his hands, or share some of your snack with him, or let him play with you even though I know sometimes he messes up how you've set up your scenery and characters.
And I also love watching you play, because you are so creative. So many amazing stories live inside your head, and I can't wait until you can start writing them down for us, because while it's fun to have you tell us al of these stories, you are going to treasure having them all recorded, as will Daddy and I.
This is going to be a huge year for you and you are going to learn so many things. It is a little scary for Mommy to send you off on the school bus everyday. It's a crazy world out there. But I'm also so excited for you because there is so much for you to learn and experience. And it all starts with that first step onto the school bus.
So be who you are and become who you have the potential to become. And as my Dad always said to me, just do your best. I can't ask for anything more than that. I love you!
Love, Mommy
Now you guys, I need a cookie…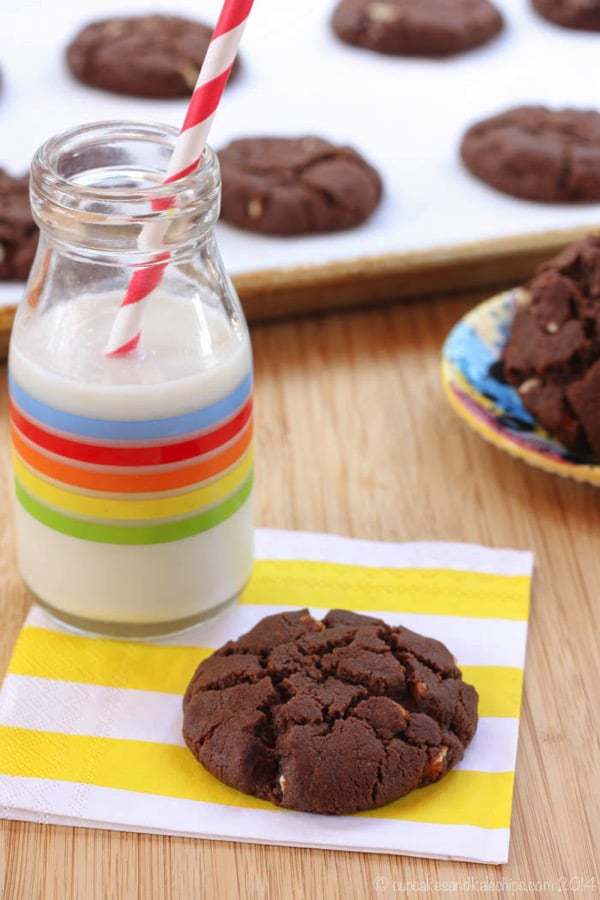 These Flourless Chocolate Almond Cookies have tons of chocolaty goodness, and the almond butter makes them tender and rich. Nice and chewy with a crisp exterior and the crunch of almonds, and just sweet enough, these cookies are the perfect combination of flavors and textures. And while they taste totally indulgent, they are filled with healthy ingredients, not a ton of sugar, and no flour at all, making them gluten free, grain free, and dairy free. You could even sub in coconut sugar to make them paleo. Just what you need when you are craving sweet comfort food, but don't want to do major damage to the waistline, or don't want to overload your kids with sugar, so that they don't crash before they've made it through the school day or finished their homework.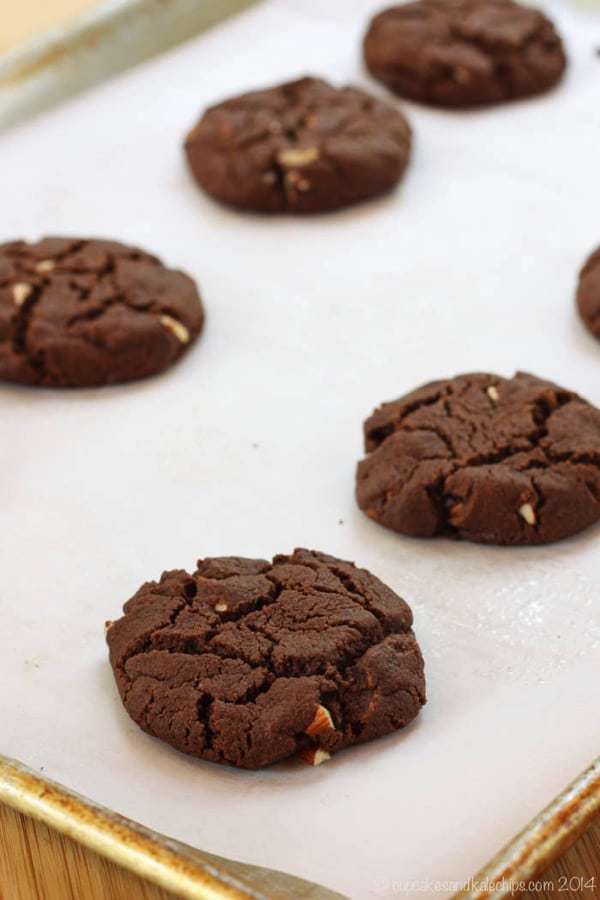 Now pass me another…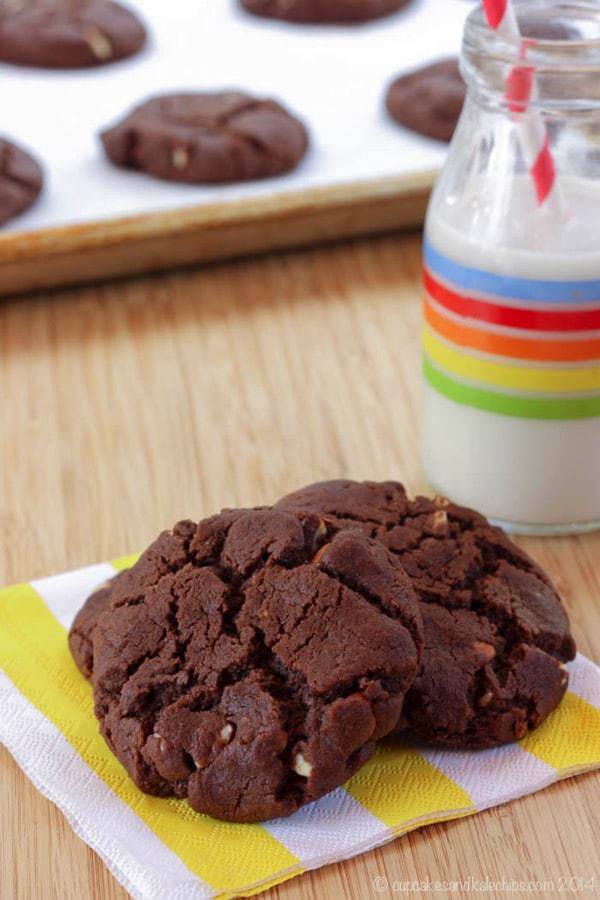 Any advice for a new Kindergarten mom?
I hope you enjoy these flourless chocolate almond cookies!
Recipe adapted from It's Yummi.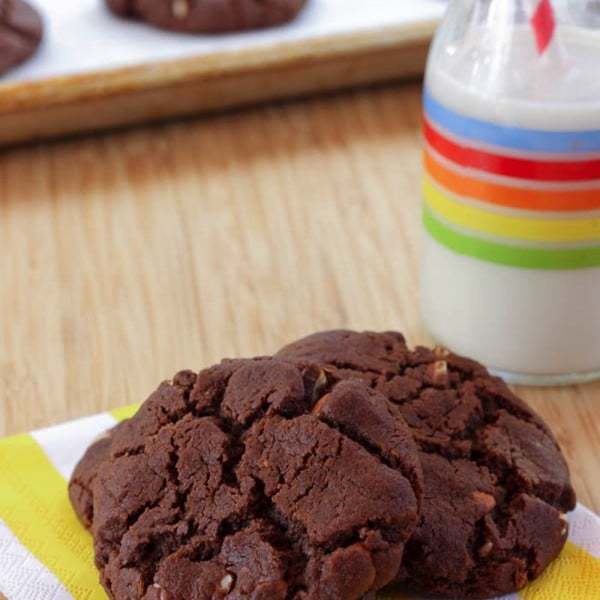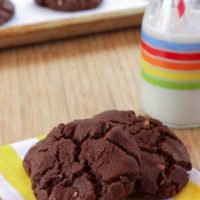 Flourless Chocolate Almond Cookies
Ingredients
1

large

egg

1

cup

creamy almond butter

1/3

cup

dark brown sugar

firmly packed (coconut sugar for paleo)

1

teaspoon

baking soda

3

Tablespoons

unsweetened cocoa powder

1

teaspoon

vanilla extract

1/4

cup

chopped almonds
Instructions
Preheat your oven to 350°F. Line two large baking sheets with silicone baking mats or parchment.

In a medium bowl, lightly beat the egg. Add the almond butter, brown sugar, baking soda, cocoa powder, and vanilla, and mix until thoroughly combined. Fold in the chopped almonds.

Form balls with about 2 tablespoons of dough, place about six or seven on each baking sheet, a couple of inches apart, and press down to form thick disks.

Bake for 10-12 minutes, or until set but still slightly soft to the touch.

Cool the cookies on the baking sheet for about 10 minutes, then transfer to a wire rack to cool completely.
Nutrition Facts
Flourless Chocolate Almond Cookies
Amount Per Serving (1 cookie)
Calories 130
Calories from Fat 81
% Daily Value*
Fat 9g14%
Cholesterol 11mg4%
Sodium 75mg3%
Potassium 153mg4%
Carbohydrates 8g3%
Protein 4g8%
Vitamin A 15IU0%
Calcium 65mg7%
Iron 0.8mg4%
* Percent Daily Values are based on a 2000 calorie diet.
Categories:
Here's some more flourless (so naturally gluten free) cookies for you…
Plus a few from my friends…