This post may contain affiliate links. Read my disclosure policy.
Valentine's Day is definitely a time for indulgence, and I'm talking about indulgence in high quality, chocolaty goodness. So this year treat yourself and your family to a simple rich dessert made with only the finest ingredients, and, of course, bursts of dark chocolate. For a treat that also happens to be gluten friendly, bake up some Flourless Coconut Almond Dark Chocolate Chunk Cookies.
Flourless Coconut Almond Dark Chocolate Chunk Cookies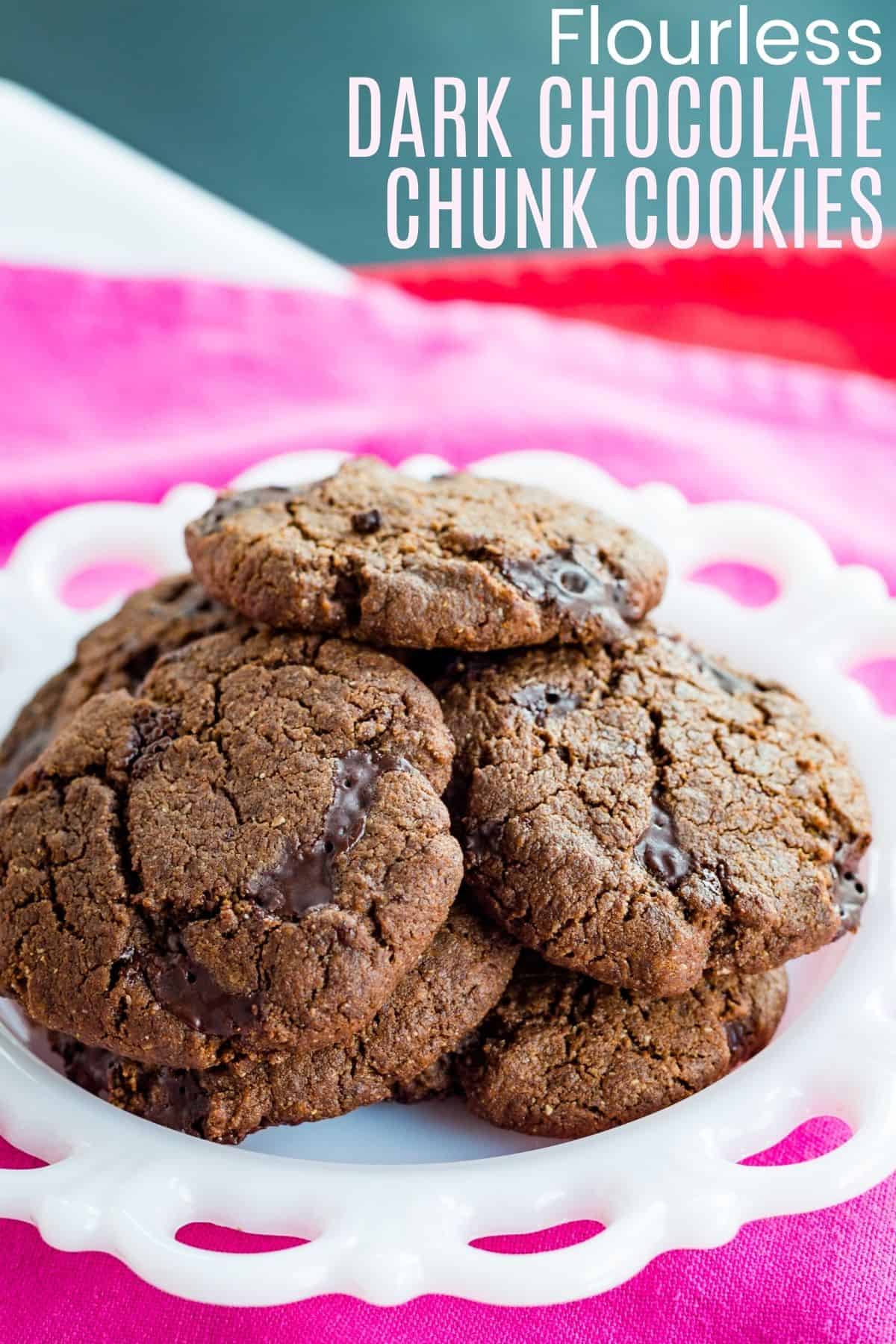 Disclaimer: This is a sponsored post written by me on behalf of Green & Black's Organic Chocolate. All opinions are 100% mine.
Have you made your Valentine's Day plans yet? Big fancy dinner out? Concert? Date night in, kiddies to bed early, cuddled up for a movie night on the couch? Flowers? Wine? Me? What am I doing, you ask? I'm going with my husband, parents and kids to a boat show. Obviously. OK OK, I know I've mentioned that The Hubby and I don't usually venture out to restaurants and the like on Valentine's Day, and that I wanted to make it a special day for the boys. But let's be honest, I was hoping it would be something I would love too. And maybe after a fun family outing I'd get a chance to cook up a nice dinner for us to enjoy together. Then once the kids went to bed and The Hubby and I could savor a special dessert, maybe pour a glass of wine and relax by the fire.
Nope. We'll be tromping around a convention center filled with boats, having a hot dog lunch at the food stand, grabbing dinner at anywhere that doesn't have an hour and half long wait on Valentine's Day on a major event weekend that draws lots of people to the area before we trek back to my mom's and get our overtired kids into bed. I know I shouldn't be selfish. They will all love it, and truthfully, it is entertaining to watch my boys climb up on the boats and my husband daydream about which one he wants to buy. So although it may not be my cup of tea, it'll be fun and my kids will be happy, which, of course, makes mama happy.
But I think after a busy day like that, I'll have to treat The Hubby and I with something I can bake up in advance. Something special, made with only the finest ingredients and filled with rich, indulgent flavors. Maybe something like these…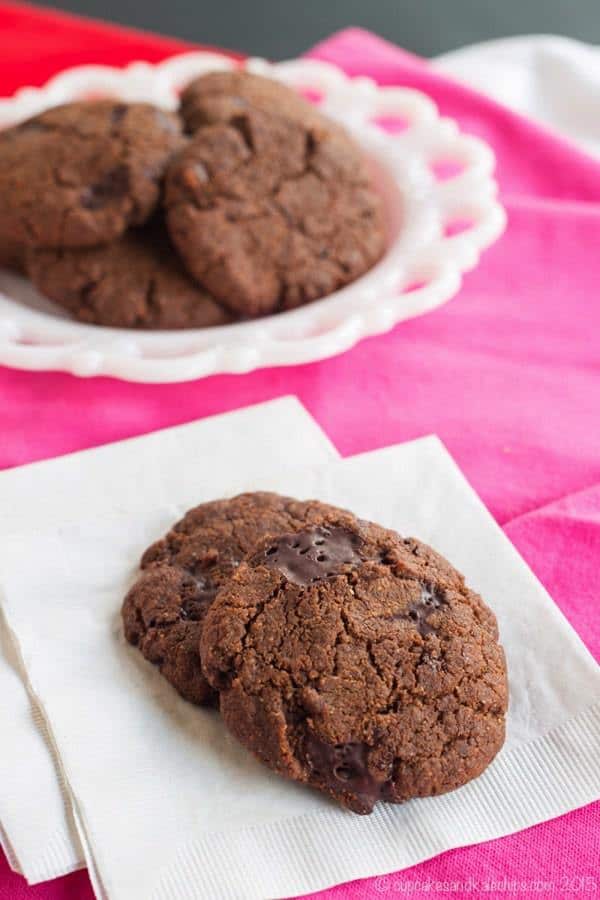 Flourless Coconut Almond Dark Chocolate Chunk Cookies are moist, sweet, and utterly luscious. The cookies themselves have a perfectly balanced chocolaty flavor with undertones of almond, and just a hint of coconut flavor and texture. Then as you sink your teeth into these soft, chewy cookies, you get bursts of creamy, intense dark chocolate. No little bitty chips here. It's really those melty chunks that make these cookie so amazing, especially since I used Green & Black's Organic Dark 70% chocolate.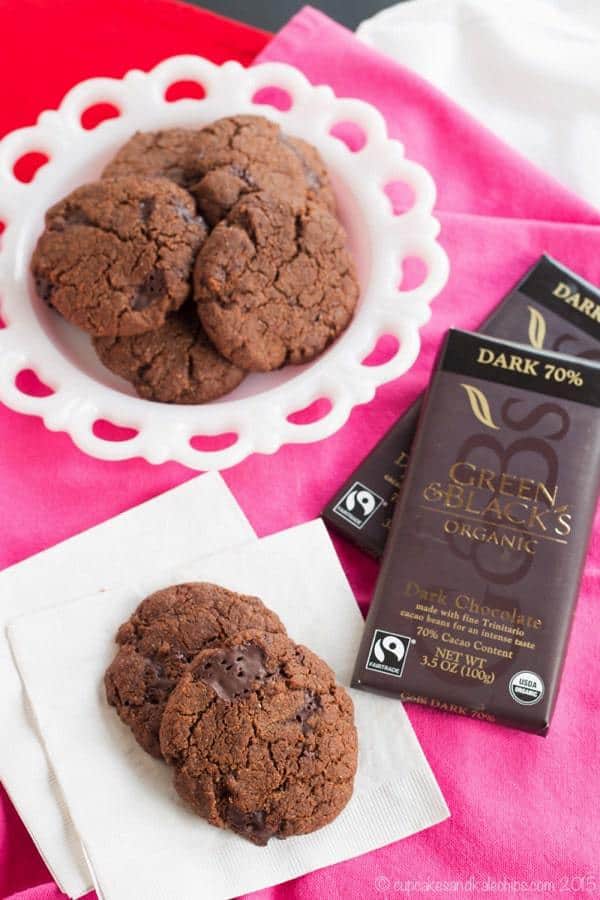 Green & Black's is an Organic and Fair Trade First. Founded in 1991, every product they have made since then has been certified organic. Using the highest quality ingredients brings exceptional flavors to each of their bars, which come in decadently delicious, classic flavors, from basics like Milk Chocolate, Dark 85% and White Chocolate, to interesting and exotic ones, such as Hazelnut & Currant and Spiced Chili. I'm a simple, traditional girl when it comes to my chocolate, and I'll just take a few squares of Dark 70% to nibble on, thank you very much. Which I happened to do as I was testing this recipe, and the refined flavor and creamy texture just cannot be matched. It only takes a little to satisfy an intense chocolate craving. And besides their focus on the quality of their bars, Green & Black's also has socially responsible values that remain at the heart of their business. All Green & Black's Organic Chocolates are FAIRTRADE certified, and they are committed to supporting the farming communities around the world who supply them with the delicious fair trade ingredients that make these premium chocolate bars possible. Find out more about Green & Black's history and philosophy, and be sure to keep up with them on Facebook and Twitter.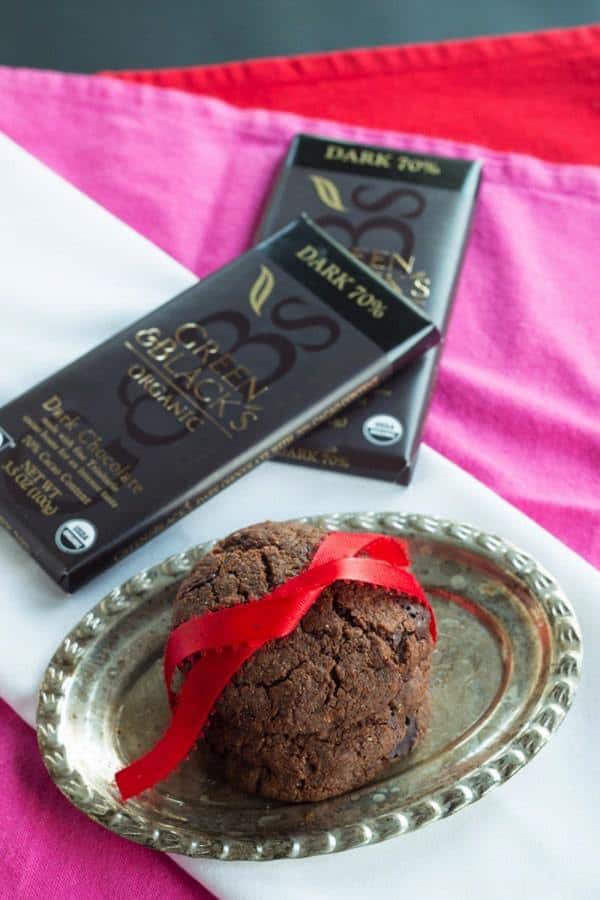 I was inspired by the care they take in selecting fine organic ingredients for all of their bars when I made these cookies. It only makes sense to pair this chocolate with the best ingredients. These cookies are completely flourless, making them naturally gluten friendly. Though you could use regular brown sugar, I wanted these cookies to be free of refined sugar, just like the Green and Black's bars, so I used coconut sugar. And while I have a passion for and a tendency to default to the classic chocolate and peanut butter combination, using natural almond butter brought an extra level of quality and refinement.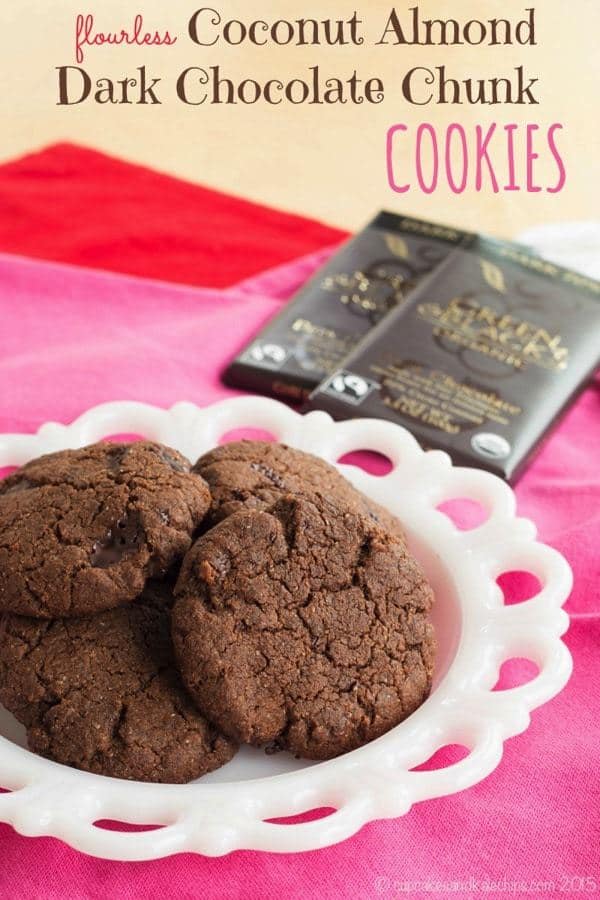 Go ahead, you know you want one! And enjoy Green & Black's Organic Chocolate – chocolate made in good taste!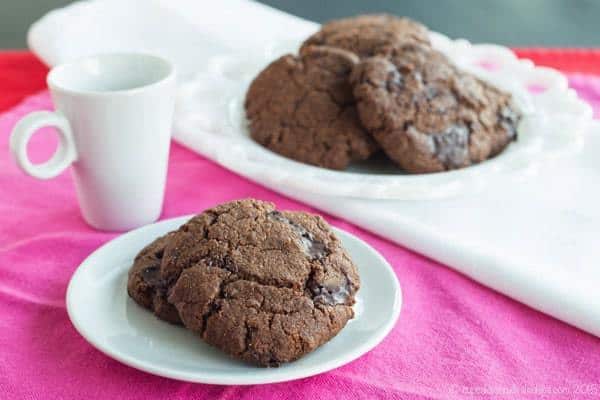 Are you a fan of Dark Chocolate, Milk Chocolate, White Chocolate or all chocolates? Tell me in the comments for a chance to win a $100 cash equivalent gift card plus a Green & Black's Organic Chocolate prize pack.
This sweepstakes is sponsored and fulfilled by BlogHer.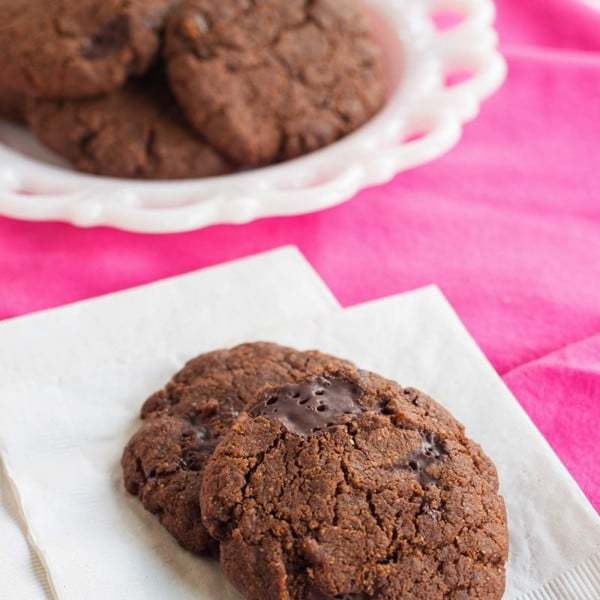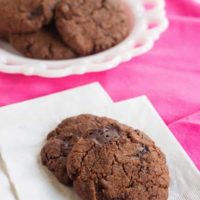 Flourless Coconut Almond Dark Chocolate Chunk Cookies
A simple, rich treat worthy of special occasion. Gluten friendly!
Ingredients
1

large

egg

1

cup

creamy almond butter

1/2

cup

coconut sugar

or brown sugar, firmly packed

1

teaspoon

baking soda

2

Tablespoons

cocoa powder

1

Tablespoon

shredded unsweetened coconut

1

teaspoon

vanilla extract

3.5

oz

bittersweet chocolate

cut into chunks, I use one 3.5 ounce bar Green & Black's Organic 70% Dark chocolate
Instructions
Preheat your oven to 350°F. Line two large baking sheets with silicon baking mats or parchment paper.

In a medium bowl, lightly beat the egg.

Add the almond butter, coconut sugar, baking soda, cocoa powder, coconut, and vanilla, and mix until thoroughly combined.

Fold in the chocolate chunks.

Form balls with about 2 tablespoons of dough, place about six or seven on each baking sheet, a couple of inches apart, and press down to form thick disks.

Bake for 10-12 minutes, or until set but still slightly soft to the touch.

Cool the cookies on the baking sheet for about 10 minutes, then transfer to a wire rack to cool completely.
Nutrition Facts
Flourless Coconut Almond Dark Chocolate Chunk Cookies
Amount Per Serving (1 cookie)
Calories 180
Calories from Fat 117
% Daily Value*
Fat 13g20%
Cholesterol 13mg4%
Sodium 96mg4%
Potassium 192mg5%
Carbohydrates 12g4%
Protein 4g8%
Vitamin A 20IU0%
Calcium 69mg7%
Iron 1.2mg7%
* Percent Daily Values are based on a 2000 calorie diet.
Categories:
Looking for some more chocolate treats to make with Green and Black's Organic Chocolate:
Dark Chocolate, Orange & Pistachio Greek Yogurt Cups
Good-for-You Strawberry Tiramisu Cheesecake Cups
Honey & Sea Salt Peanut Butter Cups for Grown-Ups
And here are a few from my friends…
Marble Bark with Pistachios and Fleur de Sel from Cravings of a Lunatic
Flourless Cookie Dough Truffles from My Whole Food Life
Dark Chocolate Salted Caramel Pretzel Bark from Lauren Kelly Nutrition