This post may contain affiliate links. Read my disclosure policy.
I hope you like nuts, because these cookies are packed with them. This slightly healthier riff on that classic flourless oatmeal peanut butter cookie recipe is a little lighter on the chocolate and sugar, but still filled with sweet, nutty goodness, but completely gluten free (as long as you ensure you get certified gluten free oatmeal). Whether you make them big or small, this giant batch of cookie dough will make piles of Monster Trail Mix Cookies.
Monster Trail Mix Cookies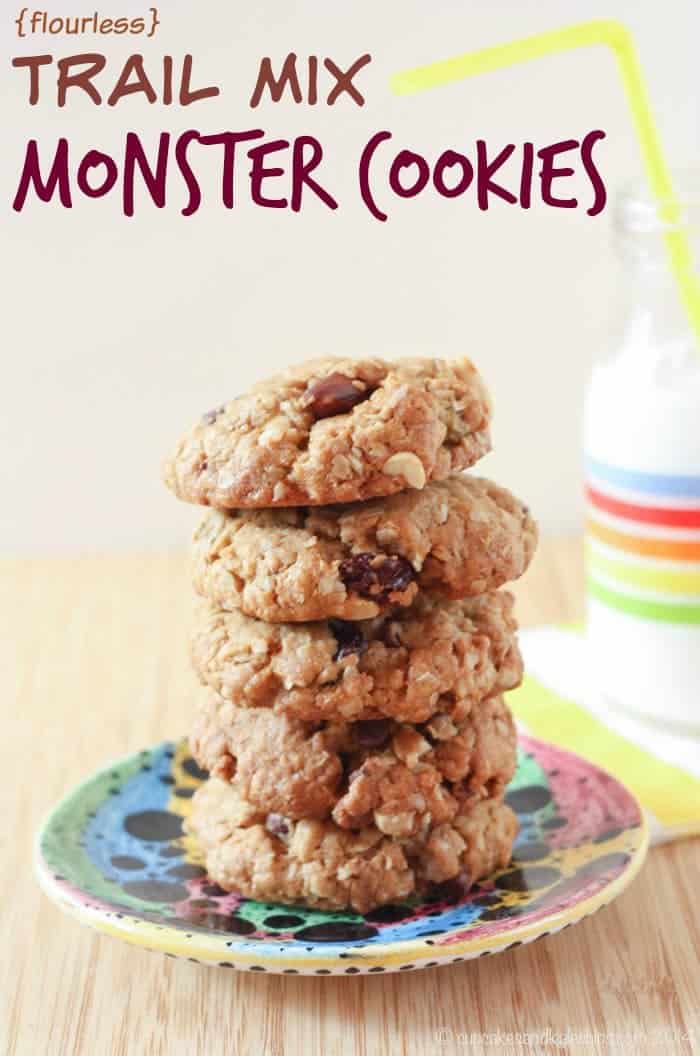 Disclosure: I'm proud to partner with CVS/pharmacy for the Gold Emblem Abound October "Snackurday" campaign. I am being sponsored to help lead this campaign, but all opinions expressed are my own, and all product claims or program details shared should be verified at CVS.com or with the appropriate manufacturers. 
I have a little thing I like to call "Selective Frugality". Or "Occasionally Thriftiness". Basically, I'm cheap, except when I really, really want to buy or do something. Which isn't really often, but when I do, it's usually a big ticket item, and most often it's more of an experience versus a tangible object. Nope you won't find me hoarding shoes and bags. However, tickets to see Derek Jeter play one last time at Yankees Stadium or to take my mom and sister to see a Broadway show or to enjoy a long, leisurely dinner at a high end restaurant with The Hubby – yep, I'm all over that.
But when it comes to household items, I scrape every last penny's worth of usage out of them. Little bits and pieces left from dinner go into omelets or sandwiches for lunch the next day. ALL of The Bug's clothes get saved, even those that are kinda beat up, because, hey, Baby Smiles is just gonna destroy them even more. The Hubby has his own weird habits – he says that once he gets about halfway through a bar of soap, it doesn't lather well anymore, so guess who finishes off all of those bars of soap instead of letting him throw them away – ME!
Heck, when I was making these cookies, before I started scooping out of the jar of CVS Gold Emblem Abound No-Stir Creamy Peanut Butter, I was finishing up a little that was left in another jar of peanut butter in the pantry. The spatula I was using couldn't get into all the little corners and crevices, and while any other reasonable human being would have deemed the jar empty, I put the lid back on and put it back in the pantry until later that evening when I made some banana "ice cream" and used that jar as my bowl to get just a hint of peanut butter flavor into my dessert. Since I was eating my own single-serving snack, as opposed to making a ginormous batch of cookies to share, it was perfectly acceptable to jam my hand into that jar to scrape out every last little smidge of PB-goodness.
I have issues.
So when I see photos on food blogs with ice cream or popsicles melting all over the place or smashed up cake or smeared caramel or chocolate, I sort of get the shakes. I mean, I can appreciate the artistry, but, oh, the waste. I mean, unless somebody is going to lick the cutting board that is being used as a backdrop. Or repurpose all of those chunks of squashed cake into a perfectly edible trifle. Heck, I've been known to pour the half-melted remnants of popsicles back into the molds, refreeze them, and feed them to my boys.
So you can imagine my worst nightmare. I was happily going along photographing some cookies…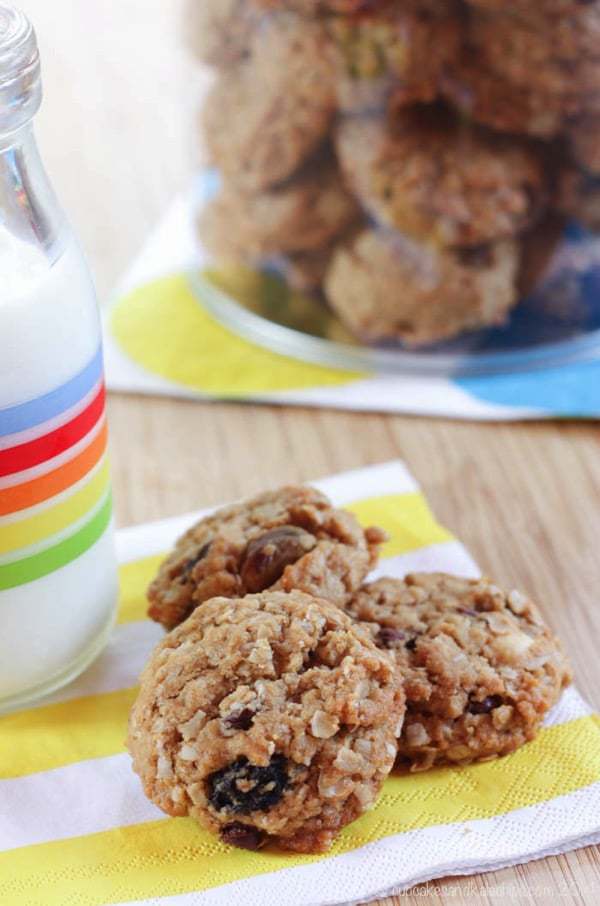 When this happened…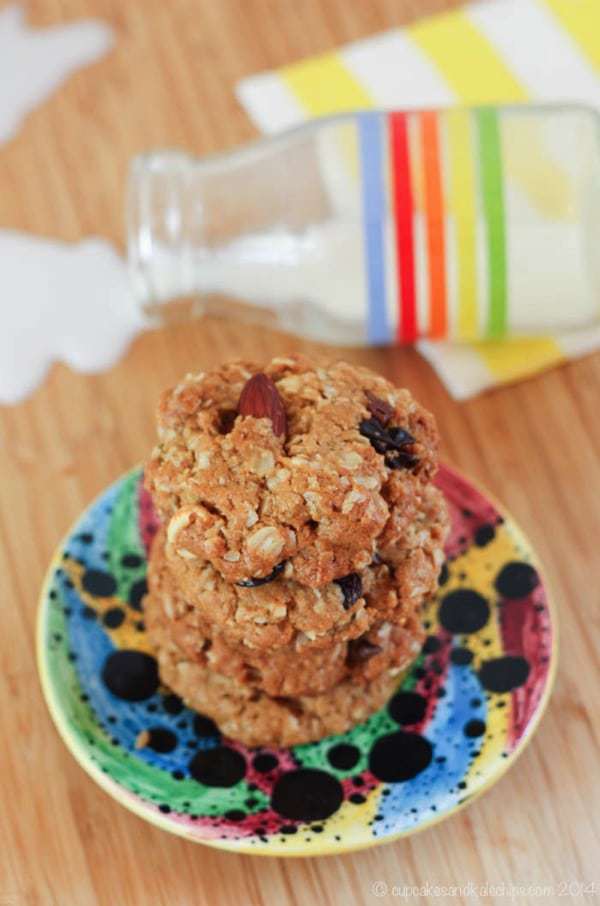 Aaauuuuuugggghhhhhh! But don't worry – I may have been crying over spilled milk, but no Trail Mix Monster Cookies were harmed in the shooting of these photos! And thank goodness, because they were super-dee-duper awesome!! The cookies themselves were soft and totally peanut buttery, but then were filled with chewy bits of dried fruit and big, crunchy nuts from the CVS Gold Emblem Abound Fruit & Nut Fiber Trail Mix. I was trying to make these a bit healthier than the traditional Monster Cookies recipe, which is why I cut down the sugar and chose the trail mix that only contained nuts and dried fruit. But I knew they needed just a hint of chocolate – in the form of just a small amount of mini chocolate chips that spread through the dough and add little chocolaty bursts. You can feel free to use any trail mix or combination of nuts, dried fruit and chocolate of your choice. Totally customizable!
And you can also make monster-sized monster cookies, or teeny-weeny kiddie-sized ones. Bring on the milk, but try not to spill it…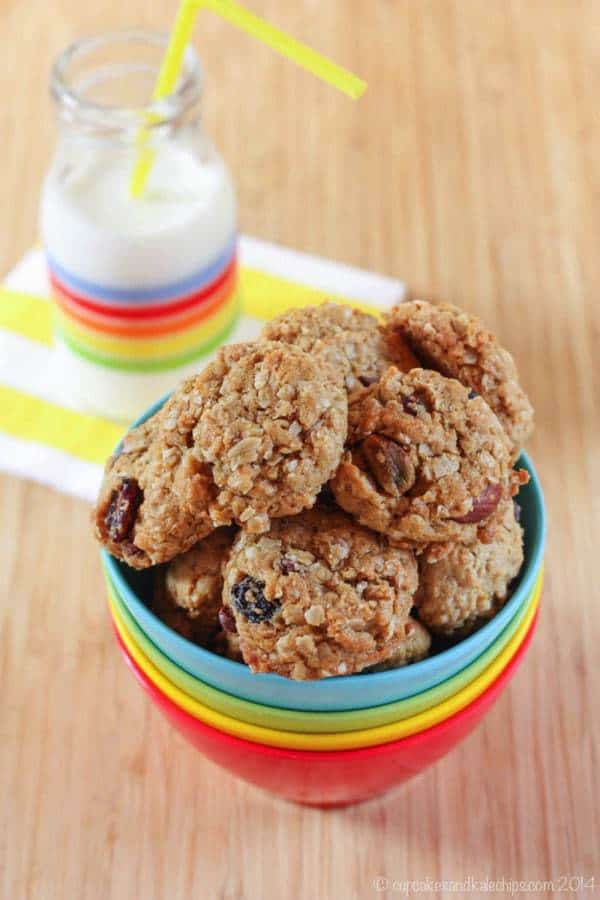 I do love whipping up my own healthy AND gluten free snacks and treats, and I am loving that as part of the Gold Emblem Abound Snacks line at CVS/pharmacy, they now have things like Creamy No-Stir Peanut Butter and Raw Natural Almonds and Unsalted Walnuts and Organic Dried Cranberries that are not only healthy snacks on their own, but can also be used as ingredients in recipes.
And, as you may know, I have a wheat allergy. So while having ingredients like these to make my own snacks is super helpful, when I really need convenience, many of the Gold Emblem Abound Snacks are gluten free, like the trail mixes, Heavenly Light Popcorn, and several varieties of Rice Thins and Rice Crisps. And they are all totally affordable. Want to try some? Well here is a $1 off coupon!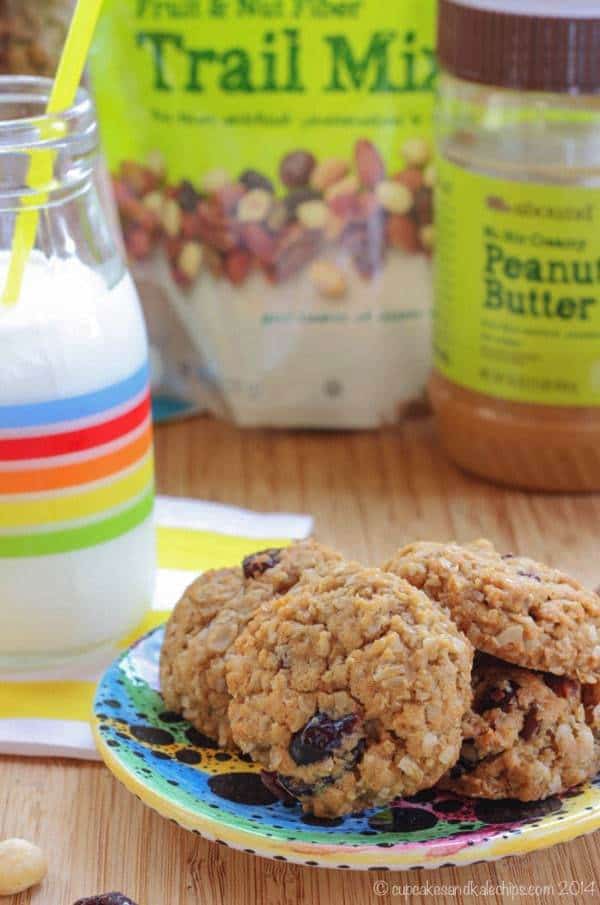 And don't forget,you have just a little longer to enter to win some of your own! So if you are a resident of the U.S. and are over 18, you have until 11:59pm on October 31st to enter to win! You can find the entry form and some great Snack Recipes and Lunchbox Recipes!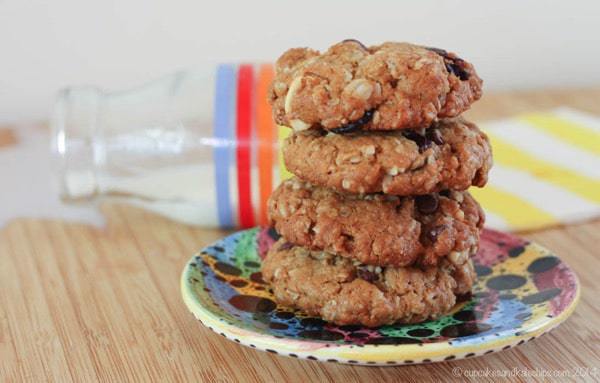 Where do you tend to save versus spend?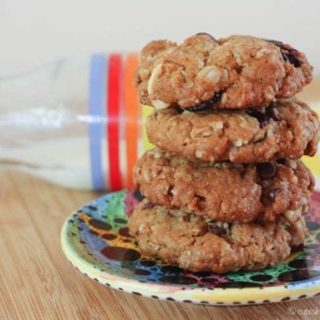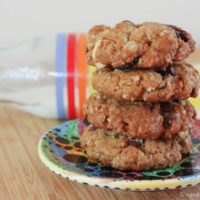 Trail Mix Monster Cookies
A healthier version of that classic flourless oatmeal peanut butter cookie, filled with sweet, nutty goodness.
Ingredients
1 1/2

cups

creamy peanut butter

1

cup

packed light brown sugar

1/4

cup

granulated white sugar

8

tablespoons

1 stick unsalted butter, softened

3

large eggs

1

tablespoon

vanilla extract

4 1/2

cups

quick cooking oats

2

teaspoons

baking soda

1

cup

trail mix

1/4

cup

mini chocolate chips
Instructions
Preheat oven to 350°F and line cookie sheets with parchment paper or silicone baking mats.

In a large bowl, combine the peanut butter, white sugar and brown sugar, and cream together with an electric mixer.

Beat in the eggs and vanilla, then the oats and baking soda.

By hand using a wooden spoon, stir in the trail mix and chocolate chips.

Drop the cookies onto prepare baking sheets using a small scoop (about one heaping tablespoon), for the small cookies, or a medium scoop (about two heaping tablespoons). Press down slightly.

Bake smaller cookies for 10-12 minutes or larger ones for 14-17 minutes, or until just set and lightly golden brown. Do not overbake.

Cool for 5 minutes on cookie sheets until cookies are set, then transfer to wire racks to cool completely. Store in an airtight container.
Categories:
Enjoy!
Looking for some more gluten free cookies?
And here are some from my friends…