This post may contain affiliate links. Read my disclosure policy.
Cranberry Cashew White Chocolate Oatmeal Cookies are a mouthful of cookie, with a mouthful of a title to go along with them. These delicious cookies are packed with ingredients and flavor!
Wait, wait, wait -let's edit that title up there a bit. Today we reveal our recipes for the Food Blogger Cookie Swap. If I'm going to reveal the name, it should be the full name. The cookies are Flourless Browned Butter Cranberry Cashew White Chocolate Oatmeal Cookies. That's a mouthful, right? You bet, it is… a mouthful of white chocolate oatmeal cookies! 😉
Crisp, chewy white chocolate oatmeal cookies studded with dried cranberries and chopped cashews, enhanced with the nutty richness of browned butter. These festive gems will be a lovely addition to your holiday cookie platter. And these are simple and perfect, whether you bake gluten free or not, because the only flour in them is made from grinding up more oats.
Flourless Browned Butter Cranberry Cashew White Chocolate Oatmeal Cookies
What's is the Food Blogger Cookie Swap? It's like if you combined a Secret Santa and a Cookie Exchange, and then invited all of your blogger friends. You bake some awesome cookies, send out a dozen each to three different bloggers, then stalk your mailbox daily till you receive your three packages. Not only do you get three different kinds of cookies to eat or share, you get to send to or receive from some old bloggy friends, or make some new ones!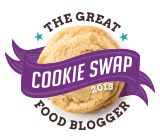 Only this is wayyy better than any normal Secret Santa, because, you know, it's cookies, not regifted picture frames and vases. And it's better than any regular cookie exchange, because we are all showcasing the recipes on our blogs, so we want to make sure they are super yummy. No burnt, nasty rocks from the well-meaning but bad-baking coworker.
And I was lucky enough to receive three amazing types of cookies! It is taking every last bit of willpower to not polish off all three dozen. Check out the links to those recipes at the bottom of this post, and thank you thank you thank you to Jaime, Mark, and Susan!!
And even better than sending and receiving cookies is that through the Food Blogger Cookie Swap, we are raising money for Cookies for Kids Cancer, a national non-profit organization committed to funding new therapies used in the fight against pediatric cancer, which claims the lives of more children in the US than any other disease. This year's grand total – $13,778.40!!! Awesome!
So, let's talk about these white chocolate oatmeal cookies.
Well, I didn't want to join the gluten free group since my kitchen if not 100% gluten free, but I still wanted to make a cookie without flour so that I could enjoy the leftovers. I saw these Gluten-Free Oatmeal Cookies from Martha Stewart and was immediately drawn to them because they are held together with a bit of cornstarch and ground oats. I've had hit or miss luck with oatmeal cookies in the past, but I wanted to give it another go.
Then, since I was making them for other food bloggers, I had to cram in some more trends and interesting ingredients. Browned butter adds a nutty richness (though I am sure you could do without browning the butter). I feel like cashews don't get enough love in the cookie world, so I tossed them in, Because I love white chocolate oatmeal cookies, I went with white chocolate for sweet pockets with a more subtle flavor than milk or dark. And of course, cranberries are festive and add a tart contrast to the sweet, buttery flavor of the other ingredients. I'm kind of in love! And don't they look Christmas-y?!?!
In retrospect, I might have given them a sprinkle of sea salt, but perhaps that would have been food trend overload. What do y'think?
Enjoy the cranberry cashew white chocolate oatmeal cookies with some milk, put them out on your Christmas cookie platter, take them to a cookie exchange yourself, or package them up and send them off to someone special! A little crisp, a little chewy, and so full of flavor, I hope you love them, and I hope Brittany at Kitchenette, Robyn at Almacucina, and Jessica at Someplace That's Green enjoyed them, too!
What is the worst Secret Santa gift you ever received?
I hope it doesn't involve white chocolate oatmeal cookies like these!
White Chocolate Cranberry Oatmeal Cookies
These White Chocolate Cranberry Oatmeal Cookies are simple to make, but they are fully-loaded. A crisp, chewy flourless gluten free oatmeal cookie recipe gets an upgrade with brown butter. And it is studded with loads of white chocolate chips, dried cranberries, and chopped cashews. These festive gems will be a lovely addition to your holiday cookie platter.
Ingredients
2

sticks unsalted butter

room temperature, divided

4 1/2

c

old-fashioned oats

divided (gluten-free if needed)

2

T

cornstarch

1 1/2

t

ground cinnamon

1

t

baking powder

1/2

t

salt

3/4

c

granulated sugar

1/2

c

packed light-brown sugar

2

large eggs

2

t

pure vanilla extract

1/2

c

white chocolate chips

1/3

c

dried cranberries

1/2

c

chopped cashews
Instructions
in a small pan, brown one stick of the butter by melting over medium low heat until melted, then cook slowly until the butter begins to turn brown, stirring or whisking occasionally. Be careful not to burn the butter. Set aside to cool to room temperature.

Preheat oven to 350°F.

Add 1 1/2 cups oats to a blender, then grind into a fine powder.

In a bowl, whisk together ground oats, cornstarch, cinnamon, baking powder, and salt.

In a large bowl, with a stand mixer or hand mixer, beat the cooled browned butter, the remaining stick of butter, sugar and brown sugar until light and fluffy.

Beat in the eggs one at a time, then the vanilla.

Reduce mixer speed to low, and gradually add the ground oat mixture, beating until combined.

With a spatula, fold in white chocolate chips, dried cranberries, cashews, and remaining 3 cups oats.

Drop dough in about 1 tablespoon mounds onto a parchment-lined baking sheet, 2 inches apart.

Bake about 12-15 minutes, or until cookies are golden brown at edges.

Let cool on sheet on a wire rack 2 minutes, then transfer to rack to cool completely.
Categories:
Enjoy!
Want to do some more baking with oatmeal?
And here are the cookies I received…