This post may contain affiliate links. Read my disclosure policy.
3-Ingredient Coconut Macaroons with M&M's are a fun and easy way to eat the rainbow. Start with a simple one-bowl 2-ingredient coconut macaroon recipe and make it more colorful by adding M&M chocolate candies. It is one sweet combination that makes these chewy gluten free cookies a flourless dessert recipe that anyone can make and nobody can resist.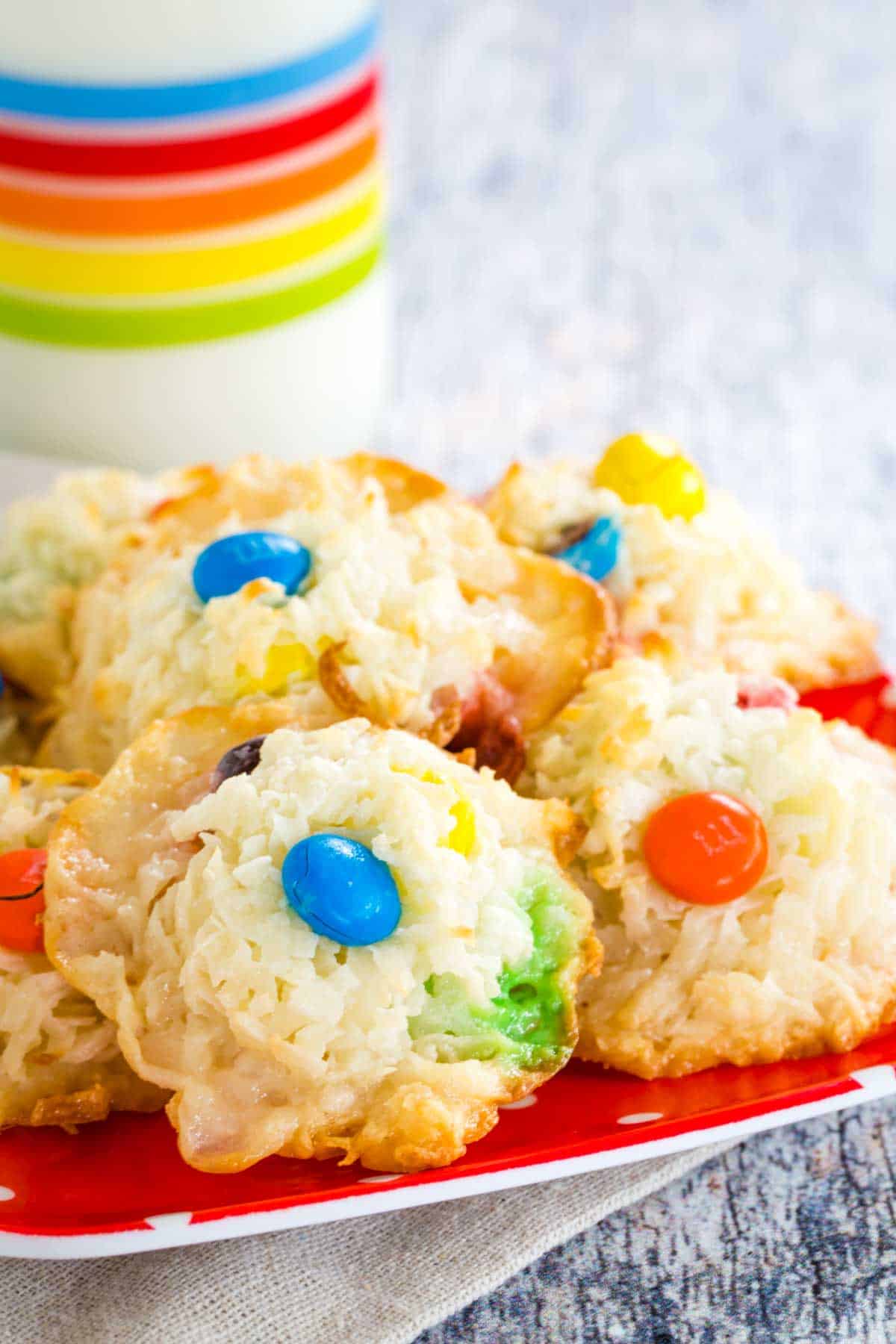 I'm embarrassed to tell you how this recipe came about.
Every Halloween I let my kids keep some of their candy. But I always stash some so I can make things like Reese's Cake and Milky Way Cake Roll and other leftover candy recipes. So I had a small stockpile of M&M's.
Years ago I made Almond Joy Cookies. Only the photos were horrendous, so I needed to reshoot them. But, as is the food blogger's way, I decided to do double duty and split the mixture in half to make two recipes, suddenly remembering my M&M stash. I baked them, photographed them, and froze them to pull out as Christmas cookies.
However, since they are flourless cookies with coconut flavor and rainbow colors, they seemed more blog-worthy as we approached St. Patrick's Day and Passover and Easter.
So they are getting posted today, the first day of Lent. Also known as "The 40 Days My Mom Doesn't Eat Chocolate." Do you want to guess her favorite candy of all time?
Today is one of those days I hope she doesn't read my blog!
But you should make them ASAP. You only need one bowl, three ingredients, and a few minutes!
3-Ingredient Macaroons with M&M's
Start with a basic 2-Ingredient Macaroons recipe made with sweetened flaked coconut and sweetened condensed milk. Then just add your favorite colorful candy-coated chocolate for a chewy cookie with bursts of chocolate that will be a hit with kids of all ages.
What do you need for this coconut macaroons recipe?
INGREDIENTS:
Sweetened flaked coconut – BRIANNE'S PRO TIP is that baking time and amount of spreading will differ based on whether your coconut contains cornstarch, as this varies by brand. If it DOES NOT contain cornstarch, you won't want to press down the cookies, and they may take a bit longer to bake. If it DOES contain cornstarch, flatten the cookies a bit because they won't spread much.
Sweetened condensed milk – make sure it is sweetened condensed, not evaporated milk, which will not work.
M&M's – I used regular Milk Chocolate M&M's, but you can use Minis or other holiday colors. See notes below regarding gluten free M&M's.
How do you make Gluten Free Macaroons with M&M candies?
Stir together the coconut and sweetened condensed milk.
Fold in the M&M's.
Scoop onto a parchment-lined baking sheet.
Bake at 350°F for 11-13 minutes.
Cool completely.
Package these cookies in an airtight container for up to a week. Freeze for up to two months.
BRIANNE'S PRO TIP: since this mixture is sticky, spray your cookie scoop with nonstick cooking spray to make it come out easier.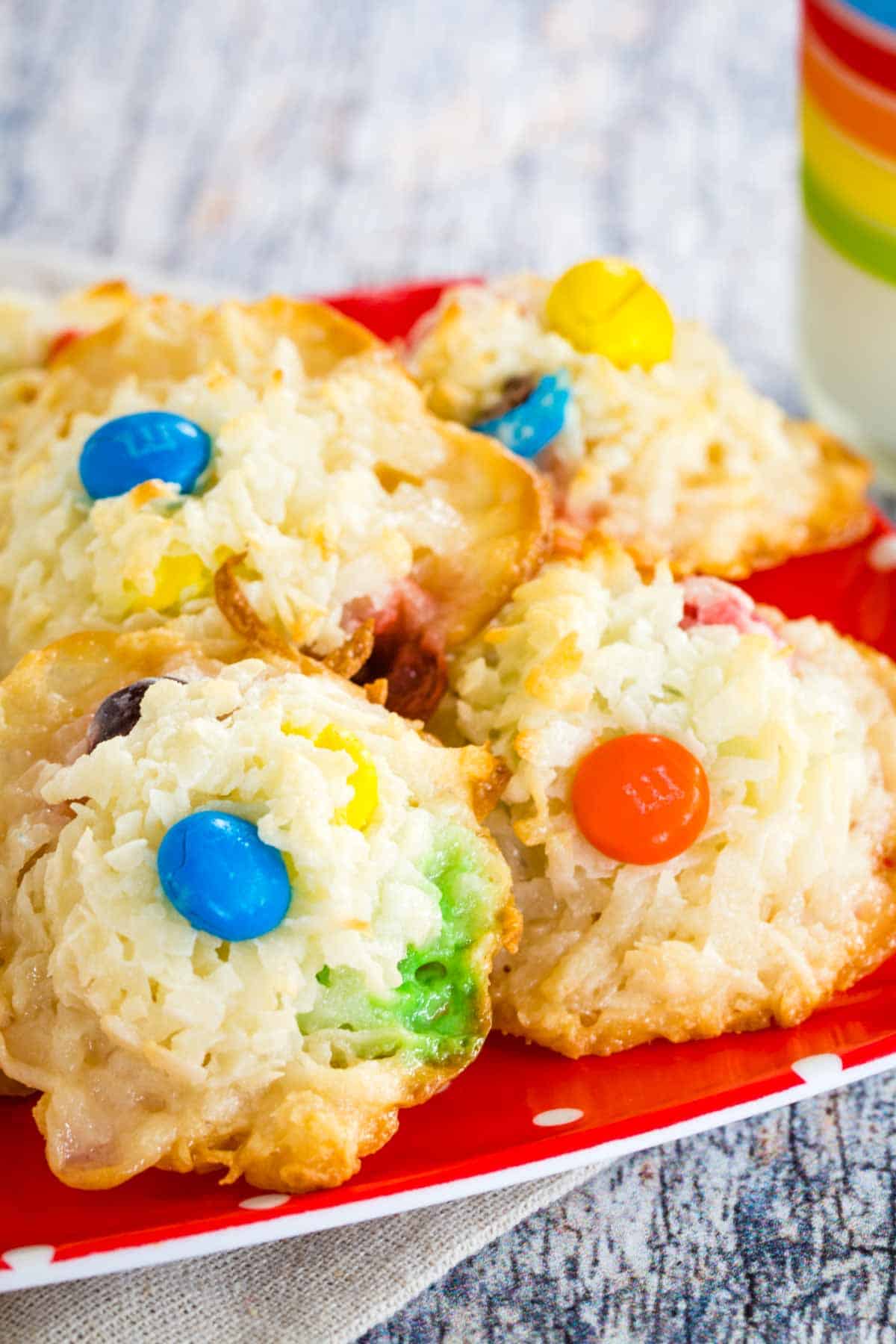 Are M&M's Gluten Free?
According to Mars, they will call out wheat ingredients or cross-contamination risks. They might NOT indicate rye or barley cross-contamination.
Generally speaking, most standard M&M's products do not contain gluten ingredients EXCEPT Pretzel M&M's and Crispy M&M's.
For holiday M&M's and other special or seasonal flavor and colors, be sure to read the labels, as these are a cross-contamination risk since they may be manufactured in a different facility. It will indicate if they "may contain" traces of other ingredients.
If you are concerned, Sixlets are a safe option. And you can even find those in other colors.
Can you use other types of M&M's?
Yes, you can definitely substitute other varieties of M&M's. But again, the Crispy M&M's and Pretzel M&M's are NOT gluten free. So do not use those if you need these to be gluten free macaroons.
The Mini M&M's would be great because you'll have little bits of chocolate spread throughout the cookies.
And you can even customize these for different occasions by using holiday M&M's. However, as mentioned, be sure to read the labels if gluten is a concern for you due to the cross-contamination risk.
More gluten-free cookies:
More M&M's recipes:
M&M's Coconut Macaroon Recipe
Three ingredients, one bowl, and a few minutes of work and you have a colorful, chewy cookie that nobody can resist. Just add M&M's and turn this simple two-ingredient recipe into 3-Ingredient Coconut Macaroons with bursts of chocolate. And this flourless cookie is also gluten free!
M&M's Macaroons
Stir together three ingredients in one bowl to make an easy chewy coconut cookie bursting with chocolate candies. So simple to make and hard to resist these flourless gluten free cookies.
Ingredients
14

oz.

bag sweetened shredded coconut

14

oz.

can sweetened condensed milk

1/2

cup

M&M's chocolate candies
Instructions
Preheat the oven to 350°F. Line baking sheets with parchment paper.

In a large mixing bowl, mix the coconut and the condensed milk until the coconut is evenly coated. Stir in the M&M's.

Place mounds of the mixture on a parchment-lined baking sheet. The easiest way to do this is to spray a small cookie scoop with nonstick cooking spray. If your coconut contains cornstarch, you may want to flatten the cookies slightly. If they don't, they will spread enough on their own.

Place the pan in the oven, and bake at 350°F for 11-13 minutes, or until as browned and crispy as you like them. Watch closely during the last few minutes.

Remove from the oven, and cool completely on the pan.
Nutrition Facts
M&M's Macaroons
Amount Per Serving (1 cookie)
Calories 74
Calories from Fat 27
% Daily Value*
Fat 3g5%
Cholesterol 1mg0%
Sodium 34mg1%
Potassium 28mg1%
Carbohydrates 10g3%
Protein 1g2%
Vitamin A 25IU1%
Vitamin C 1mg1%
Calcium 34mg3%
Iron 1mg6%
* Percent Daily Values are based on a 2000 calorie diet.
Categories: