Double Chocolate Snickers Fudge
Disclosure: This post may contain affiliate links. Cupcakes & Kale Chips is a participant in the Amazon Services LLC Associates Program, an affiliate advertising program designed to provide a means for us to earn fees by linking to Amazon.com and affiliated sites.
Snickers Fudge is an easy candy recipe made more irresistible with two kinds of chocolate and Snickers candy bars. Yes, your favorite candy bar gets stuffed between a layer of white chocolate and a layer semisweet chocolate fudge for double the chocolaty deliciousness. And to make it even better, this Snickers candy bar fudge recipe has only five ingredients and you can make it on the stove or in the microwave. It is definitely one of the best gluten free no-bake dessert recipes!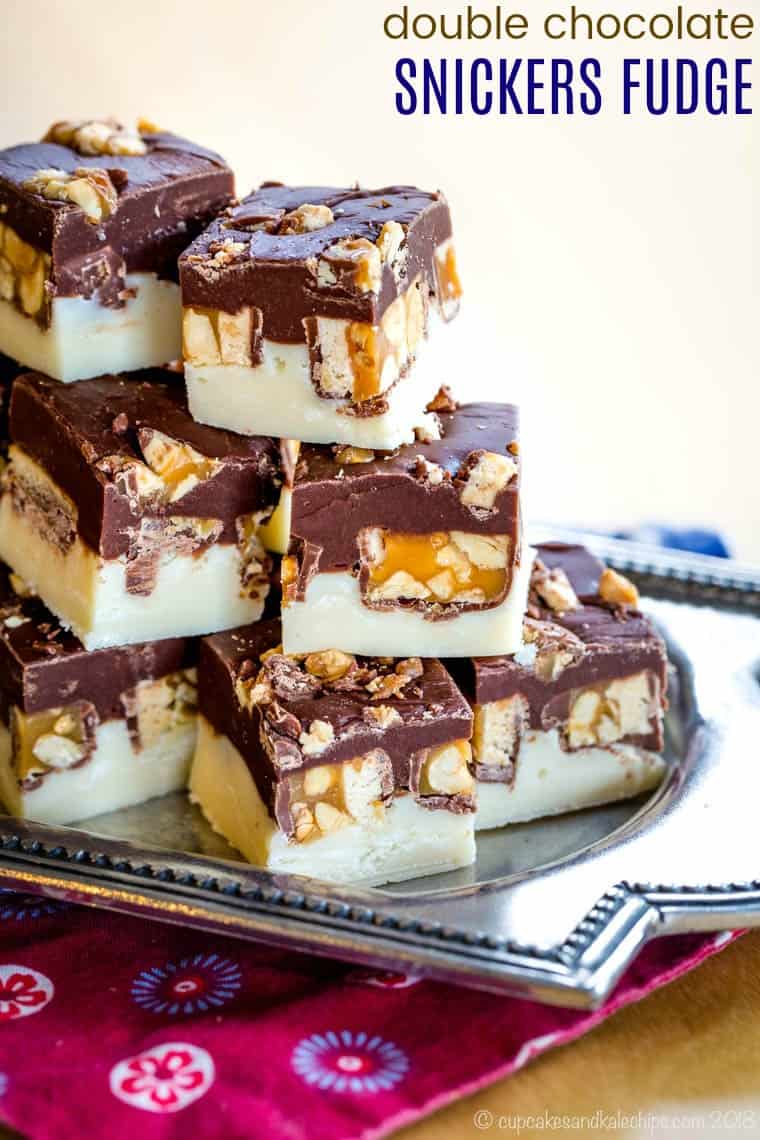 Christmas break starts in a few days, so I sent my kids off to school on Monday with a little pep talk. You know, some positive words of encouragement to keep them focused during a week that will have its fun moments, but is also full of distractions that can easily get little boys to veer off track.
In short, "Whatever you do, DO NOT make your teachers' lives MORE difficult this week! I WILL give you consequences for that!"
Yeah, I might be the daughter of a teacher. That means I had to deal with the backend of a long day where a classroom full of wound up students worked her nerves for six hours straight.
And if I get any reports that they misbehaved, I'll just take away their screen time and send their teachers a nice, little box of this Snickers Fudge…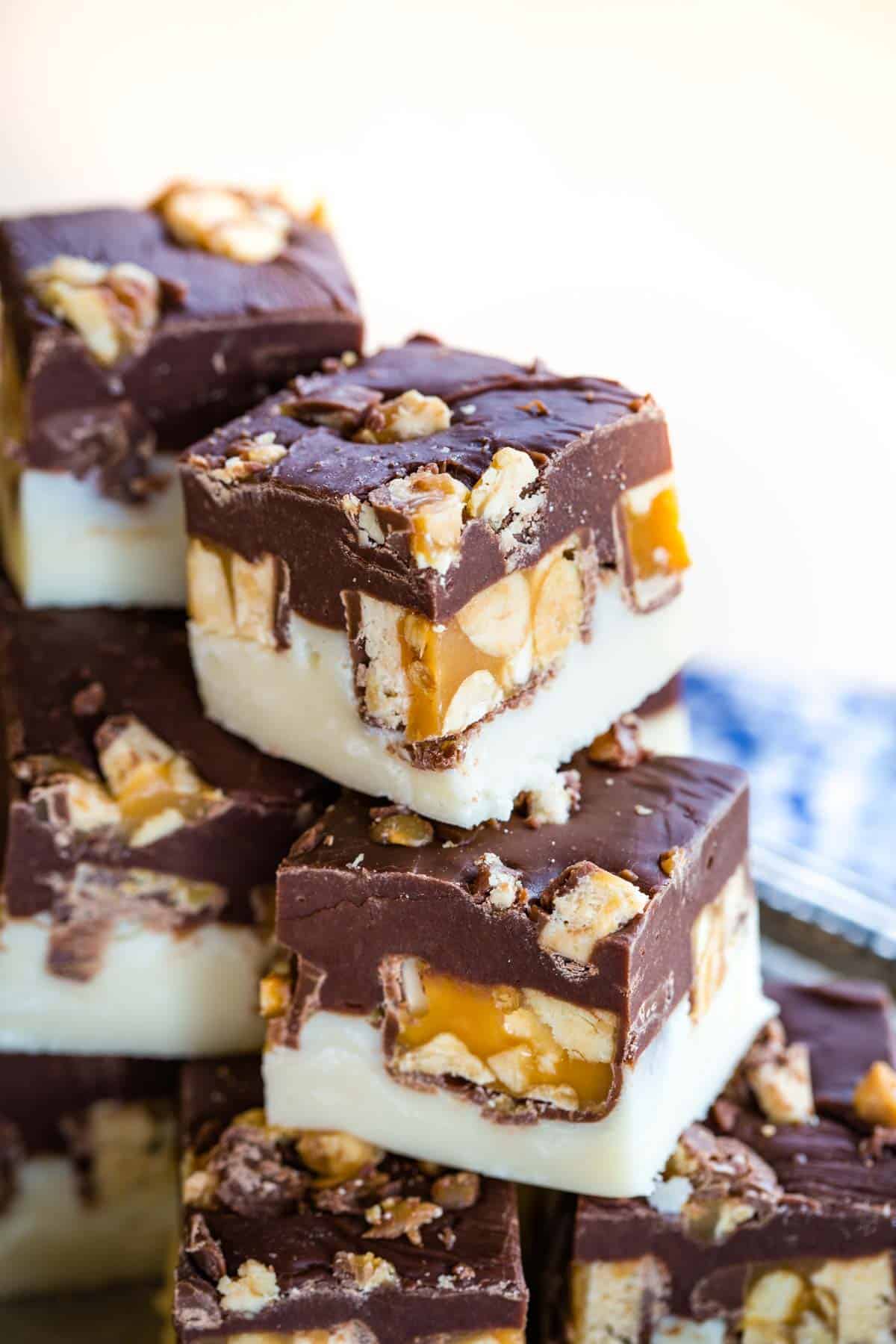 Snickers Candy Bar Fudge
I love making double layer fudge and stuffing it with yummy things to make it extra festive and delicious, just like this Double Chocolate Christmas Fudge from a few years back. Only this time I hoarded some leftover Halloween candy to make some Christmas treats.
How do you make Candy Bar Fudge?
You can see how to make the fudge in this video for Double Chocolate Caramel Toffee Fudge. For this recipe you'll just be using Snickers instead of the toffee and caramel.
[adthrive-in-post-video-player video-id="EhaYHp9c" upload-date="2017-12-06T15:49:09.000Z" name="Double Chocolate Toffee Caramel Fudge" description="Double Chocolate Toffee Caramel Fudge is an easy microwave fudge recipe with layers of white and dark chocolate, gooey caramel, and bits of toffee."]
First, line a 9 inch square baking pan with wax paper.

Next, cut 12 Fun Size Snickers Bars into four slices and set them aside. Take a couple more and chop them into small pieces.

Then heat the white chocolate chips and half a can of sweetened condensed milk and stir until melted and smooth. Stir in the vanilla and pour into the prepared pan.

Now grab those sliced Snickers and place them on top of the white chocolate fudge layer. Put the pan in the refrigerator while you prepare the rest of the chocolate.

Repeat the same process with the semisweet chips, and pour over the Snickers and white chocolate layer. Sprinkle the chopped Snickers over the fudge and press in slightly.

Place the pan in the fridge for a couple hours or until firm, then cut into squares.
Snickers Fudge Recipe Tips:
Be sure you are using sweetened condensed milk, NOT evaporated milk.

I recommend wax paper to line the pan, though you can probably use plastic wrap or line the pan with foil and coat with cookie spray. I just don't like the greasy layer that leaves.

The white chocolate layer has a slightly softer set than the semisweet layer. Make sure you use the full amount of white chocolate chips, even a touch more. And when you divide the can of sweetened condensed milk, do not use extra in the white chocolate. You'll want a little less than ⅔ cup.

Once it is firm, you should be able to peel it from the wax paper and store it at room temperature. If you house is a bit warm, you can always store it in the fridge. Or you can even make it well in advance and store it in the freezer.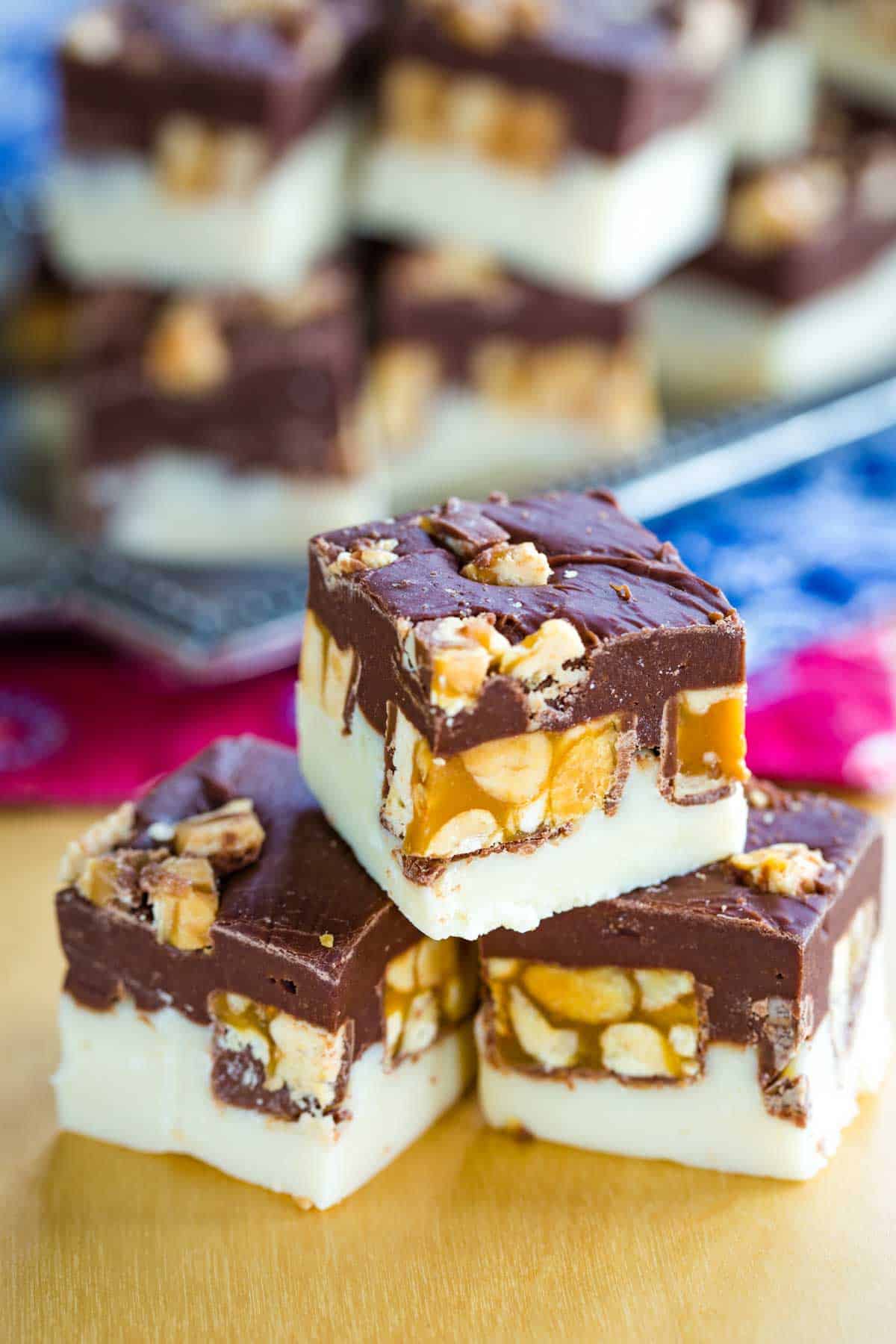 Are Snickers gluten free?
Snickers consist of layers of nougat, peanuts, and caramel covered in milk chocolate. Mars, the make of Snickers, usually does not use gluten free labeling on their packages. However, Snickers does not have any gluten-containing ingredients. What Mars will do is call out if there is a risk for cross-contamination. Most of the time this is not an issue for Snickers, but do read your packages. You especially want to check if they have any holiday shapes or wrappers as those are sometimes produced on different lines than the standard Snickers bars.
Is fudge gluten free?
This type of microwave fudge (which can also be made on the stove), is typically gluten free since it is made with just chocolate chips, sweetened condensed milk, and vanilla. So you can definitely make gluten free Snickers Fudge.
Always check your vanilla to make sure it is gluten free, as sometimes it can be made with an alcohol that has gluten, or it has other additives. Good quality brands like Nielsen Massey and McCormick are usually good choices.
Also be sure your white chocolate chips are gluten free. Typically you would not think this would be an issue. However, many people do not realize that Ghirardelli white chocolate chips are not gluten free. Nestle Toll House white chocolate morsels are, so you can use those.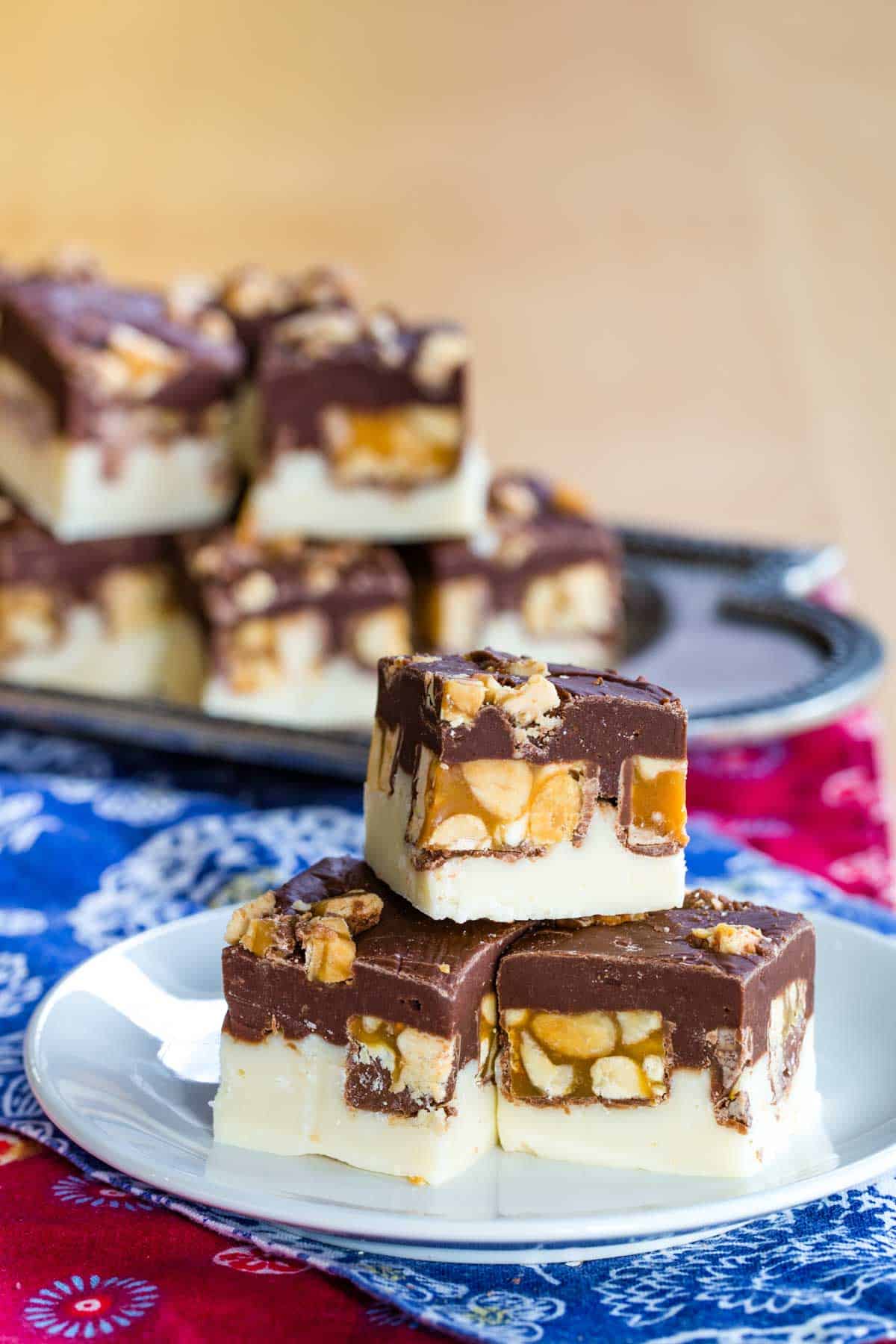 What else can you make with candy bars?
And a few from my friends…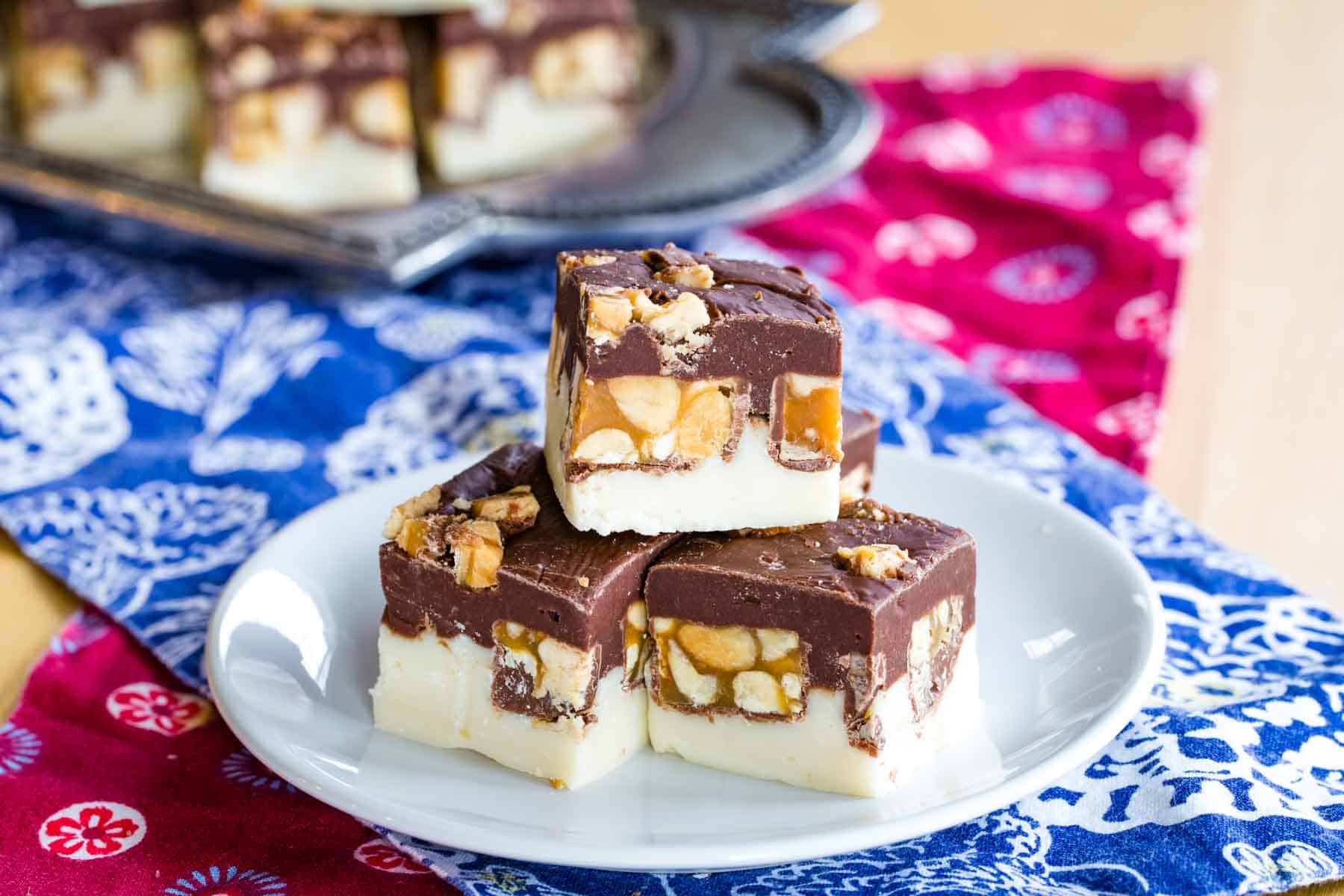 For more yumminess from me and my foodie friends, keep up with me on…
Or sign up to have Cupcakes & Kale Chips delivered straight to your Inbox!


What do you need to make Double Chocolate Snickers Fudge?
MINI OFFSET SPATULA – a mini offset spatula is one of my favorite versatile and inexpensive kitchen tools. It's perfect for frosting cakes and cupcakes, or spreading the toppings on a Reese's Poke Cake. And besides fudge, I also like using it to spread the chocolate when I make chocolate bark recipes. that's because it's small and the angle on the blade makes it easy to get down into baking pans and sheet that have rims, but the small size allows you to get in the corners. I have a couple in my utensil drawer and I am always grabbing them for something.
Double Chocolate Snickers Fudge Recipe
Two thick, rich layers of fudge are stuffed with the most popular candy bar in the world for an easy no-bake treat everyone will love. This easy recipe only has five ingredients and you can make it on the stove or in the microwave. This makes it perfect for a quick sweet for the holidays or to give as gifts. That is, if you aren't tempted to keep it all for yourself!
I hope you'll leave a comment and give it a FIVE STAR rating or share a photo on this pin on Pinterest!

Enjoy!