This post may contain affiliate links. Read my disclosure policy.
You don't need a campfire to make this easy S'mores Pudding Pie! A crave-worthy dessert made with decadent Hershey's Milk Chocolate pudding in a gluten-free Graham cracker crust, topped with fluffy toasted marshmallow meringue.
A Perfect Combination of Two Fun Desserts
When I was growing up, my dad had two specialties. The first was s'mores: Whenever we went camping, foil packet potatoes and hot dogs on sticks were always followed by (usually multiple) s'mores cooked over the fire. And at home, Dad's other specialty was pudding pie, made with frozen pie crust and Jell-O Chocolate Pudding.
Today I'm combining my dad's classic pudding pie with one of our most cherished combinations: Hersey's chocolate, graham crackers, and toasty marshmallows! That's right. We're making s'mores pudding pie. And it is incredible.
This easy s'mores dessert is a tasty mash-up of a silky chocolate cream pie and my family's favorite campfire treat. Double the dessert, double the fun. No campfire needed!
The List of Ingredients
My recipe uses a gluten-free crust and Hersey's chocolate to make the silky pudding pie. I've also upcycled the leftover egg whites from the filling into a pillowy homemade marshmallow meringue. Here's what you'll need, with the full details available in the recipe card:
Graham Cracker Crust: You can make this pie recipe using the almond meal Graham-style crust in the recipe, or use your own homemade or store-bought pie crust. See the section below for details!
Hershey's Milk Chocolate Bars: Really, the required chocolate for a classic s'more.
Sugar: You'll need regular granulated sugar for the pudding filling as well as the marshmallow meringue.
Cornstarch: This acts as a gluten-free thickener for the chocolate pie filling.
Salt
Cocoa Powder: I used Hershey's Cocoa Powder since it ties in perfectly with Hersey's bars! Any good quality cocoa powder will do, though.
Eggs: 4 large eggs. You'll use the yolks for the pudding, and reserve the whites for the meringue.
Milk
Butter
Vanilla Extract: For flavoring both the pie filling and the meringue.
Cream of Tartar
If you're making the gluten-free pie crust, you'll also need almond meal, honey, salt, cinnamon, and additional vanilla.
What Kind of Crust Should I Use?
This pie recipe turns out great with just about any Graham-style pie crust. Use the gluten-free almond meal crust in the recipe, a ready-made crust from the store (yes, you can even find gluten free ones now!), or make your own Graham cracker crust easily from scratch using store-bought or homemade Gluten-Free Graham Crackers.
I have a handy recipe for Gluten-Free Graham Cracker Crust that I sometimes use in place of the almond meal crust.
For a truly no-bake s'mores pudding pie, use a storebought Graham cracker crust (these come already par-baked). Make sure the one you choose is gluten-free as needed.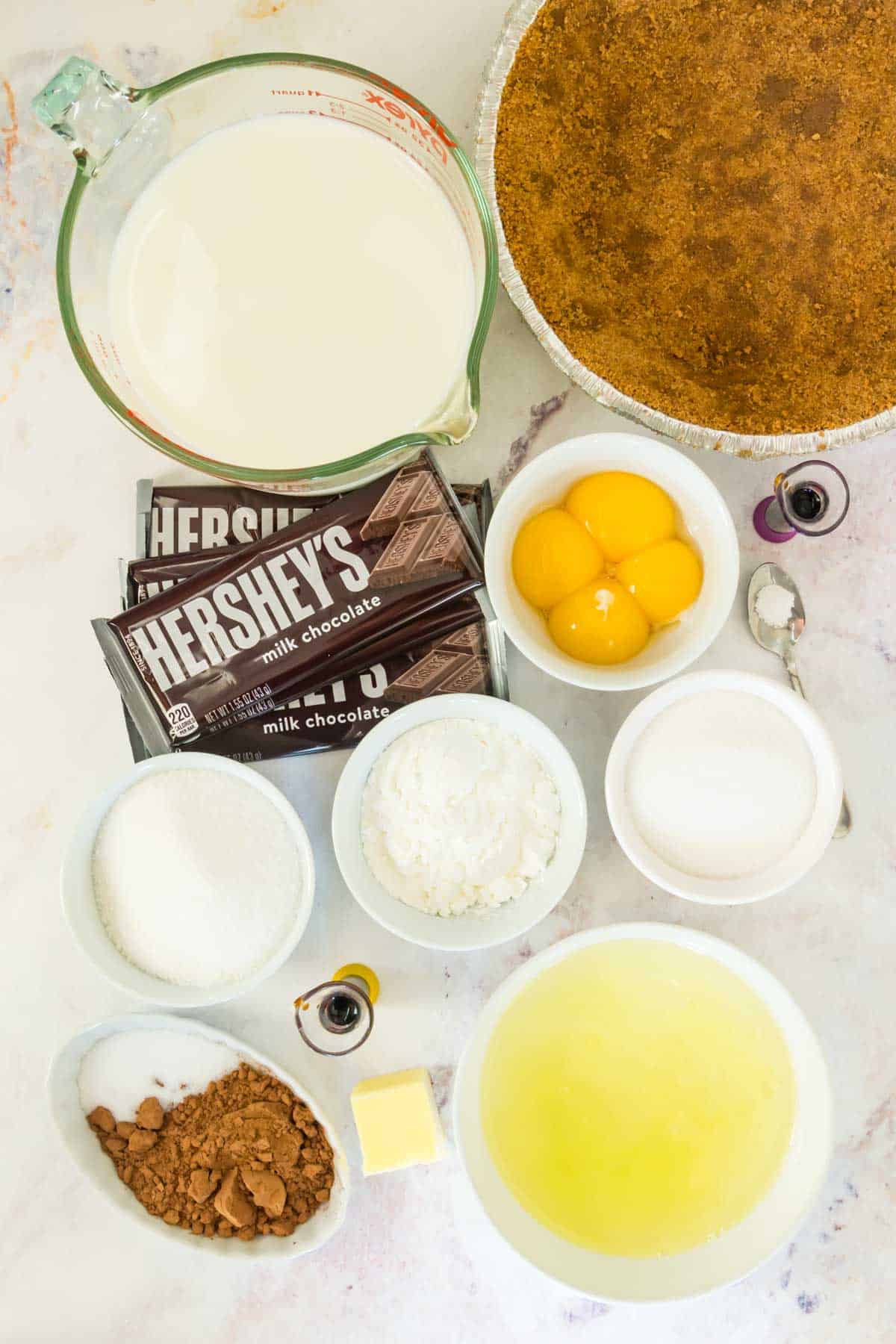 Let's Make a S'mores Pudding Pie!
This almost no-bake recipe is easy as, well, pudding pie. First things first, there are a few simple steps you can do ahead of making this pie:
Purchase or Prepare Your Crust: Have the crust from the recipe, or your chosen Graham cracker crust prepped, par-baked, and ready to fill.
Separate the Eggs: Do this fresh from the fridge while the eggs are still very cold, so they separate easier. Make sure there aren't any traces of yolk in your whites.
Chop the Chocolate: Unwrap your chocolate bars and chop them into small pieces. This way the chocolate is ready to add to the pudding while it's still warm from the stove.
Making the Pudding Pie Filling
Let's begin by mixing up the chocolate pudding for the filling:
Combine: In a saucepan, whisk together sugar, cornstarch, cocoa powder, and salt. In a separate measuring cup, whisk together the egg yolks and milk. Slowly blend the milk mixture into the sugar mixture.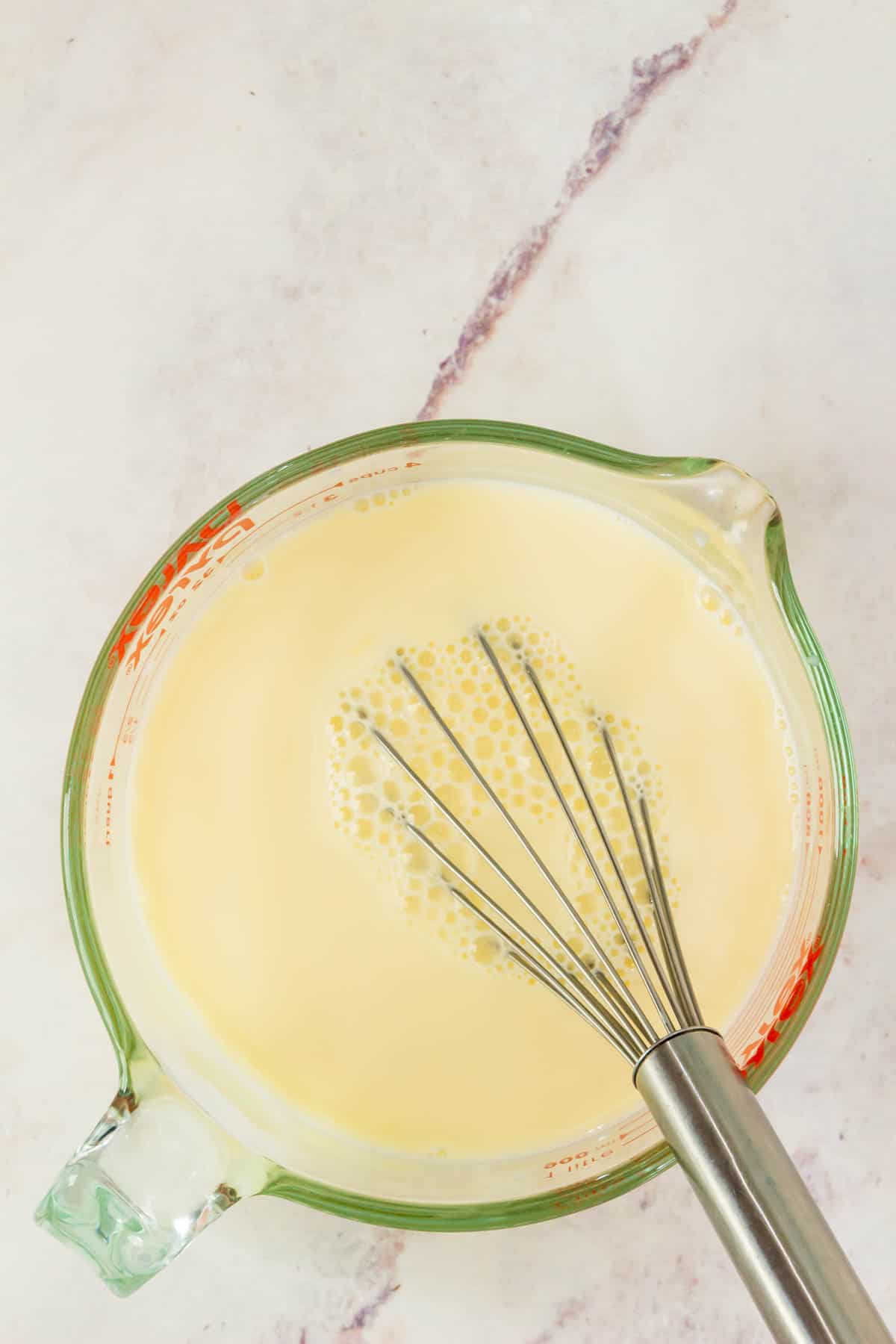 Heat: Heat the contents of the saucepan over medium-low heat. Make sure you do this gradually, as heating the filling too quickly can scramble the eggs! Stir continuously while the mixture comes to a boil. Once thickened, take the pan off the heat and stir in the butter and vanilla.
Add Chocolate: Add the chopped Hershey's chocolate pieces into the mixture. Stir until the pieces have melted and the filling is smooth.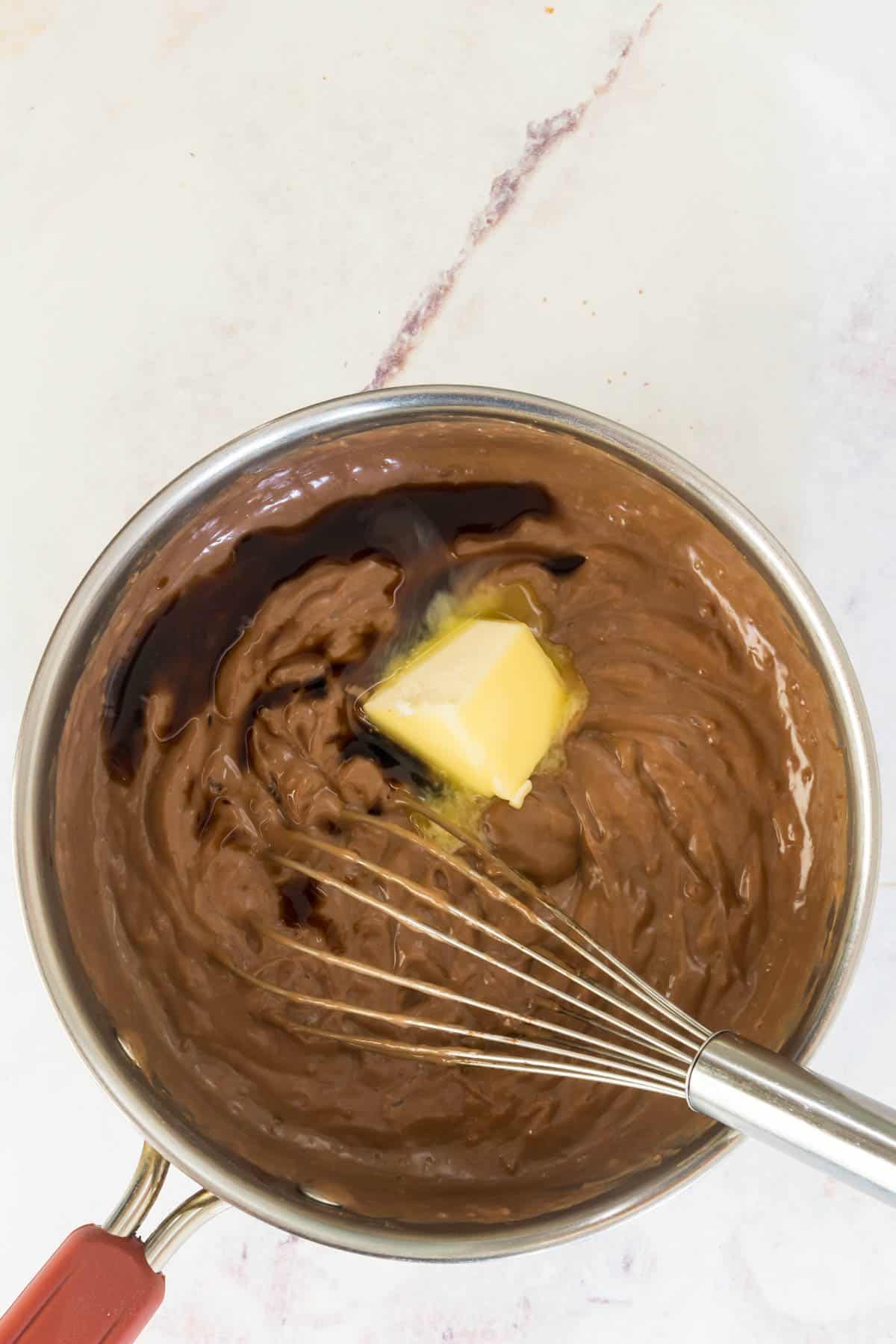 Chill: Pour the chocolate filling into your prepared pie crust, then move it to the fridge to chill for a few hours, or until firm.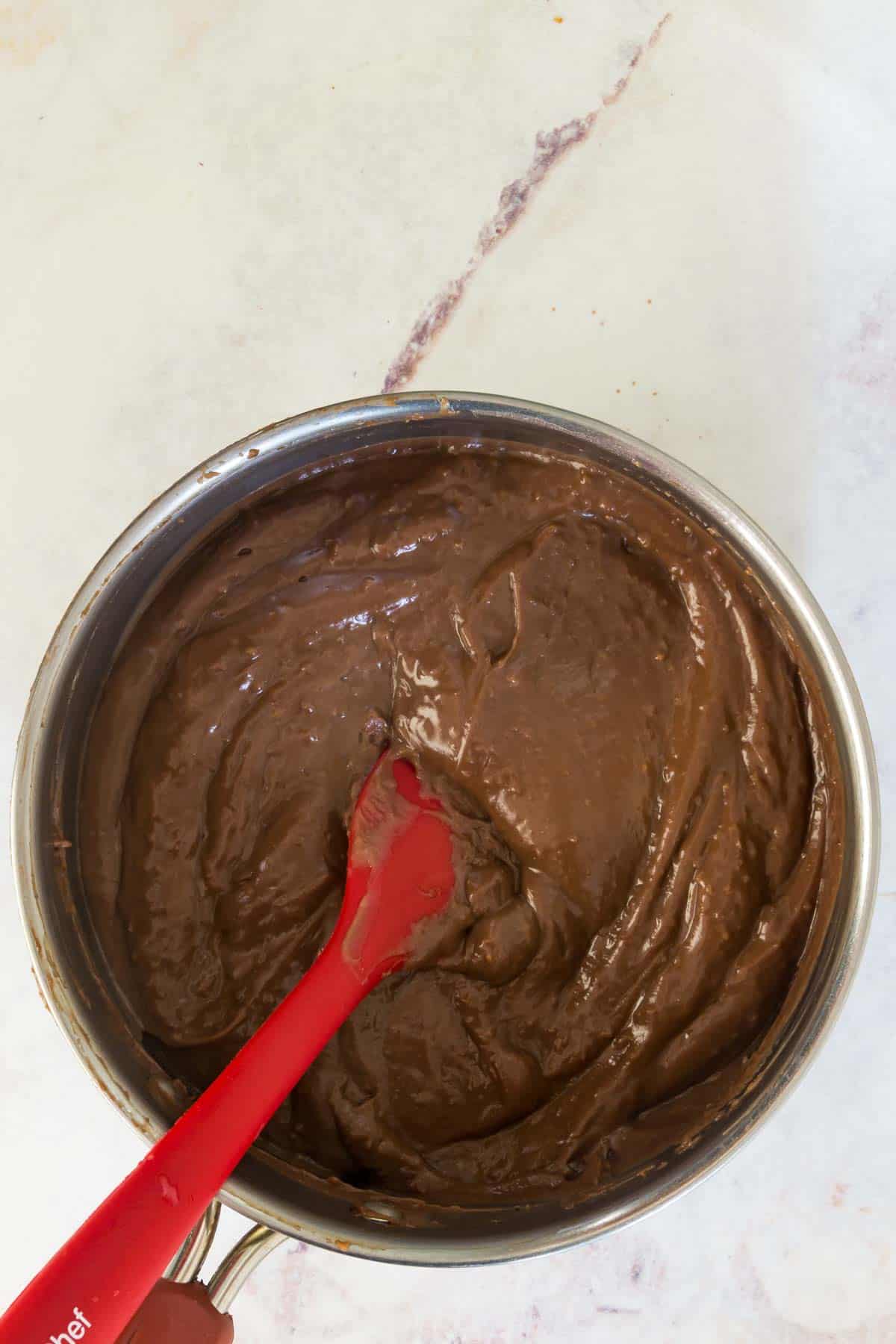 Making the Marshmallow Meringue
When the pie has chilled, it's time to make your meringue:
Combine: Add the egg whites to the metal bowl of an electric mixer, along with the sugar, vanilla, and cream of tartar. Make a double-boiler by placing the bowl over a pot of simmering water, and whisking to dissolve the sugar.
Beat: When the meringue mixture reaches 145ºF, remove the bowl from the heat. Using your electric mixer, beat the mixture until stiff peaks form. This could take a few minutes, so keep at it until you're left with a glossy, fluffy meringue!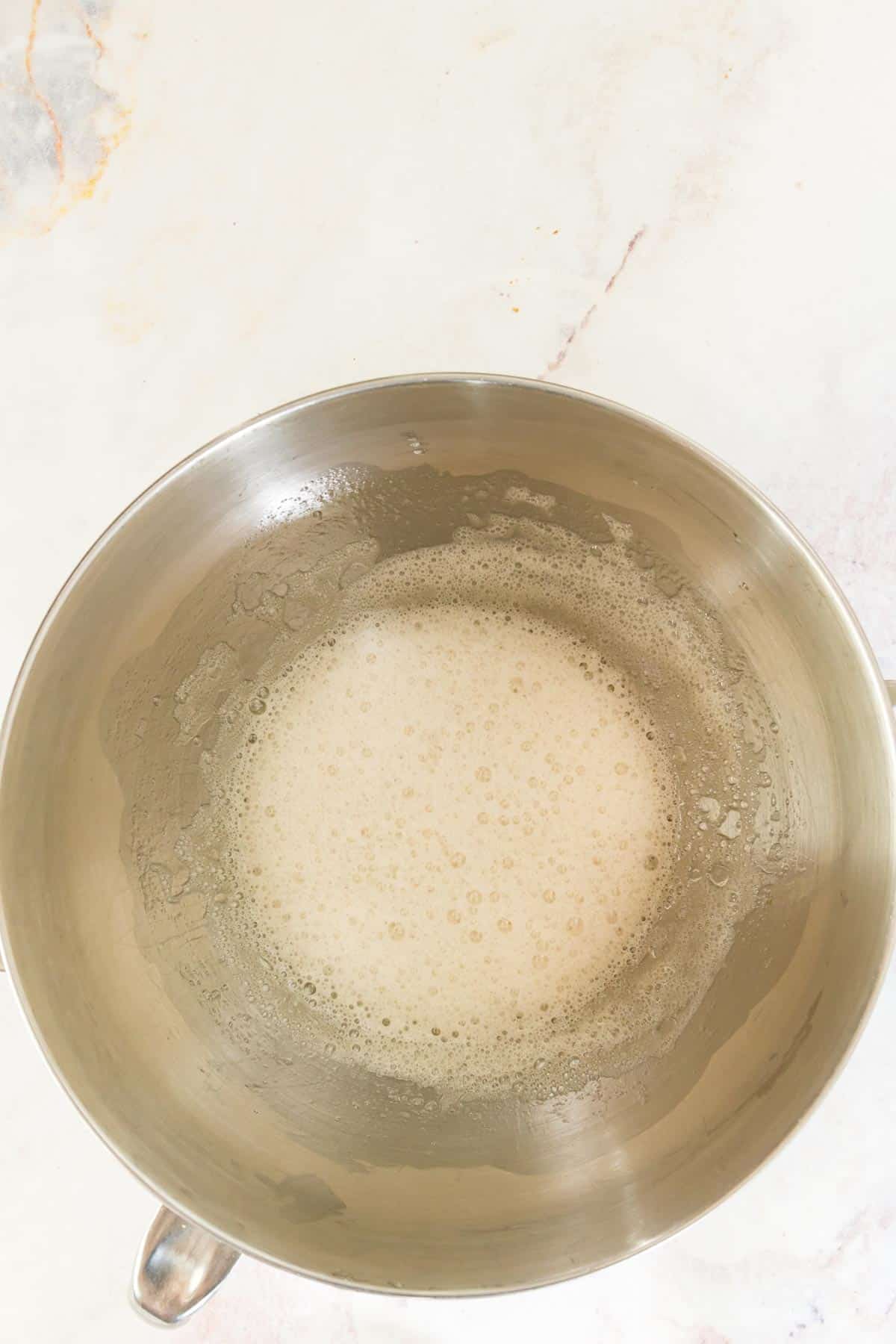 Finishing the Pie
Now, you'll add the marshmallow meringue and toast the top:
Add the Meringue: Take your pie out from the fridge. Use an offset spatula or pastry bag with a large icing tip to cover the top of the pie with a generous layer of meringue. I use my mini offset spatulas for this all the time. Who else finds these the most inexpensive and useful gadgets to have around?
Broil: Bown the pie under your oven's broiler, or use a creme brulee torch to toast the marshmallow meringue.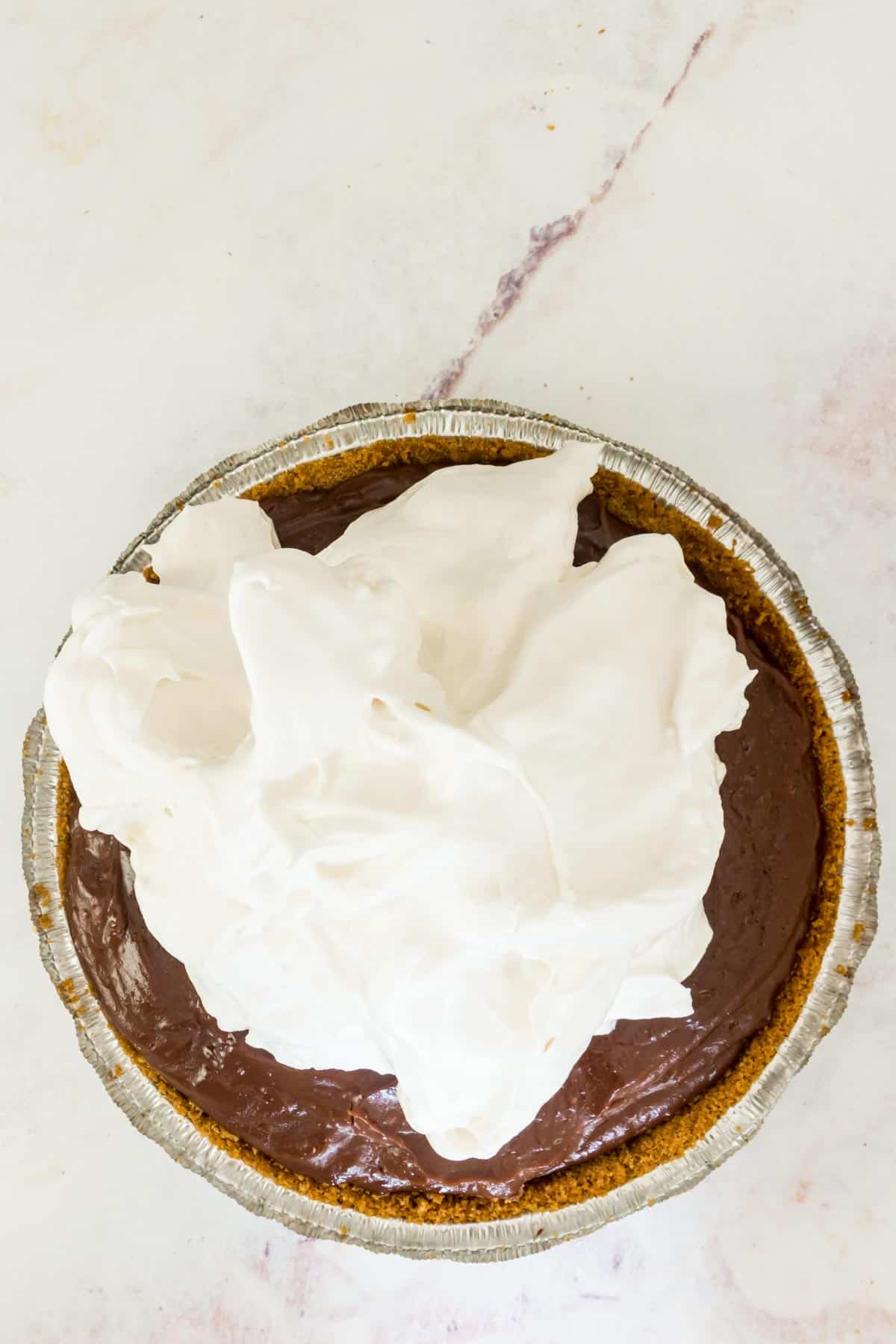 Easy Tips
Some helpful tips to keep in mind as you're making this chocolatey s'mores pudding pie:
Work Cleanly: Make sure that the bowl and whisk attachment of your stand mixer are squeaky clean. You don't want any traces of fat or whatnot sneaking in from a previous recipe. I like to wipe mine down with a paper towel and a little white vinegar.
Use an Electric Mixer: Only because an electric mixer is the best for whipping egg whites! If you don't have one, you can go the old-fashioned route with a whisk and some elbow grease. Or, if you'd prefer, skip the meringue and scatter marshmallows over your pie instead. Then simply broil or torch as directed to get them nice and toasty.
Press the Crust: Make sure that you press the Graham cracker crust firmly into the bottom of your pie plate so that it doesn't crumble.
Chill the Pie: This chocolate pudding pie can be deliciously messy to cut into. To make it a little easier to slice, pop the pie into the fridge to chill before serving.
Variations on This S'Mores Pudding Pie Recipe
Just like a campfire s'more, there are loads of fun ways to customize this s'mores pie. Here are some ideas for easy variations:
Marshmallows: Not feeling the meringue? Top your pie with fluffy marshmallows, or marshmallow creme, and then broil until browned and gooey. (Save those egg whites for a healthy egg white omelet instead!)
White Chocolate: Swap out the Hershey's Milk Chocolate bars for the white chocolate version.
Oreo Crust: Combine crushed up Gluten Free Oreos with melted butter to make an easy Oreo pie crust.
Peanut Butter S'mores Pie: Sprinkle a layer of peanut butter chips in between the chocolate and marshmallow layers. Or, borrow the peanut butter pudding from my Reese's Poke Cake recipe to spread over the chocolate layer!
How Long Will This Pie Last in the Fridge?
S'mores pudding pie will keep in the fridge for a day or two. After this, the meringue may begin to "weep" and won't look as pretty.
Luckily, this pie usually doesn't stick around. S'mores pie is perfect to make for birthdays, celebrations, or just because. I'll often take it along to friends' houses for potlucks. Let's just say, I've never had to leave a pie plate behind at the end of the evening – it's always empty!
Can I Freeze S'mores Pudding Pie?
I don't recommend freezing this pudding once it's been topped with meringue. Freezing and thawing change the texture of meringue, and not in a good way!
That being said, the chocolate pudding in the pie crust can be wrapped tightly with plastic wrap and frozen for up to 1 month. Thaw the pie in the fridge and make the meringue fresh before serving.
Things You'll Need
Brianne Recommends
SPATULAS: I love this set of silicone spatulas and use several of them daily for cooking and baking.
STAND MIXER: It definitely makes it easier to whip the meringue when you use the whisk attachment of a stand mixer..
OFFSET SPATULA: Use the tip to make the little peaks on the meringue.
CREME BRULEE TORCH: While you can pop the pie under the broiler, you can get more even browning with a culinary torch.
Last updated on Dec 5, 2023 8:04 am
S'mores Pudding Pie
You don't need a campfire to make this easy S'mores Pudding Pie! Made with decadent Hershey's Milk Chocolate pudding in a gluten-free Graham cracker crust, topped with fluffy toasted marshmallow meringue.
Ingredients
For the Pie:
Graham cracker crust

(see Notes) or the Almond Meal Graham-Style Crust in the recipe

Five 1.55

oz

Hershey's Milk Chocolate Bars

2/3

cup

sugar

6

tablespoons

cornstarch

1/2

teaspoon

salt

2

tablespoons

cocoa powder

4

large

egg yolks

(reserve the whites for the marshmallow meringue)

3

cups

milk

2

tablespoons

butter,

at room temperature

1

tablespoon

vanilla extract
For the Marshmallow Meringue:
4

large

egg whites

(reserved from preparing the pudding pie)

1/2

cup

granulated sugar

1

teaspoon

vanilla extract

1/8

tsp

cream of tartar
For the Gluten Free Crust:
Instructions
For the Pudding Pie:
Prepare a homemade crust, or take your store-bought crust out of the packaging.

Separate your eggs and set aside the whites to come to room temperature for making the meringue later. Be sure not to get any yolks in the whites.

Remove chocolate bars from wrappers, break into pieces and set aside.

In a medium saucepan, stir together sugar, cornstarch, cocoa powder and salt.

In a large measuring cup or other container with a spout, whisk together the egg yolks and milk . Gradually blend milk mixture into sugar mixture.

Place saucepan over medium-low heat, and stir constantly until mixture comes to a boil. Boil and stir for an additional 1 minute.

Remove from heat, and stir in butter and vanilla.

Add chocolate bar pieces to the mixture, and stir until melted and well blended.

Pour the pudding into the crumb crust.

Place the pie in the refrigerator to chill for several hours or until firm.
For Marshmallow Meringue:
When the pie is completely chilled, combine egg whites, sugar, vanilla, and cream of tartar in the bowl of your electric mixer.

Place bowl over a pot of simmering water and whisk until sugar is dissolved and mixture reaches 145°F.

Remove from heat and attach bowl to your electric mixer.

Using the whisk attachment, beat on low speed until foamy, then turn up to high speed and beat until stiff, glossy peaks form. This will take several minutes.
For the Gluten Free Crust:
Preheat oven to 350°F and coat a 9-inch pie pan with nonstick cooking spray.

Combine crust ingredients in a foor processor and pulse to form "crumbs".

Transfer the crumbs to the prepared pan and press in firmly to form a crust.

Bake for 10-12 minutes, or until lightly browned and firm.

Allow the crust to cool to room temperature.
To Assemble Pie:
Preheat your broiler, or prepare a creme brulee torch.

Remove the pie from the refrigerator, and spread the meringue over the pie with a small offset spatula or pipe it on with a pastry bag.

Place under the broiler for 3-5 minutes, or until nicely browned, or use your torch to brown the meringue.
Nutrition Facts
S'mores Pudding Pie
Amount Per Serving (1 slice)
Calories 397
Calories from Fat 216
% Daily Value*
Fat 24g37%
Cholesterol 79mg26%
Sodium 309mg13%
Potassium 95mg3%
Carbohydrates 42g14%
Protein 7g14%
Vitamin A 285IU6%
Calcium 128mg13%
Iron 1.5mg8%
* Percent Daily Values are based on a 2000 calorie diet.
More Chocolate Desserts